Can't get to the Wild Center in person right now? Check out their digital offerings, including animal encounters and webcam footage from around the Adirondacks.
Want to visit the Wild Center in Tupper Lake, NY? Then you've come to the right place. I recently had the pleasure of spending time in the Adirondacks and the Wild Center was the best part of my trip.
It opened on July 4, 2006 to grand fanfare, with guests like Hillary Clinton and Richie Havens in attendance. Since then, the Center has showed no signs of slowing down, welcoming its millionth visitor in July 2017.
The Wild Center has quickly become a staple in Tupper Lake, not just as an attraction but as a valued member of a community striving to make an impact against climate change. It's an LEED certified museum, which stands for "Leadership in Energy and Environmental Design, and earned a Silver distinction, less than a dozen of which have been awarded in the state.
Around 10 percent of the Center's power comes from solar panels on the roof of the BioBuilding. The rest of the electrical power is generated by Niagara Falls.
Wild Center Map and Directions
Did you know the Adirondacks span wider than Yosemite, Glacier National Park, the Grand Canyon, Yellowstone National Park and the Great Smokey National Park combined?This is an area best reached by car.
It's about a 5-hour drive from Buffalo or Boston and 6 hours from New York City so it's best seen as part of an overnight trip. Thankfully, a ticket to the Center is good for two consecutive days. The facility is not really accessible by public transportation so if you're not driving another option is to check out tours that shuttle you in and out of the area.
The property spans over 115 acres so you can experience nature at its finest, year-round. The Adirondacks are especially stunning during the autumn months when they show off their fall foliage. It's also easy to navigate the roads around that time.
Events and Activities at the Wild Center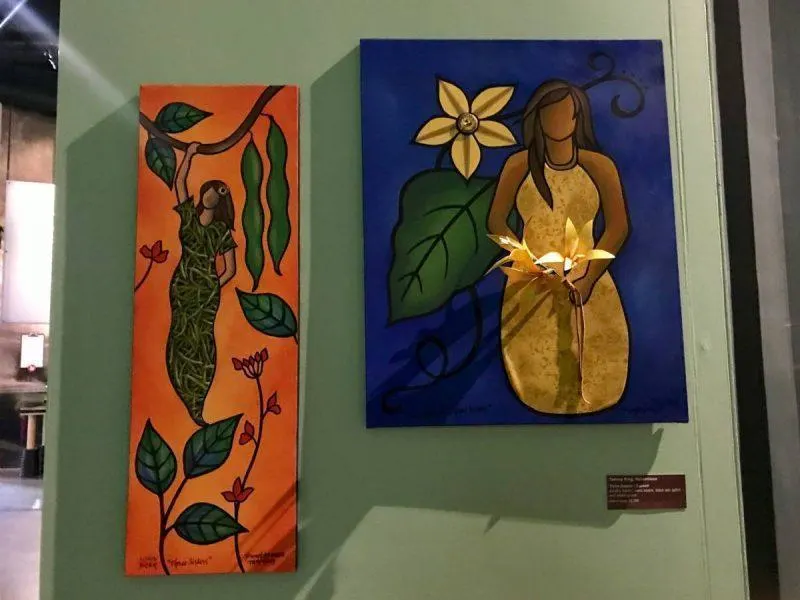 From otter encounters to art shows, there's always something going on at the Wild Center. More than 30,000 students visit each year so there's always some sort of educational program taking place.
If you're more of a lifelong learner, you'll love the films they display in the state-of-the-art Flammer Theatre. I watched a behind-the-scenes movie about the making of iForest. They're also the only place in the world where you can see "A Matter of Degrees," a true history of the Adirondacks narrated by Sigourney Weaver.
During my visit there was a fascinating exhibit commemorating the 50th anniversary of the Apollo 11 Mission, recreating a 1960's living room with pieces from the time. I got a commemorative photo taken on an old polaroid camera while holding an etch-a-sketch. These exhibits change regularly but are well curated and thoughtfully assembled.
The vaulted entrance, known as the "Big Wolf Great Hall," features grand birch trees and floor to ceiling views of the surroundings. It's commonly used for weddings and events and can fit up to 150 people.
RELATED POST: GROOVY THINGS TO DO WOODSTOCK, NEW YORK
All About iForest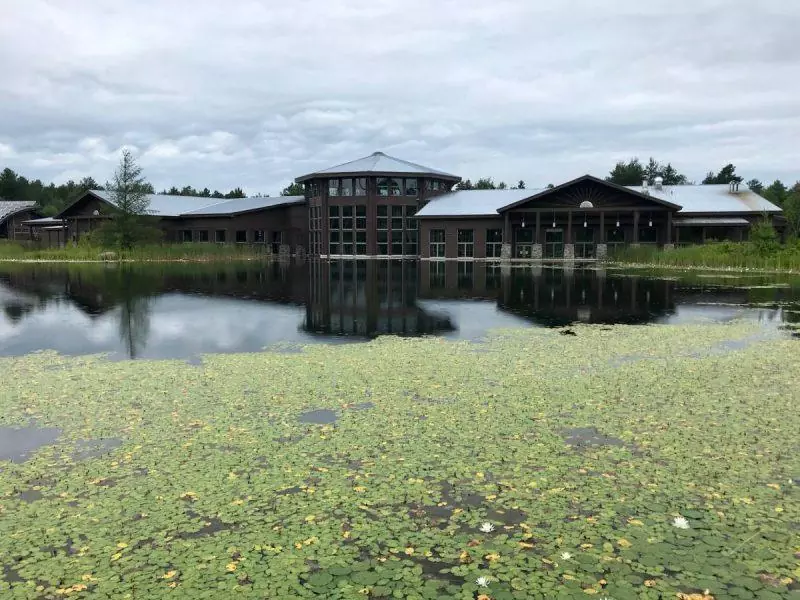 iForest is one of the Wild Center's most unique offerings. An immersive art and sound experience, this exhibition is in the woods and takes you through a hiking trail following the sounds of a 72-voice choir.
The music was composed by Peter M. Wyer from England and includes songs in the Mohawk language, containing stories that have never been written but passed down verbally.
Two dozen speakers are carefully placed throughout the woods to minimize their visibility and make it seem like the songs are coming from the trees themselves. For Halloween, they host a haunted forest celebration including pumpkin carving, face painting and festive surprises.
The sounds and music played may vary so always check in for the schedule when you arrive. It's a singular experience that you won't want to miss.
RELATED POST: SEE THE ANNUAL GINGERBREAD HOUSE COMPETITION AT THE EASTMAN MUSEUM
All about the Wild Walk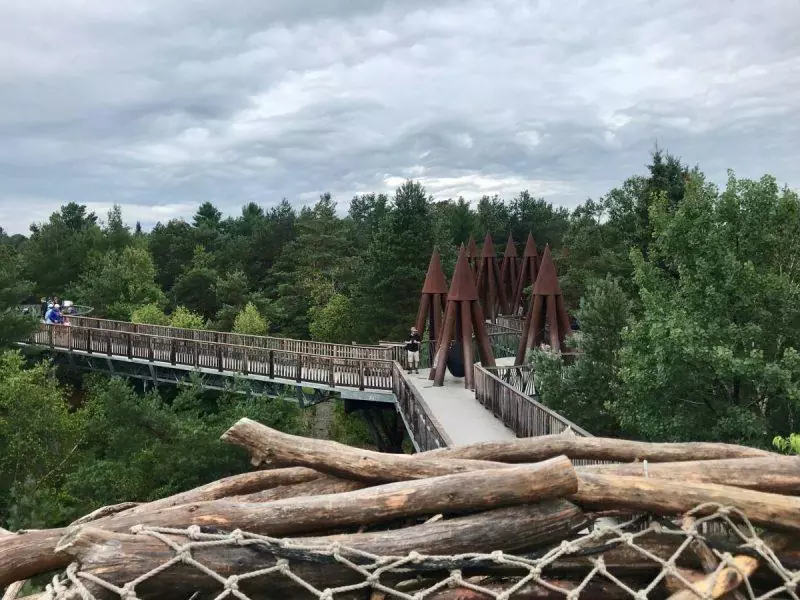 The Wild Walk is a series of treehouses and bridges that connect over the canopies of the trees, allowing a bird's eye view of the surroundings. This is the perfect IG spot, with bird's nests and treehouses at your disposal.
The entire area is meant to be interactive and engaging so there are life-sized games you can play along the way, bird watching instruction by guides and hands-on displays that share information about the environment and wildlife.
The Snag is the name of the biggest treehouse, spanning 4 stories and including a stairwell inside. Make sure to wear non-slip shoes if you'll be exploring this area. I went on a rainy day and the metal can get slippery.
There's also a giant spider web that suspends you above the treetops. The entire walk and Center are wheelchair accessible.
RELATED POST: VISIT THE WALKWAY OVER THE HUDSON IN POUGHKEEPSIE
Canoeing and SUP Excursions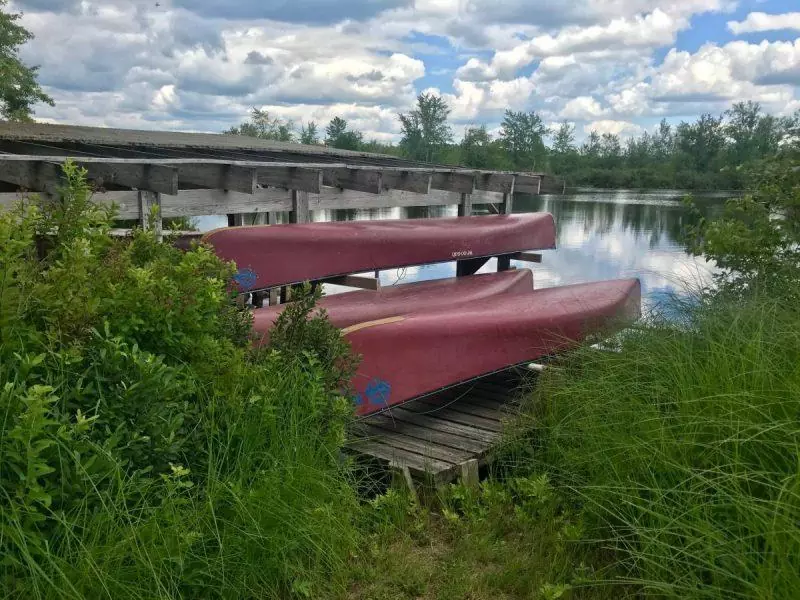 Want to get even closer to nature? Consider going on a canoeing or standup paddleboarding excursion. Each trip is led by a licensed guide and naturalist that points out plants, wildlife and environmental facts along the way. The trips go through the Raquette River's Oxbow. SUP riders go on an individual board and canoes fit 2 adults and 2 children per boat.
Trips are offered daily in August and on Saturdays from September to mid-October. It's recommended that you make reservations ahead of time as they're popular and fill up fast.
Wild Center Coupons and Discounts

Children under 4 years old get in free of charge. Groups of 10 or more receive a discount if you coordinate with them in advance. There's also a senior and military discount available.
Occasionally, there will be tickets for sale on Groupon or other deal sites so make sure to double check before you purchase.
RELATED POST: 12 BEST THINGS TO DO IN ROCHESTER, NEW YORK
Where to Stay in Tupper Lake

Tupper Lake is a small community with limited options for lodging. If you're looking to stay in a more traditional accommodation, aim for Shaheen's Adirondack Inn, a highly rated motel in the area with a pool and other basic amenities.
If you want to experience a more traditional mountain vacation, however, I highly recommend staying at Northwood Cabins. This is the perfect base if you're exploring the area, located no more than 10-15 minutes from all the main sites.
Not to mention — smores! They have fire pits available so you can have a traditional campfire. Don't worry, you won't be roughing it here. With A/C, running water, en suite bathroom and cable TV it is the perfect mix of hotel and cabin.
Enjoy the great outdoors while sleeping on a comfortable mattress? That's what I'm talking about. There are 10 cabins available, most at less than $100/night.
Where to Eat in Tupper Lake
The Wild Center has a cafe (The Waterside Cafe) on site with great lunch options, from soups and salads to hummus snacks. If it's a nice day outside you can take advantage of the patio seating by the pond and soak in the sunshine.
Afterwards, head to Amado for dinner. They have a wide variety of food, from seafood to steak, and unique daily specials. I had the fried yucca appetizer and a seafood pasta and all were to die for.
If pub fare is more your style, check out Raquette River Brewing Company where you can pair a beer flight with food truck grub.
RELATED POST: DINING AT THE CULINARY INSTITUTE IN HYDE PARK, NEW YORK
Wild Center Membership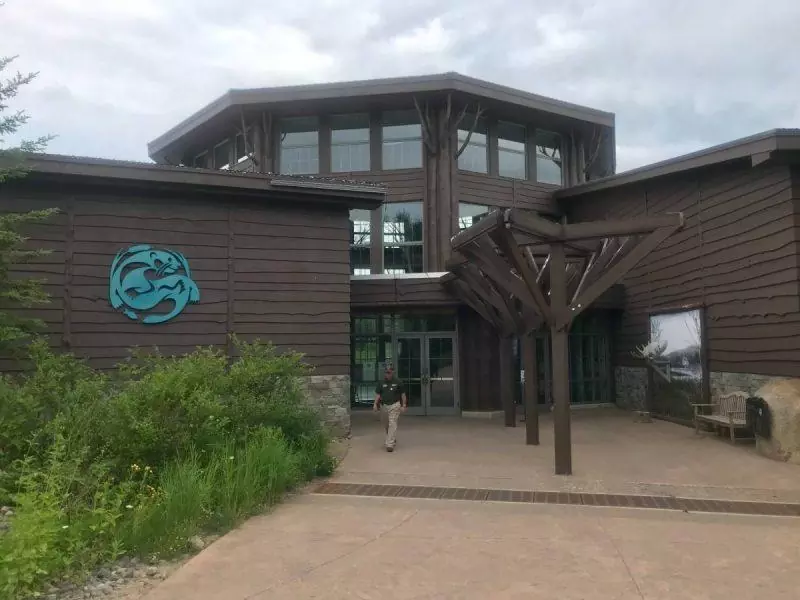 Memberships start at just $50 with family plans available. You can also add a "plus one" option to any plan for a one-time fee of $30 and bring a guest for free with you every time. You also receive discounts in the store and cafe and have special access to the Center.
Memberships last for one year and can be purchased as a gift, so if you need a cool Christmas gift for someone in the area this is it.
Till next time, safe travels!
RELATED POST: GO ZIPLINING AT HUNTER MOUNTAIN IN THE ADIRONDACKS
*Note: I was invited to visit the Wild Center Tupper Lake as a guest of the Center. All opinions are my own.
Liked this post? Pin me below.