It's beginning to look a lot like Christmas, especially at the annual Sweet Creations display in Rochester, New York.
I pride myself on knowing all the cool places, but give credit to my parents for finding this one.
If it weren't for them, I would have never known that the George Eastman Museum transforms into a holiday wonderland every year.
Sweet Creations is one of the Christmas traditions I look forward to the most, because I am obsessed with the gingerbread house masterpieces that go on display.
There's almost always a princess castle and uniquely shaped design that will blow you away.
All the decorations, from the houses to the wreaths, are hand-crafted and donated by different organizations and local families.
It makes a big city feel that much smaller when people contribute to a common cause and foster a sense of community.
I imagine George Eastman would be proud to see that his former home and estate has become a landmark for the people of Rochester.
This is one of my favorite things to do in Rochester, New York. Read on to find out why!
Who was George Eastman?
George Eastman is the founder of Kodak, one of two large companies associated with the city of Rochester.
He was an innovator, pushing us forward in the world of photography and building a household name in the industry.
He made photography accessible to all, and played a major role in the development of motion pictures.
He was a philanthropist, donating more than $100 million to various charitable organizations throughout his life, from public parks to hospitals.
His own story had a tragic ending, and he took his own life after being diagnosed with an irreversible spine disease in the late 1920's.
In his will, Mr. Eastman left his fortune to charity.
Today his estate is a working museum, featuring photography exhibits, stunning gardens in the spring and ongoing tributes to the city of Rochester's development and Mr. Eastman's role in the same.
RELATED POST: VISIT THE WILD CENTER IN THE ADIRONDACKS
What is Sweet Creations at the Eastman Museum?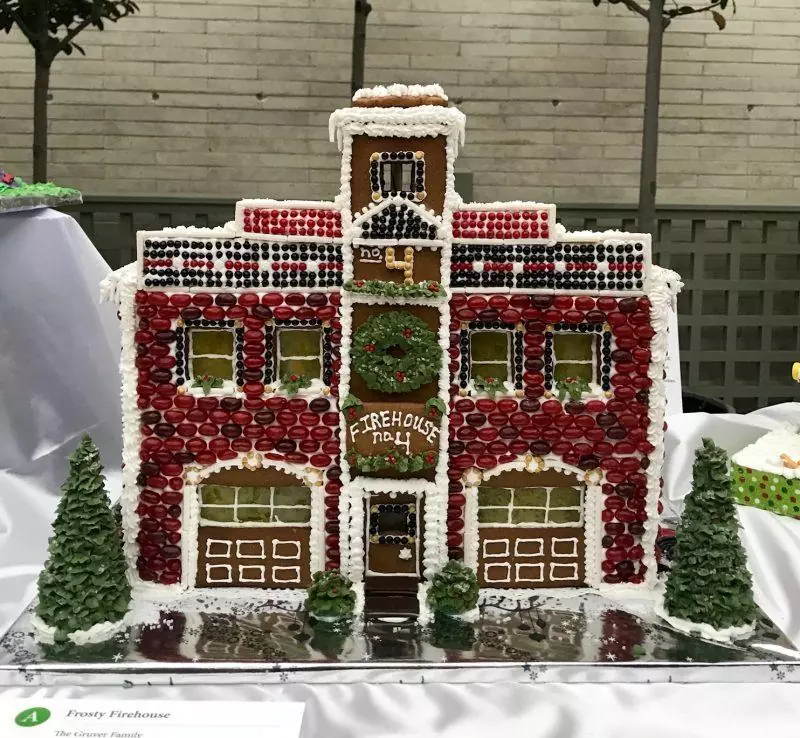 Sweet Creations is a combined fundraiser and competition where local organizations donate a gingerbread house display, wreath, or Christmas tree to be sold via auction.
All benefits go to the future restoration and projects of the Eastman Museum.
It's a special event because so many different teams participate, from Girl Scout troops to small businesses to garden clubs.
Each year is more impressive than the last, with teams pulling out all the stops to make sure their creations stand out from the bunch.
The display runs from November to mid-December, and the winning bids are notified once the exhibit ends.
While the gingerbread houses are not safe to eat, they're gorgeous and make a great holiday talking point.
It's not often you see a firehouse replicated in gingerbread, with hundreds of button candy bricks meticulously covering the facade.
RELATED POST: BEST VIEWS OF NEW YORK CITY FROM TOP OF THE ROCK
What kind of gingerbread houses can you see at Sweet Creations?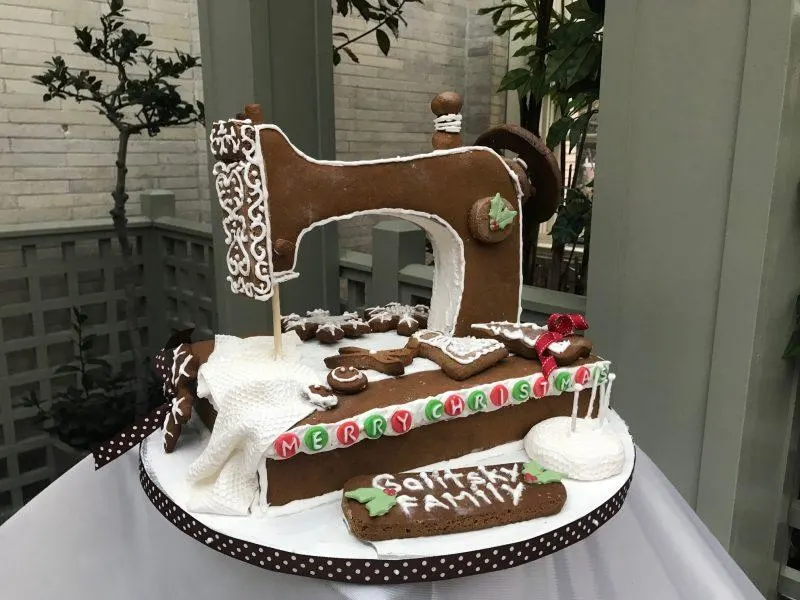 "House" is a loosely used term at the Sweet Creations exhibit, since gingerbread can take the form of anything from Snoopy's doghouse to a cuckoo clock.
This is why the gingerbread houses are the main attraction every year. It's not every day you see Cinderella's castle in confection.
One year, the castle from Beauty and the Beast stole the show.
The next year, it was the Alice in Wonderland themed house with different, intricately decorated rooms.
The year after that, it was an immaculate replica of St. Patrick's Cathedral, stained glass and all.
Other gingerbread house submissions are lit up from within, with full electronic hook-ups to combine function with beauty.
The skill level and craftsmanship varies, from professional pastry chefs to elementary school children, and that's part of the charm.
The sewing machine pictured above was contributed by a family who wanted to take part in the competition.
Apple pie might be associated with America, but true family bonding takes place over gingerbread in upstate New York.
Are there other Christmas displays at Sweet Creations?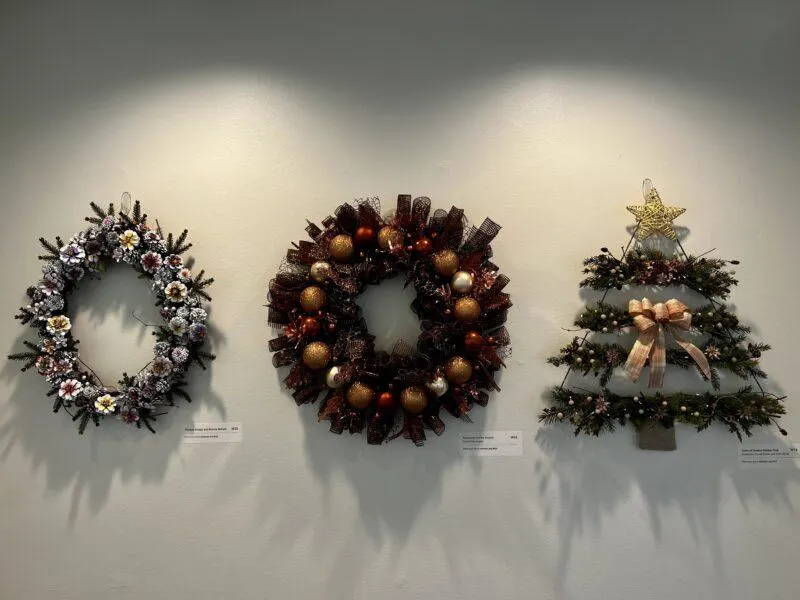 As I mentioned earlier, there is also a Christmas tree decorating and wreath decoration competition.
The wreaths are made with everything from birch to acorns to twigs.
These may be a better investment for potential bidders, as a well-preserved wreath can be used year after year.
The ones on display at the Eastman Museum are meticulously crafted and come in all shapes and sizes.
RELATED POST: WALWAY OVER THE HUDSON BRIDGE IN POUGHKEEPSIE, NEW YORK
Does the Eastman Museum offer tours?
There are daily tours offered of the Eastman House, included in your price of admission.
The tour lasts about 45 minutes and meets at the entrance.
There's also a free audio guide available if you download the Eastman Museum app on your phone.
As always with free audio guides, don't forget to bring your own headphones.
During the Sweet Creations display, children and adults alike can play along in a scavenger hunt that changes yearly depending on the submissions, making guests stop to identify and match the gingerbread houses to the descriptions on the sheet.
RELATED POST: GROOVY THINGS TO DO IN WOODSTOCK, NEW YORK
What is the price of admission?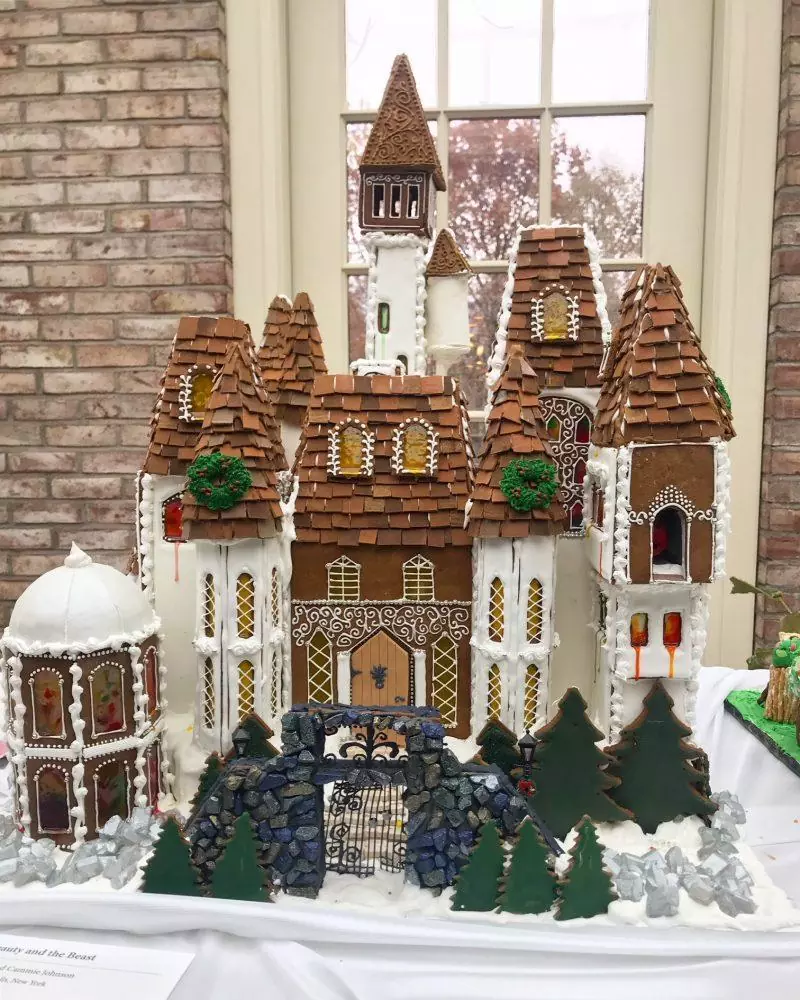 The Sweet Creations display is included with your ticket to the Eastman Museum, which costs $20 for adults.
Seniors get a discount and $18 tickets, students with ID pay $7. Children 4 and under are free.
There is free museum admission for families with SNAP benefits and active-duty military and their families.
You can also become a member and pay annually for free entrance year-round. Memberships start at $70 for an individual.
Know Before You Go
Parking can get crowded on weekends during this exhibit, but there is a free lot on-site and you should be able to land a spot if you're patient.
There is an organ player in the foyer setting the mood with Christmas music, and they're sure to put you in the holiday spirit.
There's a children's activity room on the second floor where you can participate in arts and crafts, and an especially interesting activity is one that experiments with developing images under a black light.
Year-round, you can learn about the history of photography and compare the development of cameras throughout the years.
There are also photographs routinely on display that rotate out, so you'll have no shortage of images to admire.
History buffs will appreciate that you can tour the estate, going into old rooms and learning about one of Rochester's most affluent families.
There is a cafe with hot lunch and sweets available, as well as restrooms and a coat room on site.
There's always something to see and do at the Eastman House, and no better time to visit than the holiday season.
Watch the video below to see more:
RELATED POST: ALL ABOARD THE MAID OF THE MIST IN BUFFALO, NY
Till next time, safe travels!
Liked this post? Pin me below!