Looking for the best things to do in and around Woodstock NY? Read on for my recommendations.
The town of Woodstock has become synonymous over the years with a music festival it never held.
In fact, the 1969 Woodstock Festival took place in Bethel, New York on a 600-acre dairy farm after the people of Woodstock voted to ban it, fearing the violence and destruction a massive gathering would bring, and for good reason.
There were three dozen other rock festivals that year and many of them ended in riots.
Everything that could've gone wrong did. It rained. There was traffic spanning 25 miles in every direction.
The festival planners ran out of food and sanitation was an issue. But to everyone's surprise, Woodstock turned out to be a peaceful gathering without a single arrest made for violence. It was a true kumbaya moment.
The town that once shunned the hippie lifestyle now embraces it.
Woodstock, NY has adopted the peace and love vibes, can you dig it?
For those planning a trip to this colorful upstate New York town, I recommend renting a car.
Public transportation is not comparable to that of New York City and several interesting destinations are within a half-hour to an hour's drive from the town.
A Quick Note: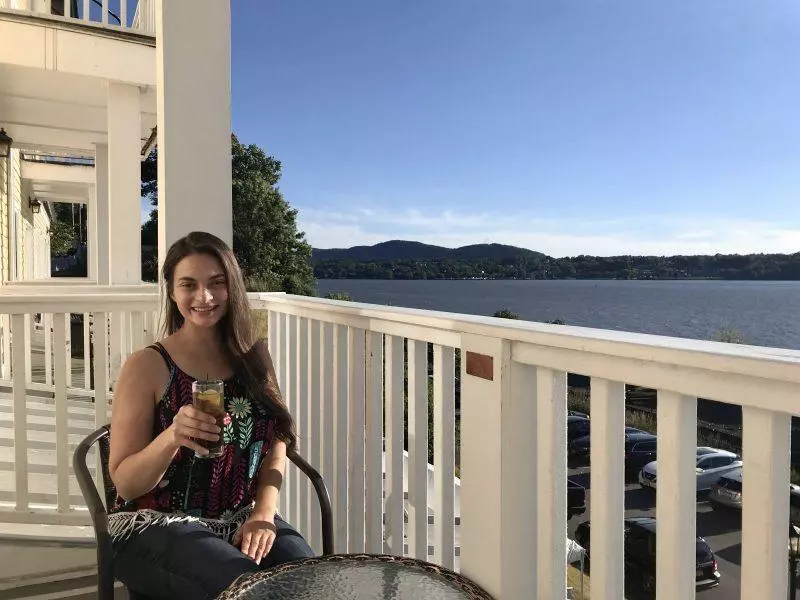 This post is meant to have a "hippie" theme, with peace, love and outdoor vibes.
As such, some of the items listed may be removed from Woodstock city center.
The actual site of Woodstock, for instance, is not near the city itself. But you can't write a post about Woodstock and fail to include tourism around the festival!
Since most visitors to the area are coming by car, I've opted to write a more comprehensive road trip post with highlights of the area overall.
RELATED POST: 12 FUN THINGS TO DO IN ROCHESTER, NY
Here's the skinny on some of the things you should do while in the area.
1) See the world's largest kaleidoscope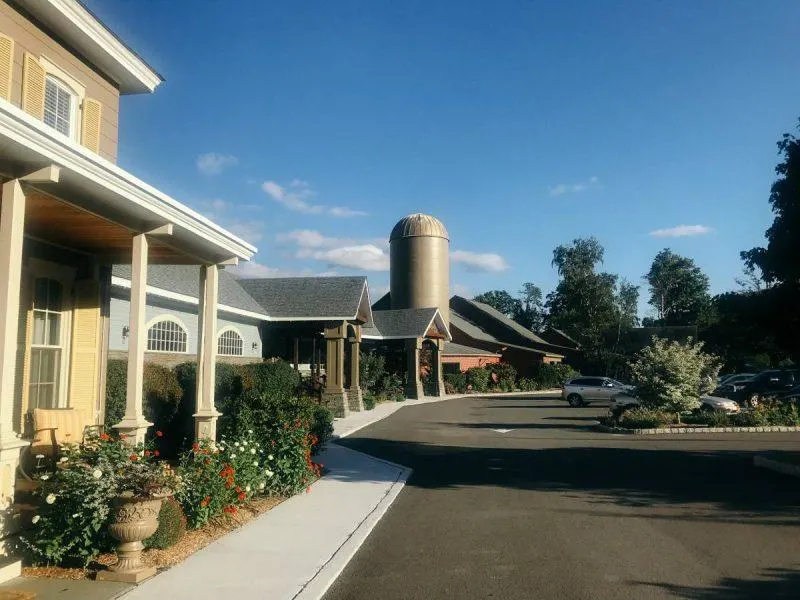 You read that right — the world's largest kaleidoscope.
Housed in a silo measuring 56 feet tall and 38 feet in diameter, the Emerson Kaleidoscope is the holder of the Guinness Book of World Records title, on display in the accompanying store.
The store also holds rare and expensive kaleidoscope and will introduce you to an art you never knew existed.
Even cooler? There's a state of the art, surround sound light show offered inside the kaleidoscope so you can lay down and watch trippy designs change to music.
The show changes seasonally, so feel free to make a return visit. There's also interactive exhibits that allow you to put yourself in the kaleidoscope image, great for children kids at heart.
2) Go shopping on Tinker Street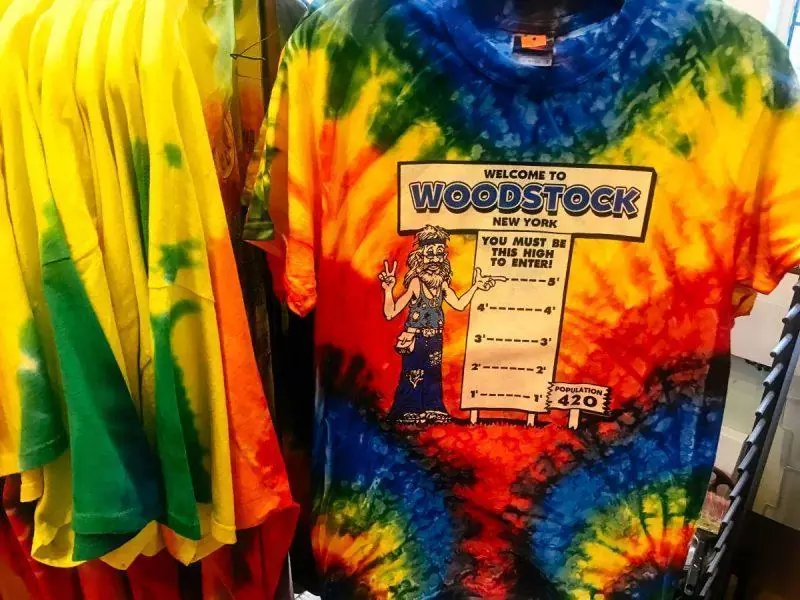 Tinker Street is the tourist draw and main pedestrian street in the town of Woodstock.
You'll find tons of eccentric shops and dining options. I recommend strolling around at your leisure.
There are some great vintage finds here, like Woodstock Legends where you'll find heaps of clothing and souvenirs from the era.
I also enjoyed talking to the owner of Woodstock Emporium and Holiday Haus, a long-time resident who sells the screen print t-shirts pictured above, and fudge to appease even the fiercest case of the munchies.
You'll find all sorts of establishments here, from small cafes and restaurants to pottery and jewelry stores. Many items are made by local artists and sold at reasonable prices.
3) Visit the original site of Woodstock
This one is a little bit of a drive, but worth it. Originally 50,000 people were estimated to attend the Woodstock music festival. In the end, nearly a half million people arrived in upstate New York ready to get their dose of rock n' roll.
The town of Woodstock backed out at the last minute, fearing the crowds, and the festival was actually held in Bethel, New York, about and hour and a half away.
This festival solidified the careers of legends like Jimi Hendrix, who will forever be remembered for his rendition of The Star Spangled Banner on electric guitar, or Carlos Santana's expert solo during Soul Sacrifice.
The original site of the festival has a monument marking the spot and a peace sign mowed into the lawn in the background.
There's also a message tree where people used to send messages to each other and, if you're lucky, you'll catch someone playing live music during your visit to transport you back in time.
It's free to park and roam the grounds.
4) Tour the Museum at Bethel Woods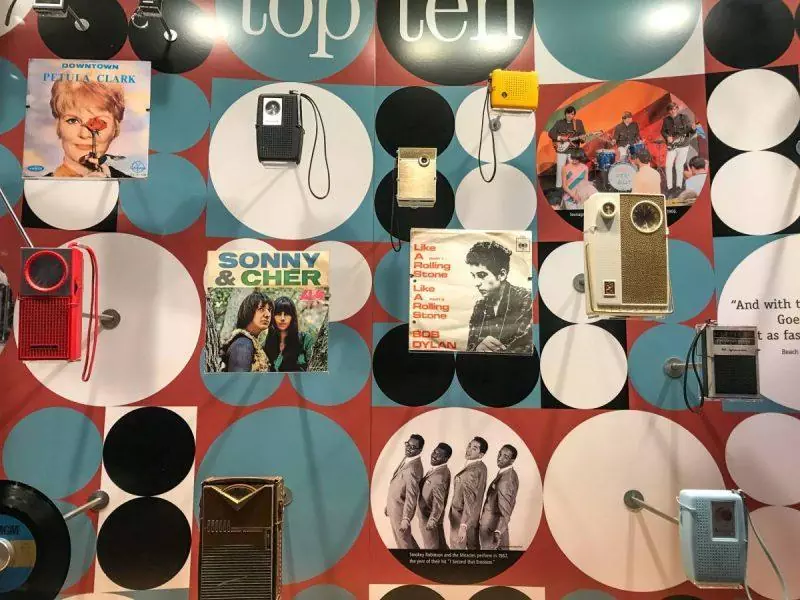 The original site of Woodstock is part of the Bethel Woods Center for the Arts. You only need to pay admission to enter the museum or attend a special event on site, which I highly recommend doing.
The museum is meticulously overseen by museum director and senior curator Wade Lawrence whose passion for music comes through in every exhibit.
The museum boasts interactive displays, memorabilia from the time, original videos and an overarching narrative about the message and impact of Woodstock on society at the time.
With more than 400,000 people in attendance, it was the largest concert audience ever assembled in one place.
There are several options for dining, including a casual cafe with pavilion seating.
RELATED POST: VISIT THE WILD CENTER IN TUPPER LAKE, NEW YORK
5) Take a hike
The Overlook Mountain trail is a 4.6 mile return journey located 15 minutes from the town of Woodstock.
The journey up isn't much to write home about (many compare it to walking in a parking lot) but you're rewarded with beautiful views of the Catskills and fascinating ruins to explore.
The trails has one of five remaining fire towers in the area and the ruins to a hotel that burned down several times and could not be rebuilt due to its elevation and inaccessibility.
New York State acquired the land in the 1940's and it has since been open to the public.
If you're willing to go a little further, an hour and a half away is the Walkway over the Hudson, the largest elevated pedestrian bridge in the world.
It used to be a railroad track but after a hefty renovation now serves as a site for strolling, jogging and biking and spans 1.28 miles.
RELATED POST: VISIT WALKWAY OVER THE HUDSON IN POUGHKEEPSIE, NEW YORK
5) Catch a show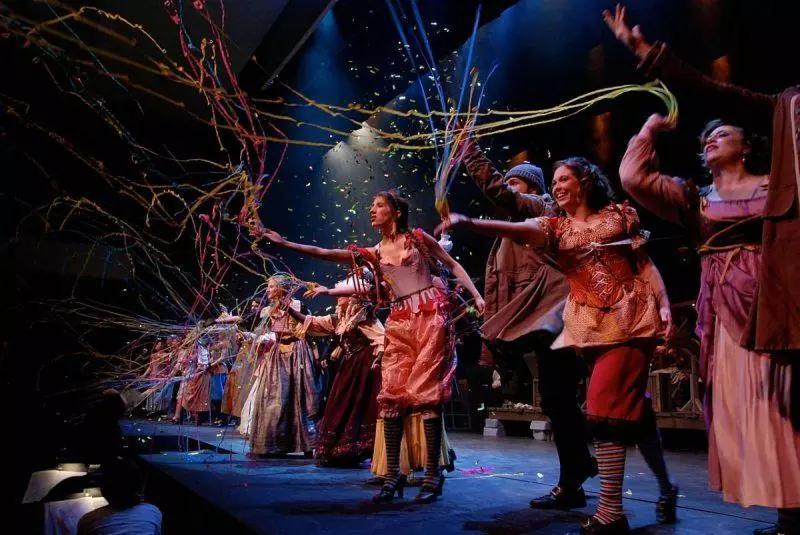 Woodstock has no shortage of shows for you to attend.
The Woodstock Playhouse regularly hosts performances and is a local favorite. There are also shows held regularly at the Bethel Center for the Arts as I mentioned above.
If a movie is more your style, check out the Tinker Street Cinema, a single-screen non-profit showing a mix of classic Hollywood and independent films.
Those looking for music in keeping with the Woodstock theme should visit the Bearsville Theatre.
There's a drum circle on Village Green every Sunday during peak season (summer months).
6) Admire the local artwork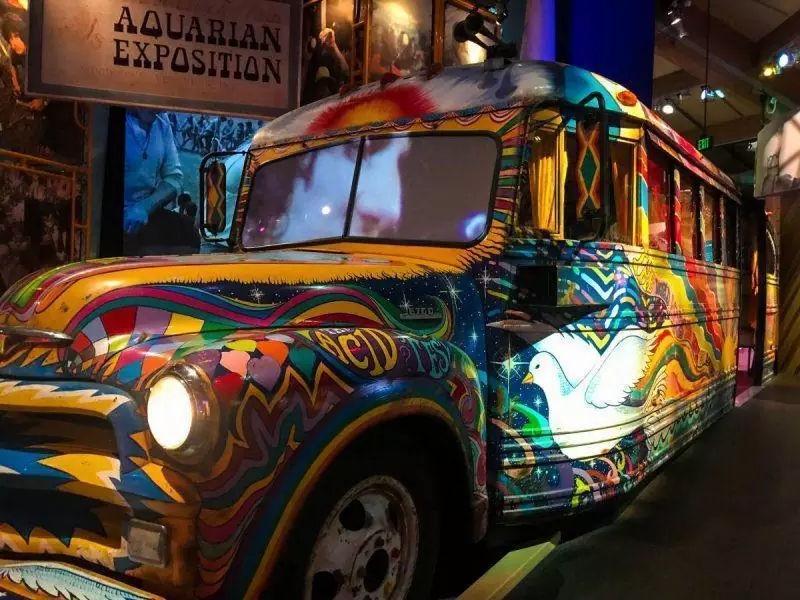 Opus 40 is a sculpture park intended to house the works of sculptor and quarryman Harvey Fite but in itself became his masterpiece.
He did all the work by hand, and the terrain runs the gamut from subterranean rooms to a monolith three stories high. This is a popular photo destination.
The Woodstock Artists' Association & Museum is right in town and features work from local artists with both a rotating monthly display and permanent collection. Far out, art lovers!
7) Get your zen on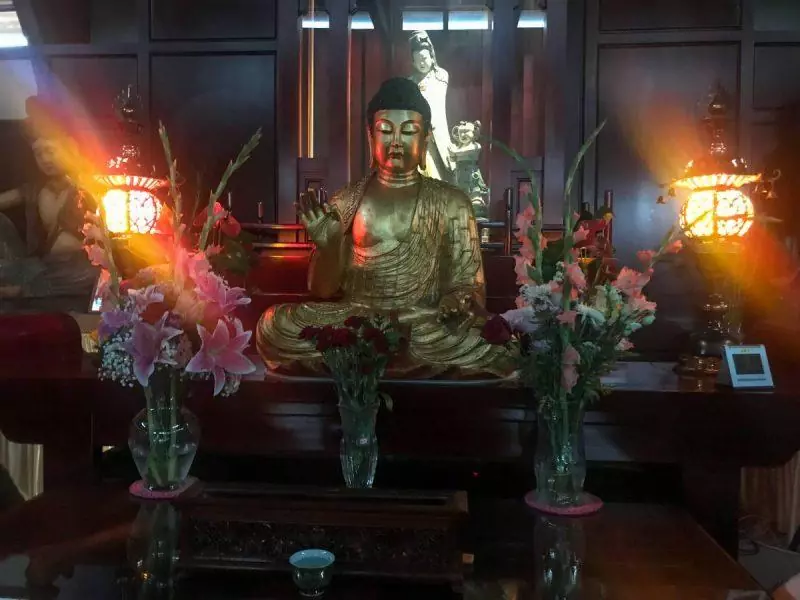 The last place you'd expect to find a Tibetan monastery is in Upstate New York, yet Karma Triyana Dharmachakra is nestled on the outskirts of Woodstock, New York up a scenic winding road into the Catskills Mountains.
If you'd like a more exclusive retreat, the YO1 Wellness Center offers a scenic hideaway where guests can destress for several days and are treated to delicious vegan meals, yoga classes, naturopathy, diet consultation, personal assessment and acupuncture and massage services.
This is the place to go to balance all your chakras.
Finally, those interested in seeing the largest indoor Buddha statue in the Western Hemisphere (and immediately feeling transported to the other side of the world) won't mind the hour and a half road trip out to the Chuang Yen Monastery.
8) Ride the longest zipline in North America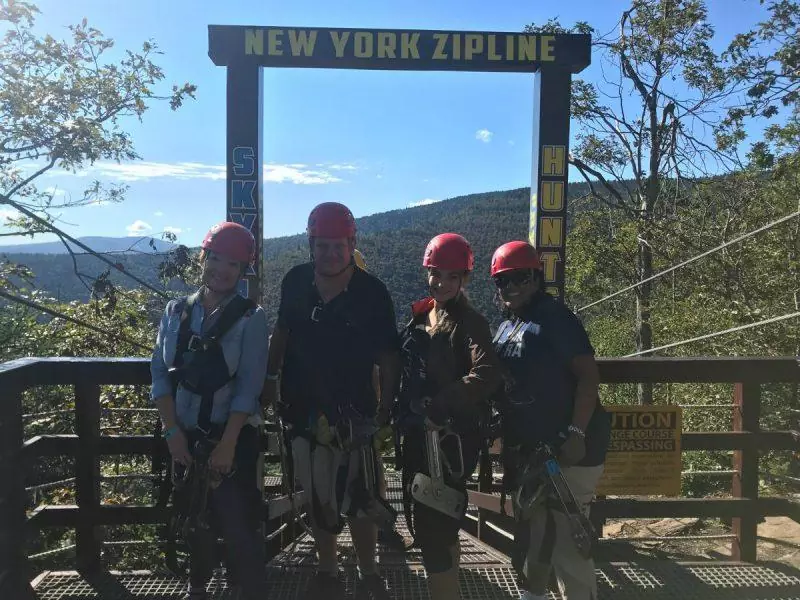 New York loves to break records. Spanning more than 4 miles through the Catskills beginning at the nearby Hunter Mountain, New York Zipline Adventures is incredible.
With several lines, suspended bridges and tree platforms it is the highest, fastest and longest zipline in North America and is sure to get your blood pumping.
I felt safe with the team we had escorting us and the views were well worth the nerves (once I opened my eyes). If you're an adrenaline seeker, this one is for you.
RELATED POST: MY NEW YORK ZIPLINE REVIEW
Till next time, safe travels!
Note: I was hosted by I Love NY and Visit Catskills for this trip. All opinions and once-in-a-lifetime experiences are my own.
Liked this post? Pin me below!