Want to know more about the New York Zipline on Hunter Mountain? Read on for my review.
New York State is seriously underestimated as a vacation destination. There is so much to do outside of its namesake city, with history, culture and adventures galore.
By far, the best attraction in the area that not nearly enough people know about is New York Zipline Adventures. I had the pleasure of visiting in late September, when the weather was perfect for flying through the air.
I'd only gone ziplining once before, in Vegas, but this experience was completely different. In Vegas, I was zooming over Fremont Street. There was only one line (not multiple consecutive ones) and the entire ride lasted less than a minute. I also didn't feel like I was that high up in the air.
In contrast, New York Zipline was an adrenaline rush and full afternoon experience that had me soaring through the air at record speeds and enjoying a bird's eye view of the Catskills.
If you're looking to go ziplining, whether it's your first time or twentieth time, you'll be pleasantly surprised by New York Zipline Adventures. Here's what you need to know to plan your visit.
RELATED POST: 8 BEST THINGS TO DO IN WOODSTOCK, NEW YORK
Where is the New York Zipline?

Good news — Hunter Mountain is easily accessible on a day trip from New York City. It's only about 2 to 2 1/2 hours from NYC away by car. Unfortunately, public transport in the area is limited so you will need to have a rental vehicle or find an alternative ride to the area.
Cell reception can get spotty here, so make sure you have directions saved on your phone. Street lights are limited and the roads are windy, so be careful driving here at night.
Hunter Mountain used to be a struggling area but New York Zipline Adventure has changed all that, now serving as the second largest employer in the area.
While Zipline New York is the main attraction in the area, there are some great restaurants that I recommend you try out after you work up an appetite. If you're looking for gourmet comfort food, you can't go wrong with Jessie's Harvest House, a family-owned restaurant featuring locally sourced American cuisine.
In the alternative, those looking for a more casual dining atmosphere and a drink to celebrate conquering their fears should visit Rip Van Winkle Brewing Company.
New York Zipline Length and Height
New York Zipline is the longest and highest zipline in North America. Guests can fly at an elevation of over 600 feet, reaching speeds of up to 50 miles per hour.
At its peak, the lines and course span a total of 4.6 miles long.
You don't need to go all the way to Costa Rica or New Zealand to have an unforgettable adventure — you can reach record-breaking heights and speeds in your own backyard.
To ensure that everyone in your party gets to ride, it's recommended that you make reservations at least a week in advance.
RELATED POST: VISIT THE WILD CENTER IN THE ADIRONDACKS
Packages and Zipline Experiences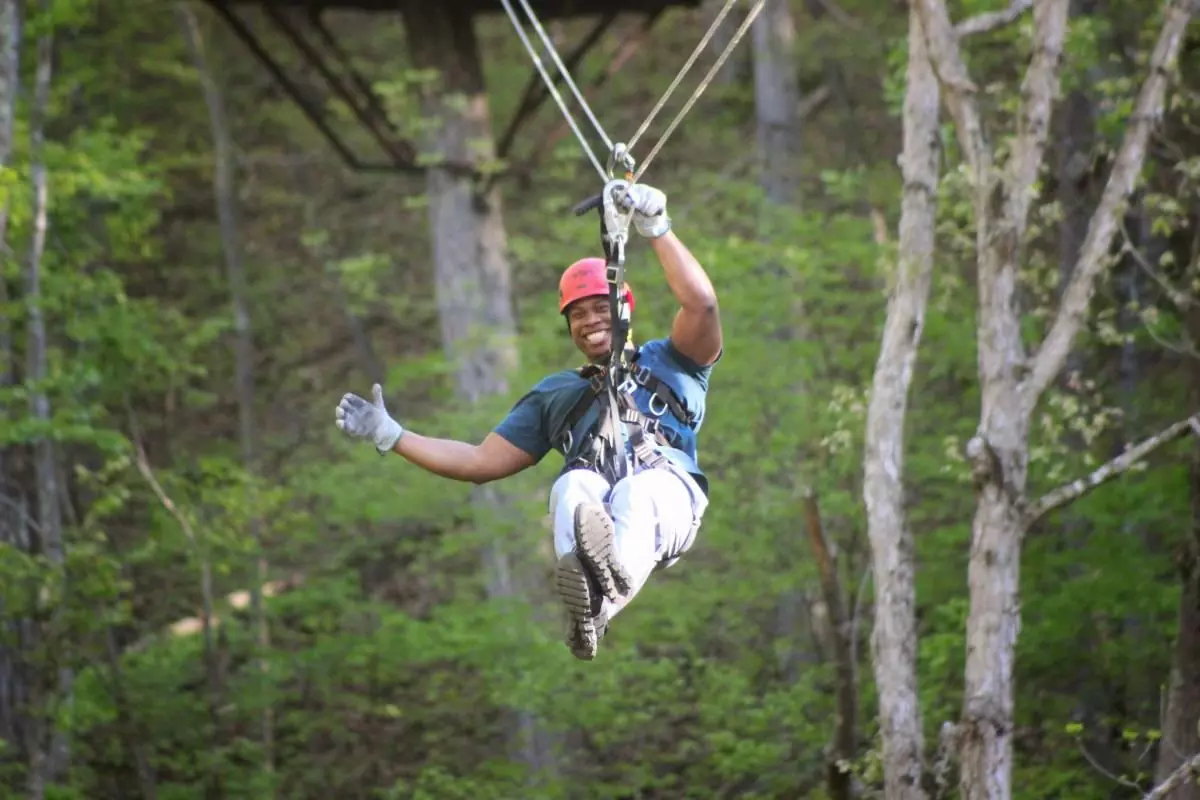 It's not just ziplining that you'll find here — there's also suspension bridges, nighttime riding and even winter rides! Those going for the main attraction, however, will not be disappointed.
There are two main options: the Sky-Rider and Mid Mountain Canopy Tour. The Sky Rider is the more intense of the two and lasts about 3 hours. You'll go on 5 lines total, of varying lengths and riding styles. Unlike other ziplines, they're all dual lines, meaning you can fly with a buddy. The longest of the five lines is 3,200 feet long. You must be between 110-260 pounds to ride this ride and tickets are $119 per person.
The Mid Mountain tour is for families and those who want to ease into the experience. The maximum height is 60 feet and the longest line is 650 feet long. There are 6 ziplines, 4 suspension bridges and 9 tree platforms. There's a minimum weight requirement of 60 pounds here, making it ideal for children and teens. A ticket will run you $89 per person.
Lastly, there's an Adventure Tower available as an alternative or add-on to your zipline experience, which requires you to complete 9 obstacles before reaching the top. This is a great team building activity for corporate retreats.
RELATED POST: VISIT THE WALKWAY OVER THE HUDSON IN POUGHKEEPSIE, NEW YORK
Know Before You Go
You must wear closed-toed shoes to be able to ride, so leave your flip flops at home. They'll provide you with all the safety equipment you need once you check in, including a helmet and your harness. I recommend that you wear tights, both for the wind resistance and to provide a barrier between the harness and your skin (instead of shorts). You must wear your helmet at all times on the course.
Depending on your weight, you may or may not make it to the end of the line. It's recommended that you get a running start to help you accelerate. I weighed a little less during my visit and got stuck towards the end. If this happens, you'll be instructed on how to turn around and manually move yourself to the platform. In the event you can't make it back on your own, someone will come out and get you. They key is not to panic.
The staff here is comfortable on the lines, and their expertise shows. They work this course day in and day out and make it look easy. They also take safety seriously here. You'll have a training session before you go, and they always double check all connections.
Also depending on your weight, you'll be instructed on how to fly on the lines. You'll likely be sitting versus flying superman style. Depending on whether they're trying to minimize or maximize wind resistance you may go sideways.
I had a jacket with a zip-up pocket which was great for holding my phone. There are no picture packages available so you'll want a way to take your own. There are GoPros available for rent which can be attached to your helmet, or you can bring your own.
RELATED POST: 12 FUN THINGS TO DO IN ROCHESTER, NEW YORK
Till next time, safe travels!
Liked this post? Pin me below.