Visiting Niagara Falls is a classic American experience. For most kids growing up in the Northeast, it was an obligatory trip, either with classmates or on a family vacation.
I remember resenting the half-day drive my family made to this place when I first visited as a child. Aside from the 3D experience, which resembled a ride, I wasn't enthused in the slightest.
It's funny how little we appreciate these sights as children, and how much they humble us as adults.
Thankfully, having since moved away from the Northeast, a lot of the attractions I previously scoffed at have regained their luster. When I got the chance to spend time with my parents this summer, I wanted to somehow include them in my year of adventure. They live in upstate NY and don't travel far, so Niagara Falls ("the Falls") seemed like the perfect compromise.
RELATED POST: BEST THINGS TO DO IN WOODSTOCK, NEW YORK
Everyone had been on one boat or another near the Falls already, and no one was expecting much. We went in jaded and left awed. Something about nature compels you, no matter how many times you think you might have "been there, done that."
The day we went, Niagara was roaring in full glory. It was misty on our boat, and then some!
Here's everything you need to know to cross this item off your USA bucket list.
Where is Niagara Falls, NY?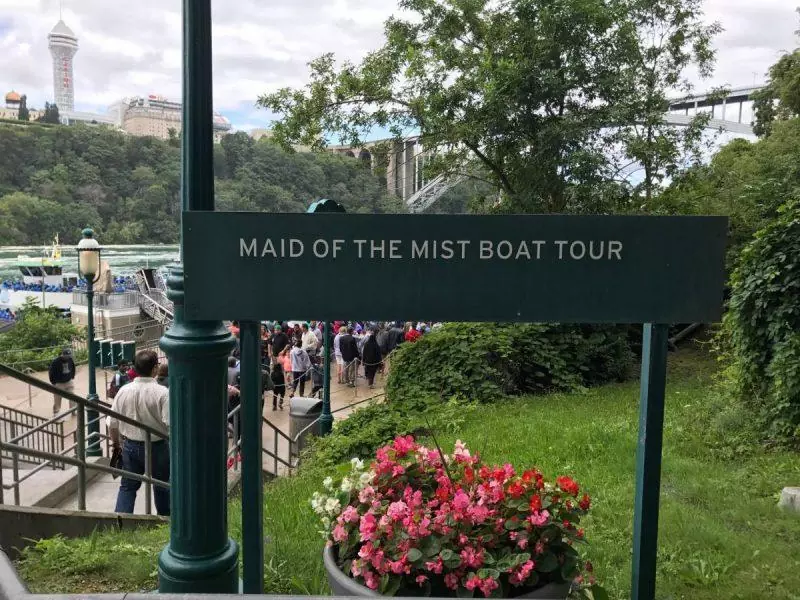 The Maid of the Mist departs from Niagara Falls, NY. It is about a half hour away from Buffalo, NY and 7 hours away from NYC by car.
The Falls span across both the United States and Canada, so you have your option of where to depart.
Those in blue ponchos will be riding the Maid of the Mist. The city of Niagara Falls itself can get crowded and difficult to navigate, especially on the weekends.
Park wherever you can and walk; it'll be easier that way.
Maid of the Mist v. Hornblower

Those in red will be going on the Hornblower Cruise, the Canadian equivalent to the Maid of the Mist.
It takes off from the other side of the river, and you'll see that the boats go on parallel paths.
Both get the same view of the Falls, so it's really a matter of preference. The upside to going on the Maid of the Mist is that you do not need a passport if coming from the United States.
RELATED POST: FOOD TOUR OF KENSINGTON MARKET IN TORONTO
How Long is the Maid of the Mist Boat Tour?

While the memories you make will last a lifetime, the experience itself lasts 15 minutes, tops.
Don't stop to tie your shoe or blink cause you'll miss it!
When you board, it's a race to the perimeter, so be prepared to grab and claim a spot, preferably on the top floor so you can get the most unobstructed view.
Take your GoPro if you have it handy, otherwise be careful not to get your phone too wet!
Maid of the Mist Tickets

Tickets are less than $20 per person and include the souvenir poncho to keep.
There are no photographs included on your tour and no times are reserved, you just show up and get on the next available boat, which comes every 15 minutes.
You can buy tickets online or at the counter but you have to wait in line either way, even if you pre-ordered tickets because you need to exchange your receipt for the tickets themselves.
You'll see staff ready to guide you, and restrooms before you start making the line to board. Definitely take advantage–you'll see a lot of flowing water on your trip!
RELATED POST: 12 BEST THINGS TO DO IN ROCHESTER, NEW YORK
Know Before You Go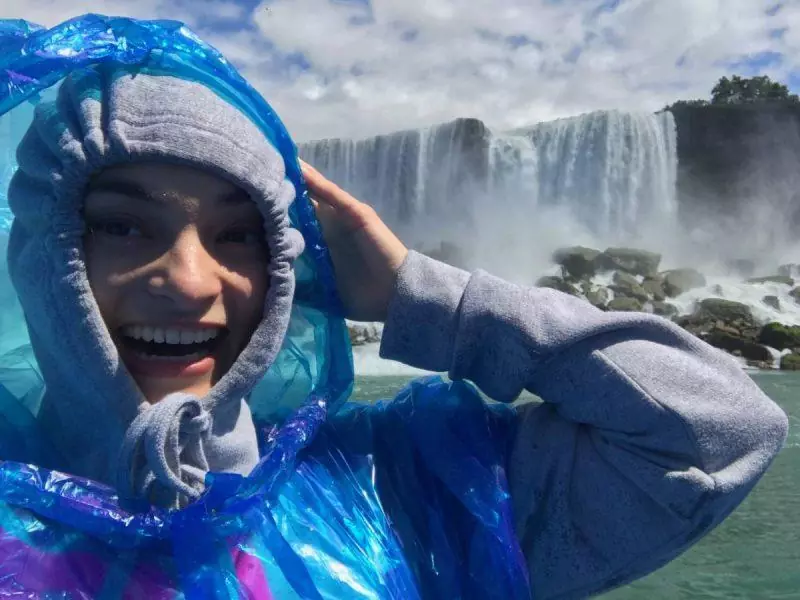 There are a variety of food options throughout the city, from a food court to The Red Coach Inn.
If you want even more variety, Buffalo is less than a half hour away and has amazing restaurant options. There's also a visitor's center if you want to pick up your map or get your bearings.
I recommend aiming for Parking Lot 1 when you arrive, it's the closest to everything and can be found at 332 Prospect St. Niagara Falls, NY 14303.
You can download a free walking tour on the Niagara Falls app. They also have special events routinely so be sure to check the website.
Bring a towel to dry off after your trip. We were If the day is nice and you want to have a picnic in the area, there is space to do so if you come well prepared. This could also be a great way to save on money.
Till next time, safe travels!
RELATED POST: RIDING THE NEW YORK ZIPLINE
Liked this post? Pin me below!