Want to know more about the Culinary Institute of America restaurants in Hyde Park, New York? Hold on to your taste buds!
When most people think of fine dining, they think of Michelin star restaurants or high-end restaurants run by celebrity chefs. They don't necessarily think of a school.
The Culinary Institute of America ("CIA") is the exception.
It is the premier institution for culinary arts in the United States and its central campus is in Hyde Park, New York, less than 2 hours north of New York City.
If you're in the area, I highly suggest stopping by to grab a bite. There are four eateries that are open to the public, ranging from casual grab-and-go to formal, multi-course meals.
The venues are all run by students, with the supervision of staff. Preparing food and serving as wait staff all factors into their final grade, so they pay the utmost attention and do their best to deliver a memorable experience.
The students are not allowed to receive tips so if you're at a sit-down restaurant expect a "student support charge" to be added to your check (~20%) that is essentially functions as a tip and goes towards supporting the educational needs of the students.
It's automatically calculated and disbursed.
Here's everything you need to know about the Culinary Institute of America restaurants.
RELATED POST: VISIT WALKWAY OVER THE HUDSON IN POUGHKEEPSIE, NEW YORK
About the Culinary Institute of America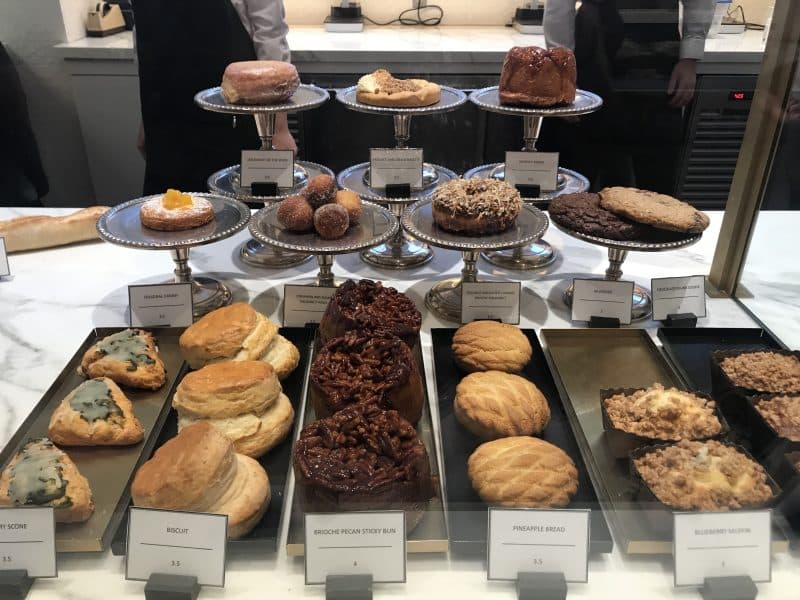 Founded in 1946 as a vocational institute for veterans returning from the war, the Culinary Institute of America was the first college in the nation to offer a curriculum in culinary arts.
Today, they offer associate's, bachelor's and master's degrees to students from more than 30 countries.
In addition to the restaurants and traditional classrooms, there's a brewery on site where students learn about producing craft beer, a student commons area and a private dining facility called "The Egg."
Famous alumni include Anthony Bourdain and Jérôme Bocuse.
The school offers public tours daily at 4pm for $6/pp, as well as Mondays at 10am. All tours are given by current students and reservations are required.
The tour will take you behind the scenes, peeking in on the classrooms and areas typically reserved to students.
Your guide will also explain the art around the campus like a statue of an Atlantic sturgeon, a fish found to the Hudson River, that's made entirely of recycled silverware.
Ristorante Caterina de' Medici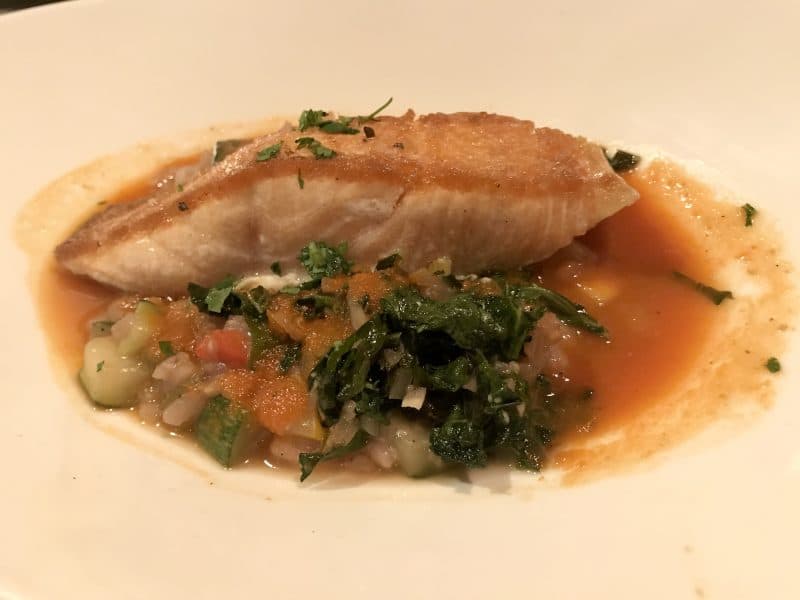 Opening days/hours: Monday-Friday 11:30am-8:30pm, Sundays 5:30pm-8:30pm; no lunch served in the off season, check with the restaurant before you go at (845)-451-1013.
Average entree price range: $20-$30
This is an award-winning Italian restaurant that utilizes fresh herbs and plants from its adjacent garden.
The restaurant is housed in a Tuscan-style villa that feels bright and open, with plenty of windows allowing you to admire the view.
The decorations and building materials were imported from Italy, including glass chandeliers and tile floors. They are open for dinner and serve lunch seasonally.
They also offer a 25% winter food discount between January and March, an incentive to visit in the off season.
Menu options include beet carpaccio, braised veal and sausage stuffed quail.
Pasta is not typically the star of the menu but they offer pasta dinners on Saturday nights from 5pm-8:30pm where $39 gets you caesar salad, antipasto, 5 gourmet pastas served family style and dessert.
They also have a limited menu at the bar that is meant to get you in and out quickly with a pizza or panini.
The Bocuse Restaurant

Opening days/hours: 11:30am-1:00pm and 6:00pm-8:30pm Tuesday-Saturday, closed Sundays and Mondays
Average entree price: $25-$35
The Bocuse Restaurant features French cuisine and is named after the most famous chef in France — Paul Bocuse. His son, Jérôme, is an alumni of CIA.
This is a lovely place to come for a business meeting or date. They are open for lunch and dinner.
The students are always meticulous about your silverware, wiping crumbs off the table and making sure drinks are full, small touches that make all the difference.
There's an extensive wine selection and decadent menu items such as black truffle soup, crispy duck breast and nitrogen ice cream, hand cranked and prepare tableside, putting on quite a show.
During the winter months they offer 25% off food from Tuesday to Friday.
The deal is available for roughly 8 weeks out of 52 so take advantage since it's not often you can feast on fine cuisine at a quarter discount.
RELATED POST: A FRENCH ESCAPE AT THE MIRBEAU INN AND SPA IN SKANEATELES, NY
American Bounty Restaurant
Opening days/hours: 11:30am-1:00pm and 6:00pm-8:30pm Tuesday-Saturday, closed Sundays and Mondays
Average entree price: $25-$35 in the dining room, $15-$20 at the tavern
If there's one thing New York State is proud of it's their local farms. Many restaurant have partnerships and promote regional products like cheeses and seasonal vegetables.
The American Bounty Restaurant is no exception, and takes it one step further.
They locally source everything here, including their grain, honey, fruit, dairy, eggs, maple syrup and sugar, wine, dry beans, poultry and meat.
This restaurant is meant to showcase the best of dining in the area and is like having New York on a plate.
It's a relaxed dining atmosphere with dark woods, exposed brick walls. They serve hearty comfort foods like cider-braised pork belly and roasted honey nut squash.
There's also a tavern with casual pub fare like burgers and great beer.
Apple Pie Bakery Cafe

Opening days/hours: 7:30am-6pm Monday-Friday, closed Saturdays and Sundays
Average entree price: $5-$15
This is the resident bakery and is located just to the right when you come in through the main entrance. Follow the wafts of deliciousness.
Any of the items you purchase here can be eaten in their seating area from 7:30am -10am or wrapped up and taken home.
They also have a dining area that's open from 11am -5pm, serving items like soups, salads and sandwiches.
The desserts are immaculately crafted, mimicking everything from an apple to a grasshopper.
I had a creation that was made to look like cookies and milk. It was set in a delicately molded chocolate cup that was painted blue, with cream on the inside and topped off with two chocolate chip cookies.
It was to die for.
You can watch the students work in the back thanks to windows revealing the bakery workspace around the corner.
There's full transparency over the process here and everything is made fresh daily.
Even if you don't have time for a formal dinner or didn't get a chance to make a reservation, you can't leave Hyde Park without taking one of these sweet creations to go.
The Culinary Institute of America restaurants are well worth your time and patronage and will have something to suit everyone in your party.
Till next time, safe travels!
RELATED POST: VISITING THE WILD CENTER IN THE ADIRONDACKS
Liked this post? Pin me below.