Toro Verde Puerto Rico features the longest zipline in America and second largest in the world. Located in Orocovis, deep in the mountains, this makes a great day trip from San Juan for adventure lovers and thrill seekers.
Toro Verde is a well known adventure company that also owns the largest zipline in the entire world, located in Dubai. This is not a cheap activity, but you get what you pay for. The guides take great care to ensure your safety and make sure you have a good experience, regardless of whether it's your first or tenth time ziplining.
This is a popular activity so book your tickets online to save time and guarantee a space on a tour. There are also discounts available online. All the staff and tour guides speak Spanish and English so you shouldn't have an issue communicating.
Here's everything you need to know to plan a visit to Toro Verde Puerto Rico.
RELATED POST: KAYAK ON THE BIOLUMINESCENT BAY IN VIEQUES, PUERTO RICO
How to get to Toro Verde Puerto Rico from San Juan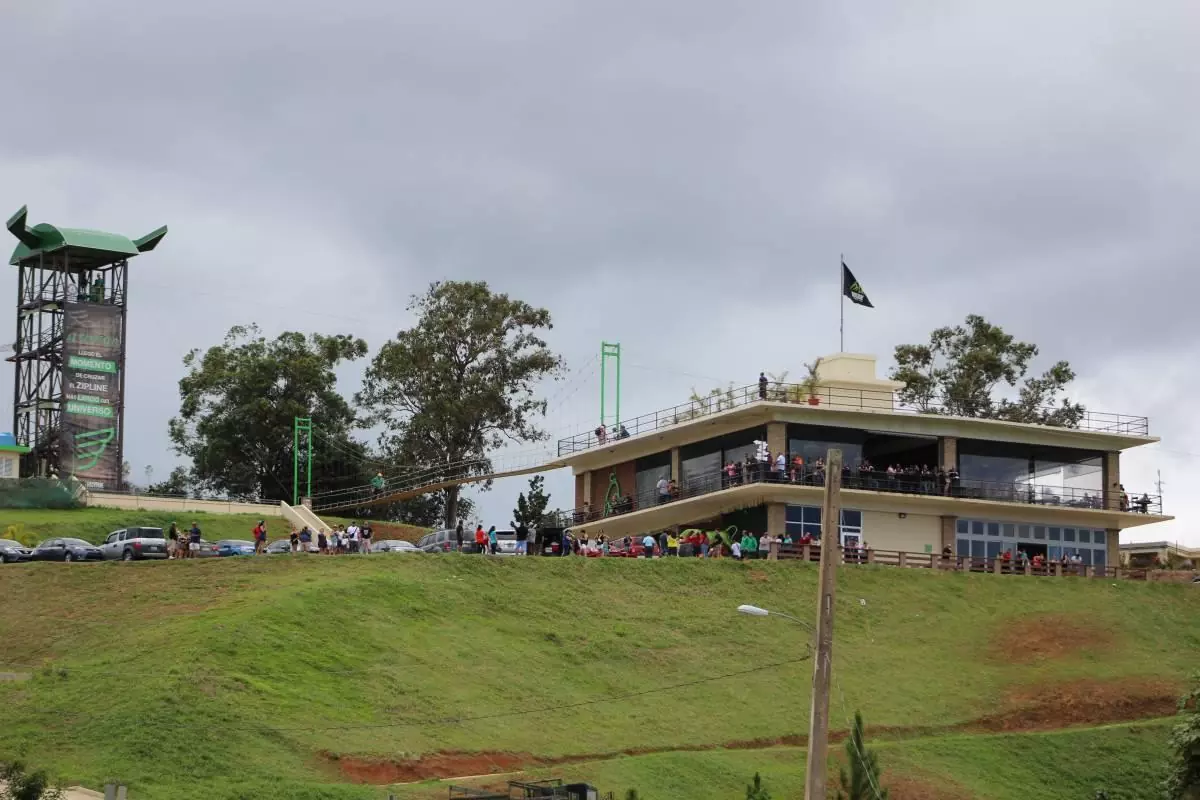 Toro Verde does not provide transportation to the site. There are tour providers that charge you extra for the full day, including your admission and ride.
Orocovis is located in the mountains in the center of Puerto Rico. It's about an hour and a half from San Juan and makes an easy day trip. You'll need to take winding mountain roads to get there.
It's easy enough to rent a car and take yourself, just go slowly and don't feel pressure to drive fast if someone is behind you. I always go with Charlie Car Rental when I'm in Puerto Rico. They have 24 hour service and reasonable rates.
Parking at the site is free. When you're done you can explore the nearby town. There was a market the weekend I visited and it was a lot of fun to attend and shop for local goods. I wouldn't recommend taking an Uber or Taxi here.
RELATED POST: DISCOVER CUEVA VENTANA, THE WINDOW CAVE IN ARECIBO
Ziplines and activities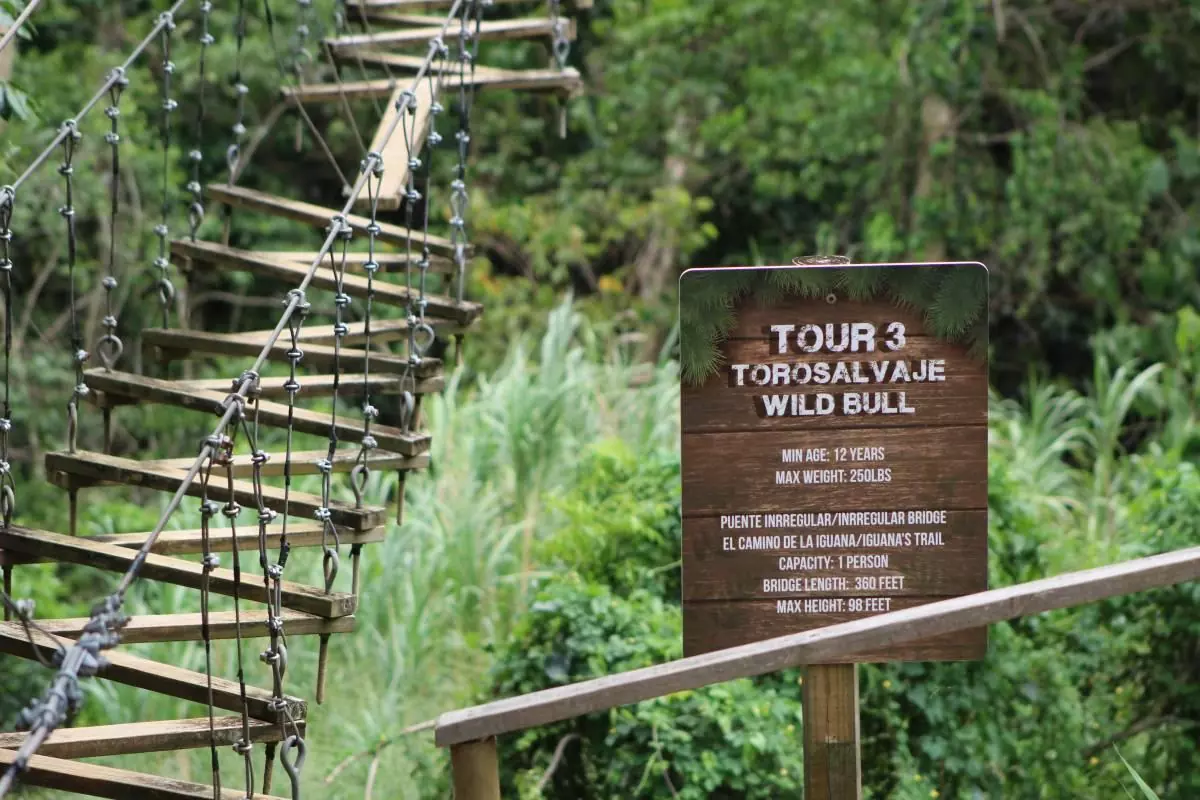 You have three choices for ziplining. You can ride "The Monster," the longest zipline at the park. It's more than a mile and a half long and you reach speeds of more than 90 miles per hour.
You can only ride the Monster superman style. You wear helmets and goggles in addition to your harness. Other than that you're exposed to the elements.
The next option, the middle bear of the family if you will, is "The Beast." This line is .9 miles long and reaches speeds of up to 60 mph. It also goes Superman style.
The third choice is the regular zipline course, which has 8 double lines at different elevations, meaning you can go with a buddy. You typically ride sitting down on these lines, either straight or to the side depending on the wind resistance.
You have the option to do one line or a combination of any of the above, with discounts available if you book more than one experience.
RELATED POST: IS PUERTO RICO SAFE?
What to wear to Toro Verde Puerto Rico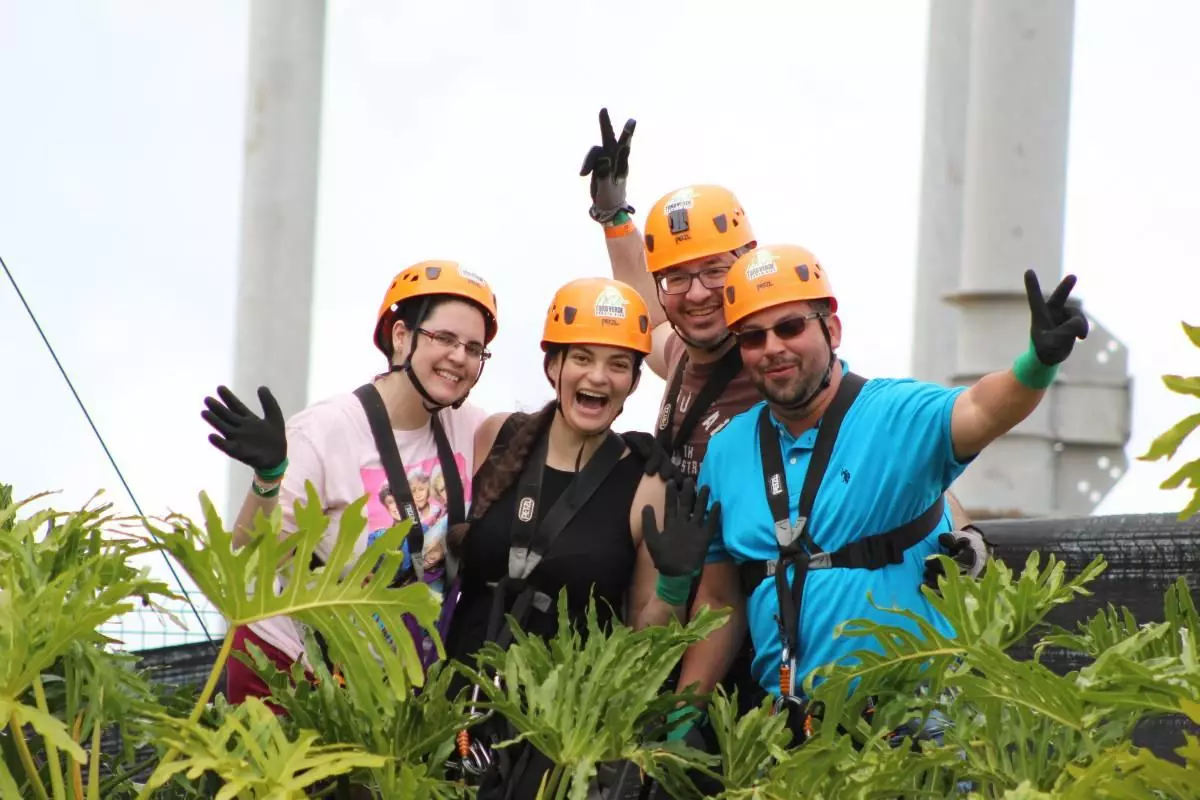 You must wear closed toed shoes. I recommend wearing tights or exercise pants that stick to your legs so there's less wind resistance. You'll be provided with gloves when you arrive.
Make sure you're wearing clothes you feel comfortable in. In general, exercise or workout clothing is appropriate. You'll also be made to hike to make sure you're ready to walk.
RELATED POST: WHERE TO FIND PINK LAKES IN PUERTO RICO
Weight and age restrictions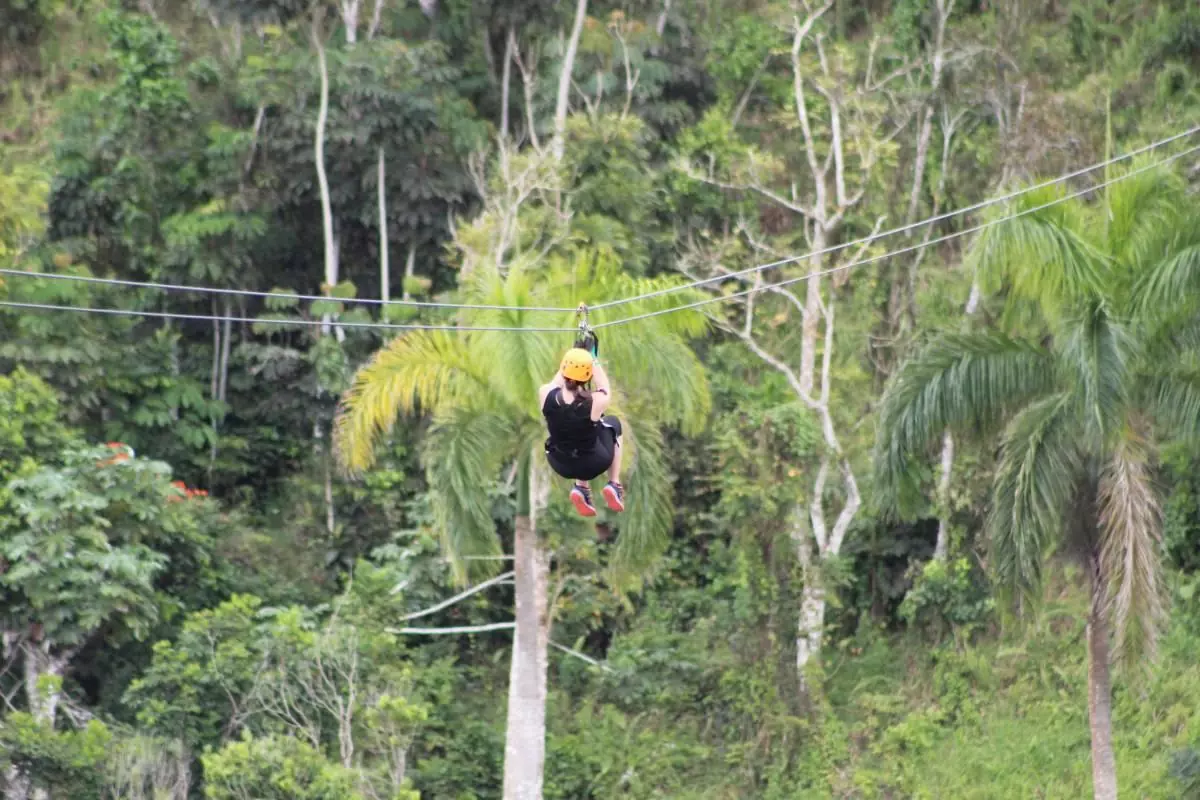 Weight and age restrictions vary depending on the experience you're doing. Typically, you need to be within 100-270 pounds, at least 4 feet tall and a minimum of 7 years old to ride.
The more you weigh, the more likely you'll make it all the way to the end of the lines. This is the one time where loading up on delicious Puerto Rican food can work in your favor!
RELATED POST: BEST THINGS TO DO IN PONCE, PUERTO RICO
Pictures and GoPro Rentals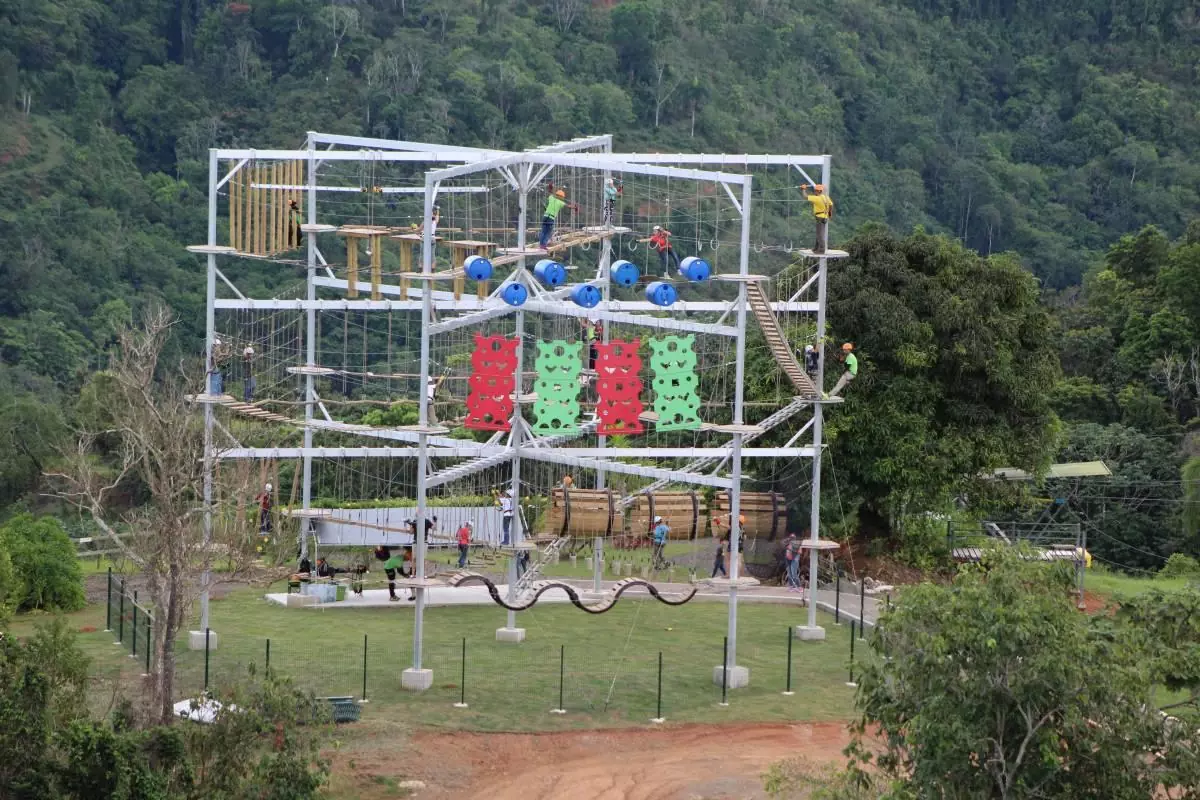 It's easy to get good picture here. There are professional photographers that accompany you on your tour and take hundred of photos. They're then compiled on a CD for you for just $30. You get the pictures the moment you get back from your tour.
The staff shows the pictures to you on the computer and if you don't like them you can leave them. You take the CD with you when you go and have full rights to the images so you can post them on social media or use them for business purposes, like this here blog.
You can also rent a GoPro for $35 if you want to get video, or get your own. It attaches to your helmet. I do think it's worth it to invest in one or the other if you don't have your own equipment. All the photos in this post were included in the $30 photo package, and are just a fraction of the ones I had to choose from.
RELATED POST: TOUR THE BACARDI FACTORY IN SAN JUAN
Know before you go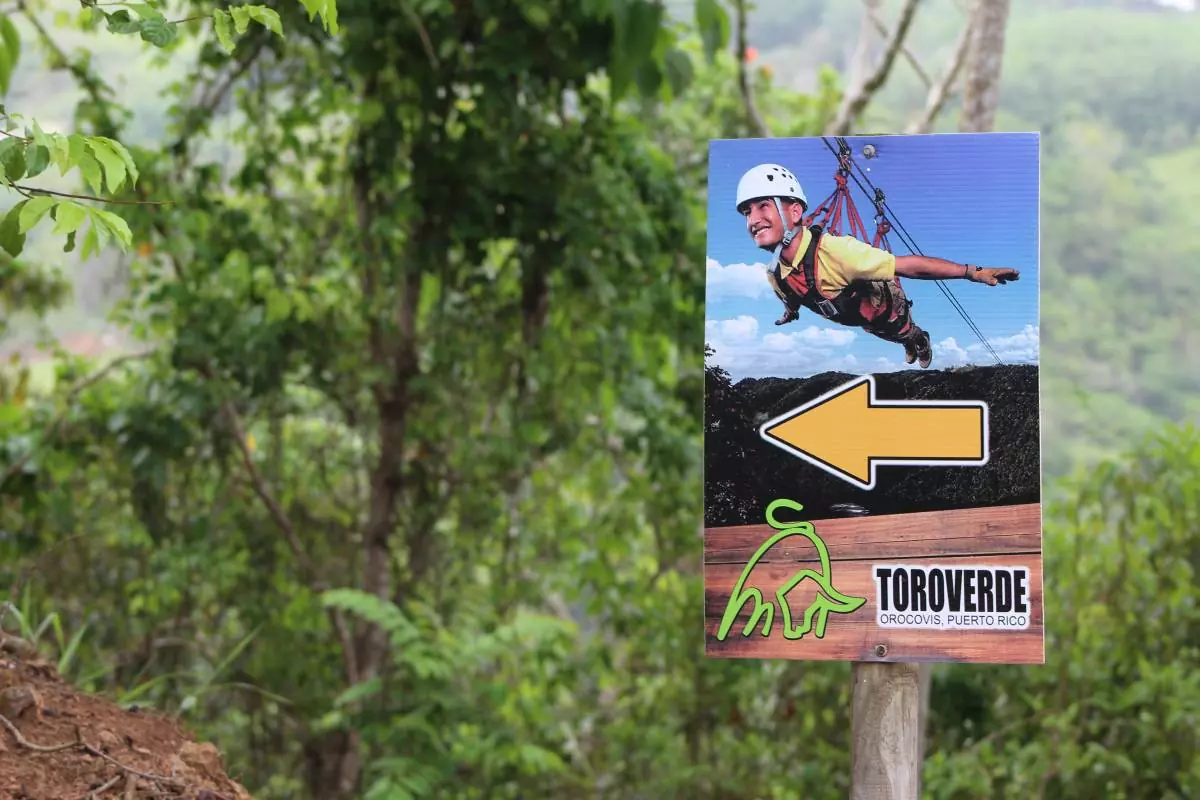 Make sure you get to the park at least a half hour before your reservation to give you time to check in and get all your equipment. There are no lockers on site so leave all loose items in your car. There is water in tanks along the way, at certain platforms.
There is a shuttle bus available to take you to and from the platforms. There's multiple food options on site. There's a restaurant at the main building on the top floor. You can go here for a drink and watch the people take off on the The Monster, usually screaming expletives. There are happy hour specials available.
There's also an informal cafe downstairs with baked goods and snacks as well as a gift shop. There are free public restrooms on site.
In addition to the zippiness, there are four suspension bridges. There's also a challenge course available for use in team building activities or celebrations. Note that if you go on your birthday you get 10% off.
Till next time, safe travels!
RELATED POST: 22 INCREDIBLE DAY TRIPS FROM SAN JUAN, PUERTO RICO
Liked this post? Pin me below.