Thinking about visiting the Vieques bioluminescent bay in Puerto Rico?
You should — it's well worth the trip. Vieques is a small island off the coast of Puerto Rico that is comparatively untouched and offers a stark contrast to the hustle and bustle of San Juan, the first stop for most tourists visiting Puerto Rico.
The Vieques Bio Bay, also known as Mosquito Bay, is a bucket list destination.
There are only five bioluminescent bays around the world, with Vieques' being the brightest and most magical.
In recent years, preservation efforts have been kicked up a notch since tourism was affecting the sensitive makeup of the water.
Today, it's beautifully restored and visitors can do their part to make sure it stays that way.
If you're able to fit it in to your schedule, I highly recommend a visit.
Note that seeing the BioBay in its full splendor requires an overnight trip.
You can visit it during the day, but you won't see it light up.
This means you'll need to stay at least one night in Vieques since ferries or planes won't be running by the time you're finished.
Here's everything you need to know to visit Vieques' bioluminescent bay.
RELATED POST: VISITING CUEVA DEL INDIO ON A DAY TRIP FROM SAN JUAN
Where to see bioluminescent bays in Puerto Rico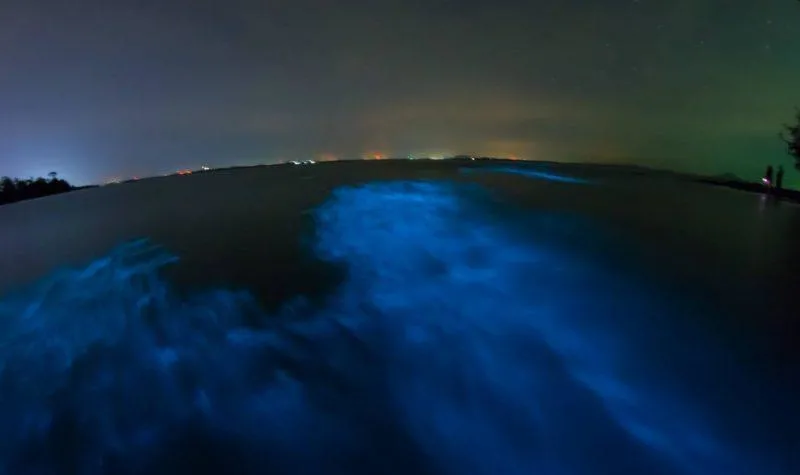 There are actually three bioluminescent bays in Puerto Rico.
Can you believe it? Five in the whole world and three of those are in Puerto Rico!
If that's not reason enough to book your next trip to the Isla de Encanto, I don't know what is. The two other locations are Jamaica and Vietnam.
Of the three in Puerto Rico, Mosquito Bay in Vieques is the largest and most impressive.
Those who aren't able to make their way over to Vieques, however, can also find bio bays in Fajardo (Laguna Grande) and Lajas (La Parguera).
The bioluminescent bay in Lajas is the only one that allows swimming.
If snorkeling in the glowing waters sounds appealing to you, you can head there but be aware that chemicals on your skin, from sunscreen to lotion, all affect the fragile ecosystem and composition of the water.
For those reasons, the bio bay in Lajas is the least bright of the three and may not even glow for much longer.
RELATED POST: IS PUERTO RICO SAFE?
What makes the bays glow?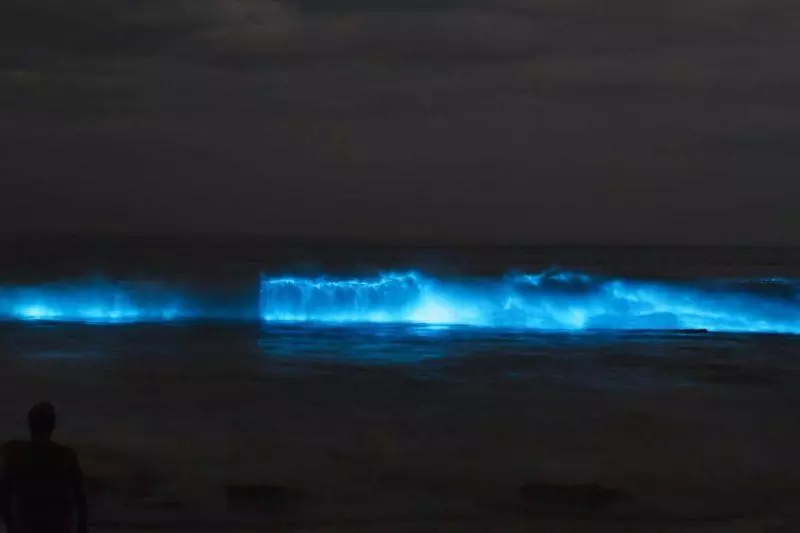 The glowing phenomenon is caused by single-celled microorganisms called dinoflagellates.
These organisms glow whenever they are touched or disturbed in any way.
There are billions of them in the water, with the number of organisms having a directly correlation to how brightly the bay will shine.
Through photosynthesis, the dinoflagallates capture light with their chlorophyll, which has a blue-green hue.
The chlorophyll them becomes luminescent when agitated.
While you cannot see the individual organisms with the naked eye, the presence of billions of dinoflagallates in one place give the water a bright, blue-green glow.
RELATED POST: THINGS TO DO IN CULEBRA
How to get to Vieques from Puerto Rico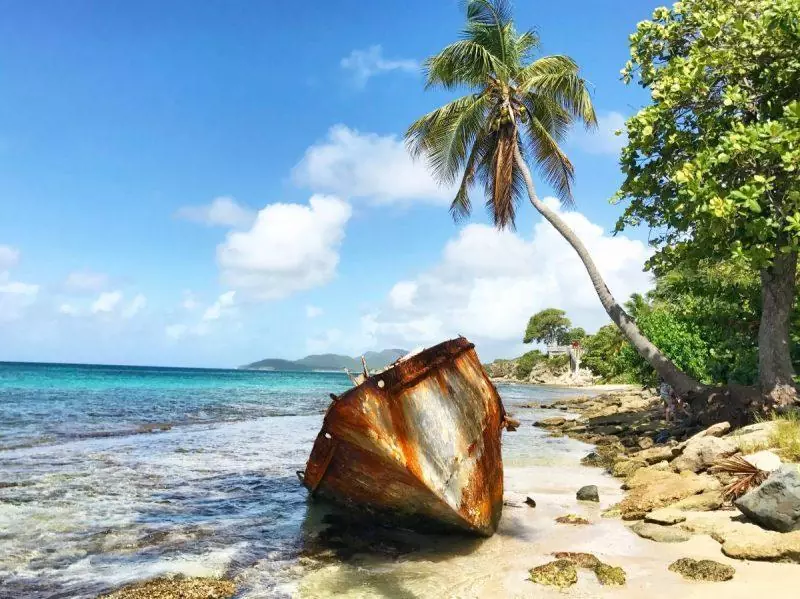 You can get to Vieques in one of two ways — fly or take the ferry.
I recommend flying for ease of transport. It's a 25 minute flight on a small propeller plane out of San Juan International Airport (SJU) and if you book far enough in advance the prices are very reasonable, usually less than $50 each way.
You can also fly from San Juan's Isla Grande Airport (SIG) for a little less.
Airlines that have flights to Vieques include JetBlue, Cape Air and Seaborne Airlines. Flights leave multiple times a day.
In the alternative, you can take a ferry from Fajardo or Ceiba.
Note, the ferry is touch and go. Locals get priority and the schedule can fluctuate, so you'd need to get there first thing in the morning and hope you maybe willl be allowed on, if it's running at all.
The ferry itself takes about 45 minutes and costs less than $5 roundtrip. However, the port is about an hour's drive from San Juan if you have your own vehicle and can take up to 4 hours on shared transport.
Taking a taxi to the ferry port is an option but will run you about $100 so you're better off paying for the flight at that point and saving yourself the trouble.
RELATED POST: 12 FUN THINGS TO DO IN VIEQUES
Best bio bay tour in Vieques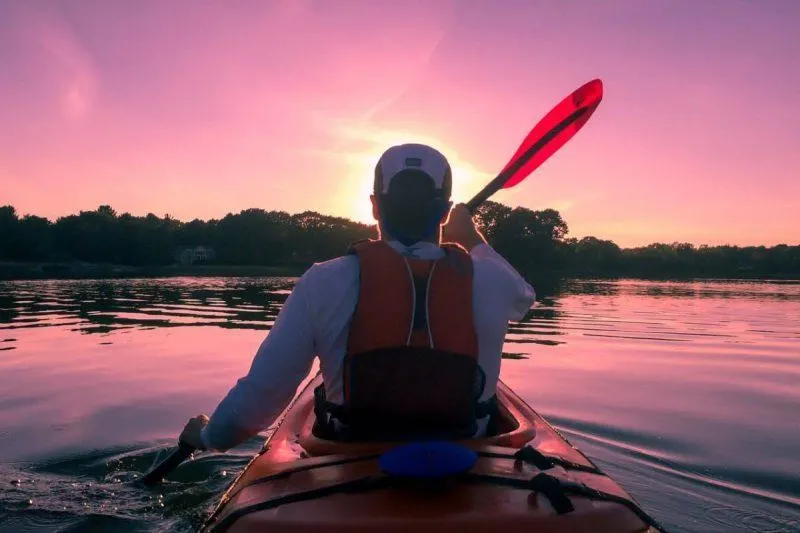 I went on a glass bottom kayaking tour with Bieque Eco Trips and had a phenomenal experience.
They picked me up from a meeting point in Vieques city center and took us to the beach where we would embark on our late-night kayaking adventure.
Almost all of the tours will pick you up from the same place — the Malecon — across from the El Blok Hotel. It's convenient to stay in the area.
You leave when it's pitch black as that's when the bioluminescence is best seen.
They had glass bottom boats so we could see the organisms light up as the kayaks passed through the water.
It was like rowing through the stars.
We could also reach down into the water and touch the organisms, which lit up our hands.
Our guide gave us background about the surrounding environment, showing us the mangrove forest immediately adjacent to the water.
The highlight of our tour was when he began stood on the kayak and rocked it from side to side, causing a rippling effect of color amongst the dark waters.
RELATED POST: FINDING PINK LAKES IN CABO ROJO, PUERTO RICO
Know before you go
Did you see the wishy-washy dance at the 2:15 mark? Incredible.
You need special equipment to capture the bioluminescence. It will not show up on your iPhone.
I went with my friends Jim and May from Spanish and Go, professional videographers committed to getting footage of the scene.
They came with enough equipment to shoot their own Netflix documentary.
In the event of capsizing, Jim made sure to note that he would be going down while holding the equipment up for someone to rescue.
Don't worry, the odds of you going overboard are slim to none if you follow directions.
Their effort was well worth it, check out their video above! As you can see, the glow is alive and well in Mosquito Bay. This footage is from August 2017.
Some other things to note — I did not get wet in the kayak and felt safe with our guides.
It is not recommended that you attempt to visit the Bio Bay on your own. The road there is perilous, windy and thin and doesn't have any sort of street lights to help you see.
Most importantly, you should plan your visit during a new moon and not a full moon because the light from the moon dims out the organisms.
I've read reviews from people who were disappointed it didn't shine as brightly as they'd hoped — these people didn't plan accordingly.
Aim for 2-3 days on either side of the new moon for the best viewing. You can access a lunar calendar here if you're unsure if the new moon will coincide with your visit.
Till next time, safe travels!
RELATED POST: BEST RESTAURANTS IN VIEQUES
My Amazon Picks
Note, this post contains affiliate links. See my privacy policy for details.
Liked this post? Pin me below: