Casa Bacardi is the largest rum distillery in the world, producing the most popular and heavily awarded brand of premium rum. It's a popular day trip for the more than 1 million cruise ship visitors that land in San Juan's port every year, though it's easier and cheaper to visit on your own.
Rum has become synonymous with the Puerto Rico thanks to its famous drink, the pina colada. In fact, there are a handful of rums that make up "Rums of Puerto Rico," an organization meant to highlight the centuries-old distilling process and showcase local rums of the island, including Bacardi.
The other distillery you can visit is Hacienda Santa Anna, associated with the rum Ron del Barrilito. Bacardi is better known, however, and the tour has a lot to offer guests, from historical facts to a special reserve rum only available for sale at the factory.
Whether you're a tourist or a local, I highly recommend a visit. Here's everything you need to know to plan your trip to Casa Bacardi.
RELATED POST: FINDING PINK LAKES IN CABO ROJO, PUERTO RICO
About the Casa Bacardi and the Bacardi Factory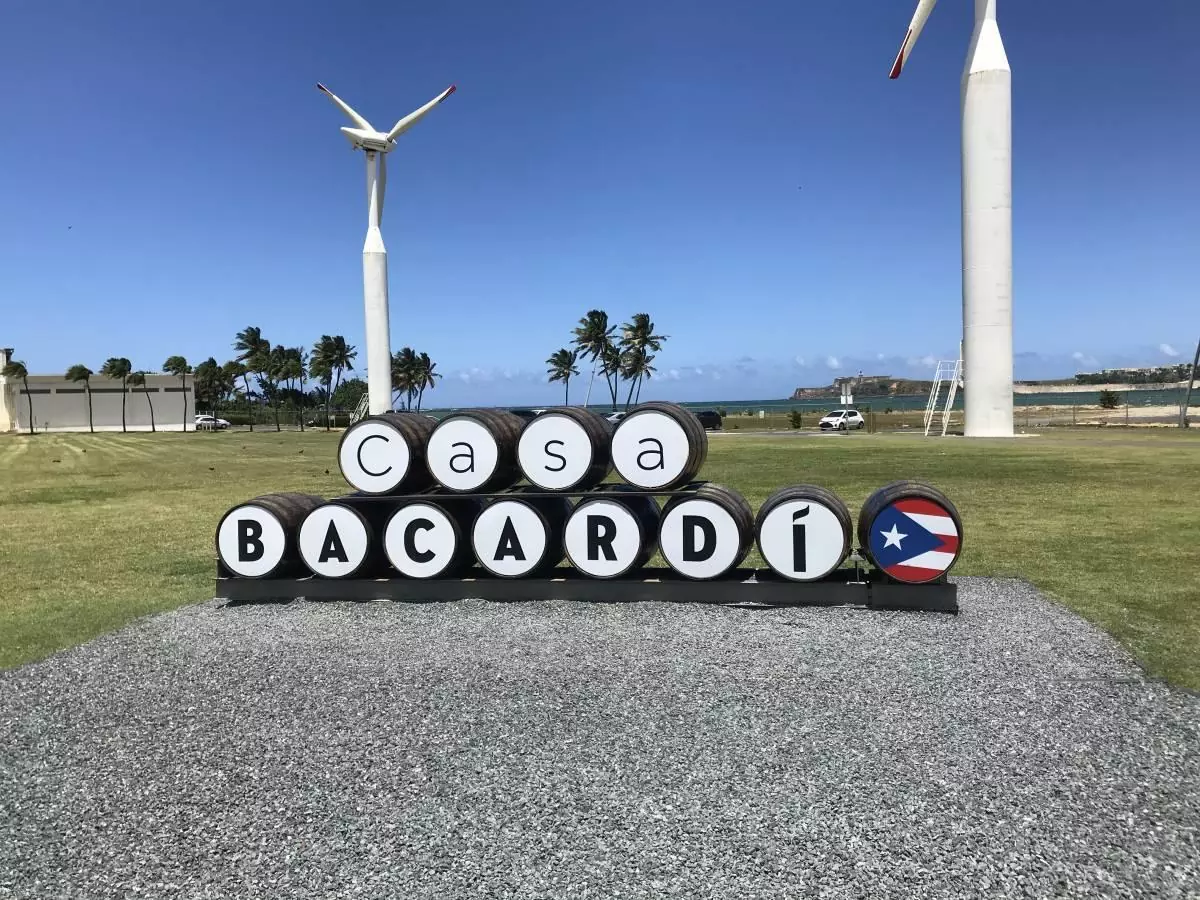 Bacardi was originally founded by Facundo Bacardi Masso in the late 1800s. The brand originated in Cuba but established distilleries in Puerto Rico and Mexico in the 1930's.
Today, the factory in Cataño, Puerto Rico is the largest premium rum distillery in the world and is located about 20 minutes from Old San Juan. It's easily accessible by Uber, taxi or rental car. Public transport isn't great in Puerto Rico so I wouldn't advise it.
The factory was christened by the governor of Puerto Rico as the "Cathedral of Rum" in 1958. It's also the only place in the world where you can buy their special reserve rum, sold for $85 a bottle. As a cool bonus, you can fill and seal the bottle yourself. This makes a great souvenir for any spirit lovers in your life.
Bacardí ages its rum for a minimum 1 year, and for up to 16 years. It's the wood of the barrels that gives the rum its aroma, color and flavor. After 16 years the barrels are retired and used for fertilizer or compost.
Rum is a distilled spirit, with charcoal filtering the alcohol. The different types of labels are made by blending different ages. For instance, the distillery adds water to the blending and brings it down to 80 proof, which is 40% alcohol per volume.
Fun fact: Bacardi also makes beer, but it's currently only available in the Florida markets.
RELATED POST: CASA ALTERNAVIDA, A WELLNESS RETREAT IN PUERTO RICO
History behind the Bacardi logo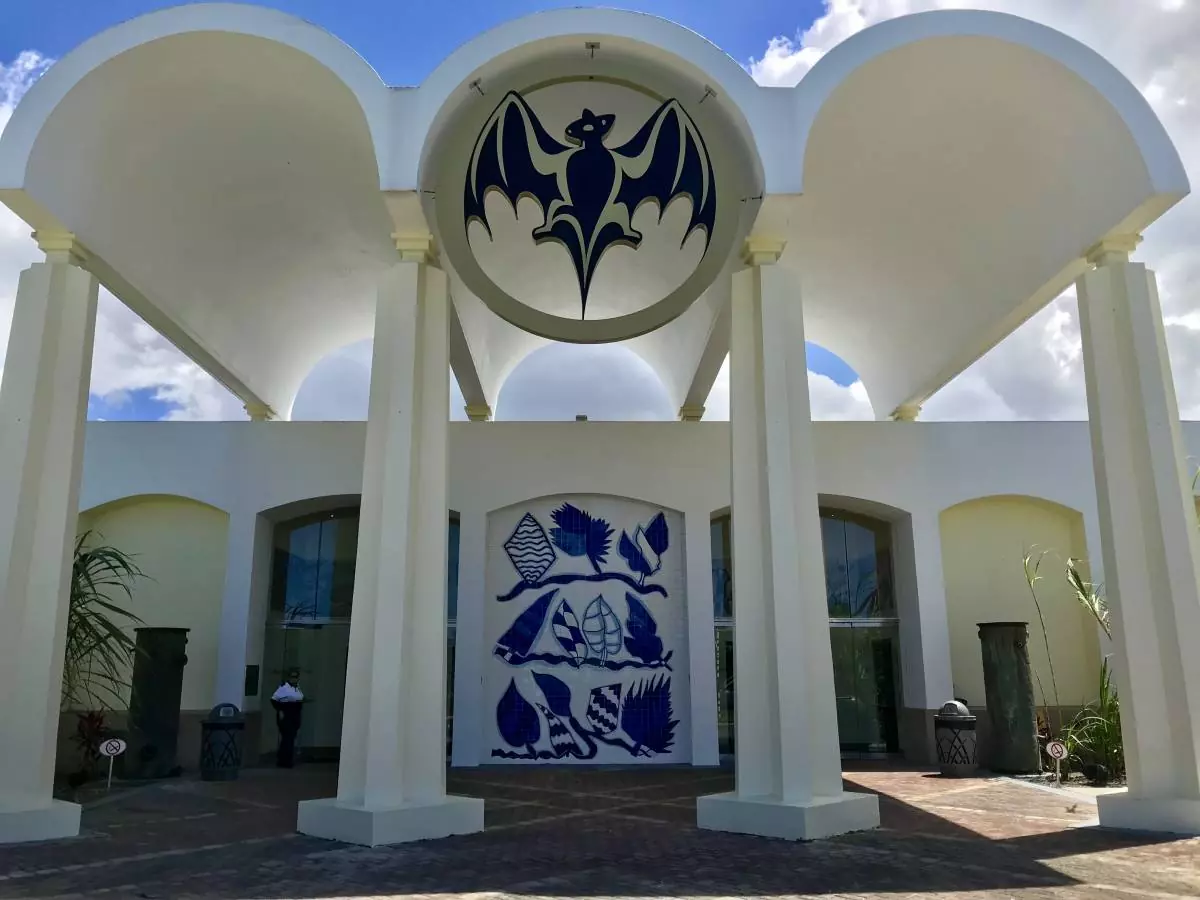 The fruit bat that has become synonymous with Bacardi has a story behind it. Facundo's wife, Amalia, saw fruit bats in the family's warehouse when they were first starting the business.
Traditionally, bats were considered a symbol of good luck (this was pre-Twilight series). Amalia knew this was a sign and that the bat was meant to be the symbol of Bacardi, and an essential element of the family legacy.
The bats were intended to ward off misfortune. They also turned out to be practical, helping the process along by pollinating sugar cane and eating any bugs that threaten the crop.
Today, the Bacardi bat is one of the most recognizable product logos on the market.
RELATED POST: SEE TAINO HIEROGLYPHICS ON A DAY TRIP FROM SAN JUAN
Hours of operation at Casa Bacardi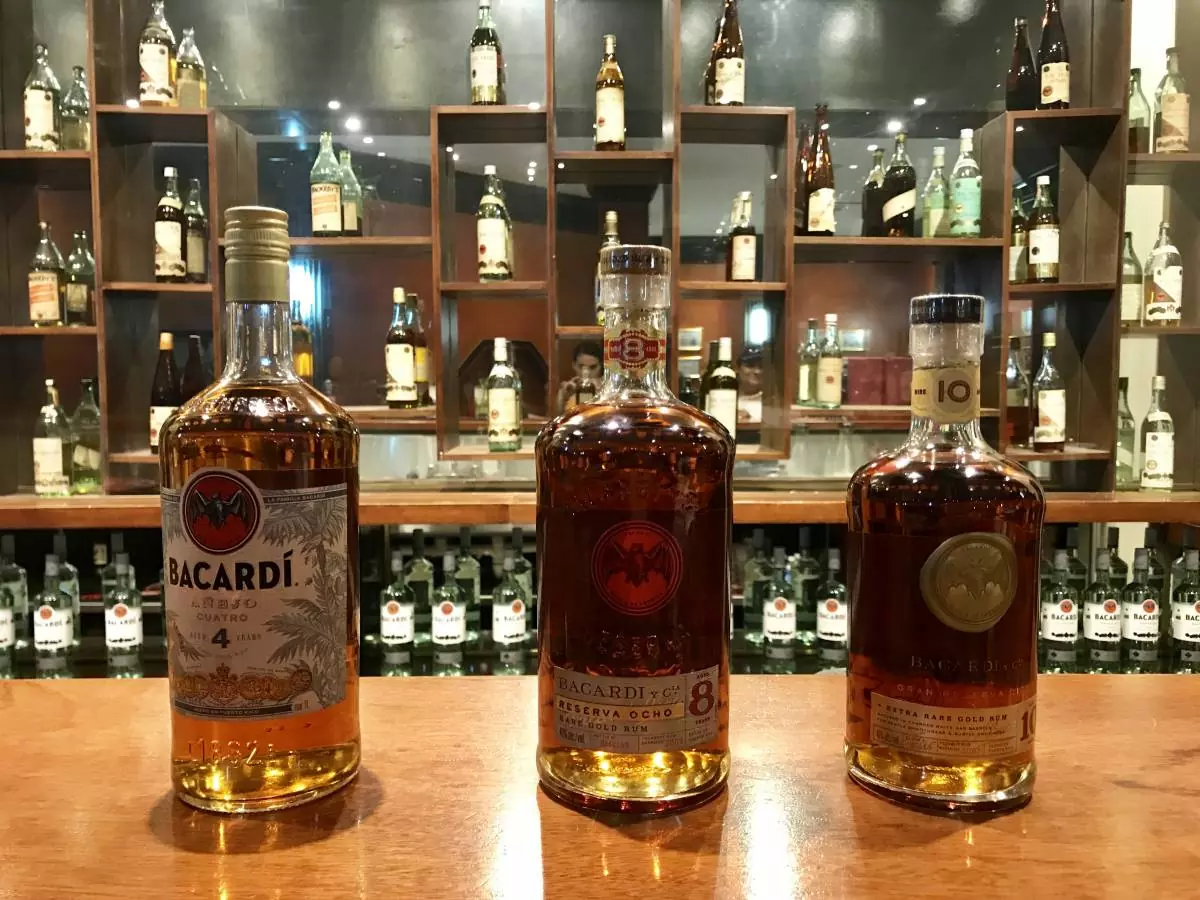 The factory is open daily from 9am to 4:30pm, with tours starting and ending at 9:15am and 4:15pm and running about every half hour. The factory tour takes roughly an hour total, and you'll have some time upon arrival to sit and enjoy your welcome drink before you're called for your visit. It is open-air and has a comfy seating area.
This is a nice place to hang out on a sunny day, with several staged photo opps available for guests, and there's no limit to how long you can stay after your tour is over. There's also an affiliated vendor selling coco locos, rum drinks served in a carved coconut to help put you in a tropical state of mind.
It's recommended that you book tickets ahead of time to make sure you get the time slot you're looking for, but it's not necessary. They take walk-ins as they come, you'll just have to wait for the next available tour. They also accept credit cards here.
RELATED POST: TAKE A FOOD TOUR OF OLD SAN JUAN
Price of admission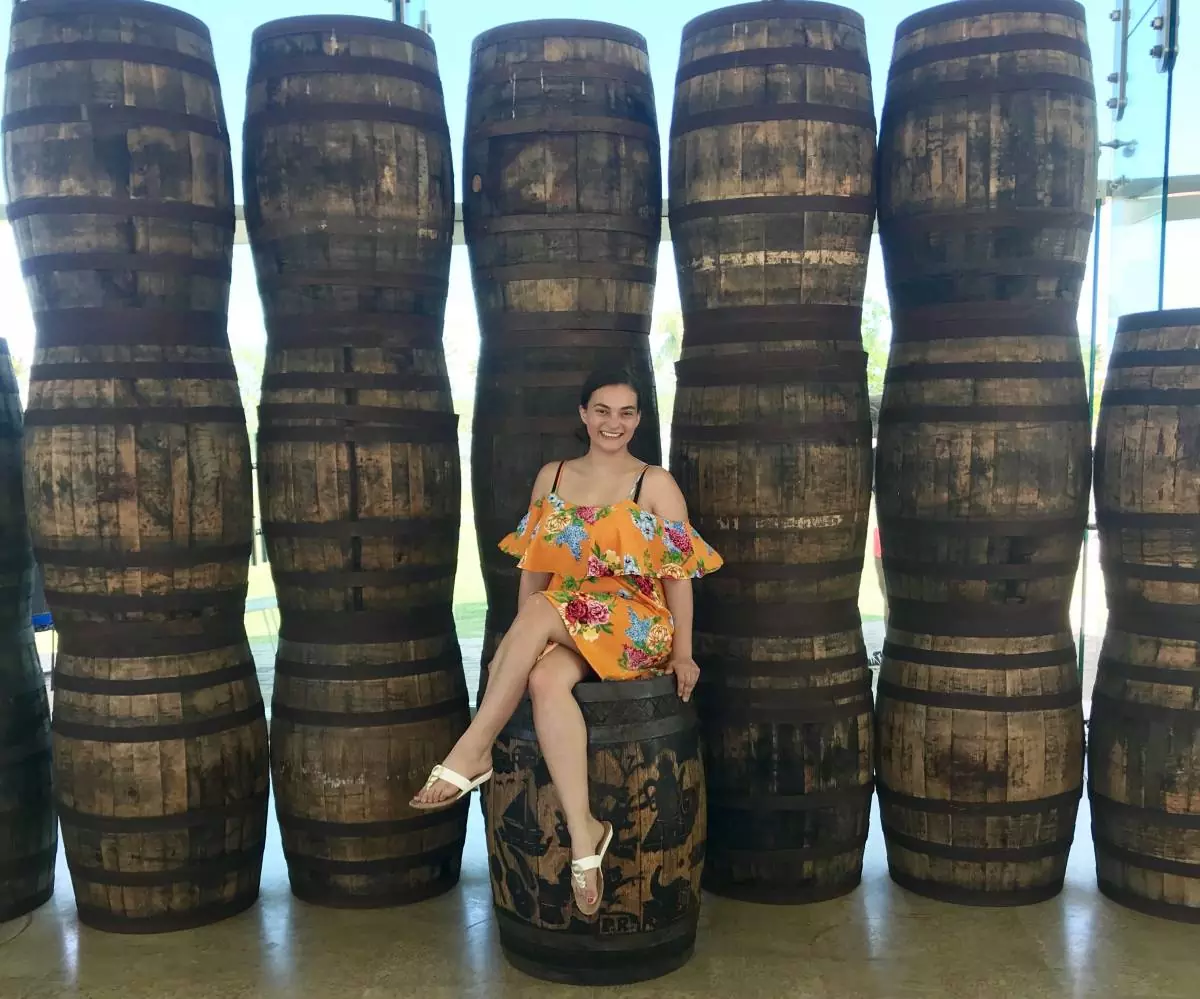 There are 3 different experiences available. The most basic is the historical tour of the factory which lasts about an hour, costs $15 and includes a free welcome drink. Options include popular drinks like a mojito, Cuba libre, daiquiri, tropical sunrise and more. This is the best deal in the Caribbean!
There's a slight upcharge for high-end drinks, and you can pay for additional beverages beyond your first free one if you'd like. Note that payment is not accepted at the bar — you buy a drink token at the cashier and exchange it at the bar for your beverage.
Sometimes people get upset because the cruise ships overcharge them for this experience, asking for $50 or more. If you can get to the Bacardi Factory on your own, there's no need to do this as a group excursion since they take care of everything when you arrive.
The other two options are to take a rum tasting tour for $50 or a mixology class where you make your own cocktails for $60. Both of these experiences are 75 minutes long.
Know before you go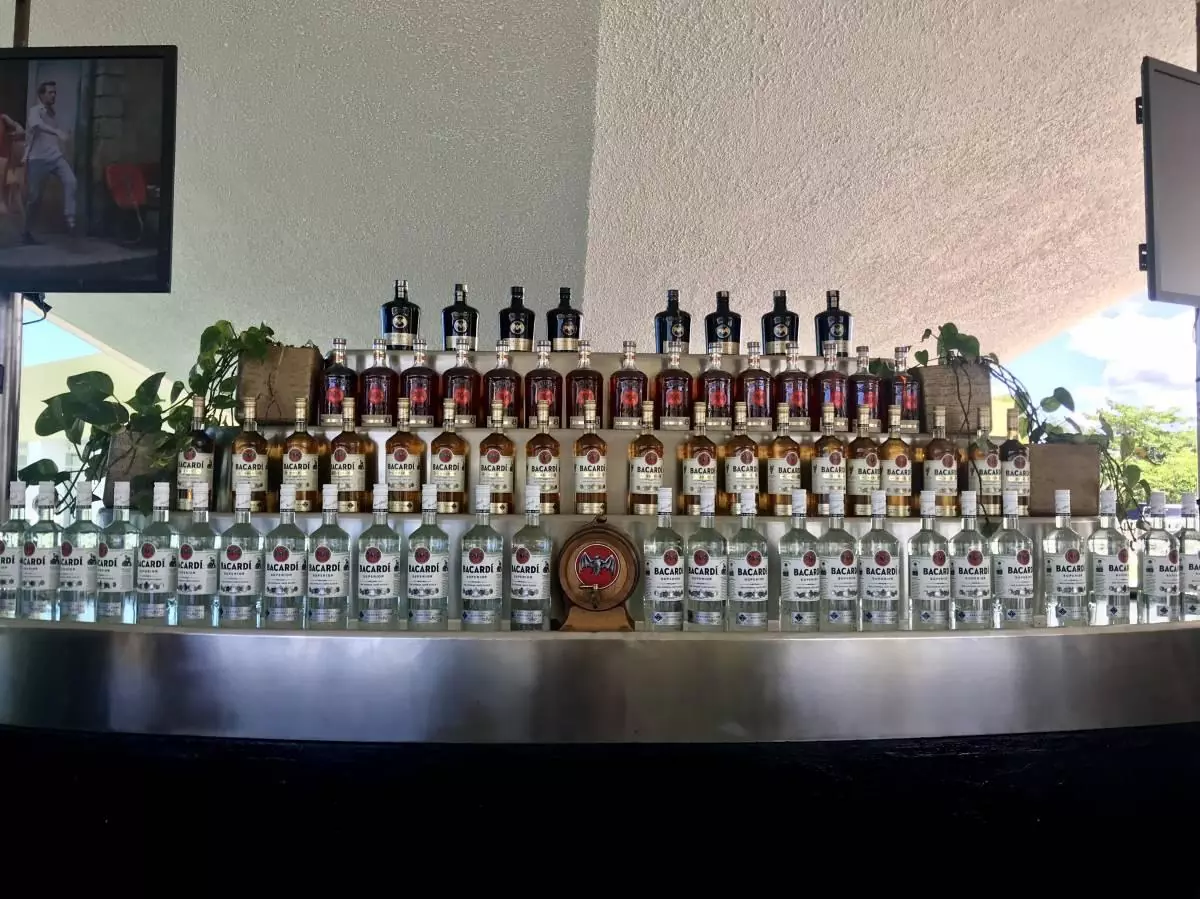 There is free parking on site. It's recommended that you arrive a half hour early to allow yourself time to take pictures and enjoy the complex before your activity of choice. There's also a gift shop at the end with different bottles and souvenirs if you're looking to purchase something.
This makes a great rainy day activity since the majority of activities are indoors. The welcome area is under shelter so even if you can't enjoy the sunshine and ambiance you can still get your money's worth at the bar.
The basic tour also includes a shot of the special reserve rum so you can taste it and see if you'd be interested in purchasing.
If you don't drink but enjoy learning about history, culture and business, this is still worth a visit. I saw many families here so this is far from an adults only type of place.
There is no age requirement to visit, although there is a 5-10 minute introductory video at the beginning that I wouldn't recommend for toddlers or infants.
RELATED POST: 22 INCREDIBLE DAY TRIPS FROM SAN JUAN, PUERTO RICO
Overall, Casa Bacardi is one "tourist activity" that does not disappoint.
Till next time, safe travels!
Liked this post? Pin me below.