Looking for the best Puerto Rico day trips from San Juan? These hidden gems will blow you away!
I absolutely love San Juan. There's no place else on earth like it.
The live music in the streets. The man with a cart selling passionfruit gelato who I run after without shame. The party atmosphere you can soak up in 8 hours or less while you're cruising through at venues like Señor Frogs.
But San Juan, as wonderful and vibrant and incomparable as it is, is just one part of a much larger island with secrets to discover at every turn.
For instance, did you know that there are more than 2,000 caves in Puerto Rico, many still undiscovered?
Or that the second longest zipline in the world can be found here?
Puerto Rico has much to offer outside of San Juan. Here are 24 of the best day trips from San Juan!
RELATED POST: IS PUERTO RICO SAFE TO VISIT?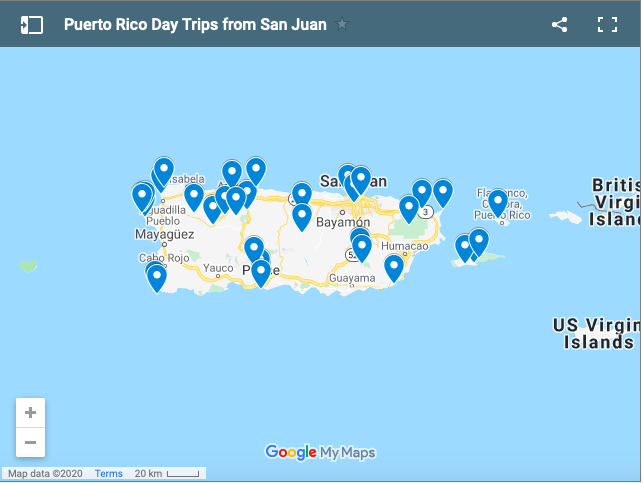 1. Casa Bacardi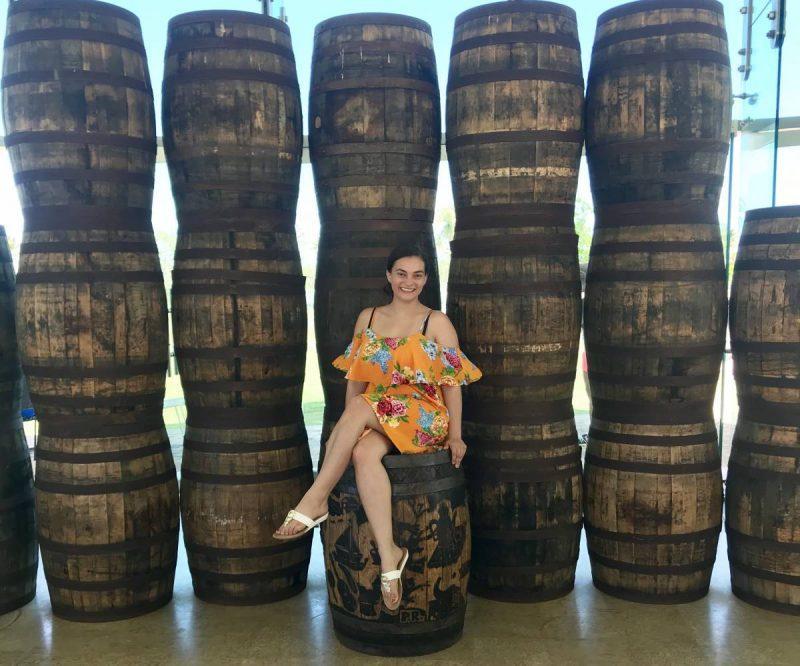 Do you like rum? The Bacardi Factory is the only working factory that you can tour on the island and it's well worth the price of admission.
You get a welcome drink upon arrival and special shot of reserve rum only available on the premises at the very end. There's also cocktail making classes and events held here.
The gift shop at the end is a great place to pick up a unique souvenir.
I expected this to be somewhat cheesy but it was an interesting to learn about the history of the factory and the rum-making process and I much appreciated the liquid boosts along the way.
RELATED POST: A GUIDE TO VISITING THE BACARDI FACTORY
2. Pink Lakes in Cabo Rojo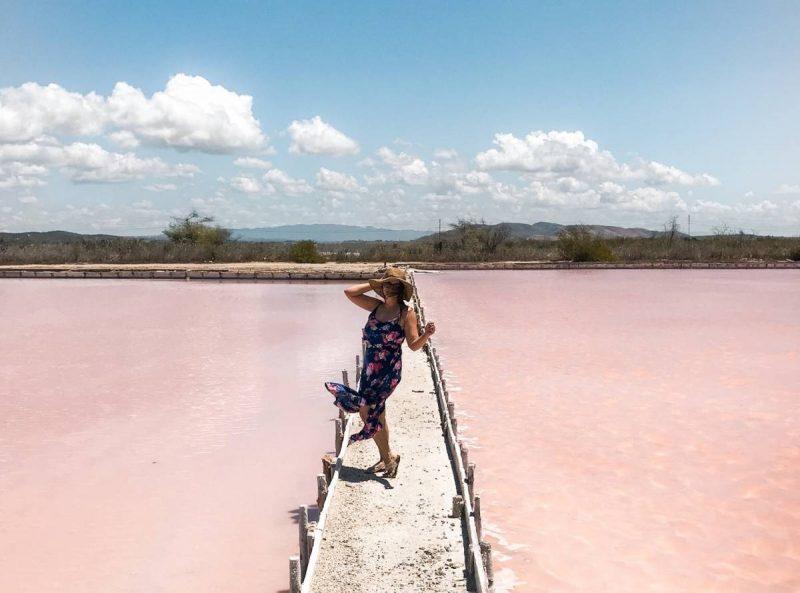 The Salinas are not a tourist attraction per se, but they sure are pretty.
In fact, the pink "lakes" are part of a salt mining operation in Cabo Rojo.
So far the influx of people hasn't been such that they've felt a need to erect fencing or regulate access but that could change in the near future so take advantage and go while you can.
There's no official parking or sign since again, it's a business property, but you'll see are pulled over on the side of the road and be able to make out some of the pink water from beyond the perimeter of trees.
Go on a sunny day to experience the water at its most vibrant pink hue.
RELATED POST: WHERE TO FIND THE PINK LAKES OF CABO ROJO
3. El Yunque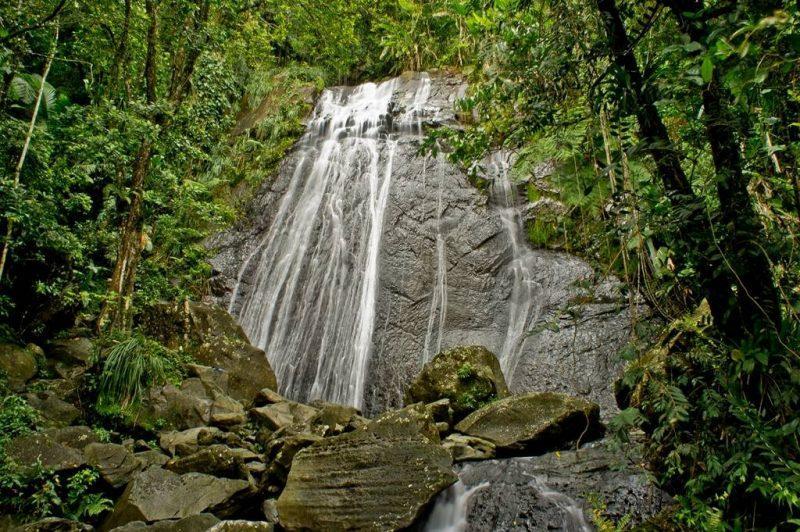 El Yunque is the only rainforest within the United States and is filled with fascinating flora and fauna.
I recommend stoping by the visitor's center on your way in since the staff is very knowledgeable and often holds demonstrations.
Select a hiking trail and make your way to one of the many waterfalls.
La Mina Falls is the most popular and is about an hour hike but still has not reopened after Hurricane Maria.
If you're just passing through and don't want to hike much, you'll pass La Coca Waterfall which is easily accessed from the street.
Most people going now are doing the Mt. Britton and El Yunque trails, which will take you to a scenic overlook tower.
If you'll be hiking make sure you wear the appropriate shoes and bring a change of clothes. Also, a heads up that pretty much at any point year-round the water is freezing.
RELATED POST: A REVIEW OF EL YUNQUE VIEW TREEHOUSE
4. Toro Verde Zipline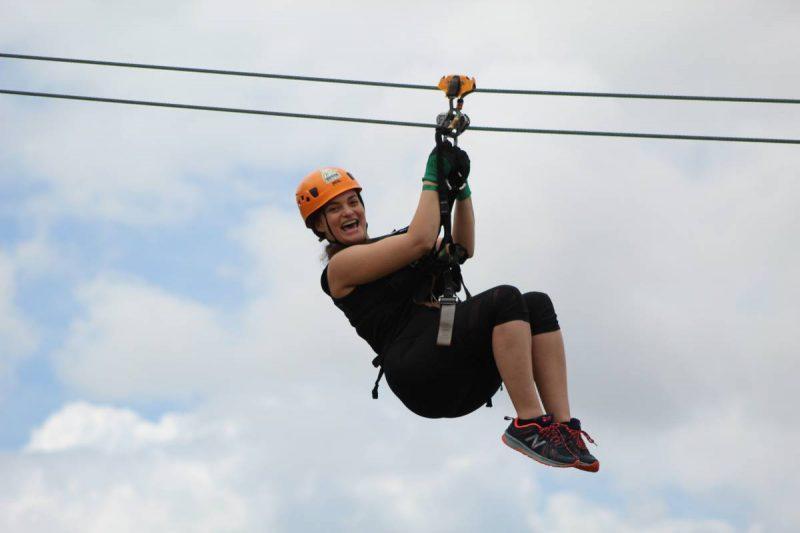 Located in Orocovis, the Toro Verde Nature Adventure Park is a complex with three different zipline options.
The most popular is "The Monster," which is the second-longest zipline in the world, spanning 1.5 miles and reaching speeds of more than 90mph.
The longest zipline is owned by the same company and located in the Middle East.
You can get a day pass or combination packages to try out the different zipline options.
There's also an obstacle course on-site used for team building.
It's worth spending the day here and planning to eat at their restaurant since the drive takes you on windy mountain roads. Give yourself plenty of daylight to drive back after.
RELATED POST: EVERYTHING YOU NEED TO KNOW ABOUT THE TORO VERDO ZIPLINE
5. Heladeria Lares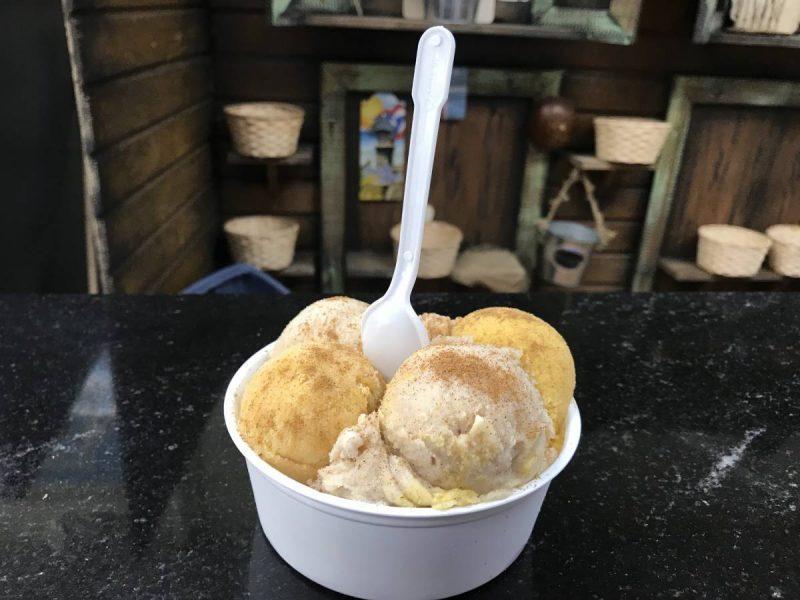 Have you ever heard of garlic ice cream? How about cilantro or rice and beans ice cream?
Well, those are exactly the kind of flavors you'll find at Heladeria Lares.
This family-owned business has been in operation for decades and has made a name for themselves creating unusual ice cream flavors.
They've had multiple offers to open a franchise but refuse to do so.
The shop is a staple of the town and keeps people coming back to an otherwise distant location in the mountains of Puerto Rico.
It's drawn in people worldwide from Japan to Such Africa and I can attest to it being well worth a visit.
Since this is a quick stop, I recommend going after seeing some of the other sights in the area, like Cueva de Ventana or the Arecibo Observatory.
6. Cueva de Ventana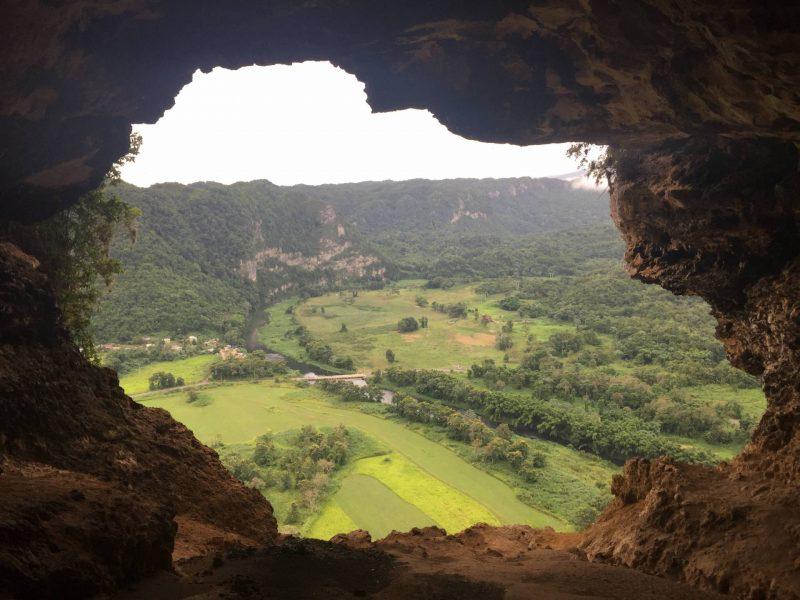 There are so many caves in Puerto Rico that they're still being discovered.
Cueva Ventana is a recent find, and lucky for us.
This is one of the most scenic views on the island, overlooking endless miles of lush green land and the Rio Grande.
This cave is made of limestone and is home to quit a few family of bats. On you're walking tour, you'll have special red lights on your helmet so as not to disturb them.
While a little out of the way, Cueva Ventana has quickly become one of Puerto Rico's most famous attractions.
RELATED POST: HOW TO VISIT CUEVA VENTANA IN PUERTO RICO
7. Culebra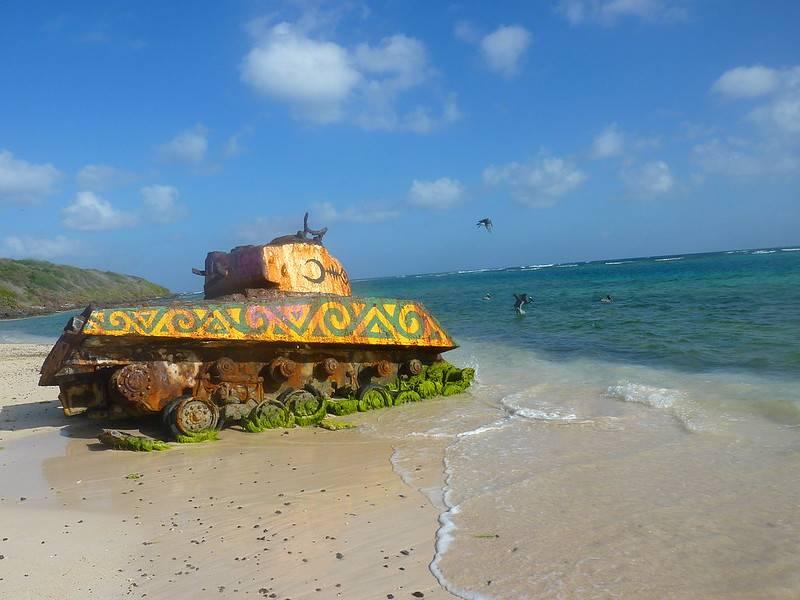 Culebra is a small island just off the coast of Puerto Rico accessible by propeller plane or ferry, just like Vieques.
The main attraction here is Flamenco Beach, often voted the top beach in the world.
You can find abandoned military tanks on the sand, painted vibrant colors.
The sand is soft, the scenery is unparalleled and you'll feel like you're on your own private beach.
There's also a history museum, lighthouse and public library that doubles as a 26-recliner movie theater on the island.
To go on a day trip you'll need to hop aboard a chartered boat or catamaran — they often have groups of 40-50 going over on a catamaran or something of the like.
Otherwise, if you're taking yourself to the island via ferry or plane you'll want to plan to spend the night.
RELATED POST: THINGS TO DO IN CULEBRA
8. Cueva del Indio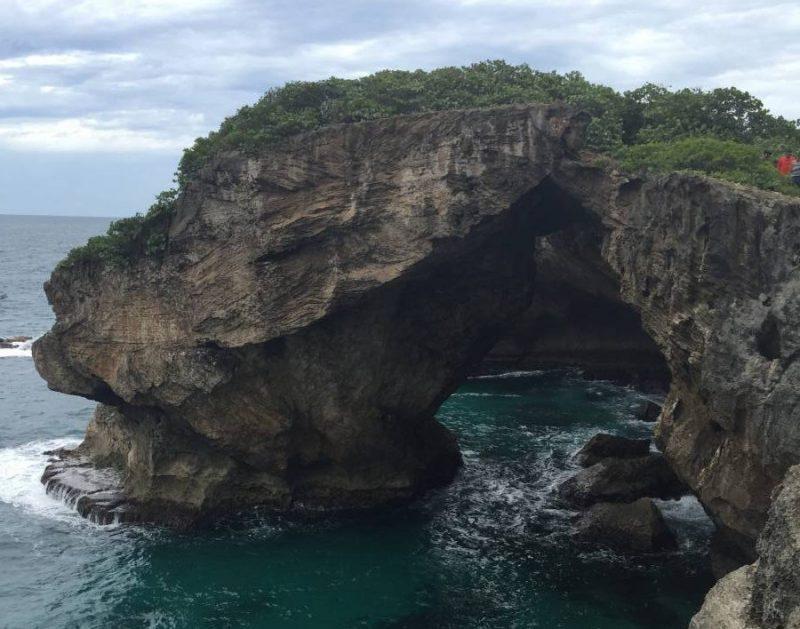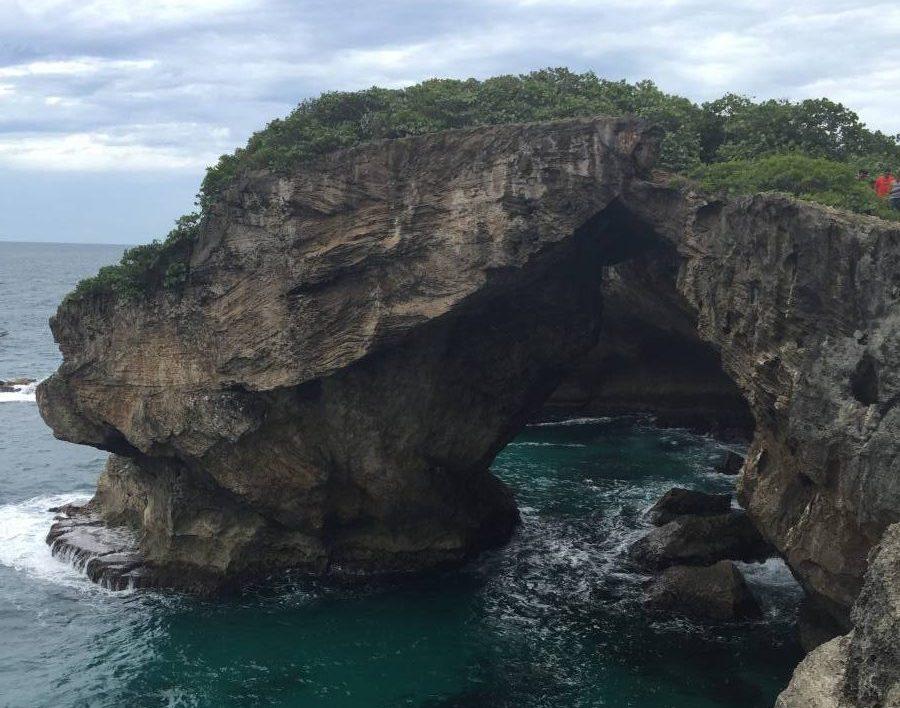 This famous cave has been a filming location for movies like Pirates of the Caribbean.
Its massive rock formations jutting out into the sea create crashing waves and an imposing landscape.
You can find petroglyphs carved by the Taino Indians into the walls, a unique peak at the people who lived on the island pre-Colombus.
This is a dangerous place with rocks unseen beneath the water and strong currents. Even if you see others diving into the water, I don't recommend it.
Wear the proper shoes for climbing and watch your step as there are holes in the rock. Otherwise, relax and enjoy this scene that looks straight out of a postcard.
RELATED POST: SEE TAINO INDIAN HIEROGLYPHICS AT THIS CAVE
9. Guavate pork trail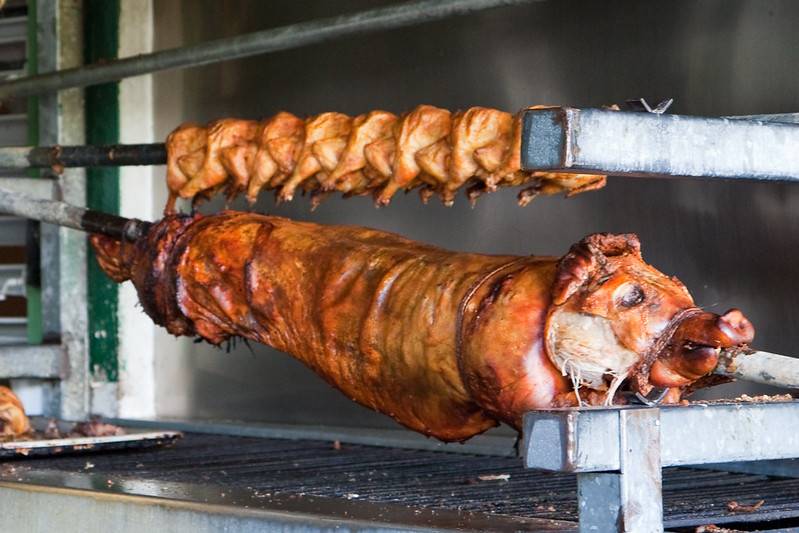 Vegans and vegetarians, I'm sorry! Puerto Rico loves pork.
The reason? Well, it's an affordable meat that doesn't need to be imported and is filling. One tenderloin can go a long way towards feeding a family.
We also make use of all the body parts, like chicharron made with fried pork belly or pig feet stew.
Not to mention, it's pretty darn tasty. If you want to try the best of the best, head to Guavate where you'll find an entire pork trail. You'll spot dozens of kiosks with pigs roasting on the grill. They're called lechoneras.
This is a perfect place to come for lunch. Check out Lechonera Los Pinos and Lechonera El Rancho Original, two popular spots.
10. Vieques BioBay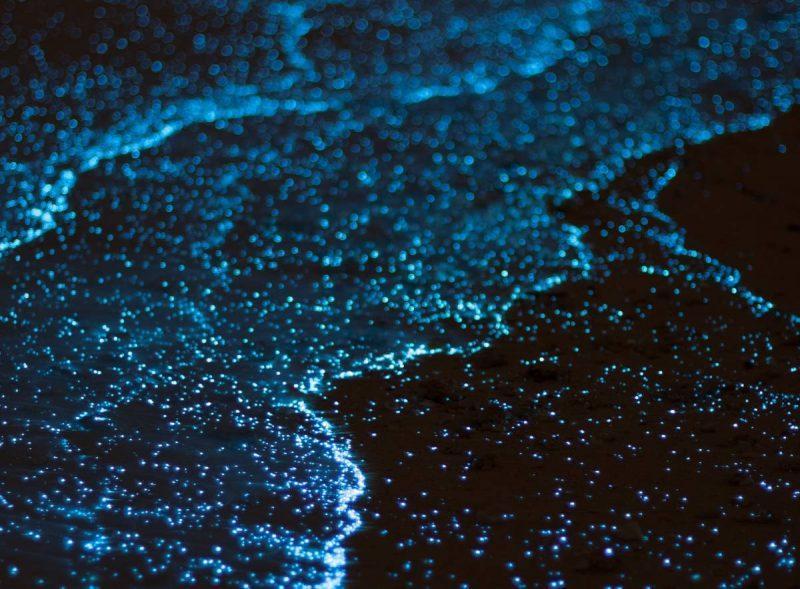 Puerto Rico is home to three bioluminescent bays and the brightest of them can be found in Vieques, an island off the coast of Puerto Rico.
You can get there by ferry or by private plane, and it's well worth the journey.
Full disclosure — to see the BioBay you'll have to stay overnight so it wouldn't be a day trip, more like a day and a half trip.
Plan to go during a new moon to have the least lighting and see the organisms in the water shine as bright as possible.
You can't swim in the bay but you can take a glass bottom kayak tour.
he organisms in the water will light up whenever touched so every stroke of your paddle will look like you're kayaking on stars.
While you're in Vieques make sure to stop by Playa Negra, a black sand beach that will make a great stop if you have some daytime hours to kill.
Also, Puerto Ferro is an old lighthouse perched on a cliff that's a dream spot for drone photographers and videographers.
RELATED POST: HOW TO VISIT THE BIOLUMINESCENT BAY IN VIEQUES
11. Luquillo Beach
View this post on Instagram

Luquillo Beach may look familiar to you. It's the site of several music videos.
If you're looking for the quintessential Puerto Rican beach, this is it. The lifeguard towers are painted vibrant colors.
The water is perfect for swimming and there will be one or two locals by the street waiting to help you park and get a tip in return.
Every hour or so on the weekends during peak season you'll see a man with a cart selling ice cream.
I recommend you try the parch (passionfruit) flavor. You'll also find pinchos on the beach, meat and seafood kebabs. Bring cash; beach vendors don't accept cards.
If you do forget to bring cash, no worries. You'll find restaurants that take cards at the Luquillo kiosks right next to the beach.
I very much enjoyed the meal I had at Ceviche House. The kiosks/restaurants are open to the sand so you can walk in no matter what you're wearing. It's a chill atmosphere.
12. The Arecibo Observatory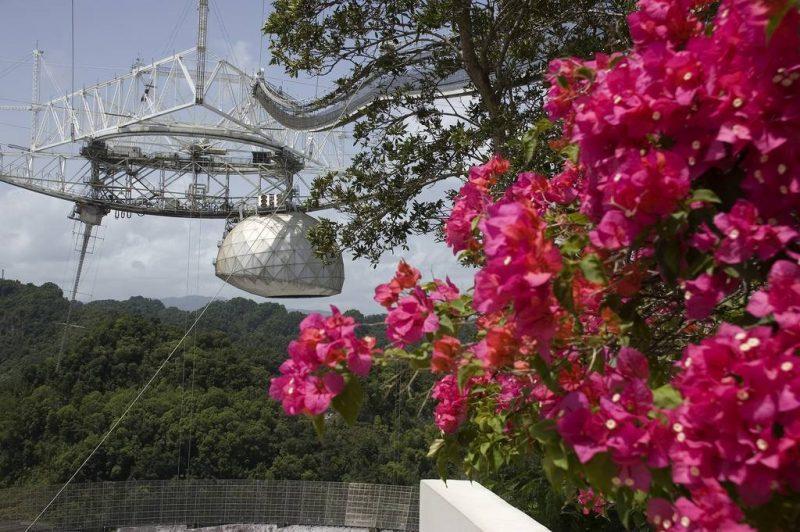 Note: The Observatory sustained damage after the recent earthquakes and is currently closed. It is undergoing repairs and will hopefullyy re-open in the near future.
The Arecibo Observatory is now the second largest single-dish radio telescope in the world, but it's also an unexpected hub for STEM activity and research on the island.
They do everything here, from hosting students on field trips to trying to communicate with aliens.
Scientists come from around the world to work in the center and champion their cutting-edge space initiatives.
For guests, it's a fun stop to geek out.
You can learn about the telescope in an informational video and peruse two floors of interactive exhibits that demonstrate scientific concepts.
RELATED POST: HOW TO VISIT THE ARECIBO OBSERVATORY
13. Rio Camuy Caves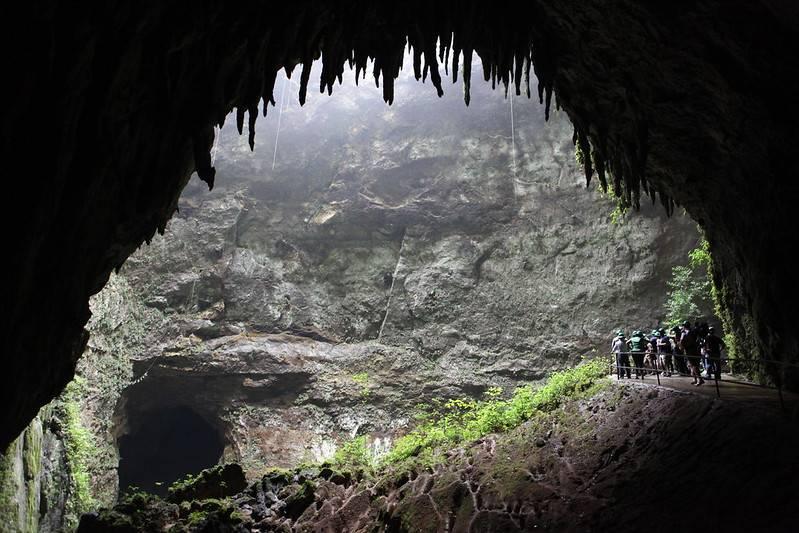 The Parque Nacional de las Cavernas del Río Camuy is a network of underground caves, carved out by the third-largest underground river int he world, the Rio Camuy.
You can go repelling, climbing, hiking and all sorts of other adventures activities on land, or you can opt for the water view with tubing, body rafting and kayaking. If you're still not sold and want the aerial view, you can opt to zipline over the river.
There's more than 10 mies of caverns, 220 caves and 17 entrances in this massive complex so you can easily spend the day here.
Reservations are needed in advance! Call (787) 999-2200 ext. 3470, 3471, 3472, 3473.
14. Ponce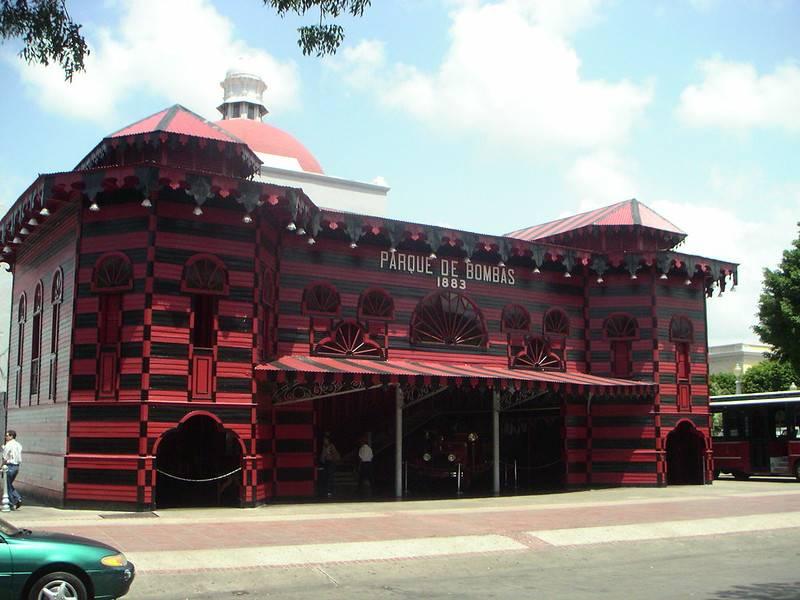 There's a lot to do in Ponce! It's the metropolitan center of the south. The most recognizable landmark in Ponce is the Parque de Bombas, one of the oldest firehouses in existence.
Another popular spot is the Seralles Castle, a lavish estate sitting on 2 acres of prime real estate that was built for the heir to the Seralles fortune, makers of Don Q. rum.
The house is a museum now and features beautifully maintained rooms and a bird's eye view of the city.
If coffee is more up your alley than rum, head to Hacienda Buena Vista, a coffee plantation. Make sure you book a tour in advance, otherwise you will not be able to explore anything beyond the main plaza.
Those wanting a boardwalk setting with bars and restaurants by the beach, you will enjoy Paseo Tablado La Guancha. Don't forget to be on the lookout for the massive "PONCE" letters on your way in/out of the city.
RELATED POST: BEST THINGS TO DO IN PONCE, PUERTO RICO
15. Hatillo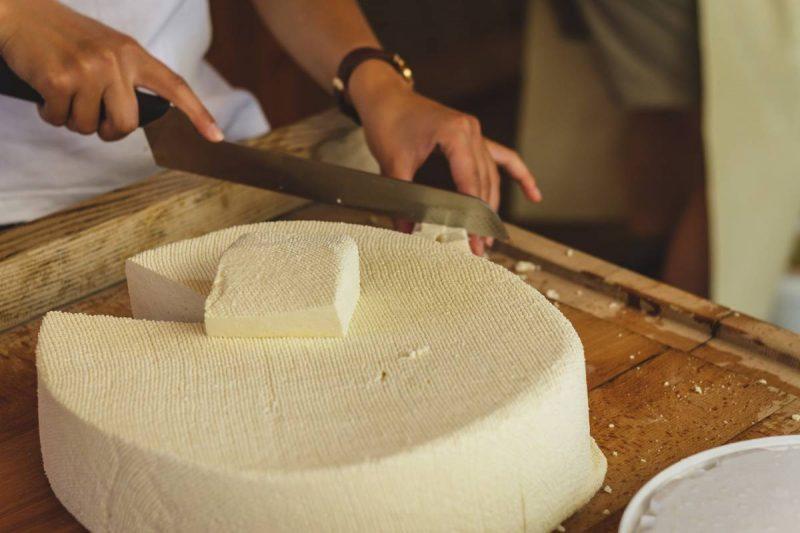 Do you like cheese? Then visit the dairy capital of the island — Hatillo.
The principal industry in the area is cattle ranching and, as a result, Hatillo produces 1/3 of the island's cheese.
They have tasty, fresh product for you to taste, buy and even make yourself.
You can go on a cheese tour with Vaca Negra, where you learn about and participate in the cheese-making process. Each person leaves with their own cheese wheel at the end.
16. Playa Sucia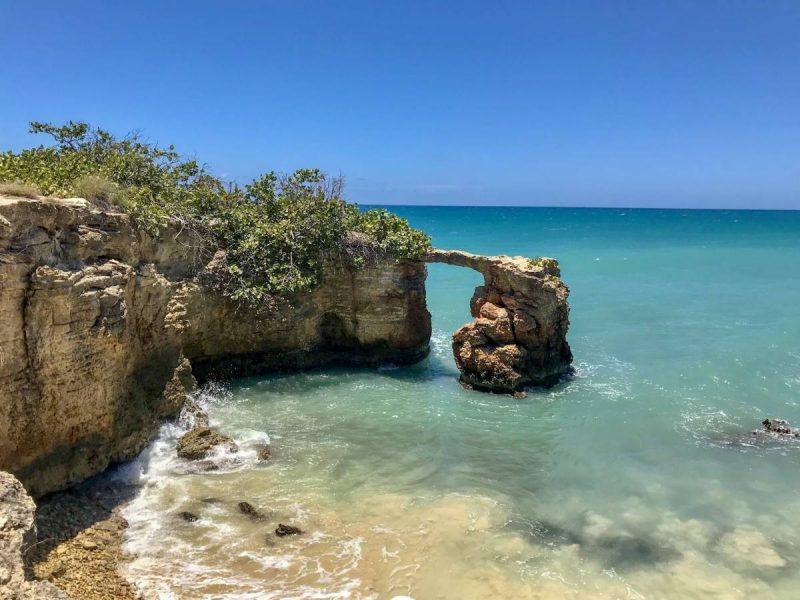 Playa Sucia is a beautiful, untouched beach that is located in Cabo Rojo just a few minutes from the pink lakes. There's some nice hiking and bike trails nearby, right next to the water.
People bring food with them to set up picnics on the beach. Parking is limited so come early, especially on the weekends.
A somber reminder — be careful as you walk along the edge of the rock formations. They're not steady and there have been accidents before.
It's an absolutely stunning place but please have respect for the dangers of being out in nature.
17. Various lighthouses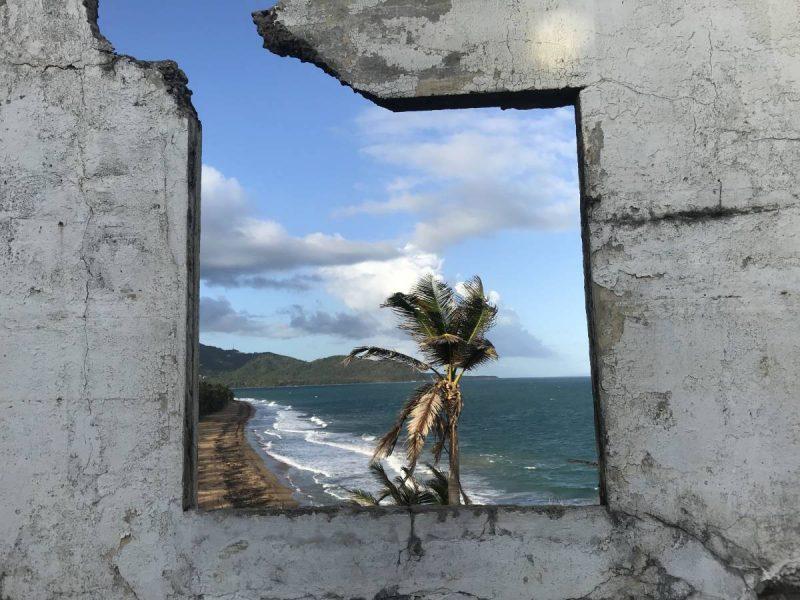 As you can imagine, being surrounded by water and having served as a hub for trade and commerce to the Americas from Europe for decades, Puerto Rico has more a ton of lighthouses — 16 to be exact.
If you see the word "faro," that means lighthouse in Spanish.
There's a beautiful lighthouse in Fajardo called Faro de las Cabezas de San Juan.
There's also the Punta Borinquen Lighthouse in Aguadilla which is unique because it's only ruins. It's a scenic spot with picnic tables that's popular for families.
Punta Tuna Lighthouse in Maunabo sits on a cliff and the grounds are fully open to the public.
18. Colors of Puerto Rico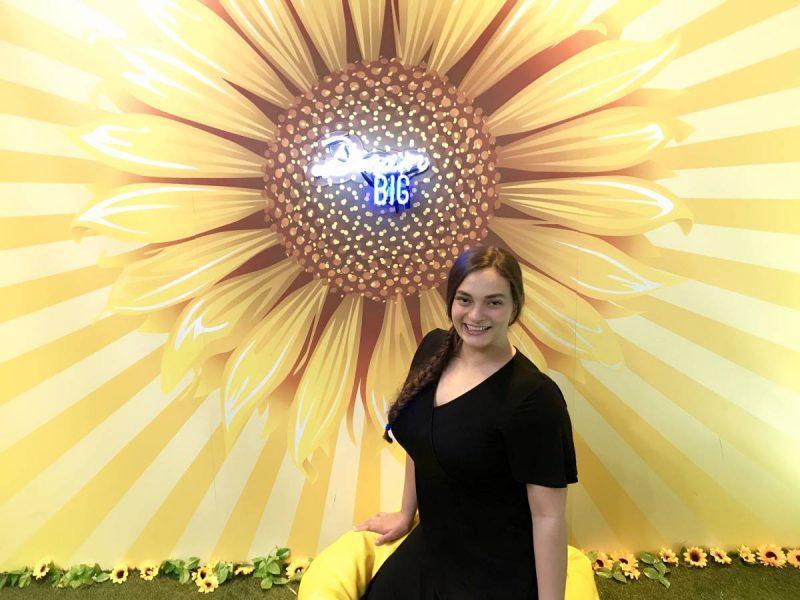 This pop-up museum is located in the San Patricio Plaza, a large mall with plenty of parking.
The location wasn't what I expected but the setups were so cute! Every room is organized by a color — green, blue, yellow, orange, red and pink.
The rooms all have a theme, like "El Yunque" or "parties in Puerto Rico."
The staff tries to organize it so that each party gets the room to themselves for pictures before moving on to the next.
If it's crowded there's a time limit but when I went there were only two other parties there so we got plenty of good shots.
This museum was supposed to only last for a few months but has been extended and will be adopting a holiday theme.
19. Santurce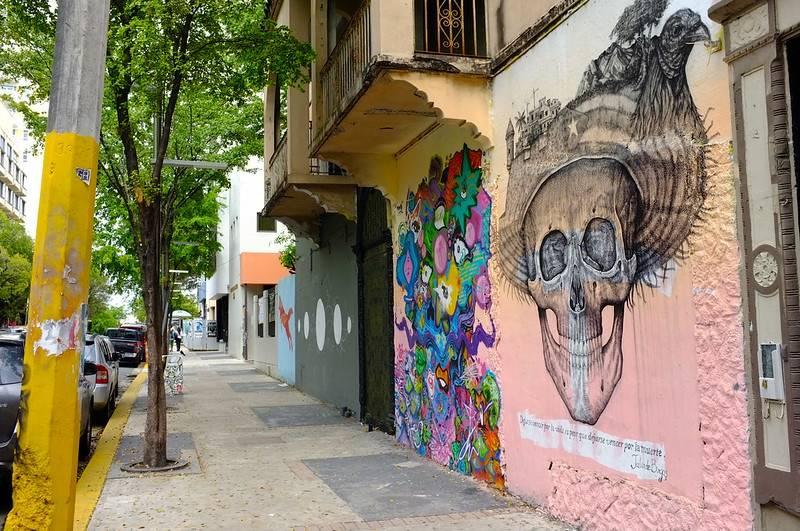 Santurce is one of the best places to find street art in Puerto Rico.
You'll be hard pressed to walk a block and not find a mural. Be on the lookout for the pieces of Colectivo Morivivi, a female-led artists groups that paints works with powerful political messages.
For context, take a guided tour through Airbnb experiences.
While you're in Santurce, stop by Lote 23. It's a food truck park that also serves as a local gathering place and offers dance lessons and concerts on select days.
There are also several museums in the area, like the Museo de Arte de Puerto Rico.
This is one of the easiest day trips from San Juan because of its close proximity. You could travel by Uber and don't need to rent a car.
20. Rincon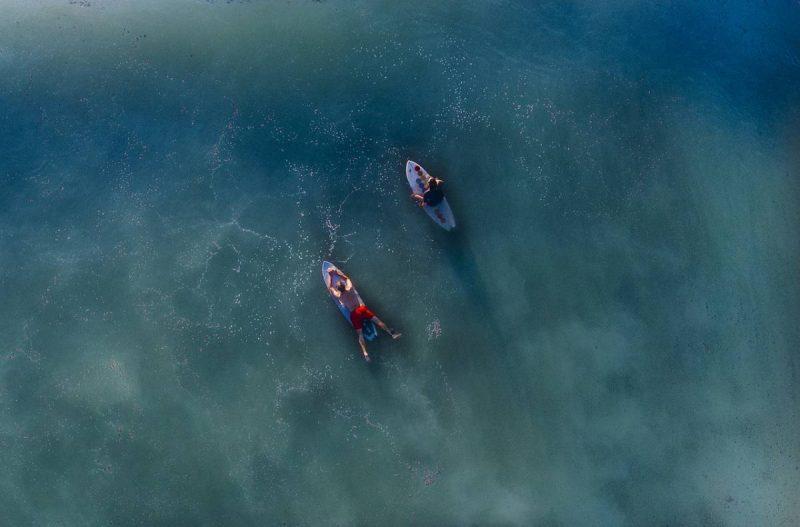 This is the surfing capital is Puerto Rico and is home to international surf competition and killer waves, dude.
If you're looking to hit the water and try it out for yourself, you'll find the best beaches are Domes, Tres Palmas, Sandy and Maria's Beach.
If you're looking to swim and enjoy what's regarded as the best sunset on the island, then head to the famous Crash Boat Beach, about a half hour north of Rincon.
If you're done with beaches and looking for a nighttime activity, stop by the Rincon Art Walk, happening every Thursday evening.
You can also check out the popular Rincon Farmer's Market, held every Sunday from 8am to 2pm.
Those who are here in the "winter," aka January to March, may be able to spot whales from the Rincon Lighthouse, aka Punta Higuero.
Another cool find? The Seashell House! See a building covered in thousands of seashells or as they say in Spanish, caracoles.
21. El Charco Azul
View this post on Instagram
So full disclosure — there's more than one "Charco Azul" on the island.
I'm not surprised seeing as how the name translates to "blue water hole." Still, whether it's the name, the bright blue hues or the off the beaten path allure, charco azuls are all the rage right now in Puerto Rico.
Here's one in Vega Baja, on the north of the island, that's part of the Cuevas Arenalas.
There's another in Carite Forest towards the southeast part of the island.
In any case, your mission is the same: take a day trip from San Juan and hike to a gorgeous blue swimming hole, thanking your lucky stars the whole time that you're in Puerto Rico.
22. Gozalandia Falls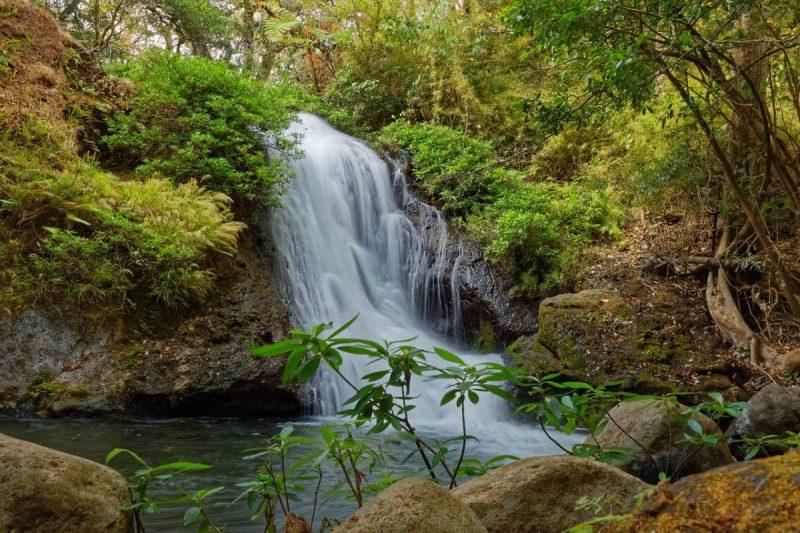 If you want to see waterfalls and are willing to drive a little further from San Juan (2 hours) on winding roads, head to Gozolandia Falls in San Sebastian.
The area is considered a hidden gem and isn't widely publicized. There's also another waterfall called Las Cataratas nearby.
There are different areas depending on what you want to do, whether you want to wade in the water or jump off the rope swing (done at your own risk!).
There are restrooms and a restaurant on site and parking is $5. You can pair this trip with Cueva Ventana for a nature-filled day.
23. Utuado River Tubing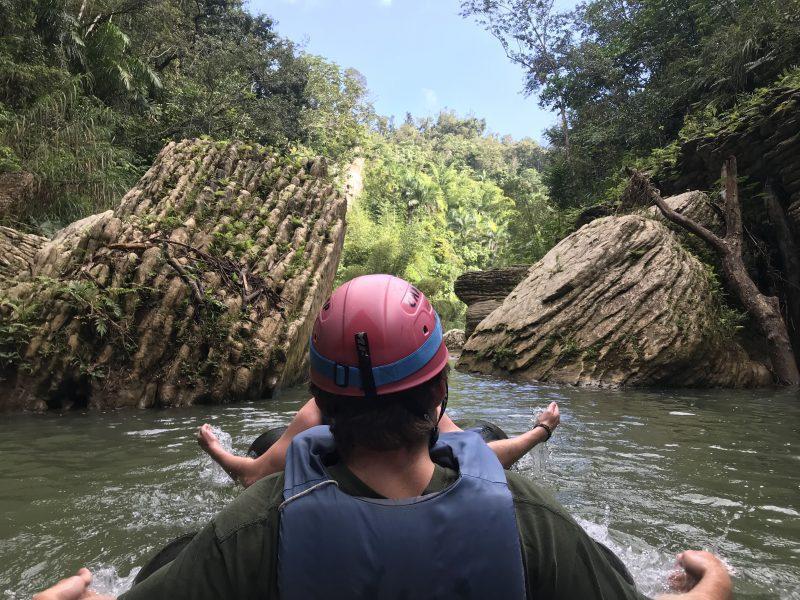 River tubing is the perfect level of adventure for those who want to explore Puerto Rico's jungle but don't want to risk their lives doing so.
It's like a lazy river, only you go underneath the largest underground cave in the Caribbean, in a line with others in the group.
Give yourself a natural facial with clay found by the river and learn about the Taino Indians and their history on a day trip with Tanama River Adventures.
These are just of the amazing places to see in Puerto Rico.
If you have time, take one or two day trips from San Juan and explore more of the island. You won't be disappointed.
24. Coamo Hot Springs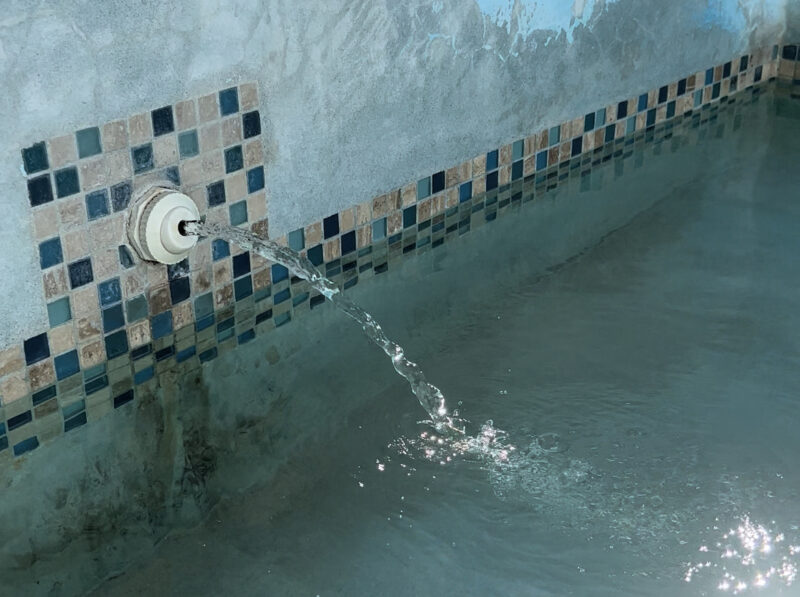 Rumor has it this is the original Fountain of Youth and Ponce de Leon had a navigation error, ending up in Florida.
Whether or not that's true, there's no denying that if you step into these healing waters, you'll leave feeling 10 years younger.
Heated by an underground aquifer and reaching up to 115°F, it is the perfect place to soak away your stress and sore muscles.
Best of all? It's only $5 to enter and there's free parking on site.
RELATED POST: 12 DESTINATIONS IN NORTH AMERICA THAT ARE WARM YEAR-ROUND
Till next time, safe travels!
Liked this post? Pin me below: