Looking for the best Airbnb in Puerto Rico? El Yunque View Treehouse is hard to top! Here's what you need to know to plan your visit.
I recently had the pleasure of staying at El Yunque View Treehouse in Rio Grande, Puerto Rico. Staying here had been a long-time dream of mine, ever since I first saw a picture of the space.
It's unlike any other house I've ever seen — after all, there's a mango tree growing through it!
I was immediately enamored and sold on the location, but finding availability was a different story. You see, I wasn't the only one trying to stay at the epic treehouse. It was sold out for months!
After patiently waiting, and capitalizing off last-minute cancellations, I was able to find a spot in mid-August two weeks out, right before Labor Day weekend.
It was 2 nights, Wednesday and Thursday but that's one of the perks of being a digital nomad — you set your own schedule.
Not thinking twice about it, I hit "book" and immediately started dreaming of my treehouse escape.
It did not disappoint.
El Yunque View Treehouse is worth every penny, and every second of the wait! Here's what you need to know before you go.
RELATED POST: 21 UNBELIEVABLE DAY TRIPS FROM SAN JUAN
Where is El Yunque?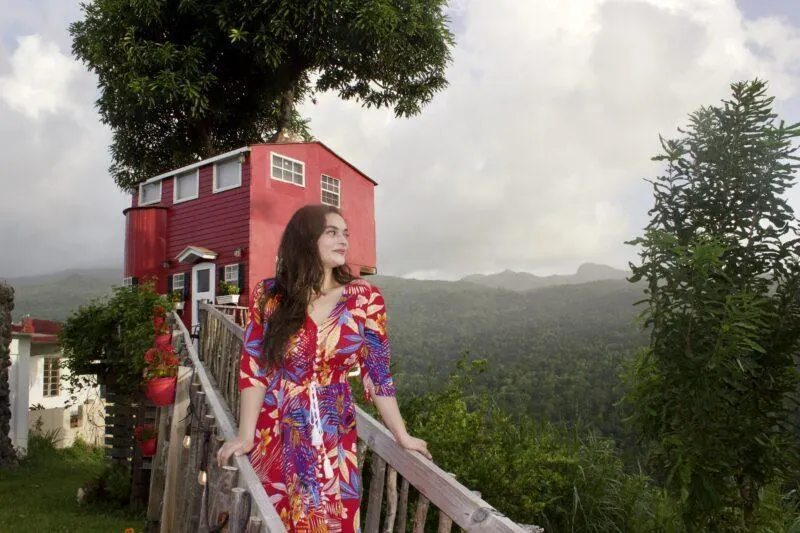 El Yunque is in Puerto Rico and is the only tropical rainforest in the US National Forest System. It is located on the east side of the island about an hour's drive from San Juan.
The rainforest itself is filled with flora, fauna and hiking trails. There are waterfalls, towers and informative demonstrations at the welcome center.
Make sure to check online for any trail closures or inclement weather notices before your trip.
Note: You will need to reserve tickets ahead of time to visit El Yunque. There are timed slots available for 3 hours in the morning or afternoon and they cost $2/car. Make your reservations by clicking here.
About El Yunque View Treehouse
The treehouse itself is a popular Airbnb rental that sells out months ahead of time. It is a tiny house built around an orange mango tree.
The house is propped up by wooden beams and steel bars and was made as a creative addition to the standard Puerto Rican home immediately adjacent to it.
The host, Julio, is easy to reach and very responsive to questions. There is also a resident dog on the premises — he is tiny, adorable and friendly despite his somewhat grumpy resting face.
RELATED POST: CASA ALTERNAVIDA, A TRANSFORMATIONAL RETREAT IN PUERTO RICO
Treehouse Amenities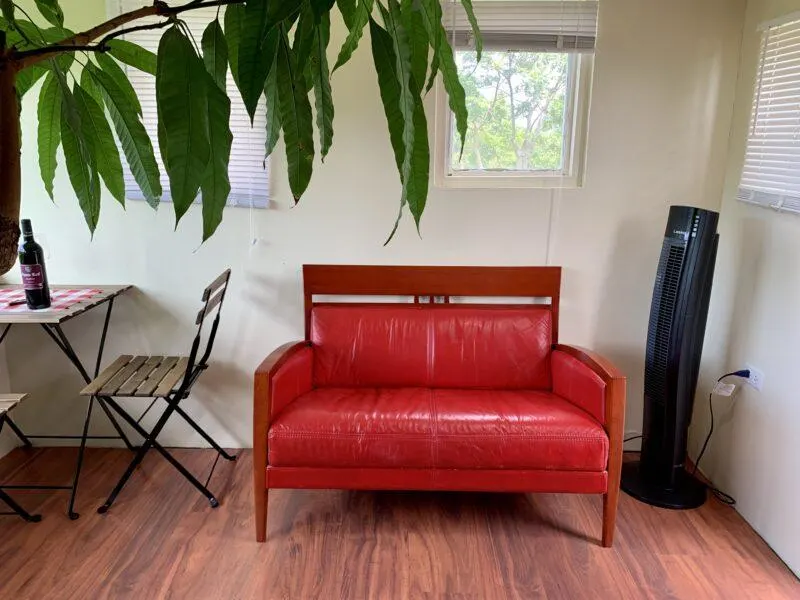 Unlike other treehouses, El Yunque View Treehouse comes fully stacked!
I was impressed to find A/C, WiFi, a flat screen TV and several kitchen appliances. There were also fans/freestanding cooking units on each floor.
There was a mini-fridge and freezer with ice cubes ready. It came filled with juice and water.
The corner diner had a bottle of wine, corkscrew, two wine glasses and box of wafer cookies.
There were complimentary snacks ranging from bags of chips to pancake mix and syrup.
I had plans when I arrived to do other things but ended up wanting to just lounge around the house instead!
RELATED POST: IS IT SAFE TO TRAVEL TO PUERTO RICO?
Second Floor
The second floor is where you'll find the bathroom, a sink and some closet space. There is an ironing board, iron and hairdryer provided. There is also space to store 2-4 small bags.
The bathroom had many towels and toiletries, from baby wipes to shampoo. The products used felt higher end, from soap to body lotions.
Another unexpected perk — hot water! The shower is small, built for one person (barely!) but the portable water heater is efficient and pleasant.
There are multiple skylights on the top floor, above the shower, sink and 3 above the bed and sitting area. There are also plenty of outlets for charging your devices — I counted at least 6 on the second floor alone.
View of El Yunque Tropical Rainforest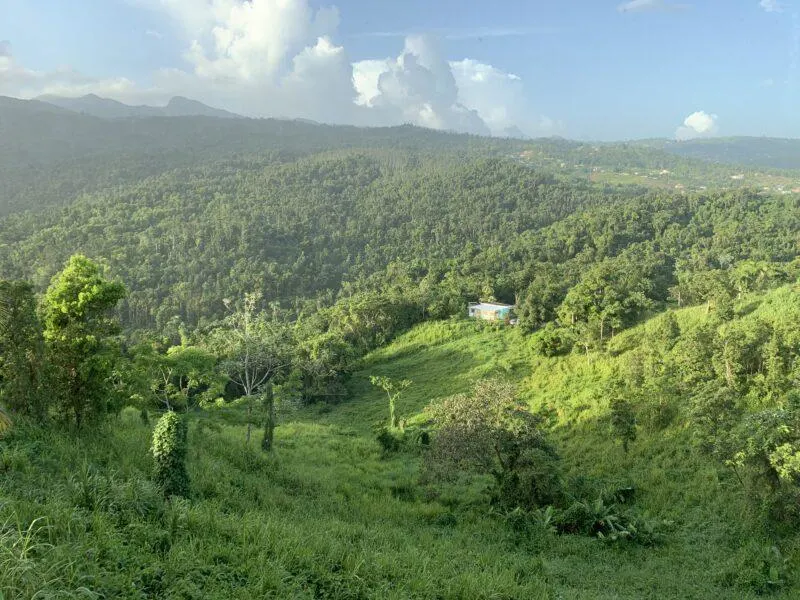 Perhaps the most stunning and peaceful part of this rental is the unobstructed rainforest views.
There is a wide glass window where you can sit to just sip your morning tea or watch the sunset.
The rush of green and smell of fresh air is very relaxing and the perfect medicine for anyone looking to unwind from the stressors of day-to-day life.
Tiny House Living
With a tiny house space is limited so everything included is intentional. There are enough utensils and plates for 2 people. The bed was a full sized bed with 4 plump pillows.
One person can use the sink, bathroom or kitchen at a time.
The house is not built for overly tall people — I am 5'2″ and it was perfect for me. I imagine anyone 5'8′ or taller will have to crouch and watch their heads.
You access the second floor via a ladder so the squeeze can also be tight for non elf-like folk.
For me, it was perfect! I actually reconsidered my normal sized house after being here and questioned if I needed so much space.
I appreciate the efficiency and sustainability of a tiny house.
RELATED POST: VISIT PINK LAKES IN PUERTO RICO
Things to do in Rio Grande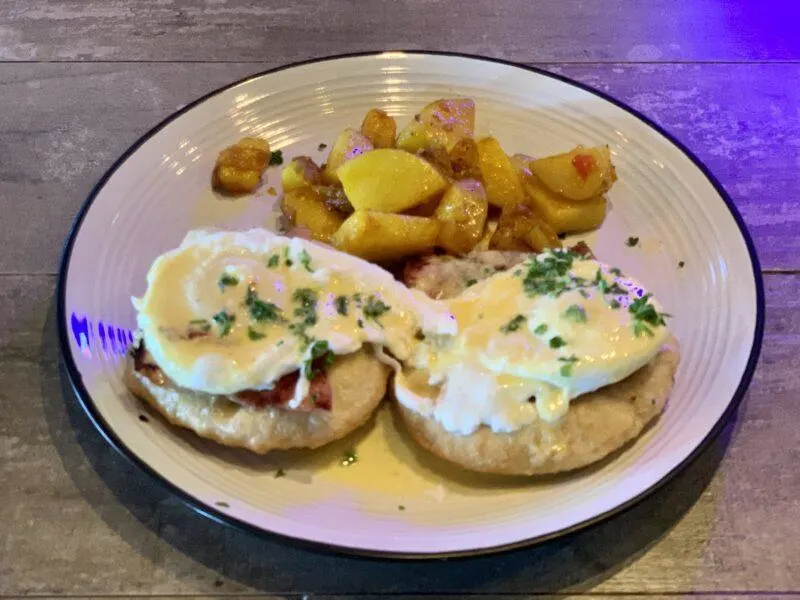 In addition to visiting El Yunque, there are some yummy spots in the Rio Grande area, where the treehouse is located.
I recommend brunch at Ekelekua, they have an arepas eggs Benedict that will blow you away.
Want dessert after? Peccas Ice Cream and Frozen Yogurt has boozy flavors ranging from coco whisky to rumchata.
Work off your meal right across the street at Caribbean Trading Company. This store has handmade items by local artists and is the perfect place to pick up an authentic souvenir.
RELATED POST: BEST AIRBNBS IN PUERTO RICO
My recommendation? If you get a chance, definitely book a stay at El Yunque View Treehouse. It is a singular accommodation where you will feel comfortable and connected to nature.
Till next time, safe travels!
Liked this post? Pin it for later: