Looking for the best Airbnbs in Puerto Rico? You won't believe these hidden gems, found by a local!
I was born in Puerto Rico and moved back in 2019 to live here full-time for the first time in my adult life. It has been a pleasure rediscovering the island and I love sharing little-known finds with you all.
As part of that, I've been visiting and documenting local Airbnbs.
For the rentals I'm visiting there's only one criteria — they have to be epic! I'm finding that's an easy requirement to meet.
There are SO many unique rentals on the island! This Caribbean getaway may be small, but it has a lot to see.
Share with someone you know who is planning a visit. Sharing is caring, after all. Just do so early cause these bad boys book up quick.
Without further ado, here are the best Airbnb rentals in Puerto Rico you must experience on your next vacation!
1) Casa Grecia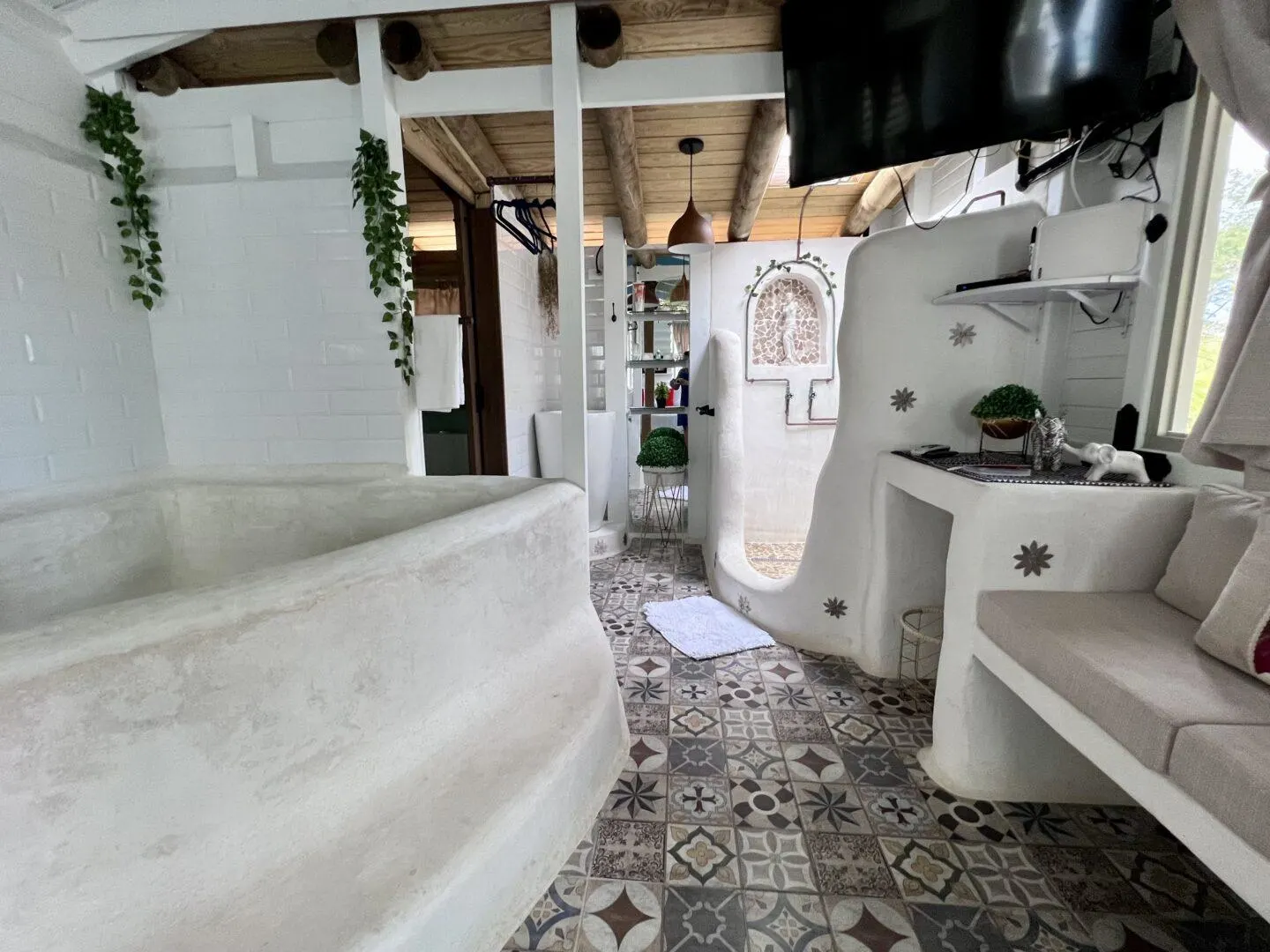 City: Rincon
Starting price: $218/night
A private pool, bathtub fit for royalty, and open roof shower where you can feel the rainfall are three fantastic reasons to put this Greek-themed Airbnb on your radar.
It's giving Santorini vibes, with built-in furniture resembling a cave hotel and hues of white and blue throughout.
There is a full outdoor kitchen with large fridge and small dining table for 2. There is hot water, a TV, WiFi and A/C on site.
Make sure to check out the English Rose for breakfast with a view, just a 10 minute drive away.
RELATED POST: REVIEW OF CASA GRECIA IN RINCON
2) Casa Maya at Hilltop
City: Flamenco, Culebra
Starting price: $248/night
This Airbnb rental is located in Culebra, a small island off the east coast of Puerto Rico. You can reach the island by ferry, private boat or 10-minute puddle hopper plane.
There are several units at this property but Casa Maya is the largest and most scenic, with an infinity pool that looks out over the island and ocean. You hear the sounds of nature in the morning and it is heavenly.
There is a large, walk-in stone shower with a view. It feels very grotto-like.
The parking is steep and can be difficult to access, highly recommend renting a Jeep while on the island.
RELATED POST: THINGS TO DO IN CULEBRA
3) El Yunque View Treehouse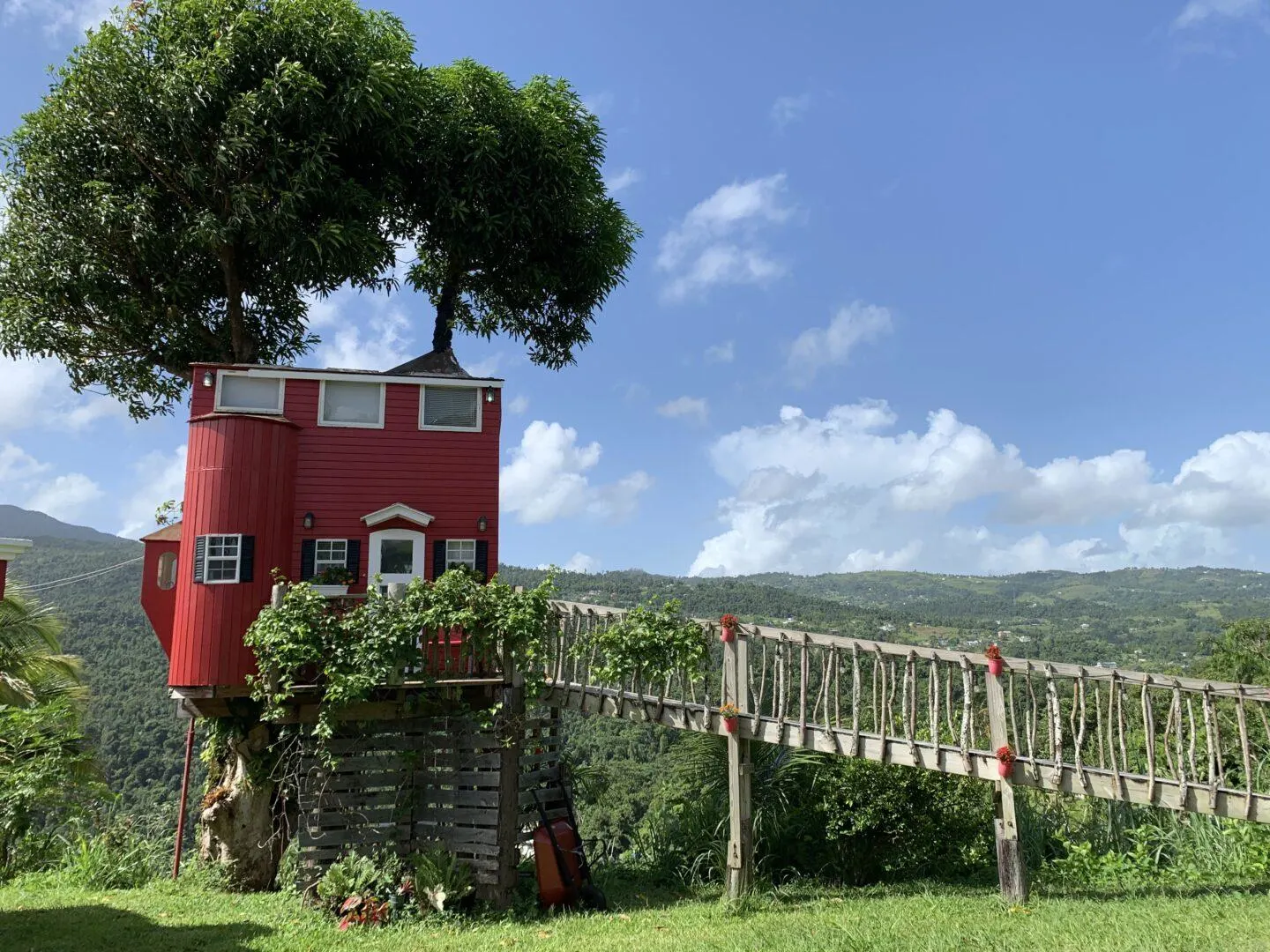 City: Luquillo
Starting price: $169/night
This is one of the most unique structures I've ever laid eyes on! It's a tiny house built around a yellow mango tree.
Since my visit, it has been featured on Better Homes and Gardens.
I love that even though you feel like you're in the middle of nowhere, you have all the modern comforts you need, including A/C, hot water and WiFi.
The sounds of the coquis here at night is melodic and just heavenly.
RELATED POST: A REVIEW OF EL YUNQUE VIEW TREEHOUSE
4) Villa Renata
City: Camuy
Starting price: $249/night
This Airbnb has an in-ground pool just yards away from the ocean. It is gorgeous!
It is pet-friendly with plenty of space for your dog to roam. There are birds on site in their own enclosed birdhouse though, just be aware.
There's a king sized bed, spacious kitchen, large flat screen TV in the living room. It is very comfortable and we enjoyed just lounging outside here, listening to the sound of the waves.
There's a restaurant, El Fogon de Abuela, literally the next block over so you don't need to go far for dinner.
RELATED POST: 21 BEST DAY TRIPS FROM SAN JUAN, PUERTO RICO
5) Rancho Esto es Vida El Lago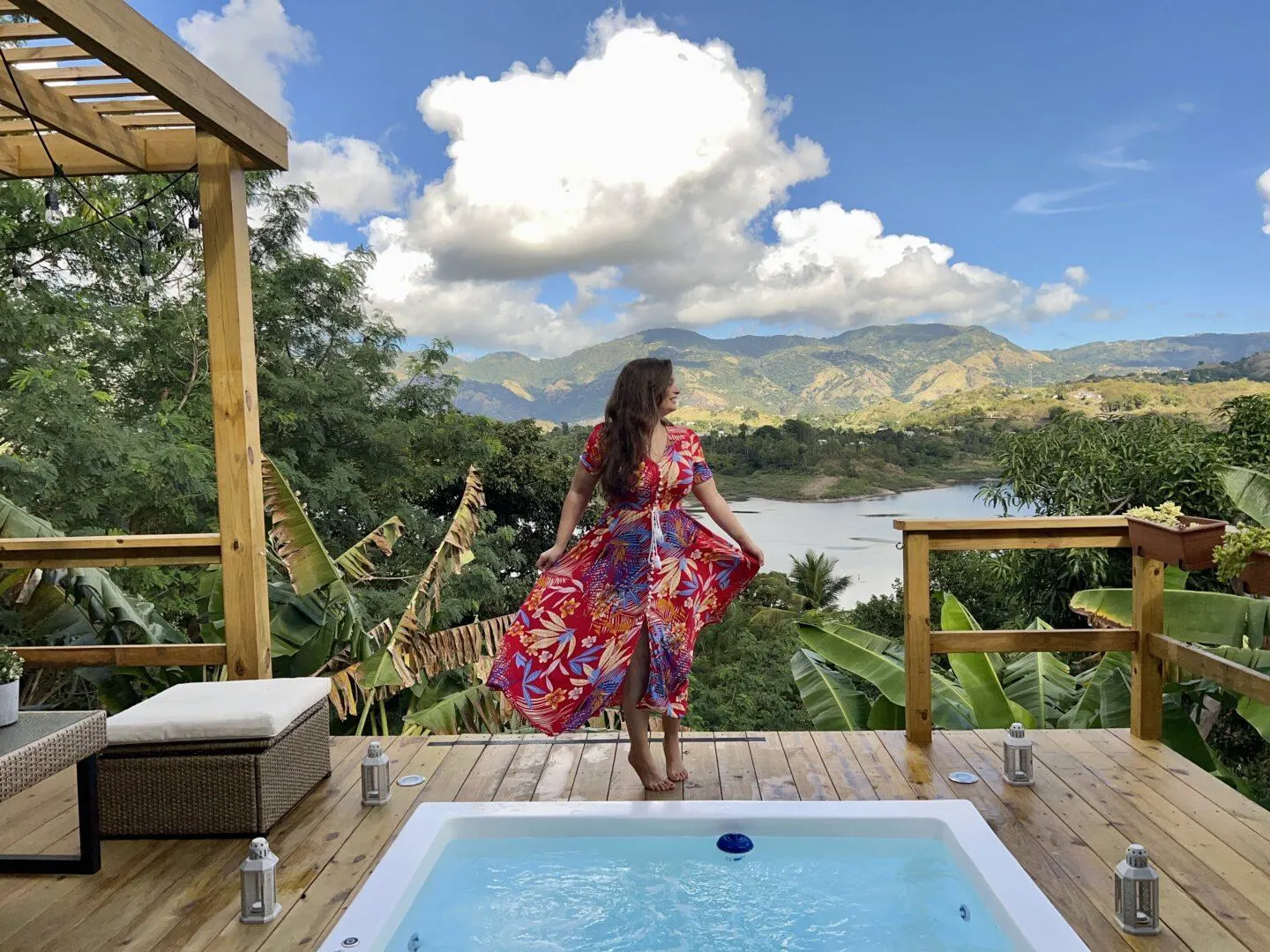 City: Villalba
Starting price: $265/night
This Airbnb in the mountains of Villalba is the epitome of indoor/outdoor living, with a garage door in the living room that fully opens up to the outside deck.
It's also a party spot, with enough space to fit 20 or so people outside, a full BBQ grill, outdoor bathrooms ready for guests to use, an outdoor TV, multiple fans, and even a branded dominos table.
Not to mention the treehouse, net overlooking the lake, and multiple scenic swings.
Food is not the easiest to find around here so I recommend you bring supplies with you to cook. There is a full kitchen.
RELATED POST: A REVIEW OF RANCHO ESTO ES VIDA EL LAGO
6) Rancho la Terapia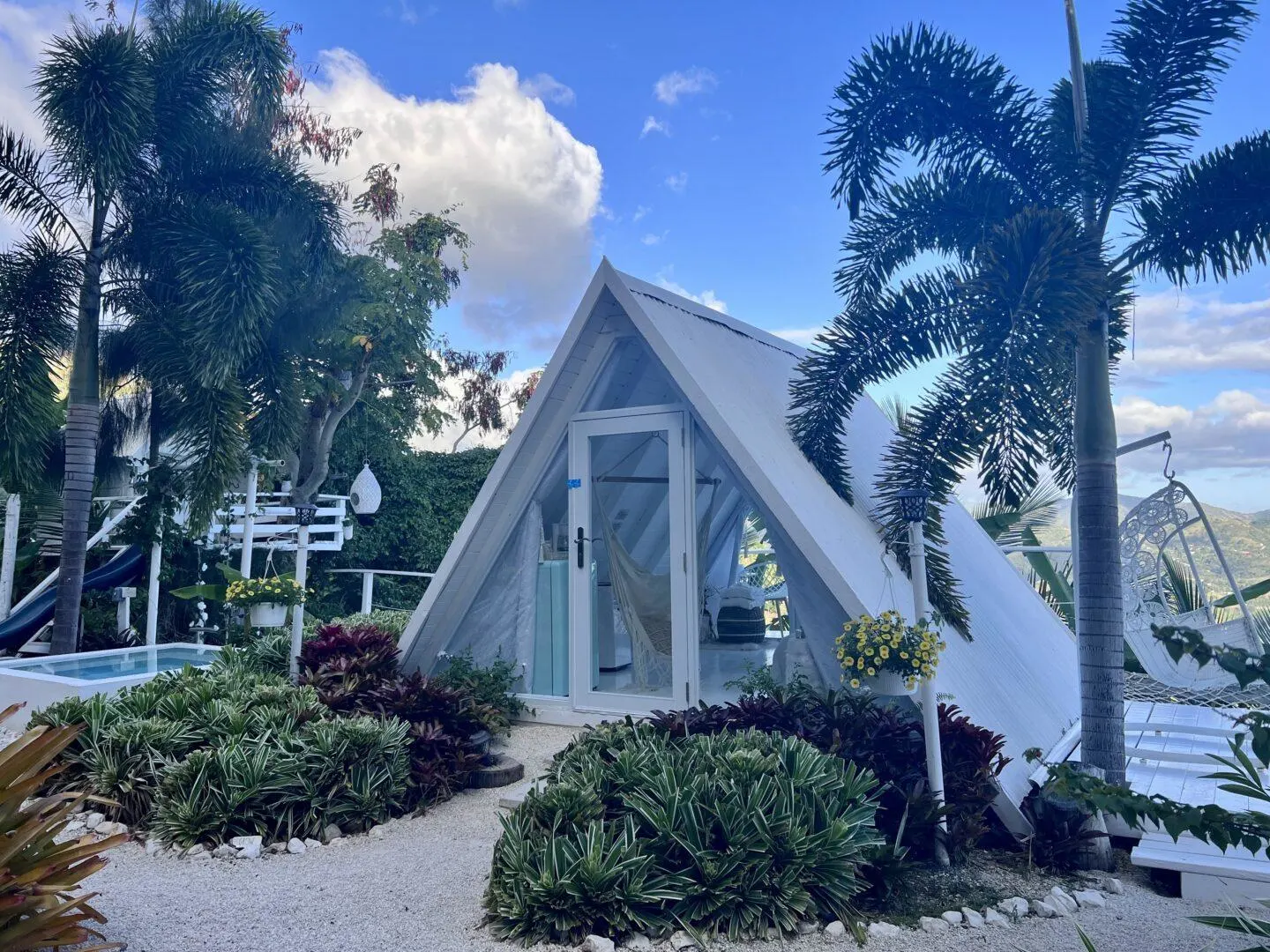 City: Villalba
Starting price: $250/night
This place was made for Instagram! It's glamping done right, with hot water and A/C. There is no WiFi but you get cellular data here. Also, the point is to disconnect.
The views from the infinity pool overlook the mountains and lake and are so peaceful.
There's a mini fridge and stovetop. You can bring your own food or have some delivered from the to-go menus the hosts provide. Either way, you won't want to leave.
7. El Getaway PR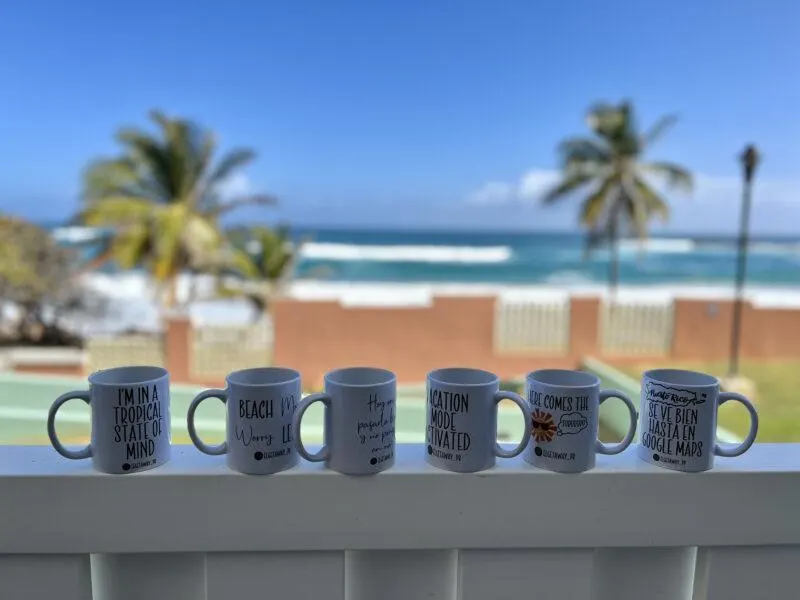 City: Isabela
Starting price: $198/night
Located in Isabella, this 3 bedroom/2 bath home is located right on the water. The lucky inhabitant of the primary room falls asleep to the sounds of the ocean.
The apartment has high ceilings and is beautifully remodeled with gold fixtures, subway tile in the kitchen and bathrooms, and everything you could need for your stay, from beach chairs to tennis rackets to a full sized washer/dryer.
The details are thoughtfully done, with labels on the lights and keys, extras like a wireless speaker in the kitchen and coffee/hot chocolate.
RELATED POST: FINDING PINK LAKES IN PUERTO RICO
Till next time, safe travels!