Looking for more information about Rancho Esto Es Vida El Lago? You've come to the right place.
Nestled in the mountains of Villalba is a one-of-a-kind Airbnb called Rancho Esto Es Vida El Lago. Loosely translated it means Ranch "This is Life," the lake version.
And truly, it lives up to its name.
Here's everything you need to know about this bucket list rental in Puerto Rico.
RELATED POST: A REVIEW OF EL YUNQUE VIEW TREEHOUSE IN PUERTO RICO
Where is Villalba?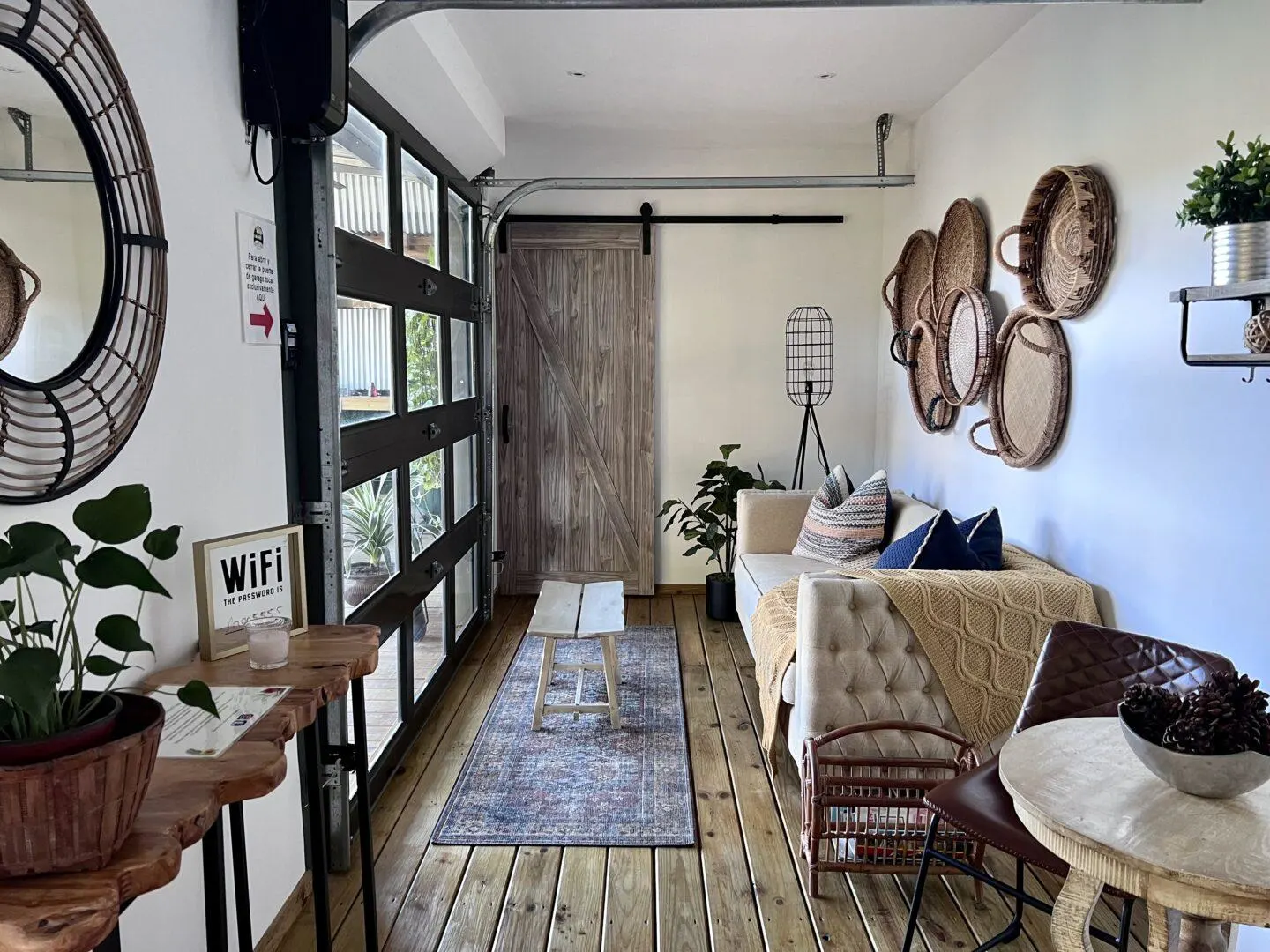 Villalba is located about an hour and a half south of San Juan and a half hour north of Ponce.
It is in a mountainous region, although the area doesn't require a 4×4 to get there. My Chevy sedan made it just fine.
You will need a vehicle to get there, it's not easily accessed by public transportation.
Villalba is known as the city of lakes because it houses two large reservoirs. It's ideal for bird watchers and those interested in recreational fishing.
Reservations and accessing the house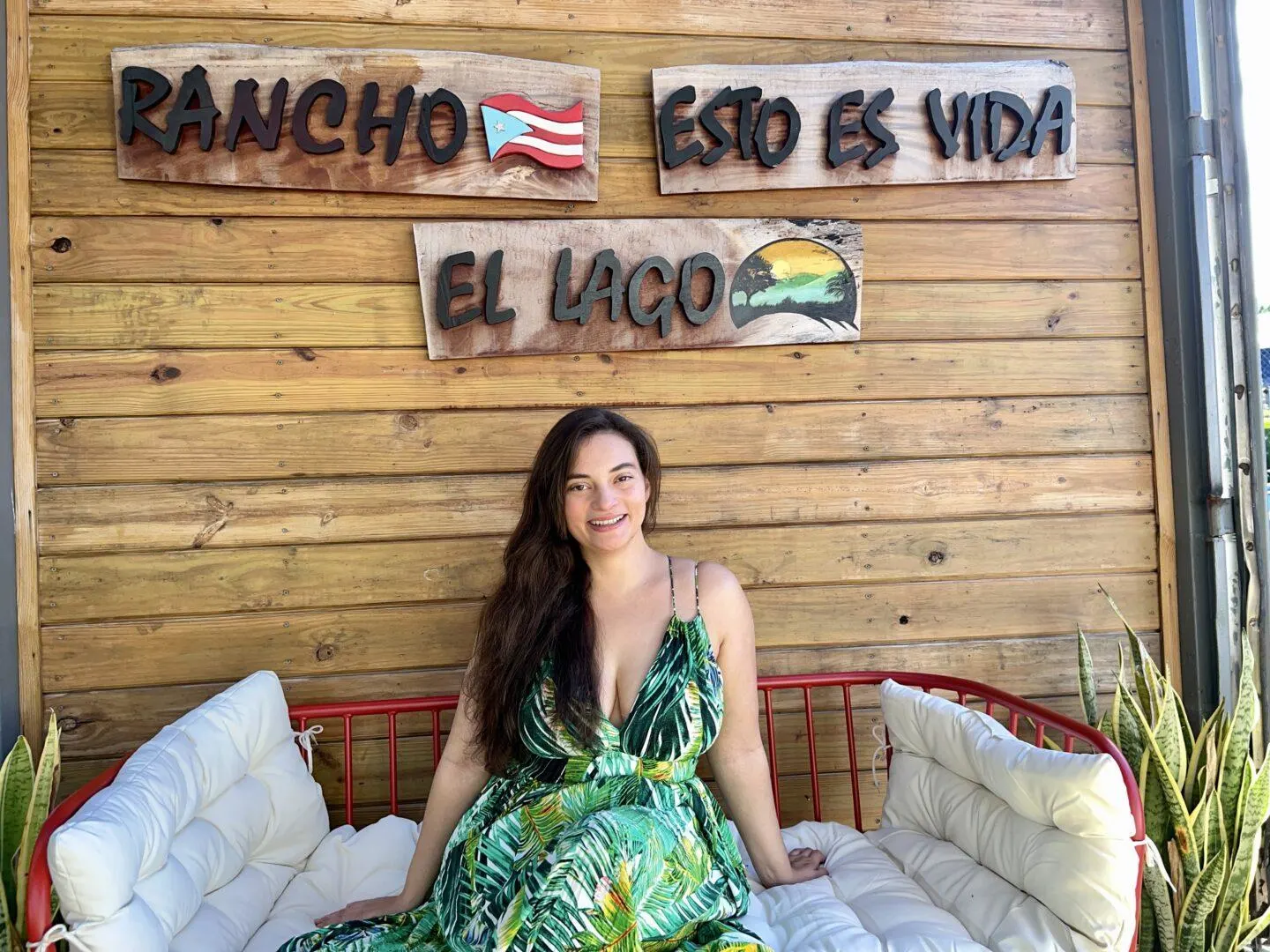 Rancho Esto Es Vida El Lago is a very popular Airbnb rental that fills up quickly. Make reservations well in advance, click here to book now.
This is one of two rentals by the same owners. Here is a link to the second one in case this one is filled up, both start at $255/night.
Although a little tricky, I was able to find the property using the owner's directions. It's just off the road, keep an eye out for shipping container-like gates.
To access the property, there is a key in a lockbox. You'll get the code right before your stay. There are neighbors on either side although the house feels relatively private.
Amenities at the house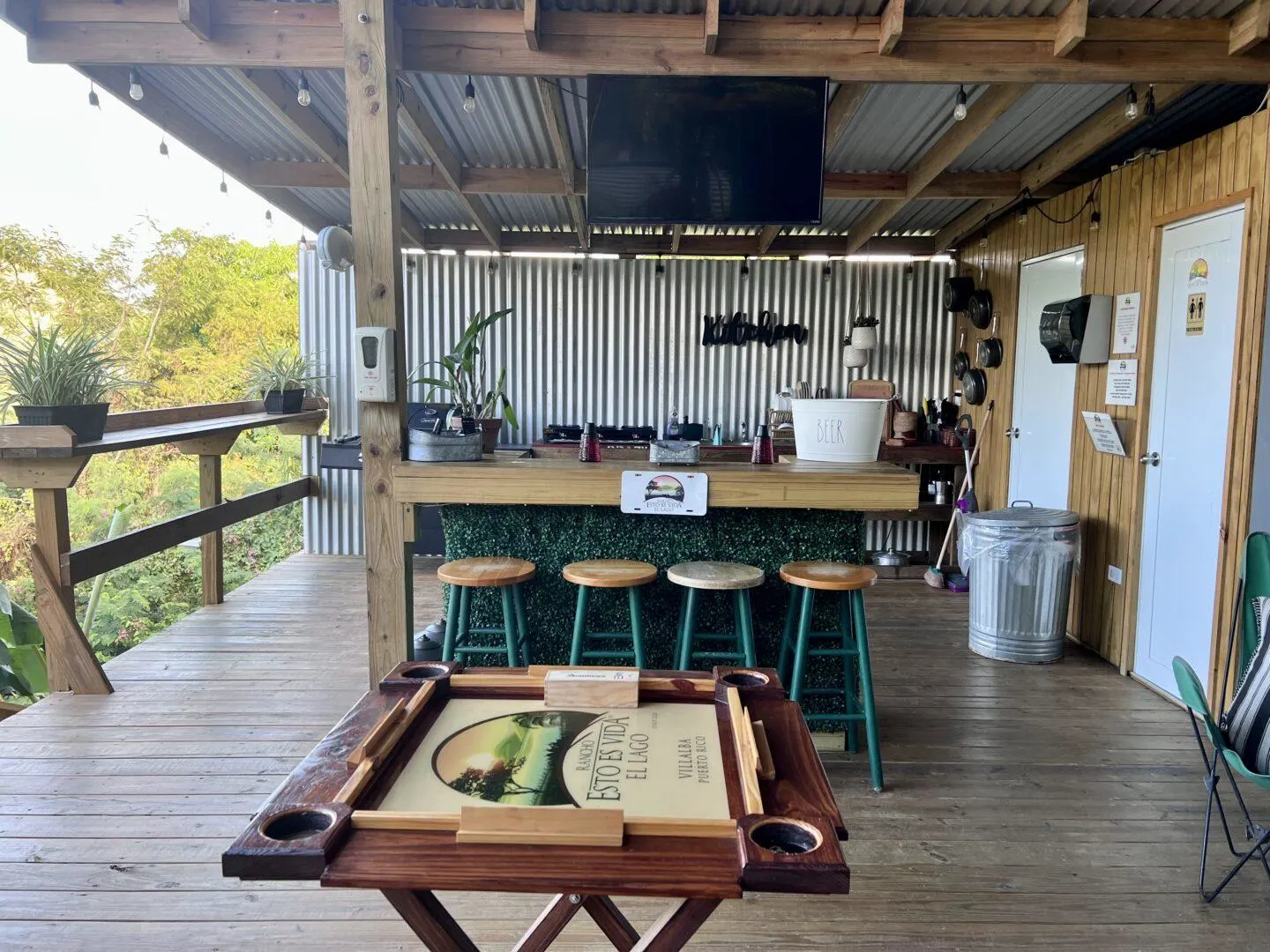 The house is a renovated storage container that makes the most of the outdoor space. It is ideal for hosting, with stunning views and thoughtful details.
There is a hot tub from which you can watch the sunset. There is luxurious outdoor furniture, plus a hammock, bar with stools and multiple scenic swings on site.
There is a clothesline in case you need to dry your bathing suit. There are two flat screen TVs: one outdoors and one in the bedroom.
I really admired the custom dominos table that included the house's logo. Such a cute touch!
There are two kitchens, inside and out. The house is equipped to grill food, store things in the fridge, and host en estimated 20+ people. It comes with two complimentary mini water bottles.
There are beautiful twinkle lights that you can control and illuminate at night.
There's also a treehouse of sorts with a net in the treetops, reminiscent of a Balinese vacation.
The house is indoor/outdoor living at its finest, featuring a large automatic garage door that lifts up and merges the deck with the living room.
Things to do in the area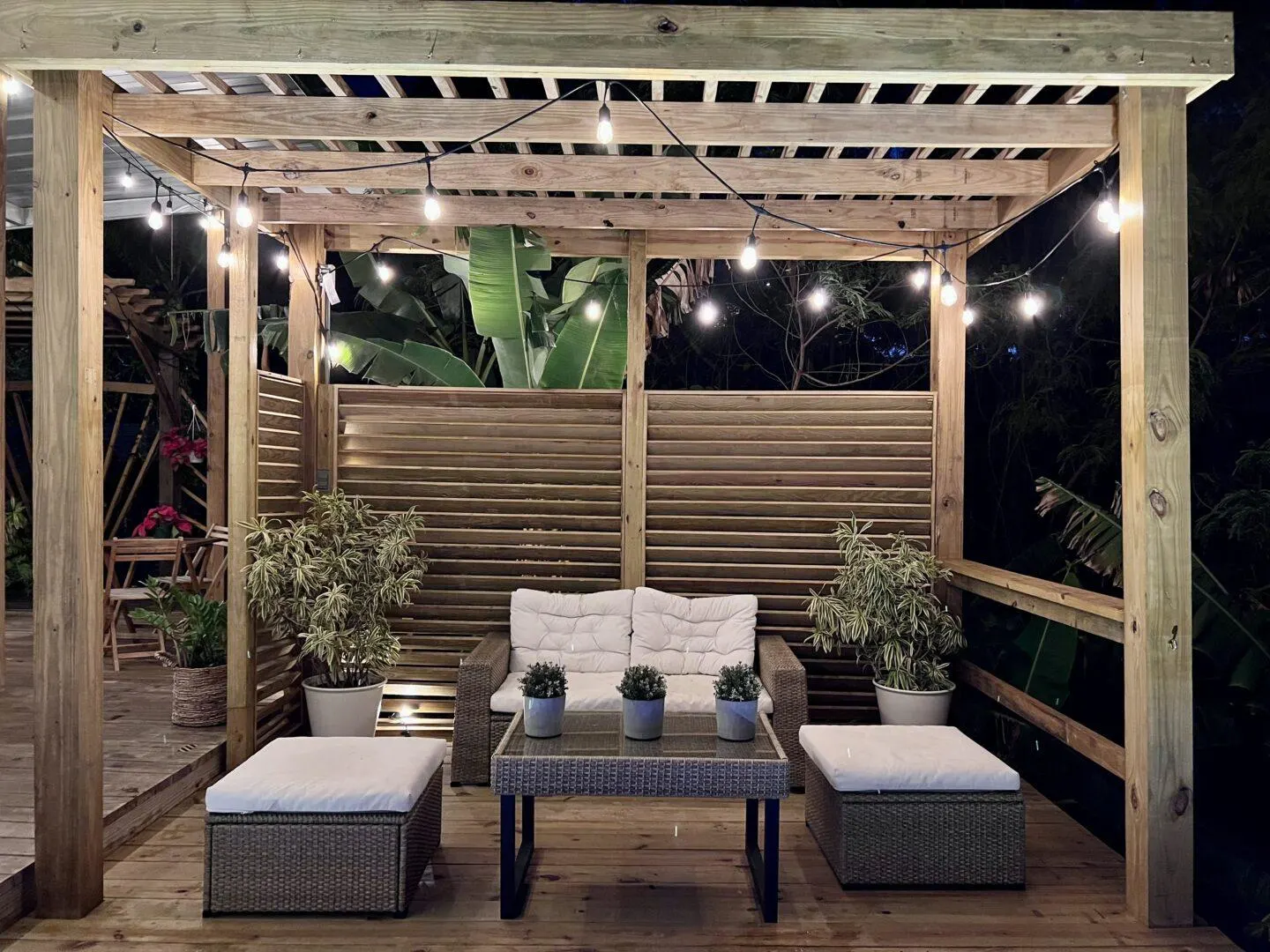 I recommend taking the time to go to Ponce, one of Puerto Rico's most dynamic cities. Take a walking tour with Isla Caribe PR, see the iconic Parque de Bombas and admire local street art.
You can also go to nearby Coamo and visit Puerto Rico's healing hot springs. The site was recently renovated to have constantly renewed water versus standstill pools.
The food selection is limited and things close early so bring some of your own food to cook on the premises. It's nice to not have to worry about driving in the dark for dinner, especially given the dark, windy roads. Just relax and make use of the grill.
RELATED POST: 23 BEST DAY TRIPS FROM SAN JUAN, PUERTO RICO
Know before you go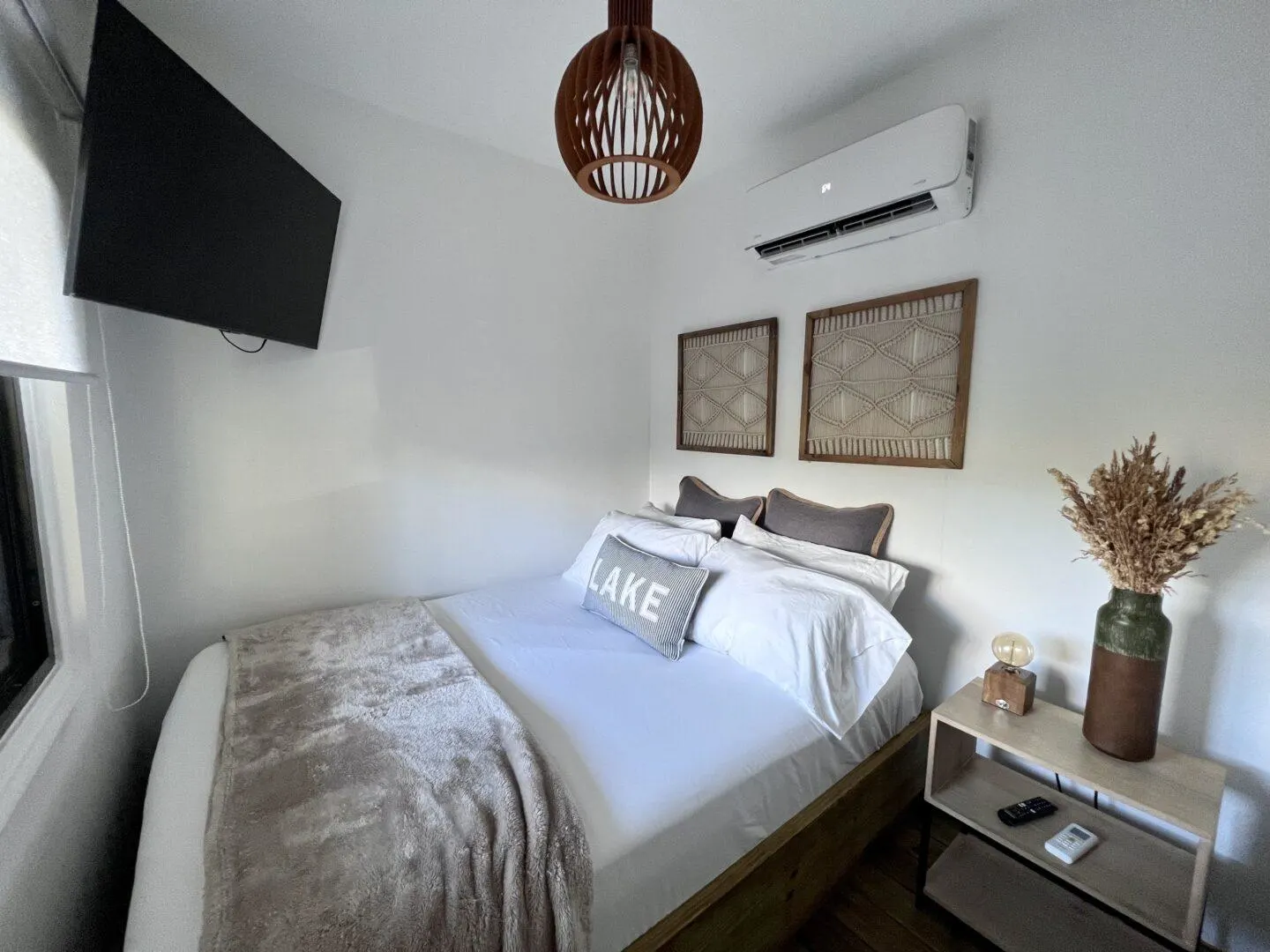 There are bathrooms accessible from the outside for guests and one inside for the person staying there. There's a queen bed and room for two people to sleep inside. Maybe 3 if someone takes the couch.
There is also parking on site, I'd estimate for 4-6 cars.
There are bathrobes provided for two people, along with soap and shampoo. There are plenty of outlets for charging.
You do get service here and WiFi is provided. I was able to stream Netflix without issue. There is air conditioning but it's only in the bedroom. Outside, there are large ceiling fans that keep it cool.
Safety wise, I appreciated that there was a seal on the door to let me know the unit had been cleaned properly.
The design is modern, spacious and functional. It's also aesthetically pleasing, with more than one photo spot. Come prepared to take pictures. You can fly your drone here.
Rates start at $255 a night and I thought it was a steal!
RELATED POST: CASA ALTERNAVIDA, A WELLNESS RETREAT IN PUERTO RICO
Till next time, safe travels.
Liked this post? Pin me below: