Thinking about going on a food tour with Devour Tours Madrid? Here's what you need to know to get the most out of the experience.
Tapas! Is there a more exciting word in the food industry? Well, maybe "cake," but that's the type of food you eat in bed by yourself on a Tuesday night.
The best part about tapas, and about the food culture in Spain in general, is the social aspect. Eating is an activity you undertake with friends, everyone's forks digging in to the same plate of patatas bravas.
I used to think I had the best tapas of my life in Barcelona, until I visited Madrid. The capital of Spain is a culinary wonderland, with more than 15,000 restaurants in the city. You can find something to eat at any time of the day or night, with several restaurants having reached Michelin Star status.
RELATED POST: THE BEST THINGS TO DO IN MADRID, SPAIN
I was so excited to get to know more about this dynamic food scene on a tapas tour of the city with Devour Tours Madrid. Read on for more about the experience!
About Devour Tours Madrid
Devour Tours was founded in Madrid and has since expanded to other locations in Spain, including Barcelona and Seville. They're also available in Rome and most recently began hosting tours in Paris.
The concept behind the company is to connect visitors with local eateries and markets and take guests off the beaten path to discover not just the food, but the people behind the establishments.
You learn about the history, traditions and culture of the neighborhood all while tasting the best the best fare they have to offer.
The Devour Tours logo, shaped like a ticket you would take to get in line for the market, underscores their commitment to making sure you eat and experience the city like a local.
Huertas Neighborhood Food & Market Tour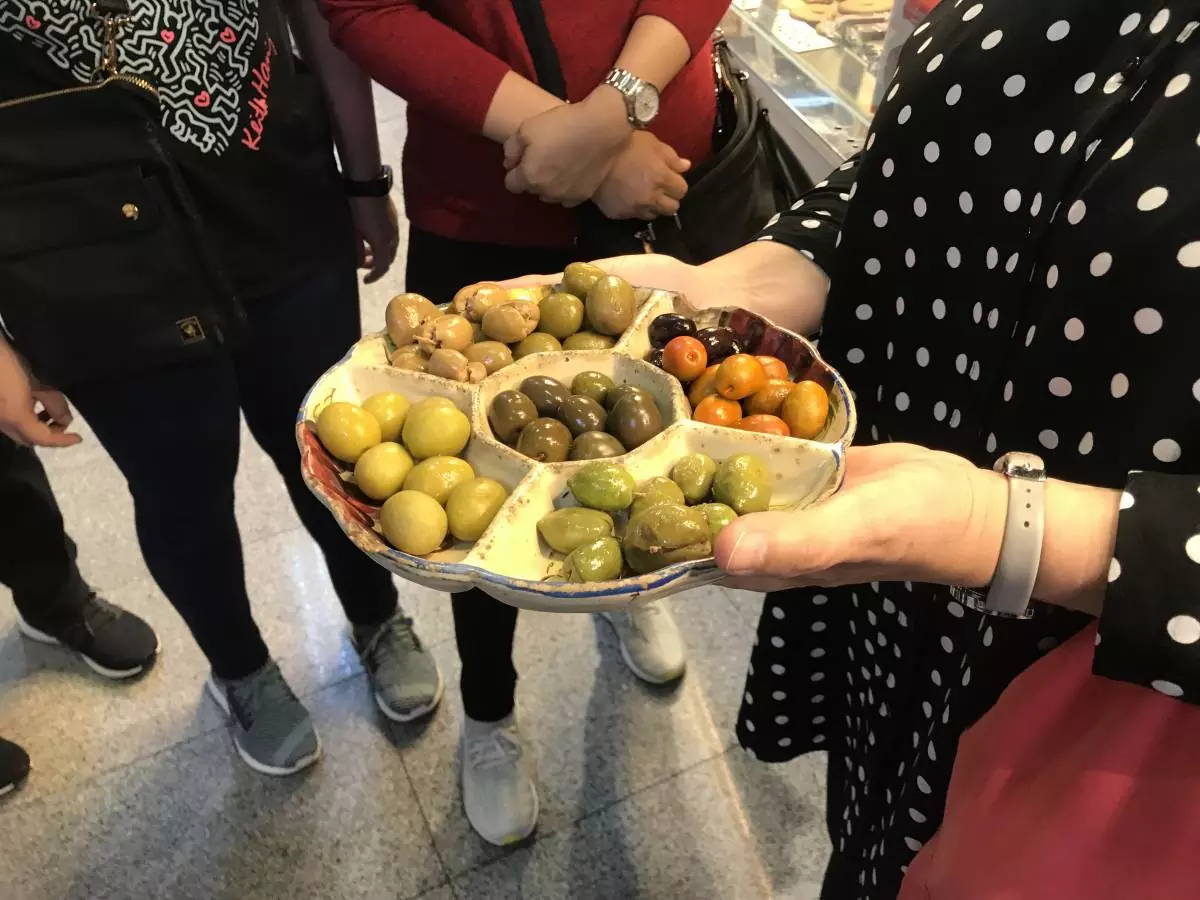 I took a tour of the Huertas neighborhood in Madrid. This neighborhood used to be a hub for artists and we found traces of Cervantes, the famous author of Don Quijote de La Mancha, all throughout our morning walk.
This was a day tour, starting at 10am and lasting about 3 hours. We had a small group of less than 10 people, making it easy to hear our guide and allowing us to all sit together at the restaurants for a more intimate setting.
I recommend wearing shoes that you'll be comfortable walking in. I suggest wearing cool fabrics during the summer months as Madrid gets quite hot.
Our guide, Arantxa, was a trained chef herself and had a passion for Madrid's food. She pointed fun facts, like a comparative plague that you'll find outside venues that have been in business for more than 100 years and Cervantes' final resting site.
She also gave us a helpful tip about the daily menus found at restaurants. They're intended to be an affordable option for workers who don't have the ability to go home for lunch, so they can be hit or miss in terms of quality.
RELATED POST: 15 THINGS TO KNOW BEFORE YOU VISIT MADRID
Food and Drinks Sampled with Devour Tours Madrid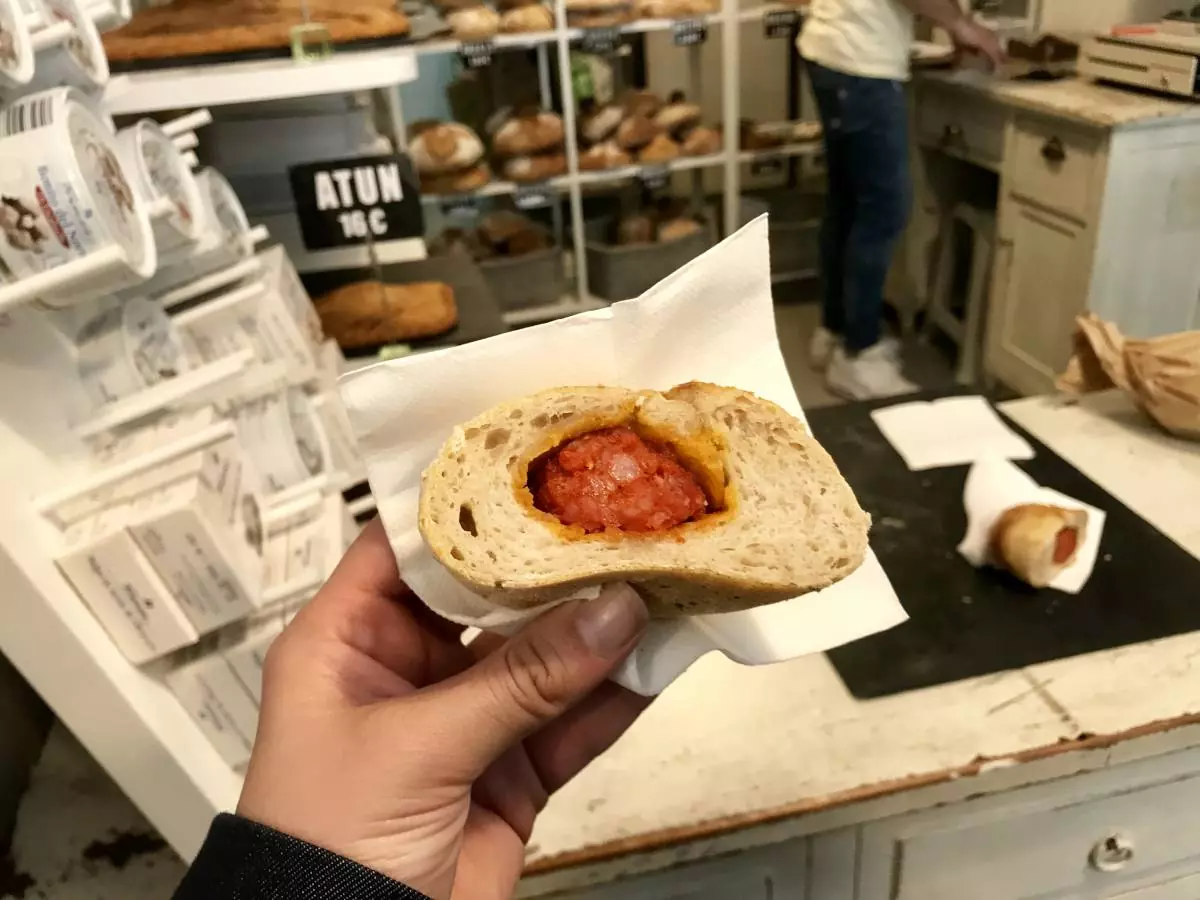 We ate so much good food on this tour that it's hard to know where to begin. I will note that the restaurants and partners vary, so you may not have the exact same experience as me, but you will definitely not leave hungry.
We started off with churros and chocolate at Chocolat, with a twist. Instead of normal sized churros, we had porras, a thicker, longer and all around more indulgent alternative. The hot chocolate was dense and rich, made by shaving pieces of chocolate over boiling milk until it reaches the desired consistency.
From there, we went to Casa Gonzalez, a family shop specializing in wine and cheese. We got to sample four different types of cheese and two wines, one red and one white.
Afterwards, we went to MOEGA, an organic bakery where everything is made by hand the night before. Here we tried a version of the Choripan, chorizo (Spanish sausage) in bread. When I mentioned to Arantxa that this was a popular meal in South America, she indicated South America got it from the Spaniards.
Next, we went to Mercado Anton Martin, a local market, where we tasted flavored olives and Spanish ham. We also drank wine from a communal carafe and tasted extra virgin olive oil after learning that Spain is the largest producer of olive oil in the world.
Finally, we finished the tour at Vermu Madrid, a vermouth bar where we sampled the traditional drink (and by sample, I mean a full cup) and had some light sandwiches to snack on.
How to Book Your Devour Tours Ticket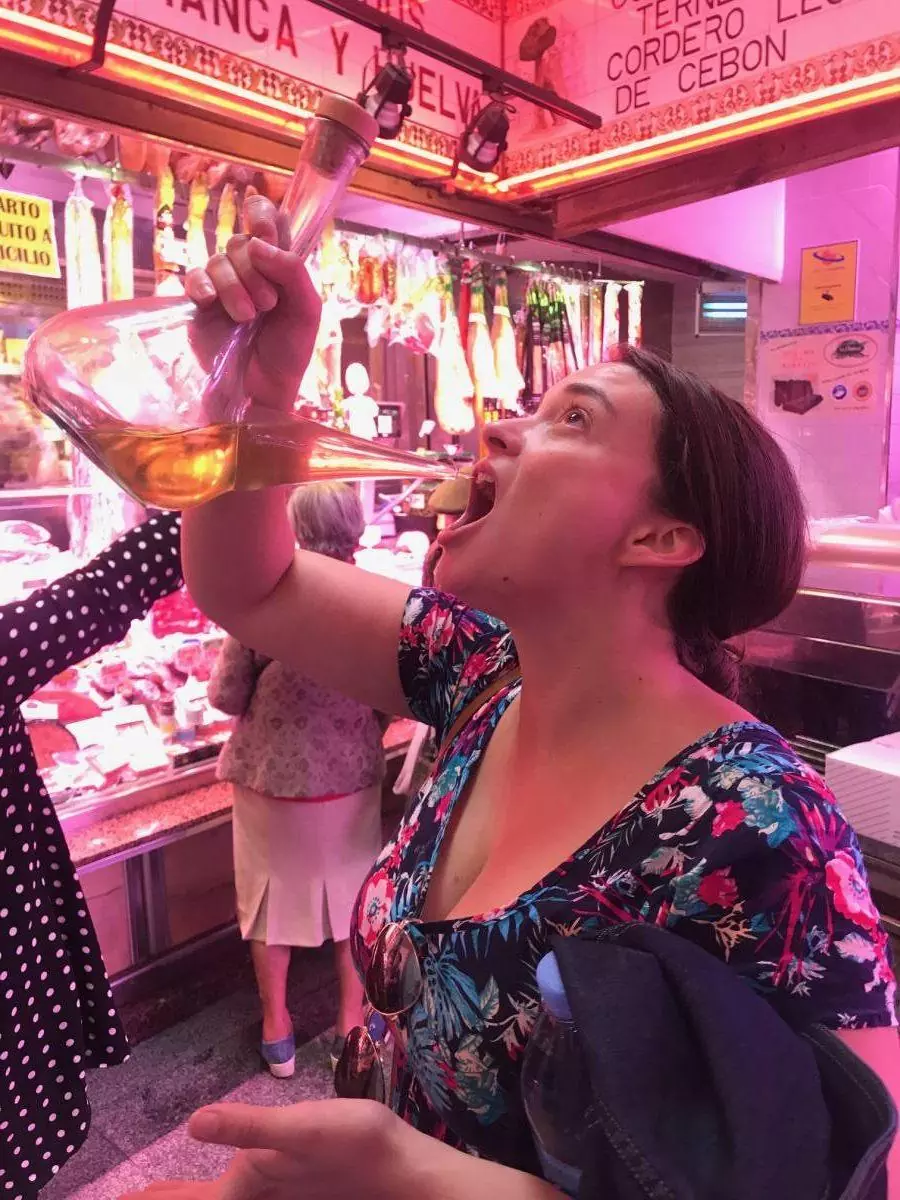 You can book your ticket online at the Devour Tours website. They have a calendar of dates available. Make sure to book at least a week ahead of time as activities fill up.
Once you attend one tour, you'll receive a special discount code for future tours in other locations. There are also gift certificates available in case you want to add this experience to your birthday wish list.
Know Before You Go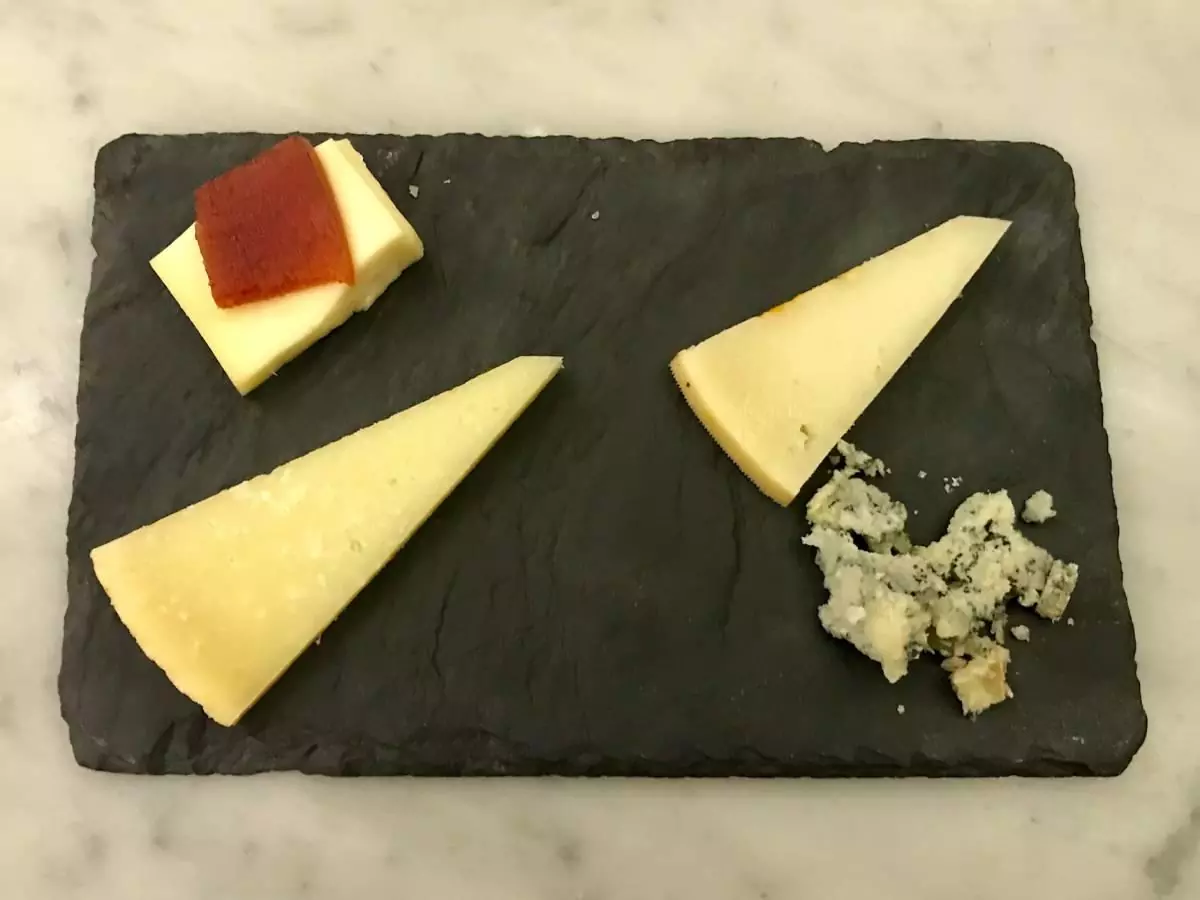 You can specify if you have any food allergies or restrictions when you make your booking. There was a family on the tour with me so this is an appropriate activity for all ages. There is a non-alcoholic alternative to all the wine offered.
The tours run at different times depending on the one you're interested in. You can take an evening tour if you want to tour the city at night with a group, something I strongly recommend for solo female travelers.
Devour Tours Madrid also pairs their tours with experiences, like visiting the Prado museum or watching a flamenco show, so you have plenty of options.
Pro tip: don't eat before your tour, otherwise you'll be stuffed.
Till next time, safe travels!
RELATED POST: VISIT SALVADOR DALI'S HOUSE IN CADAQUES, SPAIN
*I was provided with a complimentary food tour in exchange for my honest review. All opinions are my own.
Liked this post? Pin me below: