Looking for the best things to do in Madrid, Spain? These are my top picks.
Madrid is the capital city of Spain and a sight to behold. Filled with fancy architecture, gorgeous parks and palaces, vibrant nightlife and more than 15,000 restaurants, it really does offer something for everyone.
Unlike Barcelona, Madrid is landlocked. This means that there are no beaches so beware as it gets hot in the summer. Thankfully, you can still find great seafood here, a lot of which is shipped in the same day.
You can also use Madrid as a starting point for other cities in the area since it's a big hub and easily accessible from major airports.
I flew into Madrid direct from Boston and rented a car before driving south to Granada and then west to Portugal, as one example.
You have access to public transport here, from trains to buses, so you could plan to bookend your trip with a visit to France or Italy if you so wish.
I recommend giving yourself a day or two of recovery though, since Madrid will wear you out. People talk about New York, but Madrid is really the city that never sleeps.
Residents are out till 6am on a weekday, and back at work by 10am! I give them props.
For your visit, come prepared with some Advil, walking shoes and a big appetite.
Here are some of the top thing to do in Madrid, Spain that you absolutely cannot miss.
RELATED POST: VISIT THE DALI MUSEUM IN FIGUERES, SPAIN
1. Eat churros and chocolate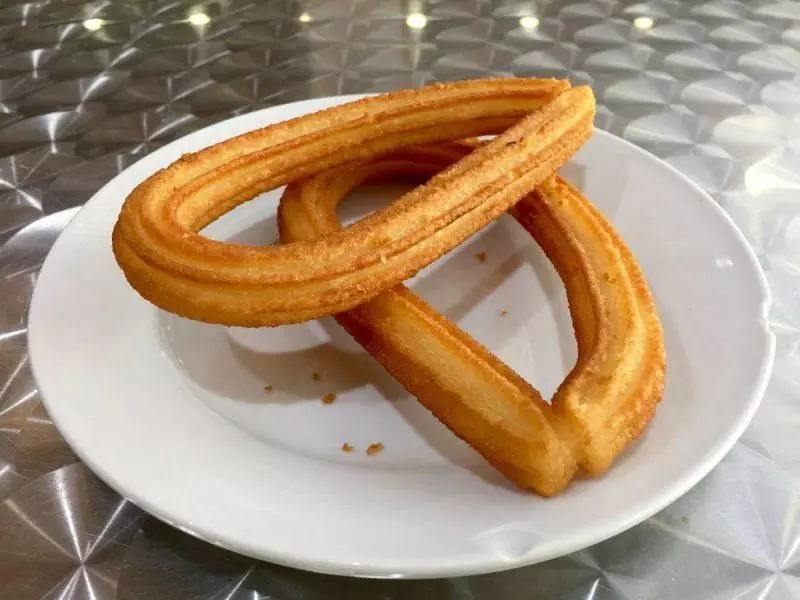 Let's start with one thing on everyone's mind — churros. These delicious, cinnamon sugar creations are widely available around Spain and found at nearly every corner in Madrid.
The famous shop is Chocolateria San Gines, but the truth is you can't go wrong with churros anywhere in Madrid. No matter if you choose a popular tourist shop or a random cafe near your hotel, it's a safe bet they'll be delicious.
Seriously — fried dough with sugar. How is that a recipe for anything other than amazingness? Not to mention, a lot of the smaller cafes take pride in their food and offer surprisingly gourmet plates at an affordable price.
On my food tour of the Huertas neighborhood we went to a place called Chocolat and ate porras, basically churros on steroids.
The best part of this dish is the hot chocolate it comes with for dipping. Too thick to drink, it's typically served with a spoon.
Forget the diet when you're in Madrid and make sure to indulge in this sweet pairing.
2. Visit Plaza Mayor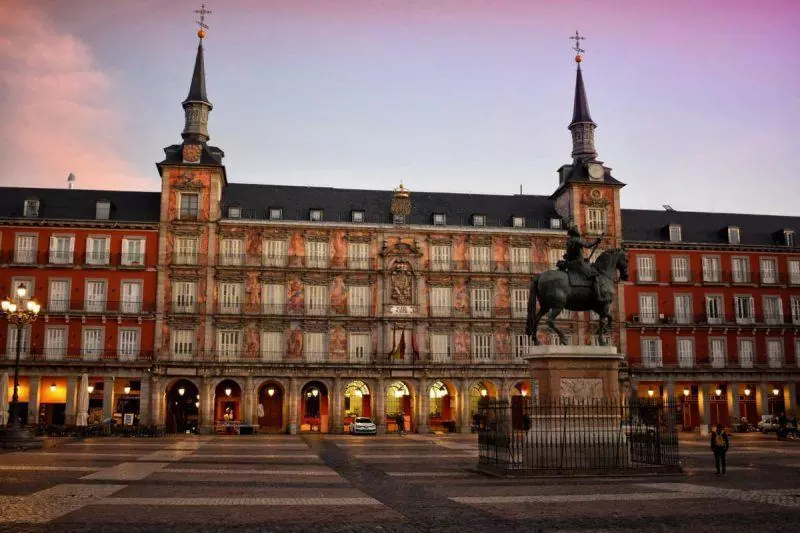 Plaza Mayor is the historical center of the city, dating back to the 15th century. The entrances were built extra wide so horses and carriages could fit through.
The plaza's purpose has not always been positive — this was once the place where public executions and bullfights were held. The original purpose, however, was to serve as a market, and today it still functions in that same regard.
There are shops and restaurants throughout the perimeter of the square. There are also events held in the center depending on the seasons.
The annual San Isidro celebrations, for instance, are held here and were being set up when I visited mid-May.
If you're looking for a calamari sandwich, a local staple, check out La Ideal for a meal that's both filling and affordable.
3. Go to a rooftop bar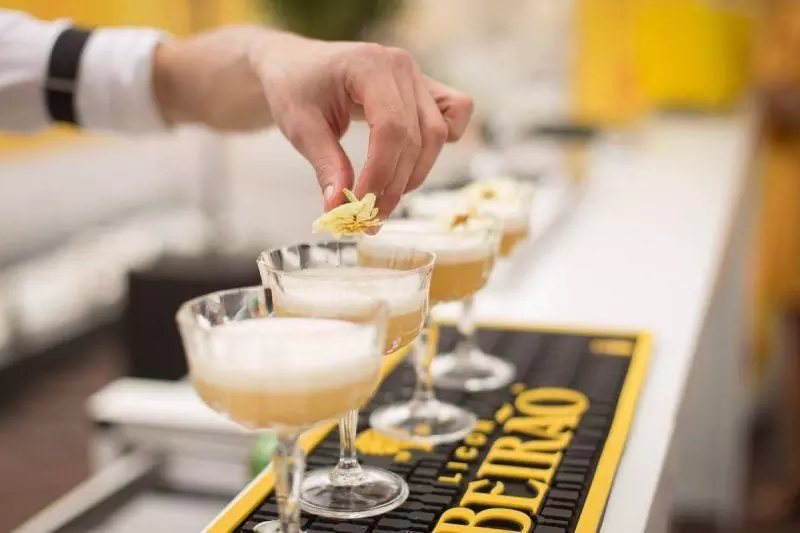 Rooftops are kind of a big deal in Madrid, so much so that you'll find people gladly mingling outside as opposed to soaking up the A/C inside.
They're especially popular at sunset and during the weekends, so if you're planning on visiting one call ahead to see if you need reservations.
I went to a hostel called The Hat that had a hip crowd. I didn't like that there wasn't a bar for sitting, however, only tables for groups. As a solo traveler, this made lingering difficult.
Other alternatives include Mercado San Anton, a food market, and Gymage, a gym, theatre, spa and restaurant all in one.
4. Greet Madrid's famous bear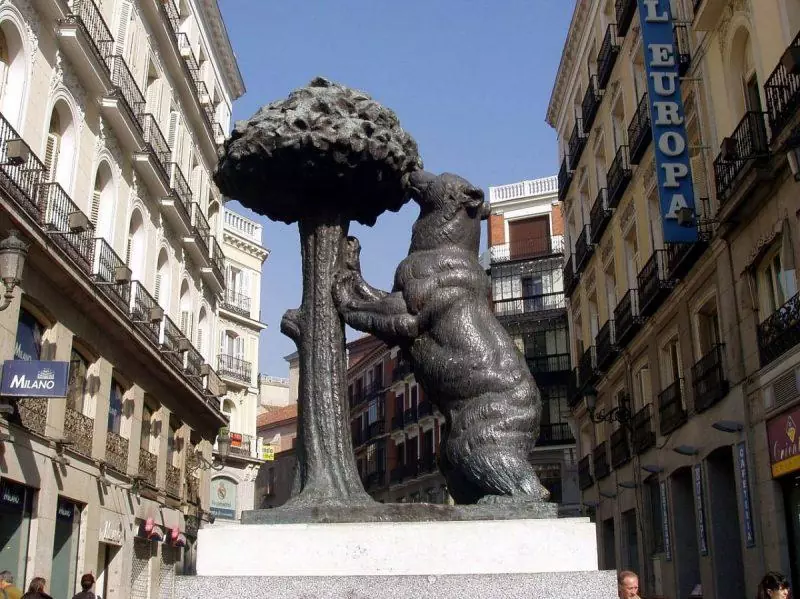 The image of a wild bear and strawberry tree can be seen on the coat of arms of city dating back to the 13th century. The name in Spanish is La Osa y el Madroño.
Before Madrid turned into the expansive urban wonderland it is today, it used to be surrounded be fields and farmlands, with some bear inhabitants.
This statue, erected in the 1960's, is meant to personify the coat of arms and represent the blending of both agriculture and government, with the bear leaning into and supporting the tree.
It's located at the Plaza del Sol, another big gathering point and pedestrian area within the city.
RELATED POST: BEST THINGS TO DO IN BARCELONA, SPAIN
5. See the Royal Palace
This is the official residence of the Spanish royal family in Madrid but is rarely used for that purpose. Mostly, it serves as a site for ceremonies and special events.
The king currently lives in the outskirts of Madrid, at the less opulent Zarzuela Palace.
Tours are available daily. The palace has over 3,000 rooms, including a grand staircase with 70 steps as well as a royal kitchen, armoury and pharmacy.
There's a changing of the guards ceremony held on Wednesdays and Saturdays at 11am, and in July and August from 10am to noon.
There's also a longer Solemn Changing of the Guard ceremony held the first Wednesday of every month at noon.
If you go at night, the entire place is lit up by lights and is stunning.
There was also live music playing when I went thanks to a street performer who I imagine is a regular there, so it's a relaxing scene.
6. Watch the sunset at Templo de Debod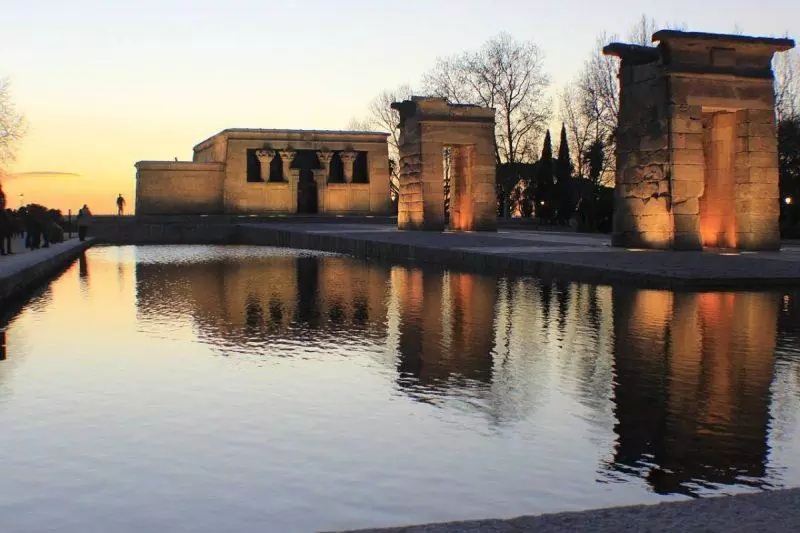 The Templo de Debod is an authentic Egyptian temple in the middle of Madrid. It dates back to the 2nd century but was donated to Madrid in the mid-1900's, officially opening to the public in 1972.
It was donated to the city to save it from floods and sits in the middle of a pond, reflecting the monument on a clear day.
The inside walkway is closed to visitors but you can walk around the perimeter.
The temple is oriented from East to West, allowing you to see the sunset over this iconic sight. The bold orange and red hues make this a favorite spot during twilight.
7. Explore the Prado Museum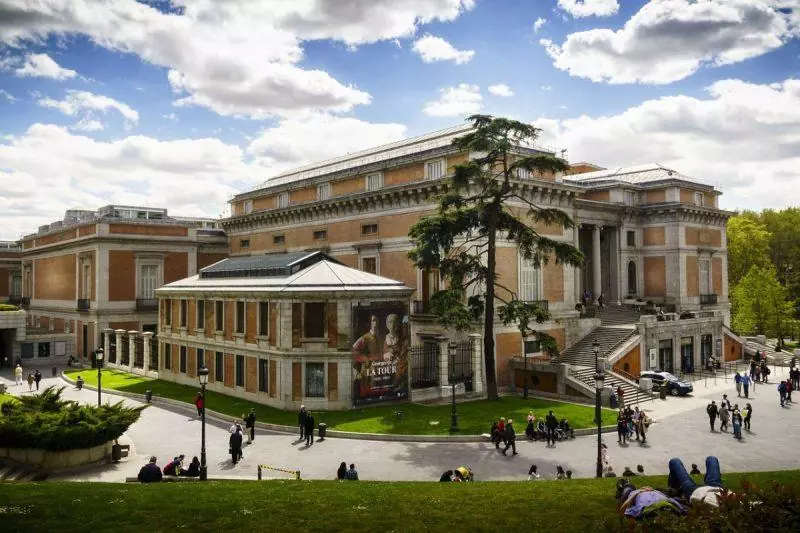 The Prado museum is gigantic — think Spain's version to the Louvre. You will need 3-4 hours just to do a highlights tour.
There are many notable works inside, from artists like Francisco Goya, Raphael and Rembrandt. The works here are more in the classical style, with a mix of paintings and sculptures.
There is an audio guide available that provides context for the artwork. If you're going on your own, I think it's necessary so that you understand what you're looking at and aren't overwhelmed by the sheer number of pieces.
There is a cafe, bookstore and gift shop inside. No tripods or large bags are allowed in the museum — they will need to be checked.
You can get in for free the last 2 operating hours of the day, Monday to Saturday from 6pm to 8pm and Sundays and holidays from 7pm to 9pm.
8. Enjoy modern art at the Reina Sofia Museum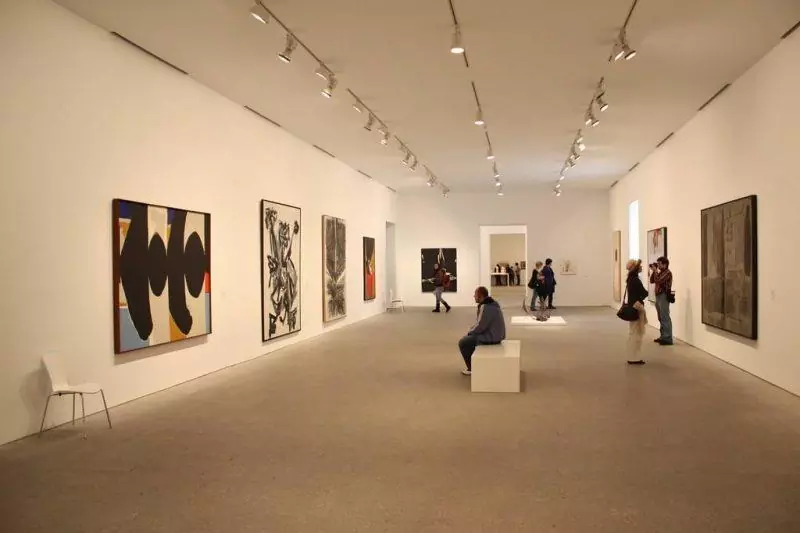 If classical artwork isn't really your style, stroll to the nearby Reina Sofia Museum and enjoy contemporary art. Well-known artists showcased here include Pablo Picasso, Joan Miro and Salvador Dali.
This is a newer museum, inaugurated in 1992, and is the last stop on the "Golden Triangle" of art, consisting of the Prado Museum, Reina Sofia Museum and the Thyssen.
If you're doing research, this is the place to be. There's a huge library on site with more than 10,000 books about art.
There's free admission every Monday to Friday from 7pm to 9pm, Saturdays from 2.30pm to 9pm or Sundays from 10am to 2.30pm.
RELATED POST: VISIT THE DALI HOUSE IN CADAQUES, SPAIN
9. Stroll Buen Retiro Park
This park used to belong to a Spanish monarch before it became public land in the early 1900's. It is the biggest park in Madrid (what Central Park is to New York City) and spans 350 acres.
There's a lake, monuments, sculptures, galleries and special gardens.
There's also a glass palace, the Palacio de Cristal, which used to house plants and now serves as an events venue. It's also been turned into an art installation in the past.
During the summer months, this is a popular place for residents to come, sleep on the grass and enjoy a day with their families.
It's open year-round, rain or shine, till 10pm or midnight depending on the season.
10. Visit the Real Jardin Botanico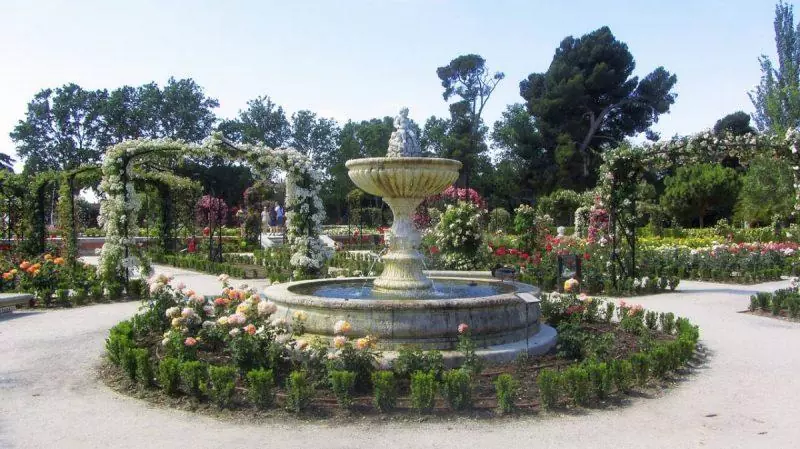 This garden is located right next to the Prado Museum, on purpose. King Carlos III was hoping to establish a complex centered around the natural sciences.
The garden is divided into 3 terraces boasting more than 90,000 plants. There's also two greenhouses that are divided into four rooms, each with a different climate like desert or tropical.
There's a herbarium on site with preserved plants for study, featuring more than 10,000 drawings.
When I went, it was €5 to enter. On a nice day, you'll see a line around the corner waiting to get in. Walk around the perimeter before you pay to enter so you can see what's in bloom.
You can opt to go with a guide if you want to know more about the plants grown here and their uses.
11. Shop at El Corte Ingles for the views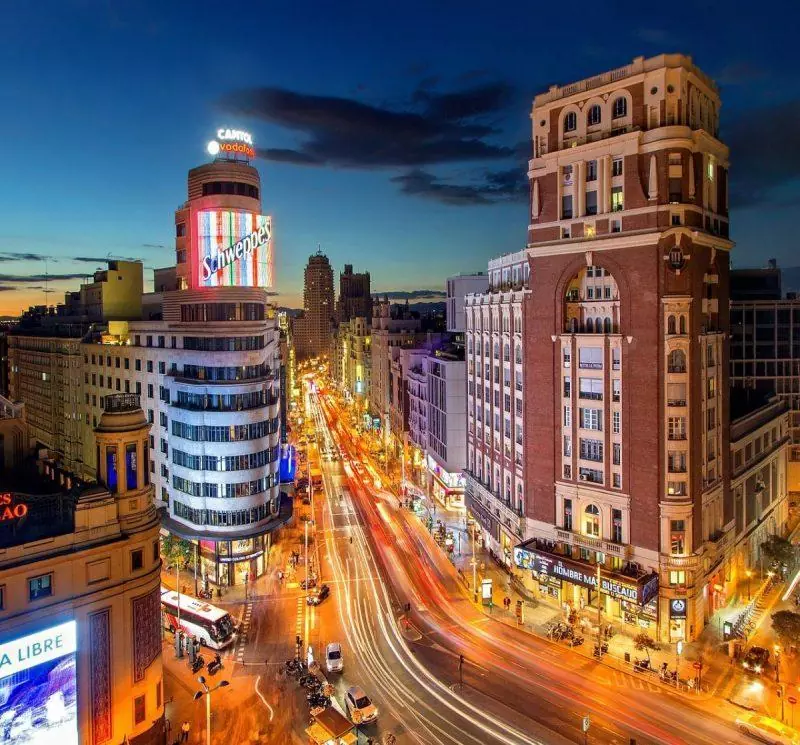 El Corte Ingles is a chain department store in Spain, kind of like Macy's.
You'll find them all over the city, but the one in Callao is worth a stop for this breathtaking view. Head to the top floor to see the view of Gran Via, one of Madrid's busiest streets.
The address is: Plaza del Callao, 2, S0, 28013 Madrid, Spain.
It's recommended that you visit for the sunset or at night to catch the city in its prime. This is one of the most popular things to do in Madrid, Spain, so expect to have some competition in snapping the perfect shot.
12. Take a tapas tour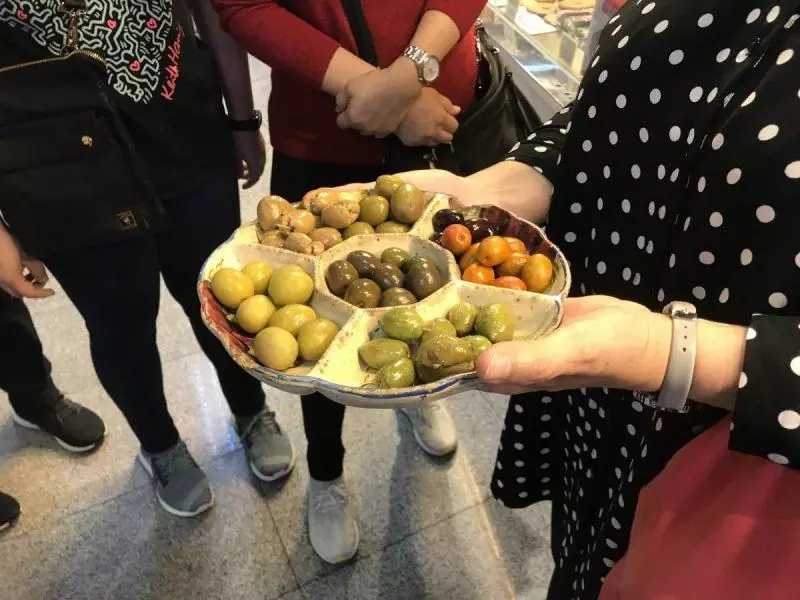 If you want to eat like a local, tapas are the only way to go.
I love food tours because they serve as a great introduction to the city. You taste typical cuisine with the help of a guide, and get to sample several plates in a short amount of time.
Our tour took us to lesser known neighbored markets and family restaurants, with an abundance of tasty food.
We tried at least 12 different variations of olives, Spanish sausage, vermouth, olive oil and ham, to name a few.
Come hungry! There's a lot of food served and you won't be able to walk it all off.
If you decide to go tapas tasting on your own, you have to stop by Bodega de la Ardosa for the best tortilla in the city — trust me on this one.
RELATED POST: A REVIEW OF MY FOOD TOUR WITH DEVOUR TOURS MADRID
13. Have lunch at Mercado San Miguel
This is the most famous market in Madrid, so I'd be remiss if I didn't include it on this list.
While it's not my favorite after having visited some of the smaller and more personable markets, this is a feast for the senses.
I met up with some friends here and tried items at different shops. There's seating around the perimeter, although it's limited.
This is a good place to stop for lunch and pick up something that's grab and go. It's also the place to get mouth-watering IG stories.
14. Watch a flamenco show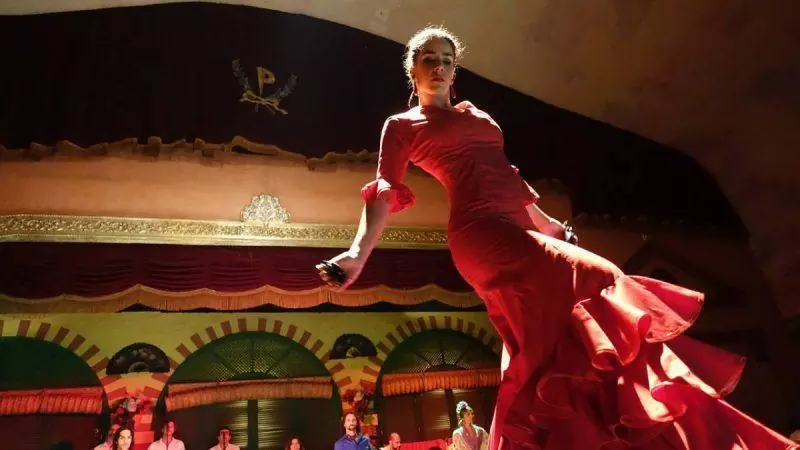 Flamenco is a key element of the Spanish culture. I caught a show while I was in Barcelona, but if this is your first time to Spain then you can't leave without seeing a show in Madrid.
The flamenco houses are called "tablaos" and usually come with dinner as well, although the food part is rarely a bargain.
Look for a place that has live music. Shows last about an hour.
Popular venues include Corral de la Moreria, Casa Patas and Cafe de Chinitas.
15. Go to the Atocha train station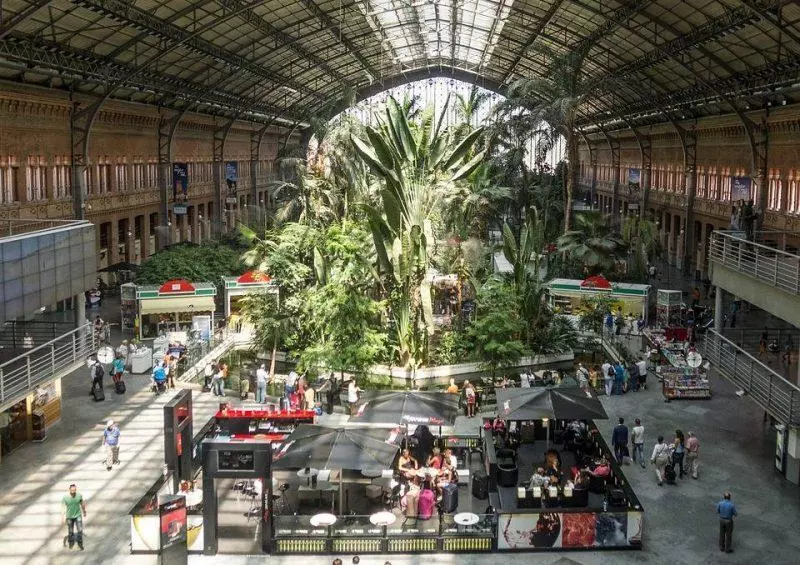 This train station doubles as a botanical garden and turtle sanctuary.
The station dates back to the 1800's and is among the oldest in the city. It's also where you can catch a train to Cervantes' hometown, the author of Don Quijote.
There are regional and high speed trains available here, as well as shopping options. There's a turtle pond with goldfish and dozens of turtles.
Enjoy views from above by dining in the mezzanine of the station's restaurant while waiting for your train, or while simply passing through.
16. Take a free walking tour of the city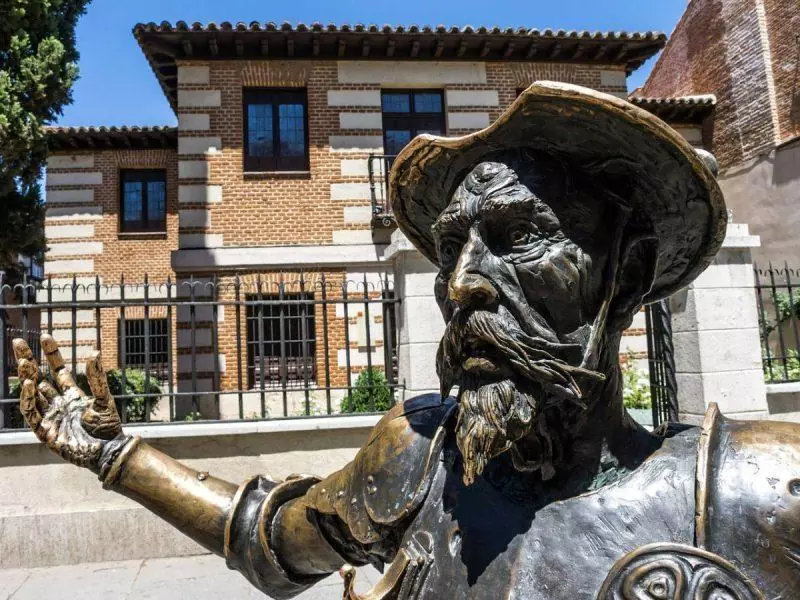 If you're looking for a lot of information in a short time, I recommend taking a free walking tour.
These tours are based on tips, so you pay what you think it was worth at the end.
Usually, the guides work extra hard since they want to earn your money. They run daily from different locations throughout the city depending on the sights that are of interest to you.
They usually hit the highlights, making this a great introduction for first-time visitors to the city. You have more than one option in terms of tour provider, including Free Tour of Madrid and New Europe Tours.
17. Buy secret cookies from nuns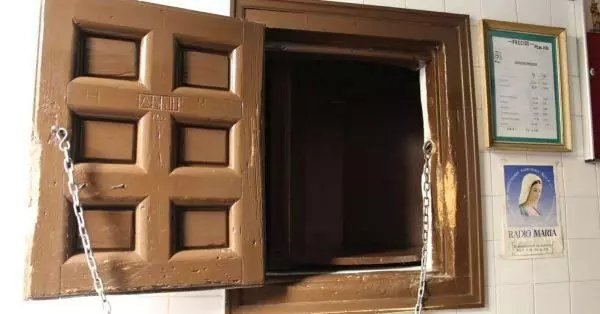 In Madrid, there's a cloister of nuns that bakes cookies all day. You can't see them, but if you get the password, ring the secret bell and get them to turn the lazy Susan for you, you might just be able to make a purchase.
The nuns and their baked goods are found at the Convento de Corpus Cristi. The address is Plazuela del Conde de Miranda, 3, 28005 Madrid.
Fun fact: Cervantes was buried inside the monastery adjacent to the convent.
You'll need to locate the door buzzer that says "Horario: Venta de Dulces" and then get past a big brown wooden door, after which you'll see the menu and service window.
If you don't immediately see it, look for a sign that says "torno" which alludes to the turnstyle-like method by which you'll get your cookies.
Note: They are only open from 9:30am to 1pm and from 4pm to 6:30pm so time your visit accordingly.
You won't actually see a nun throughout this whole experience, but if you're lucky you might walk away with some cookies. Options include almond biscuits, shortbread cookies and orange specialties called naranjines.
As this is a difficult spot to find, and to be let into, go with tempered expectations and see it more as a scavenger hunt of sorts.
RELATED POST: 15 THINGS TO KNOW BEFORE VISITING MADRID, SPAIN
These are just some of the best things to do in Madrid, Spain. Did your favorite make the list? Comment below and let me know.
Till next time, safe travels!
Liked this post? Pin me below.