There's no shortage of fun things to do in Barcelona, Spain.
The city has it all–amazing architecture, delicious tapas and a robust nightlife.
It's impossible not to fall in love with Barca, situated right off the Mediterranean and boasting a temperate climate year-round.
It's one of the most popular destinations in Europe, bringing in more than over 8 million visitors a year.
If you're thinking about planning a visit, it can get a bit overwhelming, and tickets to the most popular sites sell out quickly.
The good news is that with some advanced planning, you can make Barcelona a memorable and affordable vacation.
RELATED POST: DAY TRIP FROM BARCELONA TO THE DALI THEATRE AND MUSEUM
A note on transportation: like most European cities, Barcelona has an excellent metro and public transport system.
I recommend using it to get around the main downtown areas. It's cheap, clean, and quick.
Those on a budget would do well to check out the Hola Barcelona card, valid for 2, 3, 4 or 5 days and granting you unlimited access of public transport in the city.
If you're visiting Barcelona, don't leave without stopping by these top 10 must-see attractions.
1. Casa Mila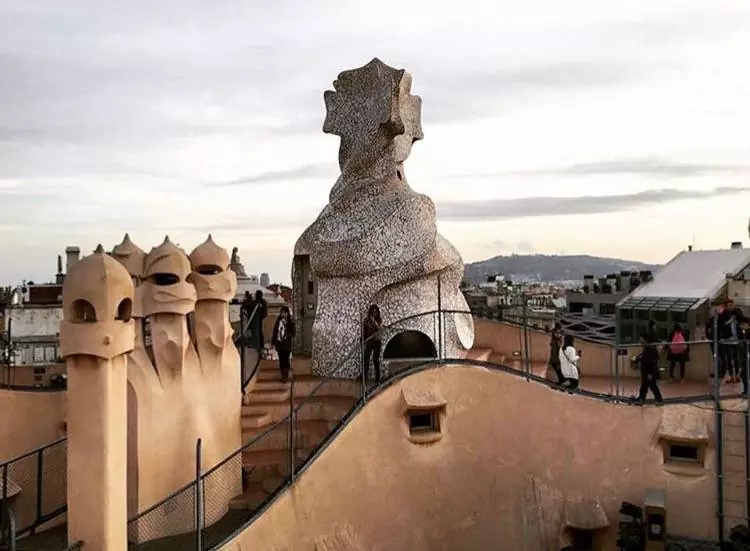 Behold Guadi's famous rooftops on top of Casa Mila, a UNESCO world heritage site renowned for its resemblance a stone quarry.
Guests can tour the architectural intricacies of this masterpiece but be courteous as part of the site is still dedicated use as luxury apartments.
Commonly called La Pedrara, there is no shortage of new experiences here for even second or third time visitors.
Visitors can explore the site at night on a secrets tour or attend the new Origins show to see a light show projected onto the rooftop's chimneys.
Open 365 days a year, Casa Mila is the ideal option for holiday visits — I went on New Year's Day.
2. Parc Guell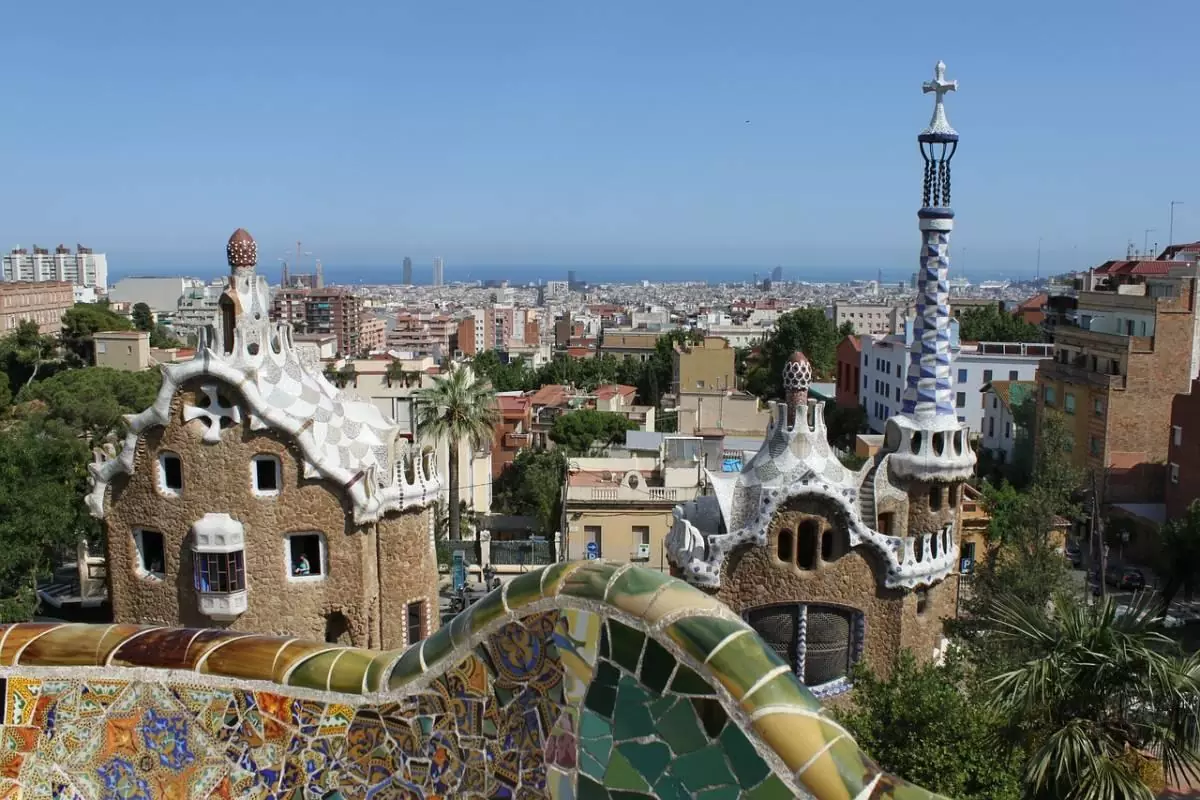 Parc Guell is like a real-life scene out of Alice in Wonderland. With vibrant, colorful mosaic tile as far as the eye can see, it is playful yet sophisticated, charming and romantic all at the same time.
It is a park that welcomes and delights all visitors, except Barcelona residents hold a grudge that admission is no longer free to them.
There is technically a distinction between the monument zone and free areas of the park, but you'll want to explore it fully and it's worth the price of admission.
You can download the audio tour right onto your phone from the app, and the park offers free wifi to make listening a breeze.
You can book tickets ahead of time but you'll be locked into a strict entry time with a 15 minute window for error.
If you don't book ahead, enter through the side entrance off the Vallarca metro exit.
There are plenty of friendly storeowners to help direct you on your way if you get lost, and you'll skip the longer queues for tickets.
This is a must-see on any trip to Barcelona. If you're short on time, here's how you can fit it into a one-day Barcelona itinerary.
3. Sagrada Familia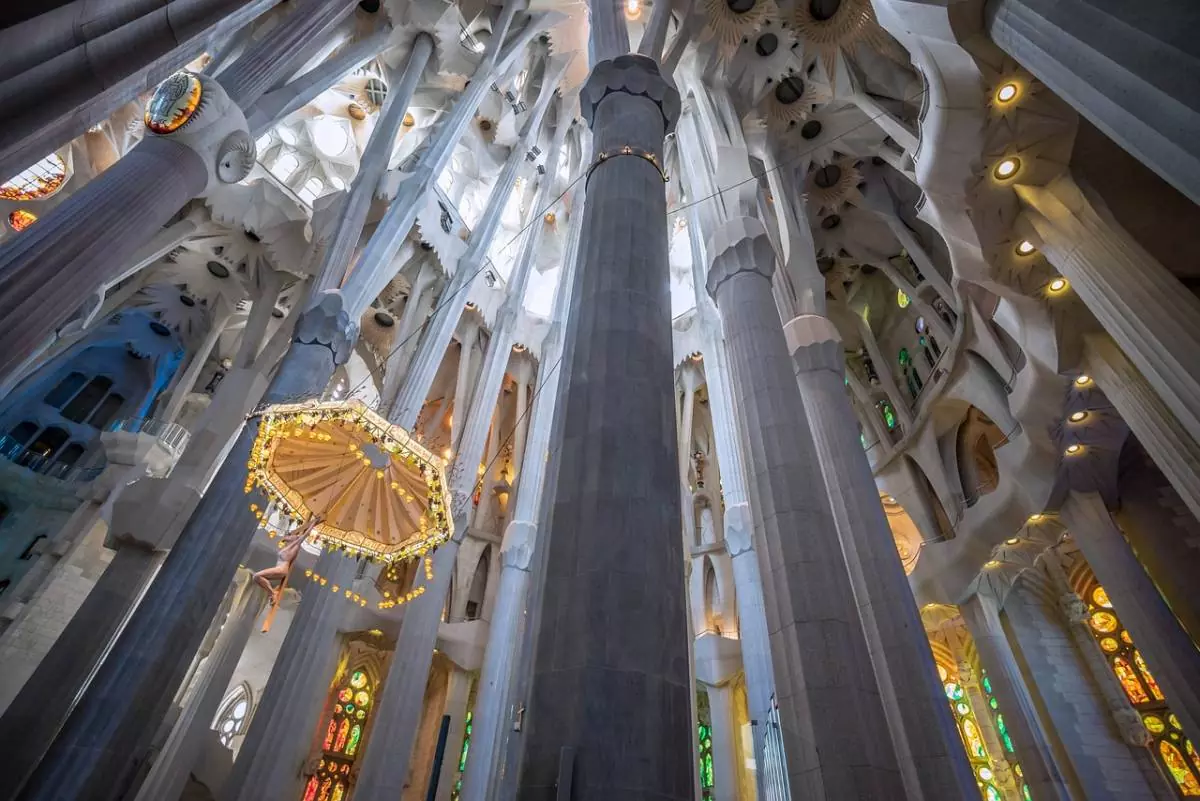 This was Gaudi's final masterpiece, as he was tragically killed while working on its completion.
To date, architects are still trying to construct and honor Gaudi's vision. It is projected to be finished in 2026, on the 100th anniversary of Gaudi's death.
The church is so massive, it is often referred to as a Cathedral, but there can only be one per city so technically it's a Basilica.
It was consecrated by Pope Benedict XVI in 2010 and is the final resting place of Gaudi.
Guests can pay their respects and attend services in the Basilica, with weekly mass held for all to attend.
Gaudi wanted his church to represent nature as much as possible, so you'll see that the columns pictured resemble trees.
Also, Gaudi believed the sun is the greatest painter, and his stained glass windows cast a glow in the Basilica that is nothing short of divine.
This is one of best areas to stay in Barcelona.
4. Casa Battlo
This quirky house is also referred to as the house of bones, since it looks eerily skeletal from the outside.
There's also a dragon lurking on the rooftop.
You can see all this and more on the excellent video tour provided, which allows you to hold up a screen to locations throughout the house and see them come to life.
It's like stepping into the mind of Gaudi here, and it's such a fun ride.
Also open 365 days a year, this is a good activity to pair with Casa Mila as they're down the street from each other.
RELATED POST: VISIT DALI'S STUDIO IN CADAQUES, SPAIN
5. Mount Tibidabo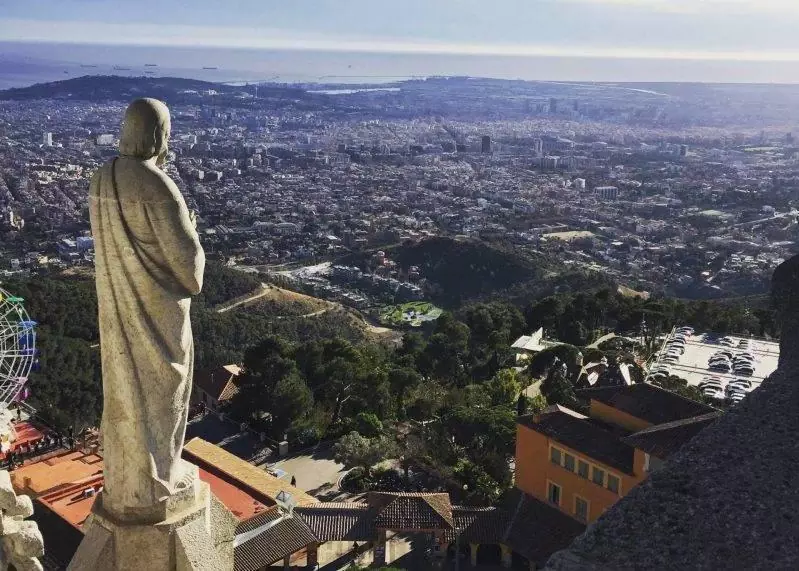 Mount Tibidabo offers the best views of the city, reminiscent of the Christ the Redeemer statue in Brazil.
While windy, you can get a full 360 view of the city and excellent photograph, easily seeing out to the sea.
There are some steps to climb for those weary of physical exercise (pretty much be prepared to be in sneakers your whole time in Barcelona) but I promise you it's worth it.
There's also a church and amusement park at the summit that guests can visit, along with a cafe and restrooms.
6. Flamenco show
There are many places that offer shows throughout the city, but many can be tourist traps. Make sure wherever you're going has live music and dinner–it's more authentic that way.
I went to a show at Tablao de Carmen and was not disappointed.
The sounds and energy of that night were infectious and will always hold a fondness in my heart.
We saw 4 separate dances, each in traditional attire and each incredibly skilled–Flamenco is sort of like tap on steroids and the dancers are more graceful than ballerinas.
The band was phenomenal, and the guitar really transported you to another era. Hands down one of the best ways to spend an evening in Barcelona.
7. Museu Nacional d'Art de Catalunya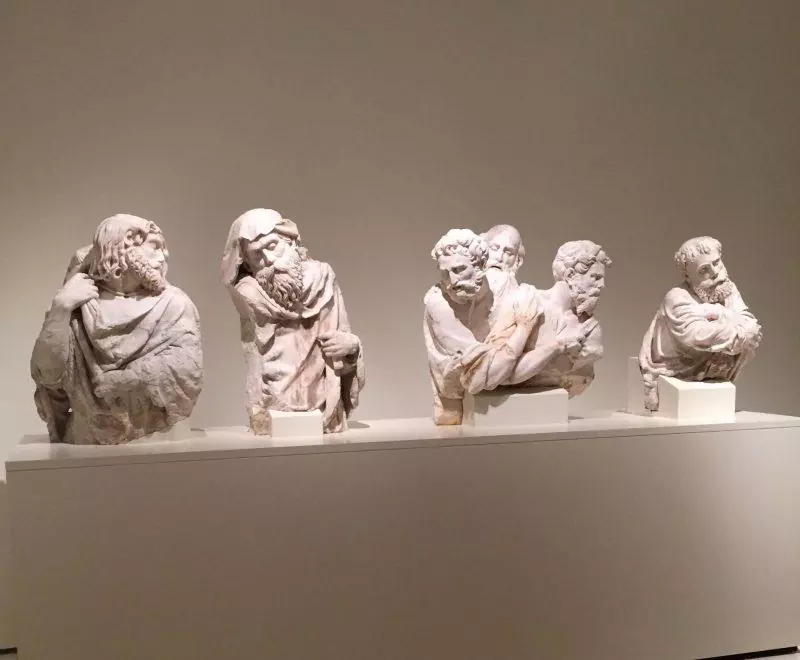 This place has an amazing view and fountain located right at the entrance if you're around for the sunset.
It's at a higher elevation on Montjuic so it also offers panoramic views of the city. The museum itself has centuries of artwork, from Byzantine murals to brass sculptures and even a Picasso.
There's also an impressive full wall mural by Joan Miro and an interesting exhibit on the evolution of currency throughout the ages.
I will say the Picasso museum itself is also worth a visit, but it's not mentioned on this list as pictures are not allowed inside the building.
RELATED POST: THE BEST THINGS TO DO IN MADRID, SPAIN
8. Jamón Experience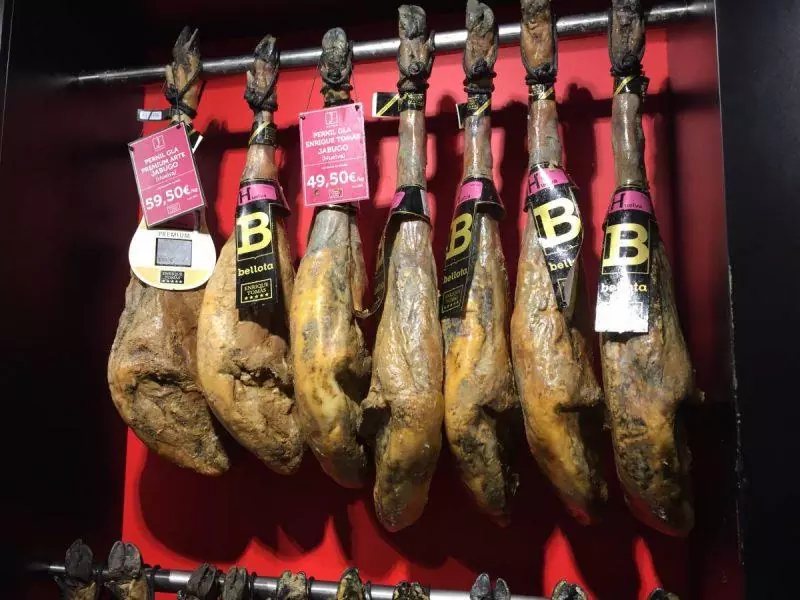 Small foodie detour from the art for a second since all this museum hopping is bound to make you hungry.
There are so many delicious things to eat in Barcelona, from the simple pan con tomate to the scrumptious and classic paella.
The real treat of visiting Barcelona is the ability to indulge in jamón ibérico.
This is ham you can't find anywhere else in the world, as it comes from ibérico pigs that live in Spain's countryside and goes through a curing process that takes years to finish.
The Jamón Experience, located right off Las Ramblas, has an area where you can watch a video to learn more about how the ham is made, and a tasting area on the top floor that allows you to sample ham at all price levels.
Just be careful–any souvenir you buy here is bound to surpass your carry-on limits.
Want more delicious eats? Try taking a Barcelona food tour.
9. Camp Nou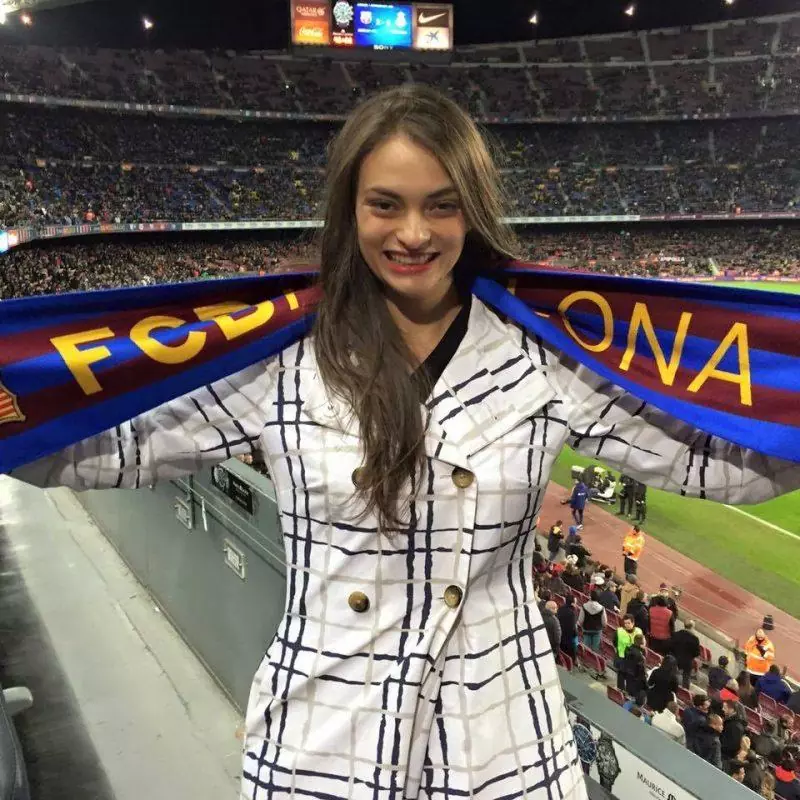 Soccer is a big deal outside the United States, and no place is it a bigger deal than in Barcelona.
The FC Barcelona team currently has superstars like Ronaldinho and Messi on their roster. that means they win–a lot.
Their home stadium, Camp Nou, is newly renovated and the biggest in Europe, seating approximately 100,000 fans.
Going to a game is an essential Barcelona experience, so much so that I wrote a separate post with all the details you need to know to attend, from tickets to transportation logistics.
RELATED POST: ATTEND A FUTBOL MATCH AT CAMP NOU
Even if you're not a sports fan, don't miss out on this chance to partake in futbol like a local!
10. Fundació Joan Miró
Joan Miró was born and raised in Barcelona, and is a contemporary of greats like Picasso and Dali.
I am ashamed to say I knew little about him before I arrived in Barcelona, which is why I'm adding this museum to the list.
It's on Montjuic mountain, not far from the Museu Nacional d'art de Catalunya, and has a lovely outdoor roof garden with several sculptures.
Unlike other museums, pictures are allowed, and the 5 euro audio tour gives valuable context to the abstract artwork.
There was also a special ceramics exhibition when I went as most artists of the time experimented with different mediums.
It is worth the time to learn a little more about one of Barcelona's own artists.
While these attractions are just scratching the surface of all Barcelona has to offer, they should provide an adequate orientation to the city.
As you can see, there's no shortage of fun things to do in Barcelona.
Make sure to check opening dates and times before you go as they vary by season.
Also, make reservations ahead of time wherever possible for restaurants you want to eat at–Barcelona has a busy social calendar and it fills up ahead of time.
Wondering where to stay in Barcelona? You'll love these neighborhoods.
RELATED POST: 17 FUN THINGS TO DO IN MADRID, SPAIN
Till next time, safe travels!
Liked this post? Pin me below!