Thinking about going on a food tour of Old San Juan with The Spoon Experience? Read on for my review.
I'm biased when I say this because I was born on the island, but there is no better place to eat than San Juan, Puerto Rico.
The portions are generous, the food savory and doused with garlic, and the ingredients a mix of Taino culture, African influences and Spanish cuisine.
Simply put, if you're looking for a foodie's escape, you've found it. Navigating the menu can be difficult for non-Spanish speakers or first-time visitors to the island, however.
That's where The Spoon Experience comes in.
Here's everything you need to know if you're considering joining Spoon Food Tours on an upcoming trip to San Juan, Puerto Rico.
RELATED POST: 22 INCREDIBLE DAY TRIPS FROM SAN JUAN, PUERTO RICO
Tours Available with The Spoon Experience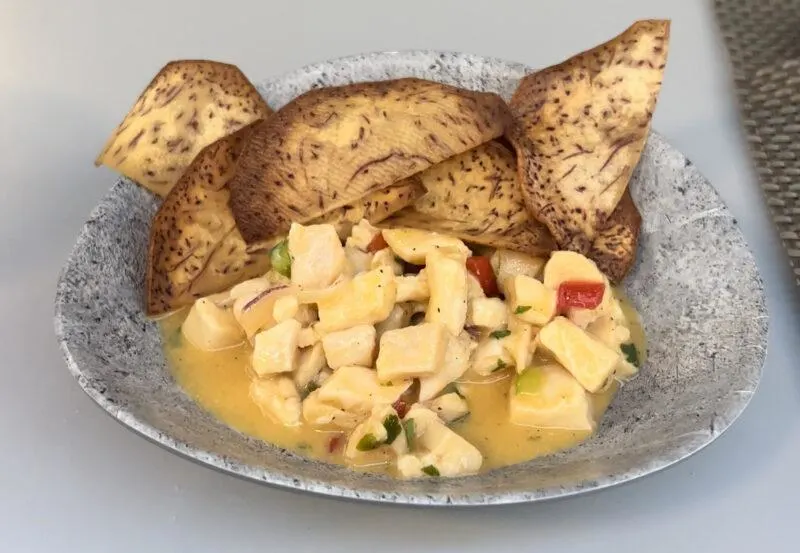 I have attended two food tours with this company.
They have an Old San Juan Walk & Taste tour which takes place in the mornings. I went on a Sunday morning, which starts a little later than all the other days at 10am.
The morning experience lasted about 2 1/2 hours.
I recommend this for families and early birds.
There's also a Sunset Walk & Taste Tour that takes place in the afternoons. I attended on a Saturday afternoon at 4pm.
The afternoon experience lasted about 3 1/2 hours. Note, the afternoon tour is alcohol heavy so I recommend it for couples or friends.
They both included a blend of history, architectural facts and of course, food!
RELATED POST: THE LONGEST ZIPLINE IN AMERICA IS IN PUERTO RICO
Meeting point and introduction to Old San Juan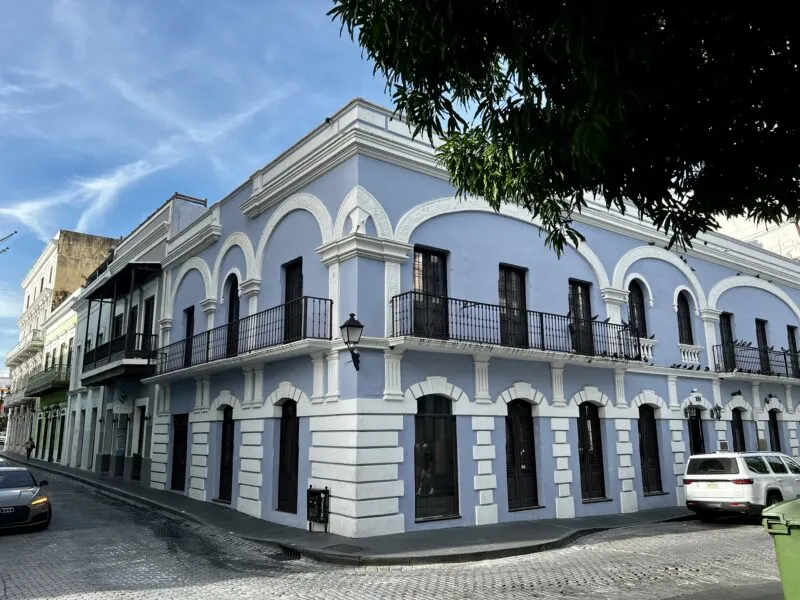 Depending on the tour, you have different meeting locations.
Our morning food tour met at Totem Telurico in Quincentennial Plaza, located by Castillo San Felipe del Morro (a $6-$10 Uber ride away from the cruise ships if you don't want to walk).
The Plaza was constructed in the early 1990s to celebrate the 500th anniversary of the discovery of the new world by Christopher Columbus and displays the theme of "5" throughout, from the roman numerals adorning the benches to the numbers of sides to on the street lights.
The totem pole itself was constructed by Puerto Rican artist Jaime Suarez in honor of the celebration, and you'll hear a lot about art on your tour.
You might have noticed paintings of different people throughout the streets of old San Juan, with dates attached.
These are all important figures in Puerto Rico's art history.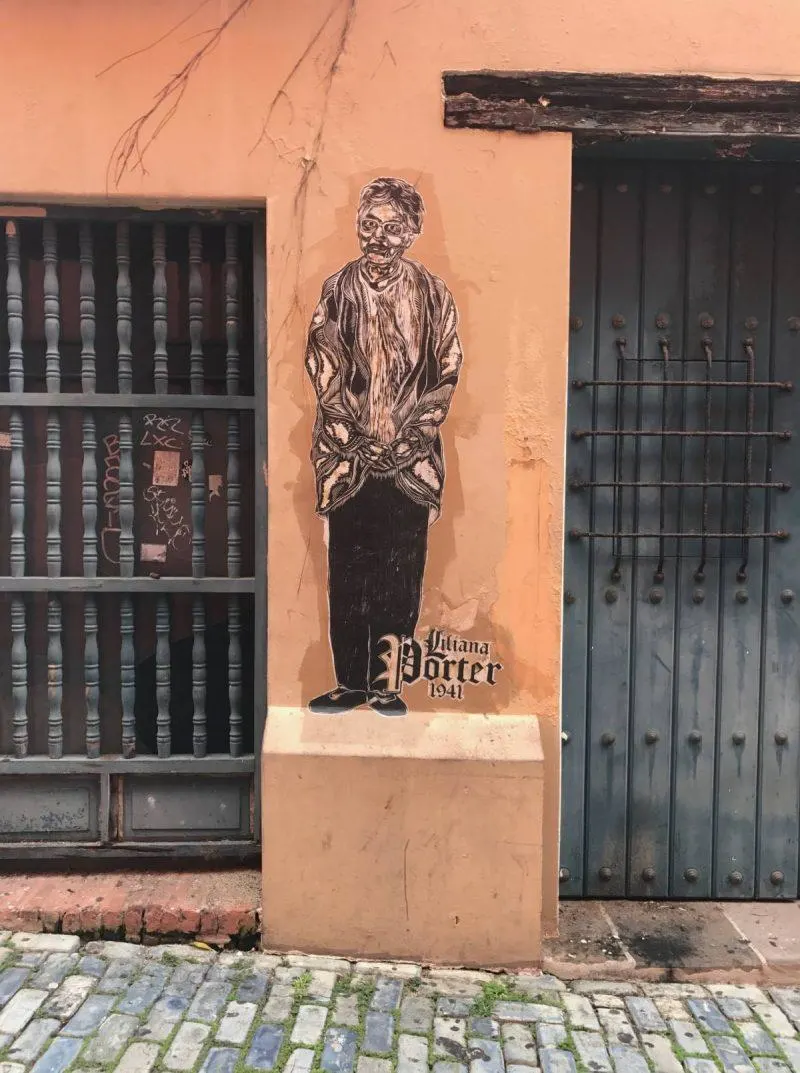 Our guide, Pablo, was an endless source of information, with a love for books, history and all things related to la Isla del Encanto.
At one point during the tour it began to rain (as it inevitably does on a tropical island) and Pablo graciously volunteered his poncho and umbrella so none of the attendees would get wet.
Courteous and knowledgable, you could tell right away this was going to be a great tour.
The afternoon tour met at Plaza de Armas, famous for the statue of Puerto Rican composer Tito Curet Alonso, smiling and sitting on a bench.
There's also a large fountain here and a small food stand if you want to get water while you wait.
Our guide Elliot was punctual and also very well versed in the history and cuisine of the island.
He was able to switch with ease between Spanish and English to accommodate all members of the tour and gave us historical context for sites we saw along the way.
RELATED POST: TAKE A CHOCOLATE MAKING CLASS AT MONTADERO CHOCOLATES
Restaurants visited on the Old San Juan Walk & Taste Tour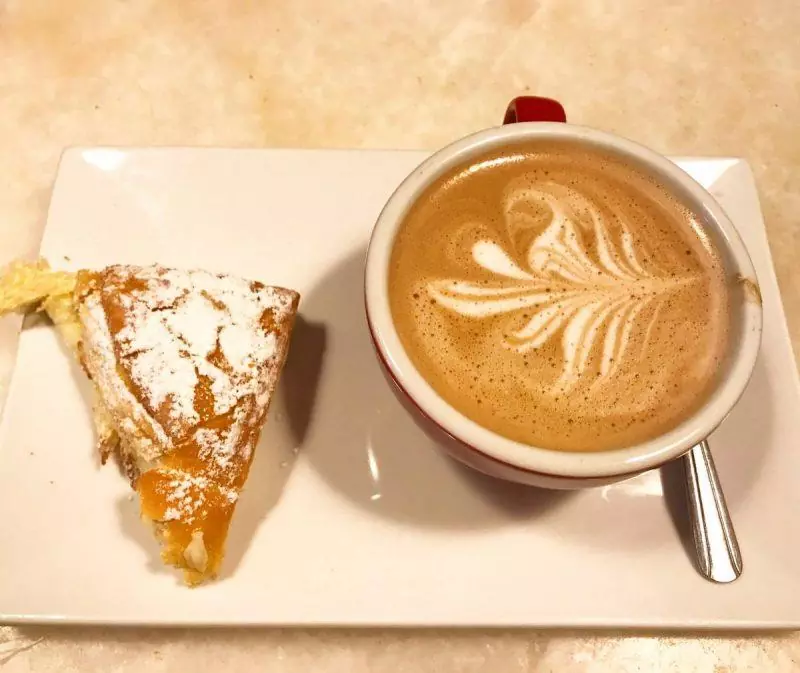 Our day started with coffee and Mallorca sandwiches from Cafe Don Ruiz, which takes pride in serving locally roasted coffee beans and was busy the entire time we were there.
I had a hot chocolate because I don't generally drink coffee (don't tell anyone, I know that makes me a bad Hispanic) and I was impressed by the artwork in the foam.
Afterwards, we stopped by La Tortuga Panaderia (Spanish for bakery, aka deliciousness) and had a traditional quesito. I couldn't help but stop for a picture with the pink wall located right outside.
This was our shelter from the rain for a brief moment before making a run to stop number 3, the aptly named Stuffed Avocado Shop, where we had an avocado bowl with pernil and crunchy plantains (pictured below).
Then, in case we weren't full enough, we walked over to Hecho en Casa for the grand daddy of all Puerto Rican dishes–mofongo.
We each got our own personal one, with chicken and a garlic cream sauce.
As an added treat, we got to try a cocktail at the end, which was a hit all around.
Finally, we were ready for some desert, so for our final stop we went to Trapiche Gelato.
Pablo and the owner are friends and she greeted us personally, announcing very special news of a new location opening soon. Her store has taken off since it's opening just a few years ago, and it's not hard to see why.
Gelato in a warm place is generally good business, but the flavors at Trapiche are all locally sourced and vary by season.
I was so busy devouring my coconut gelato that I didn't even manage to score a picture! You should definitely stop by on a future visit to Old San Juan.
Note, the restaurants you visit may vary.
Restaurants Visited on the Sunset Walk & Taste Tour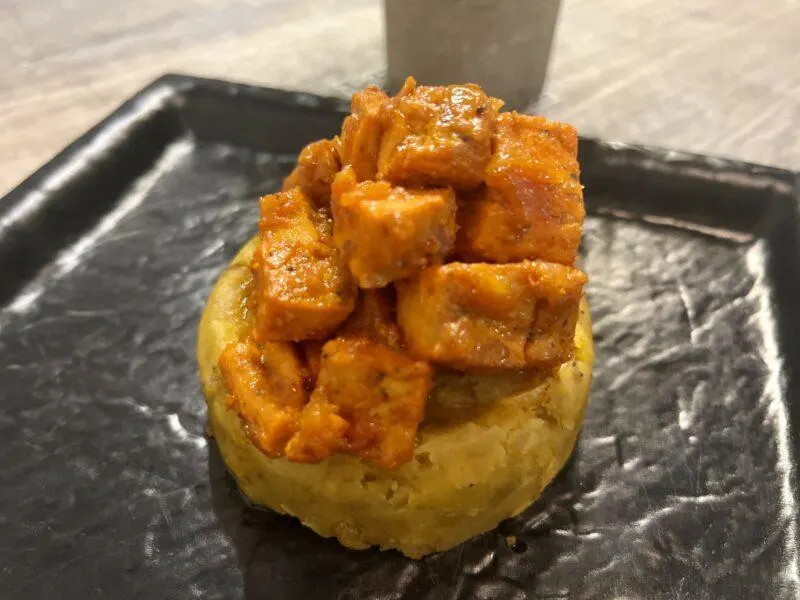 Our tour started off with a Puerto Rican classic — mofongo! We went to Juanes Restaurant where we each got our own mini mofongo con pollo.
It was very flavorful and helped us get a good base for the cocktails we'd be savoring.
On our walk, Elliot pointed out the narrowest house in Puerto Rico. Wall to wall, it's only 5-feet wide! We all stopped to take pictures.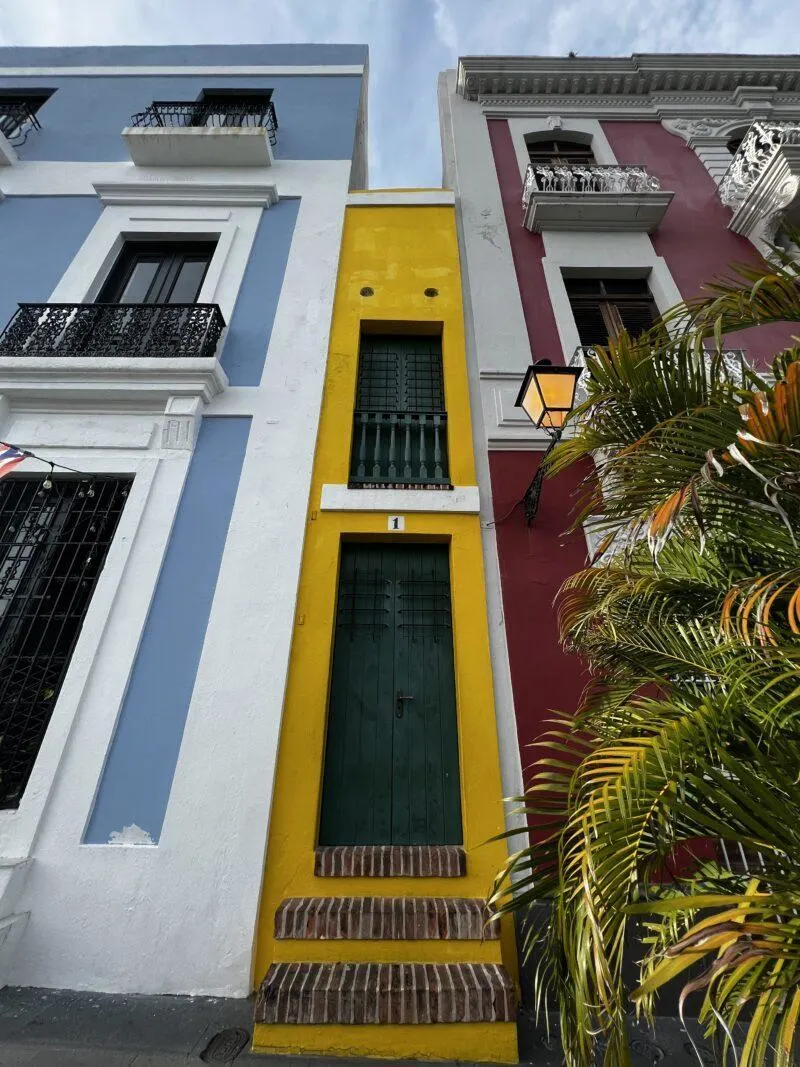 The next stop was T.Tuan, where we tried a monchito. It's like a lighter pina colada, with coconut milk, coconut cream, coconut water, and white rum.
We also had a longaniza slider (longaniza is Spanish sausage) and gandules en escabeche with tostones for dipping.
Gandules are pigeon peas and the escabeche preparation is like a vinegar marinade that allows the item to be served cold. Tostones are fried plantains, flattened and lightly salted.
Afterwards we went to Palacio Provincial, where we had a watermelon mojito. It was very refreshing and hit the spot!
We also had mahi mahi ceviche marinated in passion fruit juice and served with tarot root chips for dipping.
We stopped by Singular Eatery and Bar, a family run restaurant, and tried their famous painkiller drink. It's also like a pina colada but with an added orange element.
We snacked on a mamposteao croqueta while there. Mamposteao is rice with stewed red beans, bacon, and spices all mixed together. A croqueta is a croquette, a fried ball with a given filling inside.
Our last stop was the Decanter Hotel where we had a soursop sangria. The hotel had photo-worthy views of the sunset and historic rooftops.
RELATED POST: RON DEL BARILLITO RUM TOUR IN BAYAMON, PUERTO RICO
Fun facts about Old San Juan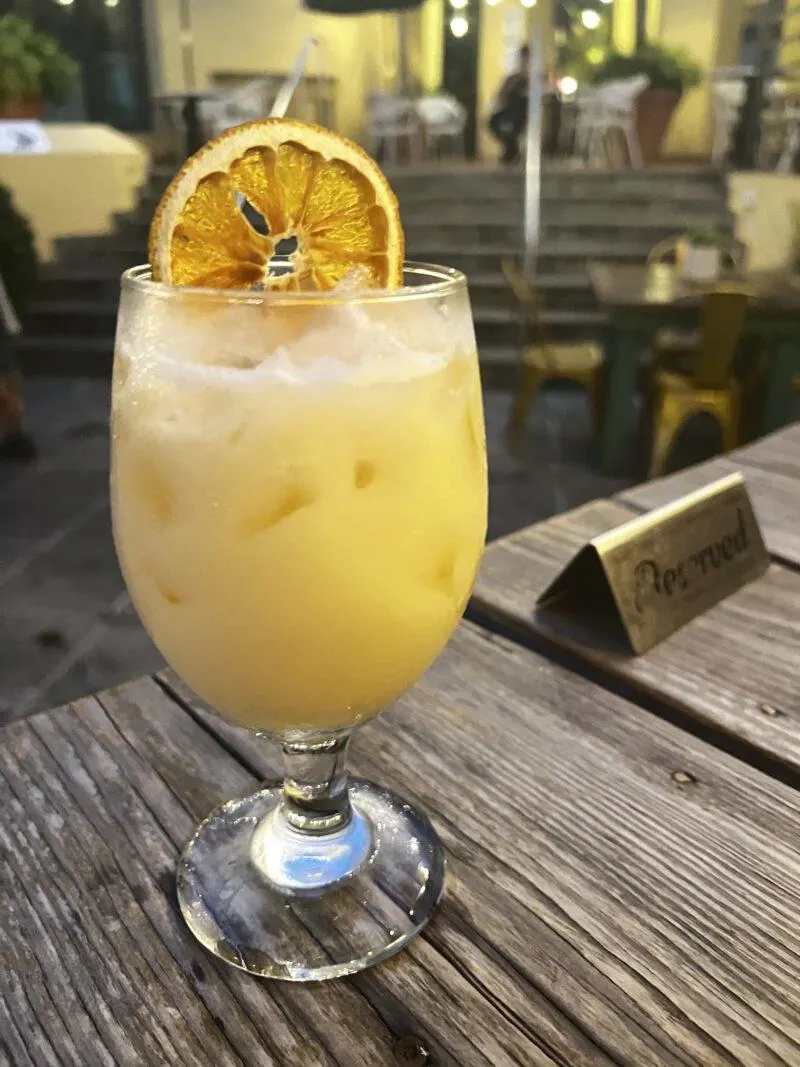 Did you know that the streets of Old San Juan are built in such a way that they maximize airflow and ensure that there is always a shadow?
Or how about the fact that the original cobblestone street, imported from Great Britain, has actually lasted for hundreds of years whereas the new cobblestone installed a few years back is already experiencing significant wear and tear?
We stopped by Parque de Palomas, a scenic overlook where it's popular to feed pigeons, and learned about Capilla del Santo Cristo de la Salud, a small church known for its healing powers.
It was built in the 17th century and serves as a museum today. It is only open on Tuesdays and religious holidays but is a pilgrimage site for many.
These are some of the fun facts you'll learn with The Spoon Experience, to help pace you between all the eating.
RELATED POST: VISIT LA CUEVA DEL INDIO IN PUERTO RICO
Know before you go
As with all tours, make sure you bring a tip for your guide at the end.
If you like what you see (and eat) then leave a good review on TripAdvisor or Yelp.
Always wear comfortable shoes and be prepared for weather changes in Puerto Rico–it could rain and stop at any moment.
Parking is not included but there are various parking garages in Old San Juan that charge by the hour.
It is highly recommended that you book your tour directly on the website ahead of time as spaces are limited and sell out quickly.
Be sure to specify any food allergies on your reservation like dairy or gluten so they can accommodate you and let the partner restaurants know ahead of time.
I am grateful to The Spoon Experience for giving me the chance to eat my way around Old San Juan on a food tour — it was so good I did it twice!
Till next time, safe travels.
RELATED POST: VISIT THE BIOLUMINESCENT BAY IN VIEQUES
Liked this post? Pin me below.
Disclosure: The Spoon Experience provided me with complimentary tours in exchange for my honest opinion about the experience. All opinions are my own.