Want the low-down on one of the latest flight alert services to hit the market? Here's my honest and unaffiliated Next Vacay review.
When I first heard of Next Vacay, I was excited. I love flight alert programs and have been a long-time subscriber to Scott's Cheap Flights, one of the first programs to arrive in the space.
Since signing up for Scott's list and being introduced to the magic of flights alerts, I've also begun following sites like Travel Pirates and Fly4Free.
CLICK TO WATCH MY INTERVIEW WITH SCOTT KEYES OF SCOTT'S CHEAP FLIGHTS
When Next Vacay came out, I was getting a lot questions from readers.
Are they legitimate? How are they different from Scott's Cheap Flights? Did I have any experience with Next Vacay?
Naturally, I had to find out more. So I decided to sign up to receive Next Vacay alerts for one month.
I spent 30 days on Next Vacay's email list. Here's what you need to know before you join.
What is a flight alert?
Flight alerts are a relatively new concept that have taken off in recent years, with businesses popping up left and right to capitalize off the monthly subscription model and your thirst for bargain flights.
The basic concept behind flight alerts is that the company you're signed up to receive alerts from will scour the web for the best flight deals and let you know as soon as a good one pops up so you can be among the first to take advantage of it before it disappears.
Types of deals included in flight alerts
Flight alerts typically notify you of price drops in three instances: 1) when there's a sale; 2) when airlines are competing against each other causing fares to drop, and; 3) when there's an error fare.
The first instance is self explanatory and you don't need a flight alert program to find out about sales. In fact, direct email from your favorite airline provider is the quickest way to go if you want to receive notifications of flash sales, like a 48-hour price drop with limited availability. JetBlue does this every few weeks. Flight alerts mostly come in handy in keeping you up to date about airlines and brands you may not have been aware of or used before.
The second instance happens when airlines are trying to fill seats or have excessive flights going to one route. Sometimes, one airline will drop prices and other airlines will follow suit to match.
On a grander scale, this is happening in Hawaii. Previously, Hawaii was an exclusive market until budget airlines (like Southwest) starting traversing the route. Now, traditional airline providers have had to cut their own prices to stay competitive.
Finally, the third instance you would be notified about is an error fare. Error fares are a result of human error in inputting the price into the airline's database.
Perhaps the flight was $1,400 but an American Airlines employee left off the one, listing it for $400 instead. If you can catch this mistake before the airlines do, you could score a heavily discounted flight.
Error fares aren't always honored. Check out my book about finding Affordable Flights to learn more.
What does Next Vacay offer?
Next Vacay is a standard flight alert program. They search for flights leaving out of all airports and if they find a deal that may be of interest to you, they send you an email with a link and instructions on how to book it.
If you don't open the email until the next day, it's possible the deal will be gone by then, so to a certain extent the onus is on you to be vigilant and stay up to date with the alerts.
Different flight alert programs may notify you in different ways, like through text messaging or use of a mobile pop-up when you download the app. I'm attached to my emails as it is, so I like email alerts just fine. These are the sort of alerts that Next Vacay sends.
RELATED POST: HOW I FLEW FROM MIAMI TO NEW ZEALAND FOR $38
How is Next Vacay different from competitors?
Next Vacay differentiates itself by being more selective about the deals they send out. Instead of kitchen sinking you with all the deals out there, they select the ones they think apply to you based on your departure airport and stated preferences.
I found this to be problematic as my airport of choice was Rochester in Upstate NY, which rarely gets deals, so 99% of the deals I got from Next Vacay were departing from NYC. The problem is that NYC is not even the next closest airport — Buffalo, NY or even crossing the border to Canada would take me half the time.
Moreover, the deals I did get from Rochester weren't exactly a bargain. I understand it's a much more remote airport, but I wouldn't consider a $900 roundtrip ticket to Europe a "deal."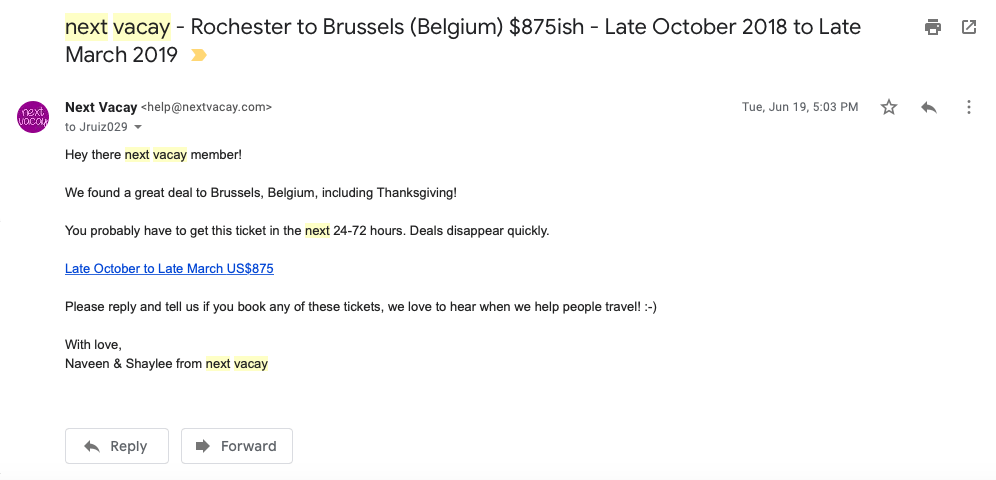 They did at one point alert me of a deal I didn't otherwise get through Scott's and to that end, it's always good to be part of as many programs as possible when you're looking for a specific flight. There's no guarantee that any one program is going to catch them all, Pokemon style, so you're better off as a consumer by casting a wide net.
How much does Next Vacay cost?
Next Vacay costs $25 per year, making it one of the more affordable subscription models out there. There's also a 30-day free trial available before you're charged.
RELATED POST: 8 COMMON BOOKING MISCONCEPTIONS THAT ARE COSTING YOU MONEY
How do you cancel your Next Vacay subscription?
If you cancel before the end of the free trial period you won't be charged for the year. Theoretically you're supposed to be able to cancel just by replying to any email or alert you received, but I had problems with this as well.
Despite multiple attempts to contact someone on the Next Vacay team, it wasn't until my card didn't go through for the payment and someone contacted me seeking new billing information that I was able to cancel my subscription.
Is Next Vacay worth it?
Next Vacay is a legitimate service and at just $25, it's an affordable option for flight alerts (Scott's Cheap Flights is $39 for the year). They don't always have the best/quickest turnaround on deals, however, or many deals from smaller airports.
If flight alerts are something that interest you, note that you don't have to pay anything at all to get started. You can sign up for free trials and follow all of these programs on social media — trust me, they're itching to share the best deals with their audience and be the first ones to break the news on a big price drop.
CLICK HERE FOR A LIST OF 16 APPS AND WEBSITES THAT OFFER FLIGHT ALERTS
With any flight alert program you choose, the goal is to be notified in a timely manner so that you're best positioned to take advantage of a great deal.
I have no relation to Next Vacay or any other flight alert program. I just get a kick out of helping people save money on travel.
Liked this post? Pin me below!