If you're passing through the city and looking for the highlights, this is what you should with only 24 hours in Hamburg, Germany.
Hamburg is an affluent port city in northern Germany. It has more bridges than Venice and a port so big that you could fit the entire city of Copenhagen in there .
Known for its festivals, red light district and link to The Beatles, it's a city that never sleeps and is constantly reinventing itself. Hamburg is filled with hipsters and singles. In fact, a whopping 50% of Hamburg's population is single. It's a popular stop for bachelor/bachelorette parties and studying abroad.
Now with a new high speed train connecting Hamburg to Berlin in just over an hour and a half, Hamburg is primed to become one of the best cities in Germany for a quick day trip.
Here's what to do on your next visit.
See the Elbphilharmonie
The Elbphilharmonie is a concert hall, hotel and private apartment complex all in one. A few years ago it was just an old warehouse until architects from Basel, Switzerland designed plans to make an addition to the top of the building. At first the public was opposed to the renovation, taking issue with the high estimated cost of €77m. Those people likely had a stroke when, 10 years and €866m later, the building finally opened its doors to the public in the beginning of 2017.
It now boasts the most expensive flats in the city (all sold out), the Westin Hamburg Hotel and 360 degree views of the Elbe River. You can attend a show or just go to walk around and appreciate the structure, perhaps stopping in for beer tasting at Störtebeker, the on-site restaurant and bar.
Get out on the water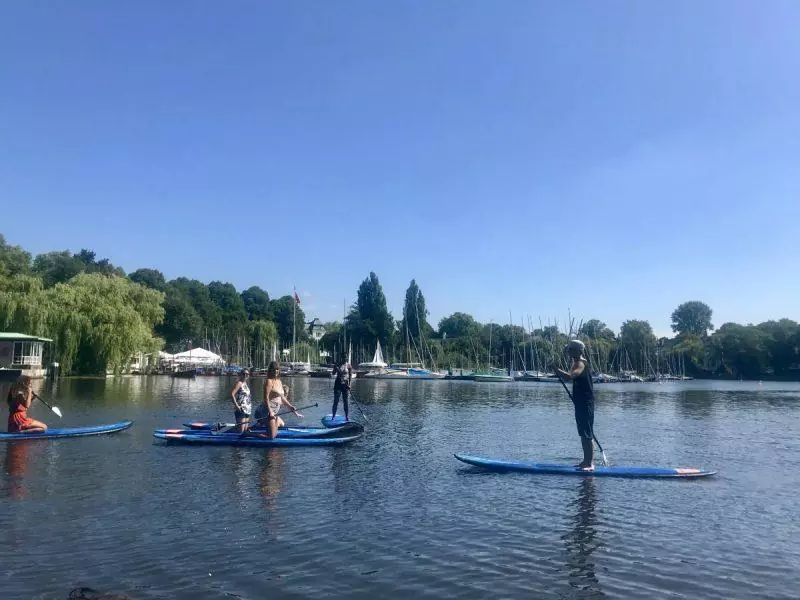 Hamburg has an abundance of canals and activities on the water. Try paddle boarding at Alster Lake. You'll see fancy houses along the waterfront and teams practicing rowing in nice weather. Canoeing, kayaking and sailing are also popular in this area.
Another option is to take a water bus/ferry, which is technically public transportation so it won't break the bank but will still give you a nice overview of the city. They also have hop on/hop off tourism boats that take you to popular waterside museums and attractions.
Hunt for street art
Hamburg has street art everywhere you look but the best neighborhoods for graffiti aficionados are St. Pauli, the Karolinenviertel and the Schanzenviertel. You can go straight to the middle of the action by catching a train or bus and getting off at the Sternschanze station. Spend hours adoring the murals at your leisure or opt to go on a guided walk with an official street art tour.
Explore the St. Pauli neighborhood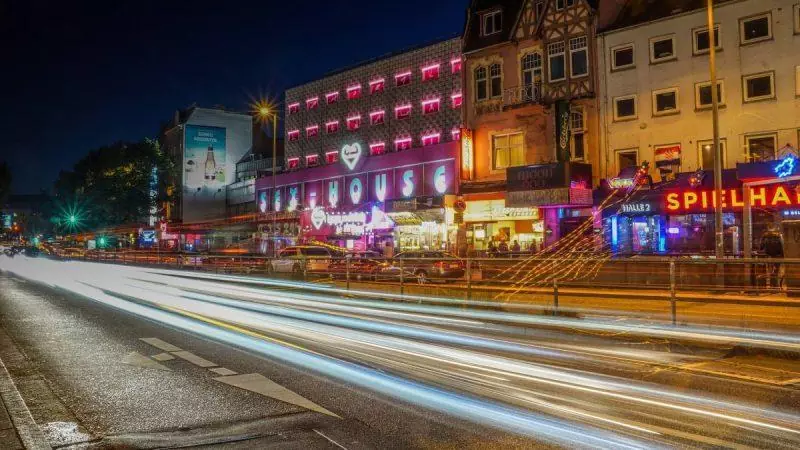 The St. Pauli neighborhood is reminiscent of Amsterdam's red light district, with a bustling and somewhat seedy nightlife scene. Prostitution is legal in this neighborhood so you'll see women lined up along the street, not too far from the police station for the smallest district in Europe. There used to be thousands of them ready to great sailors upon arrival, which is how they arrived in the area, but have since widened their clientele base. If you'd rather look at men, Olivia Jones' Wild Boys Strip Club promises to put on a Magic Mike-worthy show.
You can't have this much indecent activity in a neighborhood without providing some serious grub. Thankfully, there's a food truck hub in the center of the neighborhood. It's hard to miss due to its size (I counted more than 30 trucks) but if you need further direction just look for the Dancing Towers. For those going by the towers at night, there's a club underneath that you can only access from the manhole turned entrance, speakeasy style.
Go rum tasting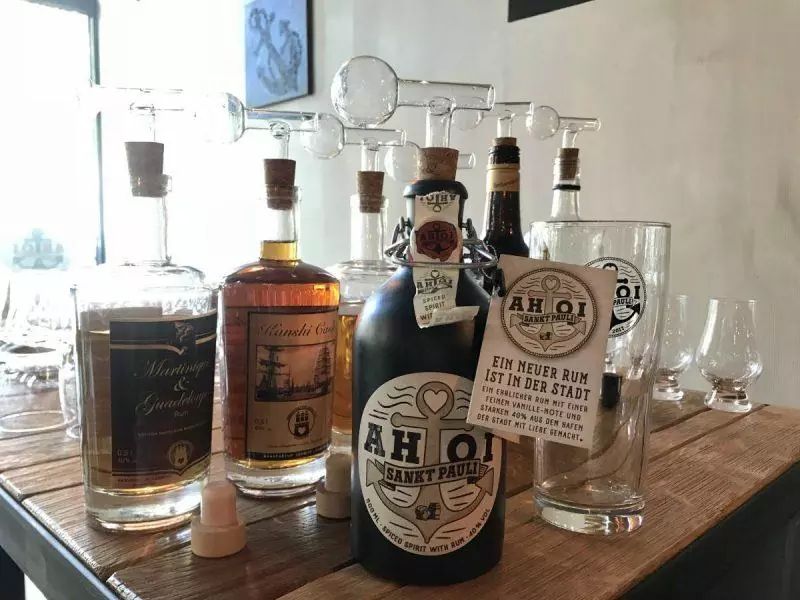 Who knew Hamburg had quality rum? I used to think the best rum came from the Caribbean, but after a rum tasting session with Ahoi Sankt Pauli, I can't be so sure. Taking advantage of its proximity to the water, Hamburg distillers place 500-gallon port pipe casks by the Harbor to settle for 10-15 years. As the alcohol settles, some of it evaporates, commonly referred to as the "angel's share" of the product.
Our rum tasting experience at Ahoi Sankt Pauli allowed us to compare and contrast rums from around the world, appreciating the differences in scent, sweetness and even texture. If you're a lightweight don't worry, plenty of water and bread are provided and the food trucks I mentioned earlier are 3 blocks away.
Watch the Planten un Blomen water show (seasonal)
If you're in Hamburg during the summer months you have to stop by Planten un Blomen to catch the water show. Held nightly at 10pm, this display features grand fountains coordinated to music and illuminated in colorful lights. The park itself is called Planten un Blomen so you can easily plug it into your GPS for reference. It's vast, however, and navigating the green space can be difficult. Thankfully, this is one of the most popular activities in the city so you just have to follow the crowd.
Attend a festival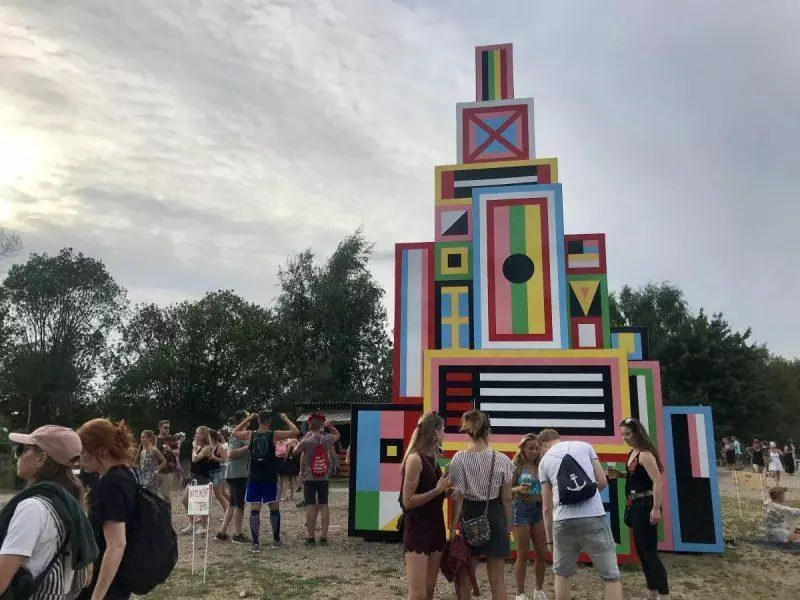 There is an abundance of festivals in Germany, happening year-round. Hamburg is the second largest city in Germany after Berlin so they have the space to host large international audiences and are often the ideal choice since it's a safety that's easy to access. Annual events include the Elbjazz Festival, Reeperbahn Festival, Duckstein Festival, Pride Festival, Vogelball (pictured above), Christmas markets and so much more.
Even if you're only passing through, you can still have an unforgettable experience with just 24 hours in Hamburg. Take advantage of the opportunity and make sure to pay the city a visit on your next trip to Germany.
Till next time, safe travels!
Note: My trip was sponsored by Hamburg Tourism. All opinions are my own.
RELATED POST: HOW TO SPEND 24 HOURS IN PRAGUE
Liked this post? Pin me below.