Prague is a fairy tale city. It has a castle, hidden shops that sell whimsical gifts and views of bright red rooftops reflected in the Vltava River that will take your breath away. If you only have 24 hours in Prague, you've come to the right place.
While I'd recommend that you spend far longer here, our schedules don't always allow for extended travel. If you have a stopover in Prague or other reason to pass through the city, take advantage of it. Prague is the most visited city in the Czech Republic, so they know how to handle tourists.
You'll find that Prague is easy to reach and navigate by foot, car or public transport. Most of the destinations mentioned below are within walking distance. I recommend strolling if the weather is nice — it will save you time and money and allows you to discover hidden nooks along the way.
If you're coming with luggage, there are cubbies at the main train station, Praha Hlavní Nádraží, where you can store your luggage for a number of hours. I utilized these lockers without incident, just entered my information and paid with my credit card. Credit cards are widely accepted, except for street vendors or small purchases. It helps if you know your bag's dimensions before selecting a cubby number as there are varying sizes and spots are subject to availability.
The good news is that Uber does operate here in case you get lost or just want a ride to the airport. The bad news is that the older architecture does not allow for elevators or air conditioning in a lot of places so make sure you're traveling light and with a portable fan in the summer.
24 hours is just enough time to get a taste for all that Prague has to offer. Here's a short list of the city's must-see attractions for first-time visitors.
Prague Castle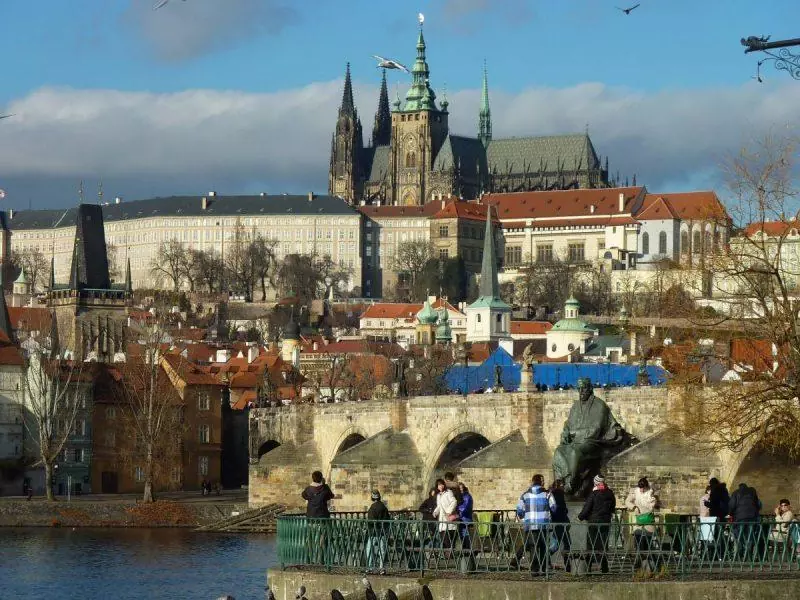 The Prague Castle is the largest ancient castle in the world per the Guinness Book of World Records, a UNESCO World Heritage Site and the most popular tourist attraction in Prague. You can get here by driving/taking a taxi/ubering, taking a tram (tram No. 22 to stop Pražský hrad is the closest stop) or walking. Guided tours and audioguides are available to help give context to the series of buildings you'll be entering.
This is a massive castle complex, so you'll see a basilica, stores, cathedral, picture gallery, towers and more. You can choose which buildings to enter when you buy your ticket. The complex opens at 6am and the buildings at 9am, so get here first thing in the morning and be out by lunch.
Lennon Wall
The Lennon Wall is a favorite of street art enthusiasts and photographers. It's an interactive piece that allows guests to add their own message, ideally Beatles themed though that's not always the case. A John Lennon Portrait adorns the stretch and you'll almost always find a street performer putting on a Beatles tribute song.
This is the only place in the city where graffiti is legal, though it's not 100% to the government's liking. The wall has collapsed more than once due to too many coats of paint. It's been whitewashed and "closed down" but still it remains, a symbol of resiliency and easy walk-by stop on your way to Charles Bridge.
RELATED POST: 12 REASONS TO VISIT THE HK REGION OF THE CZECH REPUBLIC
Charles Bridge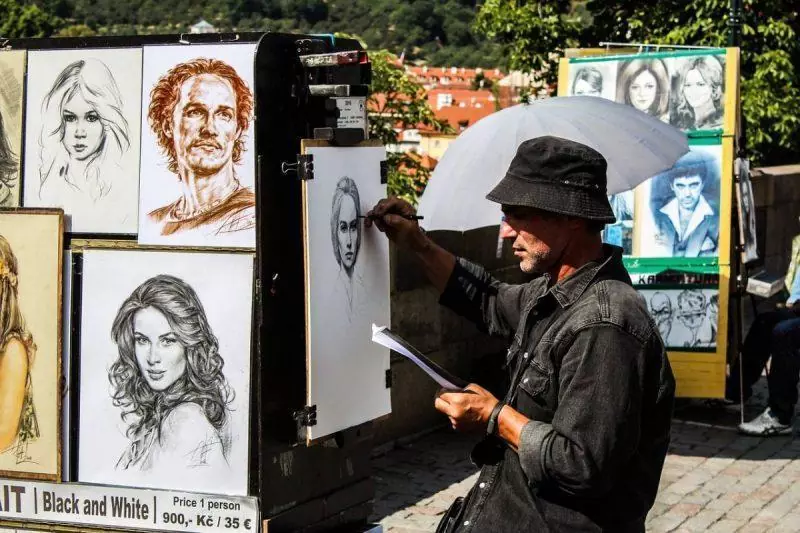 Charles Bridge is most typically photographed from afar, but it comes to life when you're walking across it. It's like a boardwalk, with caricatures, paintings, small souvenirs and flashy performances all carefully presented to grab your attention. It's pedestrian only, so feel free to linger and have a look at the city views.
The bridge connects Old Town Square with the Prague Castle area and in the summer months can get packed with thousands of people. The bridge itself is an attraction, ornately decorated with looming statues. You'll find better prices elsewhere but even window shopping here is an experience.
Astronomical Clock

The Astronomical Clock in Prague is located in Old Town Square and just opened again after being under construction for much of 2018. It was believed to have been installed in 1410 and still boasts the original machinery and mechanisms. The apostles on the sides were added in the 18th century but the clock dates back to the 14th century and has a board that includes all 365 days of the year, zodiac signs, the symbols of the 12 months and Prague's coat of arms.
The clock is thought to be part of Prague's very soul, with legends regarding what happens to anyone who tampers with it and eerily coincidental stopping at the time of the a traumatic flood in 2002. Guests can enter the tower for views of the Square and the clock's procession strikes every hour.
Old Town Square
The Old Town Square is an area of Prague that boasts charming medieval architecture and quirky shops behind colorful facades. I wandered into a gourmet chocolate store that had chocolate infused with things like cinnamon and bourbon, and a trinket store that had colorful gifts available and encouraged guest interaction.
The main square itself has a man that makes bubbles. While this is a tourist lure common throughout Central and Eastern Europe, these were the best bubbles I saw during my trip. There's also various stalls with food vendors and restaurants if you want to grab a bite and people watch.
Dancing House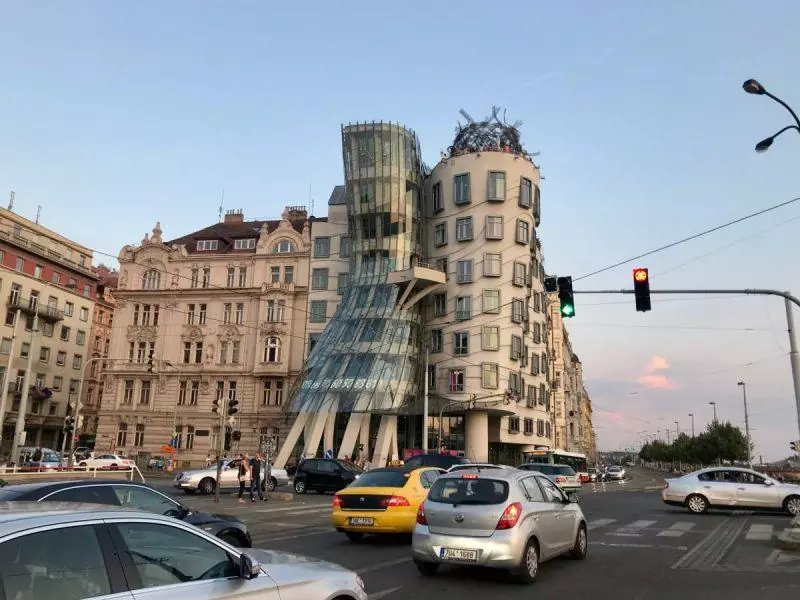 This building is a fun architectural feat, made to look like two dancers swaying to music. It was originally named after Fred and Ginger Astaire. You can admire it from afar for free or go inside; there's an art gallery on the first floor the metal structure at the top houses a restaurant and cocktail bar aptly named "Ginger and Fred." You'll get stunning panoramic views of the city here.
You can learn more about the Dancing House and its history here.
Where to Stay in Prague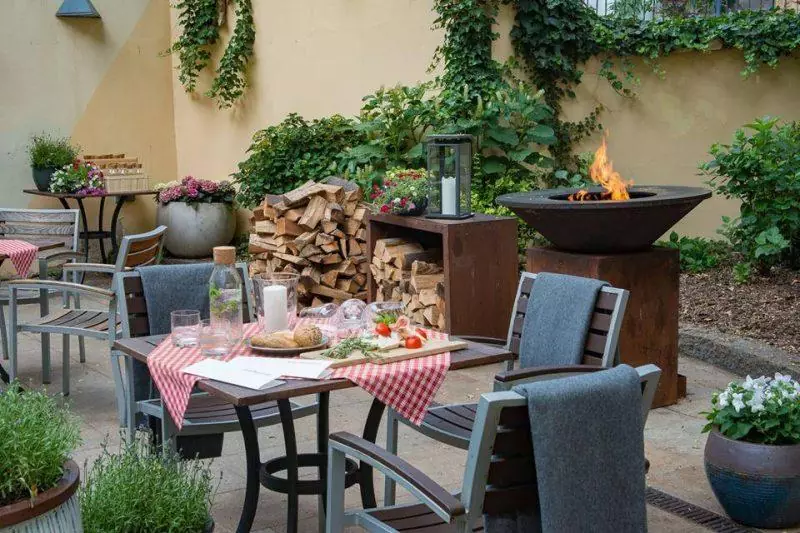 I stayed in Prague both on my way in and out of Prague and can highly recommend Hotel Casa Marcello.
Casa Marcello is a family-owned hotel in the middle of the tourist section of Prague and is ideally located if you want to explore by foot. You'll have the added bonus of getting to experience the charm of an older building. The staff is very friendly and although there is no lift, they will help with your bags as needed and there is someone at the front desk 24/7. There's also a garden and restaurant in-house. They have 5 rooms with air conditioning, and all come equipped with luxurious bedding, relaxing hot water showers and custom amenities.
This is your best bet if you want to be in the middle of the action and get an authentic and carefree experience while in Prague.
Another budget option that I included in the map, closer to the airport, is called Hotel Energy. It's a large but basic hotel. I compare it to the Ibis brand elsewhere in Europe.
You'll find that 24 hours in Prague goes by fast. but don't forget to take in the sunset and try some of the delicious street food you'll find along the way. If you're heading there for longer, check out this 4-day itinerary. There are several awesome day trips from the area, including the Olomouc region.
RELATED POST: VISITING THE HRADEC KRALOVE REGION OF THE CZECH REPUBLIC
Till next time, safe travels!
Liked this post? Pin me below!
Disclosure: This trip was sponsored in part by Czech Tourism. All opinions are my own.