If you're looking for amazing sights to see on a Las Vegas road trip, look no further.
Vegas is great. It's one of the few places in the world where you can go really go wild and let loose.
But after a few days of it, it can be draining. You start to lose track of time, incur gambling debt and walk around with a constant hangover.
That's when it's nice to pack up and recharge your batteries with some of the amazing landscapes surrounding the Vegas area.
Nevada borders Arizona and Utah and is within driving distance to everything from the Hoover Dam to dinosaur tracks.
Those looking for an escape will find a welcome sanctuary in Mother Nature after a week of partying in Vegas.
Here's a sample itinerary to make the most of a 4-day Vegas road trip.
Day 1: Visit Zion National Park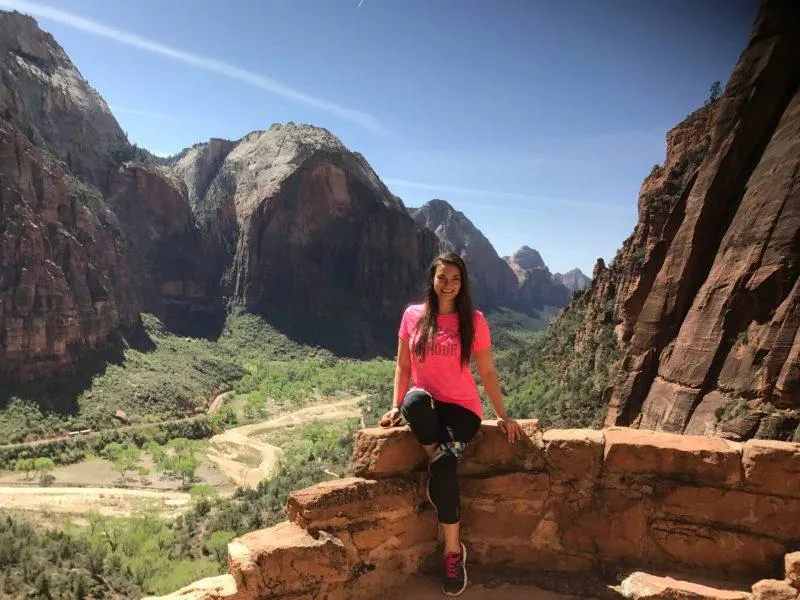 Zion National Park is famous for several trails, including the Narrows and the gravity defying Angel's Landing hike.
It's only about an hour and half outside of Vegas and can be easily reached by car.
Parking fills up early, so try to get there the night before if possible to get an early morning start.
There is a complimentary shuttle service that takes you to and from the different trailheads, and a restaurant midway along the stops.
Note that if you wanted to add additional days to your road trip, this would be a great spot to do so.
Zion is less than an hour and a half away from Bryce Canyon, which could make on easy second stop on the way to Page, Arizona. You can also choose to hike both The Narrow and Angel's Landing on two separate days.
They can technically be done in one, but it's not recommended.
After you're done, start heading east, back into Arizona. Make sure you rest, you're sure to be wiped after some challenging hikes.
RELATED POST: WHAT TO KNOW BEFORE HIKING ANGEL'S LANDING AT ZION NATIONAL PARK
Day 2: Go to Page, Arizona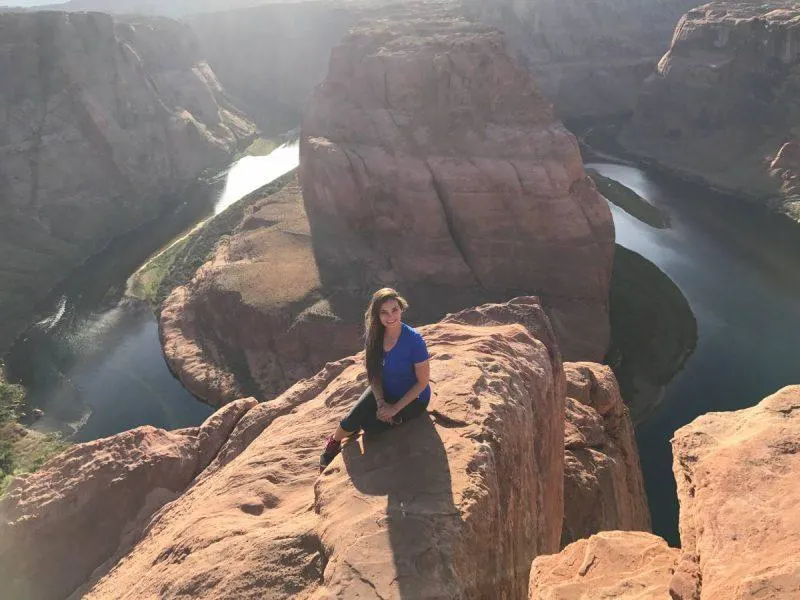 Page, Arizona is home to stunning natural beauty.
It has sunset views of red rocks and Horseshoe Bend, a horseshoe-shaped river that has a constant stream of admirers people posed along its perimeter.
You can also visit Lake Powell Tribal Park to see Upper and Lower Antelope Canyon, slot canyons on Navajo territory that are highly photographed and in demand.
You can also take a tour of the surrounding canyons, such as Owl Canyon, where if you're lucky you'll spot one of the resident owls.
Start with Upper Antelope Canyon and aim for a 10:30am tour so you'll be primed to capture sunbeam shots.
Then head to the Lower Antelope Canyon tour immediately afterwards. It's about a 10 minute drive away and there are only two tour providers that grant access.
Finish your day at Horseshoe Bend, beating the sunset crowds while still capturing glare-free panoramic photos.
Once you're done, head to Williams, Arizona, where you'll find the most affordable hotels to stay in near the Grand Canyon.
RELATED POST: SHOULD YOU VISIT UPPER OR LOWER ANTELOPE CANYON?
Day 3: Hike The Grand Canyon
The Grand Canyon was on the cover of Oprah's Year of Adventure issue, and with good reason.
It's the most expansive and awe-inspiring place on the West Coast, making you suddenly aware of your size and place in the universe.
It has a way of humbling you, and testing your endurance.
The South Kaibab Trail is a great way for beginner hikers to experience the canyon from within, hiking past Ooh-Ah point to Cedar Ridge and perhaps seeing a mule or two along the way.
There are several lookout points around the visitor's center area, and you can join the masses there for pictures before leaving if you want to walk around more.
It will seem insanely crowded, however, after you've had your moment in the Canyon.
You can choose where to stay tonight. I picked Laughlin because it was centrally located between The Grand Canyon and Vegas and I didn't want to pay Grand Canyon lodging rates.
My room in Henderson was only $26 for the night compared to my $120 Days Inn rental in Williams.
The main point is that you find a comfy place to rest and celebrate your recent hiking achievements.
RELATED POST: HIKING THE GRAND CANYON SOUTH KAIBAB TRAIL
Day 4: Explore Seven Magic Mountains outside Las Vegas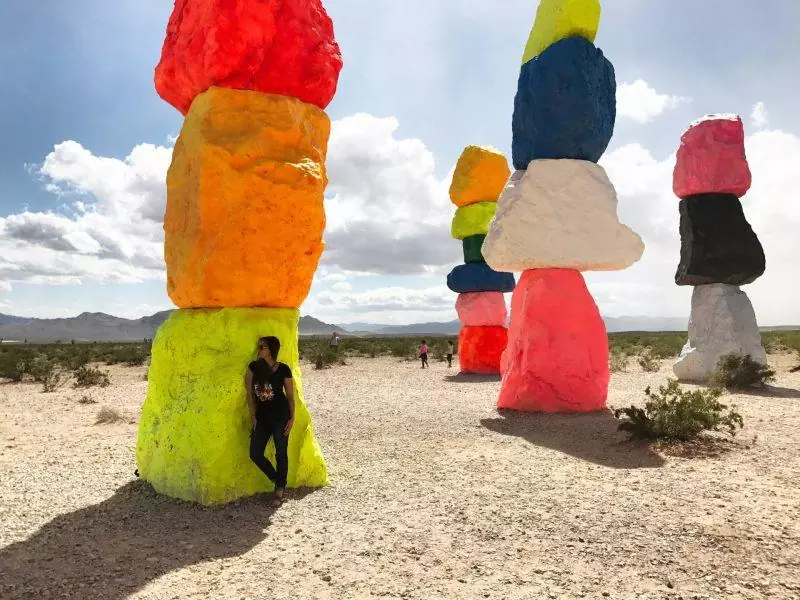 Take this day to sleep in, have a late breakfast and lounge.
When you're ready, head to Henderson, Nevada to see Seven Magic Mountains, a temporary art installation on display for a limited time.
If you have time, stop by the High Roller at the Linq Promenade in Vegas for farewell views of the city.
Then, head to the airport and return your rental car, your adventure is over.
RELATED POST: SEVEN MAGIC MOUNTAINS OUTSIDE LAS VEGAS, NEVADA
Four days is plenty of time to explore the Vegas area. If you have more time, look into adding Bryce Canyon in Utah to your list, or stopping by more canyons in and around the Page area.
There is no shortage of amazing road trips in the United States.
I hope this post helps you in your planning. Till next time, safe travels!
Like this post? Pin me below.