When I first heard of the High Roller Observation Wheel, I wasn't sure what to expect.
Sure, Vegas is an adult carnival in many ways, but I pictured a rickety wooden wheel that would give you views of hotels and hoards of walking tourists.
Turns out, there's no better way to relax after a long weekend of hiking in Arizona and Utah than with a cocktail and bird's eye view of Las Vegas.
What's more, the wheel itself is state of the art, and on a clear day provides views of what seems like the entire state.
RELATED POST: WHAT TO SEE ON A 4-DAY ROAD TRIP FROM LAS VEGAS
If you're looking to visit the High Roller Obersevation Wheel, here's what you need to know before you go.
What is the High Roller Observation Wheel?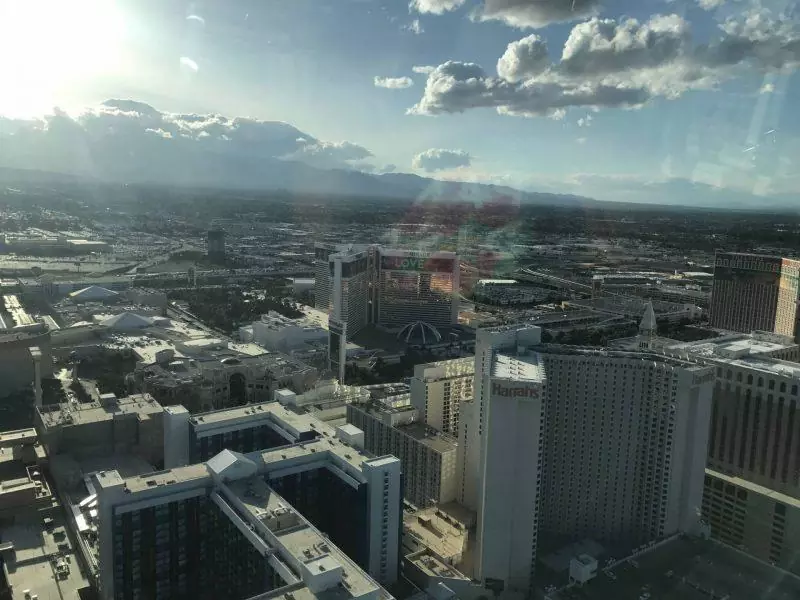 Standing at 550 feet tall, the High Roller is the largest observation wheel in the world and is frequently compared to the London Eye.
If you want an adult Ferris wheel experience, this is the ride for you.
The High Roller has 28 cabins, with each cabin fitting up to 40 people.
I went with a friend on a Tuesday afternoon and we were lucky enough to have a cabin all to ourselves thanks to low demand at that particular time.
There are two types of cabins–cabins with or without a bar.
Alcohol and snacks are sold on your way up to the boarding area and are allowed on either cabin.
How do you get to the High Roller?
The Wheel is located at the Linq Hotel, 3545 S Las Vegas Blvd, Las Vegas, NV 89109.
It's hard to miss, but may look deceptively close on a map or from your window. Thankfully, Uber is available in Las Vegas so if you're staying anywhere on the strip you should be able to grab a quick ride.
Another option is to the take the Vegas monorail to the Harrah's/LINQ exit.
The only problem is that you still have to walk a bit from the monorail exit and the option is length of the line itself is limited, reaching from the MGM Grand to the SLS.
Those on a budget and in no hurry can take the Las Vegas Strip Trolley.
It takes back roads and stops at almost every major casino, but only costs $2.50 for a one-way ticket. There are three main trolley routes that go in a continuous loop. You'll want to hop on the Vegas Strip loop that goes from the Stratosphere to Mandalay Bay.
You can also walk, though I did so midday and do not recommend it.
How long can you ride the High Roller?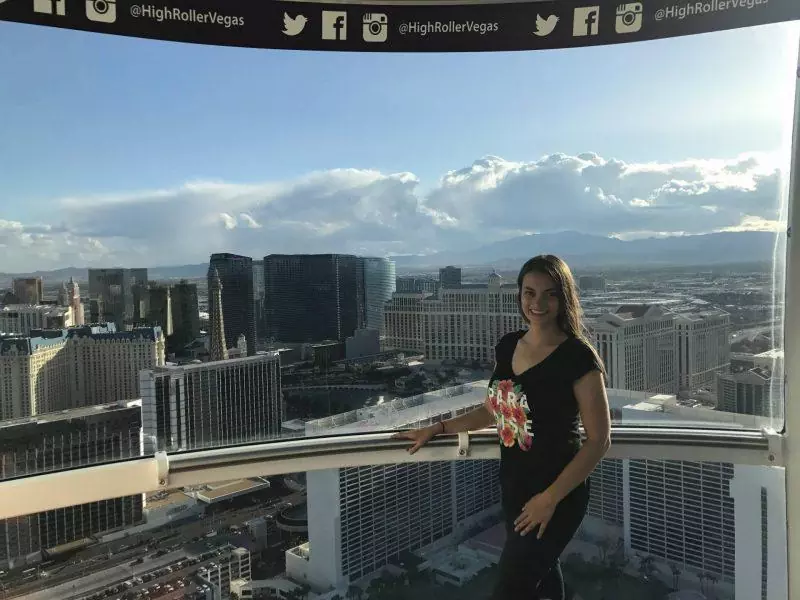 The ride takes a half hour to do one full rotation.
During the day, you can see out to the desert from the highest point. At night, you get iconic pictures of the Vegas lights.
After your ride, you can stroll the LINQ promenade, located right downstairs.
This is a lively part of the strip, with live music, street performers and many bars and restaurants.
I wouldn't recommend this as a place to find the best food in town since it's very commercial and often there are long waits for tables, but it's a modern, developed area with high end shops that is prime for people watching and just taking in the scene.
RELATED POST: VISIT SEVEN MAGIC MOUNTAINS IN LAS VEGAS
How much does it cost to go on the High Roller?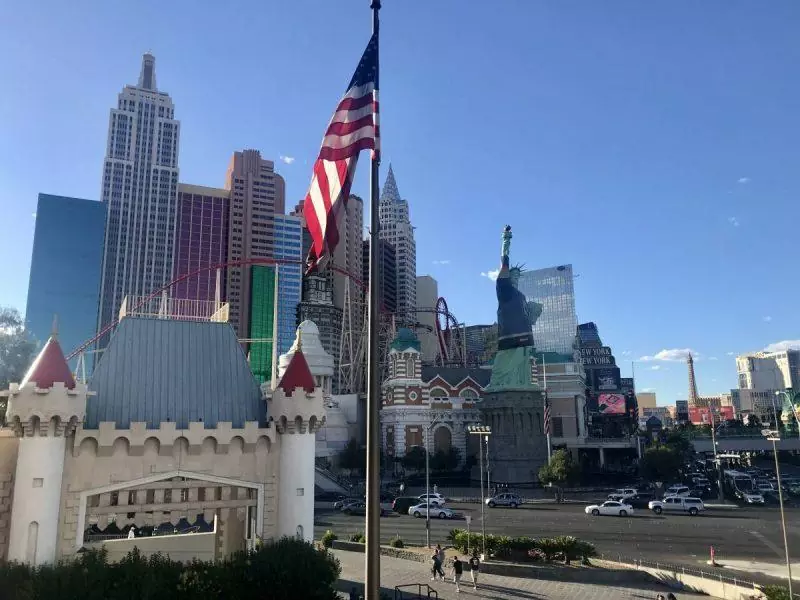 You have several ticket options if you want to experience the High Roller.
You get a slight discount for booking online so the cheapest adult ticket is $23.50 during weekdays, $27 on weekends.
Plus, as a bonus, Nevada residents and students with a valid ID always receive 50% off. Children 4 and under go free.
If you're in the military or a senior, you get $5 off with our ID.
You have the ability to rent out the space for events if you want more time or exclusive access to the wheel for a special occasion.
They also have family packages available if you're coming with a lot of people in your party.
The "happy half hour" tickets are $60 and include an open bar for the duration of your ride.
There is also nighttime admission after 6pm starting at $34.75.
If you're looking for an even deeper price cut, I recommend checking Groupon since they routinely have discounted tickets available.
I have to admit, I had a little too much fun on this experience! After a weekend of being away from civilization, Vegas was an overload of sensory stimulation.
Also, I may have had one (or four) margaritas.
If you're going to make questionable decisions to celebrate climbing mountains and achieving personal goals, however. there's no place to do so than Las Vegas!
After all, what happens in Vegas stays in Vegas.
RELATED POST: 8 UNIQUE THINGS TO DO IN LAS VEGAS, NEVADA
Till next time, safe travels!
*Disclosure: The High Roller provided complimentary tickets for myself and a friend. All opinions are my own.
Liked this post? Pin me below.