Looking for unique things to do in Las Vegas? I got you covered.
When you think of Las Vegas, you probably picture gambling, buffets, and shows.
In reality, the city has much more to offer than that.
Vegas has a rich history, with the Hoover Dam, mob and the Department of Energy all taking credit for its emergence in the middle of a previously barren desert.
If you're searching for fun and unique things to do in Las Vegas (that don't include gambling!), read on for my top picks.
RELATED POST: WHAT TO SEE ON A 4-DAY ROAD TRIP FROM LAS VEGAS
1) The Mob Museum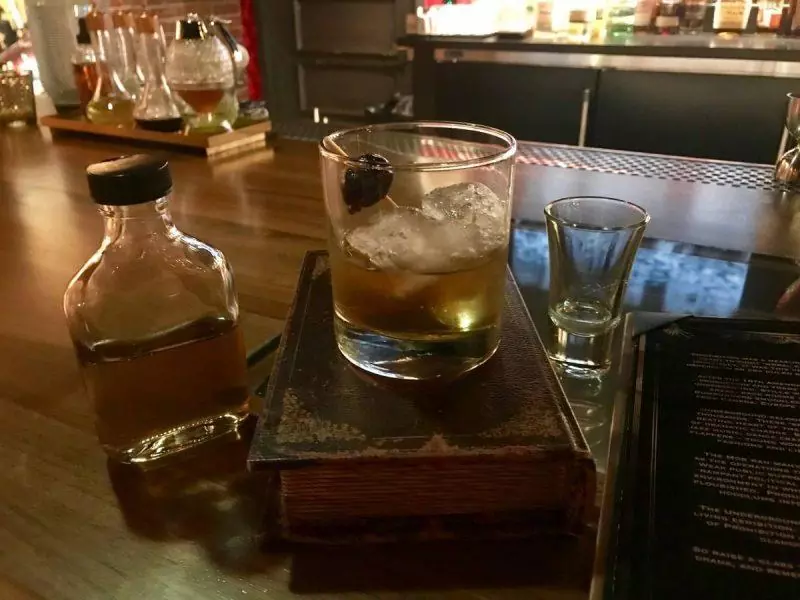 This museum was put together by mobsters and law enforcement officers alike. It contains interactive exhibits and pieces of Vegas history — the good, bad, and the ugly.
Located in a historic courthouse, it details the mob's rise and law enforcement's response.
There's hours of history here, but you can ask anyone who works there to help orient you.
Just be aware, you may be talking to a retired mobster.
Two experiences that come at an additional charge but are worth considering are the Use of Force Training and Crime Lab.
The Use of Force Training is run by law enforcement personnel and puts you in both a virtual reality and live simulation of a confrontation with a police suspect.
You'll be trained to handle a weapon (it has a kickback but no actual discharge) and encouraged to de-escalate the situation with your voice. It is educational and eye-opening.
The second experience, the Crime Lab, allows you to partake in a digital autopsy, compare bullet casings to try to find a match, analyze fingerprints, learn more about DNA samples and other forensic evidence.
You get about a half hour in the lab with approximately 10 other people.
There's a speakeasy in the basement that is worth a visit in itself.
It contains hidden rooms and paintings that you can walk behind.
There's a drink served prohibition style — not in a glass but in a jar and hidden in a hollow book. That way, if there was a raid, bartenders could deny having poured the alcohol.
Admission is included with your museum ticket before 5pm.
After, guests can enter through a side door, so long as they get the password from the proper social media channels first.
The password is updated weekly and I found it on their Facebook page.
2) National Atomic Testing Museum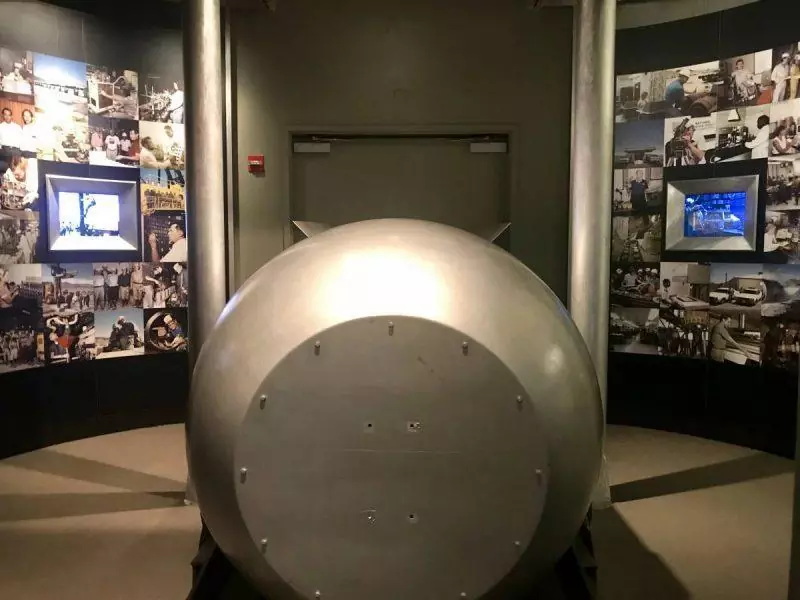 One of the reasons Vegas experienced a boom of people in the mid 1900's was due to the jobs brought in by the atomic testing site located nearby.
Today, the Department of Energy controls what is known as "Area 51," a parcel of land bigger than the state of Rhode Island in the middle of the Nevada desert.
International treaties prohibit nuclear testing since the 90's but weapons are still maintained by their individual components. You can take a free tour of the area if you manage to snag a reservation ahead of time, find out more information here.
The museum has important artifacts like a name plate that survived detonation of a bomb to letters written by Albert Einstein regarding the use of such weapons.
There are two separate videos shown, one about the pressure to innovate and remain secure during World War II which ends in a simulated backlist from an explosion and the other about the science behind nuclear warheads.
You'll also have the chance to see Miss Atomic Bomb, a Tropicana dancer that became the mascot of the atomic testing site thanks to her perky… smile.
3) SlotZilla Zipline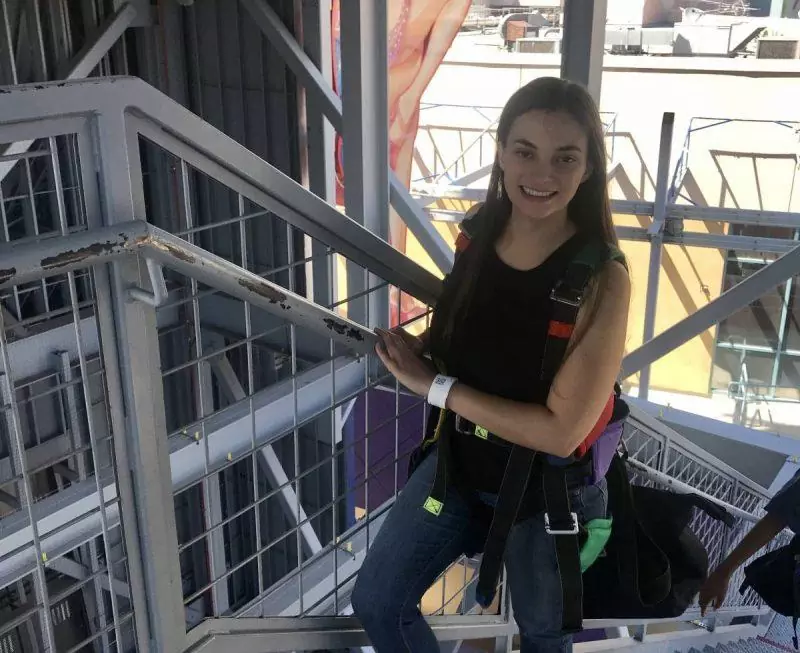 Confession: this was my first time going ziplining and I was nervous. There are two lines available, one that's slightly lower and sends you out in a seated position and one at the very top where you ride Superman style.
Since I was just starting out, I chose the first option.
You have to secure all your belongings in a bag that's latched on to your harness, so you can't have a camera with you while you're riding.
The line takes you out straight over Fremont Street, so it's enjoyable day or night. There are pictures available for purchase after.
The ziplining part itself goes pretty fast–3 minutes tops, but the ride at the top level is meant to be longer. Look for coupons if possible, many of the downtown casinos will offer a discount.
4) Neon Museum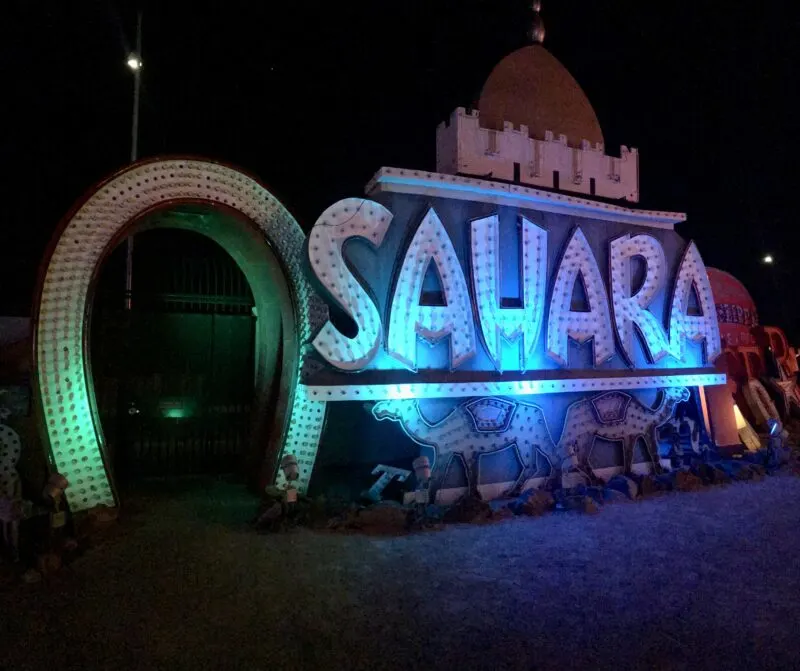 This is definitely one of the most unique things to do in Las Vegas. The Neon Museum, aka the "Neon Boneyard," is the place where old Vegas signs go when they're retired.
Only instead of losing these iconic pieces, the Neon Museum is a nonprofit that restores them and puts then on display for the public.
Guests can take a guided walking tour or peruse unaccompanied. This is one of the most IG-friendly spots in Las Vegas.
Pictures and videos are allowed, including those taken for personal websites and blogs, but commercial or staged photo shoots have to be arranged beforehand.
You can get more information about film and photo shoots here.
I went at night to see the "Brilliant! Jackpot" light show, and it lived up to its name.
The signs in Boneyard B (there are so many they had to expand across the street) dance to music and have lights displayed on them since they're in the process of getting fixed and aren't independently functional yet.
One of the coolest things about this place is that it actually looks like a graveyard from above, thanks to a retired skull from Treasure Island that makes this a prime spot for drone footage.
5) Thrill Rides at the Stratosphere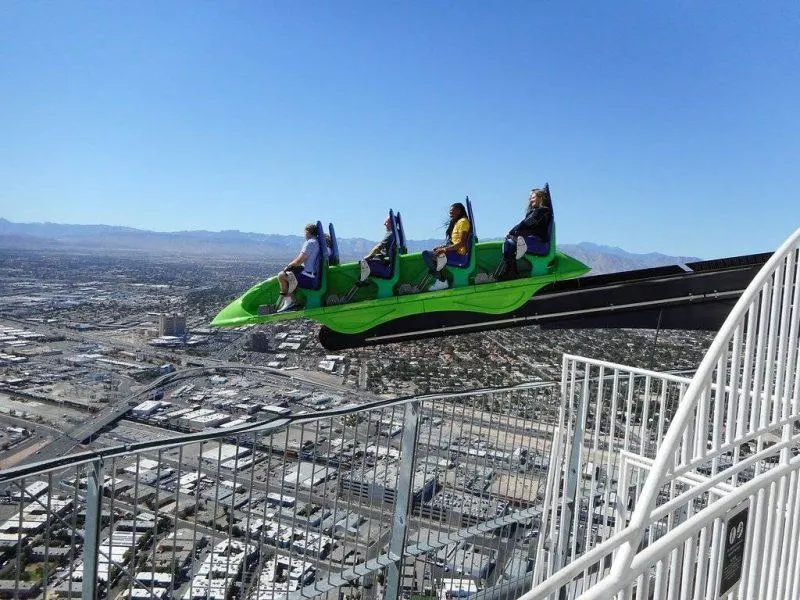 If you're a thrill seeker, then the top of the Stratosphere is where you want to be.
There's the Big Shot, which shoot you straight up at an accelerated speed then slowly lowers you down.
There's Insanity, a giant mechanical arms that spins you 64 feet out over the tower edge, and there's X-Scream, a seesaw of sorts where you're catapulted back and forth over the Vegas skyline.
This is also the place where you can do the SkyJump, which allows you to plunge off the top of a Vegas building and be lowered down by ropes in a control descent.
Speeds reach 40mph, so this is not for the faint of heart.
If you simply want a view, you can go up for the views, although the tower is a separate admission.
You can also visit the Top of the World restaurant for a drink, views included.
6) Gold Spike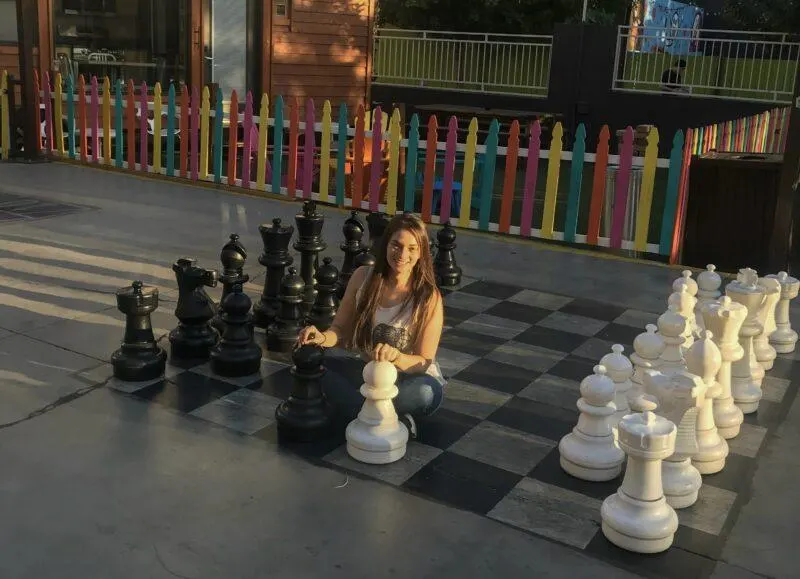 This bar's funky backyard features giant life-sized game pieces, including giant chess, Jenga, foosball, beer pong and Twister.
There's also a main stage, tiny house and food truck. It's meant to be a family-friendly hangout during the day and fun youth spot at night.
There are sofas and power outlets inside in the "living room" area, making it a great co-working space during the week.
WiFi is free, you just have to like Gold Spike on Facebook to gain access. The restaurant and bar are open 24 hours.
Thursday though Saturday nights there's live music outdoors and a DJ indoors.
7) Seven Magic Mountains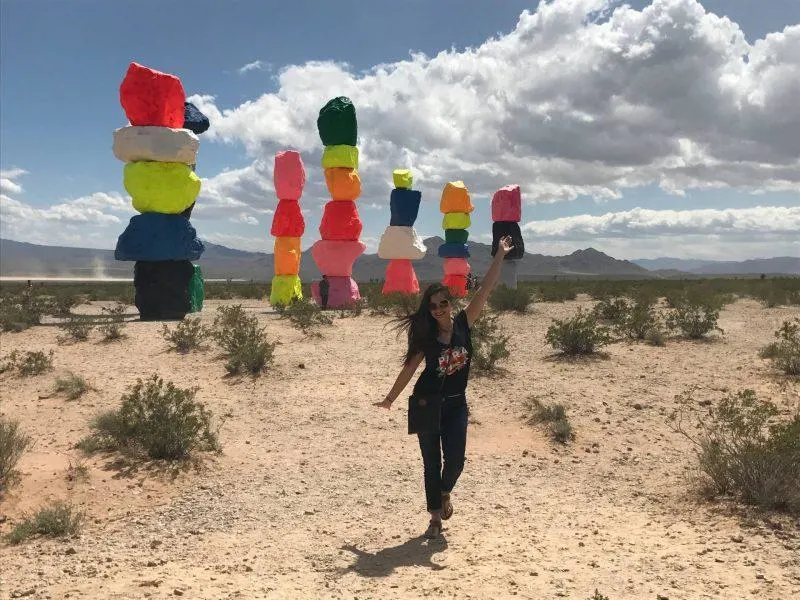 This outdoor art installation was supposed to be only temporary but became so popular on social media it's turned into a permanent piece.
The rainbow colored rock totems are striking against the barren desert landscape.
Located in Henderson, Nevada, it takes about 15-20 minutes to reach from the strip if you're driving.
It's free to enter and there's plenty of parking on site.
RELATED POST: HOW TO VISIT SEVEN MAGIC MOUNTAINS NEAR LAS VEGAS, NEVADA
8) Pinball Hall of Fame
When I heard hall of fame, I expected to find machines behind glass counters, meant to be admired but never played again.
The Pinball Hall of Fame is the opposite, and every gamer's dream.
Picture decades of games, restored to their former glory and able to be played for their original price, whether thats $.25 or $1.
Games range from Pac-Man to pinball to classic car racing.
There are coin machines and ATMs on site.
There's also popcorn that you can buy, though you'll probably have your hands full with controllers.
The founder has a passion for restoring games and wanted to build a safe space where kids could come play. It's open late, till 11pm most weeknights and midnight on Friday and Saturday.
The best part? All profits get donated to the Salvation Army.
9) Omega Mart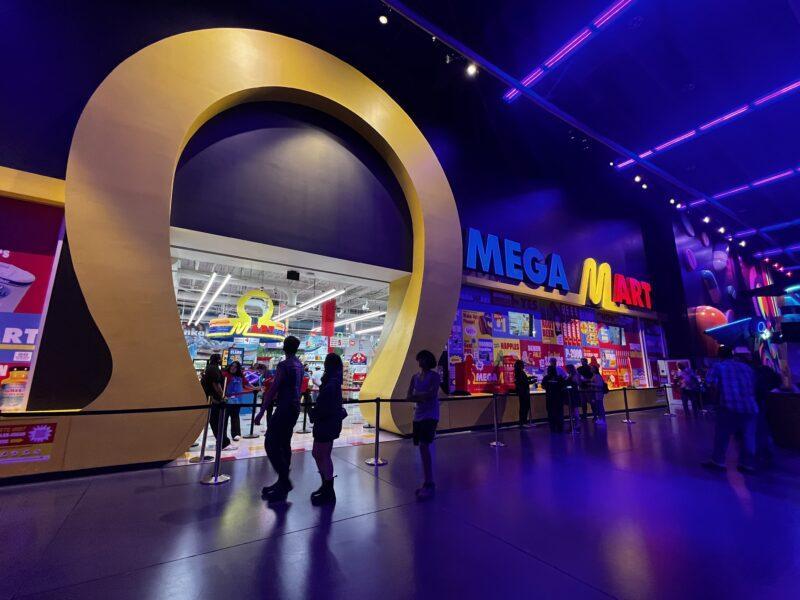 Omega Mart is part of the Meow Wolf family, an experience that is part interactive murder mystery, part art gallery, very trippy.
This is the second permanent installation. The first is in Santa Fe, New Mexico, the third in Denver, Colorado, and the 4th in Dallas, Texas.
They each have a distinct theme with several key points in common — secret passageways, clues to be discovered, and alternate universes.
Omega Mart is like a supermarket, at first glance. Upon further exploration it leads you into a multilevel space where you can figure out what happened there.
Don't leave without stopping by the Datamosh Bar. They have fancy and quirky cocktails (like an old fashioned served out of what looks like window spray!).
Once you're done, you can explore the broader AREA15, a shopping and dining complex. Omega Mart is within the center, free to enter except Fridays and Saturdays after 9pm (then it's $15 and 21+). There is free parking on site.
So by all means, go on a hunt for the best buffets in Las Vegas or make it a point to see Cher live, but don't miss out on these off-the-beaten-path activities.
I hope you enjoyed this post and are ready to discover all of the unique things to do in Las Vegas.
Till next time, safe travels!
RELATED POST: RIDE THE LINQ OBSERVATION WHEEL IN LAS VEGAS, NEVADA
Liked this post? Pin me below.