Just outside of Las Vegas, Nevada lies a whimsical art installation called Seven Magic Mountains.
Like something out of Alice in Wonderland, these 7 pillars of rainbow colored rocks stand out amongst their desert landscape and have become a major point of interest for those coming and going from the city.
Unfortunately, the art installation is not permanent.
If this is on your must-see list, you should start planning a trip to Vegas in the near future.
Here's everything you need to know to experience magic on your trip to Seven Magic Mountains.
RELATED POST: WHAT TO SEE ON A 4-DAY ROAD TRIP FROM LAS VEGAS
What is Seven Magic Mountains?
Seven Magic Mountains is a sculpture installation by Swiss artist Ugo Rondinone.
Each totem is 30-35 feet high and each boulder is locally sourced and painted.
It's been up since 2016 and was only scheduled to stay up for 2 years total.
Due to the popularity of the site and lobbying by advocacy groups to make the installation permanent, the Bureau of Land Management granted an extension.
Seven Magic Mountains will now be on display till 2026.
Currently, it is undergoing restorations to make the colors better pop against the desert surroundings but is open to the public while work continues on the piece.
RELATED POST: GET A BIRD'S EYE VIEW OF LAS VEGAS ON THE HIGH ROLLER
Seven Magic Mountains Address and Directions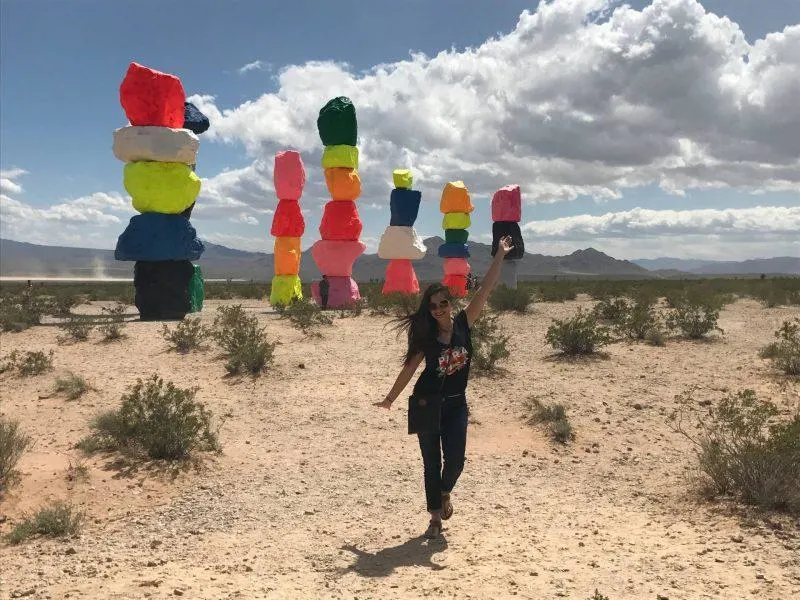 You can stop by the site on your way into or out of Vegas.
It's located off Las Vegas Boulevard in Henderson, Nevada, about 20 minutes south of the city.
If you need an address to plug into your GPS, use the following: S Las Vegas Blvd Sloan, NV 89054.
I'm including directions below from the popular "Welcome to Las Vegas" sign to orient you further.
Unfortunately, there is no public transportation to Seven Magic Mountains since it's in the middle of the desert.
You can take an Uber from the Strip and it'll cost between $30-$50.
It might be cheaper to rent a car for a day and combine this with other sites just outside the city, like Red Rock Canyon.
Is there any cost to enter?
There is no cost to enter Seven Magic Mountains.
This is a public art installation so admission is my favorite price–free.
There's also free parking nearby so you can easily walk to the site. No money needed, just your camera.
Know before you go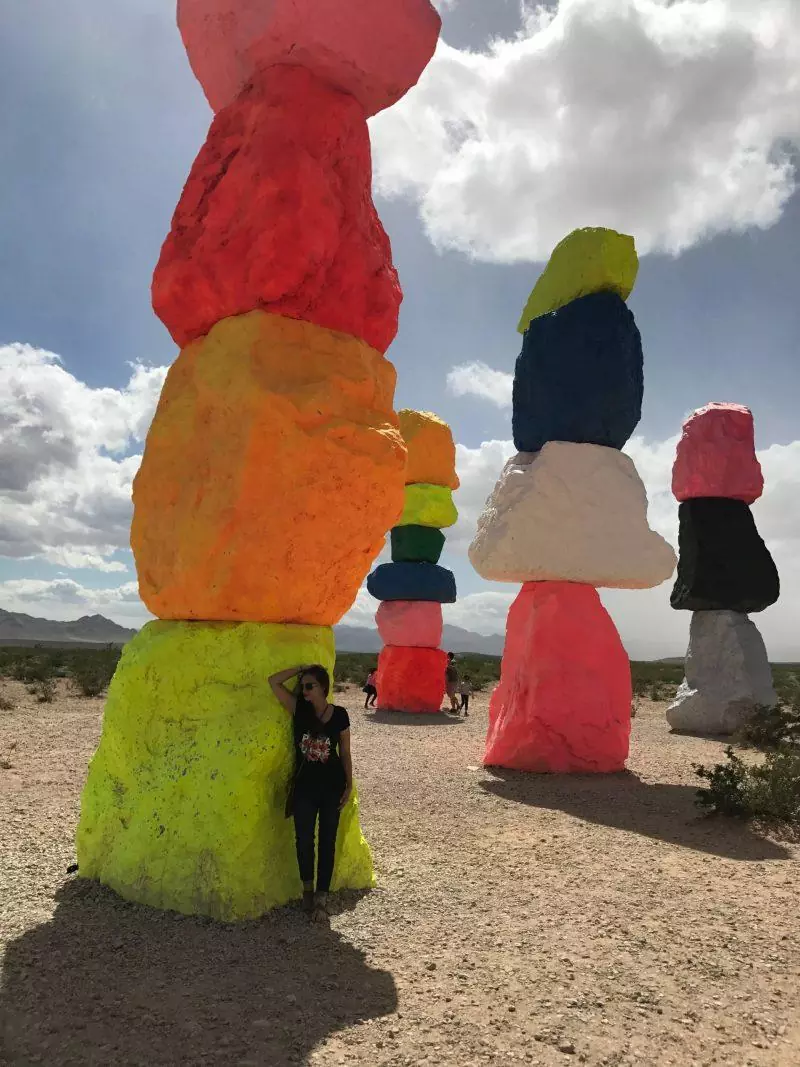 It is really windy here, with a lot of sand and dust blowing around.
Be sure to bring sunglasses and be careful with your professional camera lenses.
There are no restrooms, food or water on the premises so plan accordingly.
There is plenty of parking on site.
This makes a great photo stop on a West Coast road trip in case you want to see some other national parks in the area.
See it while you can and experience the magic for yourself!
Till next time, safe travels.
RELATED POST: 8 UNIQUE THINGS TO DO IN LAS VEGAS BEYOND THE STRIP
Liked this post? Pin me below!