The Grand Canyon is America's most famous natural wonder, and there's no better way to see the South Rim than by hiking the South Kaibab Trail. Though there are many other routes you can take, the South Kaibab Trail offers a combination of secluded hiking and canyon views that can't be beat.
The best part is, you can hike as little or as much as you want. It's a great trail for beginners and those looking to experience the canyon without too much of a commitment. The elevation is just over 7,200 feet so pace yourself, but don't expect to experience any serious air shortages.
The Grand Canyon itself is a little over 1,900 square miles long. You have the North, South, East and West Rim all open to visitors. The South Rim is by far the most popular, followed by the West Rim and its Skywalk. The South Rim also hosts mule rides and is home to Phantom Ranch, discussed in more detail below.
You can drive to the South Rim in just four short hours from Vegas, and even hit Antelope Canyon as a side trip before heading back. There's so much natural beauty in Arizona it's hard to capture it all in just one trip, but the South Kaibab Trail is a great place to start.
RELATED POST: THE ULTIMATE GUIDE TO GETTING A HAVASUPAI FALLS PERMIT
South Kaibab Trail Parking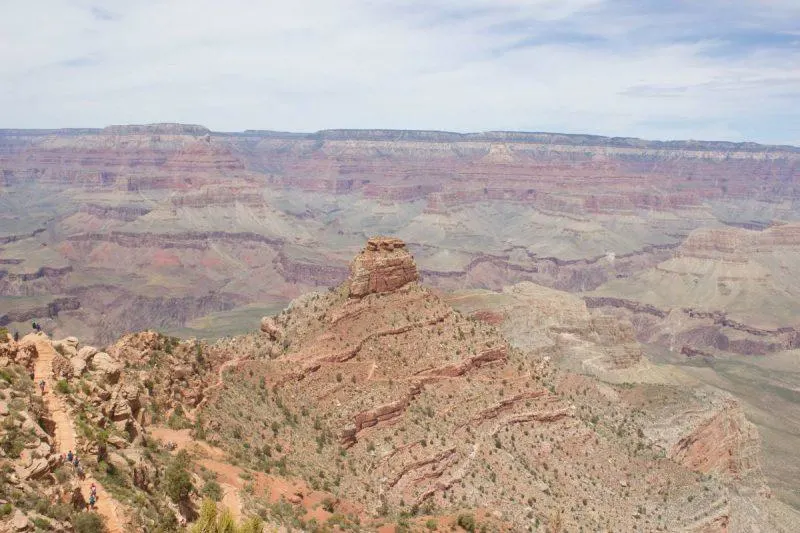 One of the hardest parts of visiting a national park is parking. I literally had to drive onto a curb at Zion because it was so packed. Thankfully, the Grand Canyon is prepared for the influx of visitors it gets year-round and there are several large parking areas. Follow the signs towards the Bright Angel Trailhead, since that's where you'll be boarding the shuttle.
You'll find a visitor's center, small cafe with food and beverages and restrooms here. This is a good place to get your bearings, pick up a map and check and see any Canyon updates for the day. Make sure to fill up on your water before you leave here, you're going to need it.
RELATED POST: HIKING ANGEL'S LANDING AT ZION NATIONAL PARK
South Kaibab Trail Shuttle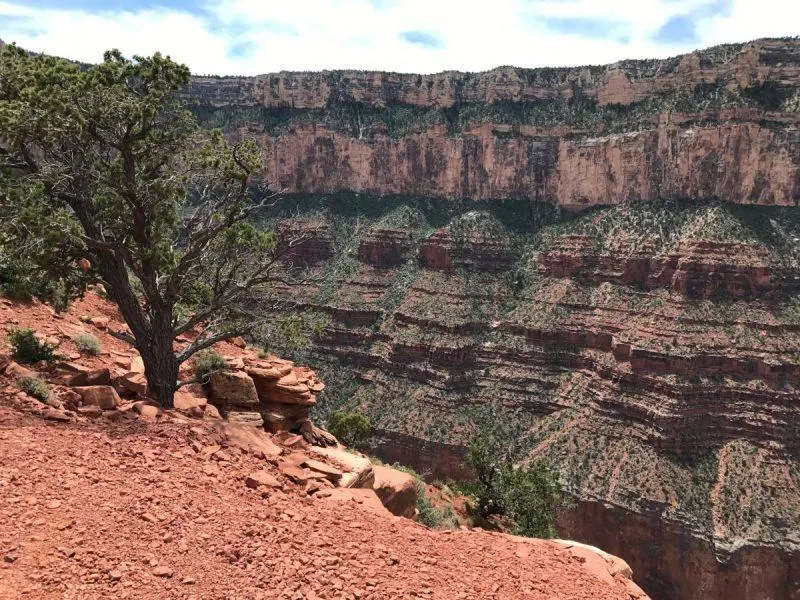 The Grand Canyon runs a free shuttle service that takes you to and from various trailheads on site. The Kaibab Rim is the Orange Route–they're colored coded and maps are posted by the lines and at each boarding point so you can verify where you're going. Shuttles run every 15 minutes from 6am to an hour after sunset. Get off at the South Kaibab Trailhead stop–simple!
Cedar Ridge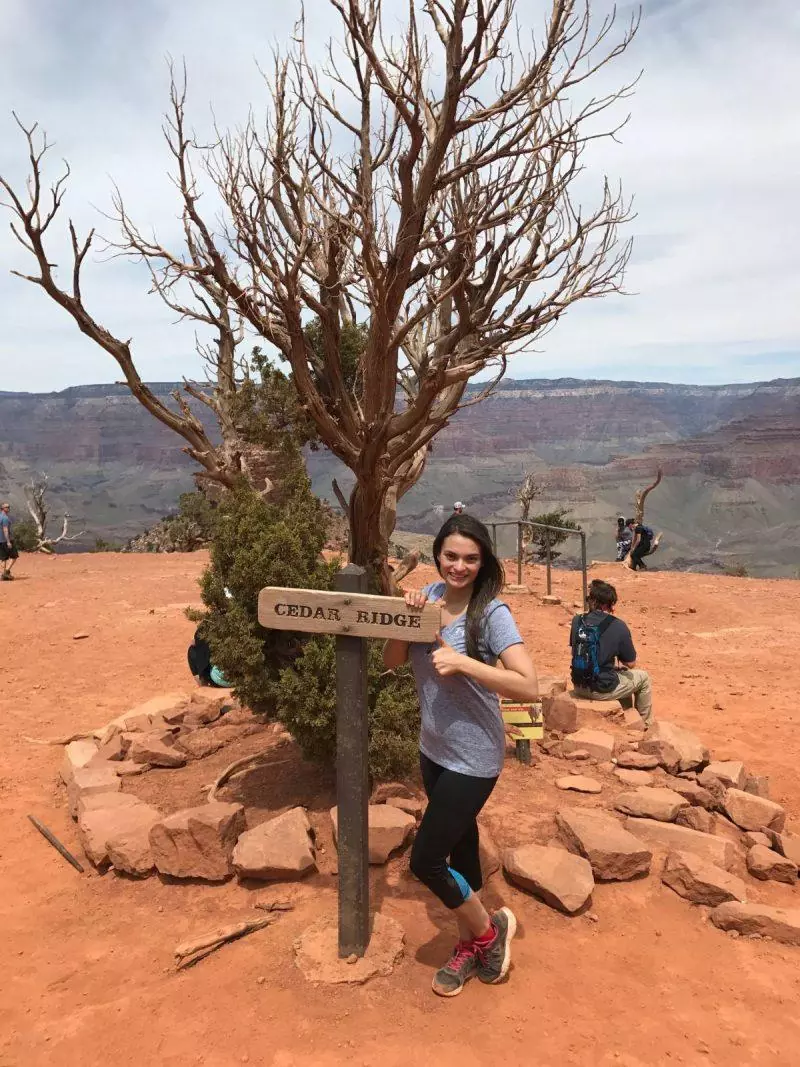 Cedar Ridge is a great destination for those who want to experience the hike but have enough stamina left to climb back up the same day. The Suuth Kaibab Trail is a descent, and every step you take going down feels 10 times harder on the way back up. To Cedar Ridge and back it's a 3 mile trail, with no water available and very little shade. You definitely want to do this hike early and avoid the mid-day sun. Be careful as the path has gravel and can be slippery.
Expect to take at least 3 hours to go and come back, and allocate some time to enjoy the view once at Cedar Ridge. The next stop, Skeleton Point, is another 1.5 miles away and you will see signs everywhere warning you not to go any further if you're attempting to walk back the same day.
Ooh Aah Point
Ooh Aah point is your middle ground and resting spot on the way to Cedar Ridge. It's only .9 miles from the start, 1.8 miles roundtrip if you decide you want to stop here. Lots of people like to make inappropriate gestures with the sign given the name, i.e. sit on it.
You can have fun with it, it's a great photo spot and offers amazing views of the canyon.
Phantom Ranch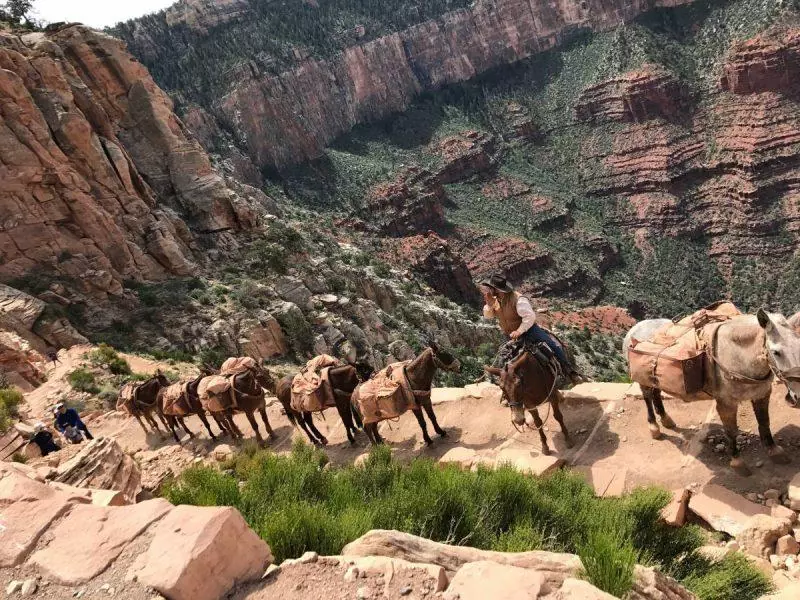 You'll see horses or mules on the trail, often times going to or coming from Phantom Ranch, the only lodging below the Grand Canyon Rim. Reservations to stay here book up about a year in advance and the experience is a bucket list item for many. Demand is so high that in 2019 they'll be converting to an online lottery system, so if you want a guaranteed spot you need to go quickly!
Make sure to make way for the mules and step aside–it's canyon rules. There's usually 20-30 in a row so have a seat, it could take a while for them to pass. If you're interested in riding a mule generally, the South Rim offers the opportunity to do so year-round, but the shorter day trips are more inland and don't offer the same canyon views.
Know Before You Go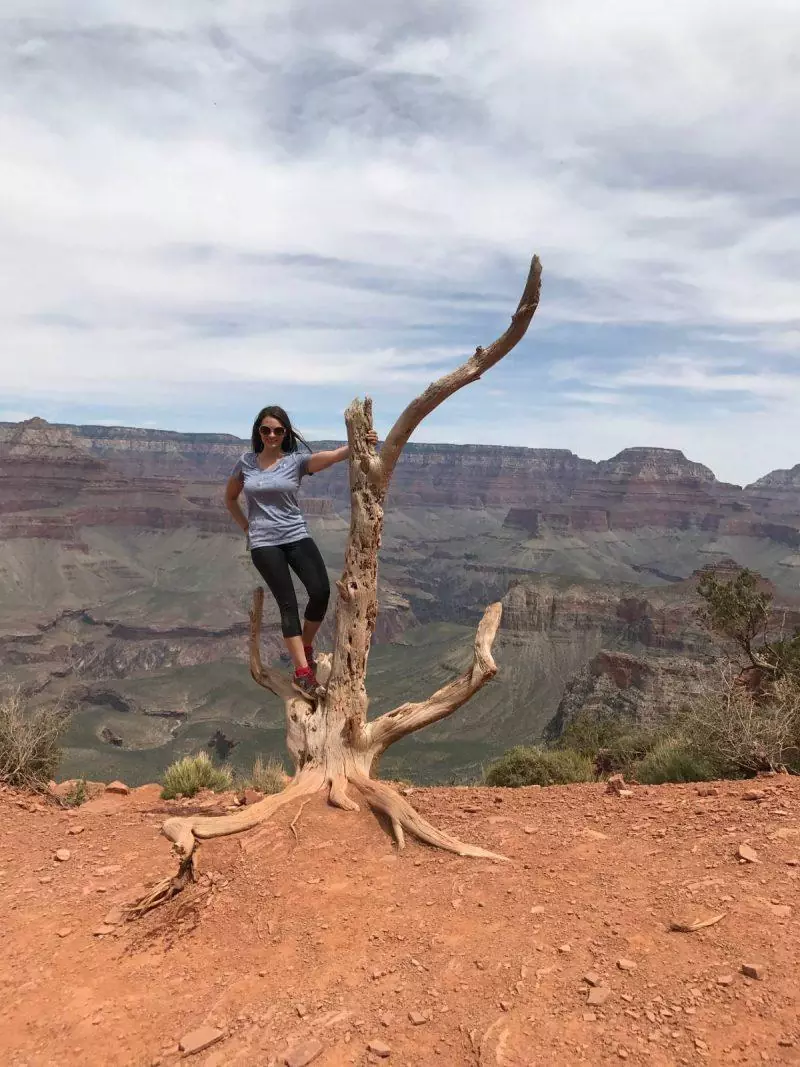 I cannot emphasize this enough–there is no water on the trail. Bring plenty of it, and a few granola bars to snack on. There are also no restrooms or shaded spots so be aware of your own limitations and if you feel you can't go any further, stop at Ooh Aah Point.
Take your time because the trail is slippery and there's nothing stopping you from falling. Go early in the day or in the afternoon to avoid the worst of the Arizona sun.
Above all, enjoy! The Grand Canyon is one of those rare tourist attractions that exceeds expectations, and hiking the South Kaibab Trail is a much better way to interact with your surroundings than just joining the crowds at a designated lookout point.
RELATED POST: WHAT TO SEE ON A 4-DAY ROAD TRIP FROM LAS VEGAS
Till next time, safe travels!
Liked this post? Pin me below.