Note: Havasupai Falls reservations are currently suspended. It has not been announced yet when reservations will resume.
So you want to get your hands on a coveted Havasupai Falls permit? You're not alone. The Havasupai campground has the capacity to host up to 350 visitors a day, and permits sell out for the entire season in advance, the very same day they go on sale.
This is one of the most difficult hiking permits to get in the world.
Why would anyone go through all this trouble? Because the lucky few who get to enter are treated to an unspoiled landscape featuring vibrant, almost unreal turquoise waters and a welcome disconnect from the stressors of modern life.
There's no cell reception, and WiFi is only available on the reservation itself, so you have no choice but to unwind and take everything in.
RELATED POST: TIPS FOR SURVIVING THE HAVASU FALLS HIKE, WITH BONUS PACKING LIST
Where is the Havasupai reservation?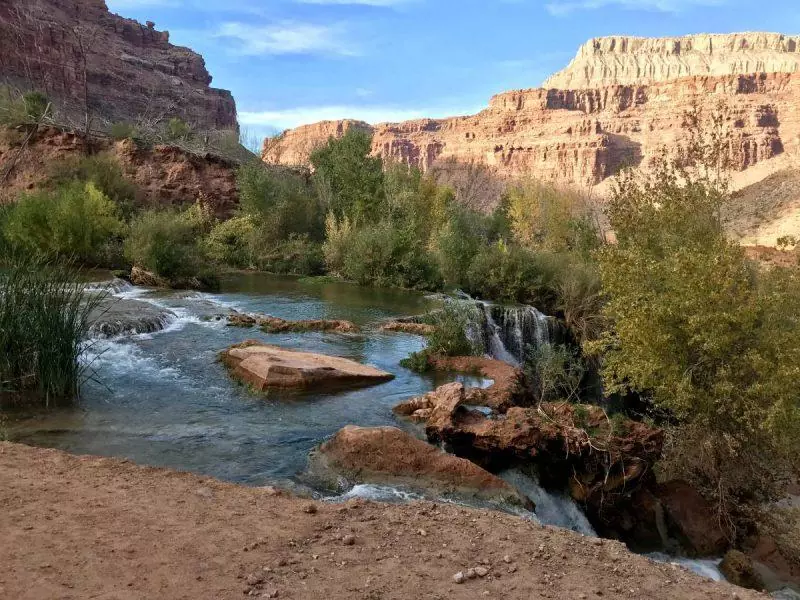 The Havasupai reservation is located 8 miles into the Grand Canyon in Arizona. It is separate from the South Rim, which is owned and operated by the National Park Service, and the trailhead itself is 60 miles from the nearest gas station, store or civilization in general.
The area belongs to and is governed solely by the members of the Havasupai Native American reservation.
If you're driving yourself instead of going with a guide, make sure you fill up your tank before you even attempt to drive to the trailhead. The absolute worst thing that could happen is to emerge from the canyon exhausted and find yourself stranded without phone reception.
What does a Havasupai permit include?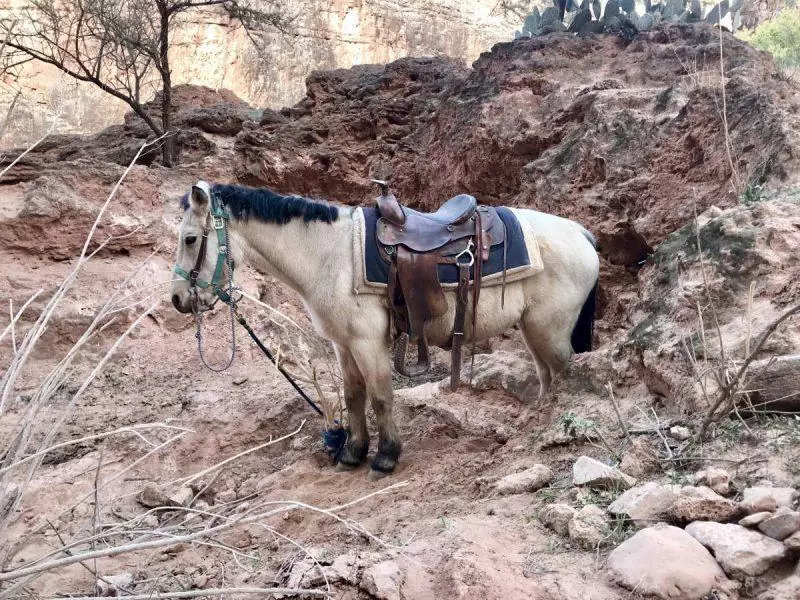 The "permit" is not to access the reservation but rather to sleep on the campground. Any area around the 5 main falls is open for you to camp. The most popular and namesake waterfall is Havasu Falls, but there's also Beaver, Mooney, New Navajo and Rock Falls.
Even if you don't get a permit for the length of time you hope to stay, when you arrive ask the visitor's center if it's possible to extend your visit. They might be able to accommodate you. The only downside about this strategy is that you'd have to hike with enough provisions for the extra days without knowing if you'll need them.
You can also try to make a second reservation, but given the demand it's hard to get one reservation, let alone two.
There are no cabins on the campground, so you have to bring your own tent and sleeping bag. The weather is relatively mild year-round. I went in November and while it got chilly at night I was able to keep warm with a well insulated sleeping bag.
Campground permits are only issued for March to November — there is no camping in December, January or February. Also remember that whatever you bring you have to take out with you (unless you pay for a mule to haul out your bags for you) so pack light.
How else can you access the reservation?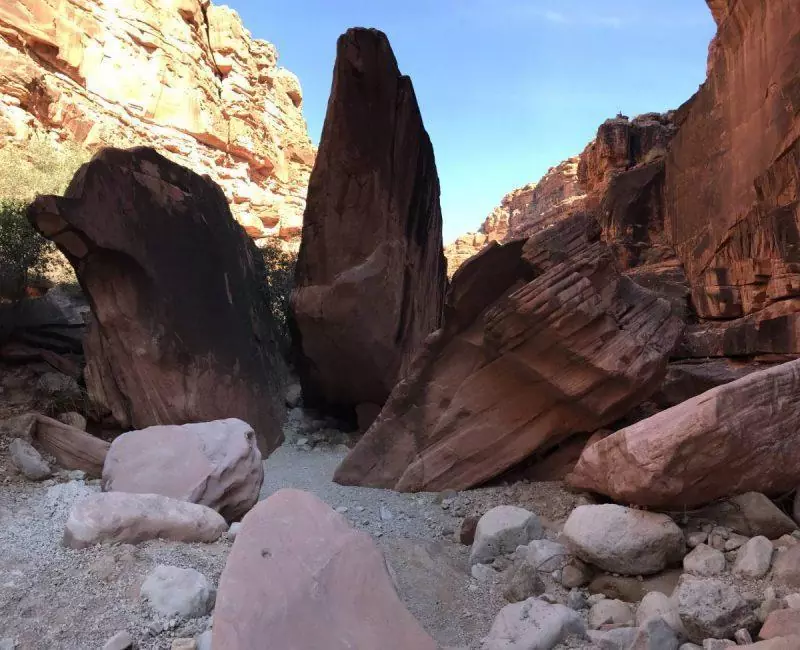 You cannot enter the Havasupai reservation without a permit. You used to be able to take a day hike to see Havasu Falls but day hikes are no longer allowed.
To access the Havasupai waterfalls, you will need either a camping permit or a reservation at the Havasupai Lodge, the hotel on site.
To physically reach the reservation, most people hike. There are helicopters available to transport you into and out of the Canyon for $85 each way with a $10 surcharge if you pay by credit card.
The helicopter gives priority to tribe members first, however, and only operates on Thursday, Friday, Sunday and Monday.
RELATED POST: SHOULD YOU VISIT UPPER OR LOWER ANTELOPE CANYON IN PAGE, ARIZONA?
How to reserve a camping permit
Camping permits go on sale in February. To book a camping permit, you must book online through the official Havasupai Reservations system.
In order to register, you will need to have an account set up. You can pre-register starting in January. It is strongly recommended that you preregister so that you don't waste valuable booking time come 8am setting up an account instead of snagging one of the quickly disappearing spots.
Everyone on your reservation needs to have an account in order to register. You also need to have a designation trip leader and alternate trip leader. Without one of these two people, you won't be able to sign in and enter upon reaching the camp.
Sign up on the website to receive email alerts from the tribe or join the official Facebook group to stay in the loop.
All campground reservations are 3 Nights/4 Days now and $375/pp. When I went, you could get an overnight permit for $140 but that is no longer the case. Prices change year to year at the discretion of the tribal council.
To be clear, you can stay for 1 night (or 2) if that's the length of time you're looking to stay, but you'll need to pay for 3. There's no way this trip is going to come out to less than $375 for you, making it a hefty investment.
Guests can make a reservation for up to 8 people at a time, though you'll have better luck finding available dates with smaller numbers of people.
If you don't manage to secure a permit come February 1st, don't give up. There are cancellations throughout the year so keep checking back on the website.
I secured my permit in April one random Wednesday at 1am while scrolling through the empty calendar months of the website. A permit popped up for one person, one night only in November and I booked it without hesitation.
If you need to cancel your reservation, note that the reservation does not issue refunds but you can try to sell any that you can't use through the official Facebook groups.
How to reserve a hotel permit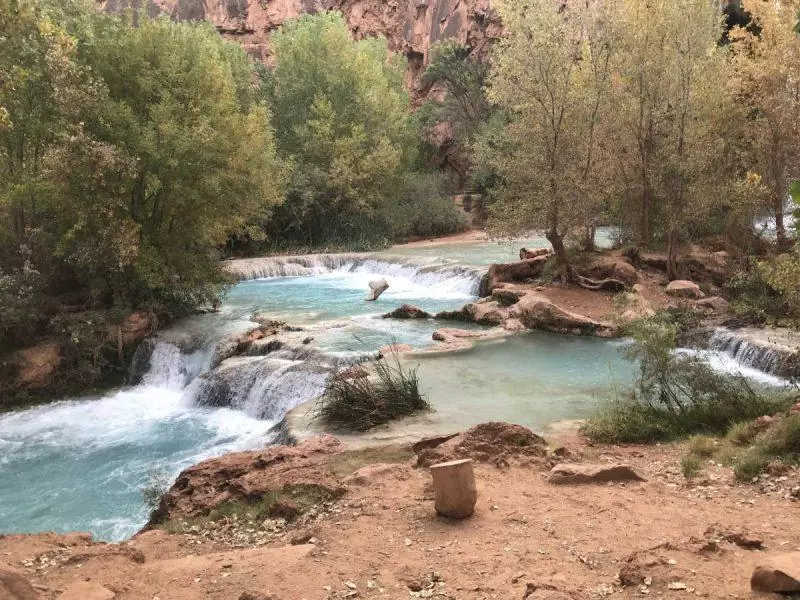 My mind was blown when I realized a campground permit was not the only way to access Havasu Falls. I was so worried about trying to secure one of these golden tickets that I didn't realize reserving a room at the Havasupai Lodge carries all the same privileges, with the added benefit of a mattress!
Rooms at the Havasupai Lodge are $440/night and host up to four people. There are 24 rooms total. There is an additional fee of $110 per person per stay, payable at the hotel. You need a deposit of $100 per room per night to hold the reservation and any reservation cancelled less than 2 weeks in advance is deemed non-refundable.
Reservations can only be made by telephone. This is the tricky part, since you have a better chance of winning a million dollars on the radio than you do of getting through to the Havasupai Lodge by phone.
If you're going this route, I would call constantly, every minute of every day. Somewhere around your 500,000th call you might get an answer. At that point, book whatever room they have available. Don't even bother to check your schedule, just make it work.
For your reference, the lodge phone numbers are 928-448-2111 and 928-448-2201.
Please note, Havasupai Lodge reservations open up on June 1st for April to December of the following year. That means if you miss your chance in February, you can try again for a spot as early as June.
Getting a permit can be a difficult process, but with a little advanced planning and a lot of persistence, you too could end up chasing waterfalls in the Grand Canyon.
RELATED POST: HIKING THE GRAND CANYON SOUTH KAIBAB TRAIL
Till next time, safe travels!
My Amazon Picks
Liked this post? Pin me below.