There was nothing that could have fully prepared me for the Havasu Falls hike in Arizona.
I don't know why I thought it would be easy to hike 10 miles into the Grand Canyon and back out in 2 days.
I've climbed mountains at high elevation, been on challenging terrain and have hiked the Grand Canyon before, but I underestimated the difficulty of hiking Havasu Falls.
At one point on the walk out, I hadn't seen another person for hours and several black birds started to circle overhead.
It was as if they could sense the end was near.
I left limping and exhausted, but in the end I'm glad I did it.
I'm glad I took advantage of a random permit score despite being alone and only having access for one night.
It was one of my greatest physical feats, and the pristine waterfall views were worth it.
If you're thinking about attempting the Havasu Falls hike, here's everything you need to know before you go.
Where is Havasu Falls?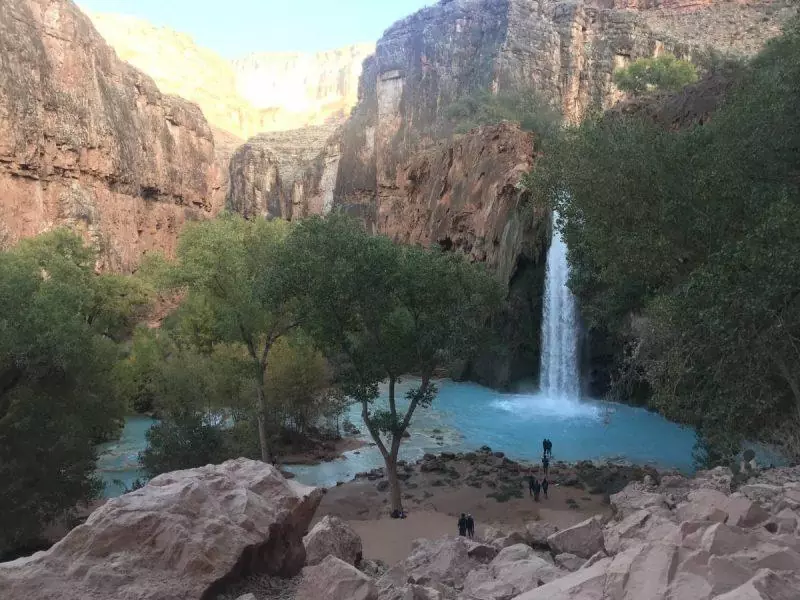 Havasu Falls is the first of five waterfalls on the Havasupai Indian Reservation.
The Havasupai Reservation is located 8 miles into the Grand Canyon from the trailhead and parking lot, called the Hualapai Hilltop.
The first waterfall, Havasu Falls, is 10 miles into the Grand Canyon, 2 miles from the city.
The Havasupai Reservation is a place where people get their mail delivered by mule.
There's WiFi only within a limited radius.
There are telephone numbers where you can theoretically call the visitor's center or lodge, but people don't really answer the phone here.
This is a place to go to unplug. The most interaction you'll likely have with residents is occasionally interacting with those leading mules up and down the canyon.
Otherwise, the Havasupai people are private and like to keep to themselves.
The council is constantly voting to regulate and limit tourist activity in the area in the hopes of preserving their traditions and nature resources.
To get to the trailhead, you need to take a stretch of road (Indian Road 18) for 60 miles from the nearest store or gas station.
I recommend you fill up your gas tank before you make the drive to make sure you don't run out of gas on the way back.
Parking is free at the trailhead, with special spots reserved for tribe members.
How long is the hike?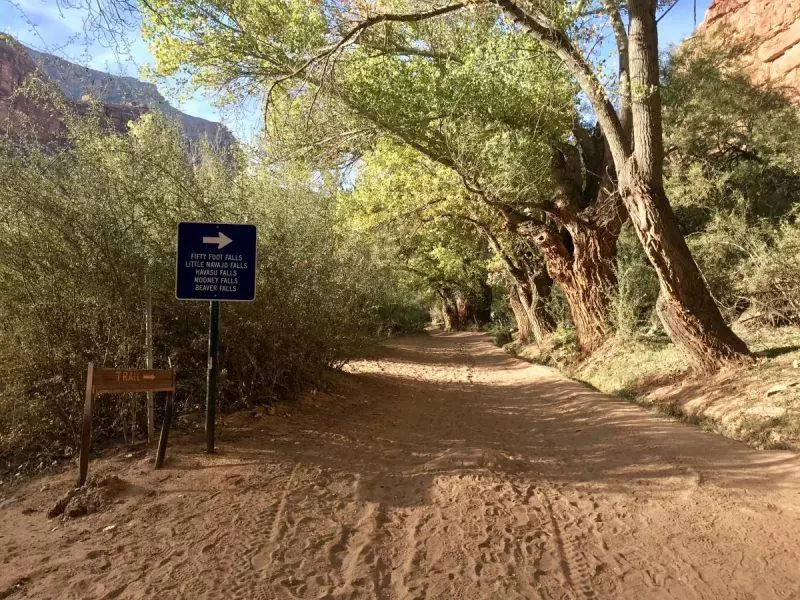 A seasoned hiker could complete this hike in 3-5 hours, but the slower hikers like me will need 6-8 hours. I left at 9am and made it to the Supai Reservation around 2pm.
I had lunch and rested for around hour before starting the remaining 2-mile hike to the campsite, finally arriving around 5pm.
The hike out is harder than the hike in, and you'll need to allow yourself plenty of time if you're walking.
The goal is to be out of the canyon before dark. If you need motivation, the night predators howling should do the trick.
The terrain itself is rocky but relatively level except for a one-mile path of switchbacks to get in and out of the canyon.
There was also some flooding in 2018 that caused the movement of boulders along the path so you might find yourself redirected at times.
For the most part, however, the walkways are clear and shouldn't require any climbing or acrobatics on your part.
The exception is the pathway to Mooney Falls, which requires a descent into tunnels assisted by chains. If you want to hit the three main waterfalls (Havasu, Beaver and Mooney) it is recommended that you stay at least two nights to tackle the Beaver and Mooney on the second day.
You can attempt to do all three in one day, but you'd have to be at the hilltop before sunrise and prepared for a long and grueling day.
How do you get a Havasu Falls permit?
Permits for Havasupai Falls are not easy to come by and require good timing, persistence and a little bit of luck.
You have the option of accessing all five waterfalls so long as you have a permit to camp on the campgrounds or a reservation to sleep in the lodge in town. Both are hard to come by.
Note that you cannot explore the waterfalls without a reservation to stay overnight, either at the campground or lodge. All reservations must be made in advanced and are non-refundable and non-transferable.
Drones are prohibited and there is a strict policy against littering — anything you bring with you, you must take back out.
RELATED POST: THE ULTIMATE GUIDE TO GETTING A HAVASUPAI FALLS PERMIT
What amenities are available at the Havasupai Indian Reservation?

After walking for 8 miles, the Havasupai Indian Reservation will seem like desert oasis. There is food on site at the cafe. It's nothing fancy, but the fry bread does the trick and they accept credit cards.
There's also free WiFi so you can connect with loved ones and let them know you're OK.
You'll need to stop by the visitor's center to check in if you're staying at the campground. They give you a tag to attach to your tent so staff patrolling the grounds knows you have permission to be there.
You can also see about extending your stay upon arrival — occasionally they have last minute cancellations and are willing to extend you someone else's spot.
Otherwise, there's a school, basketball courts and shop that you'll pass as you walk through, along with several houses. Less than 700 tribe members live on the reservation.
Is there helicopter access to Havasupai?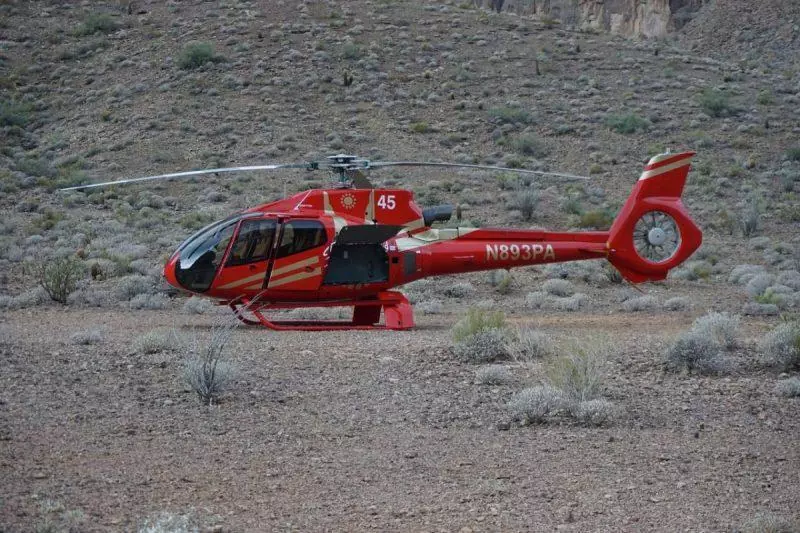 There is a helicopter flying people in and out of the canyon but it only operates on Mondays, Thursdays, Fridays and Sundays and priority is given to tribe members that want to fly in and out.
You may have to wait several hours for a ride depending on how early you sign up for the wait list.
The price of a helicopter rise is steep at $85 per person each way with an additional $10 fee for use of a credit card. Each person is allowed one carry-on bag per ride.
Can you ride a mule into the canyon?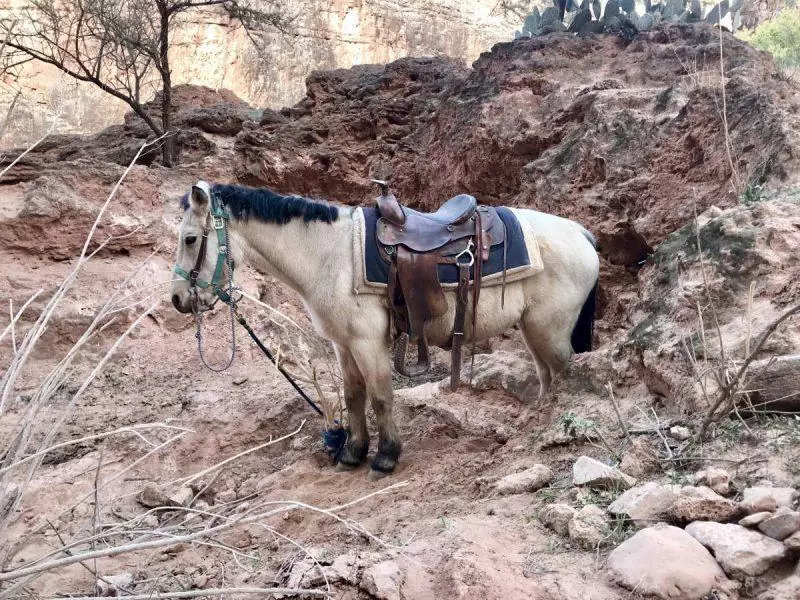 You cannot ride a mule into the canyon but you can send your bags in with a pack animal. The rates vary but you're looking at about $40 per bag each way, $70 per bag roundtrip.
You need to find a member of the tribe that is leading a pack of animals and work out the rates with them.
Once the animal reaches the end of the trail, the handler will leave all bags in a pile to be picked up as guests arrive, so don't leave anything valuable in the bags that you choose to send on a mule. This service is cash only.
RELATED POST: VISITING THE GRAND CANYON WEST RIM AND SKYWALK
What is the best time of year to hike Havasu Falls?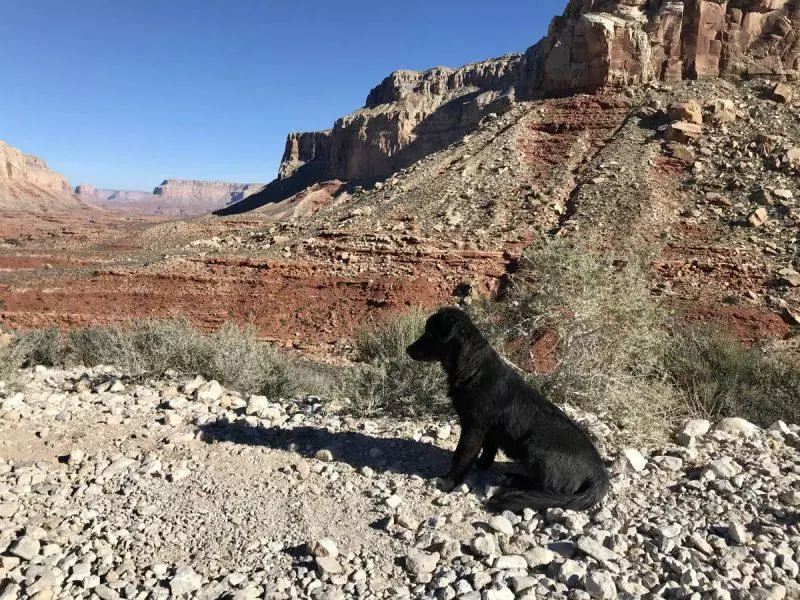 Reservations are so hard to come by so the best time of year to hike Havasu Falls is whenever you can get a permit.
Spring and fall are ideal because the weather is mild for hiking during the day.
The water is a refreshing 70 degrees year-round but it's tough to enjoy when the temperatures drop outside.
The summer months (May-August) are the most crowded months but also the most desirable if you're hoping to swim in the waterfalls.
The campgrounds are not open in December or January as temperatures can drop below freezing at night and camping is not enjoyable or safe at that point.
No matter what time of year you go, campground access is limited to 350 people per day.
I went in November and was surprised by how secluded I felt at the waterfalls, particularly first thing in the morning.
Can this hike be done in one day?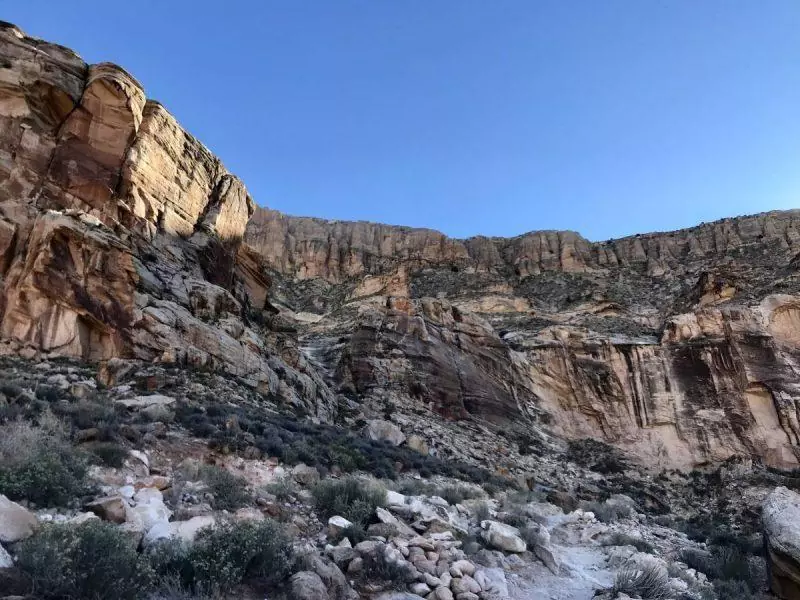 No, you need to stay a minimum of three nights to visit Havasu Falls. This increased in the years since I went — it used to be just one night.
Day hikes used to be allowed but proved to be too strenuous for most hikers and are now prohibited for safety reasons.
In order to stay overnight, you need a permit for the campgrounds or lodge.
You can access the site with a guide for now, although the Supai Council is seeking to ban guides and large groups moving forward.
There are no signs or trail indicators as you're walking; it's just one straight path down the canyon (albeit you have the option of taking several different breakaway trails) with the goal of getting to the same spot at the end.
The only indicator you'll have of distance is either your own map or tools, wristwatch or the guesstimate of the mule handlers that occasionally pass by.
Can this hike be done solo?
I did this hike solo and survived, so yes it can be done, but it's not without its difficulties.
There is no cell reception in the canyon so you have no way of contacting someone if something happens to you.
I asked about emergency evacuation services and they say any helicopter would take at least an hour to get to you, after someone finds you.
There's no water along the way until you get to the spring at the campground, so you need to make sure you're properly equipped to make the journey.
You'll see others on the hike there, but as the day spans on it can be hours in between seeing another human.
The hike can be done alone, but I saw a lot of families and friends doing the hike that appeared to be having more fun since they were sharing the burden.
Not to mention, as a solo hiker you need to carry all your own things.
Still, I wouldn't let being by yourself deter you from making the trek.
If you can only find a permit for yourself, being by yourself is not reason enough to skip out on this adventure.
Havasu Falls Packing List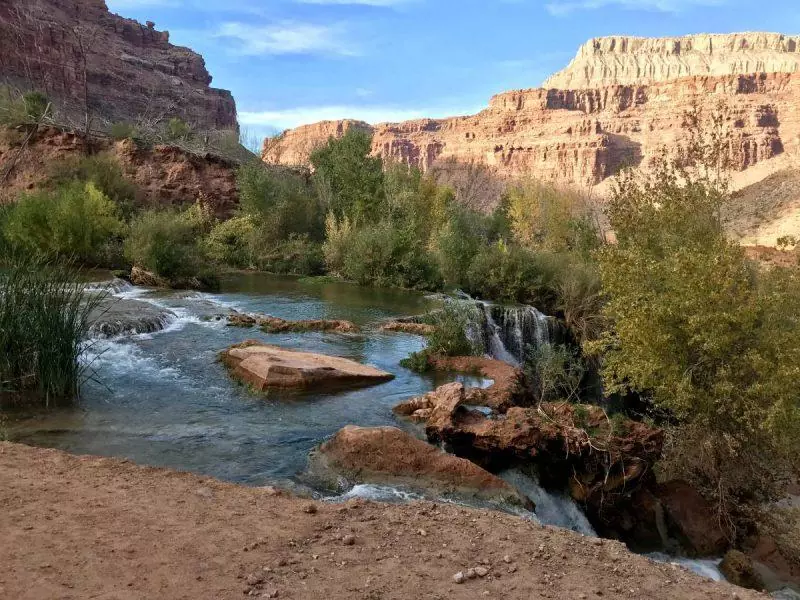 There are some essentials you'll need for your hike. First and foremost, you need water. I recommend getting a hydration pack that you can carry on your bag — I had a Platypus Hoser 3.0L Hands-Free Hydration System
.
This is the Grand Canyon and you'll be in direct sunlight for most of your hike as there's very little shade.
You'll also need quality hiking shoes — this can be the defining factor in whether you come back with any toenails.
I had good luck with the KEEN Women's Targhee II MID WP-W, Slate Black/Flint Stone, 8.5 M US
.
A good backpack is essential. I went with the Eddie Bauer Unisex-Adult Adventurer Trail Pack, True Blue Regular ONESZE.
It is 30L and held all my things snuggly for an overnight trip. I also found it easy to attach things to the outside, including my DryFoxCo Quick Dry Reversible Microfiber Beach & Travel Towel.
I love this item because it comes in beautiful designs, dries quickly like the name says and is appropriate for different settings.
You'll need your own camping gear if you'll be staying at the campground, including a tent and a sleeping bag.
I liked the Coleman 2-Person Sundome Tent, Green
tent because it was sturdy, lightweight and didn't break the bank.
For only $39, I had more than enough room for one person and all my things (it would have fit two people easily) and it was only 7.5 pounds with all the stakes and poles included.
Before I went, I made sure to seal all the seams with the Coleman Seam Sealer
just in case. It worked perfectly and I didn't have any moisture or leaking inside my tent.
Finally, you'll need a RATSACK Lg 10.5 Oz
in order to prevent critters from getting into your food. It's recommended that you not keep food inside your tent but rather wrap them in a plastic ziplock bag first to minimize odors, secure them in a ratsack and then hang the bag from a tree.
Note that in order to operate a portable stove, you will need a fuel canister.
You can't fly with a fuel canister, so you'll need to pick those up at your destination.
I wasn't aware of this restriction and found myself making it to Dick's Sporting Goods minutes before they closed the night before my hike.
Ideally, you should plan ahead and give yourself at least one full day on the West Coast before having to make this trip.
With a little advanced planning, you can survive the Havasu Falls Hike.
If all else fails, just keep putting one foot in front of the other and remember that this, too, shall pass.
Till next time, safe travels!
RELATED POST: VISITING ANTELOPE CANYON IN ARIZONA
Note, this post contains affiliate links. See my privacy policy for details.
Liked this post? Pin me below.