I started flying with JetBlue more than 10 years ago. Aside from adding a checked bag fee (all the cool airlines were doing it) not much has changed.
It's one of the most consistent, comfortable and affordable airlines in the United States.
I'm a member of their loyalty program (TrueBlue) and their co-branded Mastercard was my first travel credit card. I get emails from JetBlue at least once a week and do a lot of my shopping through the rewards portal.
Read on to learn why JetBlue is one of my favorite US-based airlines.
RELATED POST: 10 BUDGET AIRLINES STILL WORTH FLYING WITH
About JetBlue Airways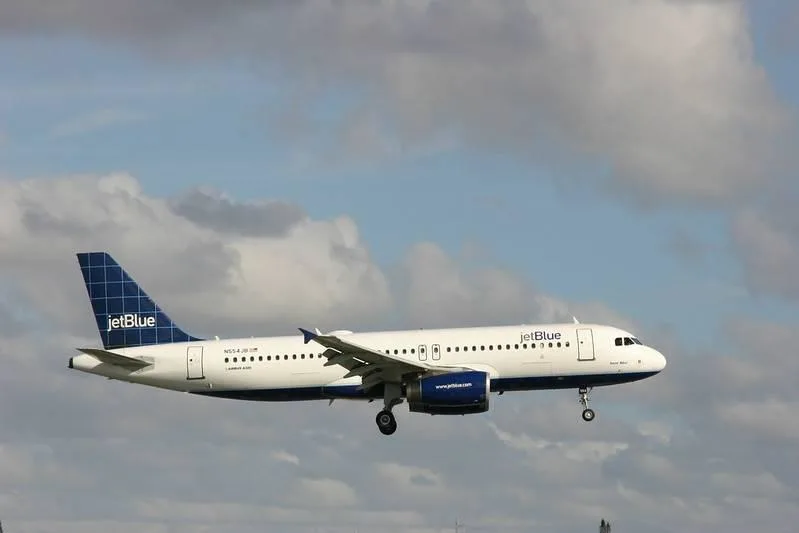 JetBlue is a budget airline based in Long Island, New York. They launched in 1998 and fly to over 100 destinations in the US, Canada, Caribbean, Central America and South America.
I personally have flown with JetBlue to Aruba, Mexico, Ecuador, Puerto Rico and several destinations throughout the continental United States.
The airline has a slogan I can get down with: "the most legroom in coach."
JetBlue offers 32 to 33 inches of legroom in coach, compared to the 30-31 inches offered by competitors like Delta, American and United.
Moreover, their "Even More Space" option comes with 37-39 inches, far surpassing the 35 inches provided on Delta's "Comfort Plus" option.
Their seats are also 18 inches wide, offering up at an inch more than competitors, and they have larger overhead compartments so you can stop stressing over the possibility of having to gate check your bag.
RELATED POST: MY DELTA AIRLINES REVIEW
Amenities on Board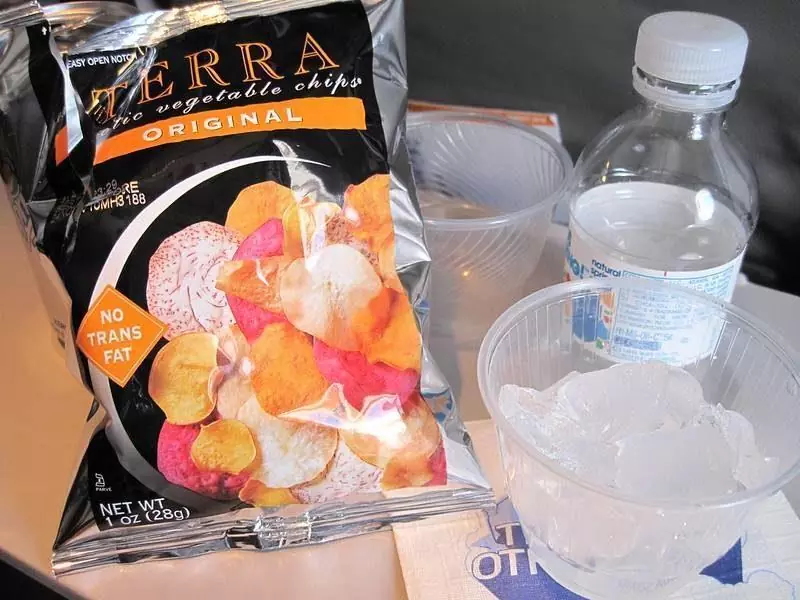 JetBlue airplanes come equipped with 10″ touchscreen, HD monitors on the back of every seat and 36 channels of free DirectTV service.
They also have free WiFi (FlyFi) on every plane flying within the continental US as well as charging ports and USB outlets.
As of September 11, 2022, they have the option to watch live out-of-market football games every Sunday afternoon, so you can cheer on your team from 35,000 feet in the air.
You're served complimentary snacks on board, ranging from chocolate chip cookies to chips popcorn, and assorted beverages.
They charge for alcohol and have more substantial snack boxes available for purchase.
You have to pay for a pillow and blanket but on overnight flights from the West you get a "Snooze Kit," which includes a complimentary eye mask and earplugs, plus hot towel service before arrival.
JetBlue Baggage Policy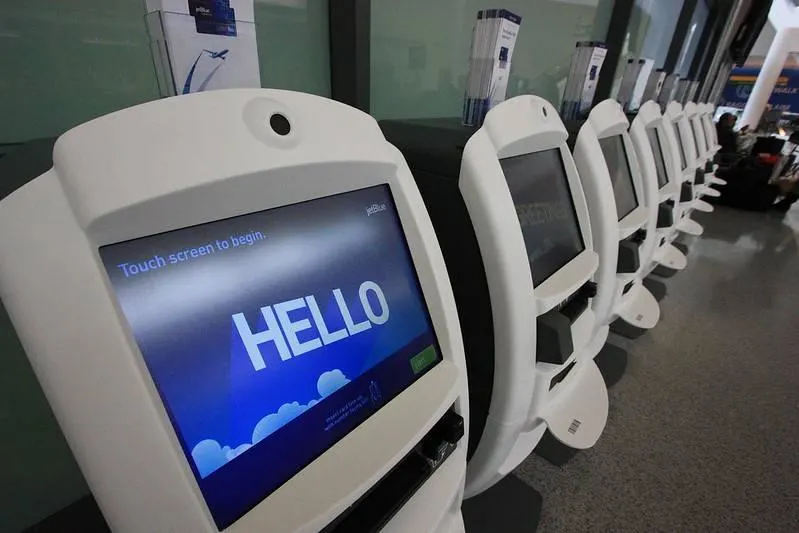 JetBlue charges $30 for your first checked bag and $40 for the second. If you want to check a third bag, the fee goes up to $150 and can only be paid at the airport.
You're charged $150 if the bag exceeds 50 pounds so make sure to weigh your suitcase(s) before checking in.
You can check in your bag up to 3 hours before your flight and no later than 40 minutes before your flight.
You're allowed one carry-on and one personal item on board regardless of the ticket class you purchase. The dimensions allowed are 22 x 14 x 9, standard for most roller bags.
RELATED POST: TRAVEL APPS YOU NEED TO DOWNLOAD BEFORE YOUR NEXT TRIP
JetBlue Terminal at JFK
Since JetBlue is headquartered in New York, they decided to invest in a massive renovation of Terminal 5 at JFK. That terminal is now the JetBlue terminal.
Aside from being on theme color-wise, they have free WiFi throughout that's sponsored by JetBlue, self service check-in kiosks and bag tagging and even an outdoor rooftop deck.
You can access it via AirTram from elsewhere at the airport or from different points of access around the neighborhood.
Note that if you arrive on an unrelated connection with a separate airline more than 3 hours before your flight, you will likely have to wait to check in your bag and won't be able to go through security.
Also, the terminal is generally closed from midnight to 5am.
If you need a place to wait it out, head to Central Diner at Terminal 4. They're open 24 hours and serve a killer red velvet cake.
JetBlue Credit Card
It took me forever to get a credit card. I was in school until I was 25 and my parents didn't think it was wise to have one. They were probably right.
The first real credit card I took out (aside from a $200 secured Capital One card for people with no credit) was a JetBlue Mastercard.
I had a $2,500 limit and got bonus miles for meeting the minimum spend threshold in the first three months.
With those miles, I flew to Aruba for under $70 roundtrip. I've also used JetBlue miles to fly to San Francisco for $22 roundtrip and to Ecuador for $16. It's one of the most user-friendly award programs, with reasonable point redemption values and no black-out dates.
I also shop on the TrueBlue portal through partner links which allows me to get even more points. For instance, if you book a stay at the Marriott or a rental car with Budget after clicking through the JetBlue link, you earn miles for your purchase.
So the $100/night hotel you were going to pay for anyway is now earning you 100 points a night, and the only thing you have to do different is click the link through the portal so the hotel can track the sale back to JetBlue.
Partners change regularly. Currently, JetBlue is offering 3x the miles for Amazon purchases made in-flight so you could get 300 miles for buying $100 worth of merchandise. Check the TrueBlue dashboard for the most updated partner list.
RELATED POST: HOW TO BOOK YOUR FIRST AWARD FLIGHT
The Verdict: My JetBlue Review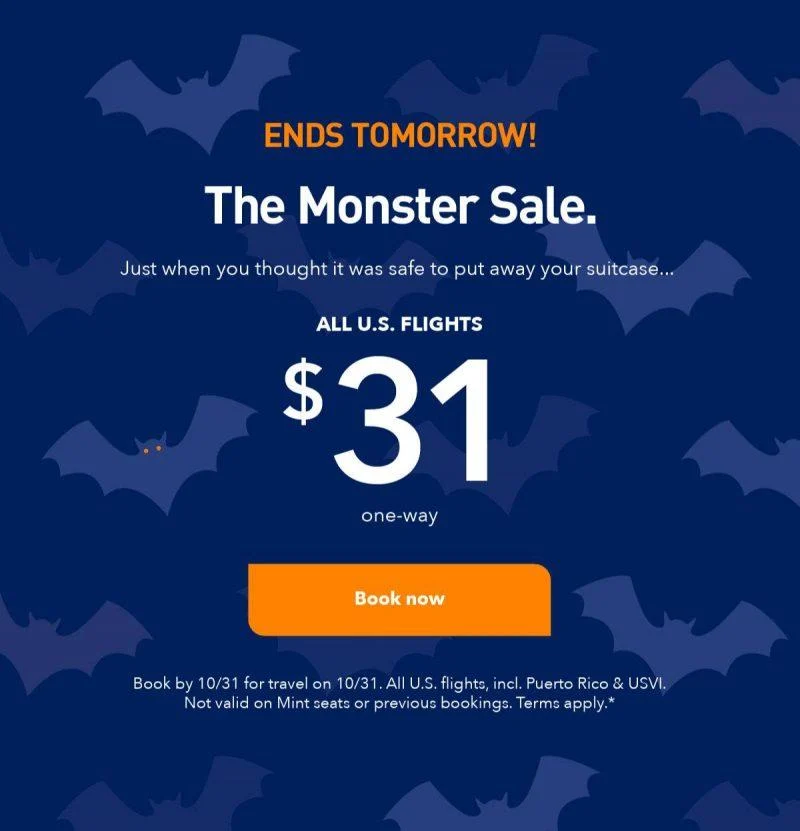 While no airline is perfect, I would recommend JetBlue.
I find their customer service to be polite and responsive.
I've had to be rescheduled before due to weather cancellations and they handle the lines of disgruntled passengers quickly and smoothly.
I like that the airplanes are well-equipped and give everyone some semblance of personal space. I enjoy the free food and entertainment.
I also especially enjoy the <$100 "Flash Fares" advertised via email and social media every 6-8 weeks.
These fares are unbelievable, like the $31 one-way flights pictured above, and are meant to sell out any unsold seats.
Overall, I would highly recommend JetBlue and would say it's in the running for the best airline in the United States, IMO. I hope they continue to expand into South America and perhaps Europe one day.
RELATED POST: HOW TO FLY TO EUROPE FOR $300 OR LESS
Till next time, safe travels!
Liked this post? Pin me below: