Are you heading to Little Bighorn? Read on for everything you need to know before your visit.
Little Bighorn Battlefield is a U.S. National Park and one of the most unique battlefields in the world.
For one thing, the indigenous people won this fight. It was a victory for the Sioux, Cheyenne and Arapaho tribes, and a devastating loss for the 7th cavalry.
It is also one of the only battlefields in the world that attempts to mark the exact location where the combatants fell.
This is a heavy place, teeming with meaning and historical significance. If you're a fan of stories, valor and vast landscapes, Little Bighorn is a must-see.
RELATED POST: BEST PLACES TO EAT IN BILLINGS, MONTANA
Closest airport to Little Bighorn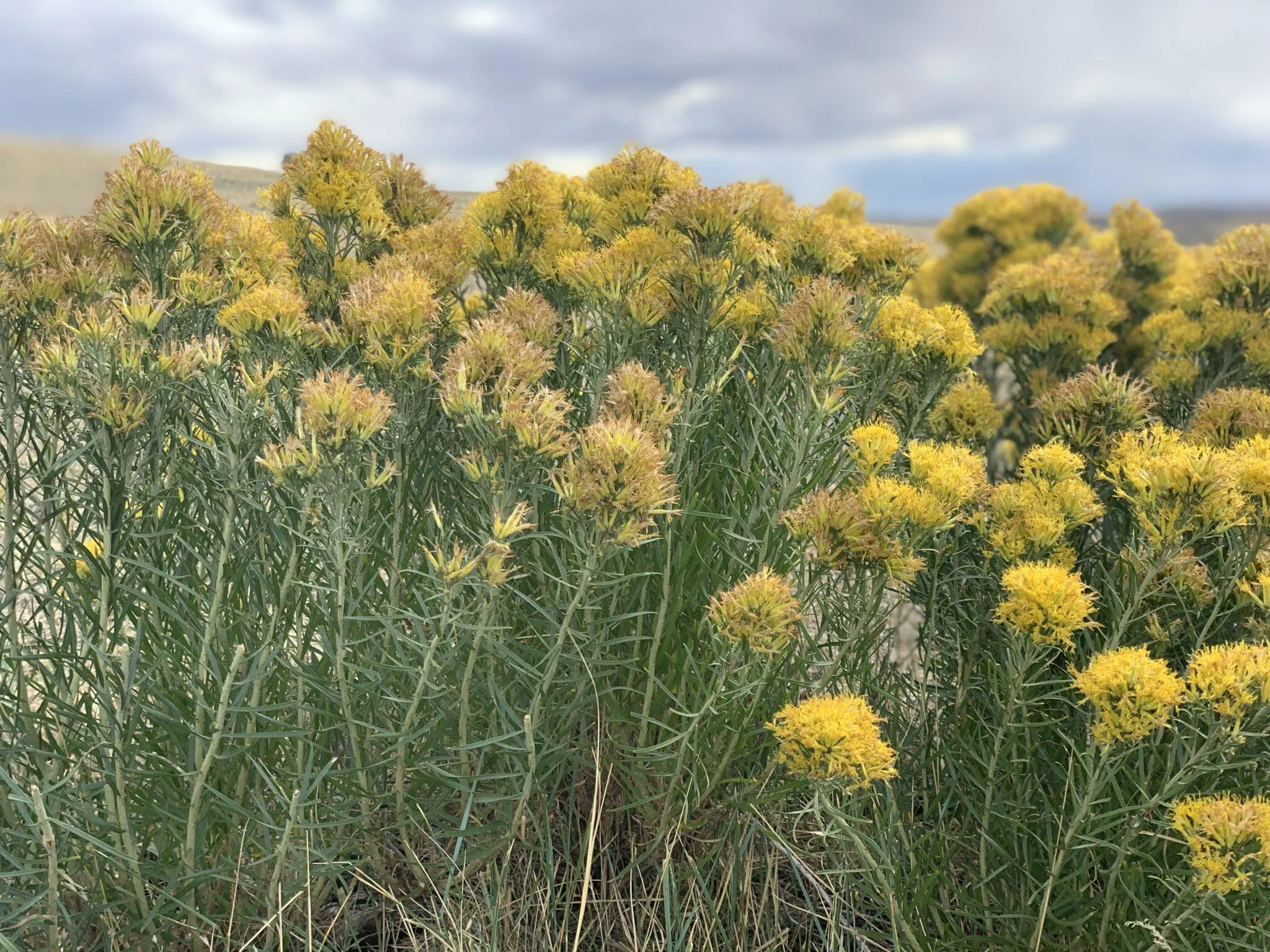 The closest airport to Little Bighorn Battlefield is Billings Logan International Airport (BIL), located just 56 miles away. Billings is the second largest airport in Montana and has flights from all over the country.
Many are smaller connecting flights, so if you're coming from further away you may end up taking a short "puddle jumper" flight from Chicago or Salt Lake City.
The next two closest airports are Sheridan (59 miles away) and Cody, Wyoming (107 miles away). If you're flying into Cody, many regard that as the entrance to Yellowstone National Park.
RELATED POST: HOW TO PLAN A VISIT TO YELLOWSTONE NATIONAL PARK
Entrance fee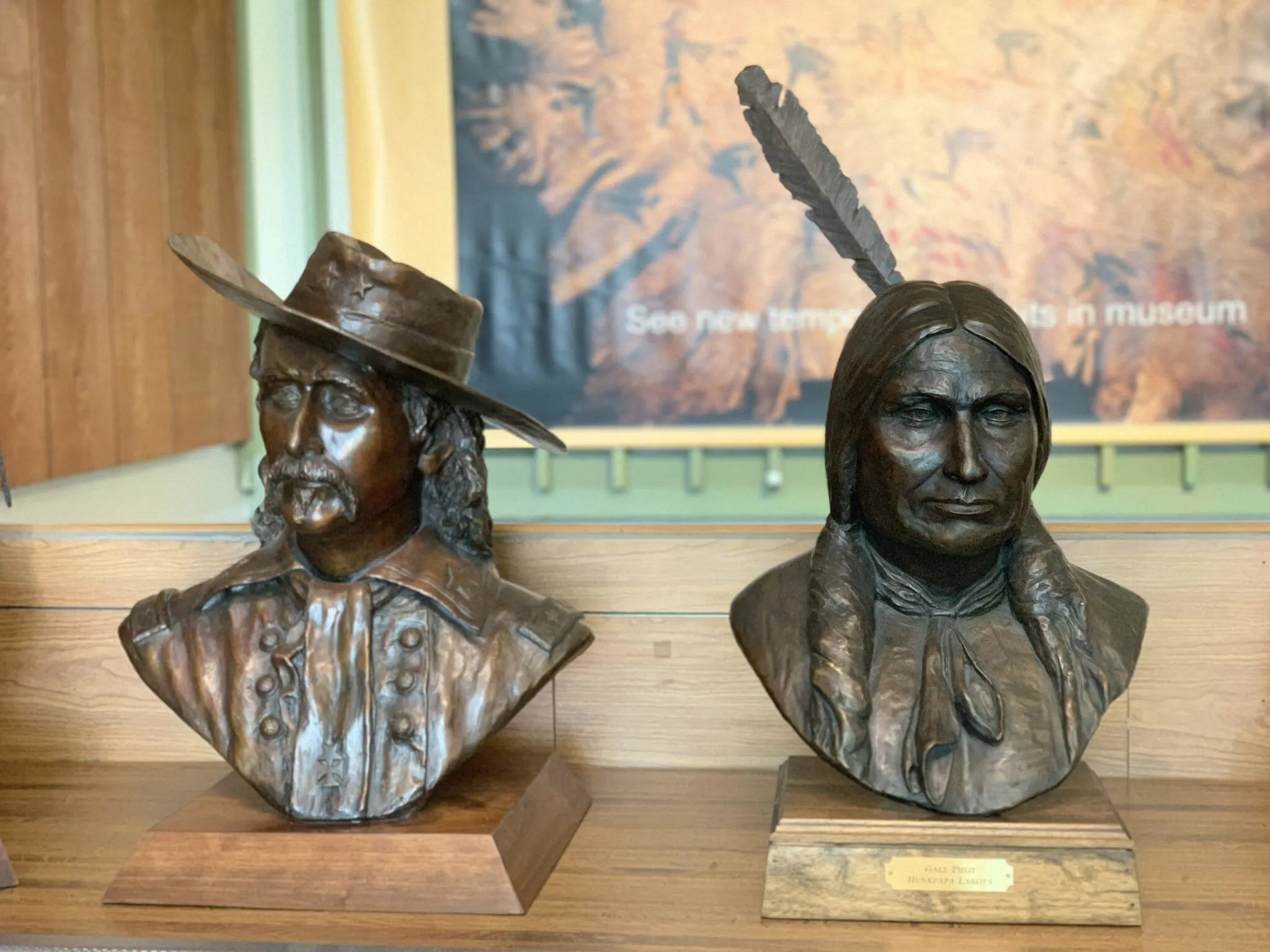 There is a $25 fee per vehicle to enter Little Bighorn, waived if you have an annual U.S. National Park pass.
There are also free entrance days every year. They vary but usually include August 25th (National Park Service birthday), September 25 (National public Lands Day) and Veteran's Day.
If you're coming on foot or bicycle (remote area so not necessarily recommended) then it's only $15 admission.
You need to pay at the entrance before you're allowed to enter. They accept credit cards. Parking is free but somewhat limited.
The park has different hours depending on the season. They open at 8am but close at 6pm in summer and fall and 4:30pm in spring and winter.
On-site and virtual tours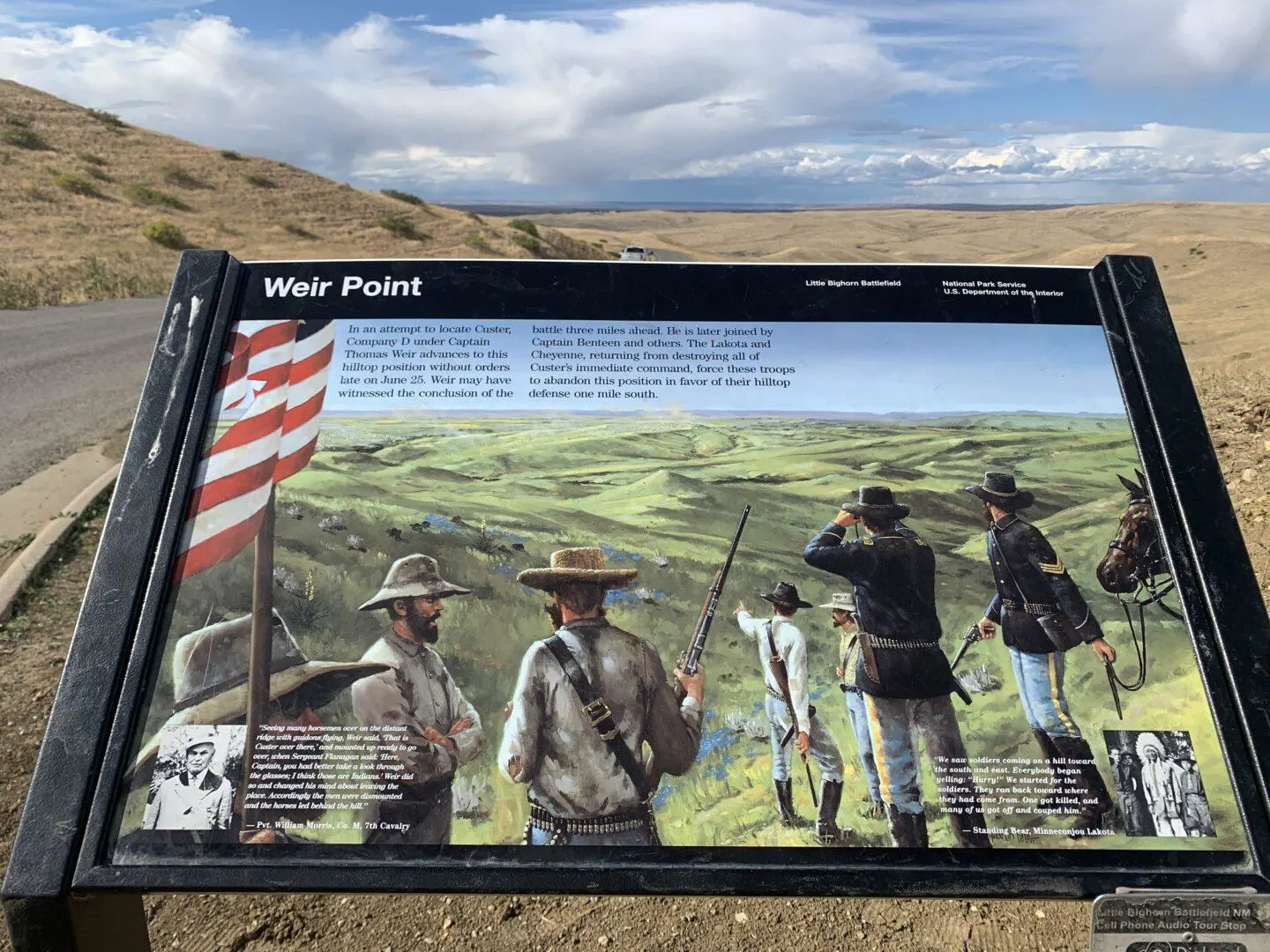 Typically, one-hour Apsaalookee tours of the battlefield are held by the Crow tribe. They cost $15 and run from 10am – 3pm every hour on the hour but are currently suspended due to the pandemic.
A park ranger will routinely do a verbal presentation throughout the day in or around the visitor's center, although the topic can vary.
I listened to a 20-minute talk that focused heavily on Custer. Others may talk about the horses, details of the battle or monuments on the land.
There is a self-guided tour around the battlefield that you can listen to by scanning the QR codes as you see them, or by manually dialing in to 406-214-3148.
If you want to learn more about the site but aren't yet planning a visit, you can listen to the full audio tour by calling this number. Find the list of topics discussed here.
There is also a Little Bighorn driving tour consisting of 4.5 mile in-and-out loop around the land, with markers placed along the way to share more context and history.
There is no official virtual tour but there's an introductory video that is promoted at the Visitor's Center and found on YouTube. Click here to watch it.
Soldiers killed at Little Bighorn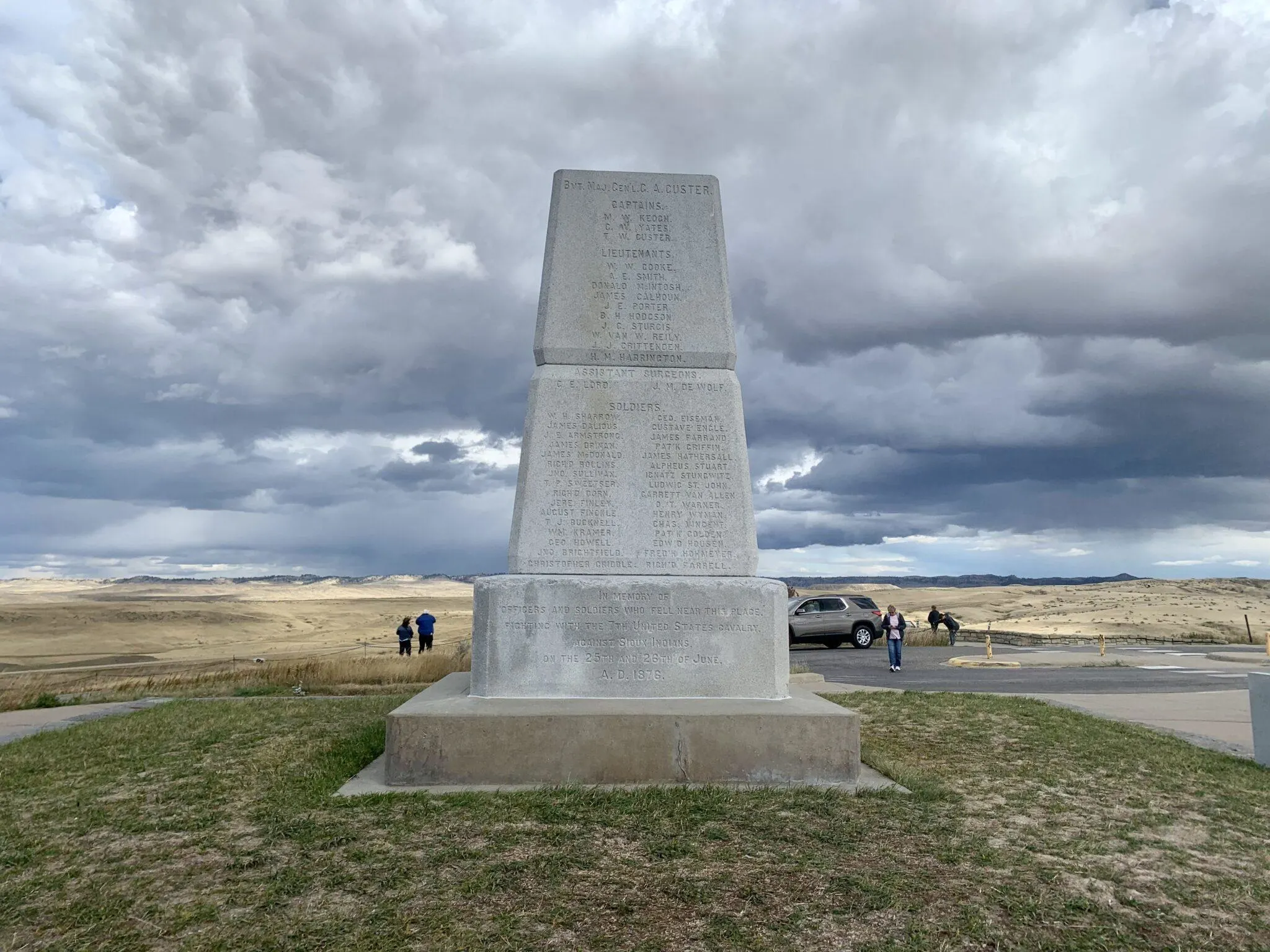 A total of 268 members of the 7th cavalry died at Little Bighorn, including members of warring tribes. Click here to see the full list of names.
Today, their names are carved into a stone monument in their honor, erected in 1946. It is on a hill, a prominent position easily seen from the entrance.
A portion of the land was designated as Custer National Cemetery and now holds more than 5,000 armed service veteran and their loved ones.
The cemetery closed to new plot reservations in 1978 (although they will honor any pre-existing reservations made) and is one of 14 cemeteries administered by the National Park System although there are more than 150 cemeteries in the National Cemetery System.
Custer's Last Stand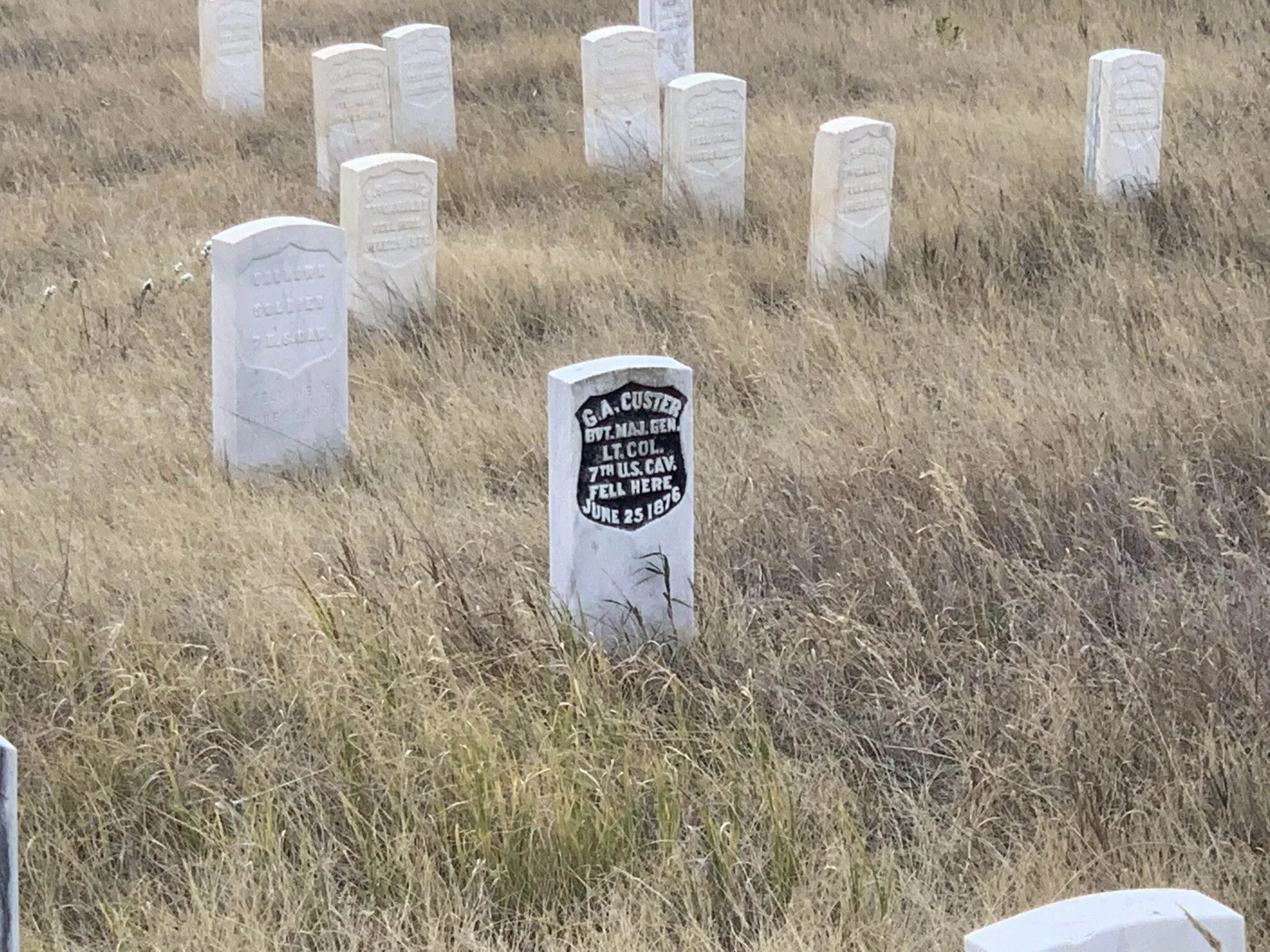 The Battlefield has come to be known as "Custer's Last Stand" because it is where General Custer died, although it is not where he is buried. His funeral and final resting spot are at West Point.
The place where he fell has a headstone marker. It is blocked off so you cannot walk amongst this area.
The "Indian" Memorial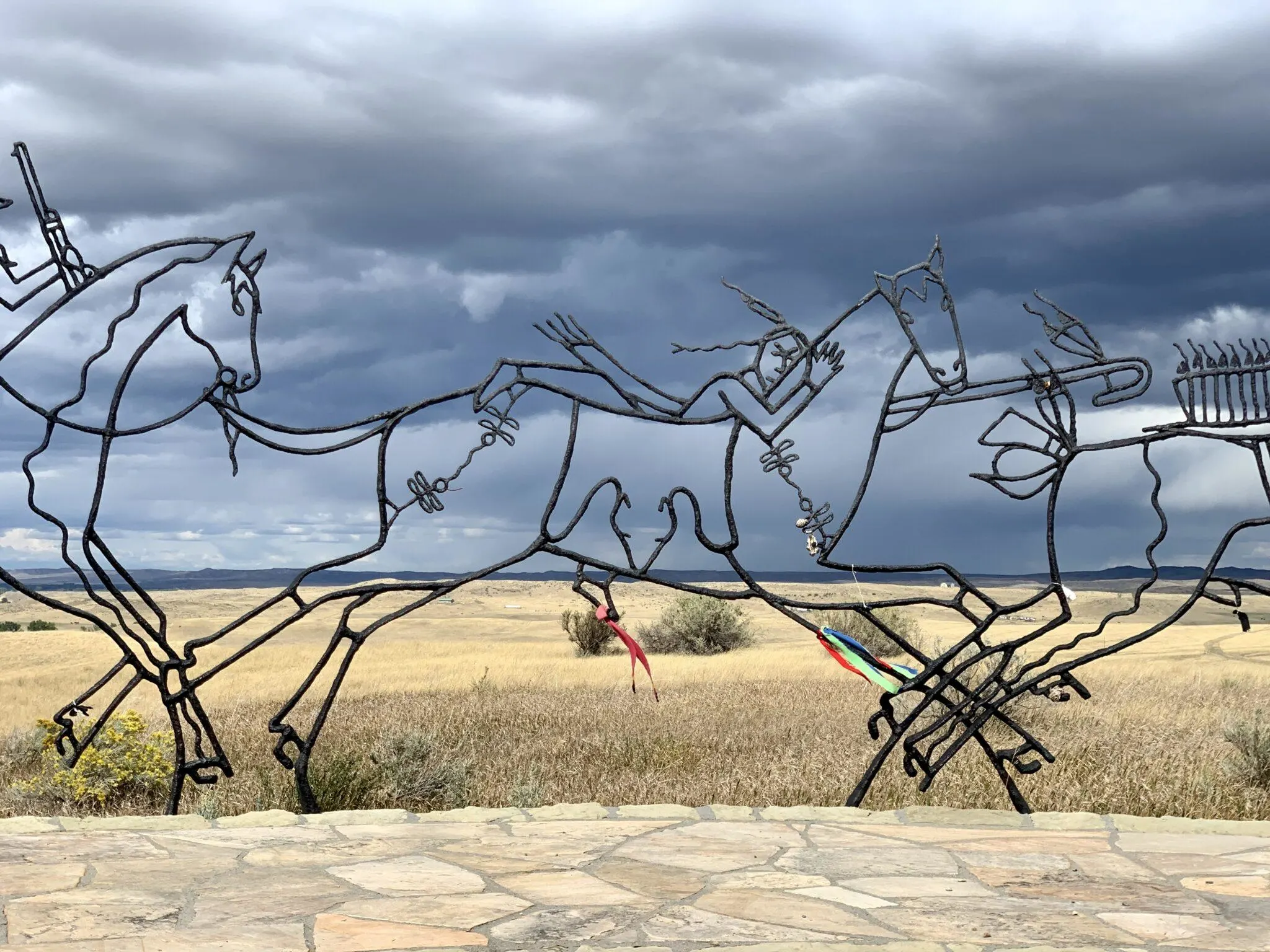 In 2003, a new memorial was built to pay tribute to all the indigenous people who lost their lives at the battle.
Unlike the soldiers, the fallen tribe members were buried traditionally by those who survived them. It wasn't until nearly a century later that their heroic efforts would be recognized.
There was a public art contest conducted in an effort to re-imagine the park, from the US army's perspective to the last stand (and greatest victory) of the Plains "Indians."
Note, I put "Indian" in quotation marks understanding that this is not the proper term, and also that the official names of these monuments have not yet caught up to changing societal standards.
While most of the burial markers on the property are white, there are sporadic red markers throughout (18 total) representing the warrior losses.
About the horses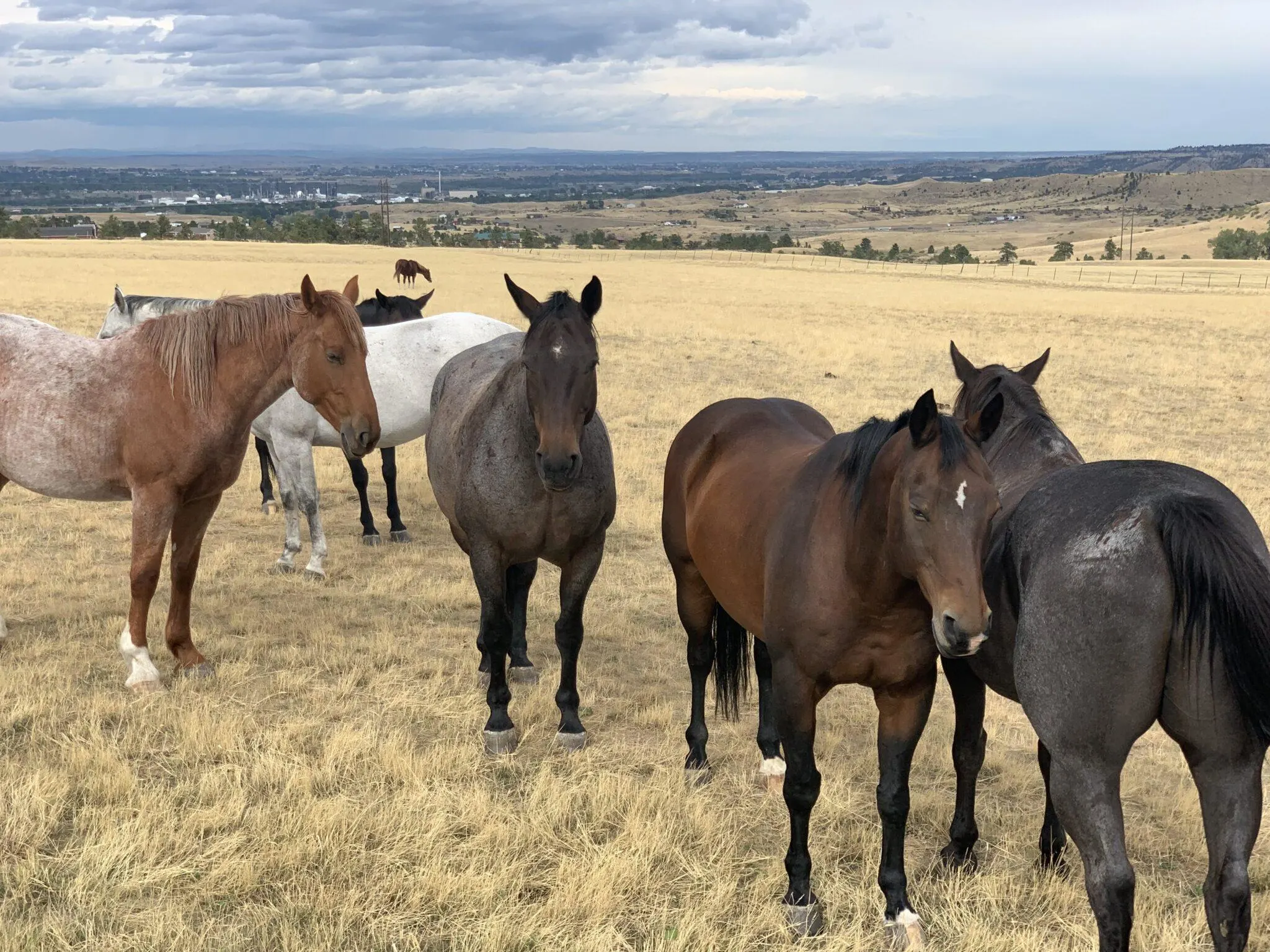 There are two horses who became famous (and possibly immortal?) after the battle.
The first is Comanche, from the Cavalry's side, who took no less than 7 bullets but lived for another 15 years. He became a mascot of sorts for the army.
There was also a legendary horse on the indigenous tribes' side, although he is less talked about.
He was nicknamed "Famous War Horse," although no one knows how long he lived. He was a pinto horse and returned back to the Arikara village more than 300 miles away despite also sustaining serious injuries.
Little Bighorn Visitor's Center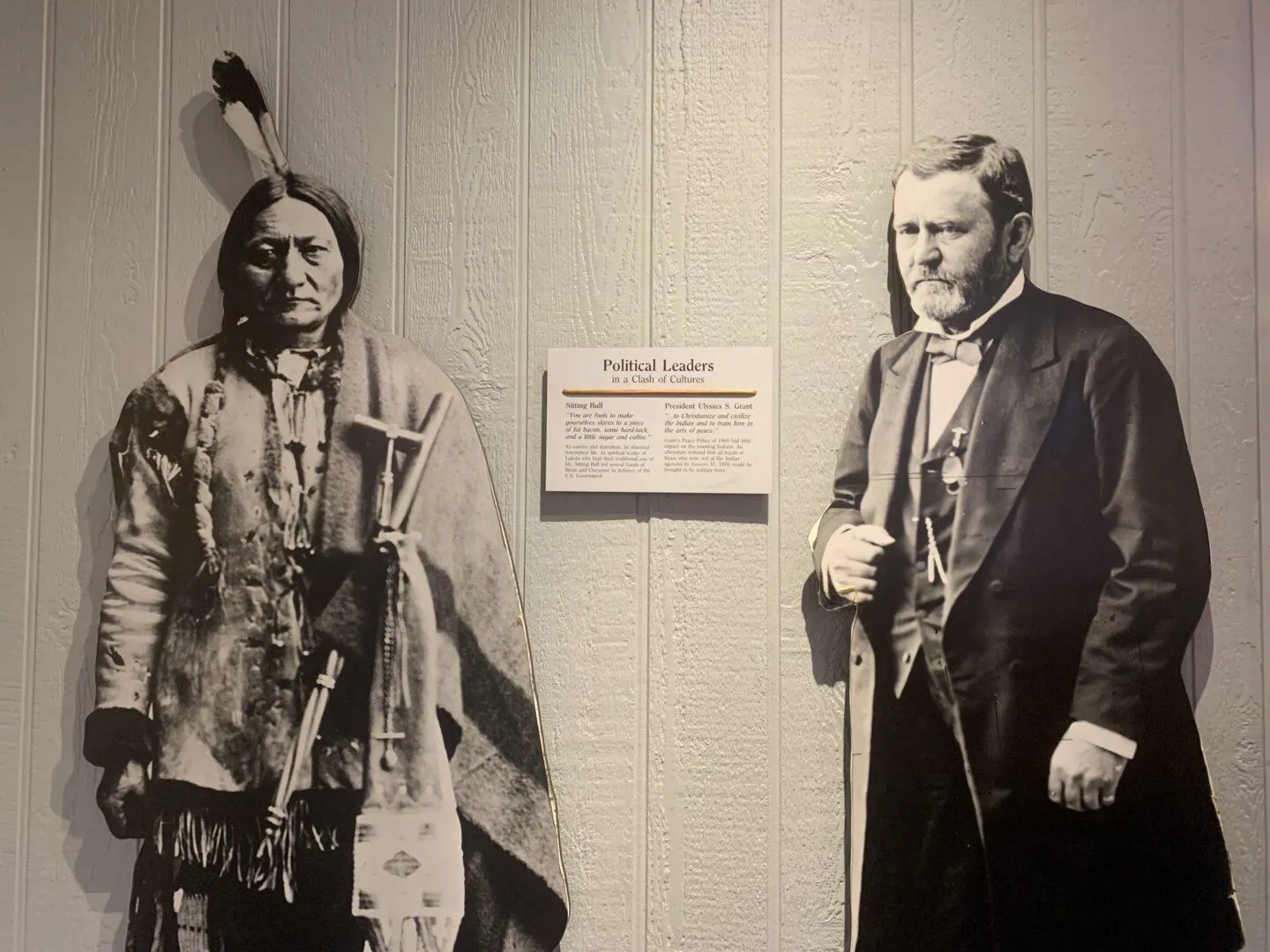 The Visitor's Center is a worthwhile stop while at Little Bighorn. They have a small museum in place where you can see artifacts and uniforms from that time period. It is free to enter.
They have a gift shop with a variety of items, from sage soap to huckleberry jam. They also have a junior ranger program here that kids can participate in.
Things to do around Little Bighorn Battlefield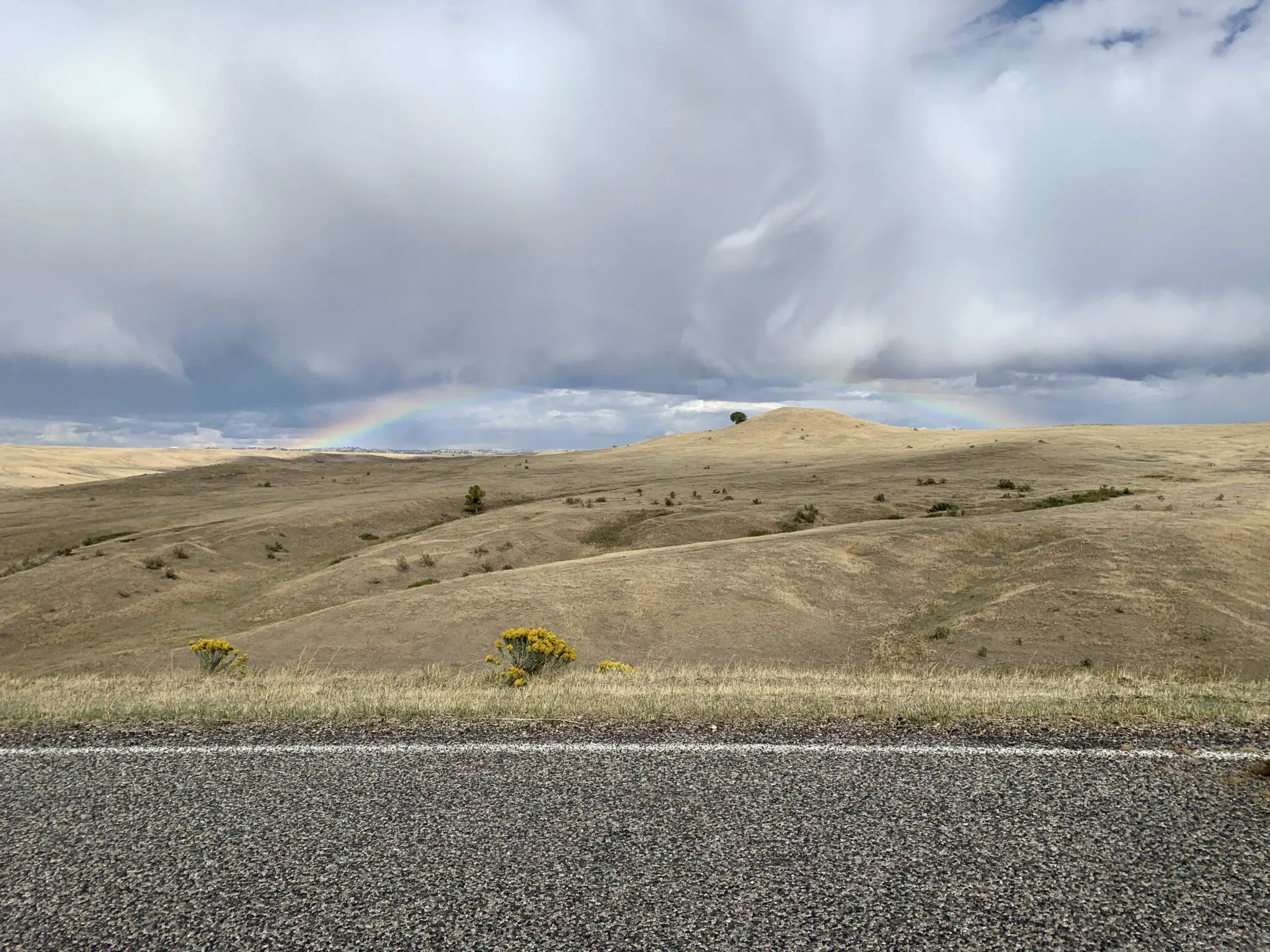 On my drive out of Little Bighorn I saw a rainbow, a symbol of hope. It seemed appropriate.
There's not much to do in the immediate area but across the street from the entrance there's a place called Custer Battlefield Trading Post Cafe. You can find food here, as well as some tepees and wagons out front. They serve buffalo steaks and burgers. Their specialty is Indian fry bread.
They also have a gift shop with indigenous art, jewelry and souvenirs. They employ members of the Crow and Cheyenne tribes. The battlefield and cafe both sit squarely on Crow land.
Beyond that, the Buffalo Bill Center for the West in Cody, Montana is only 50 miles away and is a great continuation of your American History trail. You can also head to Billings, one hour away.
RELATED POST: THINGS TO DO IN CODY, MONTANA
Till next time, safe travels!
Note: This post was sponsored by Visit Montana. All opinions are my own.
Liked this post? Pin me below.