Looking to plan the perfect Yellowstone itinerary? Here's everything you need to know, whether you have one day or one month to spend in the park.
Yellowstone National Park is America's first national park and is located primarily (96%) within the state of Wyoming.
It's also partly locate in Montana (3%) and Idaho (1%). The fact that it spans 3 states should give you an idea of how massive this park is.
In fact, Yellowstone is one of America's last remaining stretches of untouched wilderness.
With the reintroduction of the wolf population in the 1990's they now boast a complete ecosystem. What's more, humans only enter 2% of the park. The rest is pure, untouched wilderness.
This is what makes Yellowstone a prime spot for animal sightings, from black bears to buffalo.
As if that weren't interesting enough, it's also a site of massive geothermal activity. It sits on a massive volcano and is home to more than half of the total active geysers on earth.
Anyone who is a fan of hiking, nature and out-of-this-world landscapes needs to put Yellowstone on their bucket list.
Here's everything you need to know to plan the perfect Yellowstone itinerary, whether you have a day, a week or a month to spend in the area.
RELATED POST: BEST PLACES TO EAT IN CODY, WYOMING
How to get to Yellowstone National Park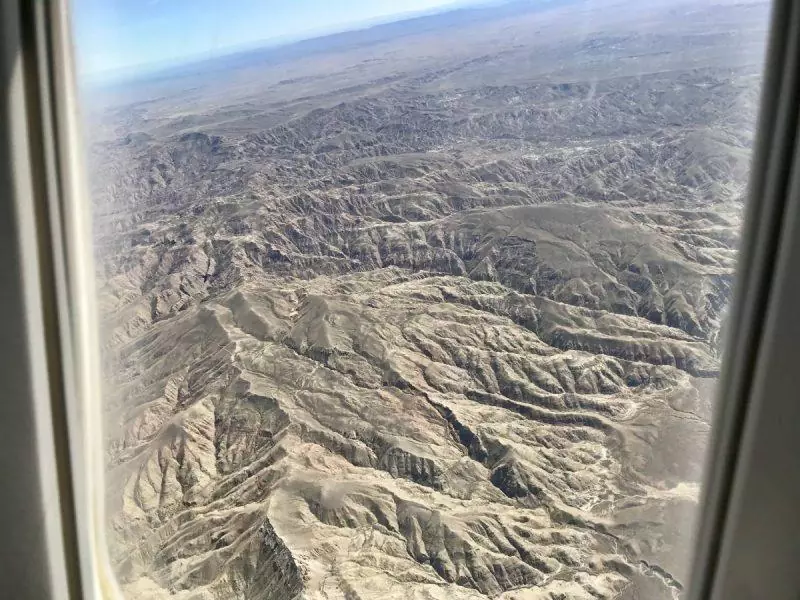 If you're flying you can reach Yellowstone through Jackson Hole Airport in Grand Teton National Park, which leads you to the south entrance of the park, or through Yellowstone Regional Airport in located in Cody, Wyoming, which leads you to the east entrance.
If you're driving, the main visitor center and park headquarters are near the north entrance.
There's also a west and northeast entrance for 5 total points of entry.
When planning your Yellowstone itinerary, note that the majority of park roads are closed to regular vehicles from early November to late-April when the park switches to oversaw travel, such as snowmobiles and snowcoaches.
The only road that is open year-round spans from the North Entrance at Gardiner, Montana, through the park to Cooke City, Montana (via Tower Junction).
You cannot travel east of Cook City via Beartooth Highway in the off season.
You can find up-to-date information and live webcam footage on the park's website the day of your visit.
RELATED POST: 15 THINGS TO DO IN CODY, WYOMING
How long do you need in Yellowstone?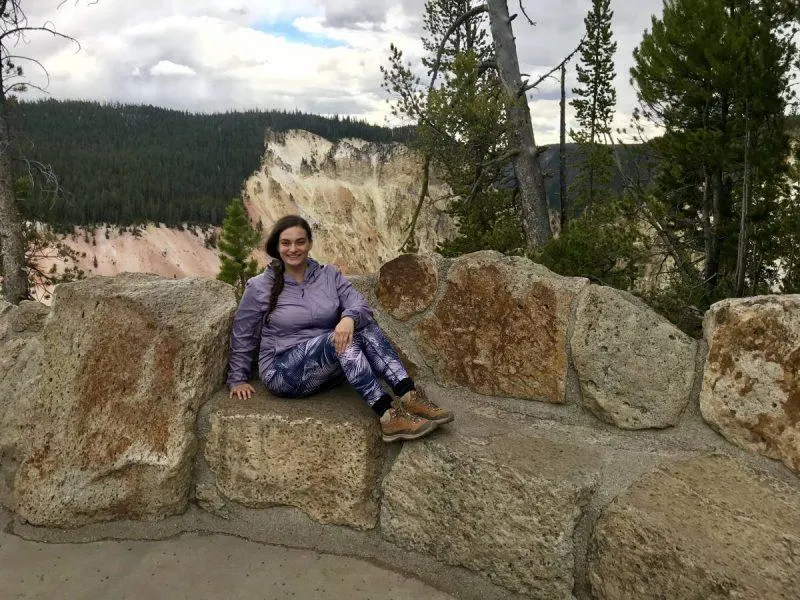 It can take hours to drive from one side of the park to another so it's recommended you stay at least a few nights to be able to enjoy what the park has to offer. I recommend a minimum of 2 days but many people come for weeks or even months at a time.
I would say 4-7 days is the sweet spot for the average traveler since after that you start to feel off the grid without steady internet access or phone service.
I recognize not everyone has that kind of flexibility with work, but keep in mind that the longer you stay the better chance you have of spotting the unpredictable thermal features and wildlife.
Note that the entrance fee at the gate is $25.00 per vehicle and the pass is good for seven days, including Grand Teton National Park.
If you're interested in spending an extended amount of time at the park, look into their Helping Hands Program.
This is a program that allows you to live and work in Yellowstone part-time as they experience a lag in staff at the end or beginning of a season.
Dorm housing and 3 meals a day are provided at a low cost and you get paid $10.10/hour for your work.
Most jobs are in hospitality or food & beverage but they have opportunities to earn more and work in an area related to your field.
Reach out to them directly for more information.
Should You Stay in Yellowstone?
If you're staying overnight (which I recommend) it's most convenient to stay on the premises.
There are several hotels available at difference price points. You can book them directly through the Yellowstone lodges website.
Recently they started outsourcing bookings to third parties like Expedia but only for unsold rooms, which aren't common since the demand exceeds availability.
You won't find a cheaper rate since Yellowstone and the park operators have a cap on what they can charge. ADA rooms and suites are available as well.
Notably, no telephones, televisions, radios or air conditioning units are available in park lodging.
They want you to disconnect. There are fans available if it gets hot. Also note — WiFi is sparse. It's only in the common areas in most places and even then loads very slowly.
I did not have success with a mobile hotspot. It's been rumored that they'll be updating this in the near future but for now there's a strong mentality that if you're in the park you should be enjoying nature or talking to people, not looking at your screen.
Those looking for an alternative to park lodging can look into surrounding properties like Silver Gate Lodging.
They have different types of cabins available and rent spotting scopes out if you don't have any.
This is also a good stop on your way in and out of the park as they have a general store with food, souvenirs and a nice restroom (a commodity in the wilderness).
Yellowstone Lodging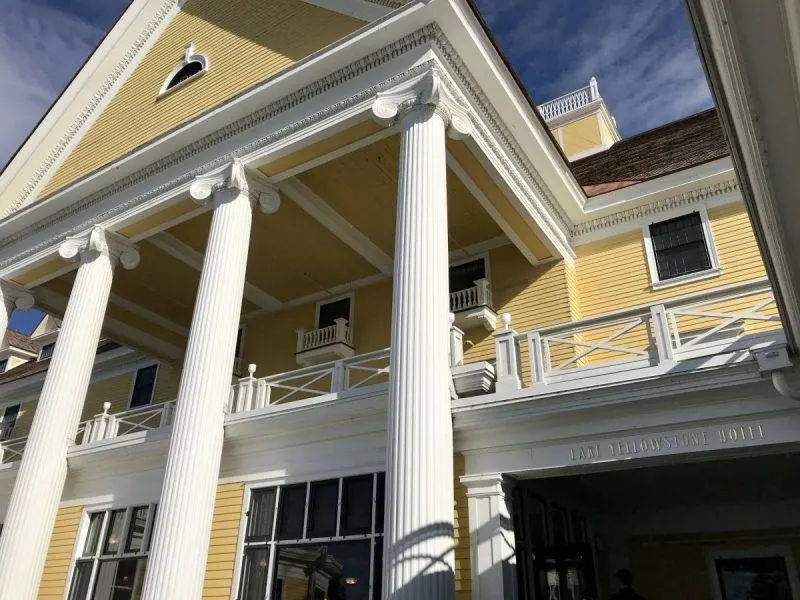 There are nine lodging options total. The fanciest is the Lake Hotel, a yellow, colonial-style building with massive white columns that sits lakefront. You might find a string quarter playing in the sun room.
It was designated a National Historic Landmark in 2015 and maintains its essence despite extensive renovation and expansion. You get what you pay for here, so expect your room to have a hefty price tag.
The next place I'd recommend is the Canyon Lodge and Cabins. It is the largest hotel with 500 rooms and is located near the east entrance. There's also the option of staying in the cabins, which include private full bathrooms and two queen beds.
I stayed at the Mammoth Hot Springs Hotel & Cabins and it was stunning. There's a gift shop on site as well as an impressive lobby and sitting area with live music and a wooden map on display that's of historical significance.
Finally, I will note that the Old Faithful Inn is a work of art and beautiful place to stay if you're looking for a luxurious log-cabin setting. There's a formal restaurant inside and you can arrange for a room with views of Old Faithful.
There's also a gift shop downstairs and tours and events held regularly. On my visit there was a book signing. Since it's not insulated, this location closes down for the winter.
Food and Dining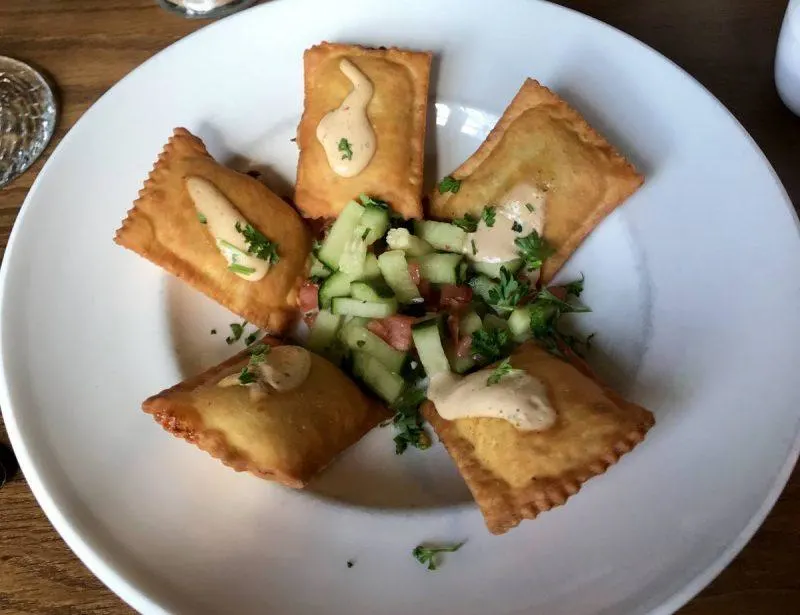 You can find grab and go options like coffee and sandwiches scattered throughout the park hotels.
There's a large food court near the east entrance called the Canyon Lodge Eatery. It has different prepared meals and formal dining options if you're with a group and looking for variety. There's a bar called M66 as well as an ice cream shop and cafe.
Otherwise I recommend checking out the hotel restaurants.
The Old Faithful Inn Dining Room has fried trout ravioli that was to die for and a popular lunch buffet that draws in a crowd after the famous geyser's 11am eruption.
This is also where you'll find the Old Faithful Snow Lodge Obsidian Dining Room, serving local favorites like bison short ribs.
The Mammoth Hotel Dining Room is great for views of the surrounding wildlife.
It was elk mating season when I visited so they were everywhere. It's also the first 4-star certified green restaurant in the national parks, and one of only 25 in the country.
If you want to bring your own food, make sure you opt for a room with a refrigerator. You can have fires in fire pits in the developed campgrounds/picnic areas and openly in back country campsites.
Yellowstone Attractions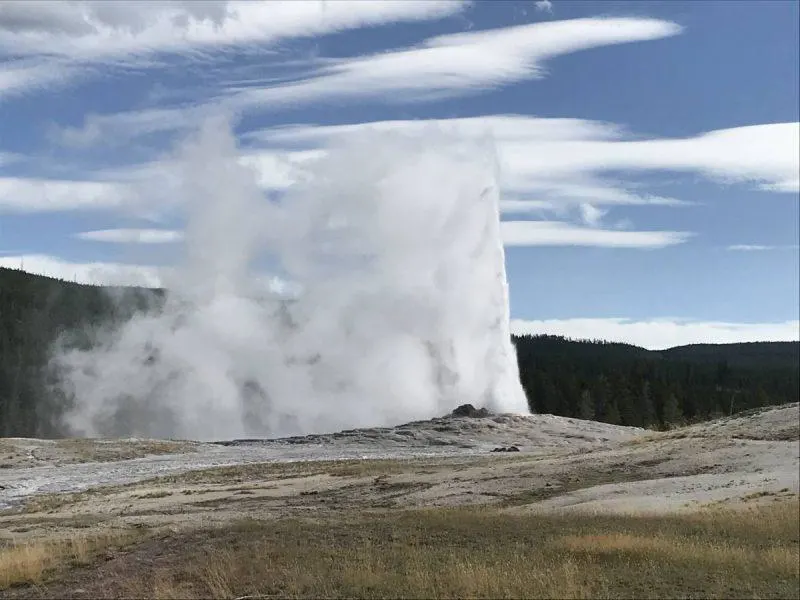 The park is split up into a lower loop, upper loop and grand loop. The number one attraction is Old Faithful. It erupts every hour, give or take 10 minutes, and you can call ahead to get an estimate of when it's next set to go off.
There can easily be 2,000+ people to watch a single eruption. Be very careful to not step off the boardwalk — the ground is unstable and injuries have happened in the past with tourists that strayed off path.
If you only have one day in Yellowstone, aim to see Old Faithful and the nearby Grand Prismatic Spring and Fountain Paint Pots in the morning, then head to Artist's Point overlooking the "Grand Canyon of Yellowstone," a scenic waterfall brought to life in coveted Thomas Moran paintings.
It'll take about an hour to reach and you have the option of stopping at the top or bottom of the falls, or both. Canyon Village is nearby for food.
If you have two days in Yellowstone, head to Mammoth Hot Springs Terrace and from there see the hoodoos and go wildlife spotting in Lamar Valley. Depending on how good the viewing is you can also fit in Tower Falls and Dunraven Pass.
If you have three days in Yellowstone, head to see the Mud Volcano region and Yellowstone Lake.
You can also explore Gibbons Falls, Hayden Valley or the north geyser basin.
If you have a week or more in Yellowstone, make it a point to see the Echinus Geyser erupt. It can take anywhere from 2 hours to 4 days but is one of the best eruptions you'll see in the park.
Some other unique geysers to watch out for include Castle Geyser, which shoots over 30 feet high and sounds like a train, and Riverside Geyser, erupting more than 80 feet across the Firehole river.
If you have a month or more in Yellowstone, consider working part-time at the park for a different perspective through the Helping Hands program.
If you are able to plan your trip well in advance, make it a point to go on the Crow's Nest Tour at the Old Faithful Inn.
The Crow's Nest is a "treehouse" located at the top of the atrium that is usually off-limits to the public. They take up one family per night to lower the flag and you can watch Old Faithful erupt from a unique vantage point.
It's a very special experience most people don't even know about. To book your space you need to call way in advance, around mid-May the year of the date you're looking to book.
The phone number is 307-545-4606. Space is limited and spots fill up quickly.
Know Before You Go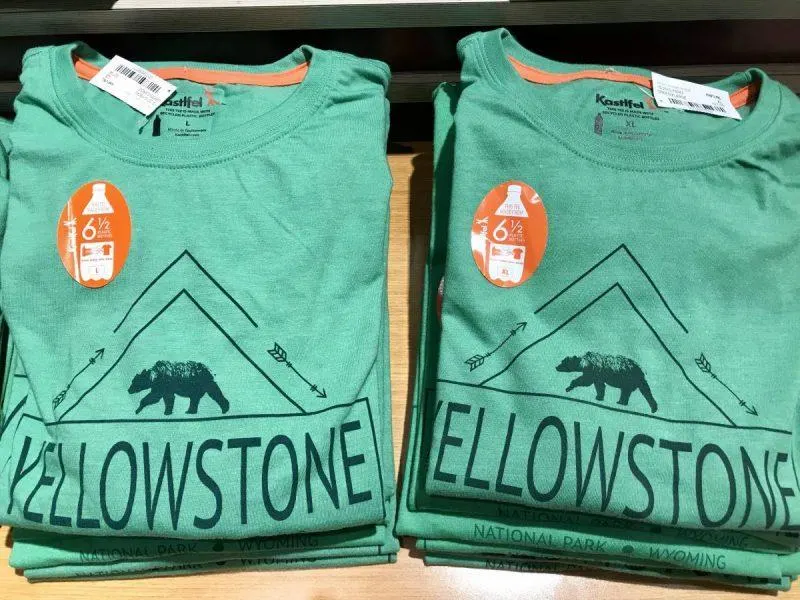 There are RV parks available if you're driving, though be aware that winds in Wyoming have been known to knock them over so you should take great care when driving in the area.
Moreover since this is federal property any speeding ticket is considered a federal offense and you may have to appear before a US magistrate.
Yellowstone takes its commitment to sustainability and conservation seriously.
They divert 60% of their trash from landfills and use recycled products on everything from their countertops to t-shirts.
Keep this in mind during your visit and be mindful of your habits — do not leave anything in the park that wasn't there when you arrived and do not take anything with you.
They don't even remove burned down trees from the park as it would affect the biomass.
There is such a thing as bear spray — a can will run you anywhere from $35-$50. You can also rent some for $10/day. The idea is to spray the bear, not yourself, and it's supposed to work well.
The official park concessionaire for Yellowstone is Xanterra.
They offer a variety of tours if you want to sit back and let someone do the hard work for you, including a one-day highlights tour. Some packages even include lodging.
I recommend signing up for a tour if you want context or if you're unfamiliar with the area. It can be dangerous navigating the wild and the whole time I was with our Xanterra guide, I felt safe.
I also felt like we had an advantage when it came to spotting animals as we had someone who could better position us based on his experience.
No matter how you choose to set up your Yellowstone itinerary, it is sure to be the trip of a lifetime.
Till next time, safe travels!
Note: I was hosted during my stay as part of a press trip. All opinions are my own.