Looking for a review of Knack Bags? Read on to find out if this is the right bag for you.
I recently had the chance to partner up with Knack Bags before my second TEDx talk and I was thrilled because I'd been looking for high-end, professional items to take with me on me trip. It's not easy holding on to belongings when you're constantly on the go, and most of the things I own end up wrinkled or damaged from transport.
Knack came to my rescue and sent me one of their Medium Expandable Knack Packs in sangria red. It was perfect — matched the TEDx logo and everything!
Now I'm planning on taking it with me for conferences, business meetings and other professional events. Here's everything you need to know before investing in a Knack Pack of your own!
RELATED POST: 6 THINGS TO ALWAYS PACK IN YOUR CARRY-ON BAG
What are Knack Bags?
Knack aims to solve a problem I am very much affected by — the multiple bag epidemic.
The founder saw that people were struggling with carrying too many things and never had enough hands. That's when a simple yet elusive solution was born: find a better way to carry things.
That's where Knack Packs come in.
They've perfected the formula so that you can maximize every inch of space and stay organized. From your keys to your laptop, there's a place for everything and everything in its place.
Today, the company is based out of Rhode Island and ships their bags around the US and Canada.
Bonus — you get free shipping with orders of $40 or more within the continental United States.
What makes Knack Bags different?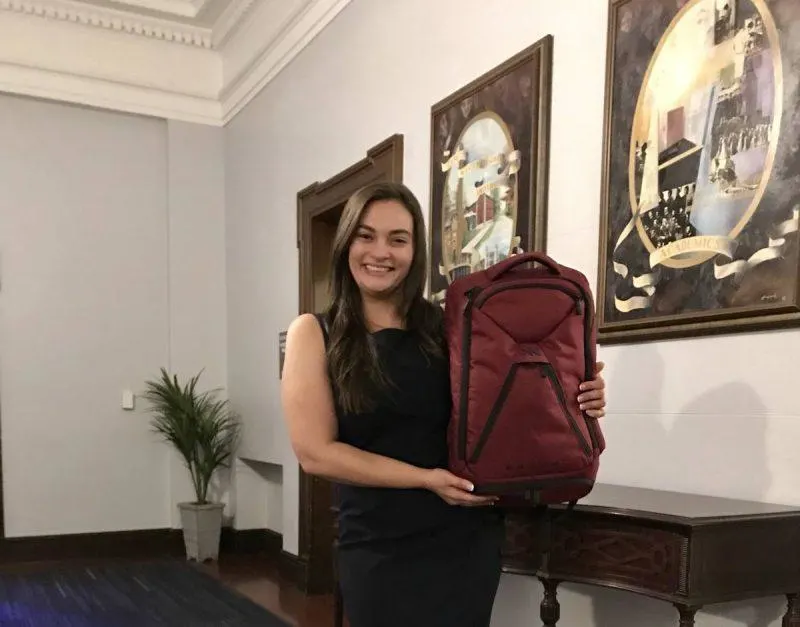 When I first got my Knack Pack in the mail, it was pretty but didn't seem to be distinct from other bags I'd seen.
Then I took it out of the box and started using it. There were so many pockets! I felt like Mary Poppins.
Every time I pulled a zipper a new compartment opened up and space magically appeared.
Not one inch of the bag was wasted.
There's a pocket for your water bottle, bottom pocket for your laptop and phone charger, smaller pockets for things like business cards and your phone.
And those are just the outside pockets.
The bag is expandable, so you can turn it into an overnight or weekend bag.
There's space for your shoes and different straps and buckles to keep your clothes well positioned.
There's also a back pocket that's cushioned where you can slide you laptop in. All of this, and it's extremely light, fashionable and sleek.
Heading to the gym? No problem.
The bags come with an antimicrobial lining to keep you fresh even when carrying sweaty items.
If you're one of those people who somehow manages to work out at lunch, you need the Knack Pack in your life.
Available styles and colors
I got the medium bag but there are also small and large bags available, as well as a medium leather option. The sangria red bag was definitely my color.
Alternative hues include stealth black, savile gray and indigo blue.
They're constantly listening to user feedback and adding new styles and products. The bag I received was one of the 2.0 models.
You can also buy accessories on the website to make your life easier, like packing cubes that are made to fit your bag specifically and items like a laundry bag and zip cord pouch.
If you're thinking about gifting a Knack Pack to someone but not sure which one you should get, you can always get a gift card and let them select for themselves.
RELATED POST: 42 BRILLIANT GIFT IDEAS FOR THE FREQUENT TRAVELER IN YOUR LIFE
My Knack backpack review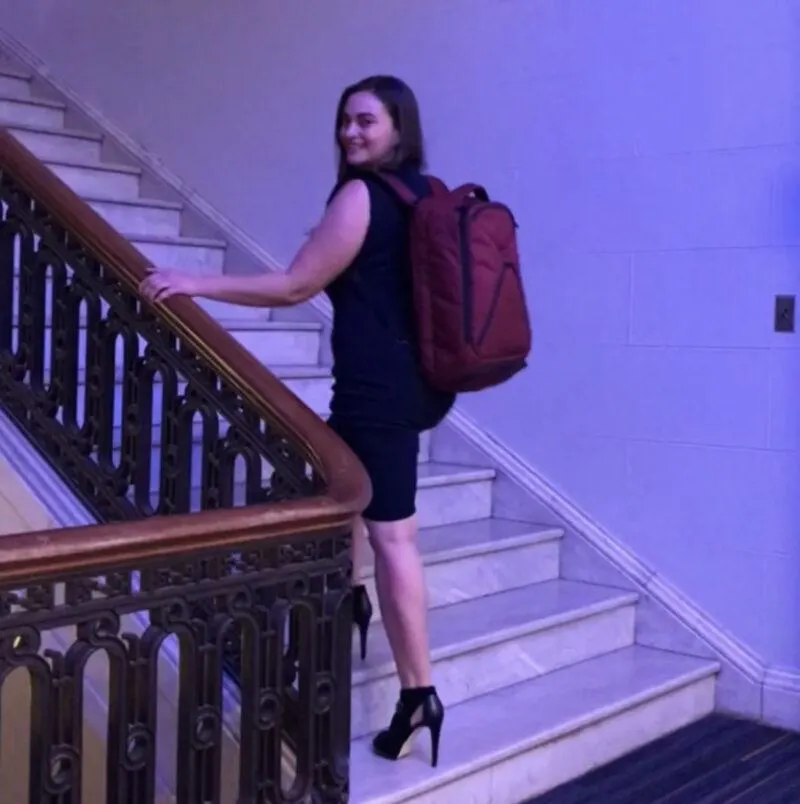 I am proud to say I am officially a member of the one bag life club.
Knack has designed a bag that's elegant without being ostentatious, which is important to me as a traveler.
I want to look like a successful entrepreneur, but I also don't want to attract unwanted attention. This bag accomplishes that.
I'd feel comfortable storing it in an overhead compartment or underneath the seat in front of me, and feel it would have room to handle my belongings.
I would opt for a bigger bag for 3-4 day trips — the medium taps out at 2 days worth of clothes for me but does hold my hairdryer and two round brushes.
If you're looking to invest in a quality piece that will take you from work to vacation, then I highly recommend you get a Knack Pack.
Till next time, safe travels!
Note: I received a complimentary Knack Pack and this post contains affiliate links. All opinions are my own.
Liked this post? Pin me below.