Looking for the best things to do in Cody, WY? Read on, partner!
Having grown up on the East Coast of the U.S.A., my exposure to frontier life was limited to Oregon Trail and Will Smith's Wild, Wild West (that should tell you something since aside from the name it was the least Western movie ever).
Needless to say, I was excited to visit Wyoming for the first time. I came to the area for Yellowstone National Park but it was the authentic feel of Cody that made me want to stay for longer.
Previously, I'd associated "Western" with kitschy tourist traps where you see staged shows and don your cowboy boots and hat.
Don't get me wrong, those places definitely exist, but not in Wyoming. Here, "Western" is a way of life, and there's nothing fake or contrived about it.
The town is named after its founder William Cody, more commonly known as Buffalo Bill.
RELATED POST: THE ULTIMATE GUIDE TO VISITING YELLOWSTONE NATIONAL PARK
Without further ado, here are 15 of the best things to do in Cody, WY!
1. Visit the Buffalo Bill Center of the West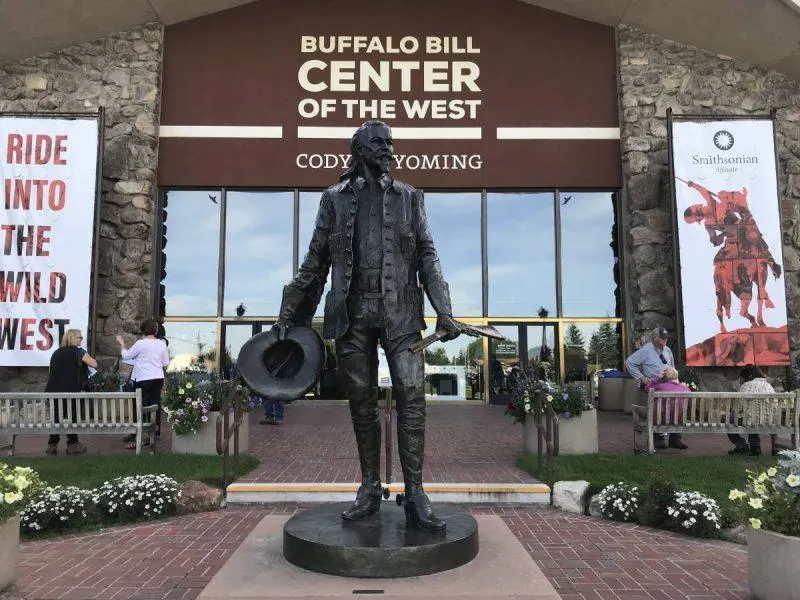 The Buffalo Bill Center of the West is a Smithsonian partner and home to 5 separate museums.
It would take you more than a day to see them all properly, which is why your ticket of admission automatically includes entry for the following day as well.
The five museums are the Buffalo Bill Museum, Plains Indians Museum, Whitney Western Art Museum, Cody Firearms Museum and theDraper Natural History Museum.
They are each spectacular and unique.
My personal favorites were the Buffalo Bill Museum (don't miss this one — a must!) and the Whitney Western Art Museum. Some of the museums have free audio guides available.
In addition to museums, this is a research center and presentations are conducted daily.
When I was there they had a Birds of Prey demonstration twice a day that involved bringing eagles onto the stage.
There was also a special event happening, an annual art show and sale that brought in attendees from across the world.
In June they have a big pow wow to celebrate Native American culture.
The programming changes regularly so make sure to check their website for the most updated information before your visit.
2. Stop by the Irma Hotel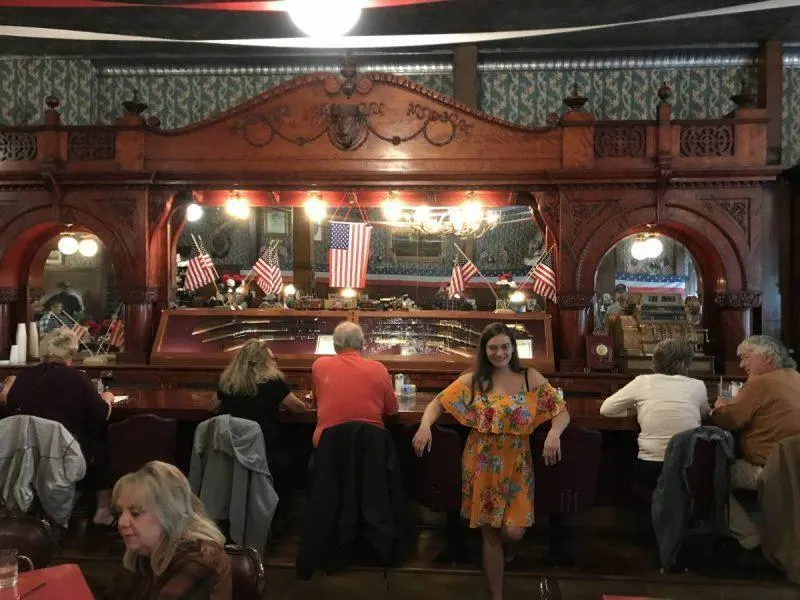 The Irma Hotel was built by Buffalo Bill and named after his daughter, Irma.
In many respects it functions as the center of the town. The hotel is ideally situated to allow guests to stroll the surrounding area and shops.
It's also a pick-up spot for the local trolley tour and the set a nightly gun show during the summer months that features well-known outlaws like Butch Cassidy and the Sundance Kid.
The show is free to watch if you opt to stand or you can rent a chair for $3.
The majority of Buffalo Bill's memorabilia was donated to the Center but the most salacious piece remains front and center — a cherry wood bar that was given as a gift to Buffalo Bill by Queen Victoria.
Buffalo Bill performed in front of queen Victoria while touring with his show, Buffalo Bill's Wild West, and it was rumored that the two had an affair. Hence, the pricey show of her affection.
3. Take a trolley tour
The Cody Trolley Tours run seven days a week and are an hour long.
The tour spans 22 miles and is the best way to get oriented to the city, particularly if you're on a time crunch.
There are two guides on board that regale you with stories about Buffalo Bill and Annie Oakley.
You can also rent out the trolley for special events or opt to take a holiday lights trolley tour in the winter months.
Tickets are $27/per person or your can opt for a bundled package with the Buffalo Bill Museum or a seat at the Irma Hotel gun show.
The tour picks up guests at the Irma Hotel and the Buffalo Bill museum though the ticket counter is only at the Irma Hotel. You can buy tickets online.
4. Try shooting at the Cody Firearms Experience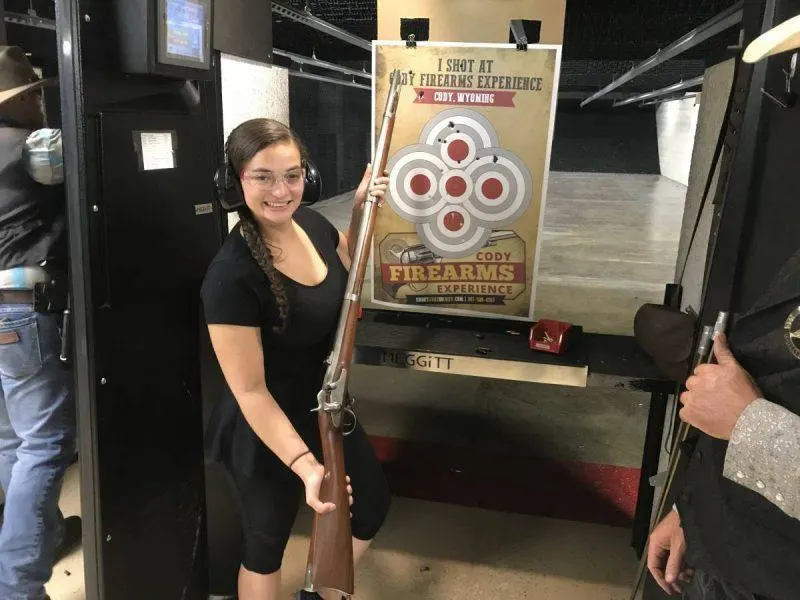 The Cody Firearms Experience is like a living museum where you can shoot antique guns.
They have a truly unique selection, from a civil war Gatling gun to a Tommy gun. You can spend hours here trying them all out.
I particularly enjoyed the process of loading the gun powder and pellet into the older guns. It makes you appreciate how far our technology has come.
There are other activities on the premises, including ax throwing and an elaborate arcade shooting game.
If you're hesitant about guns and looking for an introduction in a place that's safe and has historical context, I highly recommend giving this establishment a shot.
Guns are part of the local culture here and as a city girl transplanted onto the frontier I was able to see them through a different light.
5. Step back in time at Old Trail Town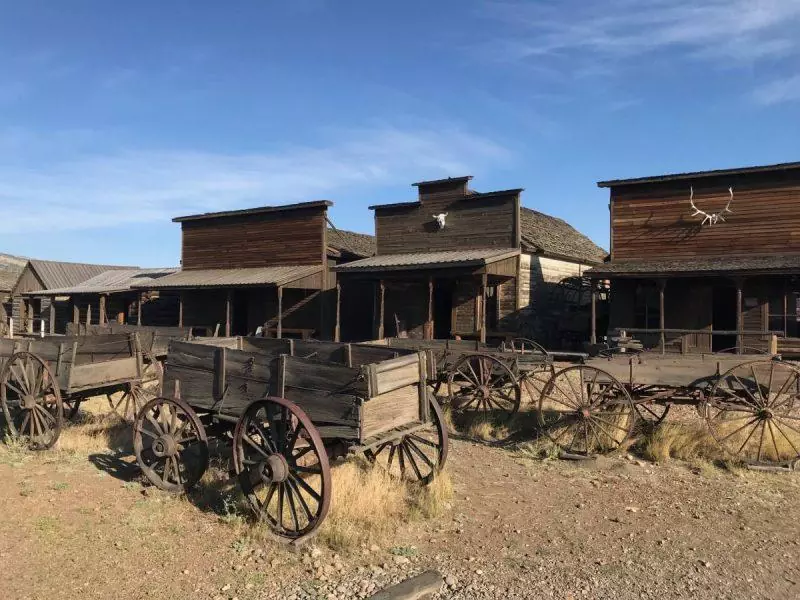 Old Trail Town is a collection of original cabins and artifacts ranging from 1879-1901. They were retrieved from remote locations around Wyoming and Montana and reassembled on site.
The attraction takes you back in time, allowing you to walk into the hideout of Butch Cassidy and the Sundance Kid or enter a general store that looks the same way it did 200 years ago.
They have over 25 buildings and 100 horse-drawn vehicles.
There's also a hall that is a scenic spot for weddings and special events. It's located on the route into Yellowstone National Park and is a family-friendly stop.
Tickets are $10 per person and can be bought online. Active military gets in for free and groups of 10 or more get a discount.
6. Pay your respects at Heart Mountain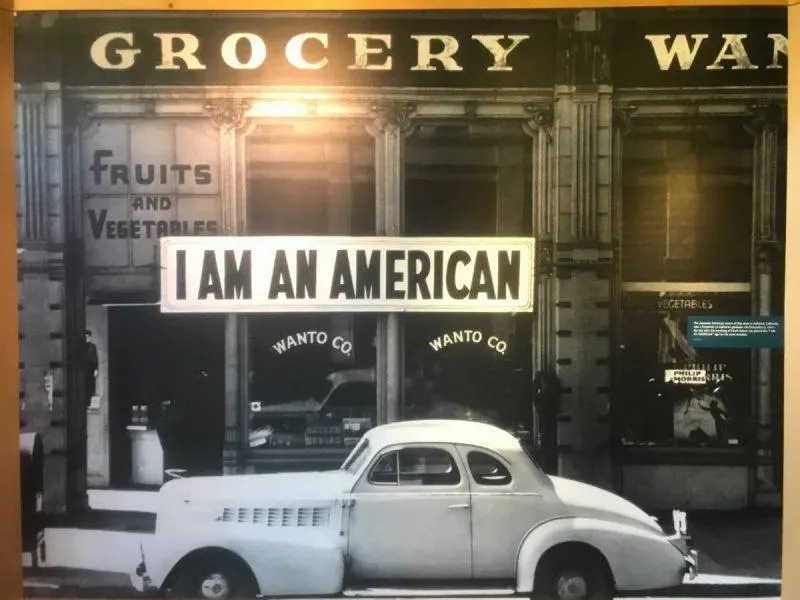 The Heart Mountain War Relocation Center was one of 10 Japanese internment camps used during World War II.
It's named after nearby Heart Mountain. There is a museum on site featuring artifacts, a video, photographs, oral histories and interactive exhibits.
There's also a meditation garden for contemplation and quiet space.
This was a difficult stop for me given the emphasis on anti-immigrant sentiment in the U.S.
Nevertheless, those who don't know history are doomed to repeat it so it's an important and worthwhile addition to your Wyoming itinerary.
7. Stop by the Cody Dug Up Gun Museum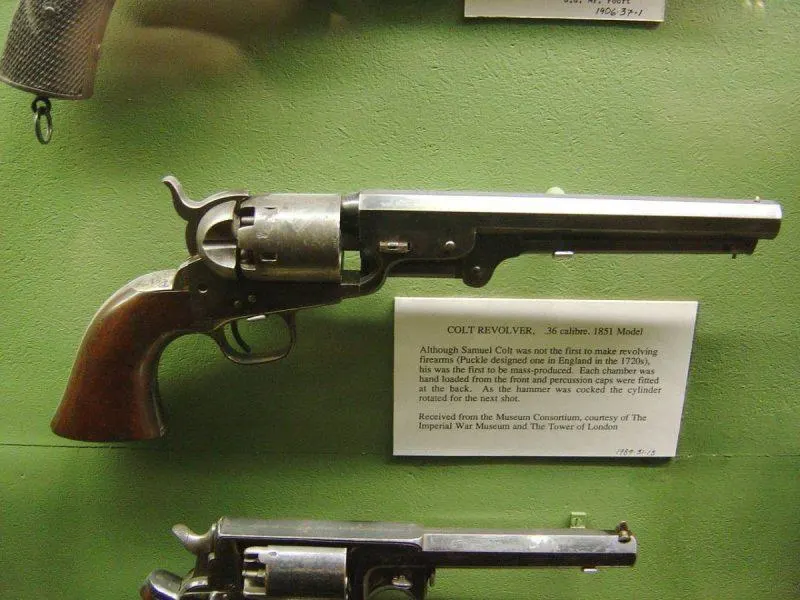 The Cody Dug Up Gun Museum is exactly what it sounds like — a collection of antique guns that were dug up from the ground in and around the area. They are arranged by era from pre-civil war to World War II.
It's a small place on the second floor of a strip mall but packs a lot of historical value.
It is free to enter. The museum is run by donation and they'll ask you to leave what you think is fair at the end.
You can see the whole thing in a half hour and is a quick stop across the street from the Irma Hotel. There are no pictures allowed inside.
8. Visit by Western Hands
By Western Hands is a non-profit organization and artist collective.
They showcase and sell one-of-a-kind furniture and art pieces with a Western twist.
The collective is meant to preserve traditional skills and teach economics and good business practices to the artists of the future.
The purpose of the organization is to make sure the best trades don't die out and preserve unique pieces for future generations.
Stop by and stroll the storefront while you're in town — some of the pieces are truly extraordinary.
Also, if Western is your decorating style, you won't find more beautiful pieces than the ones sold here.
9. Go to the Cody Mural and Museum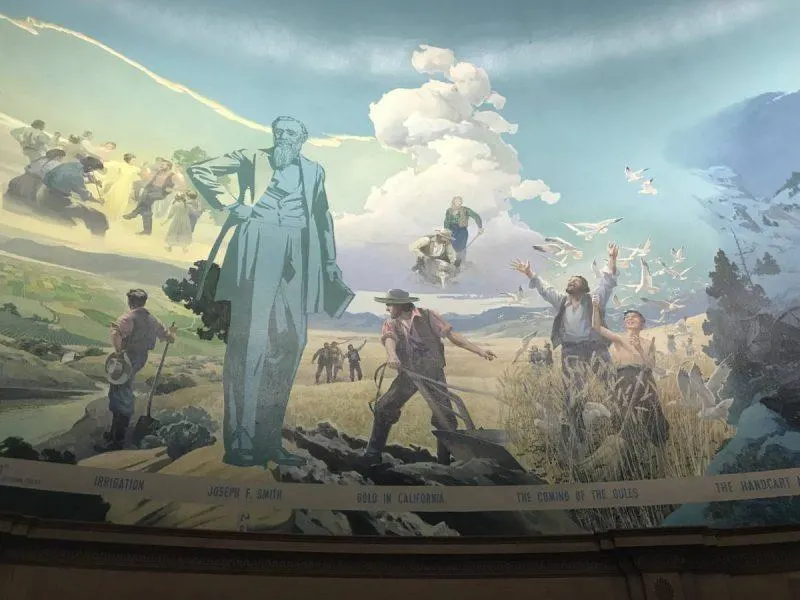 Located at the Cody Chapel, this 360-degree mural details the history of the Mormon church.
The chapel has a rotunda, a domed foyer 36 feet in diameter and 18 feet high, that was built in the hopes of attracting tourists and spreading awareness about the Church of Jesus Christ of Latter-day Saints.
The mural was painted by Edward Grigware.
The story is told as a show, with certain portions of the mural matching up to match the narrator.
There is also a separate museum with some historical artifacts and exhibits. It is free to visit and there are guides on site in case you have questions.
The mural is only open in the summer months, from the second Monday in May through the last Friday of September.
10. See Dan Miller's Cowboy Music Revue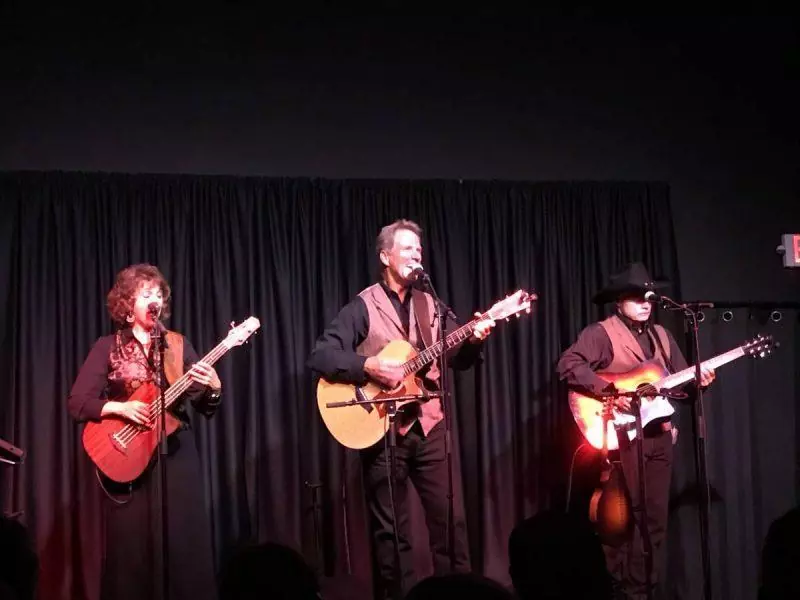 Are you looking for a fun evening activity? I suggest heading to Dan Miller's Cowboy Music Review.
While you'll find families at the Wild West Spectacular, this is a more mature, enjoyable setting for anyone who doesn't have young children.
The band will entertain you with songs, jokes and tales that will have yo laughing and singing along.
We had people from around the world at the show when we attended and it surpassed all of our expectations.
This is the perfect date night activity.
11. Go to the Cody Heritage Museum
This is the newest museum in Cody and has a local emphasis.
It pays tribute to the town and includes memorabilia like old high school yearbooks and pictures of the men in the town who went to war.
It's a small museum but well done with important details.
For instance, the floor is meant to mimic the era being exhibited, from dirt in the early years to concrete in the later years.
It's completely free to enter.
The museum is located just down the street from the Irma Hotel.
12. Spot wildlife in Yellowstone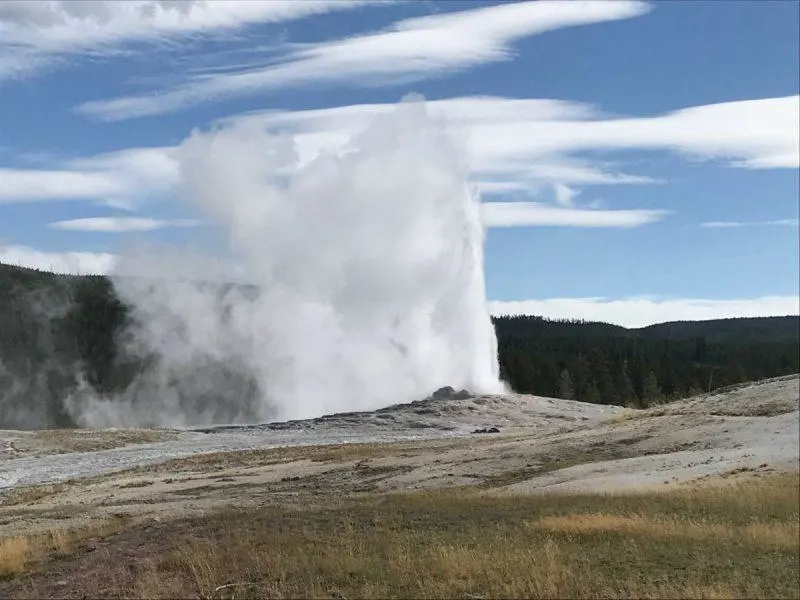 Cody is considered the gateway to Yellowstone National Park by many.
The city is located just 12 miles from the east entrance. Yellowstone is America's first national park and is a must-see for nature lovers.
It is one of the few places in the world with a complete ecosystem and is 98% untouched wilderness.
Many people come here for the animal sightings.
Stick around long enough and you're bound to see animals galore, from wolves to bears and buffalo.
Of course, there are also the geothermal attractions like Old Faithful.
In short, Yellowstone has much to see and do for visitors of all ages, and Cody is the perfect stop on your way in or out of the park.
13. Have a drink at the Chamberlin Inn
The Chamberlin Inn is a beautifully renovated property in the city center. It is family owned and operated and has 21 rooms.
While a hotel isn't your typical attraction, this one has a historical slant and ties to Ernest Hemingway, whose name was found in one of the original guest registrars.
This is a nice place to stop for a cocktail.
You're also allowed to tour any unoccupied rooms, worth it as they're all laid out and designed differently.
14. Stop by the Buffalo Bill Dam and Visitor's Center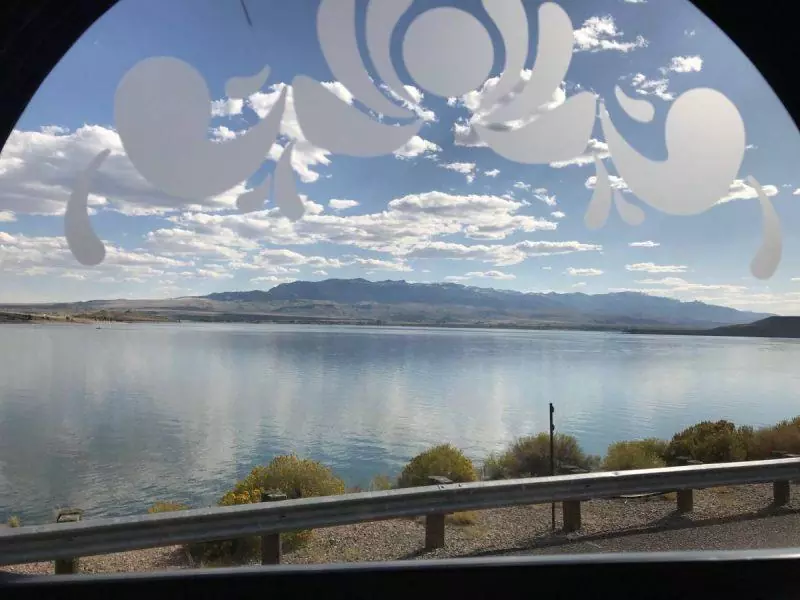 The Buffalo Bill Dam traps water from the Shoshone River in the Buffalo Bill Reservoir.
It's part of the Shoshone Project, a plan to irrigate the surrounding land and transform it from an arid plain to fertile land.
The dam stands at 325 feet high.
There's a visitor's center that has an educational film, souvenirs and collectible stickers that you can find throughout various visitor centers throughout the state.
The trolley tour will also take you by here though you won't have a chance to disembark.
The dam and visitor center are only open in the summer months, from May to September.
15. Attend a rodeo
The Cody Rodeo takes place from June 1st to August 1st. There are two shows.
The first is a nightly rodeo and the second is the special "Cody Stampede" which only takes place from July 1st to 4th for the holiday.
This is the only place in the country with a nightly rodeo, making Cody the rodeo capital of the United States.
Fourth of July is a really big deal in Cody. In addition to the rodeo there are parades, fireworks, a craft fair and musical performances.
These are just some of the best things to do in Cody, WY.
If you want to visit an authentic western town, you should definitely add this city to your bucket list.
RELATED POST: 21 BEST PLACES TO EAT IN CODY, WYOMING
Till next time, safe travels!
Note: I visited Cody on a press trip with Cody Yellowstone. All opinions are my own.
Liked this post? Pin me below.