Looking for Van Gogh in Arles? Here's how to do a self-guided Van Gogh art walk in the South of France.
Vincent Van Gogh is one of the most prolific painters in history, creating more than 2,000 works of art. Unfortunately, he was a tortured artist and is known for cutting off his left ear in a bout of mania.
Van Gogh spent a lot of time in asylums and hospitals to treat his mental health issues. During that time, painting served as his release.
Unlike other artists that are reclusive and leave us to guess as to their motivation/thoughts when creating a work of art, Van Gogh was an open book. Literally. He penned more letters than any other famous artist of his time, constantly explaining his thought process and plans to his brother Theo, his closest confidante, and other friends and family.
Today, Van Gogh's paintings are scattered all over the world, from London to Chicago to Amsterdam. It's impossible to find them all in one place. If you visit the South of France, however, you can see the real life places he painted, walking in Van Gogh's footsteps.
The majority of the places on this list are in Arles, where Van Gogh lived and worked for many years. Some are also in Saint Remy, where Van Gogh was committed in the later part of his life. Saint Remy is only a half hour away from Arles and makes for an easy road trip.
RELATED POST: ONE WEEK ROAD TRIP THROUGH THE SOUTH OF FRANCE ITINERARY
If you want to chase Van Gogh in Arles, go to the tourism office and get a map for 1 Euro. From there, it's easy to show yourself around the town. There are placards at designated sites on the art route so you can't miss them.
This is a non-exhaustive list and there are many more places in the area where you can see artwork come to life. Here are some of the highlights of my search for Vincent Van Gogh in the South of France.
1) The Bedroom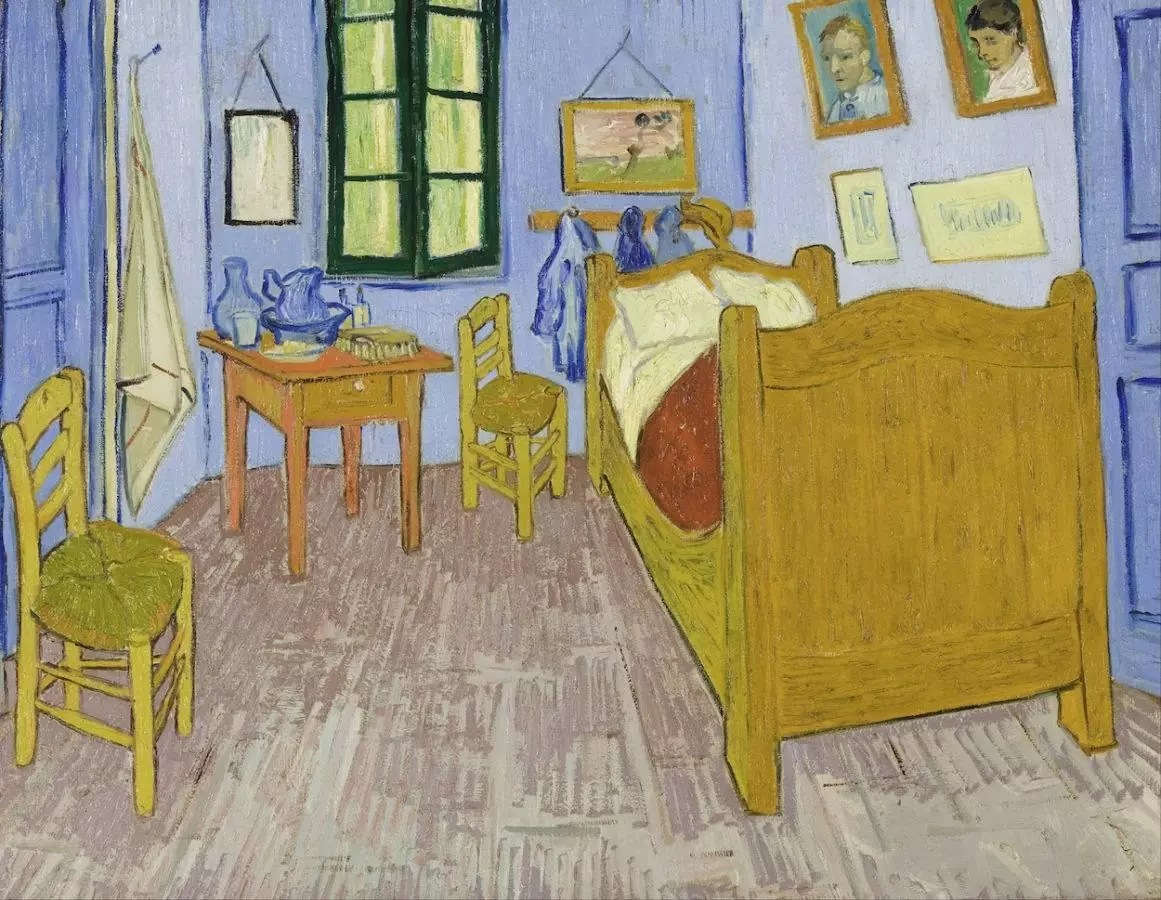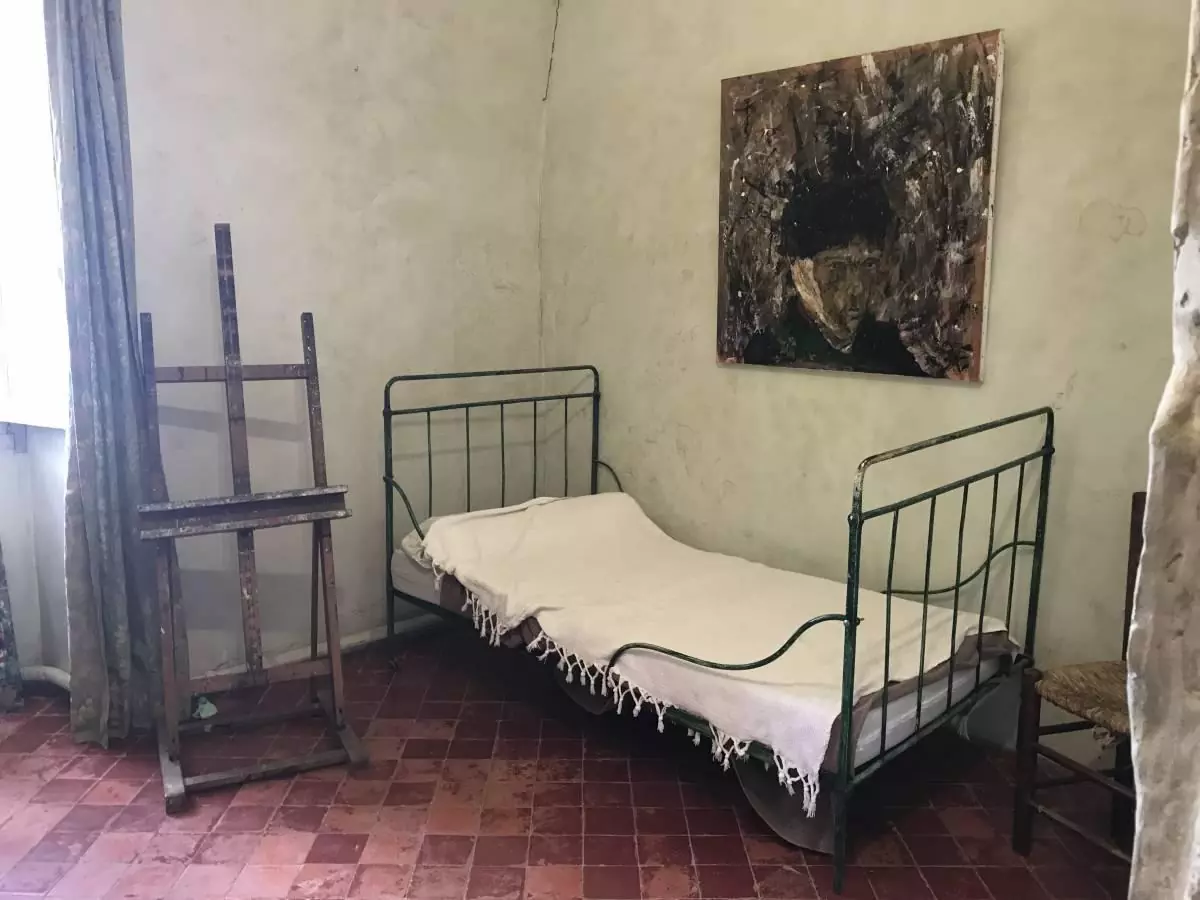 The Bedroom is one of Van Gogh's most famous paintings. There are three in existence, showing the bedroom he had when he lived in the Yellow House in Arles. By the way, that house no longer exists so please do not waste two hours looking for it like I did.
Since the original bedroom is no longer available, the folks at the Saint-Paul de Mausolée Asylum and Monastery put together this replica. The place still serves as a psychiatric hospital but is an ode to Van Gogh, with prints of his paintings hung throughout the premises and a gift shop filled with Van Gogh souvenirs.
2) Oliveraie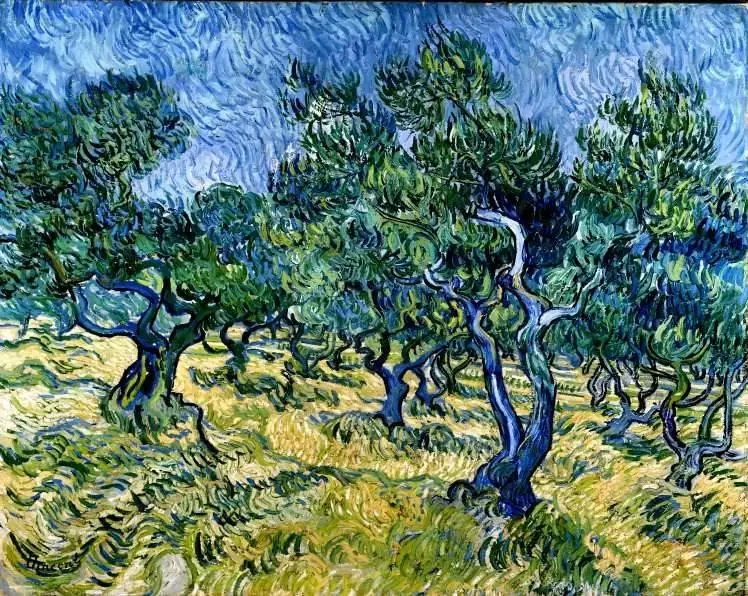 This is a field of olive trees outside of the asylum. Van Gogh painted many scenes from the area, finding respite in nature whenever he was given permission to roam the grounds. He described them as "venerable, gnarled olive trees." Van Gogh wrote:
"The effect of daylight and the sky means there are endless subjects to be found in olive trees. For myself I look for the contrasting effects in the foliage, which changes with the tones of the sky. At times, when the tree bares its pale blossoms and big blue flies, emerald fruit beetles and cicadas in great numbers fly about, everything is immersed in pure blue."
He felt that by interacting with nature, we could connect with the divine. As I walked around the premises to the tune of the cicadas, I couldn't help but agree.
RELATED POST: VISITING LAC DE SAINTE CROIX IN CASTELLANE, FRANCE
3) Hospital in Arles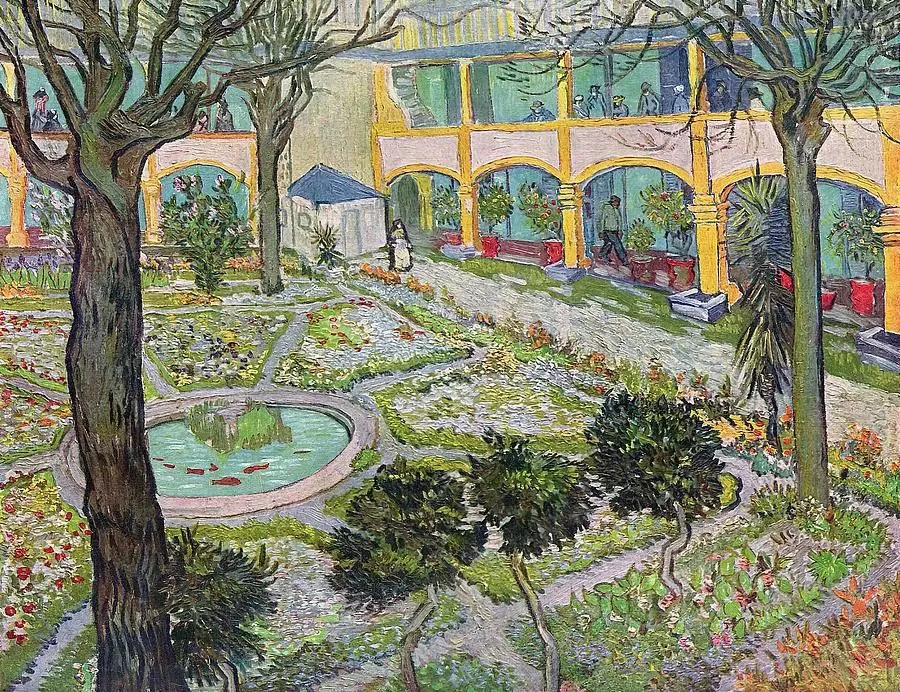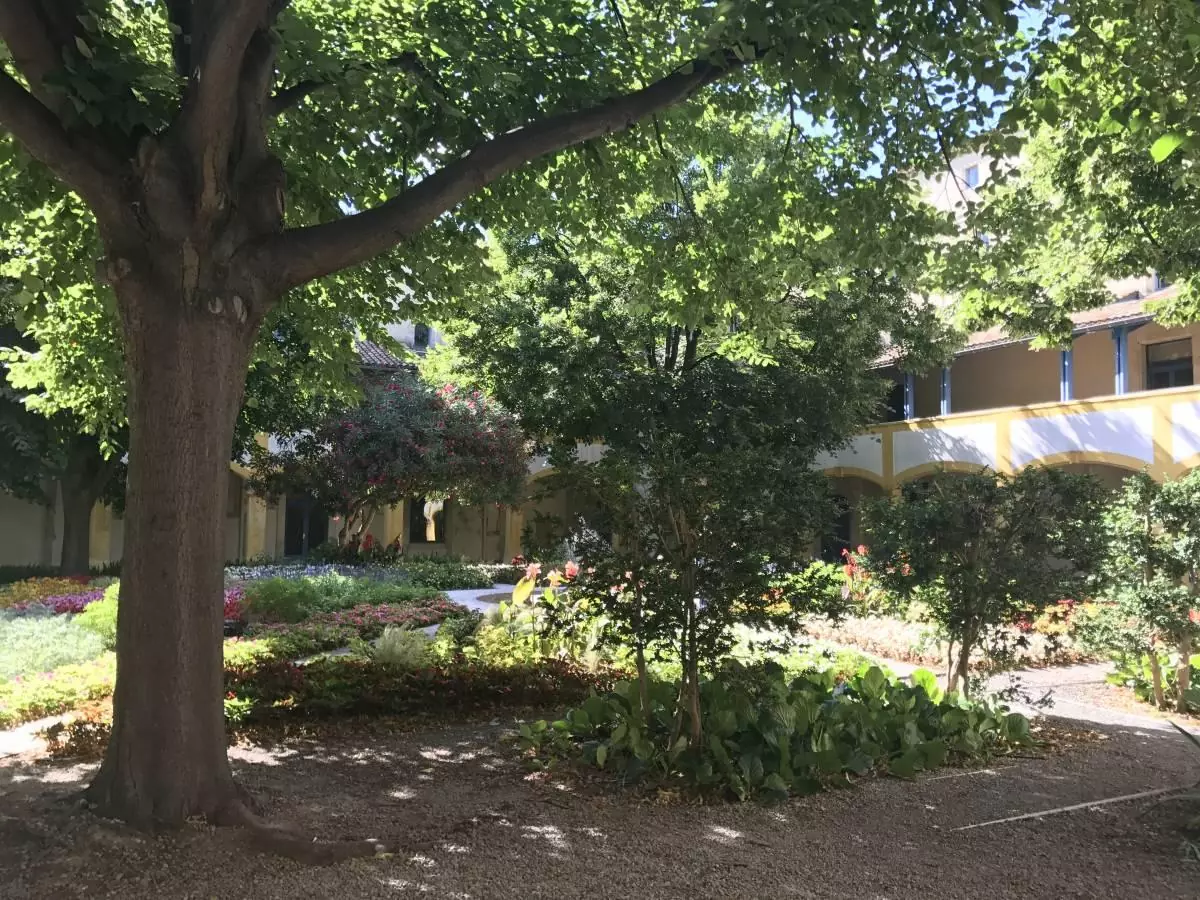 The courtyard of the former Arles Hospital, now known as "Espace Van Gogh," is the subject of this painting. The vantage point is from Van Gogh's room. The garden is well maintained and just as vibrant today as it was more than 100 years ago. Flowers featured in the painting include irises, pansies and poppies.
Aside from the courtyard, there's not much to do here. The place is no longer operational but is maintained as a tribute to the artist who made it famous, despite him not being a welcome or an easy patient while he was there.
4) The Arena at Arles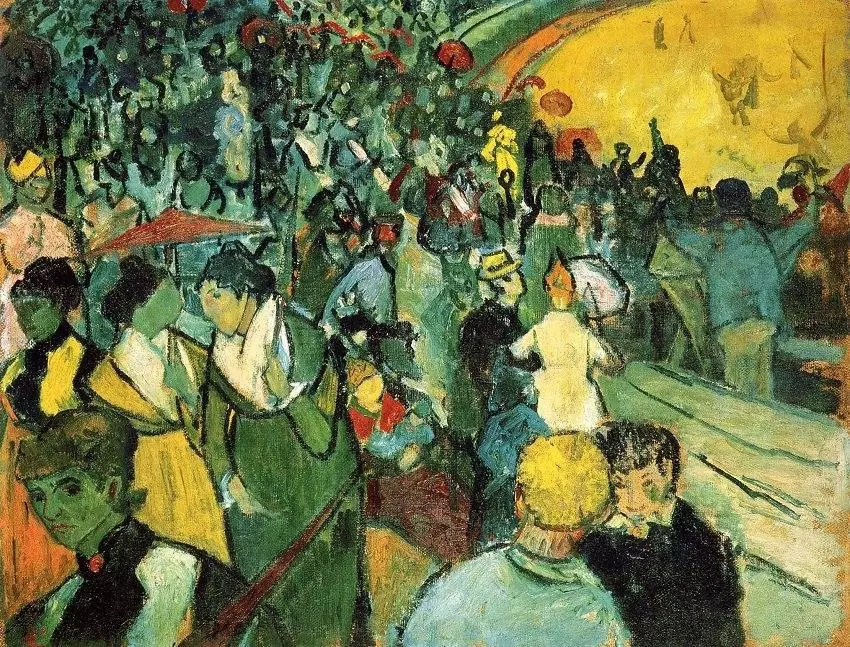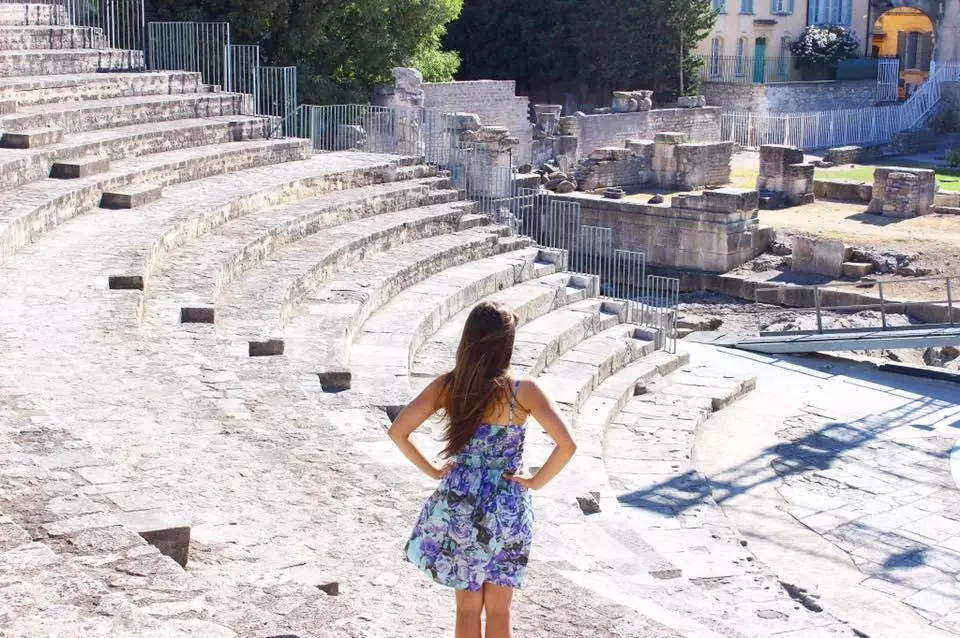 In the Van Gogh painting, the amphitheater is packed for a bullfight. The attention is on the crowd, however, not the show. The viewers include Van Gogh's friends and acquaintances, which he often used as subjects in other paintings.
While in Arles, Van Gogh had a roommate, Paul Guaguin. He mimicked his style in this painting with flattened space and patches of color.
5) Cafe Terrace at Night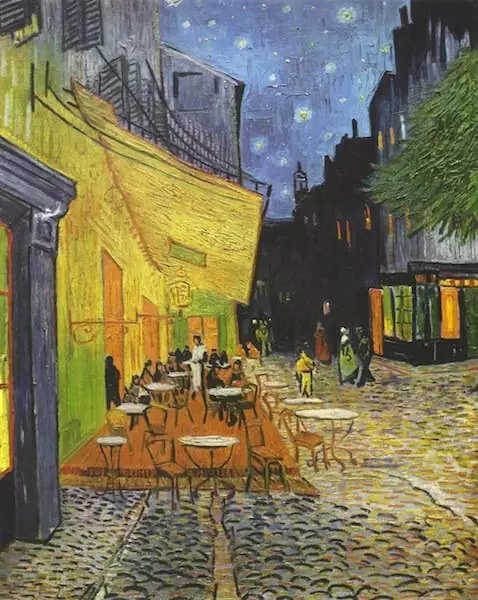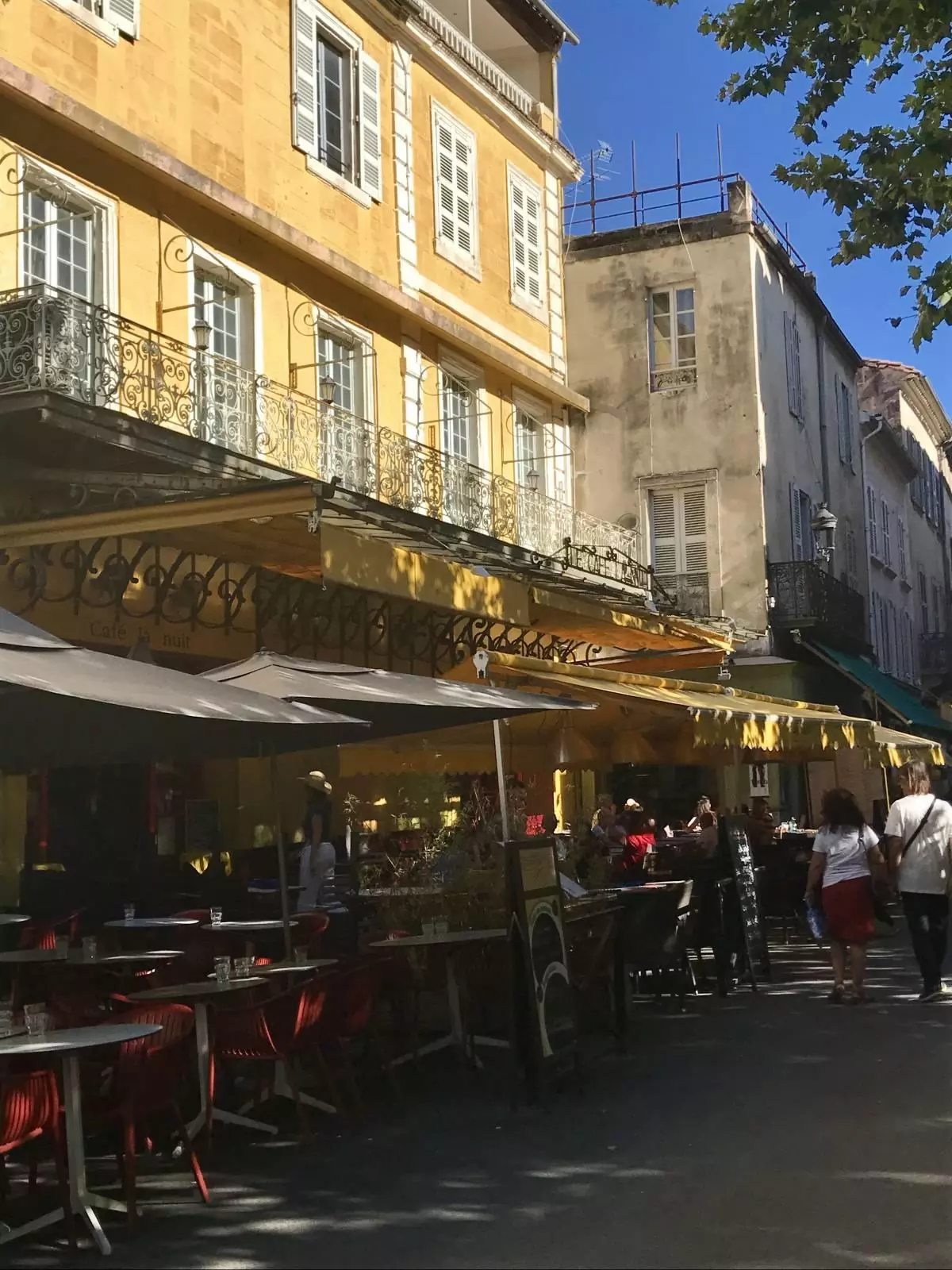 This was one of the earlier works that Van Gogh painted upon arriving in Arles, and the first one that he painted at night. The yellow cafe, illuminated from within, stands in sharp contrast to the night.
Today, the cafe is still operational, though I wouldn't recommend eating there. It's pricey and reviews aren't great. In an effort to capitalize off the location, it's called Cafe Van Gogh now.
There's been a lot of development since the late 1800's, so you'll have a hard time seeing the terrace unobstructed and at the same angle that Van Gogh painted unless you're dining there.
6) The Langlois Bridge at Arles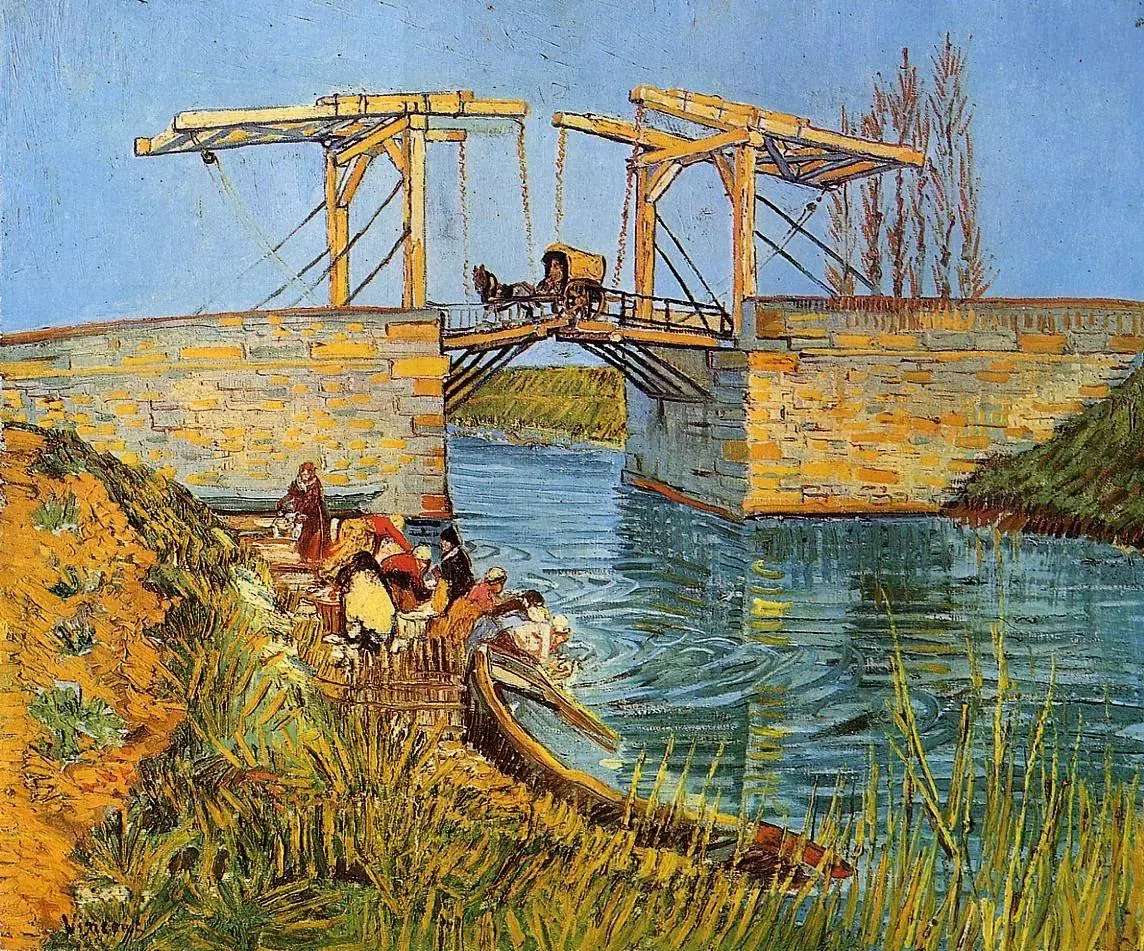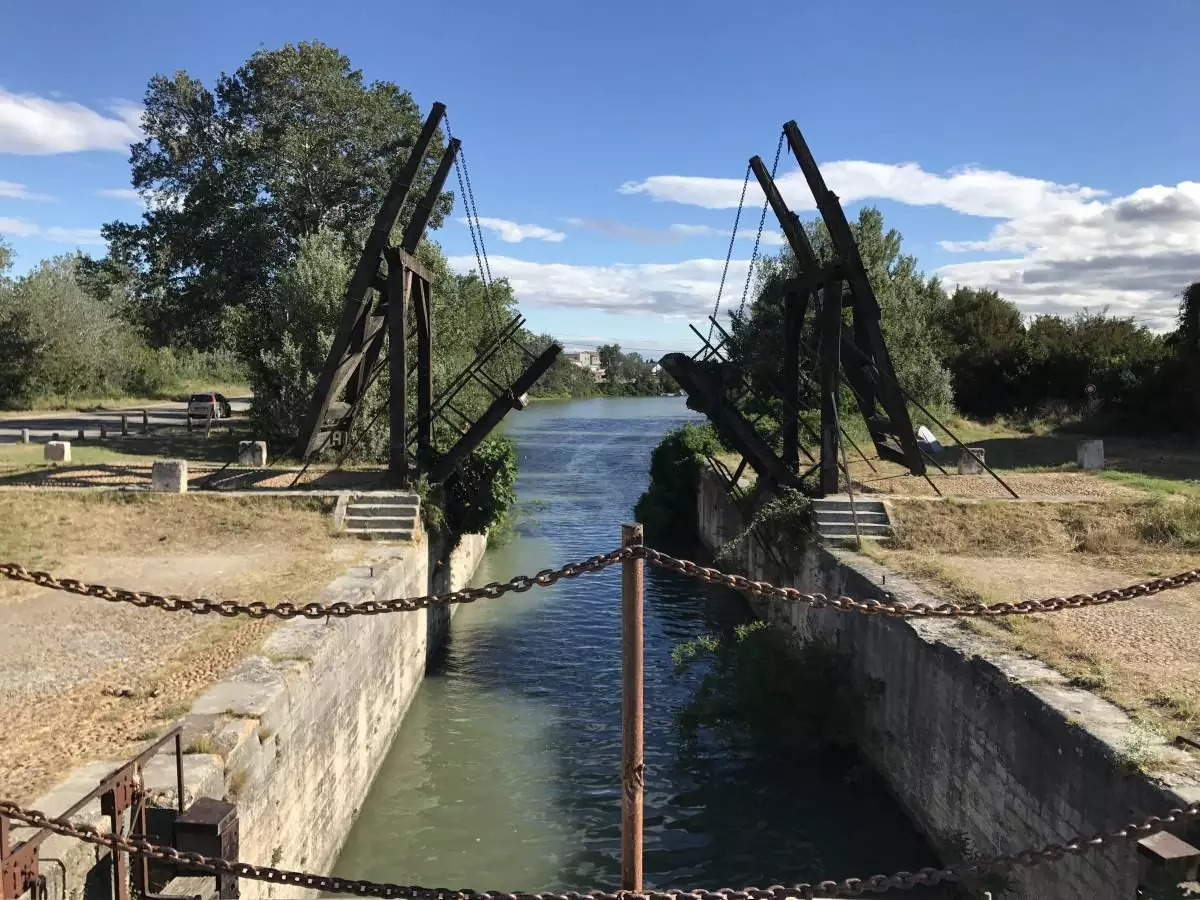 This bridge is the subject of four paintings Van Gogh made. The painting featuring the women washing clothes by the water is the most popular of the series. He said the canal reminded him of Amsterdam. At the time he painted it, Van Gogh was influenced by Japanese woodcut prints, using simple colors and forms to distill nature down to its essence and diagonal lines to direct the viewer's eye.
The bridge has since been rebuilt and is called Pont Van Gogh. It's located slightly outside the city and is not easily accessible if you're walking.
7) Entrance to the Public Park in Arles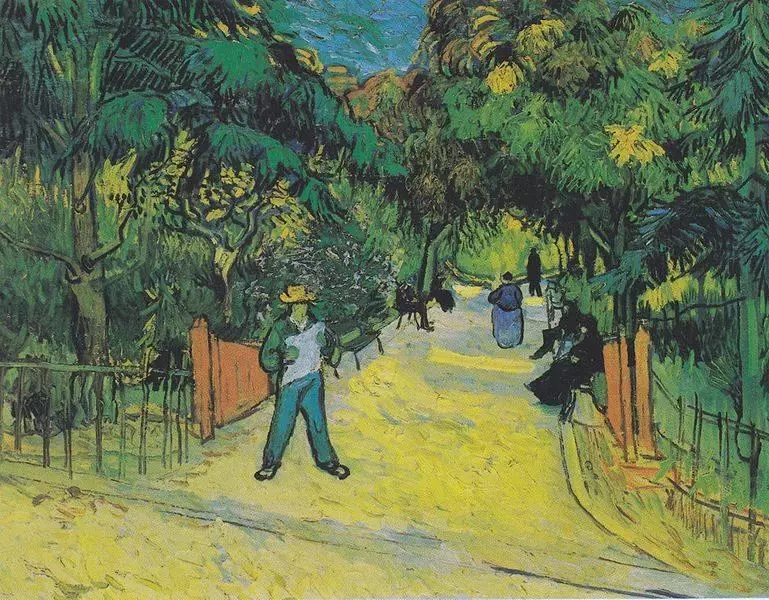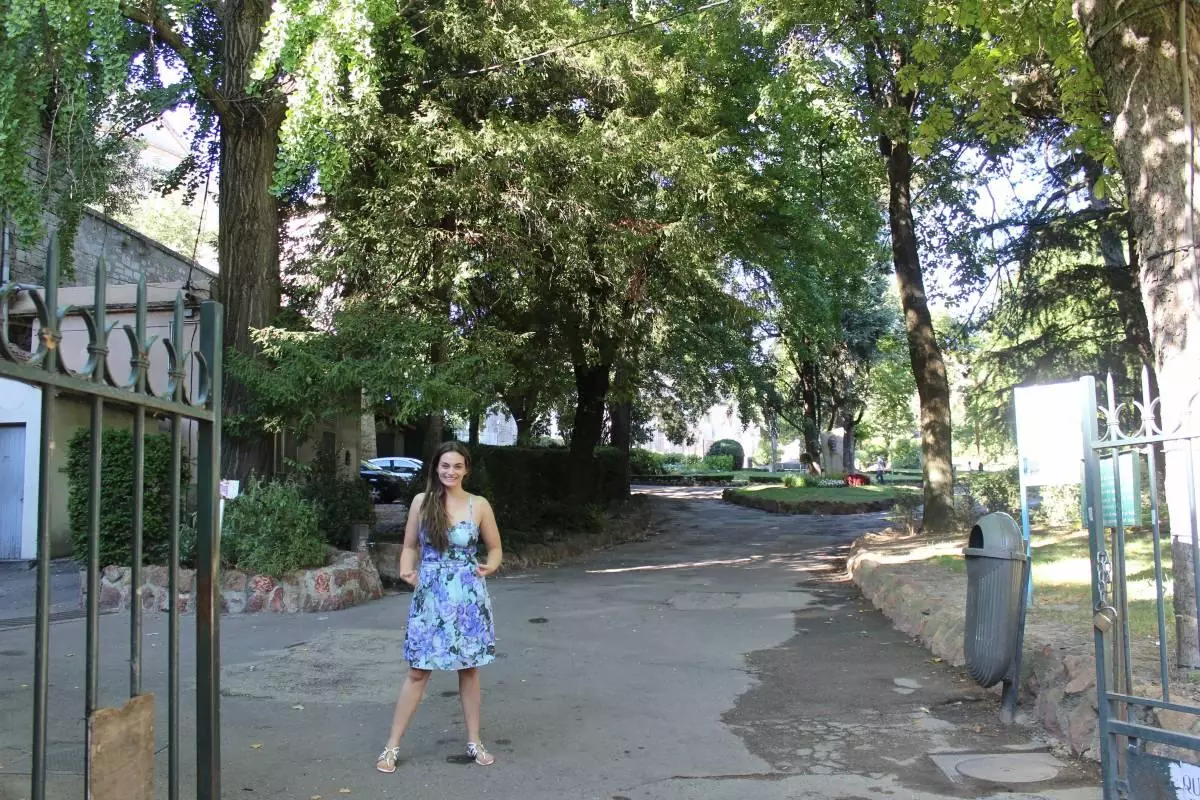 Van Gogh painted this park frequently since it was near his house. Here we see the entrance, modernized over the last 150 years to include new construction and development. The people in the scene are all enjoying restful activities.
In his letters, Van Gogh wrote that the sky was a marvelous blue, with the sun shedding "a radiance of pure sulphur." The emphasis of this piece, however seems not to be the heavens but the earth, with heavy use of green to convert the lushness of nature.
RELATED POST: MY SOLO TRAVEL PHOTO SHOOT IN NICE, FRANCE WITH FLYTOGRAPHER
8) Corridor in the Asylum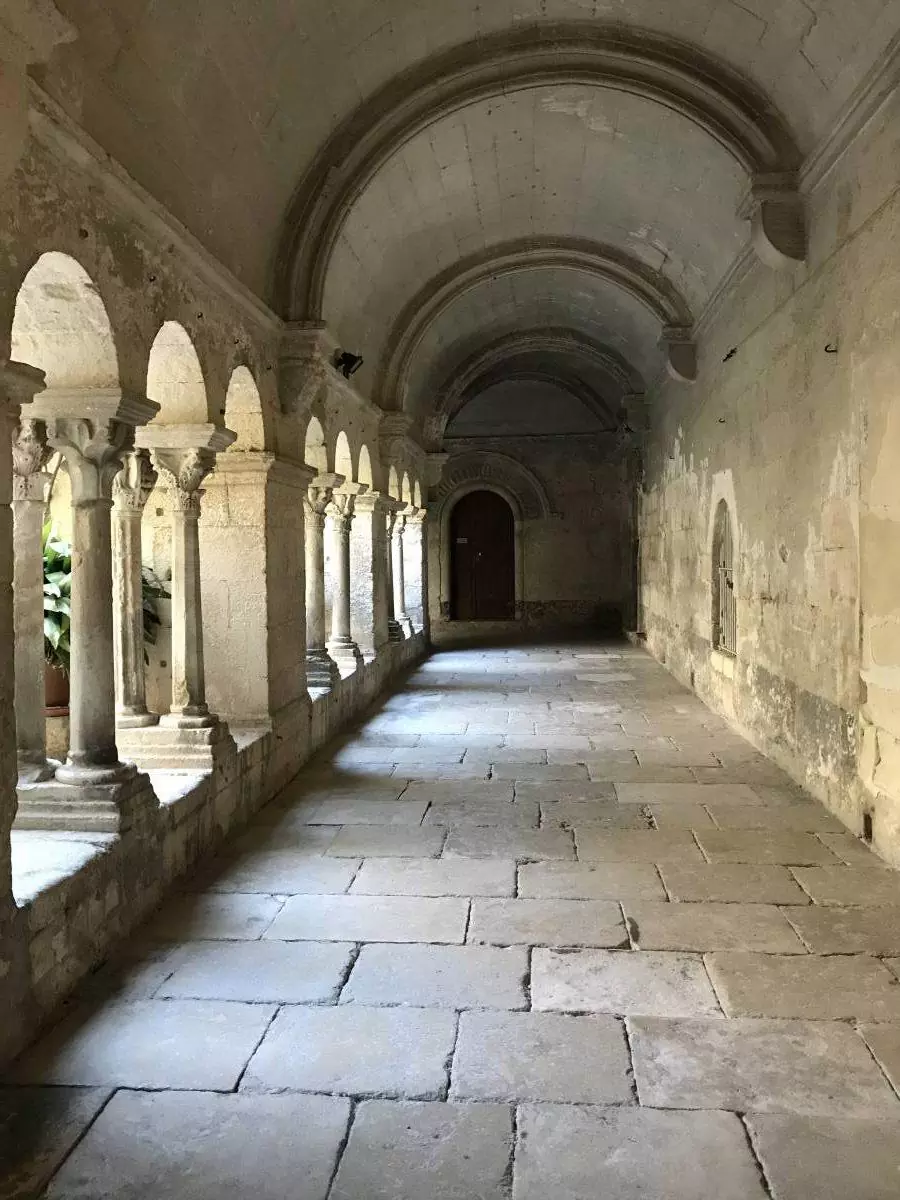 This view of the corridor at Saint Remy was captured during Van Gogh's voluntary 12-month stay. It is not an oil painting, however, but a watercolor drawing found at the MET Museum in New York. Van Gogh sent it to his brother Theo to give him a better idea of his surroundings.
Aside from being unusually large for a drawing, Van Gogh infuses color where there is none. The hallway is cold and ominous in real life, but in Van Gogh's painting it is almost rainbow colored.
Notably, Van Gogh often used a mustard color for his yellows, as if the mute the inherent happiness of the hue. It is thought that Van Gogh might have suffered from xanthopsia, a color vision deficiency which causes a predominance of yellow in the vision, as a result of being treated with digitalis while committed.
9) Sunflowers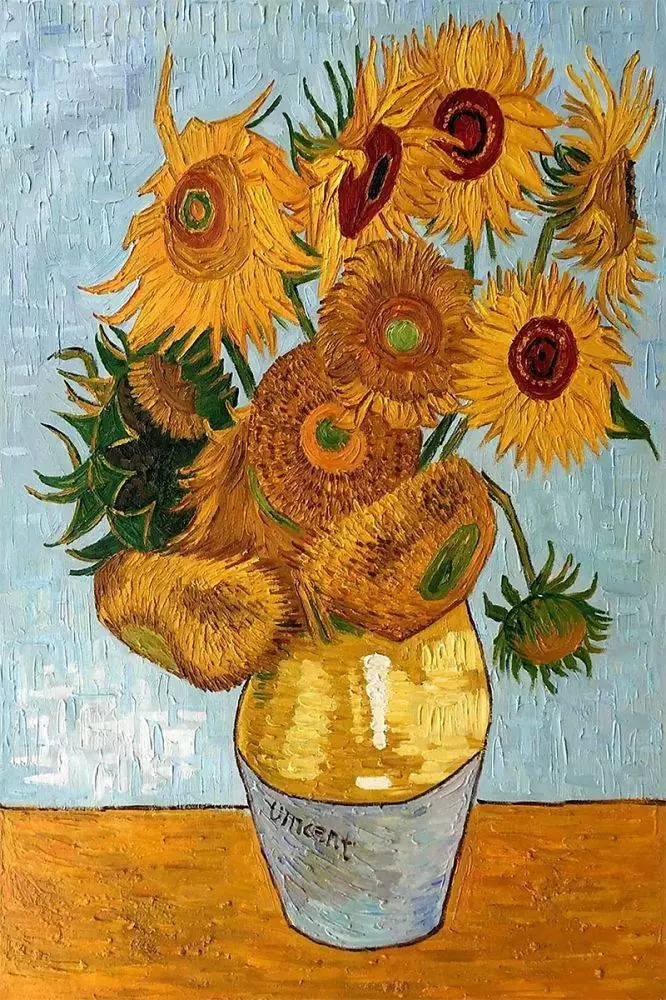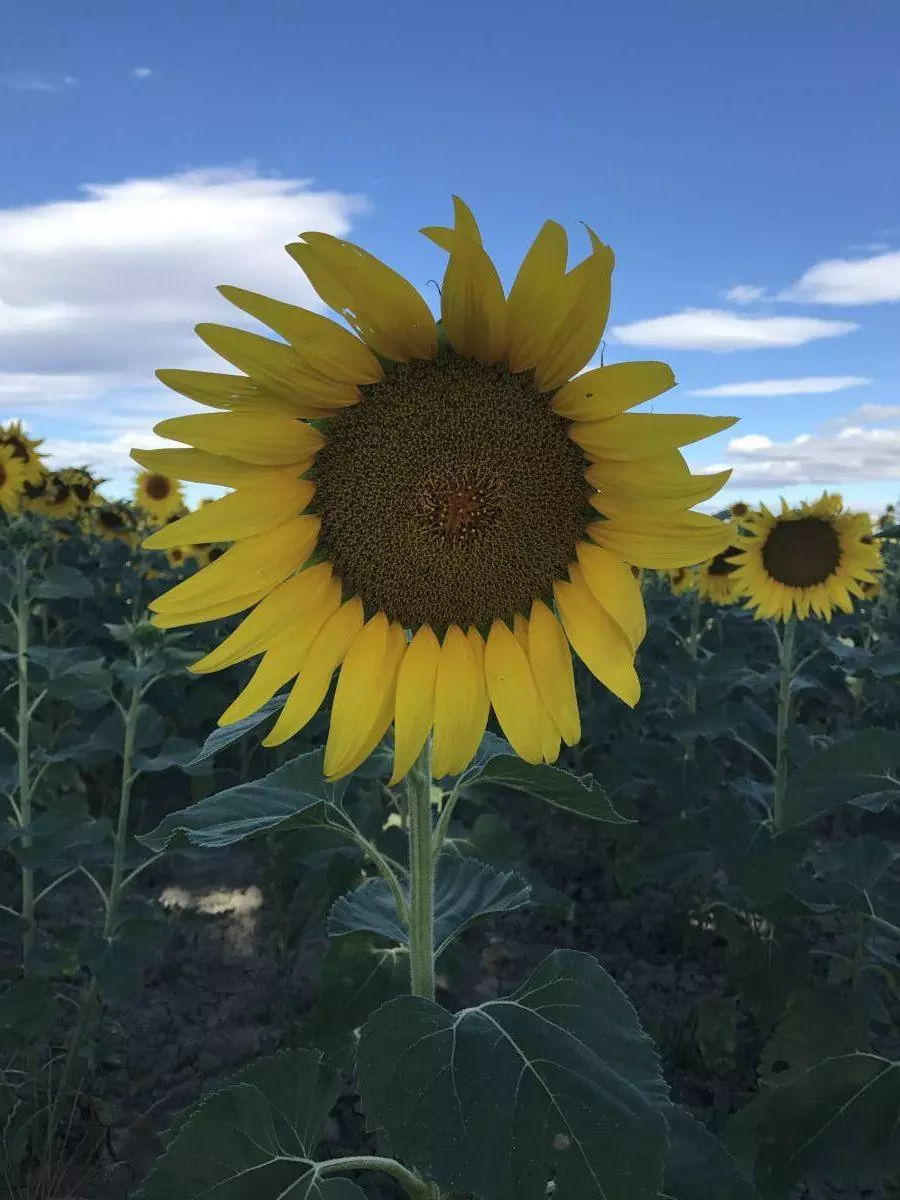 You won't find a specific vase with sunflowers in them, but driving around Arles makes it easy to see why Van Gogh was so obsessed with the flower. Sunflowers symbolize happiness and hope. This series was completed during a more optimistic time in Van Gogh's life, when he'd just moved to Arles and was awaiting for the arrival of Guaguin. He'd hoped to form an artist's community in the area with Guaguin as his mentor.
Perhaps indicative of his inner struggles, the sunflowers in Van Gogh's depiction are never seen in full splendor, but rather a few days after being picked, when they're slightly wilted. It's thought that Van Gogh painted the flowers as decoration for his bedroom.
10) Starry Night Over the Rhone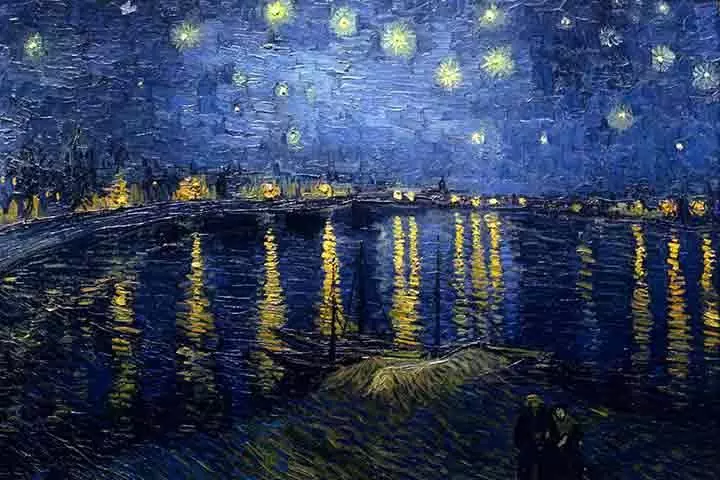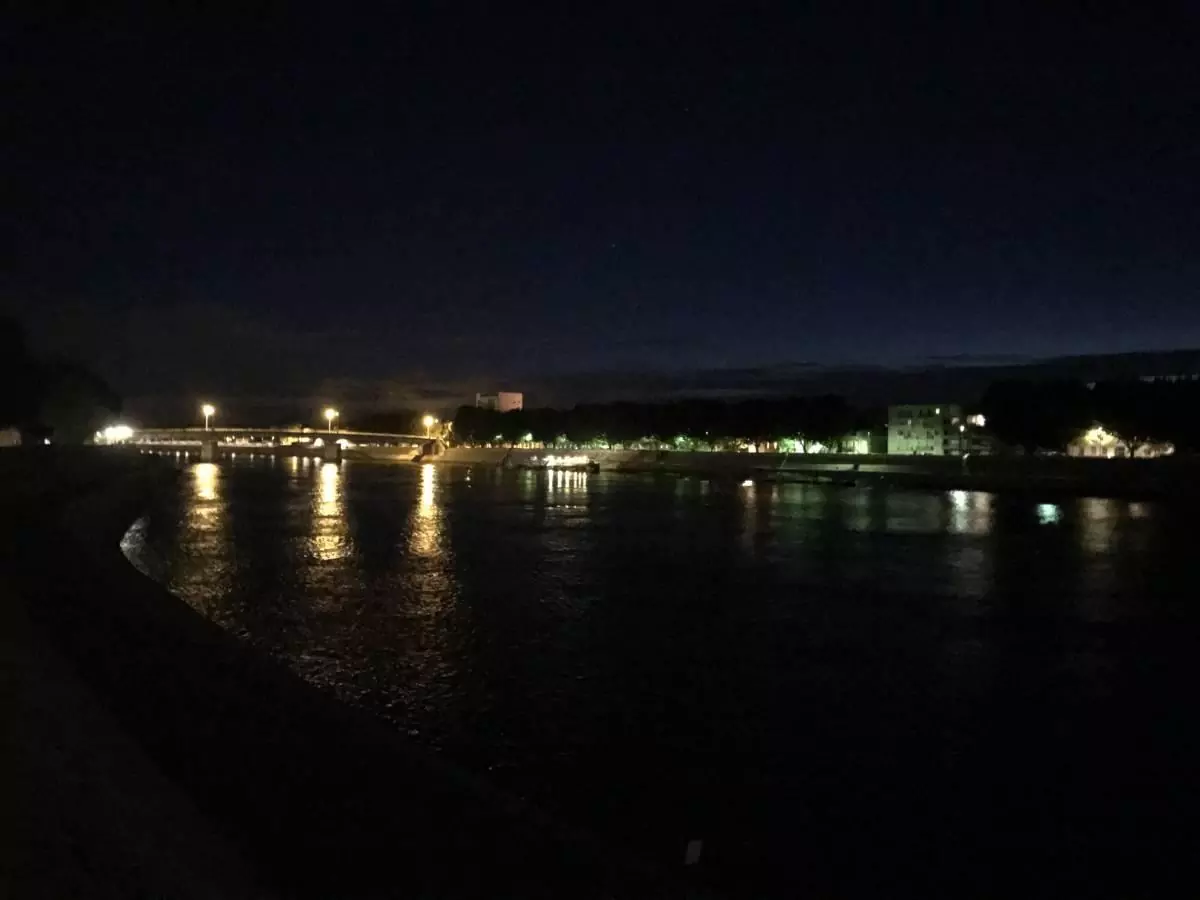 The evening sky served as inspiration for Starry Night Over the Rhone. It was painted from a vantage point just 2 minutes from Van Gogh's house. Later, Van Gogh would paint the sky our Saint Remy in one of his most famous pieces, The Starry Night.
This piece captures the gas lighting of the time as it glimmered across the water. In the bottom right corner, two lovers are seen strolling at night.
Today, modern electricity takes away some of the magic, and an excess of ambient lighting makes the sky much less impressive (I didn't see very many stars) but the basic outline remains and you can picture Van Gogh walking along the water at night, hoping to find some solace.
RELATED POST: VISIT THE LAVENDER FIELDS AT THE SENANQUE ABBEY IN FRANCE
Till next time, safe travels!
Liked this post? Pin me below.