Looking for unique things to do in Aruba? Read on for my top picks.
Aruba is nicknamed "One Happy Island," and it's not hard to see why. At just over 19 miles long and a mere 15 miles off the coast of Venezuela, it's a slice of paradise that's full of quirky contradictions.
As a territory of the Netherlands, Aruba has a surprising infusion of Dutch architecture and food. Guests sample these distinctly European elements amidst echoes of Spanish music while the heat on your skin reminds you that you're in the tropics.
The people on the island speak four languages–Dutch, English, Spanish and Papiamento, a mix of all of the above that's native to the area. Unlike other Caribbean destinations, the topography is desert, not jungle, providing unique opportunities for adventure travel.
Most people go to Aruba to relax. While there's nothing wrong with setting up a towel on Palm beach, I packed one in a waterproof bag instead and hit the road.
Here are some of the best and most unique things to do in Aruba.
1) Go on a Natural Pool Safari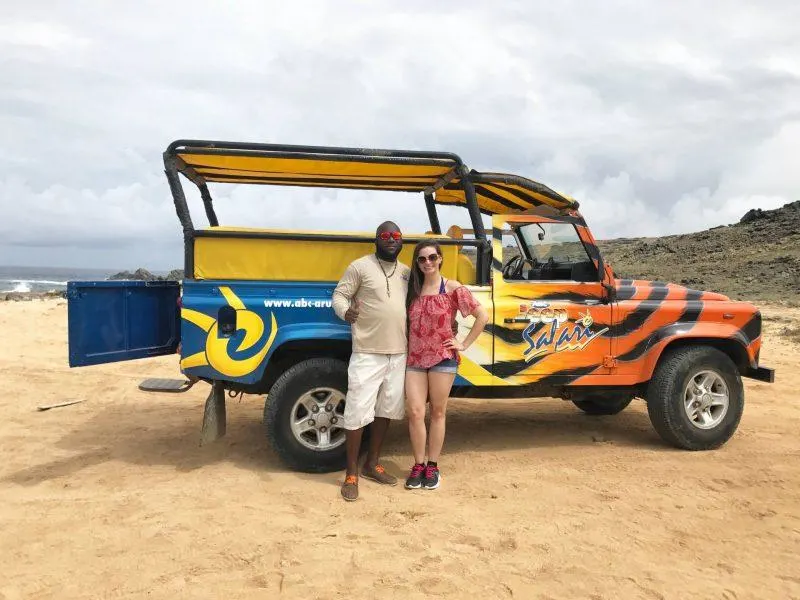 There's nothing like being on a bumpy jeep ride and cruising past island landscapes to get your juices pumping! I went on the Natural Pool Safari with ABC Tours. They run twice a day, at 9am or 2pm, or you can go for a full day.
Thankfully, we did well on time so our guide, Abraham, added stops to our half-day itinerary normally only included in the full-day excursion, such as the Lighthouse and Gold Mill Ruins. They also provide snorkeling gear so that, weather permitting, you can snorkel in the natural pool, located in Arikok National Park.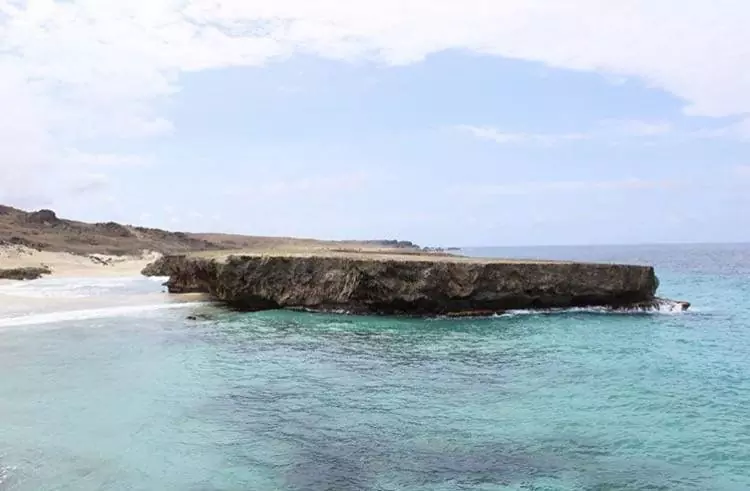 We stopped by the natural bridge and were sad to see it had collapsed a few years back. However, its baby brother (pictured above) is still in place and makes for a good photo opportunity.
Some people wrote in the reviews that the ride was too tumultuous for their liking and I'll be the first to admit, this is not for the faint of heart or those with back problems. But if you're looking for a thrill and a good mix of sights, you can't go wrong with off-roading and exploring Aruba's unique desert landscape.
2) Try Seabob Aruba

Have you ever seen those James Bond movies where he goes underwater and a device propels him away, really fast? That's what a seabob is, an underwater machine that allows you to dive and resurface while holding your breath.
Before I tried this, I was nervous. I'm not champion breath holder, and have a tendency to choke on the slightest amount of unwelcome salt water. It's my year of adventure though, so I stuck with it, and I'm so glad I did!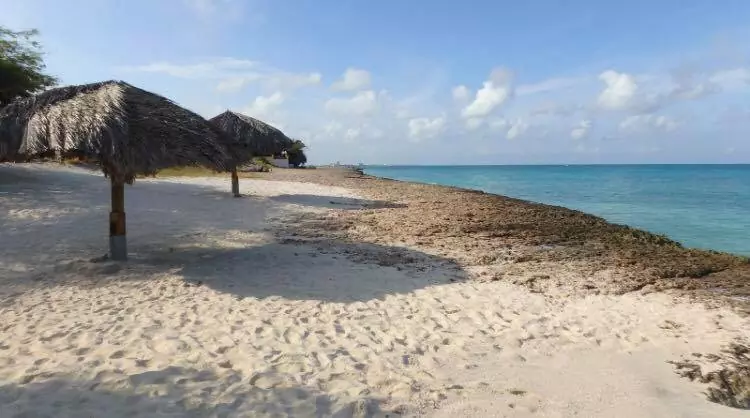 The tour departs from Boca Catalina Beach, a popular spot for tourists but if you go on the 8am tour you get the beach to yourself. The experience takes you swimming alongside sea turtles and on an underwater discovery of the Antilla shipwreck! The best part? Our guide took pictures on his GoPro so no one had to worry about documenting everything. I went with a group of 3 other people, and the guide, and we had an unforgettable time.
One note of caution–the wetsuit is tight and you have to lay flat on the seabob, so avoid a bathing suit that ties in the front. I had a small bruise from putting the weight of my body on the knot of my suit. Make sure you're dressed comfortably with not too much material.
RELATED POST: HOW TO SWIM WITH SEA TURTLES IN ARUBA
3) Go on a Segway Tour

I had never ridden a Segway before, but sunset in Aruba seemed as good a place as any to start! I received a tour through Danny's 2 Wheel Adventures, and all I have to say is wow! Riding a Segway is really cool. It is ultra sensitive to your posture so that when you shift your weight forward or back the machine accelerates and stops.
Danny was an excellent guide, always vigilant and making sure we didn't get too close to the curb since hitting one can really mess up your balance. We cruised up and down the coast and stopped for a beer at Arashi Beach, where we caught a beautiful sunset.Danny was able to provide transportation to and from the hotel. Sunset was the perfect time to go, not too hot and we caught a nice breeze while cruising.
I can't imagine a more perfect way to have been introduced to this method of transportation and highly recommend that you contact Danny if you're in the area!
Note: As of late 2018 Danny's Segway Tours were discontinued. You can still book a Segway tour with Segway Tours Aruba.
4) Eat Dutch Pancakes

One of the best parts of being in Aruba is that it's part of the Netherlands, so you're treated to Dutch architecture and, more importantly, food. If you're looking for a good breakfast to start your day, you'll find no better spot than Linda's Dutch Pancakes and Pizza, a staple on the island for the last 16 year.
That's the strawberries and creme pancake pictured above, and it's absolutely amazing. Like 5 pancakes in one, so come hungry!
RELATED POST: BREAKFAST AT LINDA'S DUTCH PANCAKES AND PIZZA IN ARUBA
5) Experience Aruba Nightlife

The party is at Moomba Beach, in the Palm Beach area. The club/bar is located on the sand, with a DJ at night and multiple areas to house and entertain patrons. While not technically affiliated with any hotel, it is adjacent to the Marriott.
Staff at Moomba gets off work around 2am, then they head to The Mill (an outside bar and dance floor located by an old windmill) where the DJ plays until at least 4am and there's enough music and drinks to keep the party going way past then. Be careful, as always.
6) Take a picture with an "I Love Aruba" sign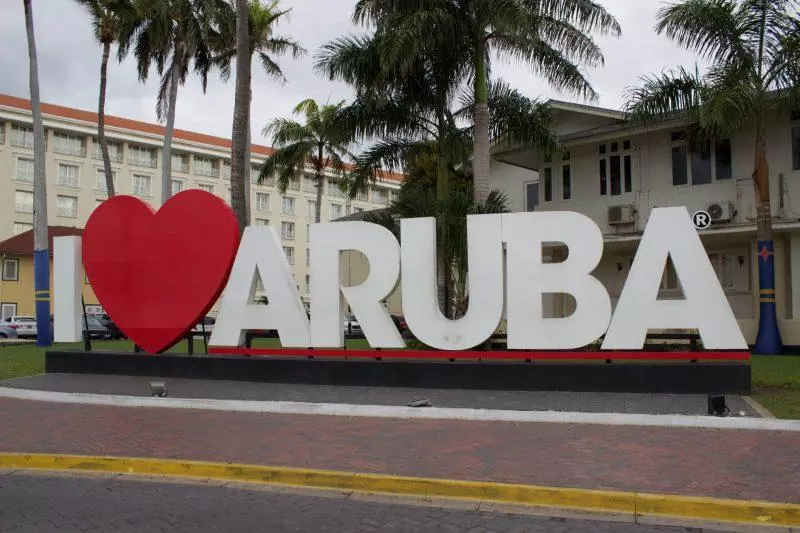 There is more than one "I Love Aruba" sign on the island, but the one in downtown Oranjestad is the easiest to reach and is located right across the street from the Seaport Village Marina, a popular tourist area with an adjacent shopping center. The other sign is located in Palm Beach, in front of the Riu and Hilton Resorts.
This is an obligatory stop when you're on the island and is worth the wait for the crowds to clear. Go first thing in the morning if you want to get the shot to yourself and catch some good natural light.
7) Hang with Flamingos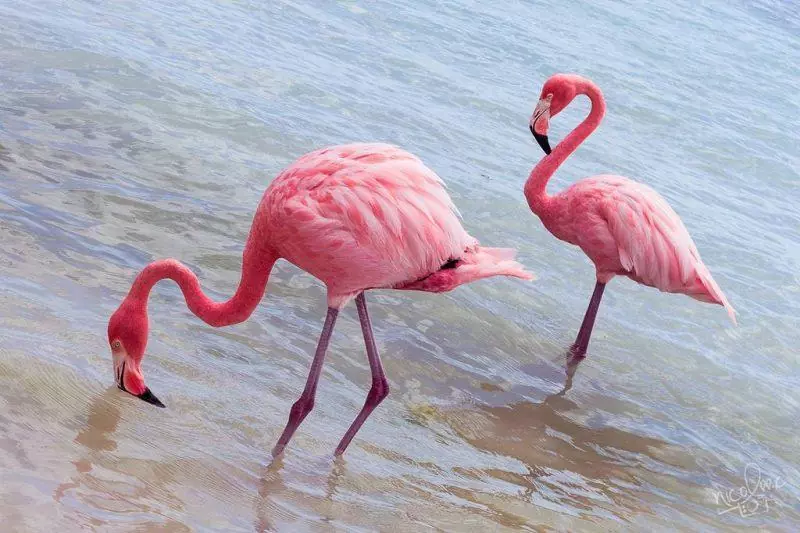 I hesitate to include this in the roundup since the flamingos many people have come to associate with Aruba are not native to the island and can't actually be seen on public land, but it's such a popular activity that I need to address it.
The flamingos are located on Renaissance Island, a private island that belongs to the Renaissance Resort and requires a ferry to reach. Access to the island is included with your hotel stay, otherwise there are limited day passes available upon arrival for $125, which includes lunch and a drink ticket. Day passes are not guaranteed, however, since it depends on availability and the number of guests they have that day, and you cannot reserve one in advance.
Instead of paying to visit Renaissance Island just for this artificial photo opp, I chose to explore as much of Aruba and its local culture as I could, and I was not disappointed!
There are some beautiful places in the Caribbean, and Aruba is no exception. While it's known for incredible beaches, there is much more to do here than just get a good tan. If you want to experience some of the local culture, try any one of the experiences mentioned above for a guaranteed good time.
Till next time, safe travels!
RELATED POST: BOARDWALK SMALL HOTEL ARUBA REVIEW
Like this post? Pin me below!