It's not often that you get to cross off two bucket list items with one stone, but that's part of what makes Seabob Aruba so special.
Most people go to Aruba to enjoy the 5-star resorts and lounge beachside for hours. While the hotel I stayed at was definitely inviting, I wanted to get out and see more than just my guest room.
Specifically, I wanted to have an underwater adventure. If you too have mermaid dreams, or simply want to pull a Joe Jonas and have your cake by the ocean floor, then you can't miss Seabob Aruba.
RELATED POST: 5 MUST-SEE SITES IN ARUBA
What is a Seabob?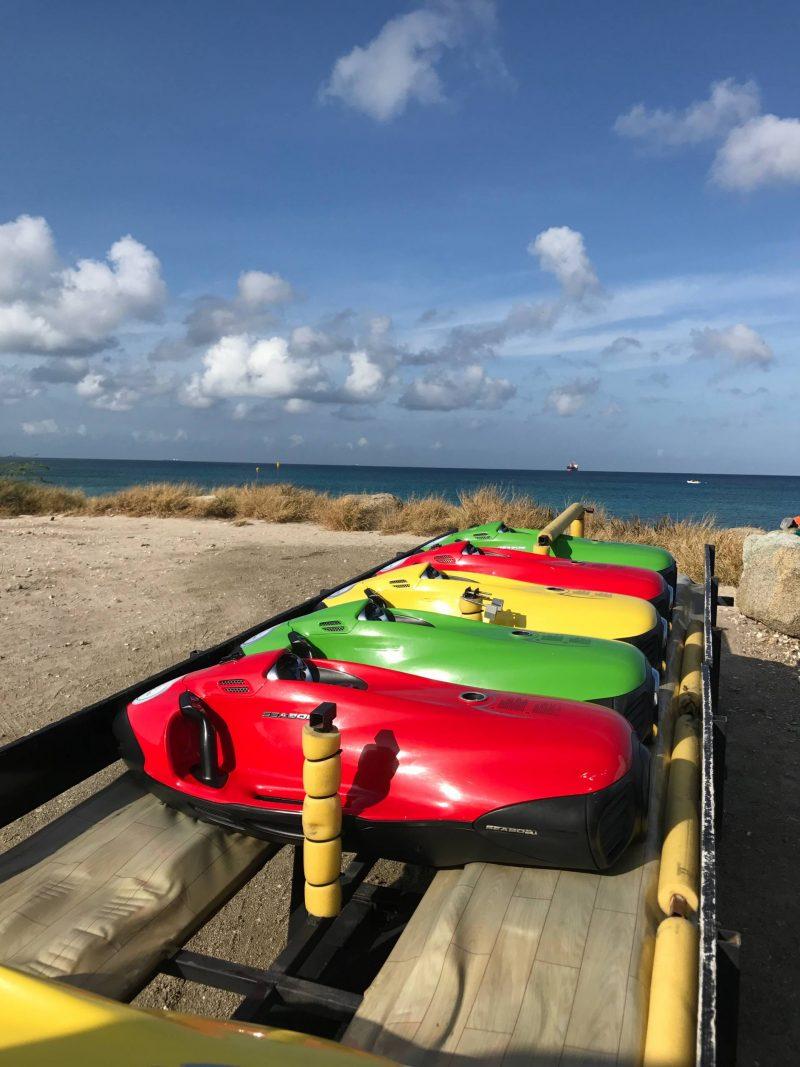 A seabob is an underwater propeller that allows you to dive up to 40 meters at up to 16km/hour (approximately 9mph). You may have seen one being used in action movies. I personally recall Pierce Brosnan pulling off a heist in "After the Sunset" thanks to one of these bad boys.
They're expensive machines, costing more than $70,000, so definitely take care to handle the equipment as directed because they're a big investment for local franchisees. The machines are manufactured and were invented in Germany.
You can control how fast you go, when you dive and how deep you dive. The benefit to utilizing one of these machines as opposed to snorkeling or free diving is that you get to mimick the experience of scuba diving and interact with wildlife without needing additional training or a $1,500 scuba certification.
To dive, you simply hold your breath and point the machine downwards.
Can anyone ride a Seabob?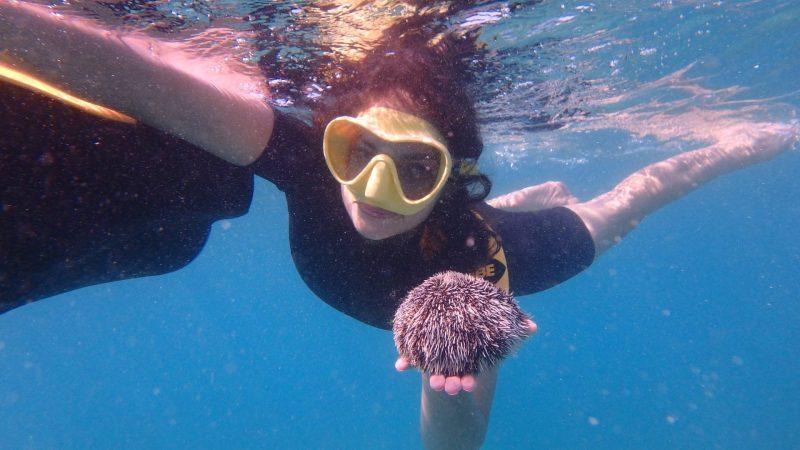 Theoretically yes, but the machine pulls you by your arms and requires at least some upper body strength. I would not recommend this for anyone with difficulties grasping or using their upper body. Unfortunately, on my tour there was an elderly gentleman who was ready to go but, after 5 minutes in the water, realized the force was too much for him and we had to turn back to drop him off.
While you do everything as a group in the water, there is nothing holding you back from wandering or conversely, getting lost, so make sure you're paying attention and always keeping an eye out for your guide's buoy.
What do you see on the dive?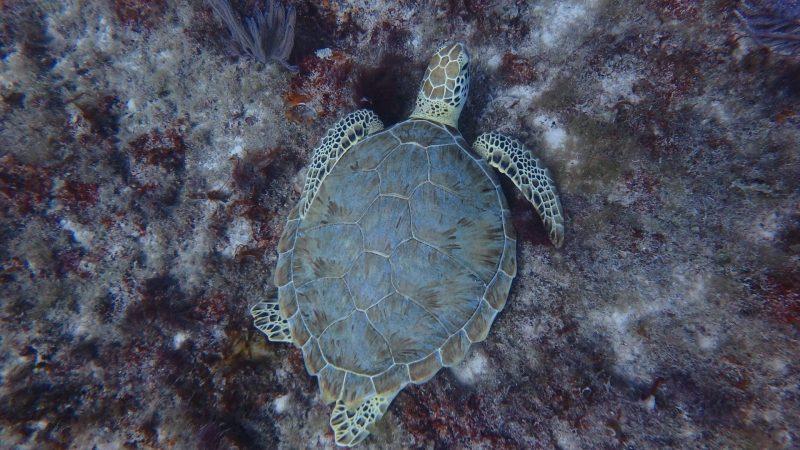 It depends on the season in which you go. I was there in March and was lucky enough to stumble upon a half dozen or so sea turtles. There were also sea urchins and various fish. I did not see any sharks (knock on wood), jellyfish, stingrays or anything else of the sort.
Overall, it was very pleasant and tame marine life, great for beginner snorkelers and divers.
Additionally, the tour takes you out by the Antilla shipwreck. Unlike the snorkelers limited to viewing the wreck from above, Seabob Aruba allows you to dive closer and see the reefs that have formed around this foreign object, giving new life to a ship that died at the hands of the ocean.
What equipment should you bring?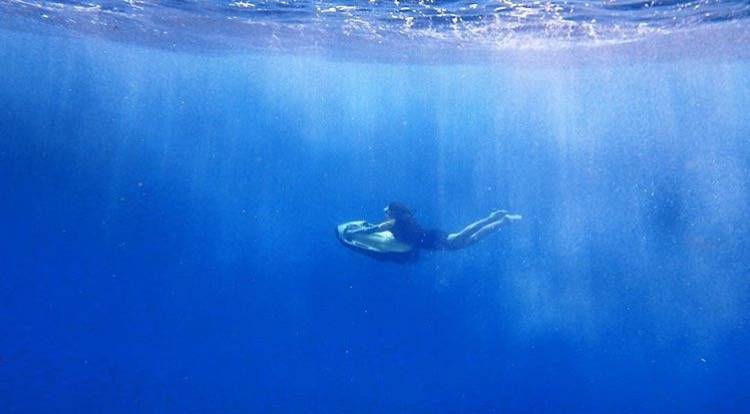 Yourself! Wetsuits are provided, as are photos (for an additional fee) and masks. You don't wear fins or a snorkel. You can leave your shoes/bags in the van with the driver, I took a wet bag and had my hotel key, cash for a tip and a towel for after. Heads up, you will have two staff members to tip–your driver and your diving guide.
How do you get tickets?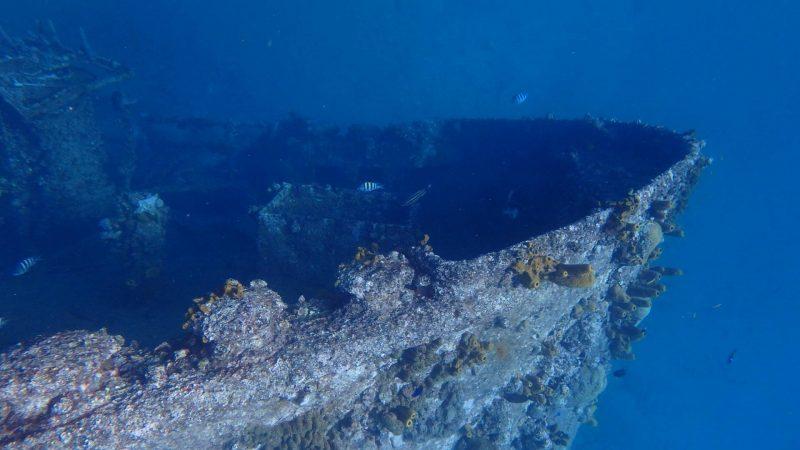 You can reserve your visit with Seabob Aruba online ahead of time. The cost per person is $140 not including pictures, which are offered for an additional $40 at the end of the trip after you have a chance to look them over. Our guide took more than 400 of them so you definitely get bang for your buck.
I recommend going on the morning tour as the water fills up quickly with other boats and snorkeling excursions as the day goes on, scaring away the wildlife and bringing tourist legs into your underwater photos.
Is it worth the trip?

Going on a seabob for the first time can be intimidating, and quite the workout! Expect to freak out if you hold a sea urchin and feel it start to hold you back. Expect to swallow some salt water here and there. But most of all, expect to leave with amazing memories of that time you swam with sea turtles in Aruba.
RELATED POST: TOP 10 BEST DIVE SPOTS IN THE WORLD
Till next time, safe travels!
Like this post? Pin me below!