Where you stay in Aruba really makes a difference, and you won't find better accommodation than the Boardwalk Boutique Hotel Aruba.
Often the debate revolves around whether to stay in the high-rise or low-rise hotel area while in Aruba.
Located in Palm Beach, the Boardwalk Small Hotel is in the high-rise area. But with only 14 villas, you'll never feel rushed or herded here.
It's across the street from the Ritz Carlton and Marriott so you have access to the same beachside amenities, but you get the added bonus of retreating to your own private sanctuary at the end of the day.
RELATED POST: 5 BEST EXPERIENCES ON ONE HAPPY ISLAND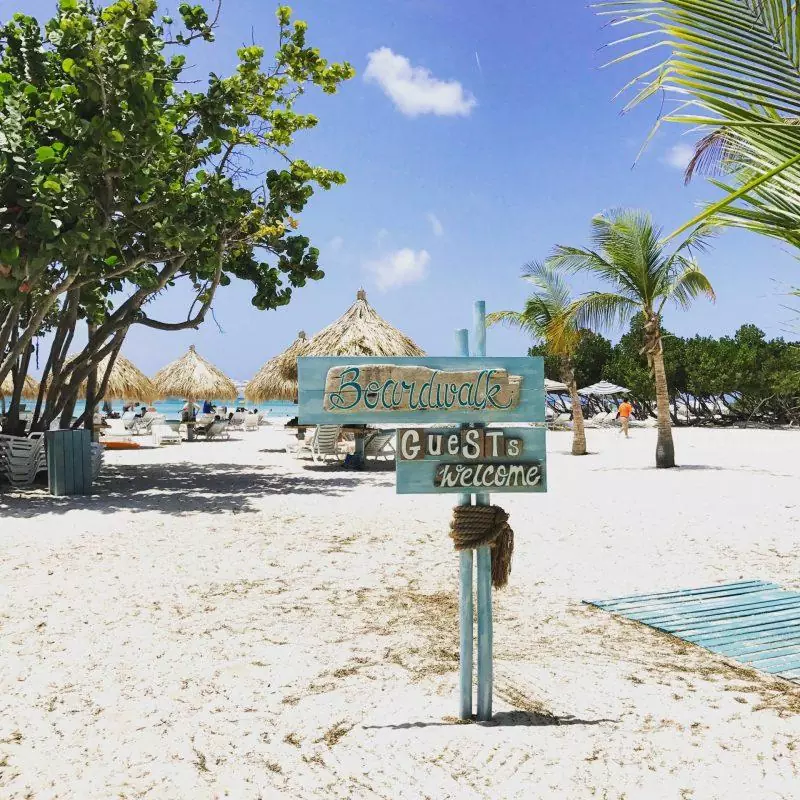 Immediately upon arrival, I felt welcome. The best thing about the Boardwalk Small Hotel is the people who work here. Sister owners Stephanie and Kimberly purchased the hotel 6 years ago and are well regarded throughout the island for their business acumen and charm.
Their staff–Marijn, Alice and all the housekeeping gladiators–are equally as welcoming. You'll be hard pressed to find someone here not donning a genuine smile, making it one happy hotel.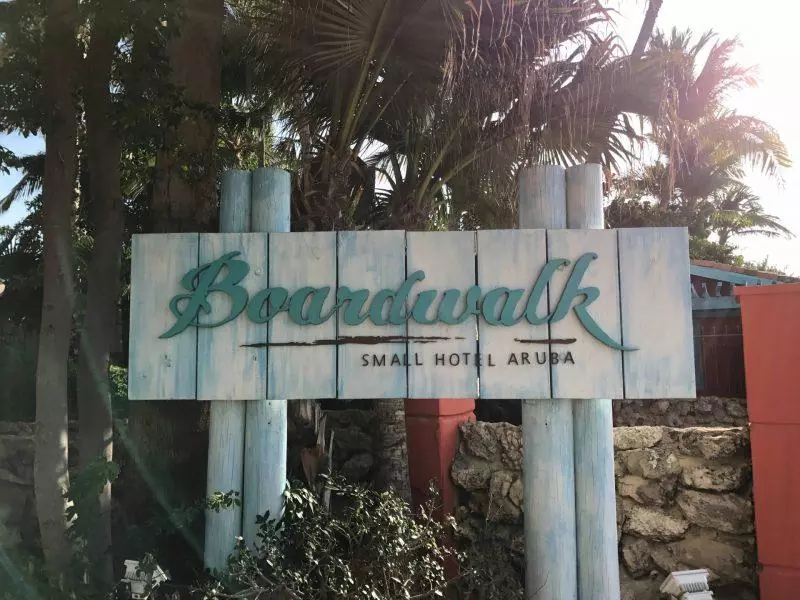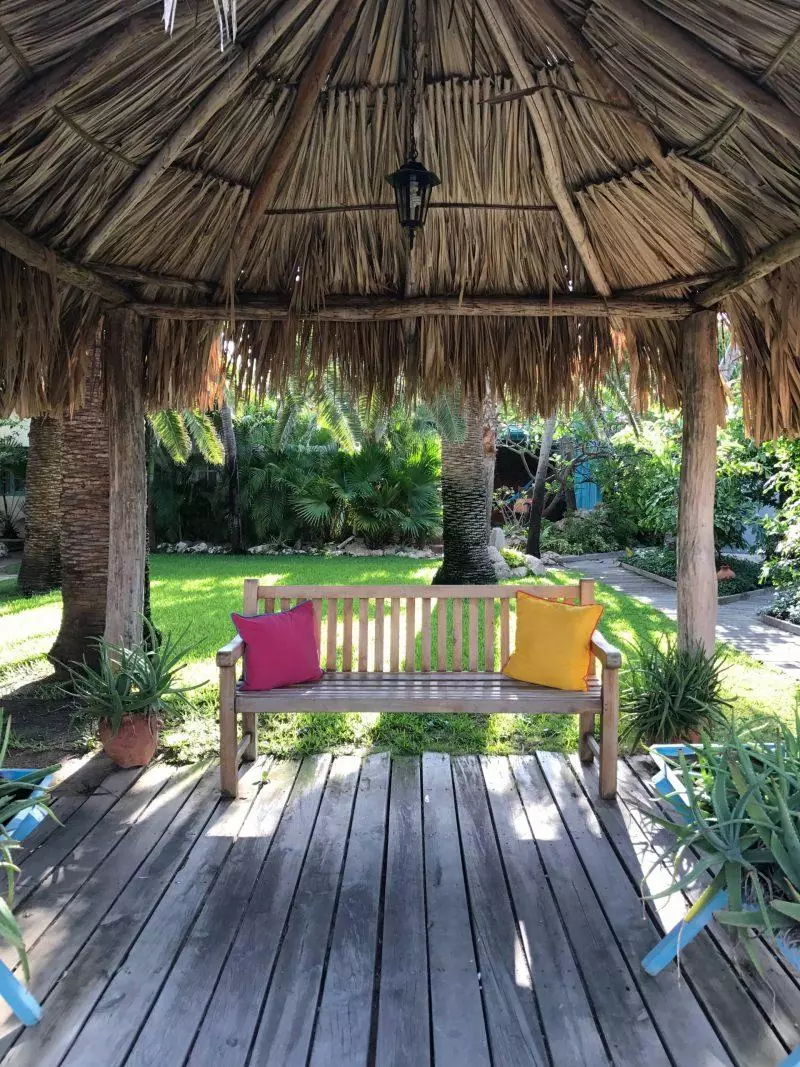 From the moment my reservation was confirmed, I was in constant communication with the Boardwalk Small Hotel team. They made sure I had access to an online compilation of recommended activities. They confirmed my reservation upon booking, one week prior to my trip and again 2 days before my departure.
They offered complementary palapa reservations ahead of time, so you know a prime spot on the beach is waiting for you once you get there. You also get a card upon check-in that allows you to utilize the Ritz Carlton's beachside drink service and even gives you an 20% off their prices.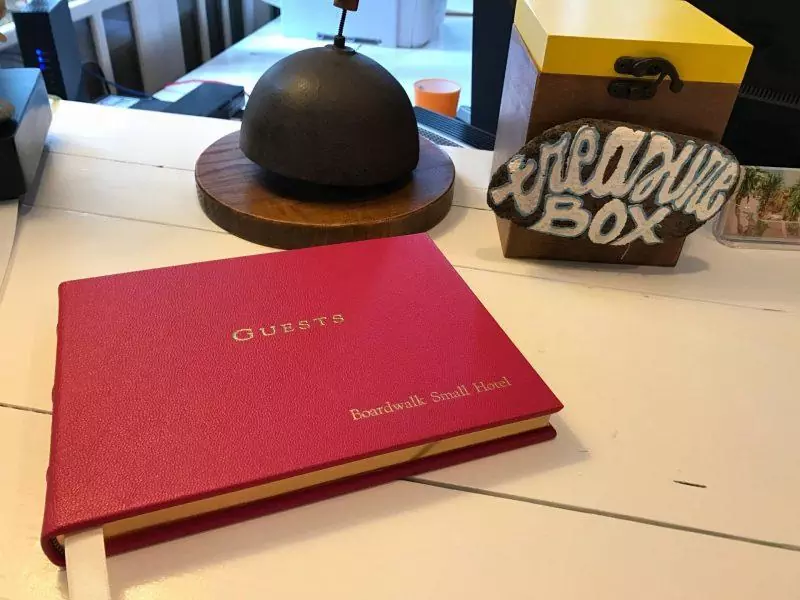 One amazing thing about the Boardwalk Small Hotel is the hot water and strong water pressure. Water is a precious commodity in the island.
It's so clean you can drink it straight from the tap, but not everyone has easy access, with some businesses needing to bring in their own water for every fork that's washed or toilet that's flushed. That's why it costs $1 to use the restroom at the Natural Pool.
At the Boardwalk, you have no water worries. The shower is all luxury, with two shower heads, a spacious bathing area and aloe soap and shampoo products made on the island.
Don't mistake luxury for waste, however. The Boardwalk staff is keen on ensuring they have eco-friendly policies in place, like limited towel replacement services and automatic shutting off of the air conditioning in the bedroom when the door is open to maximize air efficiency.
I hate to brag about the effect of a woman's touch, but you can tell by the decorations that this place was designed decorated by women with style.
Every detail is made to make you feel like you're in paradise, from the Margarita-ville like wooden signs to the sombrero decorations on the wall.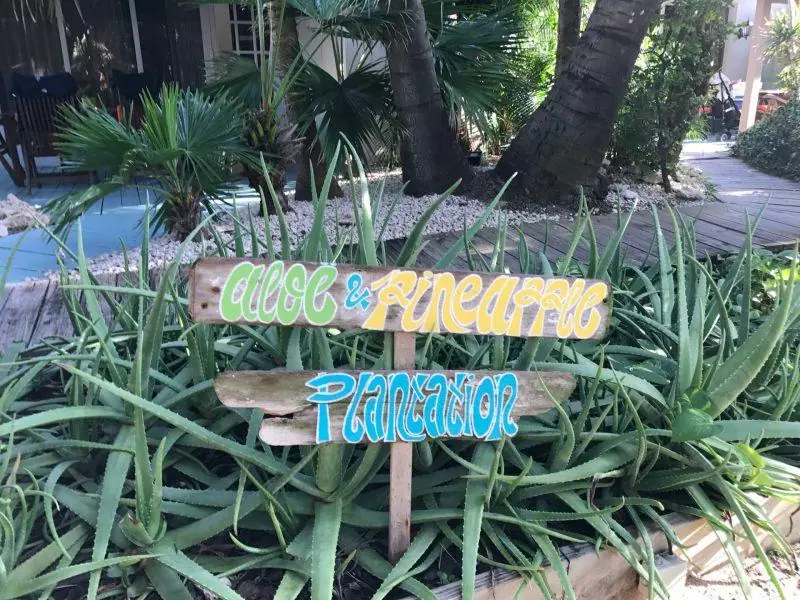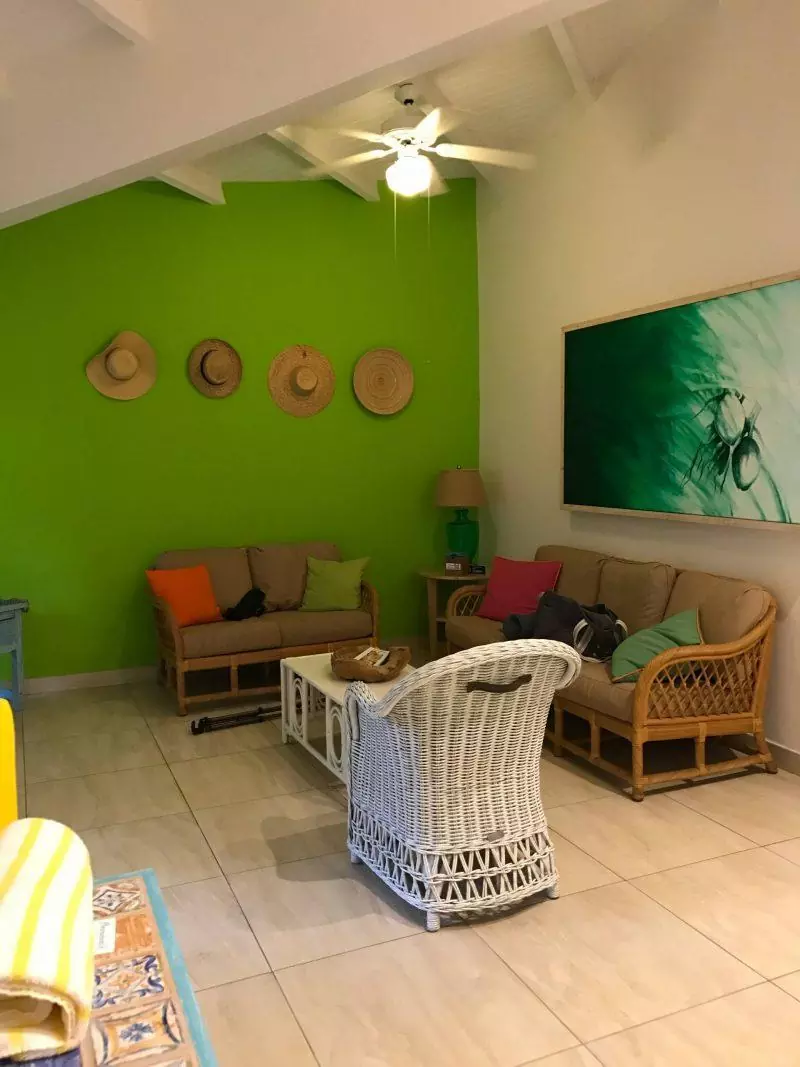 The beds are incredibly plush, with pillows that can hold their own. Nothing is worse than lying down on a hotel pillow and feeling your head sink right through to the bed. Not a problem here!
The curtains in the bedroom are thick and black out any light, allowing you to sleep into the afternoon if that's how you want to spend one of your days. There are vaulted ceilings and ceilings fans, giving it a true island feel.
The colors are just as vibrant as shown on the pictures, in keeping with the wonderfully unique buildings in and around Oranjestad.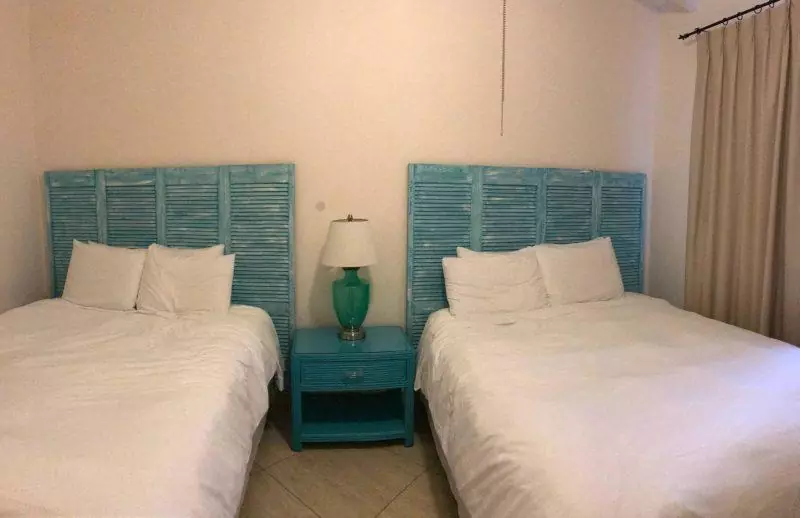 The Boardwalk Small Hotel team pays attention to the little things, and that's what makes them stand out. Iced tea and a pitcher of cold water are waiting in your fridge upon arrival. In your casita, you'll find a treasure box filled with targeted information to help you plan your stay, from restaurant recommendations to activities.
Breakfast includes warm bread, dutch cheese, almond topped yogurt, fresh fruit and a mixed smoothie, served on your private patio. Which includes, just as an FYI, your own private hammock.
They're consistently ranked one of the top three hotels on the island by TripAdvisor, and it's not hard to see why.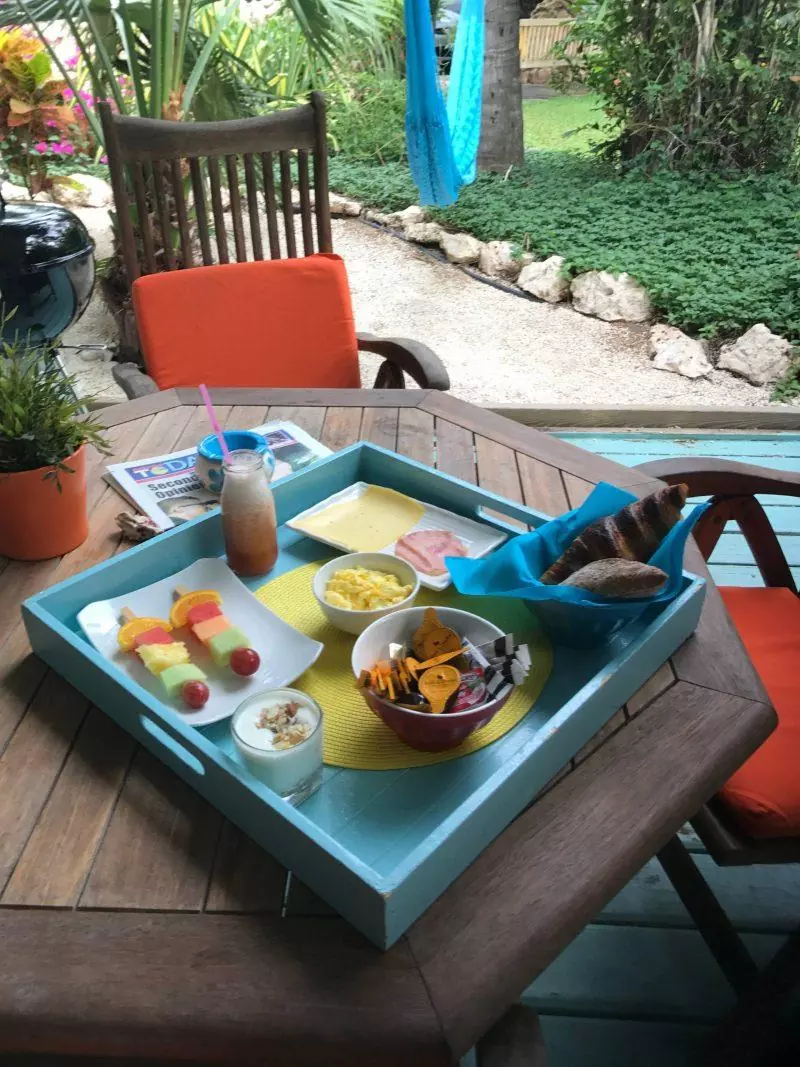 The hotel is commonly recommended for couples and families, but as a solo female traveler I felt completely comfortable. I stayed in the one bedroom casita, and the hotel offers different size accommodations depending on your needs. Each features similar decor and a private patio.
I was safe, within walking distance of the local beachside bars and restaurants, and every driver that either picked me up or dropped me off found the place without difficulty. It was the perfect getaway, as I'm usually stressed and don't get have chance to just relax and put my feet up.
That's what a stay at the Boardwalk Small Hotel Aruba is all about.
If you're not feeling up for the beach, you can check out the pool on site. You can also order a barbecue on your patio or utilize the kitchen facilities. It's fully stocked, including dishes for a family of 4, a microwave and an electric stovetop.
RELATED POST: HOW TO PACK FOR ONE WEEK IN ONE CARRY-ON BAG
Also, because the ladies need to know, hairdryers are in the bathroom for your convenience. Save space in your carry-on luggage and leave yours at home!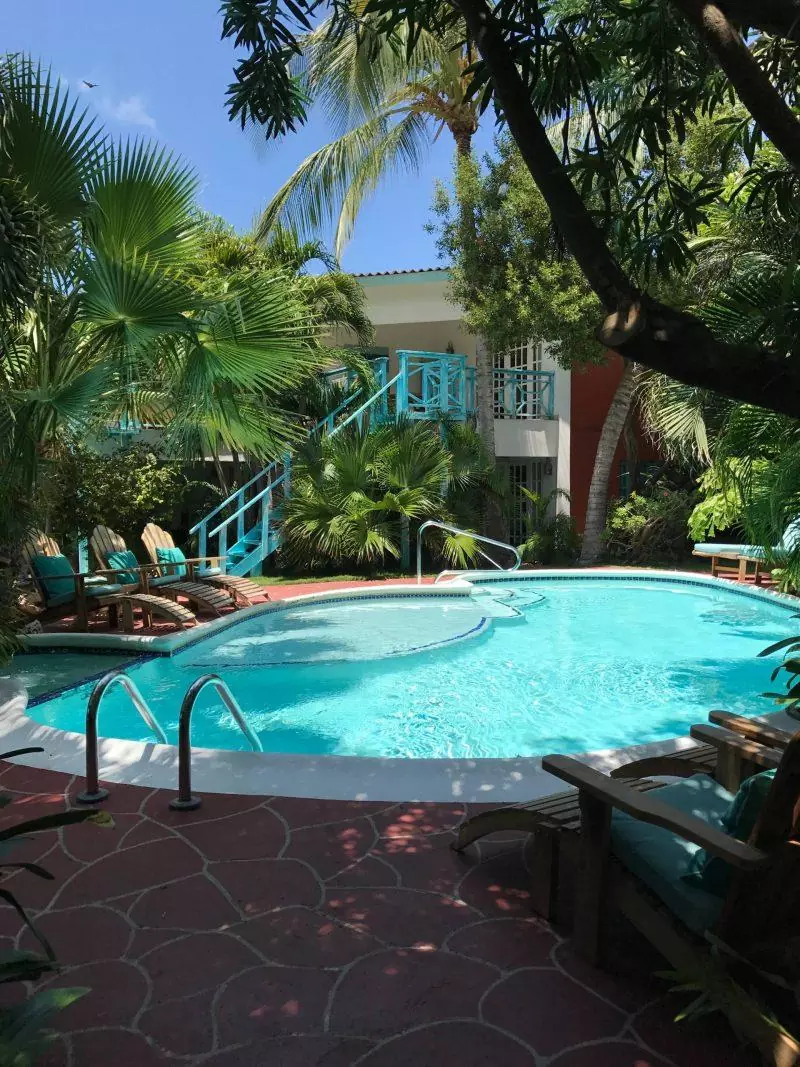 Don't want to cook? Just ask and the staff will happily make a reservation for you at a local restaurant, and call the taxi to come pick you up.
There's no staff working on Sundays. It's the one day that everyone is given off, and guests are made aware of this well beforehand to ensure everything is taken care of ahead of time. I applaud Stephanie and Kimberly for encouraging a work/life balance.
Overall, if you're thinking about booking this hotel, you won't find a better place to disconnect and truly experience Aruba, not the cruise ship or tourist mill that you find at so many other places. I am so glad I got to spend a weekend here and look forward to visiting again on a future trip to Aruba, the happy island!
RELATED POST: HOW TO SWIM WITH SEA TURTLES IN ARUBA
Stephanie and Kimberly were gracious enough to host me during my stay, but my awe of them as business owners and obsession with the accommodations they've put together is completely my own.
Liked this post? Pin me below!