Find out everything you need to plan your visit to the Trevi Fountain in this guest post by Denise from The Nay Blonde, bio below.
The Trevi Fountain, known in Italian as the Fontana di Trevi, is one of Rome's most popular landmarks – and the most crowded by extension.
You will find throngs of people surrounding Rome's most famous fountain at almost any time of day, only proving that true art is appealing no matter the hour.
The good news is, you can easily fit in a visit to the fountain even if you're just passing through the city.
It's in the city center, and Rome remains extremely walkable.
If you decide to add the Trevi Fountain to your itinerary, you won't regret it.
It's more than just a structure, spawning folklore and countless romantic comedy plots.
Here's what you need to know to plan your visit.
RELATED POST: A FOODIE'S GUIDE TO FLORENCE, ITALY
Where is the Trevi Fountain?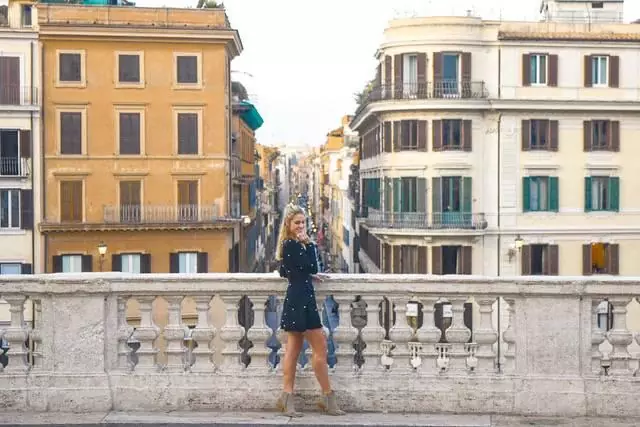 First things first, where is the Trevi fountain?
This masterpiece is located in Rome, Italy in the city's Trevi District. It is also one of the city's most well-known landmarks, and it is likely to top the list of any Rome itinerary.
The address is Piazza di Trevi, 00187 Roma RM, Italy.
It's about a mile from the Colosseum and two miles from the Vatican just to give you an idea of where it's positioned. It's close to Via del Corso, a long shopping street, and makes the perfect end to an afternoon of bargaining.
If you're walking, check out the Heart of Rome Walk by Rick Steves.
You can listen to the guide on your phone for free through the app and it takes you through the highlights with context, from the Pantheon to the Spanish Steps. Click here for Pantheon skip the line tickets.
The Trevi Fountain is actually not the first fountain to grace this location – another one was destroyed in the 17th century, making way for a really intense design competition that resulted in today's modern wonder.
It's also a famous movie site, and it can be seen in films, from classics like La Dolce Vita to modern favoriteslike When in Rome starring Kristen Bell.
When was the Trevi Fountain built?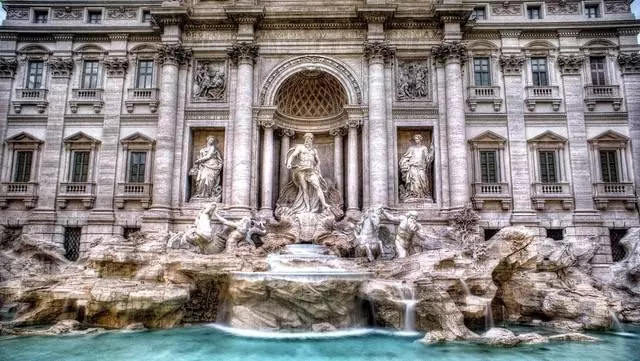 Okay history buffs, this next section is for you.
The fountain was completed by Giuseppe Pannini in 1762, and it is considered to be a part of the Baroque art movement.
It's worth noting that the fountain's origin is listed as the completion date, since it took about 30 years to build.
Pannini isn't even the one who started the project – that would be Nicola Salvi, but he died in 1751, leaving Pannini to see the project to completion.
RELATED POST: 5 UNIQUE THINGS TO DO IN SOUTHERN SICILY
Trevi Fountain at Night
I get a lot of questions about when is the best time to visit the Trevi Fountain (covered later in this article), but the real answer is that totally depends on you!
There are often crowds at the fountain, but that doesn't ruin its magic – especially at night.
The Trevi Fountain is one of the best things to do in Rome at night. You'll see it when it is softly lit and host to a vibrant atmosphere.
The entire area surrounding the Trevi Fountain is packed with shops, restaurants and gelato stores, making nighttime an excellent opportunity to enjoy the fountain and grab a bite to eat nearby.
Trevi Fountain Coins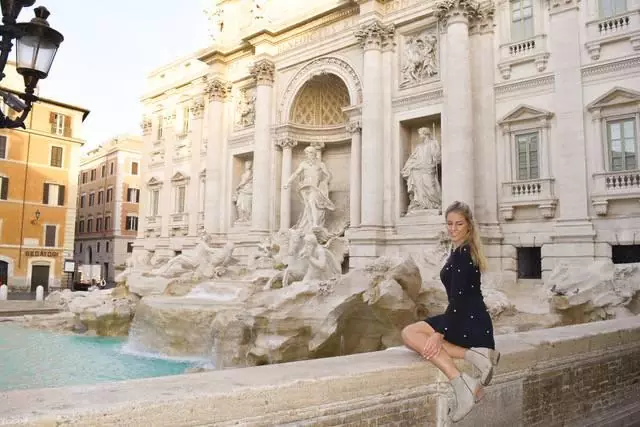 One of the first things you'll notice when visiting the Trevi Fountain is that everyone tosses a coin in the fountain.
Why is that?
That can actually be traced back to a movie called Three Coins in the Fountain, which came out in 1954.
According to the movie's myth, if you throw one coin into the fountain, you will return to Rome at some point.
If you throw in two coins, you'll find romance in Rome.
If you really go crazy and throw in three coins, legend says you'll also get married there.
You might be laughing at the legend, but people toss a good chunk of change in the fountain every day – some estimates say around $3,600 U.S. dollars a day, totaling a grand $1.5 million dollars per year.
If you're reading this and thinking the Trevi Fountain might be a good spot for an Oceans 11-type plot, think again – most attempts to rob the fountain have been thwarted.
RELATED POST: 8 REASONS TO VISIT TRENTO, ITALY
Trevi Fountain Statues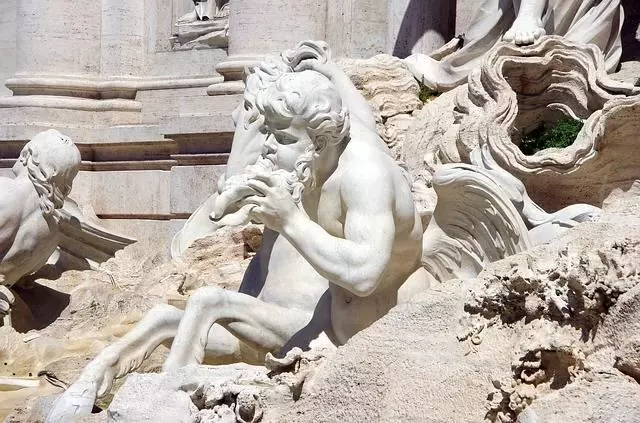 So, now you know a little bit of background about the fountain and the traditions surrounding it, but what about all those statues?
There are three main statues, and they'll all considered to be works of art.
The center one is a statue by Metro Bracci called Oceanus, representing the Roman sea god Neptune, who can be seen standing on a chariot that is pulled by sea horses – not a bad way to travel!
The sea horses also are led by tritons, which are basically a Roman version of a mermaid.
There are also statues of abundance of health. The one representing abundance holds a horn that's filled with fruits and other produce, which is used to represent the idea of plenty.
The statue of health wears a laurel wreath, which is considered to be a plant belonging to Apollo.
This is where we get a little deeper into Roman mythology – Apollo is considered to be the father of Aesculapius, who is thought to be the god of medicine.
Basically, in this case laurel wreath = health. The health statue is also seen letting a snake drink water from her cup.
When Should you Visit the Trevi Fountain?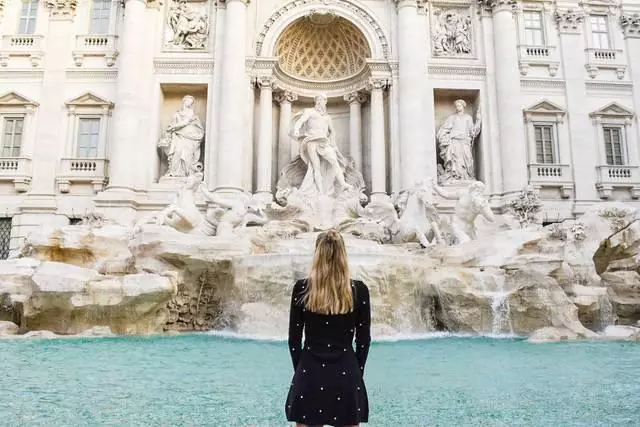 This, my friends is the million dollar question.
As I alluded to earlier, the fountain is almost always busy, meaning that you're going to have to put up with major crowds to even get close to it.
If you want pictures with the fountain, you might have a chance – but you'll likely have to wait in line and deal with a lot of teenagers trying to snap 100+ selfies.
In my opinion, the absolute best time to visit the Trevi Fountain is early in the morning before the crowds arrive.
To get the photos you see in this article, we arrived around 6:30am, and we had the place almost completely to ourselves.
While getting up that early might not be for everyone, it is definitely the best time to see both the Trevi Fountain and the nearby Spanish Steps if you want photos at either location without other tourists in the frame.
Not willing to sacrifice sleep for a good photo?
That's totally understandable. In that case, you really can visit the fountain at any time, as long as you're willing to deal with the crowds.
You also do not need any kind of ticket or entry fee to visit the fountain; it is an open site with multiple entrances.
That wraps it up for this guide on the Trevi Fountain! Have you previously visited the fountain and have additional tips to add? If so, comment and let me know!
RELATED POST: HOW TO SEE DA VINCI'S LAST SUPPER IN MILAN, ITALY
Author Bio:
Denise is a blogger and entrepreneur who runs @thenavyblonde on Instagram and www.thenavyblonde.com. Before she began blogging, Denise was an international tv news anchor and worked for major media outlets, creating and editing viral multi-media for audiences all over the world. Having traveled to dozens of countries, she currently resides in Portland, OR and is passionate about style, travel, and helping others live their best life.
Note, this post contains affiliate links.
Liked this post? Pin it for later!