Florence has everything a tourist could possibly want–incredible music, a walkable city center, world-class art and a never-ending supply of delicious Italian food.
Somehow, despite eating carbs constantly during my trip, I returned slimmer than when I left. It could be the 5th floor walk-up apartment. Lifts are few and far in between in the old city, but you enter through giant castle doors, so there's a certain give and take.
It could be because every worthwhile view of the city was prefaced by a 450-step climb. The Bell Tower, Duomo Cupola, Piazza San Michelangelo, Boboli Gardens–you work for your views here!
RELATED POST: 10 MUST-SEE ATTRACTIONS IN FLORENCE, ITALY
Whatever the reason, I felt free to indulge my inner fat kid during a 3-day exploration of Florence, knowing whatever I consumed would be worked off soon after.
And boy, did Florence provide. If you're visiting one of Italy's most dynamic cities, then you can't leave without trying these 5 distinctly Florentine food items. Here's your Florence food guide:
1. Gelato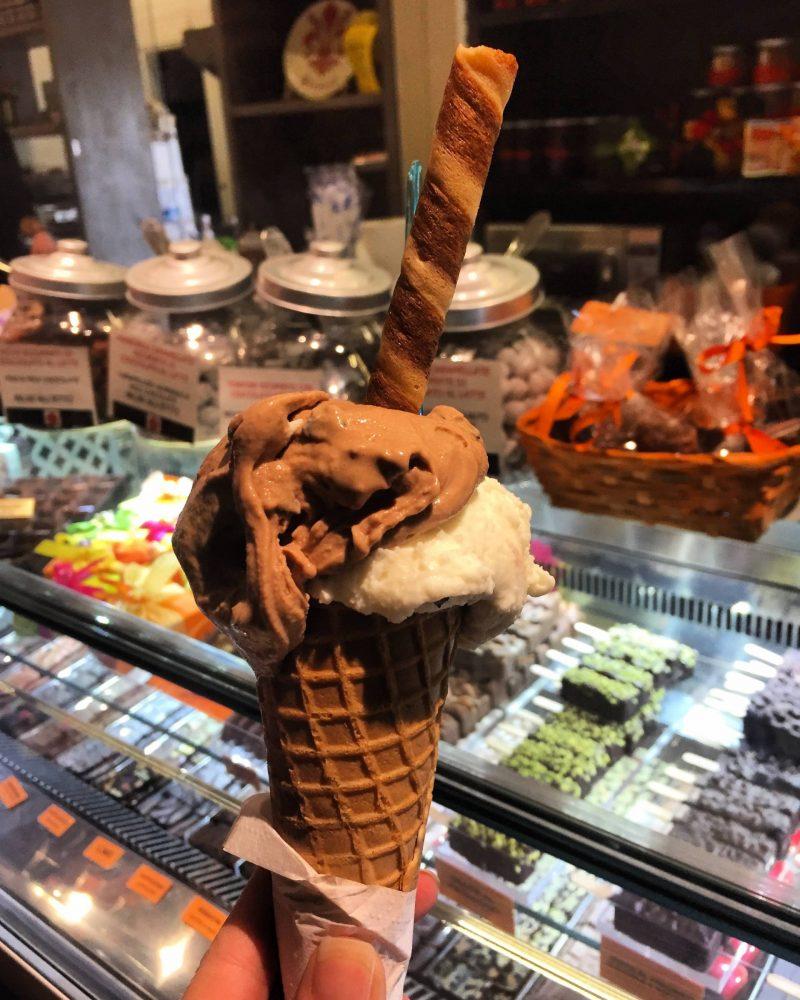 Gelato is by far the most popular treat in the Florence. You can't walk down the street without seeing at least a dozen people carrying a cone in hand, day or night. There's a shop on every corner, and even the most touristic spot will offer a far superior product than what you have available at home.
Do yourself a favor–eat it often, try different varieties, and don't feel any guilt whatsoever about this frozen indulgence while you're on vacation.
Top picks:
Vestri

(Borgo degli Albizi, 11r) Vestri is a gelato and chocolate shop that offers the best homemade gelato you'll ever taste. With less than ten flavors, Vestri is all about quality over quantity. And when even simple flavors like vanilla gelato win you over, you know you've come to the right place. – Or at

My Path in the World

Badiani (Viale dei Mille, 20) Our favourite place for gelato in Florence is Badiani, a historical establishment in area 'le cure'. Located just outside Florence city centre, Badiani prides itself for only using the best ingredients and the proof is in the taste: their gelato is delicious, no matter which one of the many flavours you decide to tuck into. Badiani is unique as it offers something special that you can only find in their shop: a flavour called 'dolcevita'. 'Dolcevita' is made of cream, milk, eggs, chocolate sauce and hazelnuts and is so special it won the London gelato festival in 2015, propelling Badiani to international fame! – Marta at Learning Escapes
2. Pasta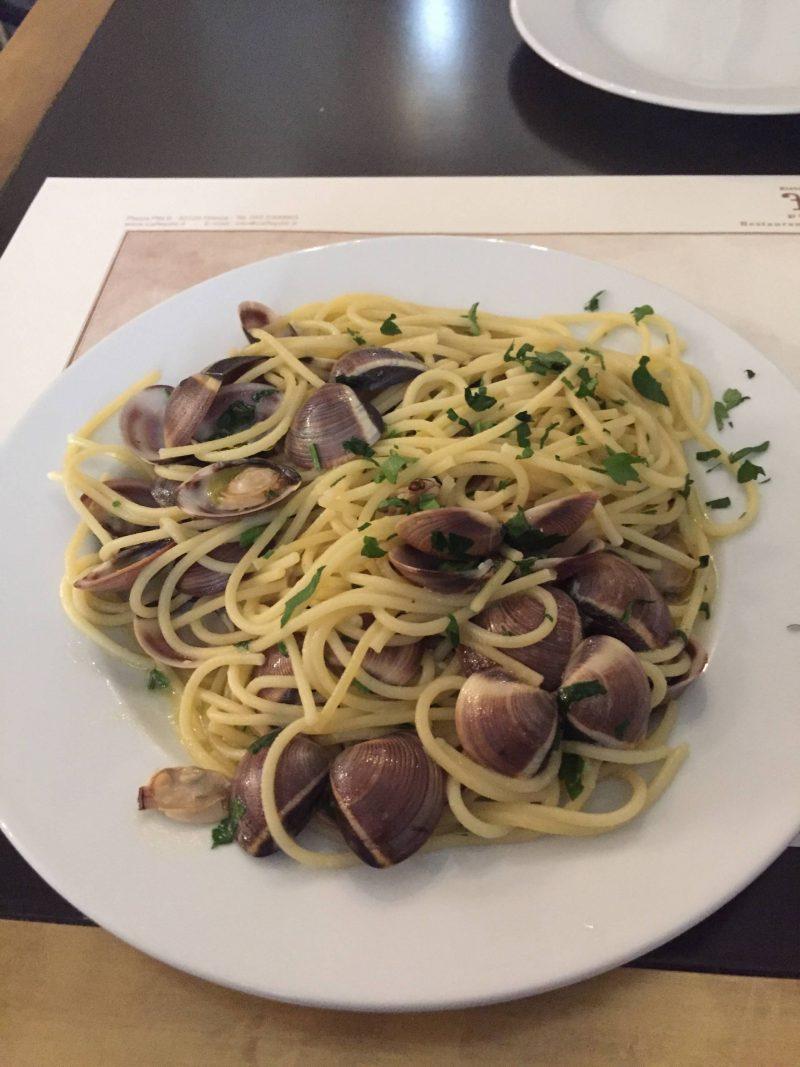 There's nothing like freshly made pasta to fuel your day before an afternoon of walking. Italy is the best place in the world to have pasta, and the restaurants take pride in the dishes they offer. You can order noodles with red sauce and have it taste gourmet.
Pictured above is a clam pasta dish. Don't be shy about loading up on parmesan cheese by asking for extra formaggio!
Top picks:
5 e Cinque (Piazza della Passera 1) In this restaurant, you'll find the highest quality for a vegetarian or vegan pasta. All the ingredients used in the dishes of "5 e Cinque" are organic and come from local farmers. By this, I do not only mean olive oil, sauces, vegetables, and cheese, but also the very same "pasta", which is made in small, top-grade pasta factories from different Italian regions. When you sit at the table and order your meal, feel free to ask all the questions you have in mind about the origin of the ingredients. – Annalisa at Travel Connect Experience
RELATED POST: HOW TO PLAN A HALF DAY TRIP FROM FLORENCE TO PISA, ITALY
3. Pizza

The great thing about pizza in Italy is that it doesn't have to try so hard. It's naturally delicious. This is your standard shop, offering everything from a margherita pizza to prosciutto and vegetable medley creations.
Many shops are open late, making pizza the perfect late night snack in Florence. It's also equally delicious cold so make sure to bring any leftovers back to your hotel.
Top picks:
Pizzeria La Sud

(Mercato Centrale) We asked our cooking course teacher and well known food writer Patrizia where we could find the best pizza in

Florence

. She directed us to Pizzeria La Sud in Mercato Centrale. Pizza is brought to you piping hot and straight from wood fired ovens Neapolitan style. The bases are thin and chewy and loaded with fresh tomato, mozzarella and cured meats. As you can imagine the pizza is mouthwateringly good and at only €8 a steal. – Katie at

Untold Morsels

Giotto Pizzeria Bistrot

(Via Francesco Veracini 22/d) is not in the immediate city centre of

Florence

, you need some 15 minutes bus to get there, but it totally deserves it. The chef is from the Campania region, the birthplace of pizza, and his creations are really amazing and made according to tradition. On the menu, you will find classic options like Margherita and gourmet pizza like "Est e Ovest", where the chef really puts in all his passion and imagination. It's always very busy with locals, so booking in advance is highly recommended and definitely mandatory if you are going on a weekend." – Angela,

Chasing the Unexpected
RELATED POST: BEAUTIFUL PICTURES OF FLORENCE TO INSPIRE YOUR NEXT VISIT
4. Florentine steak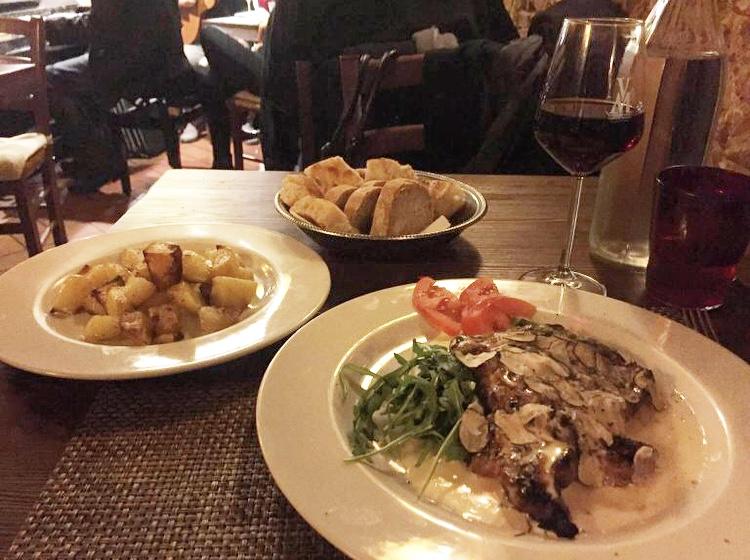 Surprisingly, one of the best places to get steak is Florence, Italy. Who knew? The meat is thick cut, between 2-3 inched, and must be grilled. Typically, it's priced by weight. It is said that the Medici family supplied the people of Florence with steaks on San Lorenzo's feast, celebrated August 10th, giving ride to the name.
Also great with steak? Wine. Once it hits your lips, it's so good!
Top picks:
Trattoria Vecchio Mercato (12/13/r, Piazza del Mercato Centrale) live music, brick walls and dim lighting set the mood in this fine dining establishment specializing in Florentine steak. You'll be doing yourself a disservice if you leave without at least trying the beef here — it's unbelievably tender and a treat for a nice night out in the city.
RELATED POST: AUTHENTIC FLORENTINE STEAK AT TRATTORIA VECCHIO MERCATO
5. Cannoli and hot chocolate

Peanut butter and jelly have nothing on this pairing. The hot chocolate in Italy is so rich and thick you could eat it with a spoon, conveniently provided at most shops. A steaming mug in a coffeeshop in Florence makes a welcome treat on a fall or winter day. The cannoli, stuffed on the spot and garnished with orange zest, is just the right accompaniment.
Top picks:
Giumella (Via Lorenzo di Credi 12r • 50136) is a lovely local spot in a residential neighborhood and serves veganized versions of traditional Italian dishes. Their most popular dessert offering is their cannoli, which is a lighter, healthier version of this famous sweet. The filling is a non-dairy cream, while the outer shell is made from a mix of whole grains and seeds. It's perfect for lactose-intolerant and vegan visitors to Italy, but it's loved by all! There's not much seating at Giumella, but you can order the cannoli as takeaway and eat it while watching the sunset from Piazzale Michelangelo. – Wendy, The Nomadic Vegan.
I hope you enjoyed this post. Till next time, safe travels and happy eating!
Also, as a bonus, click here for a free 4-day Florence Itinerary!
RELATED POST: MUST-SEE ART IN FLORENCE, ITALY
Liked this article? Pin me below.