Want to know the must-see attractions in Florence, Italy? First-time visitors should be sure to add these stops to their itinerary.
First-time travelers may dream of visiting Rome but seasoned visitors know the heart of Italian art, music and cuisine lies in Florence, Italy.
Home to greats like Michelangelo, Dante and Donatello, Florence is a city of masterpieces. So many, that it's hard to know where to begin your sightseeing.
Known as the birthplace of the Italian Renaissance, Firenze is reminiscent of a sprawling castle, with massive wooden doors and impressive displays of masonry throughout.
Stay by the Duomo to be in the center of the action or the Oltrarno neighborhood if you're seeking a more local experience.
You can get to and from the airport to the city center by taxi or the VolaInBus. It's easy to access nearby locations like Pisa, Venice and Cinque Terre by train.
Florence is a walkable city, with all major attractions within a 15 minute stroll of each other. Should you need a boost of energy along the way, simply stop by your nearest gelato shop for a sugar fix—there's one on almost every corner.
To make the most out of your time in one of Italy's busiest cities, plan ahead and make sure visit these 10 must-see attractions in Florence.
1. The Duomo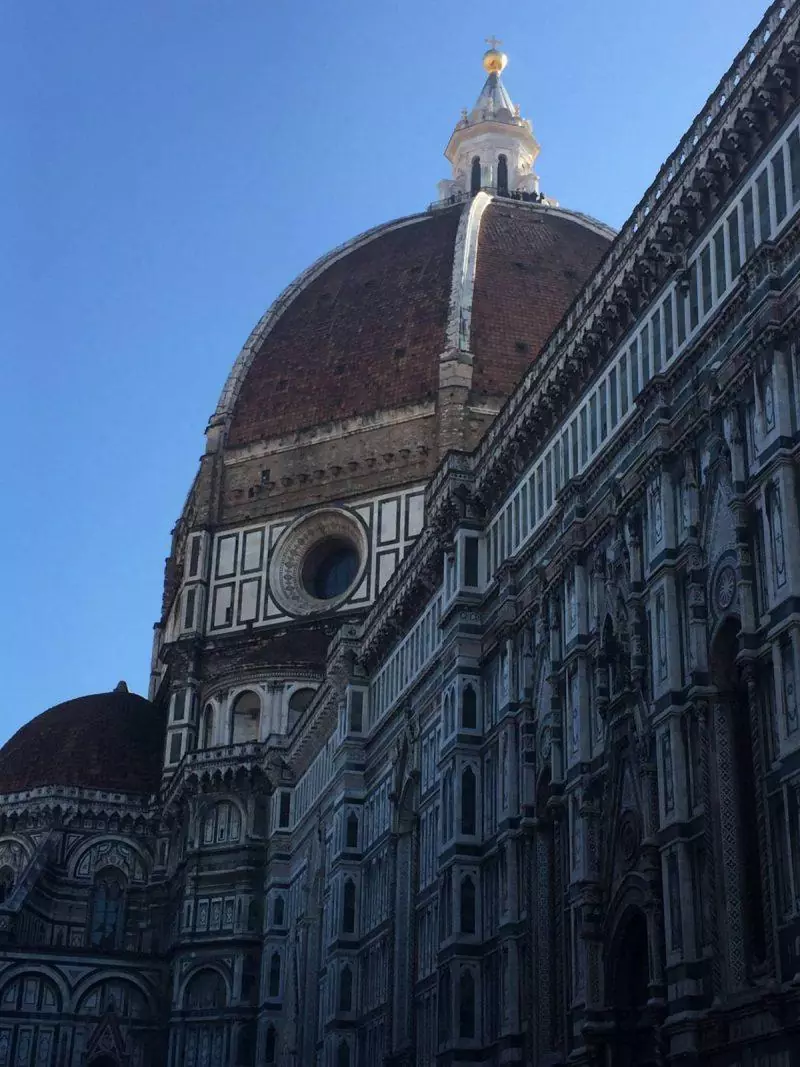 Most people picture the Duomo as just one building; the red dome that has become synonymous with Florence. In fact, the Duomo is a complex of several buildings, including the Baptistery, Museum, Bell Tower and Dome.
One ticket to the Duomo complex gains you entry to all of the buildings and is valid for 48 hours from the time of first use.
Reservations are available and must be made in advance, including Firenze Card holders, in order to climb the Bell Tower and Dome. Click here to get Duomo Florence tickets.
Otherwise you can wait in line and enter as space becomes available, but that takes a while during the summer months and sunset hours.
Don't miss Ghiberti's original Gates of Paradise inside the Duomo Museum. The doors at the Baptistery, where you'll find people lining up to take photos, are merely replicas.
2. Accademia Gallery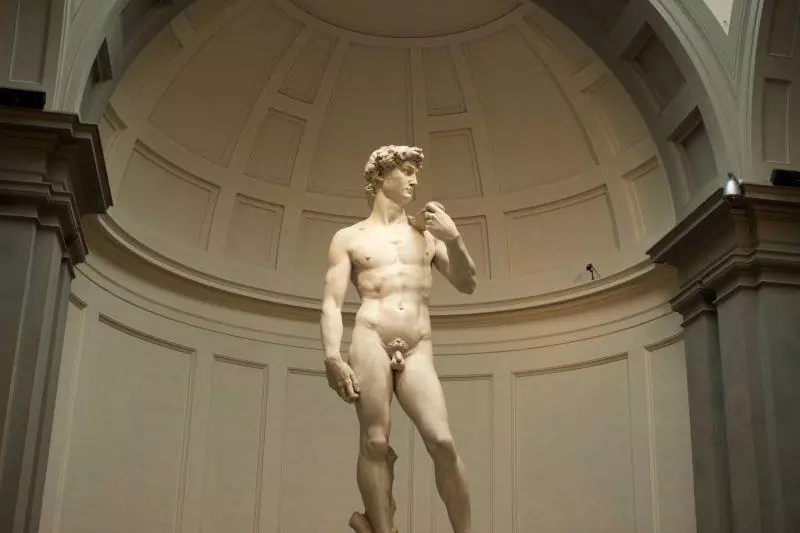 The Statue of David at the Accademia Gallery is only 17 feet tall but seems larger than life. Where so many works of art fall short of expectations (I'm looking at you, Mona Lisa), Michelangelo's David does not disappoint.
Reserve your admission ahead of time for entry first thing in the morning by booking online through the city's website prior to your trip.
While it's in Italian and confusing to navigate at first, you get the best price buying your tickets from the city directly as opposed to a third party vendor.
The other highlight of the Accademia is Michelangelo's Prisoners, bringing to life his well-known quote, "Every block of stone has a statue inside it and it is the task of the sculptor to discover it."
Download Rick Steve's free audio tour on your phone before you go–it's more entertaining than the museum guide and saves you 6 Euro.
RELATED POST: MUST-SEE ART IN FLORENCE, ITALY
3. Piazza de la Signoria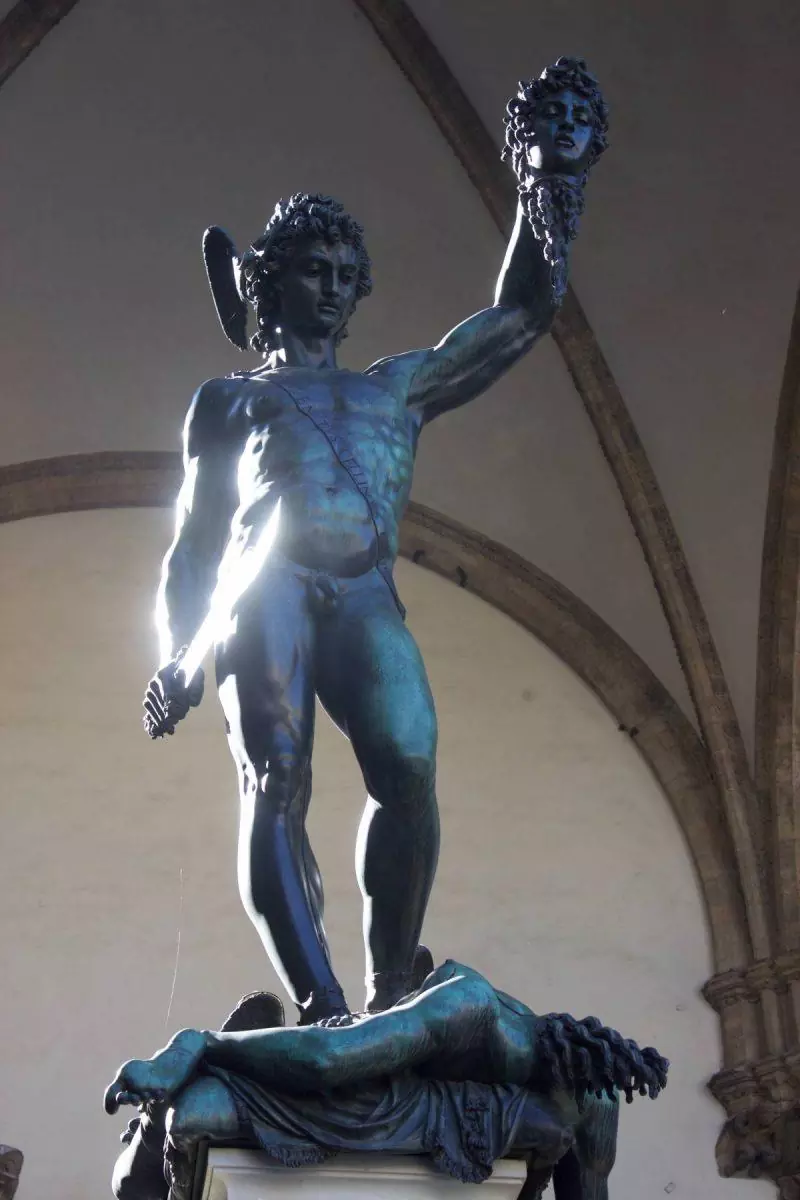 The Piazza de la Signoria is a public square in front of the Palazzo Vecchio, adjacent to Uffizi Museum. During the Renaissance, it served as a political hub and city center.
Today, it's a pedestrian area where you'll find vendors, horse drawn carriages and street performers, but the main draw is the outdoor art museum it holds.
The Palazzo Vecchio has a full sized replica of the Statue of David facing the square. The Loggia dei Lanzi, an arched and open-air building, houses Perseus Holding the Head of Medusa and the Medici lions.
In the middle of the Piazza you'll find the famous Fountain of Neptune.
In any other city, you'd have to pay admission to view works of this caliber, but Florence has so much art it's literally overflowing into the streets.
The square and its sculpture collection can be enjoyed 24 hours a day, 7 days a week.
4. Scuola di Cuoio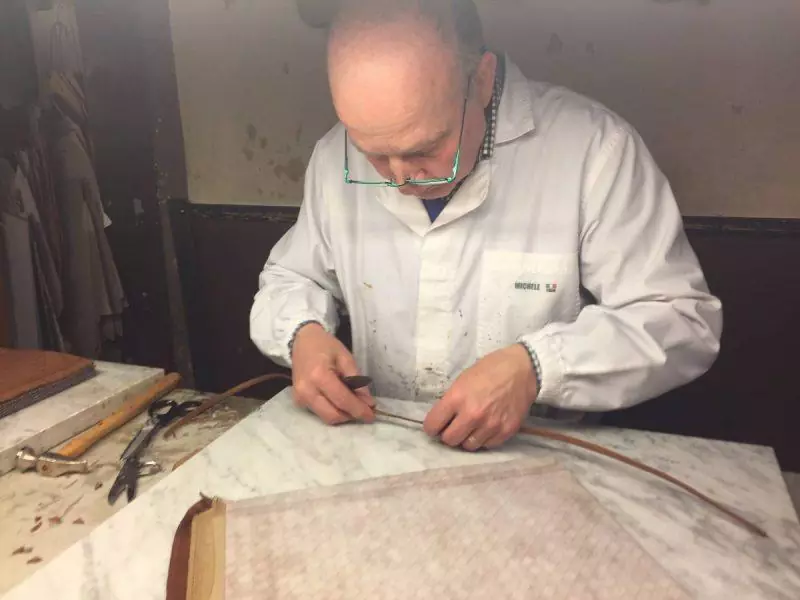 Florence is known for fine handcrafted leather, and the best place to buy leather products is at the Scuola di Cuoio. Don't let the name fool you—this may be a leather school but the merchandise is far from rudimentary.
You'll find expertly crafted jackets, purses and accessories from belts to portfolios. Tours are available for small groups only but visitors can see craftsmen at work as they peruse the available merchandise.
You pay more for leather items here than you might at other stores or markets throughout the city, but you can rest assured knowing that what you're buying is the highest quality Florentine leather.
5. Mercato Centrale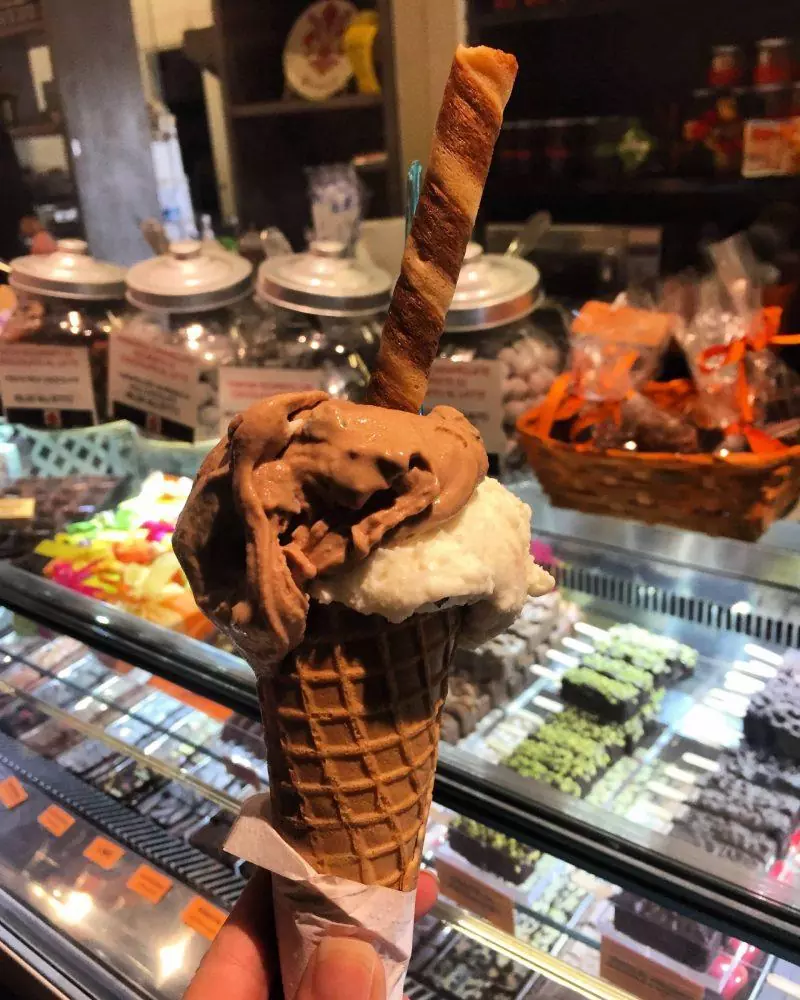 Mercato Centrale is an indoor food market in the center of the old city, housed in a warehouse setting. It's open late, 7 days a week, and filled with specialty shops, bars and restaurants.
There are tables everywhere but finding a seat can be hard because it's so popular.
This is your one-stop for gelato, pasta, vino and steak all under one roof.
RELATED POST: 5 FOODS YOU MUST EAT WHILE VISITING FLORENCE, ITALY
6. Piazza Michelangelo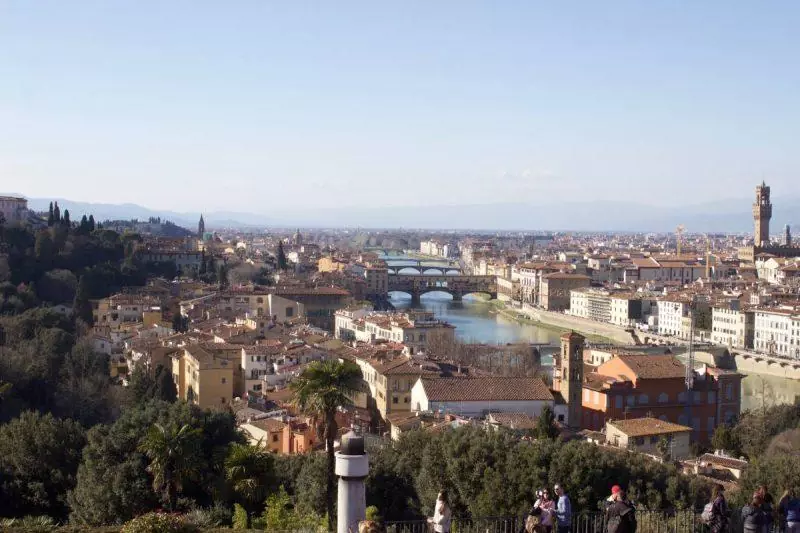 Want picture perfect views of Florence? Head to Piazza Michelangelo. This is the one site in Florence more easily accessed by taxi or bus than by walking.
The square overlooks the Ponte Vecchio Bridge and provides a postcard-worthy shot of the city. '
You can walk to the nearby Church of San Miniato, which was built in the 12th century and features elaborate marble detail throughout. Also, Carlo Collodi, creator of Pinocchio, is buried in the church's cemetery.
7. Day Trip to Pisa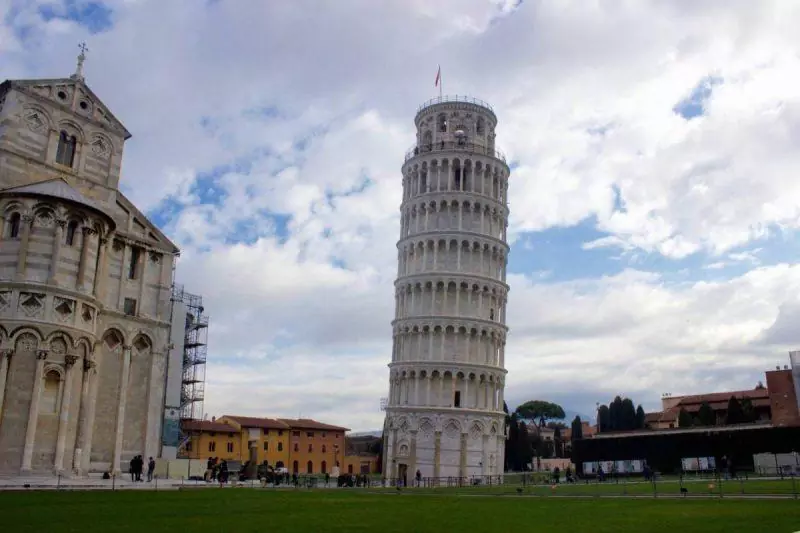 You'll be hard-pressed to find someone unfamiliar with the Leaning Tower of Pisa, the world's most famous architectural blunder.
The city itself offers little more to tourists than the Pisa complex, however, making this the perfect half day trip to take from Florence.
Like the Duomo, the Pisa complex consists of several buildings, including the Tower, Baptistery, museum, and Cathedral.
RELATED POST: PLANNING THE PERFECT DAY TRIP TO PISA FROM FLORENCE
Located just an hour outside Florence and easily accessible by train, you can venture out first thing in the morning to take an iconic picture holding up the Leaning Tower before the crowds hit and be back by lunchtime.
8. Boboli Gardens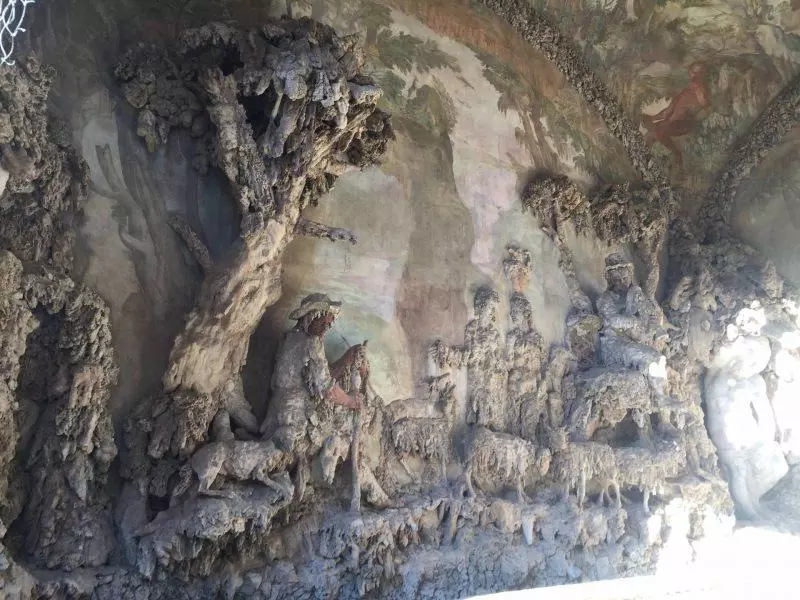 Pitti Palace is brimming with artwork, so much so that maps are provided to help you navigate the walls. But on a nice day there's no better place to be than the palace's backyard, the Boboli Gardens.
Fans of Dan Brown's Inferno novel will recognize the gardens from the book's thrilling chase. Spanning more than 100 acres, the gardens are expansive and offer stunning city views.
Art fans will also enjoy visiting the Bountalenti Grotto, featuring fairytale forms and frescoes on the walls.
Access is extremely limited, with guests only allowed to enter for five minutes a day at precisely 3:30pm.
9. Opera at St. Mark's Church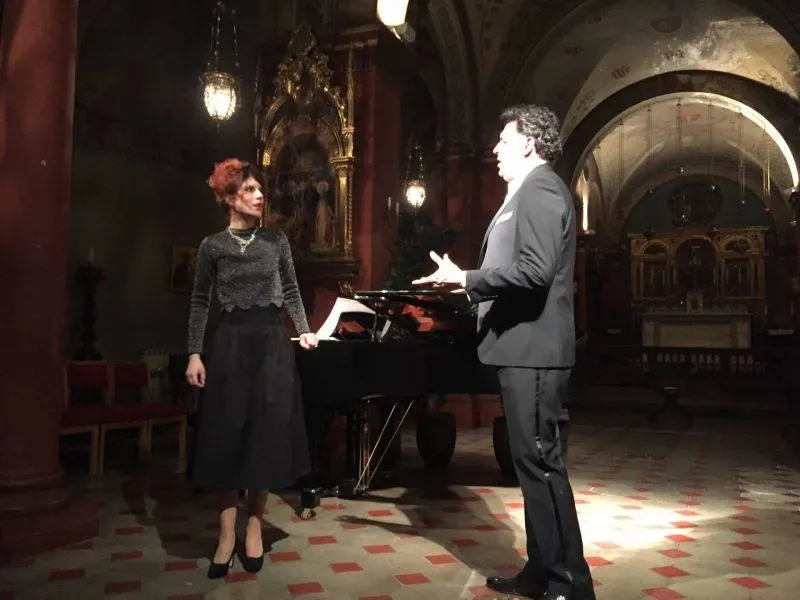 There is no more authentic venue to watch live opera than St. Mark's Church.
Located just 2 blocks away from the Ponte Vecchio bridge, it is an active church that still holds weekly services. The setting is intimate, with seats spanning three rows back around the perimeter of the venue so attendees are only feet away from the performers.
Your ticket also includes a complimentary drink during intermission, a steal at just 25 Euro.
RELATED POST: THE BEST OPERA IN FLORENCE, ITALY
Those not fond of opera generally will still enjoy Love Duets, and hour and a half performance featuring the well known songs like "O Sole Mio" and "Volare."
10. The Uffizi
An obligatory mention on the list, the Uffizi galleries are impressive but the museum is always crowded, making it difficult to enjoy or even view the art.
If you can't imagine leaving Florence without seeing Boticelli's Birth of Venus for yourself, aim to go at the end of the day when most of the tour groups have cleared out.
Click here for Uffizi Gallery Tickets.
If you haven't been to Florence, you haven't full experienced Italy. Make sure the city and its top attractions are on your must-see list.
RELATED POST: 5 REASONS TO VISIT SICILY, ITALY
Till next time, safe travels!
Liked this post? Pin me below!