How would you like to wake up to a stretch of private beach in Ambergris Caye, Belize, in your own private condo steps away from the sand? That is what every day is like at the Sapphire Beach Resort, a secluded getaway in Central America's most exclusive destination.
The Sapphire Beach Resort is a place where you can get away from it all. It's one of the northernmost resorts in Ambergris Caye, so you won't hear dogs barking at night or cars passing through.
Each "room" is its own apartment, complete with a full kitchen, bathroom, living room and dining room space. Mine also had a small balcony accesible via screen door from the main bedroom it's own front porch with two chairs overlooking the pool area.
The condos are privately owned and decorated according to the owner's taste, but they're commonly managed to include unifying touches like fresh flowers tucked into your beach towels and complimentary toiletries.
RELATED POST: 7 BEST THINGS TO DO IN SAN PEDRO, BELIZE
Resort location
The commercial center of Ambergris Caye is San Pedro, which holds the island's airport and main water taxi ports. The Sapphire Beach Resort is locates 10 miles north of San Pedro, beyond the Boca del Rio Bridge, popular Truck Stop and entrance to the Secret Beach. You can take a golf cart up from the city, but it takes at least an hour to reach and the road is ridden with potholes.
The resort is also accessible by taxi and the resort can arrange airport pickup and drop-off for you for $50 USD each way. Vehicles are plagued by the same problem, however, as the potholes are enormous.
Finally, you have the option of accessing the location via water taxi. In retrospect, I'd recommend using the water taxi to access not only San Pedro but other neighboring ports, islands and the mainland.
I opted for the golf cart, having received a discount for a longer rental upon my arrival in San Pedro, but I regretted my decision every time I made ingress or egress from the city, particularly at night. There are no gas stations on the North side of the island yet, so ration your gas accordingly if you make the same choice. There are also a lot of mosquitos in Belize at night so make sure to have deep woods level bug spray.
Amenities and activities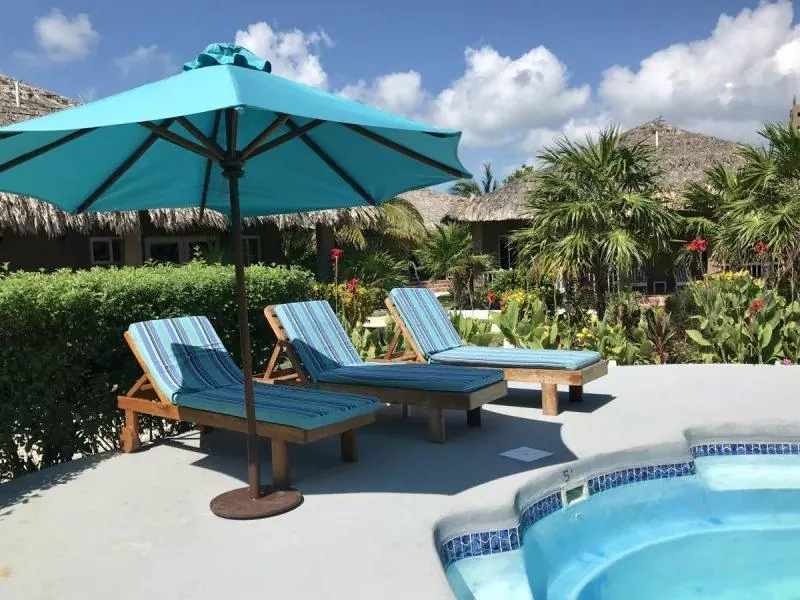 The Sapphire Beach Resort is a PADI dive resort that works with its own tour company to provide PADI dive certification and experiences. There are also snorkeling options and day trips provided. You can go caving, visit Mayan ruins or visit the Belize Zoo, among other experiences. You can also rent a bike to explore the area or utilize the lounge chairs set up beachside by the staff every morning.
There are three pools and a spa offering treatments on the sand. Even though it was raining on the mainland, Ambergris Caye stayed sunny throughout my visit, a true paradise in the middle of winter.
Guests can rent movies at the front desk or stream entertainment through the WiFi. For your security, there is a safe provided.
RELATED POST: FLYING OVER THE GREAT BLUE HOLE WITH TROPIC AIR BELIZE
Restaurant and food options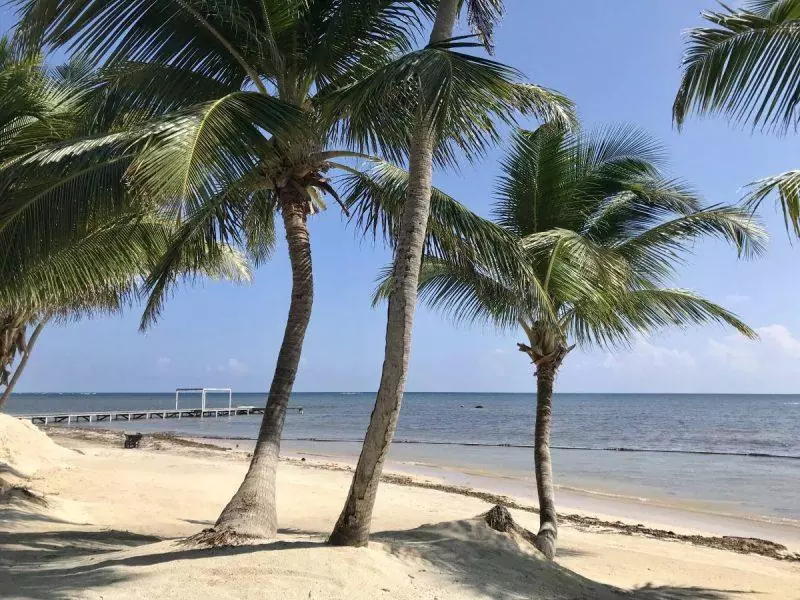 The Sapphire Beach Resort has a restaurant on site, Gem Restaurant, that is open for all three meals. Dishes include staples like ceviche and lobster. There are romantic dining experiences available that include dining on the sand in your private cabana with candle-lit surroundings.
The Gem Tiki Poolbar is open from 11am – 9pm and served happy hour specials. I received a welcome drink upon arrival — you know you're in Belize when you're sipping a rum punch! Cocktails are made with local liquors and fruits and include seasonal offerings.
There are snacks for sale in at front desk. There are also small grocery stores along the main road heading back towards San Pedro where you can pick up supplies for your kitchen like milk or fruit.
Who is this resort best for?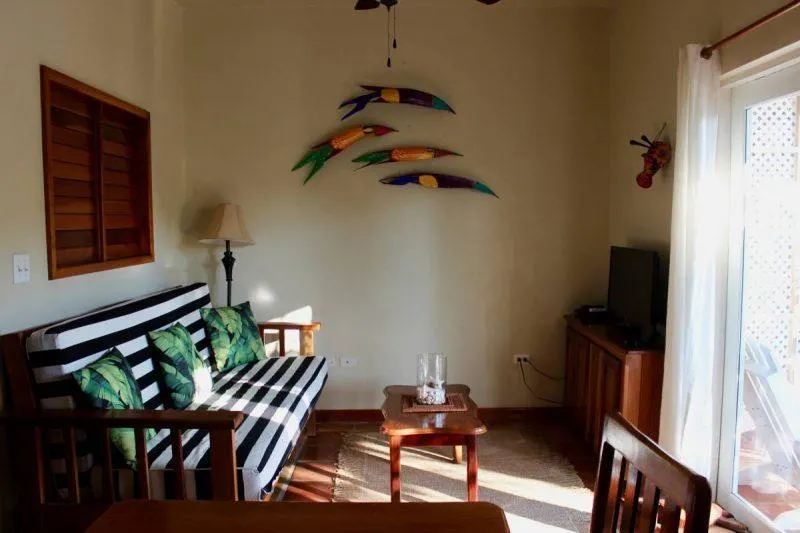 I recommend this hotel for travelers looking for peace and quiet, far from the stressors of a big city. Honeymooners or business professionals will find a welcome recluse under the thatched roofs of the Sapphire Beach Resort Belize.
My prescribed formula for perfect stay at The Sapphire Beach Resort consists of taking it easy 80% of the time while sprinkling in some adventure with a day trip 20% of the time. Your priority here is to unwind.
RELATED POST: VISIT THE CAYE CAULKER ANIMAL SHELTER
Liked this post? Pin me below!
I was provided with a complimentary stay at the Sapphire Beach Resort in exchange for my review but, as always, all opinions and fond memories are my own.