We could all use a little inspiration from time to time, especially when it comes to world travel.
That's why I put together a master list of 99 of the best inspirational travel quotes to help spark your wanderlust and get you started planning your next big adventure.
RELATED POST: 4 TIPS FOR SOLO FEMALE TRAVELERS
1) "Travel makes one modest. You see what a tiny place you occupy in the world." ~ Gustav Flaubert.
2) "The world is a book, and those who do not travel read only a page." ~ Saint Augustine
3) "Every one of a hundred thousand cities around the world had its own special sunset and it was worth going there, just once, if only to see the sun go down." ~ Ryu Murakami
4) "Not all those who wander are lost." ~ J.R.R. Tolkien
5) "Wherever you go becomes a part of you somehow." ~ Anita Desai
6) "The journey of a thousand miles begins with a single step." ~ Lao Tzu
7) "If you reject the food, ignore the customs, fear the religion and avoid the people, you might better stay home." ~ James Michener
8) "Travel is fatal to prejudice, bigotry, and narrow-mindedness, and many of our people need it sorely on these accounts." ~ Mark Twain
9) All journeys have secret destinations of which the traveller is unaware." ~ Martin Buber
10) "Live life with no excuses, travel with no regrets." ~ Oscar Wilde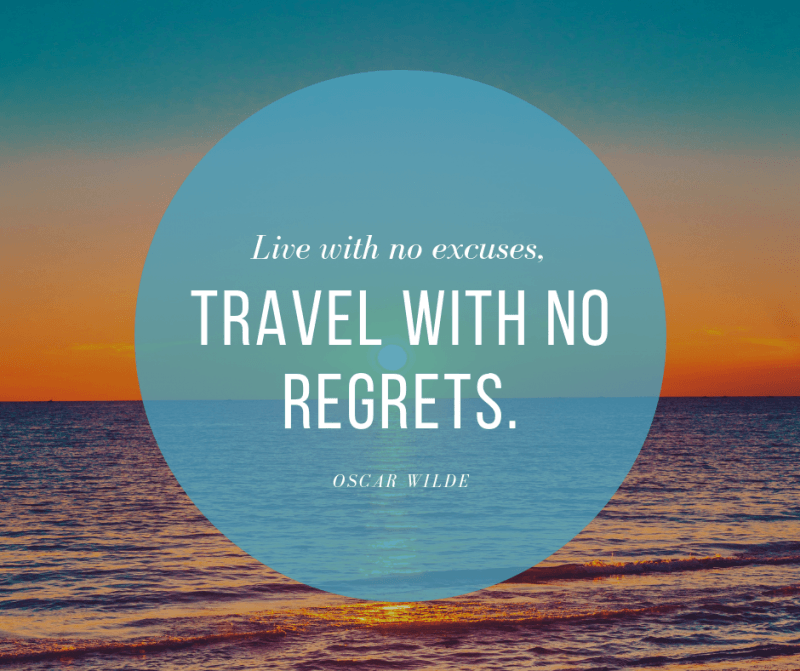 11) "Travel far enough, you meet yourself." ~ David Mitchell
12) "To travel is to live." ~ Hans Christian Andersen
13) "I am not the same having seen the moon shine on the other side of the world." ~ Mary Anne Radmacher
14) "To travel is worth any cost or sacrifice." ~ Elizabeth Gilbert
15) "There are no foreign lands. It is the traveler only who is foreign." ~ Robert Louis Stevenson
16) "Make voyages. Attempt them. There's nothing else." ~ Tennesse Williams
17) "Once you have traveled, the voyage never ends, but is played out over and over again in the quietest chambers. The mind can never break off from the journey." ~ Pat Conroy
18) "A man travels the world over in search of what he needs and returns home to find it." ~ George Augustus Moore
19) "Ultimately, I have come to think, travel teaches us about love. It teaches us that the very best we can do with our lives is to embrace the peoples, places, and cultures we meet with all our mind, heart, and soul, to live as fully as possible in every moment, every day." ~ Don George
20) "Don't listen to what they say. Go see." ~ Unknown

21) "We live in a wonderful world that is full of beauty, charm and adventure. There is no end to the adventures we can have if only we seek them with our eyes open." ~ Jawaharlal Nehru
22) "It's a big world out there. It would be a shame not to experience it." ~ J. D. Andrews
23) "So shut up, live, travel, adventure, bless and don't be sorry." ~ Jack Kerouac
24) "Only it seems to me that once in your life before you die you ought to see a country where they don't talk in English and don't even want to." ~ Thornton Wilder
25) "If you wish to travel far and fast, travel light. Take off all your envies, jealousies, unforgiveness, selfishness and fears." ~ Cesare Pavese
26) "That's the place to get to—nowhere. One wants to wander away from the world's somewheres, into our own nowhere." ~ D.H. Lawrence
27) "You can't control the past, but you can control where you go next." ~ Kirsten Hubbard
28) "I had a desire to see something besides my own shores, if only to be content to return to them someday. If I wish to live in my native land and love her, it should not be out of ignorance." ~ Margaret George
29) "I may be going nowhere, but what a ride." ~ Shaun Hick
30) "This wasn't a strange place; it was a new one." ~ Paolo Coehlo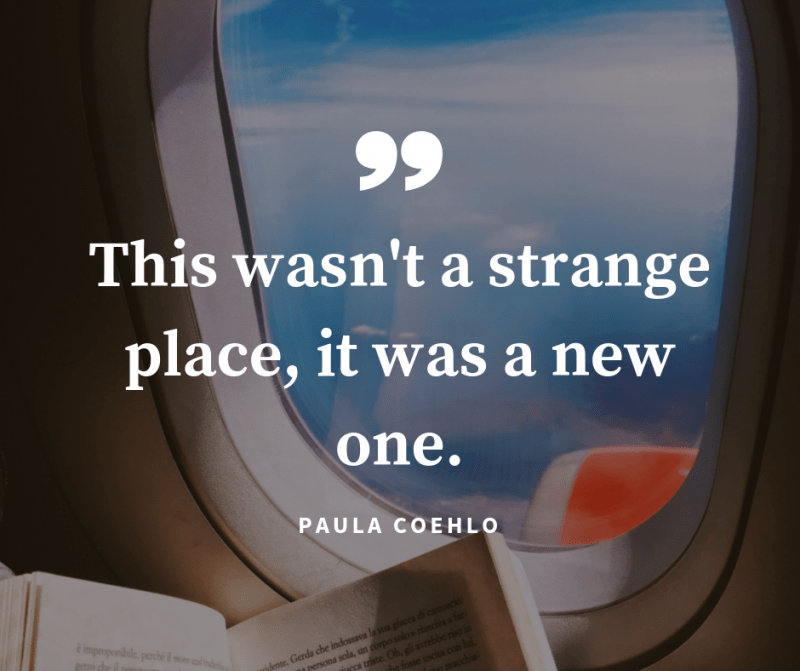 31) "Set out from any point. They are all alike. They all lead to a point of departure." ~ Antonio Porchia
32) "We must go beyond textbooks, go out into the bypaths and untrodden depths of the wilderness and travel and explore and tell the world the glories of our journey." ~ John Hope Franklin
33) "It's time to say goodbye, but I think goodbyes are sad and I'd rather say hello. Hello to a new adventure." ~ Ernie Harwell
34) Travelling is like flirting with life. It's like saying, 'I would stay and love you, but I have to go; this is my station'." ~ Lisa St Aubin de Terán
35) "One thing that I love about traveling is feeling disoriented and removed from my comfort zone." ~ Sarah Glidden
36) "Here today, up and off to somewhere else tomorrow! Travel, change, interest, excitement! The whole world before you, and a horizon that's always changing!" ~ Kenneth Grahame
37) "Travel far enough, you meet yourself." ~ David Mitchell
38) "The road embraced me, let me breathe, and more importantly, did not judge me." ~ M.B. Wilmot
39) "Once you have tasted flight, you will forever walk the earth with your eyes turned skyward, for there you have been, and there you will always long to return." ~ Leonardo da Vinci
40) "Feet, what do I need you for when I have wings to fly?" ~ Frida Kahlo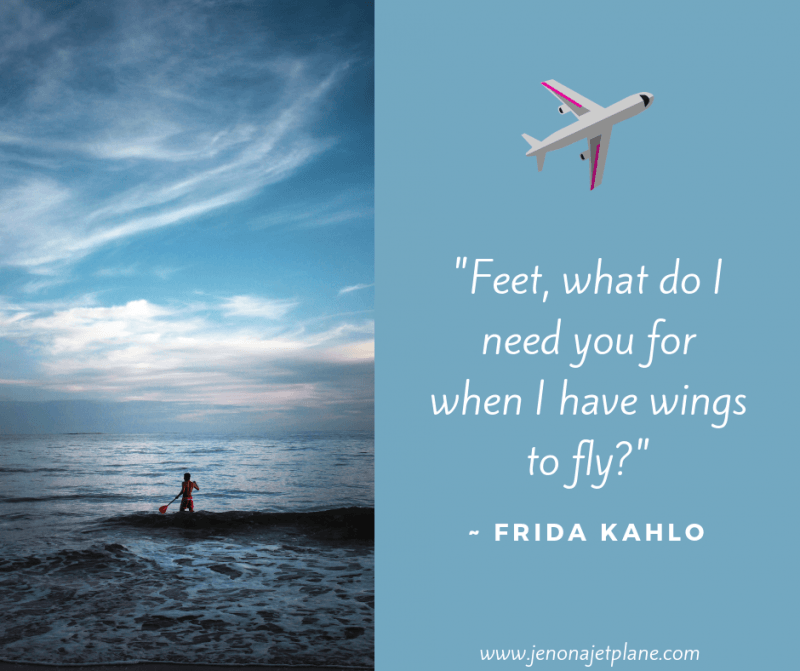 41) "Life is either a daring adventure or nothing." ~ Helen Keller
42) "The biggest adventure you can take is to live the life of your dreams." ~ Oprah
43) "Twenty years from now you will be more disappointed by the things you didn't do than by the ones you did do. So throw off the bowlines. Sail away from the safe harbor. Catch the trade winds in your sails. Explore. Dream. Discover." ~ H. Jackson Brown Jr.
44) "It's a dangerous business, Frodo, going out your door. You step onto the road, and if you don't keep your feet, there's no knowing where you might be swept off to." ~ J.R.R Tolkien
45) "Adventure is worthwhile in itself." ~ Amelia Earhart
46) "Two roads diverged in a wood, and I – I took the one less traveled by." ~ Robert Frost
47) "You're off to Great Places! Today is your day! Your mountain is waiting, So… get on your way!" ~ Dr. Seuss
48) "To travel is to discover that everyone is wrong about other countries." ~ Aldous Hux
49) "Only those who risk going too far can possibly find out how far they can go." ~ T.S Eliot
50) "To travel is to take a journey into yourself." ~ Danny Kaye
RELATED POST: 9 EMPOWERING FEMALE TRAVEL GROUPS YOU SHOULD JOIN TODAY
51) "London on your own actually seems more exotic than Egypt on a tour." ~ Laura Fraser
52) "I am just a girl chasing her dreams and having an amazing adventure." ~ Madeline Stuart
53) "You need mountains, long staircases don't make good hikers." ~ Amit Kalantri
54) "Wherever you go, go with all your heart." ~ Confucius
55) "Life is short and the older you get the more you feel it. Indeed, the shorter it is. People lose their capacity to walk, run, travel, think and experience life. I realize how important it is to use the time I have." ~ Viggo Mortenson
56) "I travel light. I think the most important thing is to be in a good mood and enjoy life, wherever you are." ~ Diane von Furstenberg
57) If you want to succeed you should strike out on new paths, rather than travel the worn paths of accepted success." ~ John D. Rockefeller
58) "You know more of a world by having traveled it than by all the conjectures and descriptions in the world." ~ William Hazlitt
59) "I have wandered all my life, and I have also traveled; the difference between the two being this, that we wander for distraction but we travel for fulfillment." ~ Hilaire Belloc
60) "Exploration is really the essence of the human spirit." ~ Frank Borman
61) "One travels more usefully when alone, because he reflects more." ~ Thomas Jefferson
62) "I have found adventure in flying, in world travel, in business, and even close at hand… Adventure is a state of mind – and spirit." ~ Jacqueline Cochran
63) "You develop a sympathy for all human beings when you travel a lot." ~ Shakuntala Devi
64) "Just living is not enough," said the butterfly, "one must have sunshine, freedom, and a little flower." ~ Hans Christian Anderson
65) "We travel not to escape life, but for life not to escape us." ~ Unknown
66) " I'm in love with cities I've never been to and people I've never met." ~ John Green
67) " Take only memories, leave only footprints." ~ Chief Seattle
68) "Life begins at the end of your comfort zone." ~ Neale Donald Walsch
69) "Stop worrying about the potholes in the road and enjoy the journey" ~ Babs Hoffman
70) "Travel is the only thing you buy that makes you richer." ~ Unknown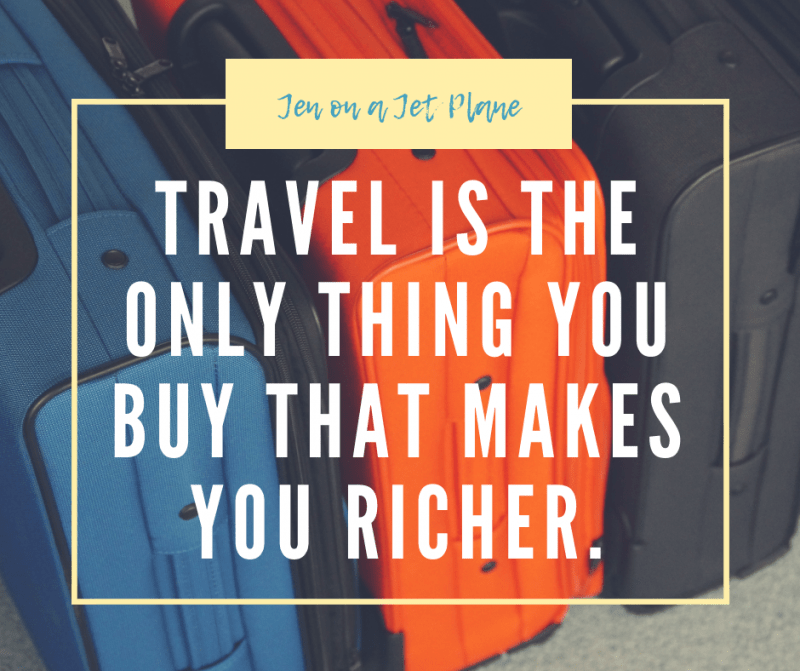 71) "Man cannot discover new oceans unless he has the courage to lose sight of the shore." ~ Andre Gide
72) "It is better to see something once than to hear about it a thousand times." ~ Asian proverb
73) "The real voyage of discovery consists not in seeking new landscapes, but in having new eyes." ~ Marcel Proust
74) "Let us step into the night and pursue that flighty temptress, adventure." ~ J.K. Rowling
75) "Jobs fill your pocket, but adventures fill your soul." ~ Jamie Lyn Beatty
76) "Traveling—it leaves you speechless, then turns you into a storyteller." ~ Ibn Battuta
77) "You only live once, but if you do it right, once is enough." ~ Mae West
78) "Live your life by a compass not a clock." ~ Stephen Covey
79) "A ship in a harbor is safe, but it's not what ships are built for." ~ John A. Shedd
80) "Once a year, go someplace you've never been before." ~ Dalai Lama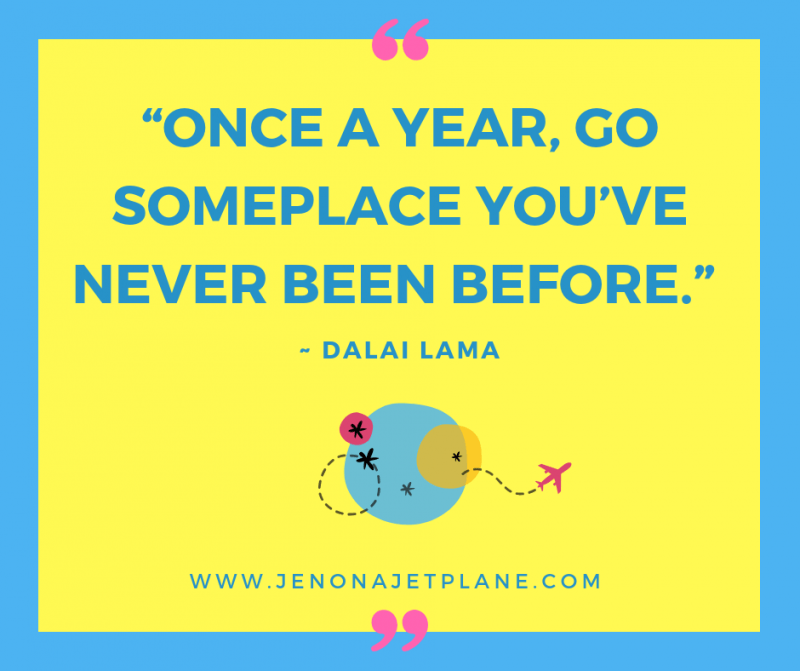 81) "Collect moments, not things." ~ Unknown
82) "People don't take trips, trips take people." ~ John Steinbeck
83) "Travel doesn't become adventure until you leave yourself behind" ~ Marty Rubin
84) "Quit your job. Buy a ticket. Get a tan. Fall in love. Never return." – Island Company
85) "If I'm an advocate for anything, it's to move. As far as you can, as much as you can. Across the ocean, or simply across the river. The extent to which you can walk in someone else's shoes or at least eat their food, it's a plus for everybody. Open your mind, get up off the couch, move." ~ Anthony Bourdain
86) "The world makes way for the man who knows where he is going." ~ Ralph Waldo Emerson
87) "I travel not to go anywhere, but to go. I travel for travel's sake. The great affair is to move." ~ Robert Louis Stevenson
88) "It's not what you look at that matters. It's what you see." ~ Henry David Thoreau
89) "I dislike feeling at home when I am abroad." ~ George Bernard Shaw
90) "Every hundred feet the world changes" ~ Roberto Bolaño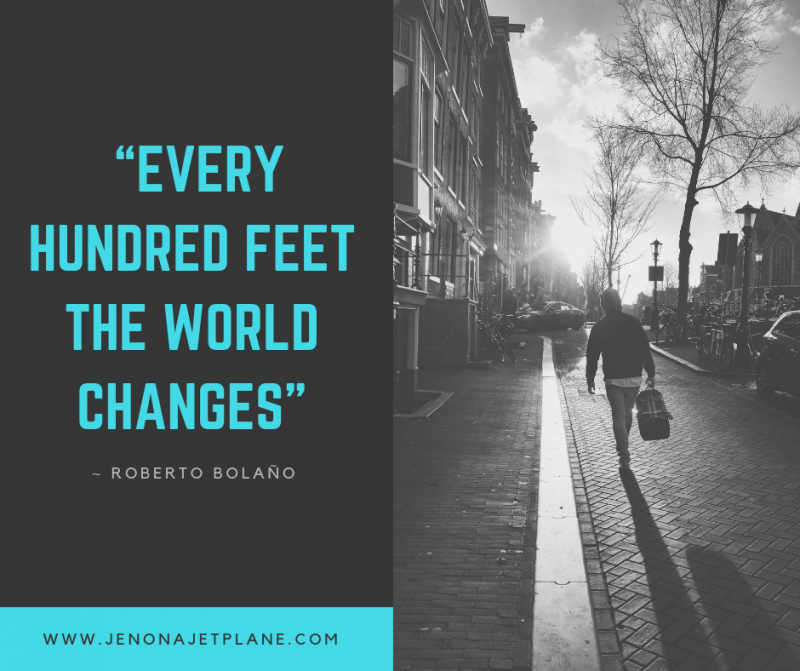 91) "Like all great travellers, I have seen more than I remember, and remember more than I have seen." ~ Benjamin Disraeli
92) Don't tell me how educated you are, tell me how much you travelled." ~The Prophet Mohamed
93) "Travel and change of place impart new vigour to the mind." ~ Seneca
94) "It is good to have an end to journey toward; but it is the journey that matters, in the end." ~ Ursula K. Le Guin
95) "A journey is like marriage. The certain way to be wrong is to think you control it." ~ John Steinbeck
96) "Never hesitate to go far away, beyond all seas, all frontiers, all countries, all beliefs." ~ Amin Maalouf
97) "A man of ordinary talent will always be ordinary, whether he travels or not; but a man of superior talent will go to pieces if he remains forever in the same place." ~ Wolfgang Amadeus Mozart
98) "I travel a lot; I hate having my life disrupted by routine." ~ Caskie Stinnett
99) "I haven't been everywhere, but it's on my list." ~ Susan Sontag
Need more inspiration? Check out this list of travel poems.
RELATED POST: UNIQUE PLACES TO STAY AROUND THE WORLD
Liked this post? Pin me below!