Looking for the most unique places to stay around the world? Read on for top travel bloggers' recommendations.
Sometimes, your choice of accommodation can be a destination in itself. There are places and experiences that leave you breathless. Whether you're experiencing the midnight sun in Greenland or waking up to treehouse views in Tulum, where you stay can make an impact.
I asked travel bloggers for input on some of their most memorable lodging experiences. Here are some of their top picks for the most unique places to stay all over the world.
1) Glass Igloo in Norway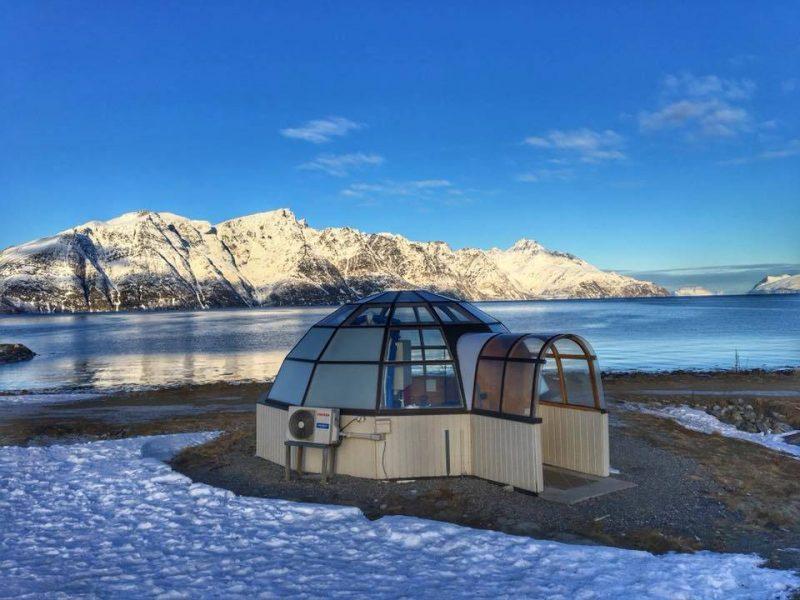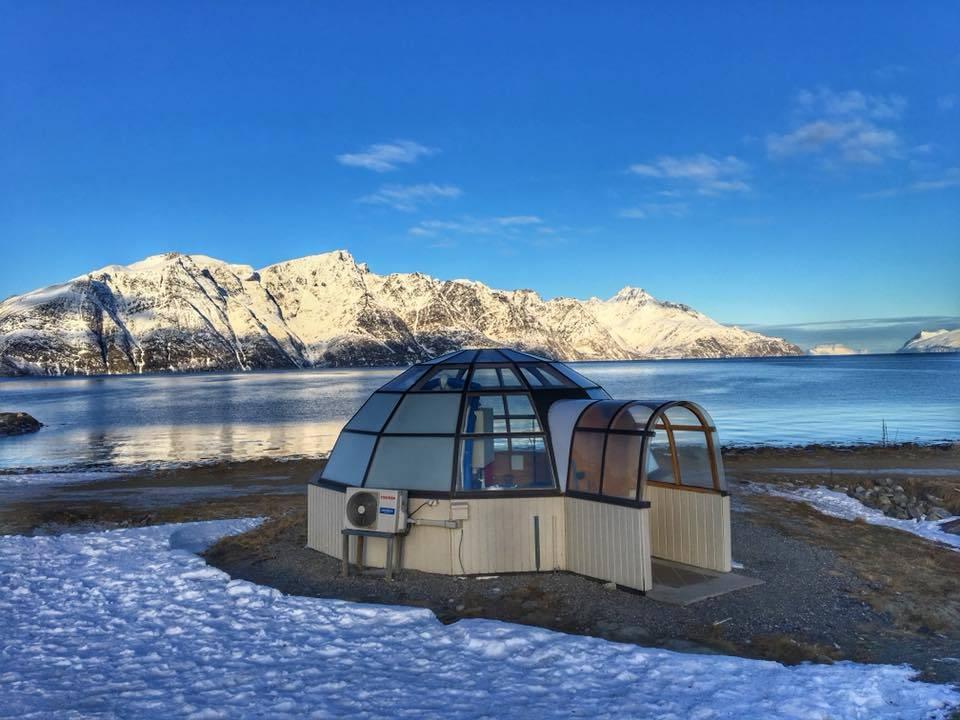 Location: Lyngen Fjord, Norway
Number of people it accommodates: 2
Price per night: Around $375 USD
Why it's unique: Stay warm in the comfort of a glass igloo while watching the Northern Lights during the night and checking out the views of the Lyngenalps mountain range during the day.
The Lygen North glass igloos located about a 3 hour drive from Tromso, Norway are more secluded and less expensive than the more popular glass igloos you may have heard about.
There is plenty of living space for 2 including a kitchenette and a private bathroom with a warm shower. If you are worried about privacy, like I was, curtains can be drawn, too.
One of the best features is the adjustable bed that moves so that you can see the Northern Lights as they rise over the mountain range before you. It is truly amazing to lay in bed and watch the Northern Lights as they dance all around you.
These glass igloos are perfectly positioned for the best views. The glass igloos have heated floors throughout to help you stay warm in the cold winter. If you feel the need to connect to the internet, WiFi is available despite feeling like you are in the middle of no where.
If you are interested in booking this bucket list place to stay, you may book directly on their website.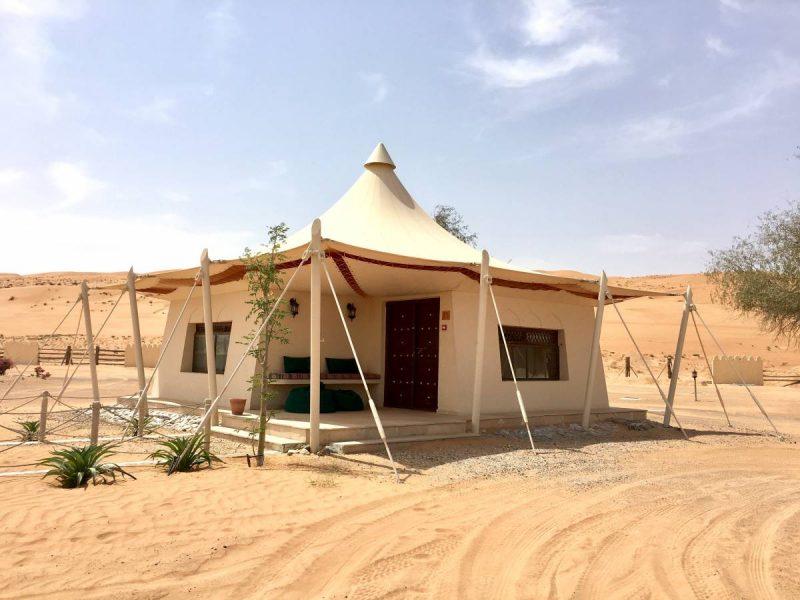 Written by Lotte of Phenomenal Globe
Location: Wahiba Sands in Oman
Number of people it accommodates: A maximum of 64 guests can stay in the camp (39 Bedouin style tents and 14 Standard rooms)
Price per night: $100-$300/night
Why it's unique: The Desert Night Camp is a 5-star recreated Bedouin style tent camp in the Wahiba Sands in Oman. When I say tent, I should add these are very comfortable tents, air-conditioned and with a stylish en-suite bathroom. The tents are beautifully decorated, with traditional Omani artifacts and lots of colorful pillows.
Breakfast and dinner is included (and very extensive and delicious!). There are also many activities you can join, such as dune bashing, quad biking, a visit to a Bedouin family home or the local Souq.
As a seasoned and avid camper this was certainly the most luxurious tent I ever stayed at! However, what I loved most about the Desert Night Camp was its beautiful surroundings… Nothing but tall sand dunes as far as the eye can see.
We watched the sunset from the top of a dune and saw so many stars and the Milky Way at night. I really did feel like I entered an Arabian (fairy)tale.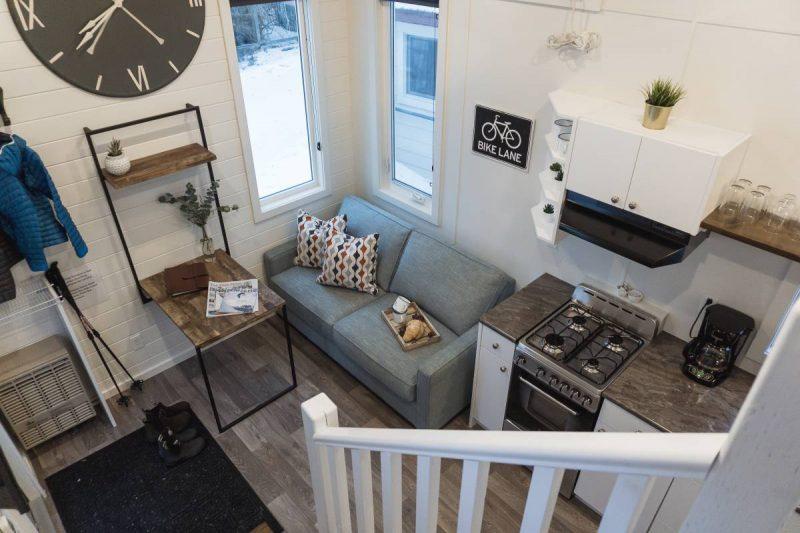 Submitted by Cat from For Two, Please
Location: Fernie, British Columbia, Canada
Number of people it accommodates: 2-3 people per tiny home
Price per night: CAD$189-249 depending on the season and the day of the week.
Why it's unique: You might have heard of digital nomads building a tiny home on wheels to live off the grid. But where can you experience the lifestyle without building one on your own or committing to buying one?
In Canada, you can find out what it's like to live in a tiny home while on vacation! Inside each tiny house, there's one bed, one bath, a living space, and a small fully-equipped kitchen – with oven, stoves, and fridge – to make you feel at home! For those who have furry friends, you will be delighted to discover that they have pet-friendly rooms as well.
While staying at this tiny house in Canada, we were impressed with all the clever designs that make the space bigger than it looks. Moreover, the running hot water and heated floor really kept us cozy in the cold weather.
Snow Valley Lodging is conveniently located by Highway 3 when you drive into town. Reservations can be made on online.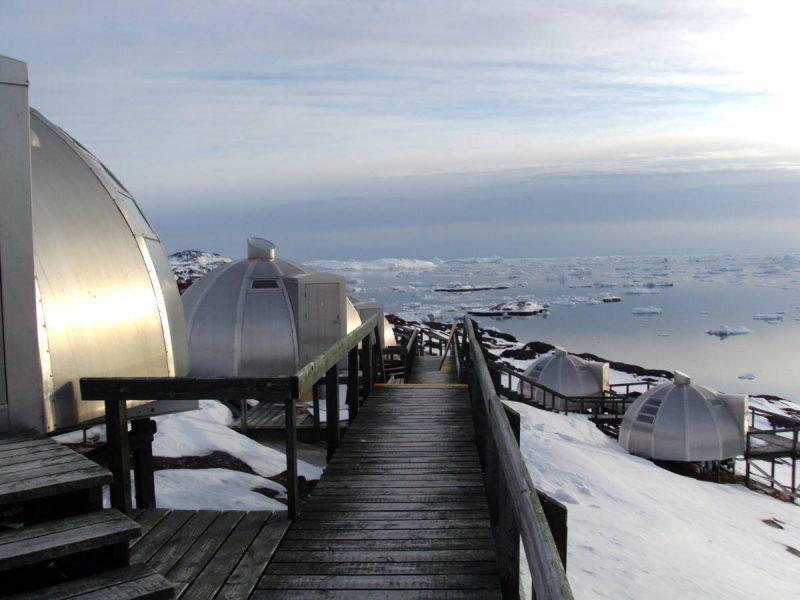 Submitted by Jonathan of Journey Maxx
Location: Ilulissat, Greenland
Number of people it accommodates: 5 igloos available, each accommodating 2 people
Price per night: USD$280-$400 depending on the season and day of the week
The view of Greenland was something I had always previously seen from 30,000 ft above. This gargantuan mass of ice halfway between Europe and North America that intrigued me on many transatlantic flights.
When eventually my curiosity got the better of me and I did visit Greenland, my choice for accommodation could not have been more extraordinary — a metallic igloo perched along balconies of other identical pods overlooking the stillness of Disko Bay.
The soothing sound of bird songs and waterfalls greeted me upon arrival. Through the window, giant ice sheets could be seen in the distance, as well as the occasional traveller sailing by. The Hotel Arctic is on the edge of the Ilulissat Ice Fjord, part of the UNESCO World Heritage List.
This is the best place for a digital detox. Why waste time watching TV or stressing over online things when you can wake up to a view like this each day? No noise, no traffic, no commotion of any sort.
It's funny to view the igloos from afar as it almost feels like entering your own futuristic space pods! Take note that the igloo option is only available from May 1st to October 31st. This coincides with the surreal experience of witnessing the midnight sun and 24-hour daylight.4)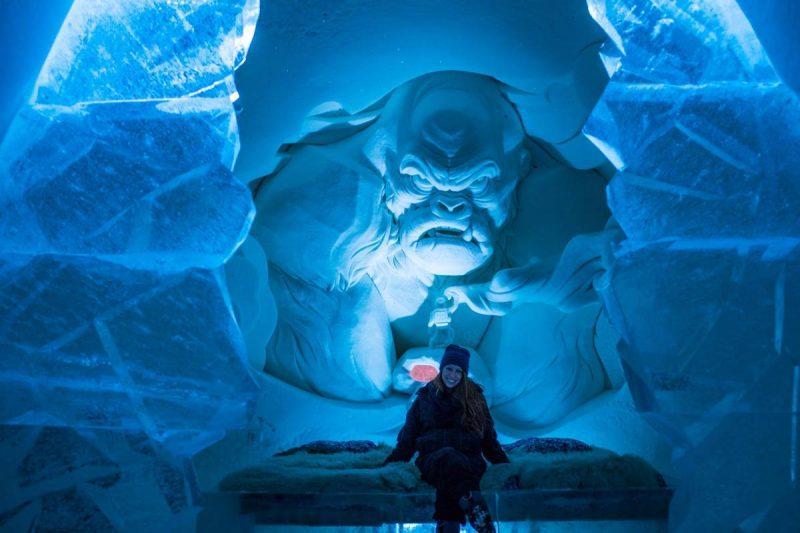 Submitted by Sara at Our Kind of Crazy
Location: Kemi, Finland
Number of people it accommodates: Around 20
Price per night: Approximately $480 a night
Why it's unique: This hotel is unlike any other, as it is made of ice and snow. Each year, Kemi's Snow Castle has a different theme, and each Snow Hotel room will have awesome and detailed carvings on the wall to go with the theme.
The beds are made of ice blocks, and you'll be given a subzero temperature sleeping bag to keep you warm enough. There is an ice bar, ice restaurant, and even a Snow Chapel inside this Snow Castle. It is an awesome bucket list place to stay with so many different photo ops.
Enjoy touring the castle during the day, and brave the craziest sleeping spot at night. It's truly a unique experience. Click here to make your reservation.
6) Zipline Treehouse in Laos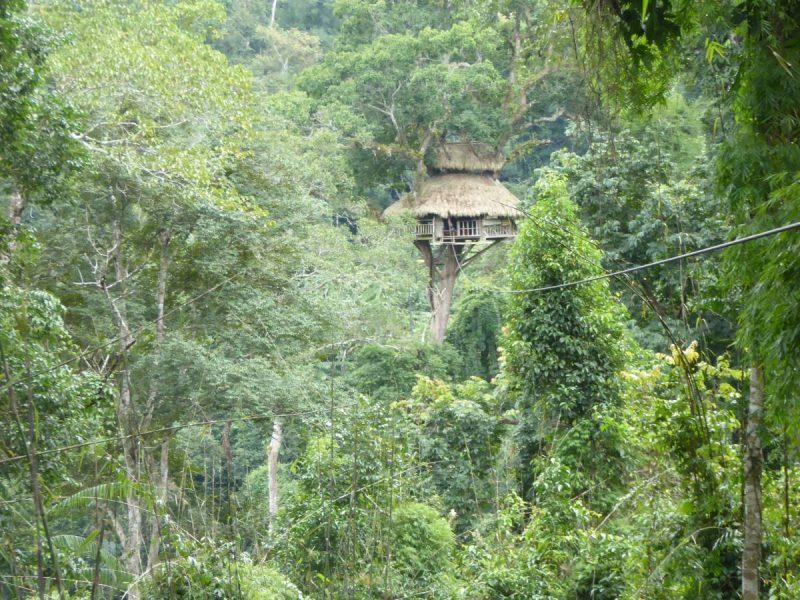 Submitted by Sarah at A Social Nomad
Location: Nam Khan NationalPark, Northern Laos
Number of people it accommodates: 8 people per treehouse
Price per night: Approximately $100 a night
The treehouses of the Gibbon Experience in the NamKan National Park in Northern Laos are reachable only by zipline. Yes, you've read that right, you have to fly in to your bed for the night, and it is amazing. Granted, you have to take a truck, trek and then zipline but this is the only place in the world where you can see the critically endangered Laotian black-crested.
You also get to stay in the eco-friendly treehouses of the Gibbon Experience.
Each treehouse sleeps around 8 people, although there is a special honeymoon treehouse for two and some of the treehouses, which are located miles from each other – but connected by interconnecting zip lines, have freshwater showers! Beds are in mosquito-proof "tents" in the open to the elements treehouses.
This isn't a budget experience per se but you do get all your meals and transport included and your funds go to support the local community and the black gibbons. Reserve directly through the website. Gibbon Experience.org.
RELATED POST: THE LONGEST ZIPLINE IN AMERICA IS IN PUERTO RICO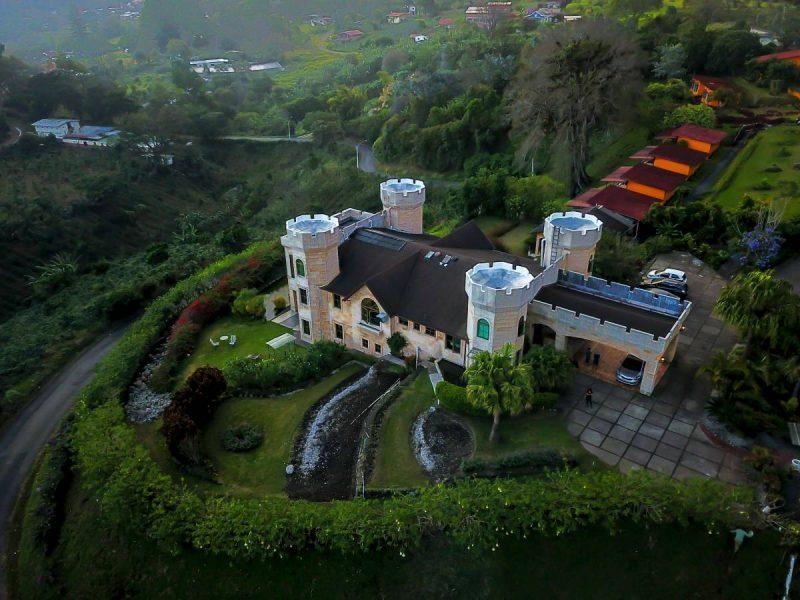 Submitted by Lora from Explore with Lora
Location: Boquete, Panama
Number of people it accommodates: At least 30 in the castle overall
Price per night: Dorm rooms are as low as $14 USD or $68 for a private room with bathroom.
Why it's unique: One of the most unique and high-value hostels I've stayed at is Bambuda Castle. Located in Panama's gorgeous highlands in the town of Boquete, Bambuda is the only castle in the country.
The castle was originally built by a European couple, who later sold it after deciding they didn't need that much space. Two guys jumped on the opportunity to convert it into one of Central America's most unique accommodations.
Bambuda is beautifully constructed and meticulously clean. Inside the castle there is a large indoor pool and hot tub available for guests to use, as well as a restaurant/bar on site. Every night the staff cook a delicious family style dinner which gives you a chance to mingle with the other guests. The outside balconies are spacious and provide stunning views of the surrounding mountain area.
The only downside to this hostel is that it's out of town, but you can get a taxi for $2-4 or take a 45 minute walk. I booked this hostel a few days in advance of arriving which they advise as walk-ins are not guaranteed. Make your reservation online by clicking here.
8) Sami Lavvu in the Arctic Circle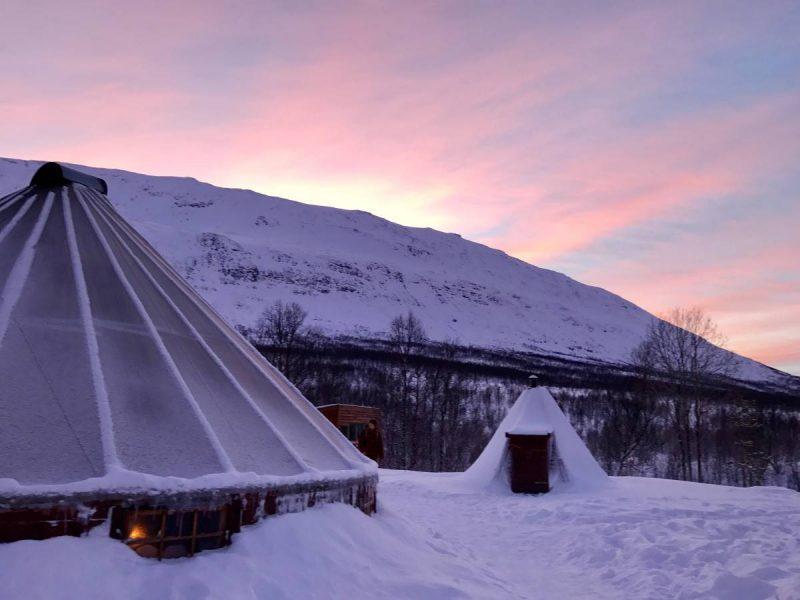 Submitted by Jessica from One Girl, Whole World
Location: Øverbygd, Norway (a little over an hour from Tromso)
Number of people it accommodates: Minimum 2, but each lavvu sleeps up to 12
Price per night: 1195 NOK (~$135 USD) per person plus booking two additional activities (e.g. dog sledding); you can see more about the offerings here.
Why it's unique: Camp Tamok gives you the chance to experience Norway's outdoor wonders in winter, while sleeping in a traditional Sami lavvu (kind of like a yurt). There are pros and cons to different times of the year, but I highly recommend visiting during Polar Night, when the sun never actually rises or sets—instead you get a few hours a day of stunning pearly-pink "sunset" sky, which makes the experience surreal.
Once you're thoroughly chilled from something amazing like dog sledding or snowmobiling, duck into the large communal tent for some hot lamb stew or fish soup and sweet lefse, with a roaring wood stove fire and dinner by candlelight.
After enjoying the (chilly) tiny bar while keeping your eyes peeled for the Northern Lights, tuck yourself in on top of reindeer skins and get your beauty sleep, then devour amazing hot brown bread, jam, coffee, and more in the morning.
Camp Tamok has a few extra housing options beyond the lavvu, including a small chalet and a cabin.
The camp is open mid-November through the end of March. Obviously you should pack appropriately for the weather, but the camp can provide snowsuits, boots, hats, and gloves as well, which is incredibly helpful.
Submitted by James Ian at Travel Collecting
Location: The Samode Palace Hotel is in the small village of Samode, about 40 km north of Jaipur in Rajasthan, India.
Number of people it accommodates: 42
Price per night: $310-$710/night
Why it's unique: Samode Palace is a 475 year-old former palace deep in the Rajasthani desert. Staying in a former palace gives you the chance to live the life of a raja or rani – for one night at least. It is a splurge that any visitor to Rajasthan should experience.
Each room is individually and beautifully decorated with local handicrafts. There are three courtyards, two restaurants, an outdoor pool and nightly entertainment. Free tours are given of the spectacular mosaic and mirrored public halls.
We were greeted with a garland of fresh flowers, a bindi (small colored dot on our foreheads) and tea when we arrived. The hotel also arranged a jeep tour for us of Samode and other nearby villages where we saw carpets being made and visited the local hospital.
It was an amazing experience. You can also hike up into the hills above the palace to a small fort. The village is also interesting to explore on foot. Other than that, relax and enjoy the luxury of living in a palace.
The easiest way to get there is by car from Jaipur. The last section is up a steep, narrow road and through an arched wall into the hotel grounds. It's possible to take a bus to Samode village from Jaipur, but then you would end up walking the last few kilometers, so I recommend hiring a taxi through your hotel in Jaipur, which is what we did. Reservations can be made easily online.
10) Eco-Friendly Huts & Treehouses in Jamaica
Submitted by Charmaine of Jamaica Travel Saver
Location: Port Antonio, Jamaica
Number of people it accommodates: 24 rooms
Price per night: Rooms range from simple African huts that start at $35/night to an upscale Royal African villa with suites that costs $220/night
Why it's unique: This eco-tourism gem, located on the eastern coast of Jamaica, consists of African inspired huts and treehouses in a lush rainforest on the cliffs overlooking Boston Bay.
This is the perfect place to go if you want to disconnect from the routines of life and reconnect with nature. If the idea of falling asleep to the sound of waves, and waking up and finding you are eyelevel with the birds soaring over the sea in the near distance, this is the place for you.
The fact that you can watch the sunrise across the sea in your bed makes this the perfect place to start off the day. The tree houses also offer you a panoramic view of Boston Bay and the Mountains in the background.
This resort is located in one of the most beautiful locations in Jamaica and there are a variety of activities available nearby. You can go surfing, visit a waterfall, hiking, biking, bird watching, caving or spend the day at the beach.
The easiest way to reach the resort is to fly into Kingston and take the Knutsford Express bus service to Port Antonio. You can also easily organize private transportation. Click here to book now.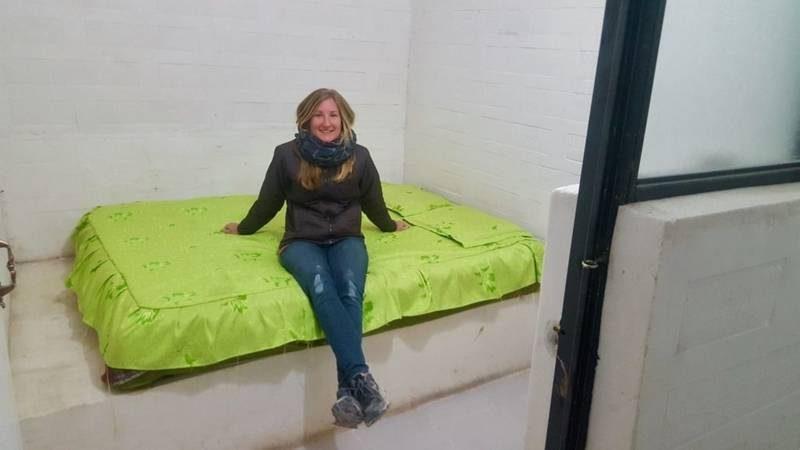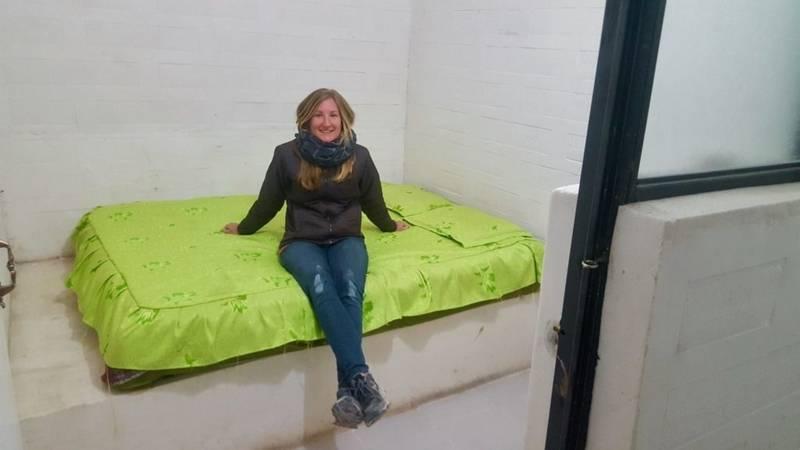 Submitted by John from Roaming Around the World
Location: Salar de Uyuni, Bolivia
Number of people it accommodates: Approximately 30 people
Price per night: Included during a tour of the Salar de Uyuni, which typically cost $100-$200 per person for a 3-day tour.
Why it's unique: It's a hotel built of salt!
A salt hotel is definitely one of the most unique places to stay in the world. Found in the middle of Bolivia's expansive salt flats are hotels constructed almost entirely from the mineral. Aside from the doorways, a few wooden beams, and the mattresses, the hotel is made completely from hardened salt blocks.
To stay in a salt hotel, you typically book through one of the many multi-day tours that venture across the Salar de Uyuni. This is because a 4×4 vehicle and impeccable navigation skills are needed to reach the isolated location where the salt hotels can be found. Reservations for these tours are commonly made from the town of Uyuni, Bolivia, and can be booked in advance.
Spending a night in a salt hotel is recommended for those who don't mind roughing it a bit. There are bathrooms but showers may or may not have hot water. There's no heat, so visitors must be prepared to experience cold temperatures overnight, which sometimes dip below freezing in this dry salt desert. The beds are comfy enough, however, and it's all worth it for this unique accommodation experience and the incredible landscapes that surround it.
12) Safari Lodge on the Scottish Coast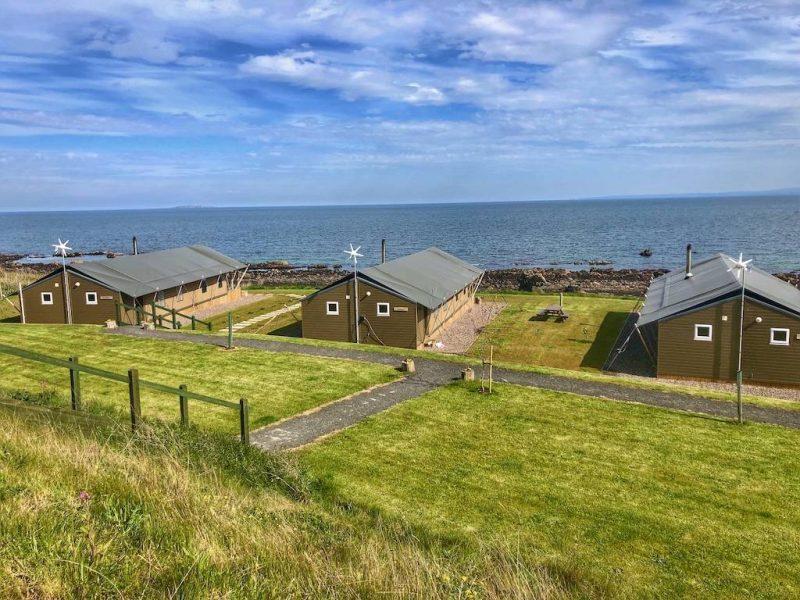 Submitted by Nicola of FunkyEllas Travel
Location: Fife Coast of Scotland
Number of people it accommodates: Each tent sleeps 6 people with two doubles and a twin room
Price per night: 3-4 night minimum with prices ranging from $400-700 total
Why it's unique: Catchpenny Safari Lodges are luxury tents located on the Fife Coast, in Scotland. These are the poshest tents I've ever stayed in and make for a wonderful stay.
What makes them special is the level of comfort. Guests will find big plush leather sofa, fully equipped kitchen, quirky cabin bed, full bathroom with walk-in rain shower and a large handmade dining table. There are plenty of cushions and blankets to keep you cozy if it's chilly outside and a deck with table, chairs and a fire pit if the sun is out.
The view is fantastic too; the tents sit next to the Fife Coastal Path overlooking the sea to Edinburgh and beyond. When the weather is nice you forget you're even in a tent — it is that luxurious!
The electricity is solar-powered and all the cleaning products are eco-friendly. The team behind these tents are big fans of being as environmentally friendly as possible. We spent a week here and loved every minute. If you are looking for something quirky and out of the ordinary without forgoing your luxury touches then these Safari Lodges are perfect.
13) Dome Tent in France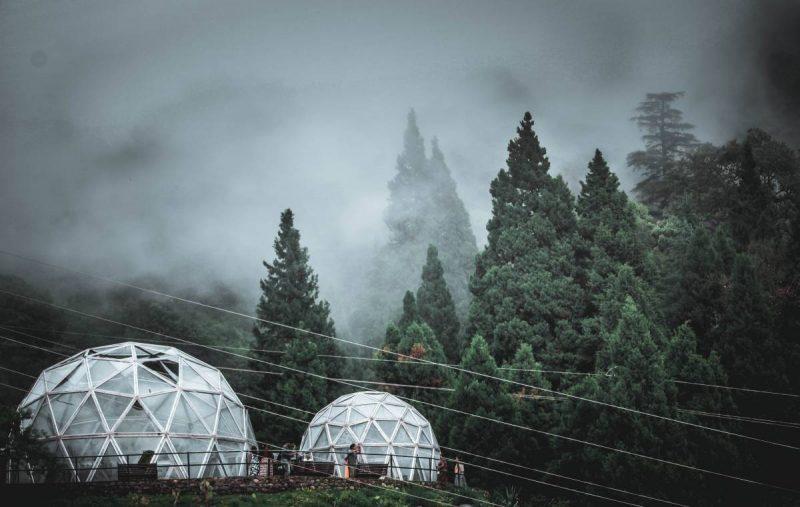 Submitted by Grace of Extreme Nomads
Location: Mezel, Provence-Alpes-Côte d'Azur, France
Number of people it accommodates: 1-2
Price per night: $150
Why it's unique: Driving up through the remote mountains of Provence-Alpes-Côte d'Azur is quite a special experience in itself (there are so many incredible road trip routes up there, like the Route Napoleon, for one), but spending the night exposed to the stars and sounds of the forest is completely next level.
The domes (there were two when we stayed there, plus a super cool treehouse) are located just outside the town of Mezel, way up in the forest and far from any other houses, roads, or basically ANY signs of civilisation. If you're a nature lover — or even just someone who seeks out the path less travelled when you're on the road — you'd love this place.
You'll park up next to a sweet little farmhouse which belongs to the manager of the property (though she left shortly after we arrived to give us the full-on private experience that was promised via our AirBnb booking). From there, you'll hike up a short-but-steep trail into the woods, where the dome will soon peek out from behind the trees.
It's perched on a small wooden platform with a balcony and an outdoor compostable toilet nearby (showers are set up 1 minute away in another private area). Inside the dome, there's just a bed, a lamp, and a coffee table.
Ending the day with a blazing sunset over the treetops and a bottle of wine, lying in bed and looking up at the stars, and waking at sunrise to a chorus of birds and wildlife… Staying in the dome is equal parts romantic and adventurous.
14) Lodge in the Amazon Rainforest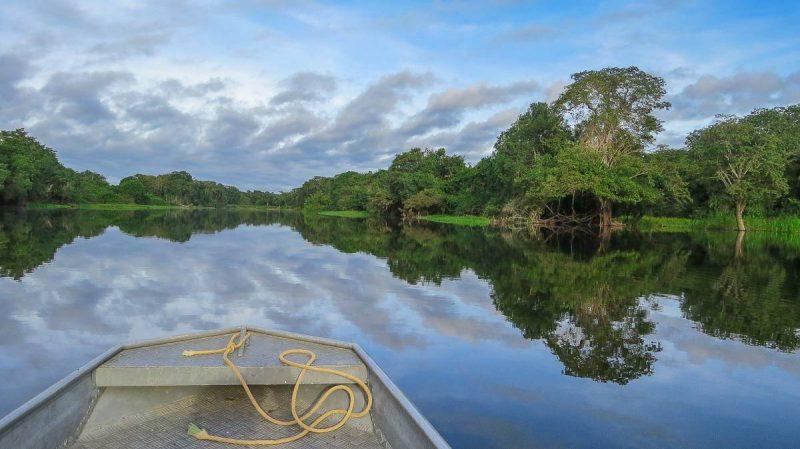 Submitted by Bruna from I Heart Brazil
Location: São Pedro, in the heart of the Amazon Rainforest
Number of people it accommodates: Up to 3 people per room
Price per night: About $430/night
Why it's unique: If staying in the Amazon rainforest was your dream, know that you can stay in a calm and dreamy place right in the heart of the jungle.
At Dolphin Lodge you can experience the local flora and fauna at its best as the region is fully preserved with monkeys, dolphins and alligators, among others.
Also, if you have been wondering what Brazilian food is like, know that at this lodge, they serve delicious dishes prepared with local ingredients you'll love.
Getting there is an adventure in itself, but the lodge also offers some tours and activities. Moreover, the lodge's transfer starts with a speedboat passing the Meeting of the Waters, then you take a van/minibus for a few miles, and finally, on the last stretch, you take another speedboat through creeks.
This modest accommodation is a bucket list item for any adventurous soul. The decoration is tasteful and local, which gives an authentic feeling to the whole setting – as if that was even necessary.
Similarly, the simple yet genuine wooden lodges have mosquito nets around every bed to ensure you'll sleep peacefully. Just avoid traveling to the area during summer (Dec-Feb) as the weather is scorching in this period.
The long transfer is worth the trip, and the peaceful moments you get in direct contact with nature while resting on a hammock or spotting animals are priceless. If possible, ask for a room with air conditioning.
15) Japanese Temple
Submitted by Talek of Travels with Talek
Location: Osaka, Japan
Number of people it accommodates: About 120 temples in the area
Price per night: $100+/night
Why it's unique: We stayed in a Japanese temple run by vegetarian monks, located next to a 2,000 year-old cemetery in a remote mountain village in Japan. You can find these accommodations in Koya-san or Mount Koya, the temple settlement south of Osaka.
The rooms are a traditional Japanese design with sleeping arrangements on the floor and "bean-bag" pillows.
Along with lodging you get a typical Japanese breakfast and vegetarian dinner. If you are not familiar with vegetarian offerings, you will be amazed at the wonders imaginative cooks can create with just plants. The food is amazing!
At registration the monks advised us that services would be at 6am sharp. We thought they were telling us this for our information — in reality, we were expected to attend the 40-minute services. We did and found them peaceful and lovely.
We sampled the onsen, heated baths, and wandered the temple in our yukatas, comfortable Japanese bathrobes.
16) Casa Particulares in Cuba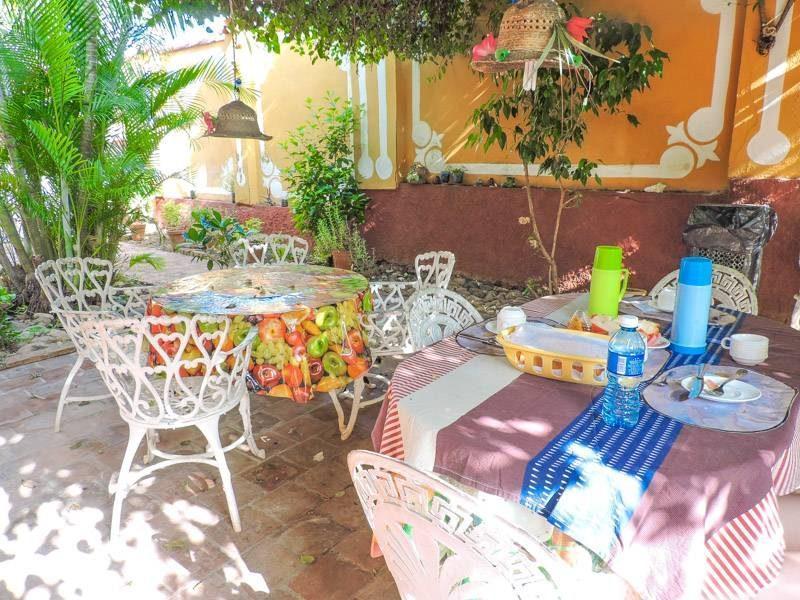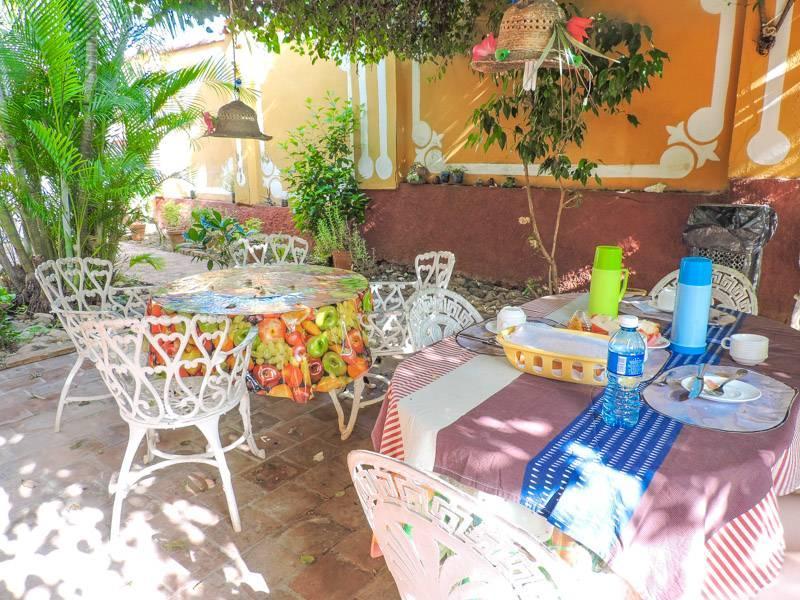 Submitted by Gemma from Two Scots Abroad
Location: Various, Cuba
Number of people it accommodates: Varies, 2-10+
Price per night: $30-$100+/night
Why it's unique: Sure there's igloos and treehouses but what about the type of accommodation that is ingrained in culture and tourism?
Casas particulars are private homes in Cuba where visitors rent a room or even sometimes a full home.
We stayed in a variety of casas from a four-bed large room in Viñales to a private room in the heart of Havana. We enjoyed a breakfast amongst the flowers Trinidad and stayed in a full apartment close to the beach in Caleton.
Casas are essential because the local family becomes a lifeline for knowledge.
Need a taxi? No problem! Looking to book a day diving or snorkelling? They'll know someone. Need a bike to ride to the beach? They have connections. Since there is limited WiFi in Cuba, you need this help!
The casas themselves are nice and the breakfast spreads are epic but what's truly unique about this type of accommodation is the cultural and economic impact they have.
Casa owners are in a collective with other Cuban business owners. This is who they recommend when you ask for a service or product. With each successful recommendation, a small amount of commission is received. Interesting eh?
RELATED POST: 12 DESTINATIONS IN NORTH AMERICA TO BEAT THE WINTER BLUES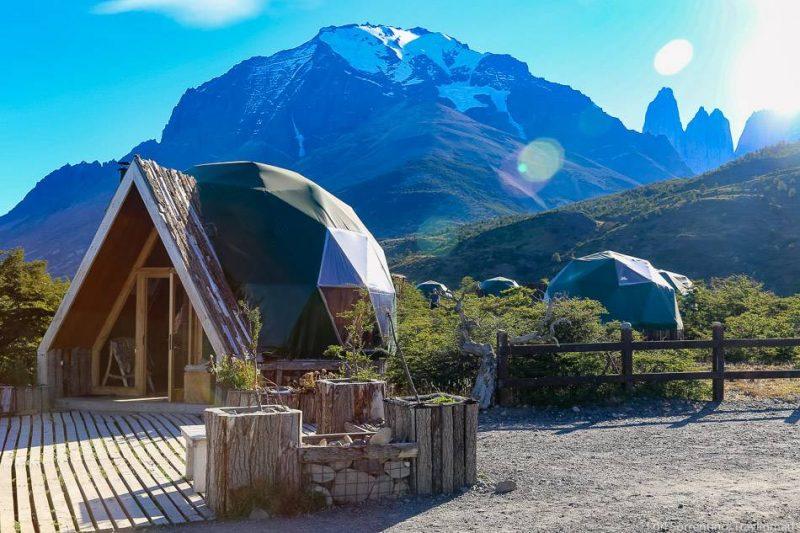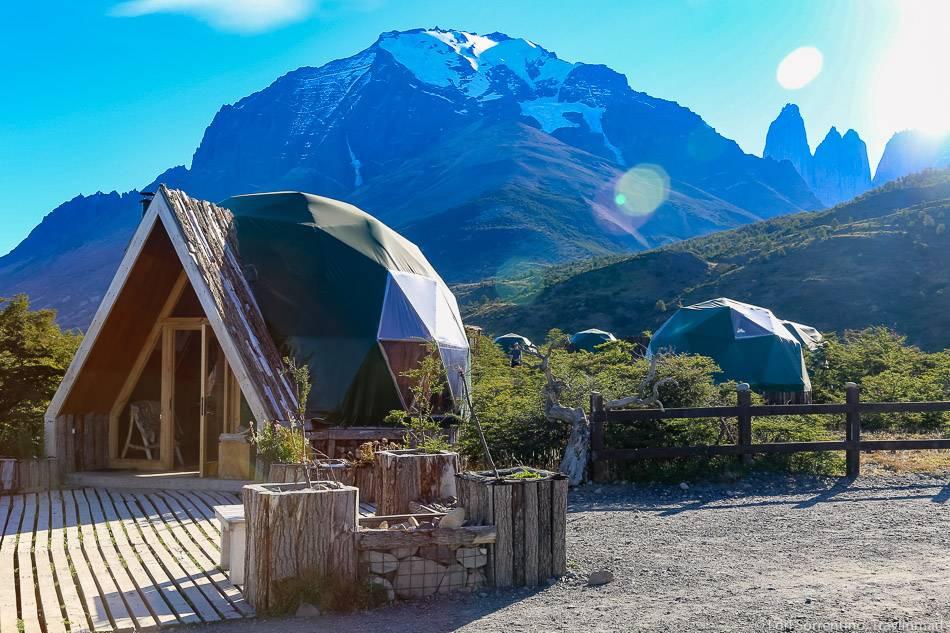 Submitted by Lori from Travlinmad
Location: Torres del Paine National Park, Chile
Number of people it accommodates: 55-65
Price per night: For all-inclusive double occupancy for seven days pricing ranges from $1727/person in low season to $4066/person in peak season. All-inclusive packages include three meals/day, guided hikes, and excursions in the Park. Also included is transportation to and from the airport or town of Punta Arenas or Puerto Natales, Chile, or El Calafate in Argentina.
Why it's unique: If you're considering a trip to Patagonia, EcoCamp is the best place to go glamping in Patagonia. Located in Chile's Torres del Paine National Park, EcoCamp is comprised of modern geodesic domes designed to ward off high winds and low temperatures.
Depending on your choice of dome, your stay could be luxurious or rustic but comfortable, ranging from domes with no heat or electricity and shared community bath, to those with wood stove or gas heat and private bath.
Several community domes around the property house a bar and dining space where meals are served, an outside terrace, and a yoga dome.
The property is both
unique
and luxurious within the remote wilderness location of Chilean Patagonia, and we loved the sense of community among staff and fellow travelers. The cuisine is also impressive, with fresh and creative local dishes prepared throughout the day.
EcoCamp has also gained an award-winning reputation for its eco-friendly policies, innovative use of green technology and being a leader in environmentally responsible travel. The camp is open from September until the end of April, then closes for the winter.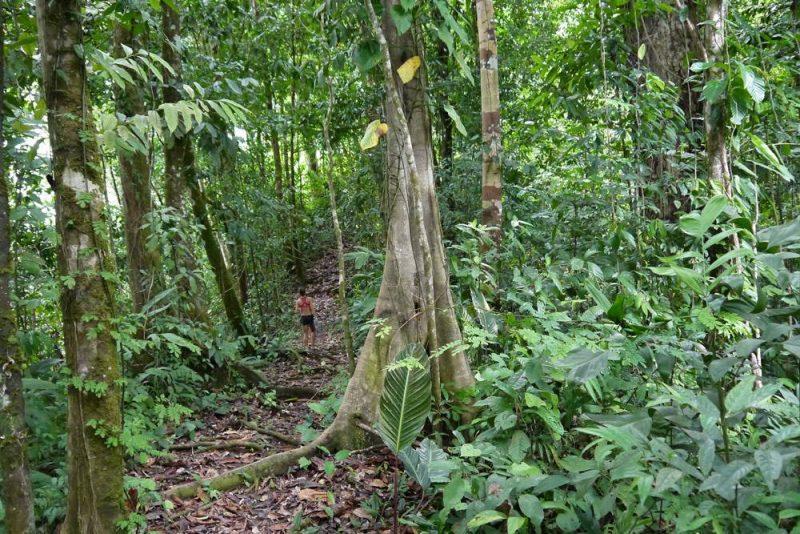 Submitted by Campbell & Alya from Stingy Nomads
Location: Alajuela, Costa Rica
Number of people it accommodates: 2-8 depending on the room
Price per night: Dormitory beds with a jungle view go for $12 single or $24 for double bed; private cabins are $30
Why it's unique: Sleeping in a cozy bed in the center of one of the most biodiverse jungles in the world was one of our favorite places to visit in Costa Rica.
Bolita Rainforest Hostel is located on the border with the Corcovado National park known for its incredible array of endemic animals and plants. While hiking around the 15km of spectacular trails that belong to this eco-hostel you might spot jaguars, anteaters, howler monkeys, tapirs, ocelots, scarlet macaws, toucans, hummingbirds, red-eyed tree frogs and more.
The hostel is a 30 minute walk through the rainforest from the nearest town, Doz Brazos. Don't pack too much since the trail is uphill.
This unique eco lodge attempts to make as little impact on nature as possible so everything is recycled and they utilize solar power. Remember to bring your own food; there is a kitchen but no refrigeration.
Bolita Rainforest hostel is a perfect example of successful co-existence of people and nature. This is the closest you can live in relative comfort to the wild Costa Rican jungle.
19) Treehouse Cottage in British Colombia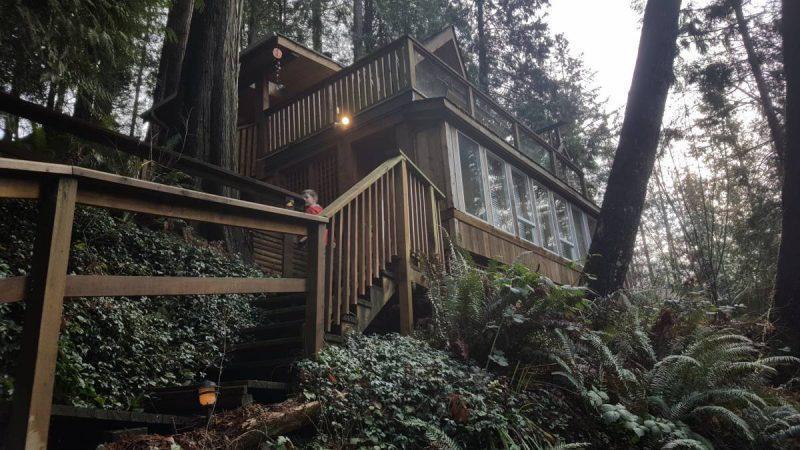 Submitted by Lesley from Freedom56Travel
Location: Sechelt, British Columbia
Number of people it accommodates: 4 people per room
Price per night: $249-$299/night
What makes it unique: This treehouse cottage is built into a grove of trees just at the water's edge. Constructed entirely of wood and nestled into the evergreen trees, you get a spectacular view of Tranquility Bay from most of the windows. You can also soak in the private hot tub on the deck under the trees.
The Sechelt Treehouse Cottage is situated in Sechelt, British Columbia. The Treehouse is on its own private ½ acre and can accommodate 4 people comfortably with a separate bedroom and another queen-sized bed in a loft.
What makes this accommodation unique is its absolutely amazing feel of being cocooned within the confines of ancient rainforest. The loft bed has a skylight so you stare at the stars at night.
Sechelt is on the Sunshine Coast of British Columbia, accessible via a short ferry ride from Vancouver. Our family had a great time staying in Treehouse over New Year's Eve. Beware the steep flights of stairs to be climbed to get to the Treehouse! This is a very popular place to stay so make sure to book early.
20) Over Water Glamping on Cheow Lan Lake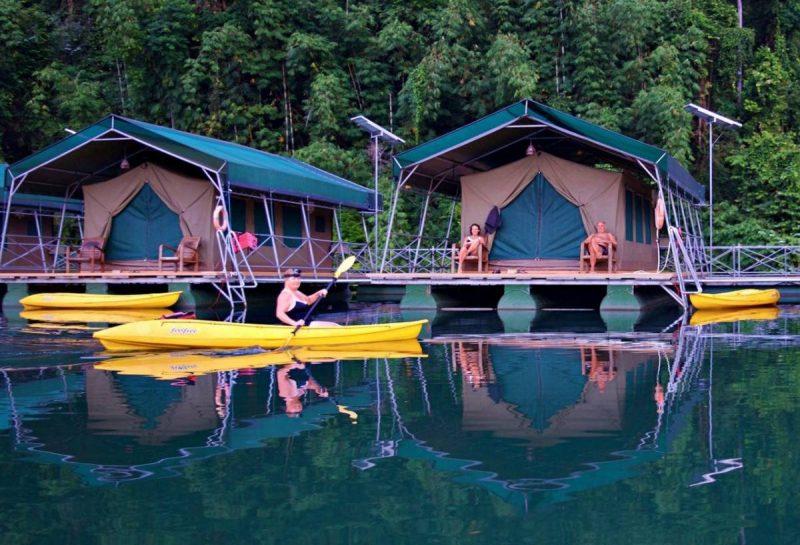 Submitted by Jenn and Ed at The Coleman Concierge
Location: Khao Sok National Park in Surat Thani Province, Thailand
Number of people it accommodates: 2/cabin
Price per night: Inclusive on Elephant Hills 3-days-2-nights Jungle Lake Safari (Package starts at 22,410 THB)
Why it's unique: You fall asleep surrounded by rainforest on in the safety of your floating camp. Glamping with Elephant Hills was so much more than camping. These were the most comfortable beds we slept on during our entire month in Thailand.
The 3d-2n tour was unbelievable, ethical, and luxurious in every way, but we'll only talk about the floating accommodations. After touring the karst towers and sunken forests of Cheow Lan Lake, we entered our floating camp.
Every luxury tent was on its own platform with a personal kayak docked outside. We were free to swim and explore at our leisure and a gourmet buffet was prepared on-site for every meal.
We thought nothing would surpass hearing the jungle wake up around us until we saw morning on the lake. The glass smooth surface reflected cotton candy fog that settled in the valley. Five gibbon families squeaked their morning greetings. We untethered our kayak and glided over to meet them. Floating camp on Cheow Lan Lake created a moment of extreme beauty and tranquility that we still long for today.
Elephant Hills vacations include all activities, accommodations, meals, and door to door transportation from Phuket, Krabi, Phang Nga, or Surat Thani.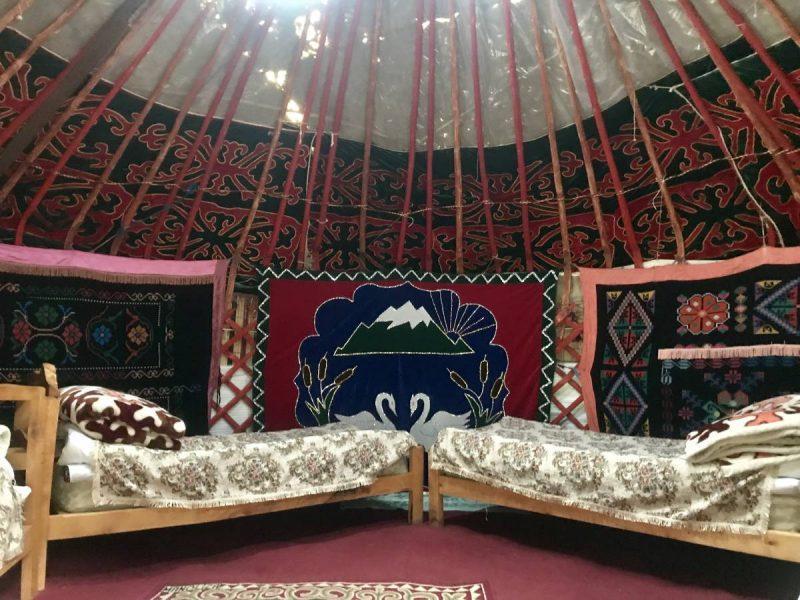 Location: Karakol, Kyrgyzstan
Number of people it accommodates: 4/yurt
Price per night: $15-$30 per night
Why it's unique: Yurts are an essential part of the Kyrgyz culture. The Kyrgyz people were nomadic for centuries and yurts represent not only their history, but the home and stability. The center of the yurt has become a symbol seen in flags and monuments alike.
The Kara-Kyz yurt camp is a family-run establishment located about 15 minutes outside of Karakol, Kyrgyzstan. There are several yurts on site, each housing 4 people. They're lavishly decorated and well-insulated with colorful tapestries lining the walls. There's also beds, a hot shower and toilets here, modern amenities in a traditional setting.
The family serves dinner every evening at a communal table. Electricity is only available for 2 hours a night so be sure to charge your devices during that time. There's no WiFi on the premises. This is a place to unwind, as you fall asleep to the sound of the river nearby and sleep soundly on plush bedding.
RELATED POST: 99 INSPIRATIONAL TRAVEL QUOTES TO FUEL YOUR WANDERLUST
There you have it, 21 of the most unique places to stay on earth. Which of these are you adding to your bucket list?
Till next time, safe travels!
Liked this post? Pin me below: