Thinking about taking a scenic flight over the Great Blue Hole with Tropic Air Belize? You should! Read on for my review of the experience.
Flying over the Great Blue Hole in Belize has long been a bucket list item of mine.
I was able to make this dream come true thanks to Tropic Air and it was even better than I imagined.
The Great Blue Hole is a marine sinkhole towards the center of Lighthouse Reef, a little over 60 miles off the coast of Belize City.
You can dive it but flying over it is the best way to get a full appreciation for the magnitude of this natural wonder.
If you're in the San Pedro area, I cannot recommend this experience enough. Here's what you need to know before you go.
Facts about the Great Blue Hole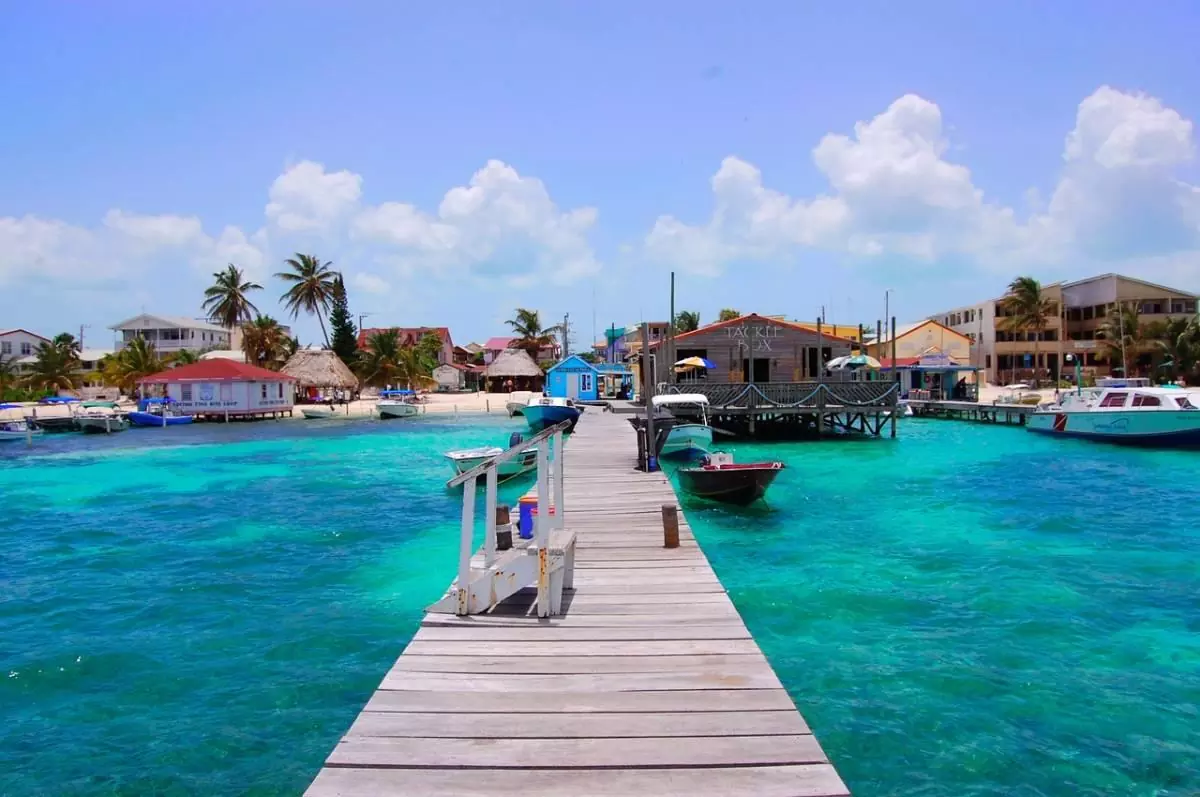 The Great Blue Hole and its mysterious contents have long been a lure for oceanographers and biologists alike.
Jacques Cousteau made the hole famous in 1972 when he brought his ship, Calypso, to explore its depths.
In late 2018, his grandson Fabien Cousteau teamed up with billionaire adventurer Richard Branson to take a submarine to the bottom and broadcasted the entire thing on the Discovery Channel.
The Blue Hole is a UNESCO World Heritage Site. It can also be seen from space, with astronauts in the International Space Station taking iconic pictures while passing overhead.
They don't call it "great" for nothing — it's the largest sinkhole in the world. At 300 meters across and 125 meters deep (400+ feet), it is massive.
The water here is unique — you can see several different shades of blue across the horizon, including sea foam green, turquoise blue and a rich royal blue. The color split is noticeable, like a palette of paints splashed across the water.
How to get to the Great Blue Hole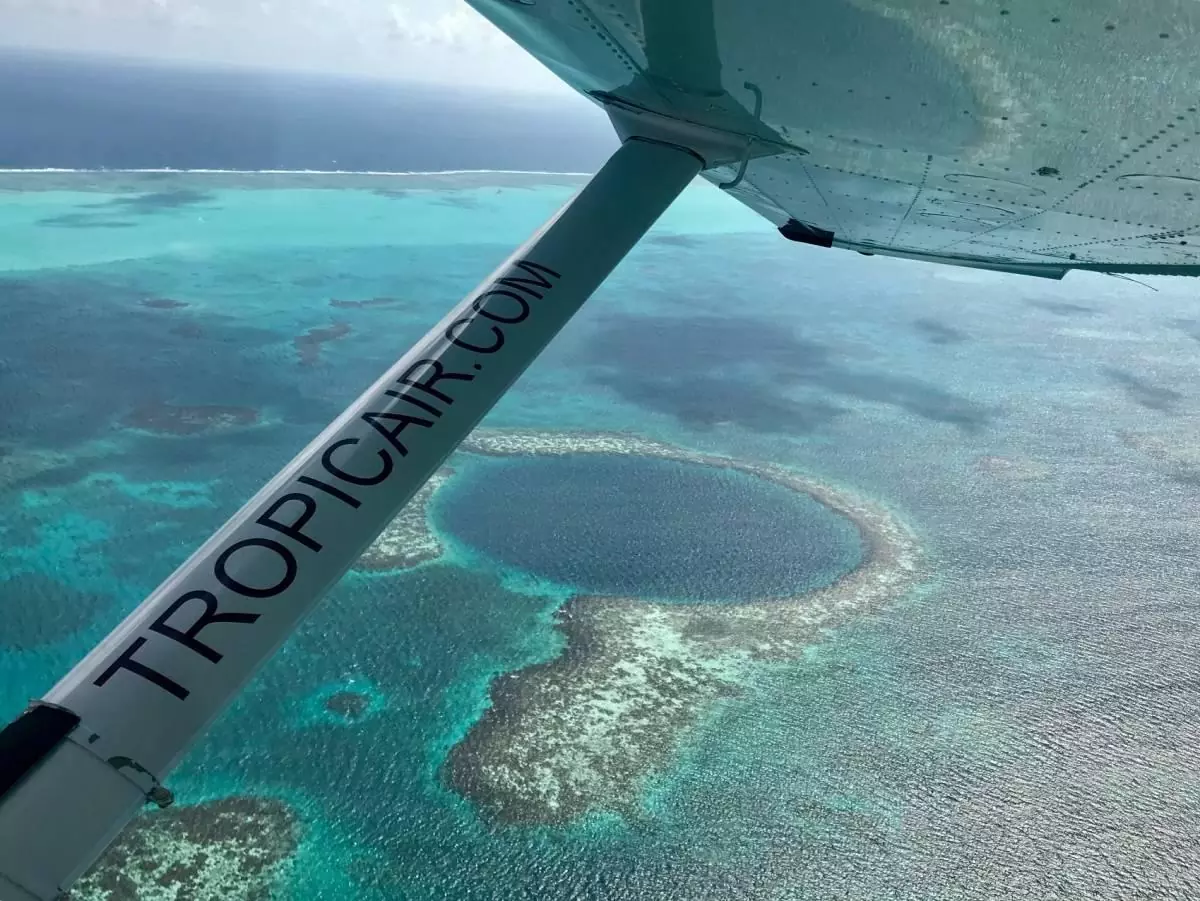 You can reach the Great Blue Hole from three points of departure — Belize City, Caye Caulker or San Pedro. The flight takes about one hour total.
There are various providers that offer flights over the Blue Hole. The experience can be a bit of splurge but is well worth it.
If you're staying in San Pedro, you can walk to the airport. It's right in the middle of downtown. There's also an airstrip in Caye Caulker although it's not as heavily frequented and more removed from the center of the island.
You can also get there via boat but it takes 2 hours one way. A boat is your most affordable option.
RELATED POST: VISIT THE CAYE CAULKER ANIMAL SHELTER
Scenic Flight with Tropic Air Belize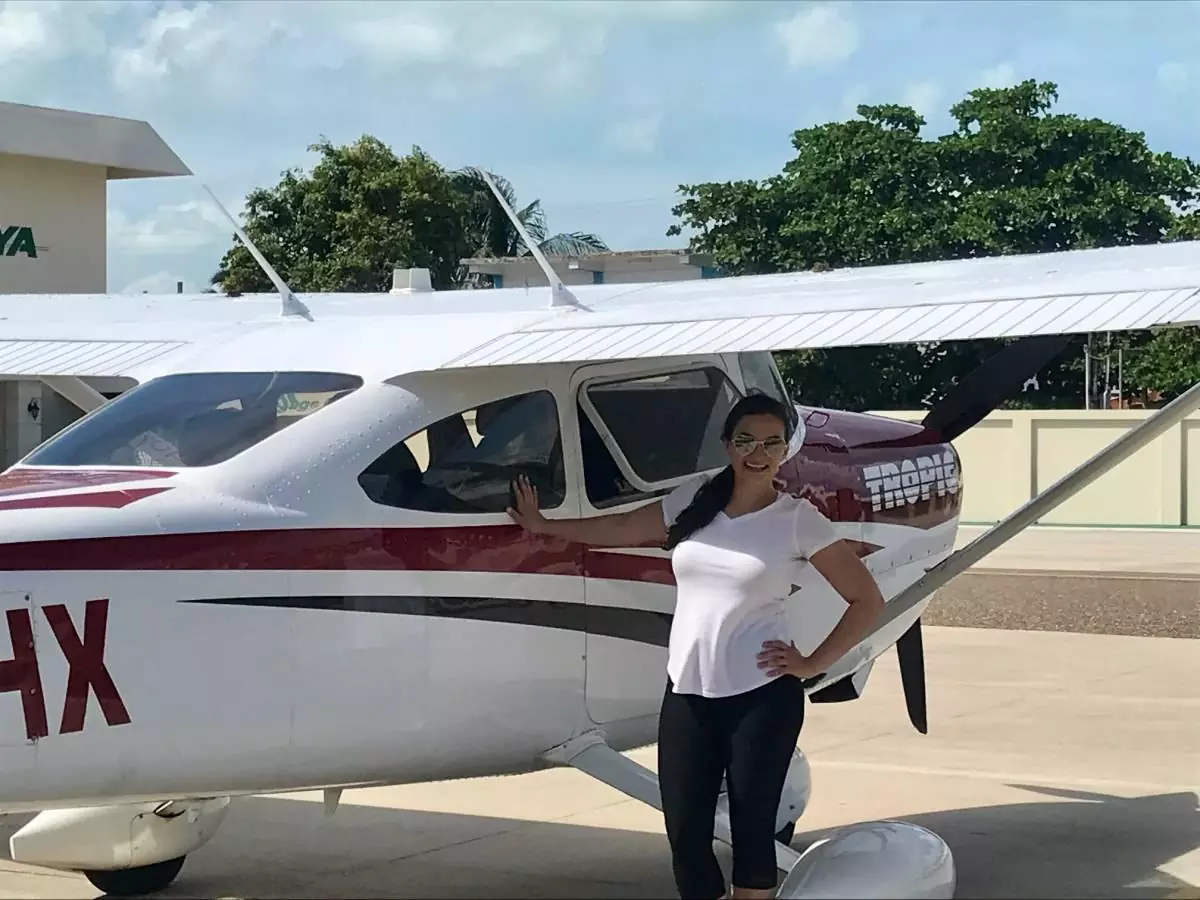 I took a scenic flight with Tropic Air. They depart from San Pedro Airport on Tuesdays, Wednesdays and Sundays. It's a chartered flight on a small propeller plane. The one I took only held 4 people.
You can pay extra to fly in the copilot seat, though with only four people on the plane there's no such thing as a bad view — everyone gets a window view. Some planes sit 6 people, in which case the upgrade is well worth it.
The pilot flies over the Blue Hole several times and from different angles to allow you to get the perfect shot. You can get amazing photos and videos even on your mobile phone and through the windows of your plane.
There are other points of interest that you see on the way, including Turneffe Atoll, Glovers Reef, the Booby Bird Sanctuary and shipwrecks. The water is crystal clear so you can see all the way to the bottom even from high above.
Know Before You Go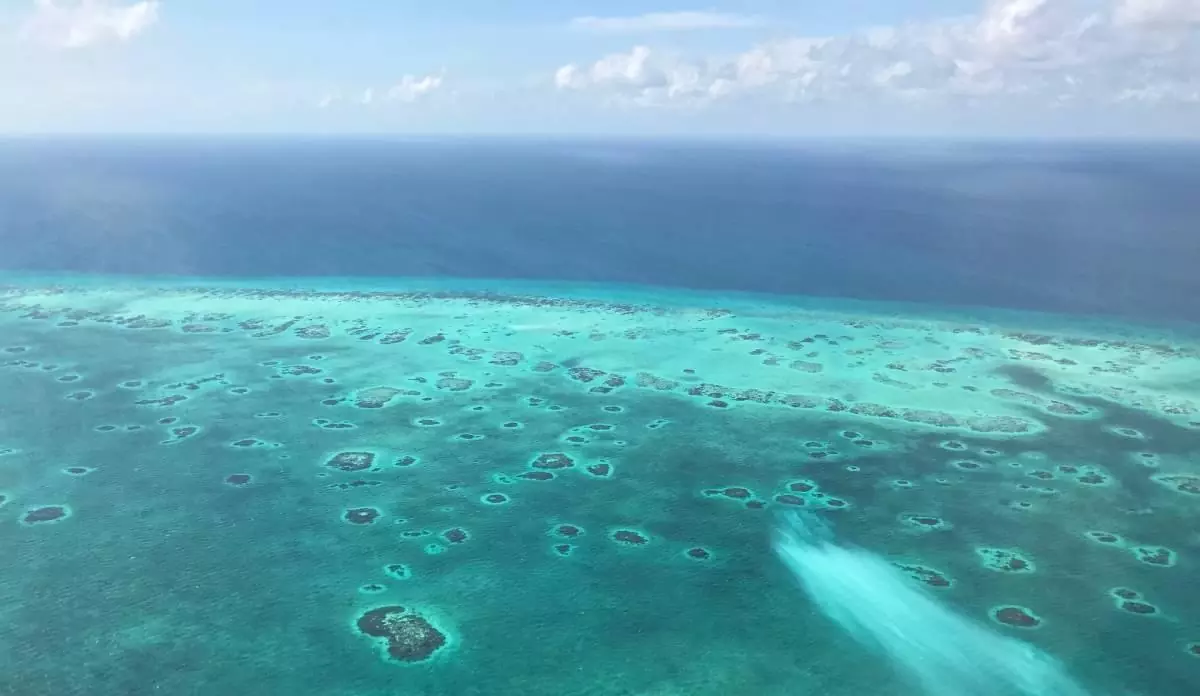 The ride is weather dependent. Thankfully, it's (almost) always sunny in Belize. You have to arrive for your flight early. Don't worry, the waiting room at the airport is air conditioned.
There are also ample chargers — you're going to want to have your electronics at 100% capacity for this. Bring extra backup batteries just in case!
You can get great photos from inside the plane despite the obstruction of the windows. Bring your DSLR if you're looking for better quality pictures.
The plane is a little loud so you'll be made to wear headphones. Dress comfortably. There was hardly any turbulence on my ride, even considering the small size of the plane. We were aided on and off the plane by the staff at the airport. Where you sit may vary depending on passengers and weight distribution requirements.
Overall, this is a once-in-a-lifetime adventure that is well worth your time if you're in the area.
Till next time, safe travels!
RELATED POST: 7 UNFORGETTABLE ADVENTURES IN SAN PEDRO, BELIZE
Liked this post? Pin me below.
Note: Tropic Air was kind enough to sponsor my flight. All opinions and fond memories are my own.