There are pink lakes in Mexico! This is not a drill — Las Coloradas in the Yucatan is home to cotton candy waters, and you can easily visit them on a day trip from Cancun, Playa del Carmen, Tulum or Valladolid.
Notably, the rules for visiting the pink lakes have changed as they grow popularity and Instagram fame. This post contains all the most up-to-date information you need to plan your trip.
How to get to the Las Coloradas from Cancun, Tulum or Playa del Carmen
To get to the pink lakes you need to head towards Rios Lagartos but the actual city is Las Coloradas (slightly east of there). It's about a 3-hour drive from Cancun, Tulum or Playa del Carmen and an hour and a half from Valladolid.
Before you reach Rios Lagartos you'll see signs pointing to Las Coloradas, requiring you to turn right onto an access road. You will drive for almost a mile and a half straight on that road before you reach Las Coloradas. There's only one way to go so don't worry if you don't see what you're looking for right away. Eventually you'll spot a mountain of salt adjacent to the salt factory on your right and know you made it to the right place.
Las Coloradas is a small town with about 1,200 residents, mostly factory workers who stayed and developed the area with their families.
I recommend spending the night in Valladolid before your trip if you're able to get an early start the next day. Not only are there a ton of cenotes in the area, the road to Las Coloradas is a straight shot from Valladolid and well-paved. Once you start to reach the coast, however, your service and cell reception will start to waver. If you need cell service, head to Rio Lagartos.
You can also stop and enjoy secret beaches along the way, just know that they're not pink.
Do you need a guide to enter?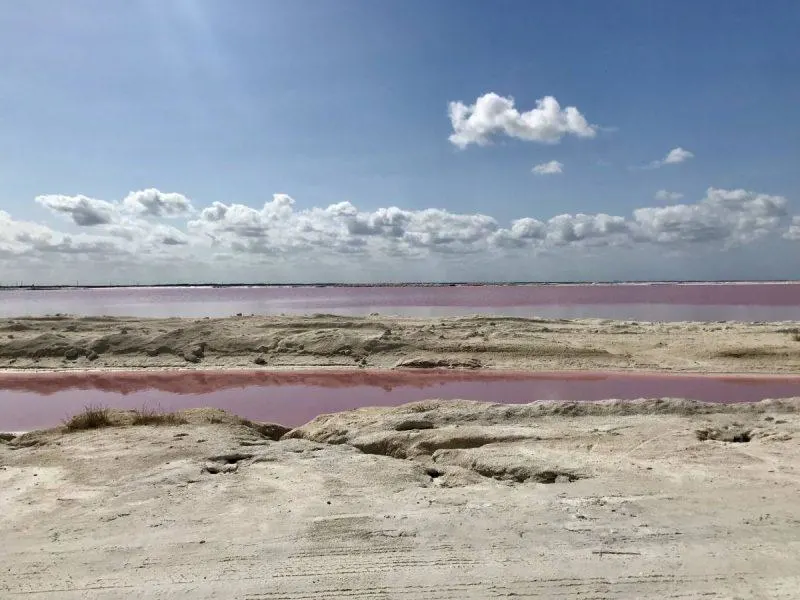 Yes, you need a guide to enter. There is no way for you to enter without a guide as the entrance is now blocked and gated. This has been a source of confusion for many, since previously it could be accessed unaccompanied.
When you first arrive, your car will be swarmed by locals trying to get you to book a tour. This struck me as fishy at first since I just wanted to walk along the perimeter and take pictures and wasn't necessarily looking for a guided tour. I continued driving to the site parking lot but realized when I got there that the only way into the lakes is if you're escorted by a local guide.
The lakes are private property owned by the neighboring salt factory. They used to be open to the public but as tourism grew it became harder to regulate guests. The salt factory does not have an official website for the lakes and is not trying to promote tourism in any way since the flood of onlookers has affected the biological makeup of the water.
Instead, the factory has passed off the task of regulating the area to locals, who guide and escort you through the premises while making sure you don't break any of the rules. The cost of a local guide is 50 pesos — beware of anyone who tries to charge you more. You are encouraged to leave a tip for good service.
Since there's no official training, the information you receive from your guide could vary greatly depending on the person you choose. If you want a detailed explanation of the science and history of this place, ask for Wilma. I lucked out with her as she was extremely knowledgeable of the area.
There's also a time limit of how long you can enter, with guests permitted only 20-30 minutes on average for strolling the lake.
Can you swim in Las Coloradas?
No, you cannot go swimming in Las Coloradas, and this is a big one. Unfortunately the internet has a lot of misinformation out there so you may have seen pictures of people floating in the lake. As of February 2017, swimming in the lakes is strictly prohibited. You can't even dip your toe into the lake.
If you do, your guide will be fined and suffer for your actions. Please be considerate of them and abide by the rules.
The reason swimming is no longer allowed is because the chemicals we have on our bodies affect the composition of the water. By abstaining from swimming, we can maintain the lake pink and preserve it for future generations.
RELATED POST: EAT LIKE A LOCAL IN MEXICO WITH A TACO TOUR OF CANCUN
What makes the lakes pink?
The coloration of the lake is caused by artemia salina, a species of brine shrimp. When the shrimp enter the water it's too salinated for them to survive so they die (morbid, I know) and upon their death they release various bacteria responsible for the coloration of the water, such as dunaliella salina.
These are the same shrimp that Caribbean flamingos eat and contribute to their bright pink color as well. In fact, you can see a high population of flamingos in the area in the early mornings and evenings.
RELATED POST: 9 UNIQUE THINGS TO DO IN CANCUN BESIDES PARTYING
When is a good time to visit?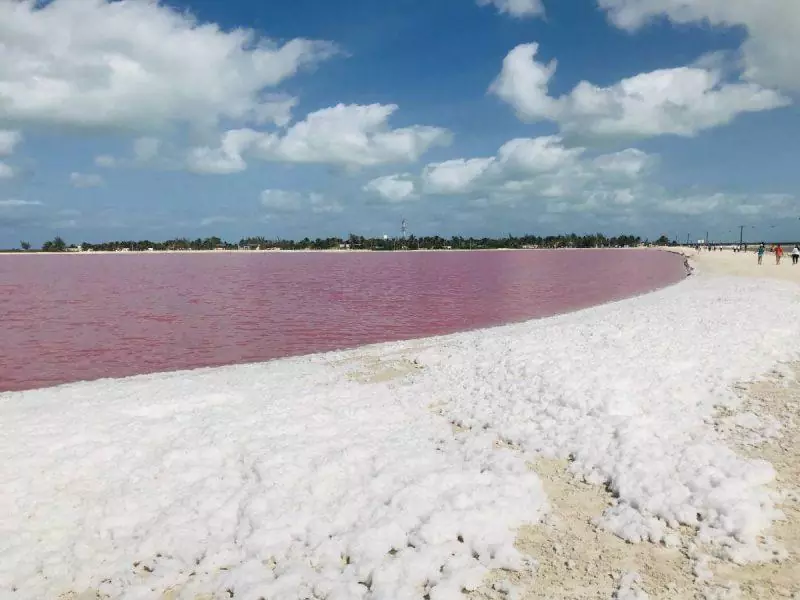 You can only see the pink color of the lakes on a clear, sunny day. If it's overcast or raining, don't bother making the trip as the water will just look murky and you'll be disappointed.
There's no best time of year to go — you can see the lakes year-round. The biggest factor to take into account is the weather conditions. The sunnier it is, the brighter the lake will look.
Know before you go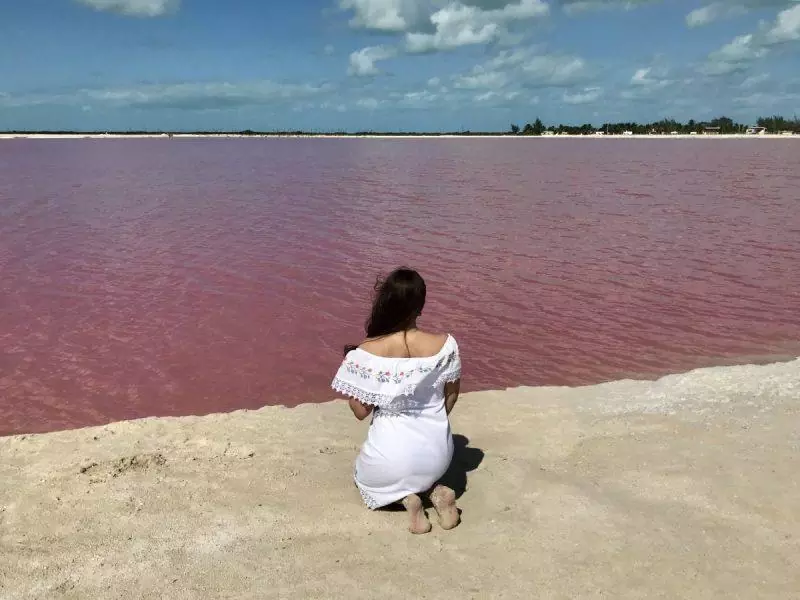 You can take as many photos as you'd like with your phone or camera but there are no tripods or commercial photo shoots allowed here. For solo travelers, I recommend that you be extra nice so your guide will help you in taking pictures. No drones are allowed either, not just over the pink lakes but throughout the whole surrounding nature preserve. It's large and hard to police in all areas but fly at your own risk.
I recommend you rent a car and drive yourself. It's an easy road trip that can be done at your leisure or as a day trip from the Yucatan's main cities. Note that car rental prices for Mexico are deceptive. You could book a rental for $3/day, for instance, and end up being charged $43/day due to mandatory insurance requirements in Mexico that you won't be able to bypass with use of a travel credit card or your own policy. Don't worry, Mexico is safer to visit than you think.
The pink lakes of Las Coloradas in the Yucatan definitely deserve a place on your bucket list. It's one of several must-see stops in the country, along with Chichen Itza, swimming with whale sharks in Holbox, releasing baby sea turtles in Cozumel and visiting Laguna Bacalar. I hope this helps you make the most of your visit and arrive knowing fully what to expect once you get there.
RELATED POST: DIVING THE UNDERWATER MUSEUM IN CANCUN
Till next time, safe travels!