So many people go to Cancun and only experience the resort strip, completely unaware of the booming culture and nightlife available just 15 minutes away in the downtown area. The best way to see, and eat, your way through the city like a local is to go on a Taco Tour of Cancun.
I was recently in Cancun for the second time, hoping to cross swimming with whale sharks off my list. Unfortunately, my trip coincided almost identically with a tropical storm that was hitting the area, so most of my water-based activities were cancelled.
In a city dependent on sunny skies for its main tourist attractions, there is little to do on a rainy day. The Taco Tour is a great activity to have on your schedule in case of inclement weather since it runs rain or shine.
While the food in Mexico is delicious across the board, I found that the best and freshest dishes were in the mom and pop shops, not the giant resort restaurants.
Your ceviche is almost guaranteed to have been frozen at some point when you order at the Ritz, but it was swimming in the ocean the night before it hit your plate at the local restaurant.
So step away from the room service and step into a night of authentic Mexican cuisine! Here's everything you need to know to go on a Taco Tour of Cancun.
RELATED POST: DIVING THE UNDERWATER MUSEUM IN CANCUN, MEXICO
How much is a Taco Tour of Cancun?
A Taco Tour is exactly what it sounds like. For USD$25, a local guide will meet and escort you throughout downtown Cancun, hitting three local taco spots along the way, and one surprise place for dessert. The tour's founder, Marek, is an avid traveler and wanted to find a way to showcase Mexican cuisine to backpackers and luxury travelers alike.
My guide, Myrna, had years of hospitality experience and helped me navigate the menus of the night, recommending different items and warning me where appropriate about the spice level of a given condiment. Be warned–when Mexicans say something is spicy, they mean it!
Where in Cancun does the Taco Tour take place?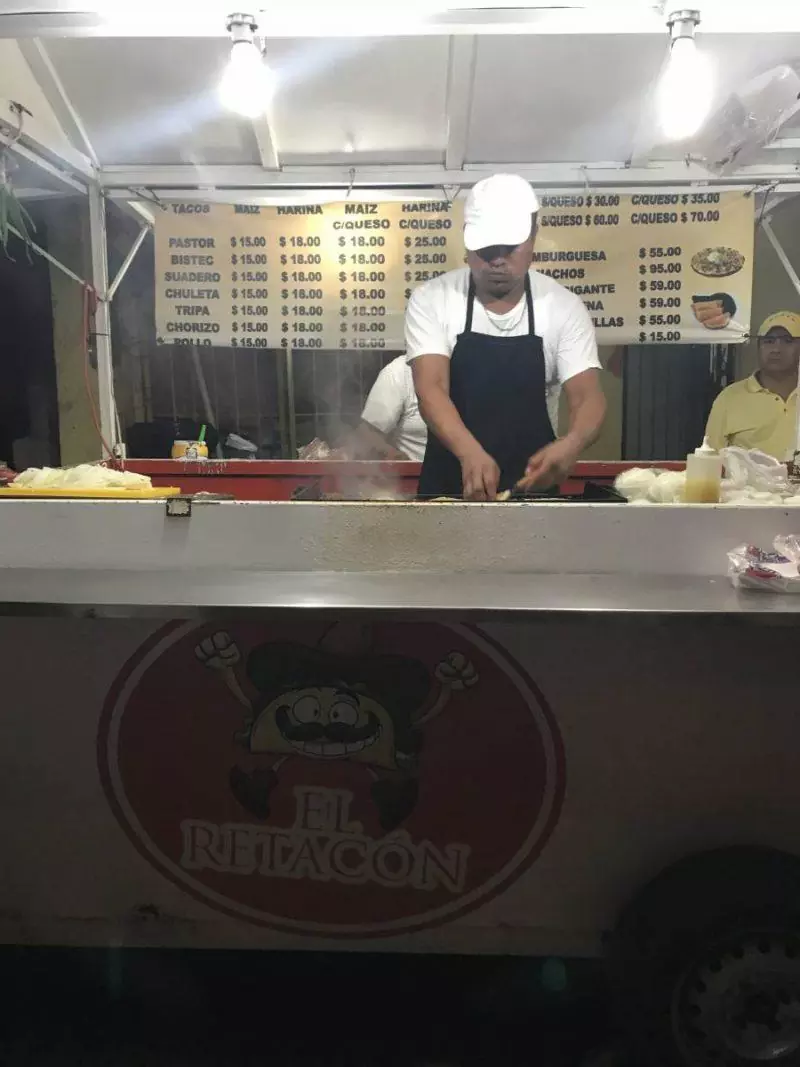 The Taco Tour is centered around Parque de las Palapas and all stops are within a 5 block radius of the area.
The meeting point is at a supermarket downtown called Chedraui, which you can access by bus or car.
If you drive, you'll leave your car parked at the supermarket while you walk around the area.
The stops are a mixture of indoor and outdoor dining, so wear comfortable shoes and bring an umbrella just in case it rains.
Who goes on a Taco Tour?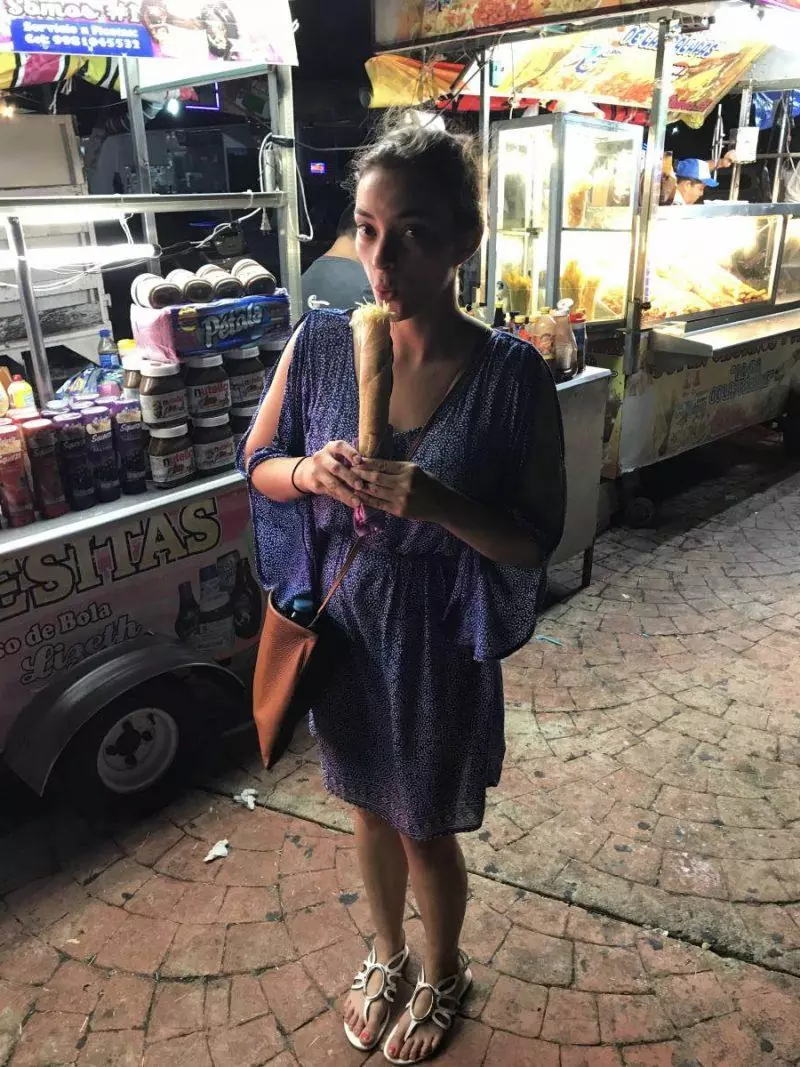 As I mentioned, the Taco Tour is meant to be inclusive. No matter your budget or style of travel, you'll feel catered to and leave with a full stomach.
I went on the tour as a solo female traveler and felt very welcome, not at all awkward or like I needed someone to accompany me.
I would recommend this experience for solo travelers everywhere. You can also go in a group and take advantage of having the full attention of a local guide.
Aside from the group, you'll likely be the only tourists in the area.
What do you eat while on the Taco Tour?
On to the good stuff! The food. There's tacos el pastor, which are the classic Mexican taco option featuring a pineapple slice on top. You can try tacos with beef, chicken, pork, shrimp and even crab depending on your preference.
All the tortillas are hand-made, either by the restaurant that same day or purchased from a tortilleria that morning. You'll have your pick of sauces, from mild to spicy and made from ingredients like tomatoes and habanero peppers.
You can also order accompaniments, like guacamole and pico de gallo. My advice is to pace yourself, as this is not a sprint but a marathon. You'll also have the option to try a fried dish at the end, to compare and contrast with all the tacos you've eaten till then.
Finally, don't forget to save room for desert!
Afterwards, you'll be escorted to the street vendors at Parque de las Palapas to try marquesitas, a version of a Mexican crepe rolled stuffed with queso de bola and smeared with your choice of topping (I personally chose Nutella).
RELATED POST: 9 UNIQUE THINGS TO DO IN CANCUN, MEXICO THAT DON'T INVOLVE PARTYING
Know before you go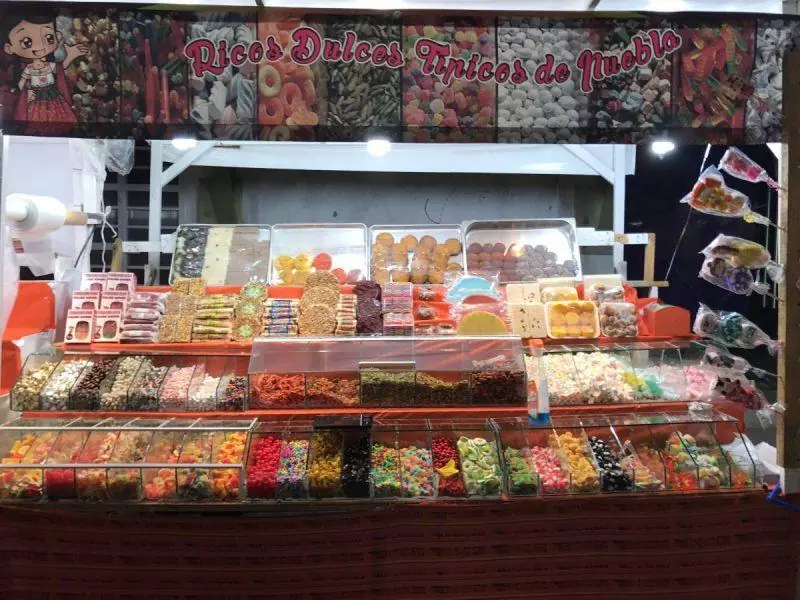 The Taco Tour is set up so that all you have to do is show up and have a good time, so there's very little prep work that has to be done on your part.
You can book your tickets online ahead of tim with confidence; Merak is quick about communication and confirmation.
Wear comfortable walking shoes as the tour is mainly on foot.
Bring pesos to pay for the food at the local venues. There are souvenir shops and bars along the street that you'll be touring if you choose to stay later.
The tour ends by 10pm so you have time to go out after if you'd like. Finally, don't forget to bring cash to tip your guide! They work hard to make sure you leave with good memories.
Have questions about the Taco Tour? Feel free to reach out. I hope you treat your taste buds to this experience whenever you're in Cancun.
RELATED POST: VISIT THE PINK LAKES OF MEXICO'S YUCATAN PENINSULA
Till next time, safe travels!
Liked this post? Pin me below!