Want to find the best elephant sanctuary in Chiang Mai, Thailand? You're not alone. Interacting with elephants is a bucket list item for many but it's hard to know which places are ethical and promote the well-being of these gentle giants.
Thailand and Southeast Asia in general have a history of exploitive practices, causing elephants great psychological trauma and physical strain by forcing them to be ridden and using them as tourist props. As a result, elephant sanctuaries have popped up to try to rescue these animals and educate the general public about the dangers of animal tourism (learn more about why riding elephants is bad).
The problem is that animal tourism is big business, and not all sanctuaries are created equal. Enter Elephant Nature Park ("ENP").
Founded in the 1990's and heavily awarded by institutions like the Smithsonian and National Geographic, this is as legitimate as a rescue can get. It exists solely for the benefit of the elephants that reside there, not for the people that visit, making this the best elephant sanctuary in Chiang Mai, Thailand.
RELATED POST: VISITING PHANG NGA BAY IN THAILAND
Where is Elephant Nature Park?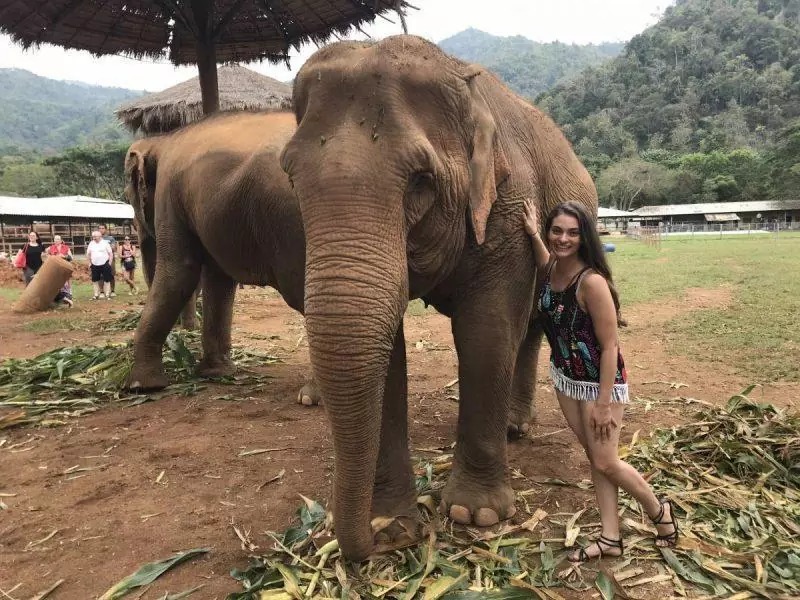 While people commonly reference the park as being in Chiang Mai, Thailand, it's actually 37 odd miles outside the city in a more remote area so the elephants can roam freely. When you sign up to volunteer at the park they arrange transportation for you and pick you up directly from your hotel or AirBnB in Chiang Mai.
It takes about an hour each way and the shuttle bus that picks you up holds about a dozen people total. The shuttle is air conditioned and on the way there you get more insight and background on the park, its founder and its mission.
What is ENP's mission?
Elephant Nature Park is committed to the protection of distressed and endangered animals. Beyond elephants, you'll find dozens of rescue cats and dogs on site. Additionally, they are committed to rainforest preservation and plant acres of trees every year in an attempt to restore the balance between nature and man.
They focus on cultural preservation and incorporating local people and products into their facility. Each elephant is assigned a caretaker and that caretaker carves statues of their elephant to be sold at the gift shop. Not only do they make unique, one-of-a-kind gifts, they provide an extra source of revenue for the locals who dedicate their lives to the ENP cause.
Finally, ENP is on a mission to educate the general public about the dangers of riding an elephant. Currently, the riding industry is spurred primarily by western tourists. By educating travelers on the deleterious impact of their actions they hope to redirect spending and bankrupt this corrupt and unethical practice.
What experiences are available?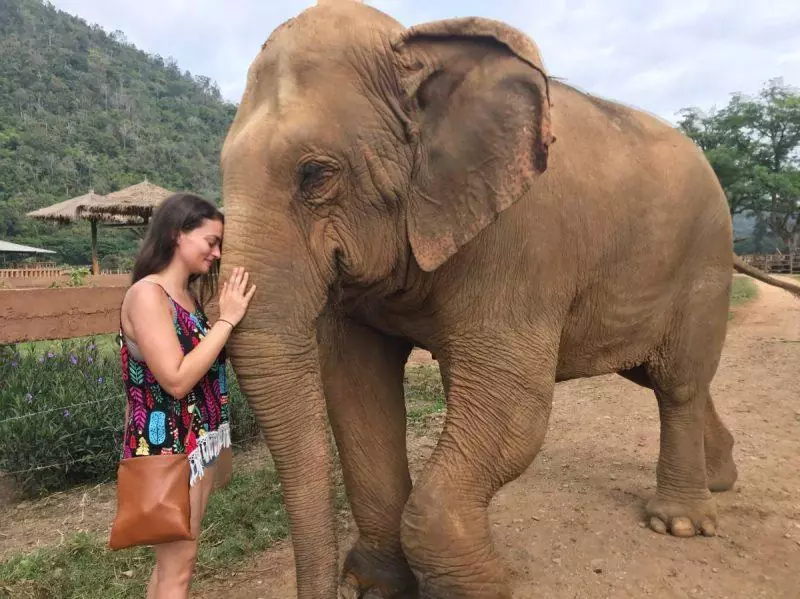 Instead of just having visitors, ENP labels you a volunteer. This reinforces the notion that this place exists for the elephants' benefit, not the tourists. You can volunteer for anywhere from a half day up to 7 days and stay in the accommodations that they have on the property. They also encourage volunteer veterinarians and vet technicians/nurses to come and work with them from around the world.
The accommodations are in huts that were renovated in July 2015. There is mosquito netting and depending on the package you choose you could have an attached or shared bathroom. There is no air conditioner but there is WiFi. Just be aware that the service can be intermittent and slow.
No drones are permitted on the property. Drones scare the elephants and, in case you're picking up on the theme, they come first here. You need to bring your own towel and toiletries, otherwise all bedding is supplied. Meals are also included with your visit. The food is all vegetarian and served buffet style.
Once there, the experience includes learning about the elephants, watching them play, giving them a bath, feeding them and petting them. All of this is done on the elephants' schedule. If the caretakers sense an elephant is too distressed to be around the general public you will not interact with them. Since they come from abusive backgrounds, it takes some elephants a moment to warm up to people again upon first arrival.
Note that while they are insanely cute, baby elephants don't know their own strength and can be very rambunctious. Thus, you won't be interacting with them but rather with the older rescues, easily identified not just by size but by the loss of collagen on their foreheads.
RELATED POST: TAKING A COOKING CLASS IN CHIANG MAI, THAILAND
What should you wear?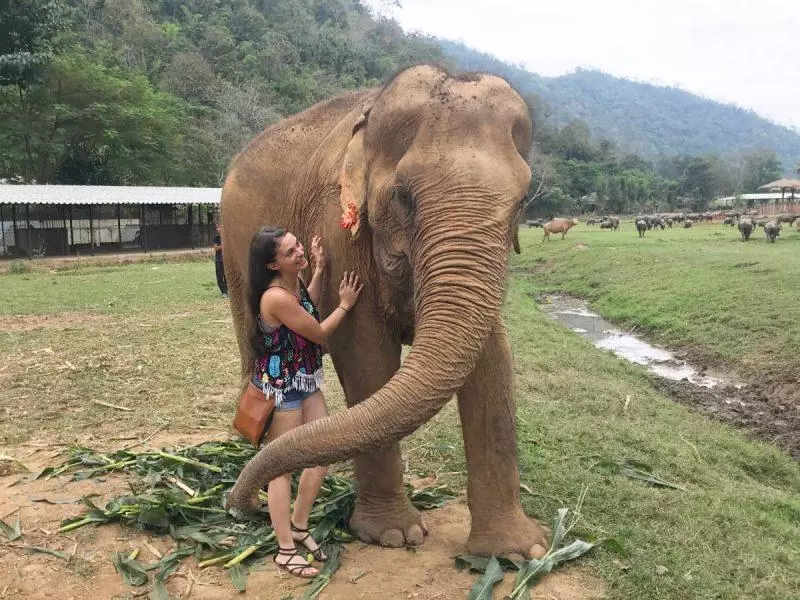 Come prepared to get dirty. Don't bring anything fancy and definitely leave your jewelry or valuables alone. Visitors coming for the day are limited to bringing one backpack with them. Those staying overnight can bring a day pack and a carry-on bag.
Don't wear anything with socks as you'll be wading in the river when it comes time to bathe the elephants and won't have the opportunity to dry your shoes. Wear casual clothing that is practical for physical activity. While the activity isn't strenuous, I wouldn't recommend wearing any of your Instagram worthy dresses or jewelry of any sort here.
Making your reservation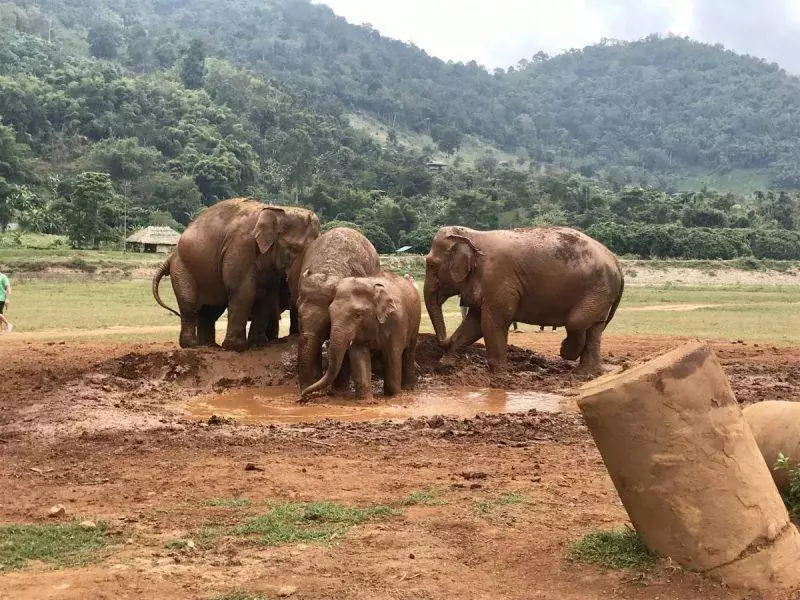 Reservations at Elephant Nature Park fill up months ahead of time. Do not wait until the last minute to book or you will be out of luck. Don't even wait until the month before your trip — the moment that you know you're going to Thailand, make the ENP reservation. You can book directly online. You need to pay a small deposit when you book to hold your spot and pay the rest upon arrival in cash only. They accept USD or Thai Baht.
You can't change once you book your experience — you'd have to cancel your reservation and make another one, which is subject to availability.
RELATED POST: TAKING AN EVENING TUK-TUK TOUR OF BANGKOK, THAILAND
Till next time, safe travels!
Liked this post? Pin me below.