Every resource guide I browsed said I couldn't leave Thailand without taking a cooking class, and I couldn't have picked a better location than Asia Scenic Cooking School in Chiang Mai. In just half a day, I toured a local market, made 4 authentic Thai dishes and even took home a recipe book to put my new culinary skills to good use.
This is a family run, women-led business. The owners, Gayray and Moon, are two sisters that wanted to prove success is possible without a male benefactor. They aim to teach others about the ingredients in Thai food and the richness of Thai culture. This is meant to be an educational experience more so than a tourist activity, like being welcomed into a friend's kitchen.
RELATED POST: DISCOVER PARADISE AT PHANG NGA BAY, PHUKET
I absolutely love spicy food, so I opted to include as many Thai peppers in my dishes as possible. The best part about being the chef is that you can customize your meals, so if you don't like spicy food you can minimize or leave the peppers out altogether. This is the perfect way to introduce to Thai flavors to your palette on your terms.
Getting to the Asia Scenic Cooking School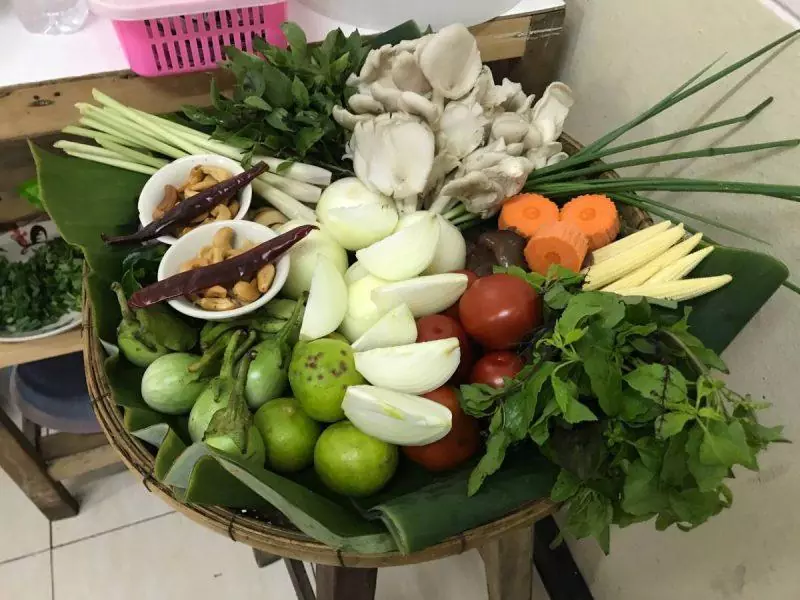 Asia Scenic has a van that picks you up at your accommodation and takes you to the cooking school. The price of transport is included in your reservation. They also have classes held on an organic farm. You can drive yourself to either location if you prefer, or opt to get back on your own and explore the local area after the class is over.
Chiang Mai is a small and easily navigable city. Taxis and tuk-tuks are everywhere. Plus, there is Uber available here if you want to call for a car to take you home.
Half-day itinerary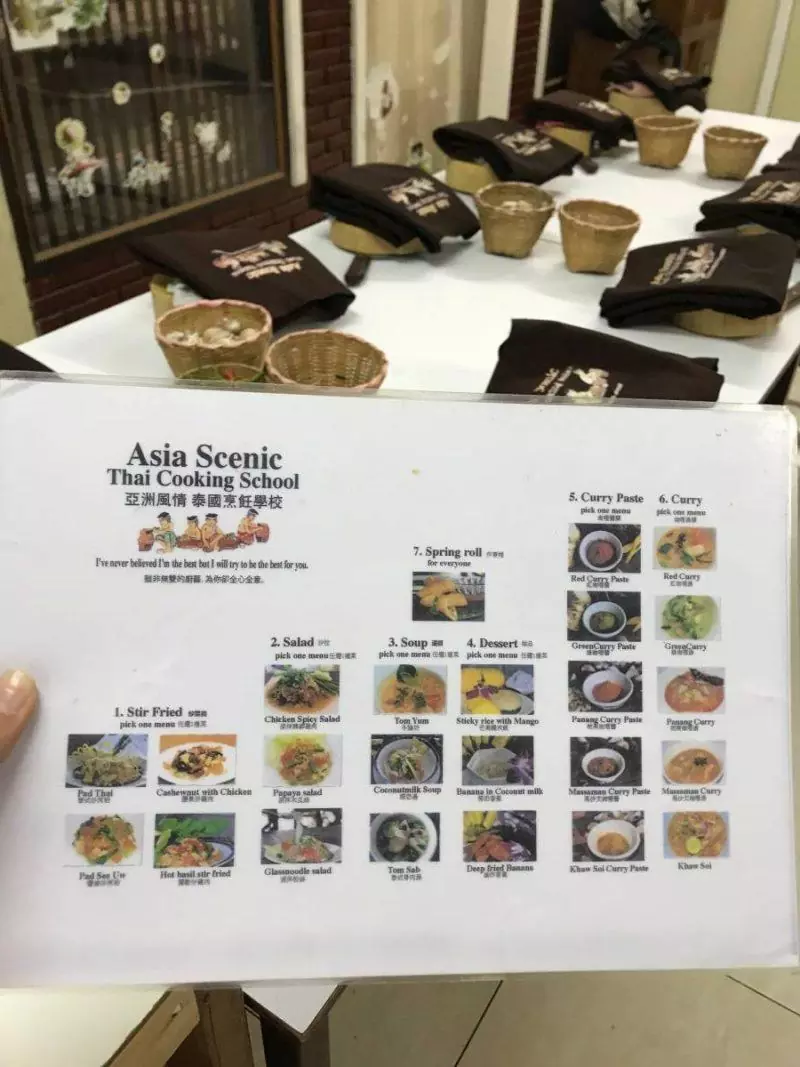 The half day tour with Asia Scenic is a good option for those with something else going on that day. I went in the morning, and made my 3pm flight to Cambodia. You can also go in the evening for dinner, after a daytime excursion.
The class begins by selecting what dishes you'll be preparing. There are 7 dish options total and, by virtue of a vote, your class will choose which ones to prepare. The half day class gets to prepare 4 dishes. Ours voted for stir fry, soup, curry and spring rolls.
Once the menu is set, you'll walk to the local market to purchase your ingredients. Like most Thai markets, there's a wide array of items to choose from, ranging from herbs to clothing. Our guide showed us more than a half dozen types of white rice, and showcased the differences between certain vegetables. We were able to peruse and do some shopping at our leisure before heading back to the school.
Once there, we went into the organic garden in the back to learn about Thai ingredients. We touched Thai basil and chives and smelled the herbs, appreciating the differences between the ones grown in Thailand and the variations we have at home.
Then came time to do the prep work. We hand prepared each dish, cooked and ate it before moving on to the next. Your chopping skills will be put to the test, and you'll need delicate fingers to stuff an egg roll. The prep work is done indoors but the cooking is done outdoors on your own individual burner with a gas ignition so you can control the fire. As our guide said, the best way to make sure your food comes out delicious is to cook with your emotions.
Full day itinerary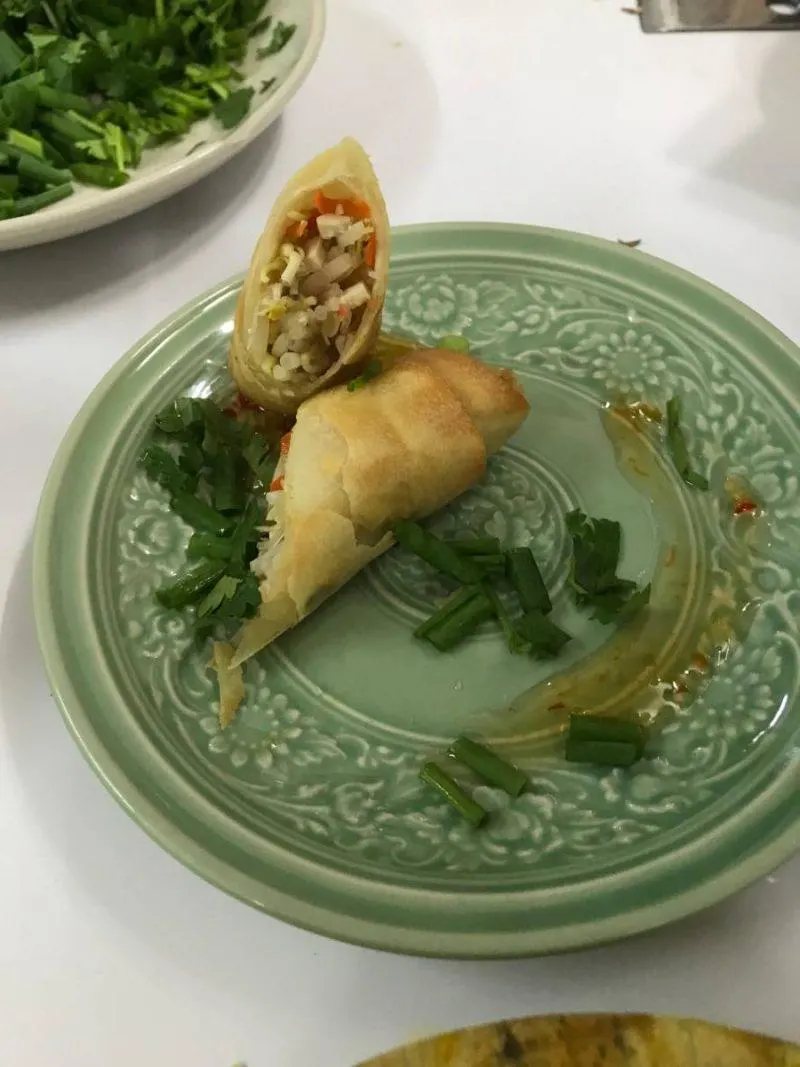 The full day itinerary is similar to the half-day schedule, the only difference is that you'll be making all 7 of the dishes on the menu and will not need to choose or vote on your preferred options.
Also, note that each of the dish types, i.e. dessert and soup, have different variations. So your entire class may be making soup, but you can still have a choice in what kind of soup you make.
Asia Scenic Cooking School recipe book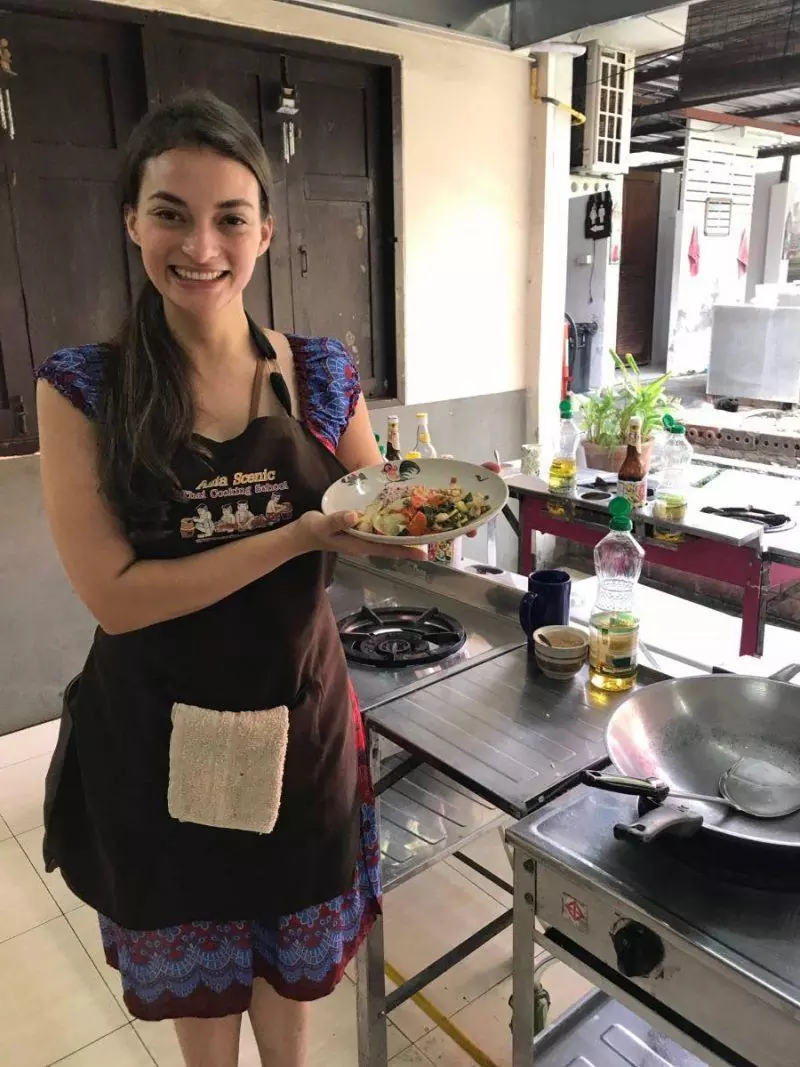 The most unique part of this experience came at the very end, when we were given our very own recipe book to keep. This was complimentary and a gift of the school so you could replicate your cooking success even after your holiday is over.
Compared to some of the other souvenirs and tokens I've received on tours, I found a cookbook to be practical and full of value. I've already started gathering the ingredients to try a few new dishes at home.
Know before you go
You pay for the lesson upon arrival in cash, so have Thai Baht ready. They have change if you need it. You'll also want to have spending money for the market and cash to tip your instructor.
This is a great activity for solo travelers, friends or couples. I would not recommend it for families with young children attend since guests need to handle knives and gas ranges. There's a considerable amount of walking and standing, so wear comfortable shoes. Aprons are provided.
There are bathrooms on site and you will be washing your hands in between every meal. If you have any dietary restrictions, let your instructor know. The good news is, you will leave full and satisfied no matter which class you attend. I do not recommend that you eat before the class if you are starting in the morning. If you must, have something small.
Click here to book your tour with Asia Scenic Cooking School. They have a variety of experiences and partners, from cooking classes to elephant sanctuaries and organized tours. There is so much to do in Thailand, don't miss this experience on your first trip.
I hope this post inspires you to get cooking. Till next time, safe travels!
RELATED POST: EVENING TUK-TUK TOUR OF BANGKOK
Asia Scenic Cooking School was kind enough to sponsor my cooking class. All opinions are my own.
Liked this post? Pin me below!