Are you lucky enough to spend a long weekend in the Netherlands? Want to know how to make the most of 3 days in Amsterdam? Read on for my 3-day Amsterdam itinerary.
Just a hop, skip and a jump away from most major European destinations but infinitely cooler, Amsterdam is one of the most cosmopolitan and welcoming cities in the worlds. It literally has something for everyone — you'd be hard pressed to go anywhere else and find a day care and brothel on the same block!
There is so much to see in Amsterdam that 3 days barely scratches the surface, but you have to start somewhere, and better to go and have to return than never go at all.
Here's the best way to spend 3 days in Amsterdam, including the good, the bad and the downright naughty.
Day 1: Orient Yourself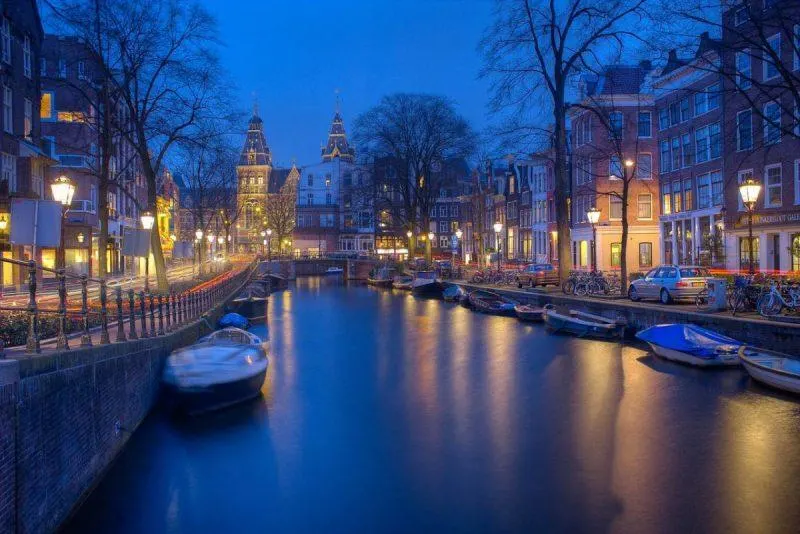 Are you arriving into the city late? Perhaps a little tired? If so, do as the locals so and get your second wind at the nearest coffee shop. There's no time like the present, and the right herbal remedy would actually liven your spirits instead of putting you to sleep.
There are many famous coffee shops in Amsterdam, but my personal favorite was a little-known place that I stumbled across called Coffee Shop New Times. It has comfortable seats (that are actually available for use and not constantly occupied by throngs of people inside), stylish Moroccan decor and very reasonable prices. Other popular shops include Green House and Dampkring, but these are very famous and at times too packed to be enjoyable.
Now that you're primed and ready for some pretty colors, take an evening canal cruise throughout the city. You'll have a unique vantage point from the waterways and see the city lit up at night. I highly recommend a tour with Friendship Amsterdam, and open-air boat that showcases the city without the filter of a dirty boat window. Since it's a smaller boat, you get to go into canals that the bigger outfits can't service. You can run your hands underneath the bridges and enjoy views of the city with a drink in hand, all for 15€.
Don't worry if it's cold when you go, they have blankets on board. The only time they don't run is when there's rain.
Call it a night early afterwards and get some sleep, you have a lot of sightseeing to do in the morning.
Day 2: City Highlights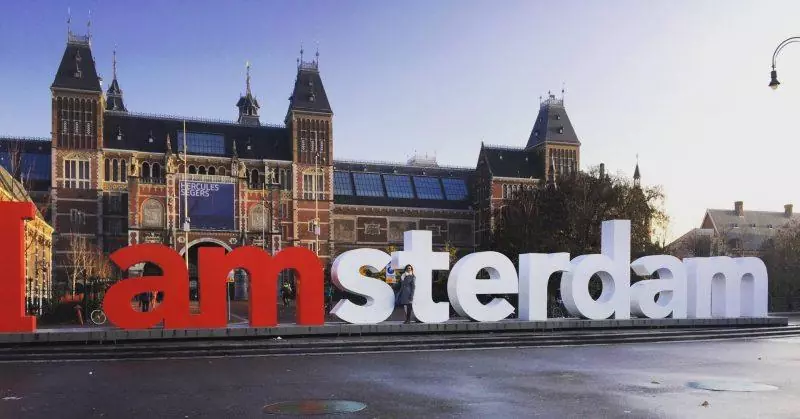 Edit: As of December 2018, the "I Am Amsterdam" sign is no longer on display in front of the Rijksmuseum. You can still spot a similar installment at the airport by the train, but it's not the same.
Wake up before sunrise and make your way towards the Rijksmuseum. You may resent it at first, but when you get the famous "I am Amsterdam" sign all to yourself as the sun is rising, it will be well worth the effort. The head inside to see the work of the famous Dutch masters, and enjoy an impressive collection of artwork.
Pro tip: download the Rijksmuseum app to access a free audio walking tour of the premises. Bring your own headphones and you can save on the price of a guide or audio tour on site.
Next, it's time to head over to Anne Frank House. You must — I repeat you MUST — make reservations for this ahead of time online. The normal queue can span more than 3 hours and honestly, with just 3 days you don't have time for that. Plan your visit down to the minute and reserve your tickets on line several weeks ahead as they sell out quickly. You'll be so glad you did when you're cruising past the regular line in through the side entrance like a VIP.
The Anne Frank museum will take a lot out of you. I was a little hesitant since I wanted this to be a happy-go-lucky trip and knew that walking through the annex of the house where Anne Frank and her family had to live would be emotionally tolling.
It was the best thing I did in Amsterdam. It's not an easy thing to see, but it's necessary and should be mandatory for everyone visiting the city. Those who don't learn from history are doomed to repeat it. The original pages of her diary are also on display, and it's incredible how optimistic one girl was in the most trying of circumstances.
You're definitely going to need to eat your feelings after this. Thankfully, the Cheese Museum is only a few blocks away and is ready to oblige. Here, you can sample your little heart out and indulge in one of Amsterdam's most famous exports.
Unlike other shops, the owners are generous with portion size and quantity, allowing you to try 20-30 different varieties, not just whatever is on sale for the day. It is cheese heaven. The prices are very reasonable as well if you want to take some cheese home with you. Don't worry, it'll pass through airport security without issue. Check out this food guide to Amsterdam if you want to know more about the best places to get your grub on.
Next, head to the Van Gogh Museum. I love Van Gogh, and this museum is exceptionally well done. It was founded by his nephew in his honor and features some of his most famous works, including "Sunflowers," "The Bedroom" and "Almond Blossoms." If your visit falls on a Friday, you might be able to head there for their after hours "Vincent on Friday" program that allows the same access to the museum with the added bonus of live music and drinks in the lobby.
Definitely make sure you purchase the audio guide here, it is one of the best museum guides I've ever seen. The screen shows you different layers of the paintings and gives you incredible background and context for the pieces.
Finally, finish your jam-packed day with a trip to the Red Light District. I took a free walking tour and am glad I had some guidance as I worked my way through the area, learning little known facts like "this alley of hooker windows is actually made up of transvestites." I saw what looked to be a very straight man soliciting a prostitute that I don't think he knew wasn't really a woman…
You can also learn about the history behind the district, the different sex clubs and shows like Casa Rosso and the storefronts featuring massive sex toys that can't possibly be enjoyable to use. It sounds risqué, but this commonplace in Amsterdam. I saw people walking around with their grandmothers here. The District has become so sensationalized that it's not uncommon to see families, couples and even children strolling the streets at night.
Those feeling uncomfortable about a visit will be happy to know Chinatown is just a block away and runs parallel to the main street of the District, so you can always make a quick escape.
Day 3: Windmills and More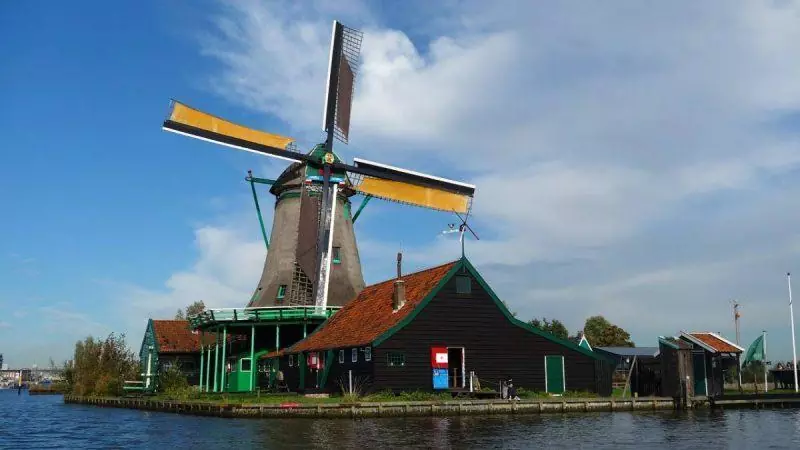 On your last day in Amsterdam, I recommend you wake up early and take a half-day trip out of the city. It may seem counterintuitive given your short time in the area, but those looking for a dose of authentic dutch culture will absolutely love visiting Zaanse Shans.
Home to 6 working windmills, each specializing in a different product. You can tour a saw mill, oil mill and the world's last working dye mill. This is a one-of-a-kind place that will make you feel like you're really in Holland. Learn more about the history behind the windmills and their restoration efforts while sipping on a spiced beverage, available for sale on site. You can also observe a clog making demonstration and pick up a pair of your own.
The site is less than an hour from Amsterdam Centraal Station and easily accessible by bus. Leave by 8am and you'll be back in the city by noon.
Next, it's time to visit the Hermitage Amsterdam, featuring Russian art that can't otherwise be seen readily around the world. Russia boasts art that rivals the best pieces in Italy and France, having commissioned the world's premiere artists for centuries. They only let pieces out of the country to be displayed at officially affiliated venues, and the Hermitage Amsterdam happens to be one of them. Don't miss this opportunity.
Just a 7-minute walk from the Hermitage is the Museum of Bags and Purses. This hidden gem features purses of all shapes and sizes. It was started by a private collector and has grown over the years with donations. I was there during an exhibit of royal bags, and it was exquisite. You start with the history of handbags, and work your way through time as you peruse the exhibits. If you have an hour and are a fan of fashion, this is the place for you!
Another option at this point is to take a daytime canal cruise instead upon returning to the city, before heading to the Hermitage. Keep this in mind in case your evening cruise is rained out, or if you want to see the city by daytime. There's never a bad time to be on Amsterdam's canals.
Finally, end with a visit to the Rembrandt House Museum, the former home and studio of the famous artist. This will bring your day full circle as you can watch a painting demonstration using the same paints that are sourced from Zanse Schaans. The demonstrations end before closing time so keep an eye on the clock for this one.
With that, you've squeezed in as much as possible in just 3 days in Amsterdam and can start planning your second visit.
Till next time, safe travels!
Liked this post? Pin me below!