Looking for a hotel that's beachfront and conveniently located in the center of San Pedro, Belize? I highly recommend the Ocean Tide Beach Resort. Read my review below!
It's not easy to find the right accommodation in Belize. Especially as a female, you're bombarded with information about where you should stay in order to be safe. Belize City is regarded as a transit area, with tourists electing to base themselves out of the islands instead. Caye Caulker and Ambergris Caye are located 20-30 miles northeast of Belize City, and the epicenter of the commerce and tourism is in San Pedro, Belize.
Locals complain that San Pedro feels crowded with too many golf carts (there's 2,000 in a 25-mile long space, most going in and out of San Pedro city), but I loved that no matter how busy you were, you could only go as fast as your golf cart allowed you, which was max 20mph.
Belize forces you to take it slow. This is where you come to unwind and let the good times roll!
RELATED POST: 7 BEST THINGS TO DO IN SAN PEDRO, BELIZE
The Ocean Tide Beach Resort, located in the middle of San Pedro on a prime beachfront spot, lived up to this task.
How to get to the Ocean Tide Beach Resort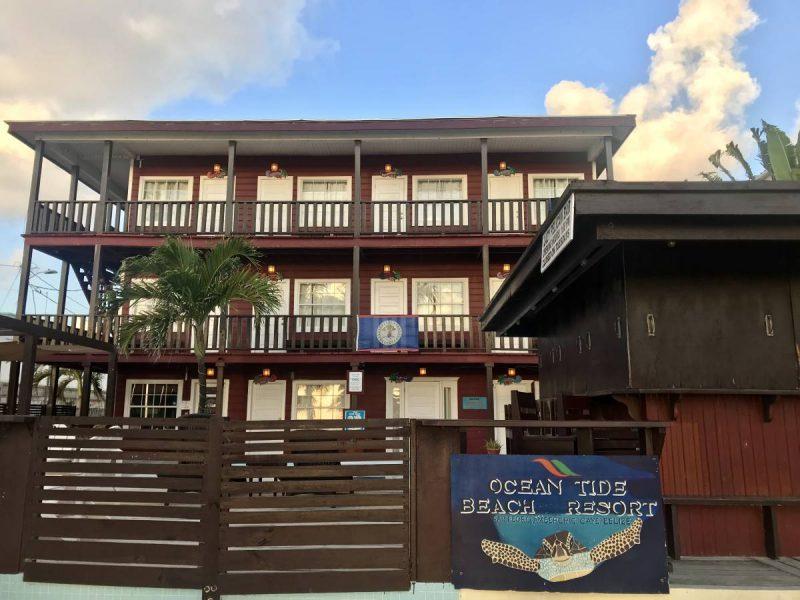 I paid $5USD (10 Belize) for a taxi from the airport to the hotel. It took less then 5 minutes. I was also surprised when I could walk back to the airport by following the path of the shoreline, arriving by foot in 20 minutes or so.
I loved the location of the Ocean Tide Beach Resort because it allowed me to participate in activities that were going on around town and walk to places like the San Pedro Artisanal Market.
I didn't have a problem with city noise. It's a busy area but the hotel is removed enough from the main street that I slept soundly throughout the night. The front desk staff is available seven days a week from 9am-6pm and can arrange transport or day trips for you as needed.
Room features and amenities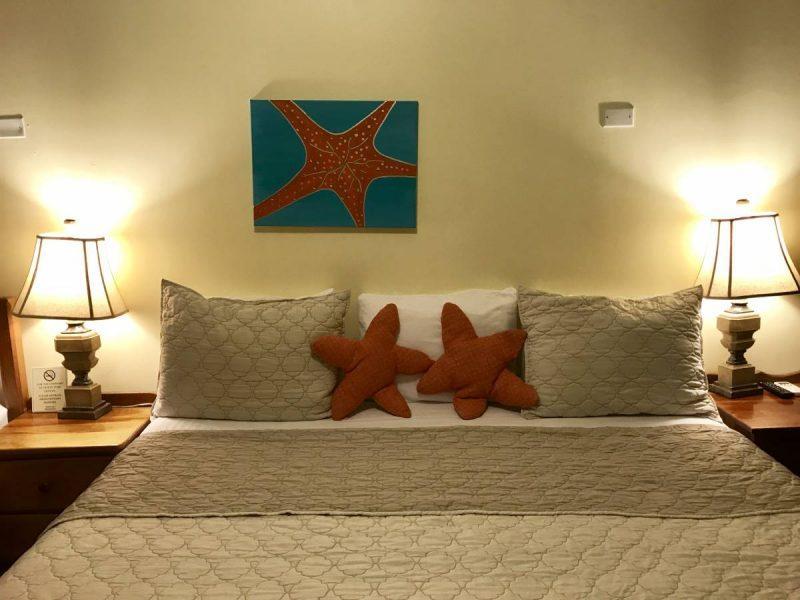 After a long day in the sun (which you're bound to have in San Pedro, which is known for being temperate and sunny) it's nice to come back to a comfortable bed, strong A/C, free WiFi and a long hot shower with good water pressure.
The Ocean Tide provides all of these essentials. The rooms are decorated in beach theme, with starfish pillows and seashell soap holders. There's a fridge and safe in your room.
My room had an extra, smaller bed that would have been ideal for travelers with small children. Housekeeping is available daily, and they do such a great job that I encourage you to tip them; there's envelopes available in the room.
There's a cable television. I was so tired one night I definitely spent it in bed, recovering and binging on ceviche leftovers. It was perfection.
Downstairs, there's a pool and sitting area where guests often chat and enjoy the happy hour specials at the adjoining bar, The Lazy Pelican. The bartender Raymond is a pro and will make you feel welcome with a complimentary drink; make sure to redeem it during your visit. There are seasonal cocktail offerings utilizing different local fruit and free coffee is provided in the mornings.
There are also hammocks available for common use, allowing you to swing beachside and watch the sunset. I suggest getting bug spray since the mosquitos can be killer in Belize at night. There's a convenience store across the street that sells everything you need, from bug spray to bottled water.
Long-term stays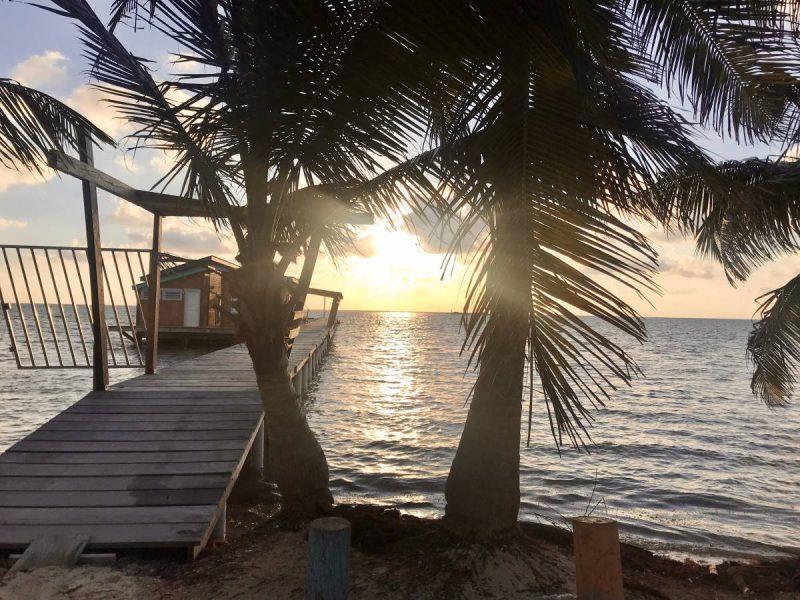 A surprising number of guests were staying long term, i.e. a month or more. A lot of people come to Belize to work remotely, or scope it out for more permanent relocation after retirement. It's a convenient place to visit — USD is widely accepted, English is the primary language, WiFi is widely available and the lifestyle is intoxicating.
What's not to love about getting up at sunrise to surf, eating the fresh catch of the day for an affordable price and walking along the sand to watch the sunset?
If you're seeking long term accommodations, The Ocean Tide Beach Resort is priced such that you can take advantage and extend your visit. I'd be envious of that life!
RELATED POST: FLYING OVER THE GREAT BLUE HOLE WITH TROPIC AIR BELIZE
Getting around the island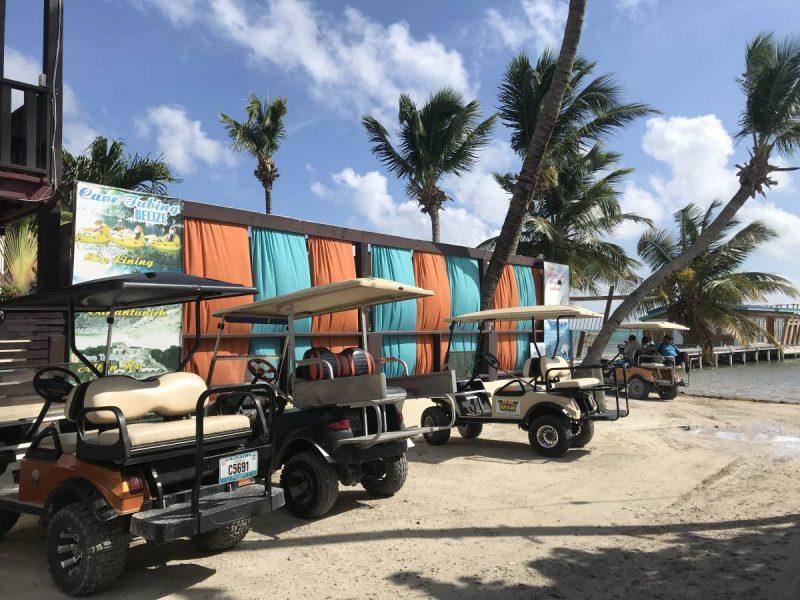 I touched on this briefly, but with 2,000 golf carts it is big business. This means that from the moment you get to Ambergris Caye, you're going to be solicited to rent a golf cart. This is good, because you can compare prices early on. Typically, the longer you rent a cart for the more of a discount you'll get.
The Ocean Tide Beach Resort has a partner that is present at the front desk to help you with rentals, or you can always rent a cart independently.
You don't need a golf cart to get around, but it's convenient if you want to reach points of interests that are further out like the Truck Stop or Secret Beach.
Otherwise, the hotel is located such that you can easily traverse to the center of the city by walking along the beach, passing popular restaurants and establishments along the way.
Food and attractions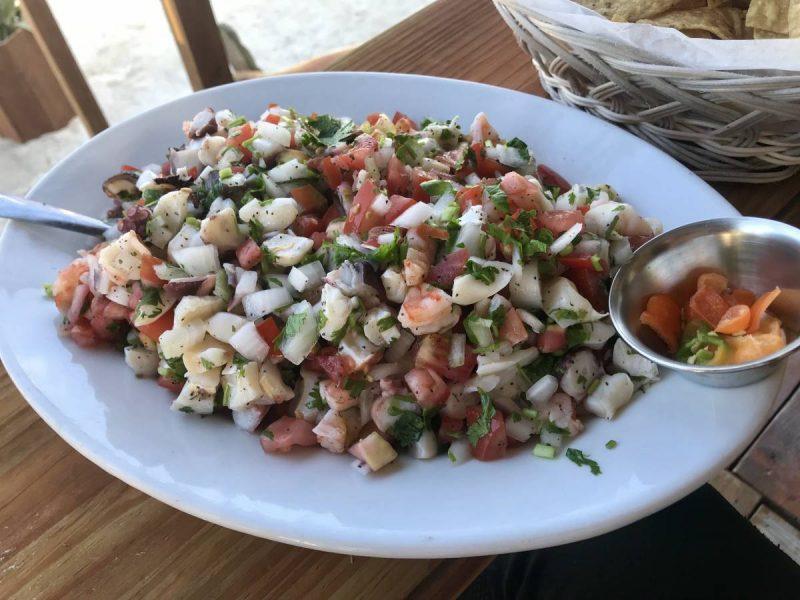 The Lazy Pelican Bar doesn't serve food, but there's several places to eat nearby and the staff is happy to point you in the right direction.
The ceviche pictured above is from Sandy Toes, recommended by Raymond. Estel's Dine by the Sea is known for breakfast. I had the best milkshake of my life at the Belize Chocolate Company and there's a locally owned ice cream shop called Manelly's that was open late.
As for activities, Wahoo's Lounge hosts the world famous chicken drop every Thursday, where you can bet on where a chicken will ::ahem:: do it's business. If your number is lucky, you win 100 Belize ($50).
I attended during my stay and won the first round of the night! It's a little rowdy so if you have kids it's best to go earlier in the night rather than later, but it's definitely worth experiencing at least once. There's also live music at various bars and restaurants throughout the city depending on the night.
Why I recommend this hotel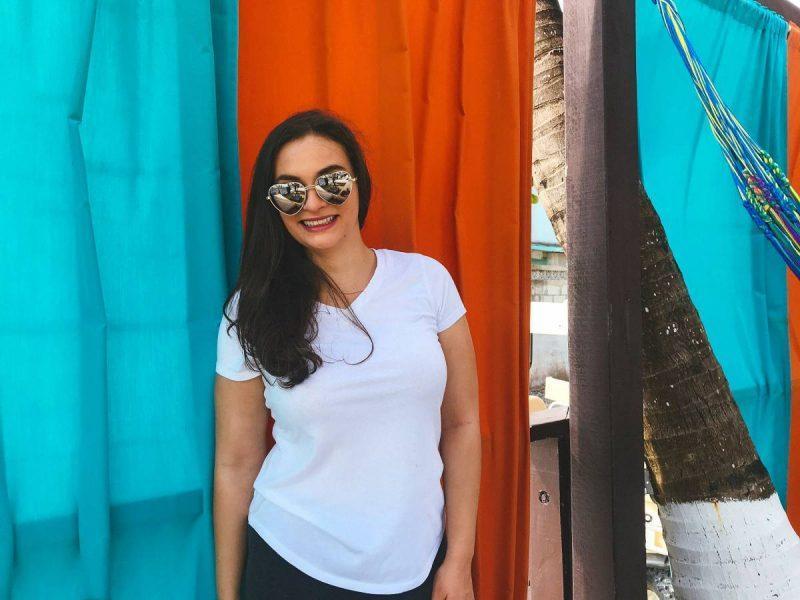 I loved the vibe of this hotel — no hassle and stress free but also vibrant and well situated in the heart of Belize. I felt safe her and enjoyed exploring the city at night and meeting locals during my stay. I also felt comfortable and well rested, in a room that had everything I needed.
If I were to stay in Belize again, I wouldn't hesitate to book a room at the Ocean Tide Beach Resort and strongly suggest that you consider them for a future stay.
RELATED POST: VISIT THE CAYE CAULKER ANIMAL SHELTER
Till next time, safe travels!
Note: I received complimentary accommodation during my stay. All opinions and relaxation had are my own.
Liked this post? Pin me below.