What's it like to go on a biplane ride with OBX Airplanes? In a word, epic! Read on to learn more.
While standing on the Wright Memorial, everyone stopped to look up at the biplane flying overhead.
They were in awe, jaws literally dropping as they guessed what kind of plane it was and what flying in one was like.
I felt incredibly lucky that just 24 hours earlier, I'd been on that very same plane.
Owned and operated by pilot (and then expecting mother of 6 months) Jenny Hawk, it was like having the ultimate girl power leader.
We arrived at Dare County Airport, and were told our pilot would be with us in just a minute and we could wait inside or outside.
We chose outside, and it was a good thing we did because we were able to see Jenny make her grand entrance, or should I say landing?
We spent the next hour flying around the Outer Banks, getting a great orientation to the layout of this set of barrier islands.
We saw shipwrecks, The Wright Memorial from above, and beautiful views of grand houses that line the shores.
I recommend this experience for anyone visiting the Outer Banks.
Here's what you need to know to plan your biplane adventure!
RELATED POST: UNUSUAL THINGS TO DO IN THE OUTER BANKS
Where is OBX Airplanes?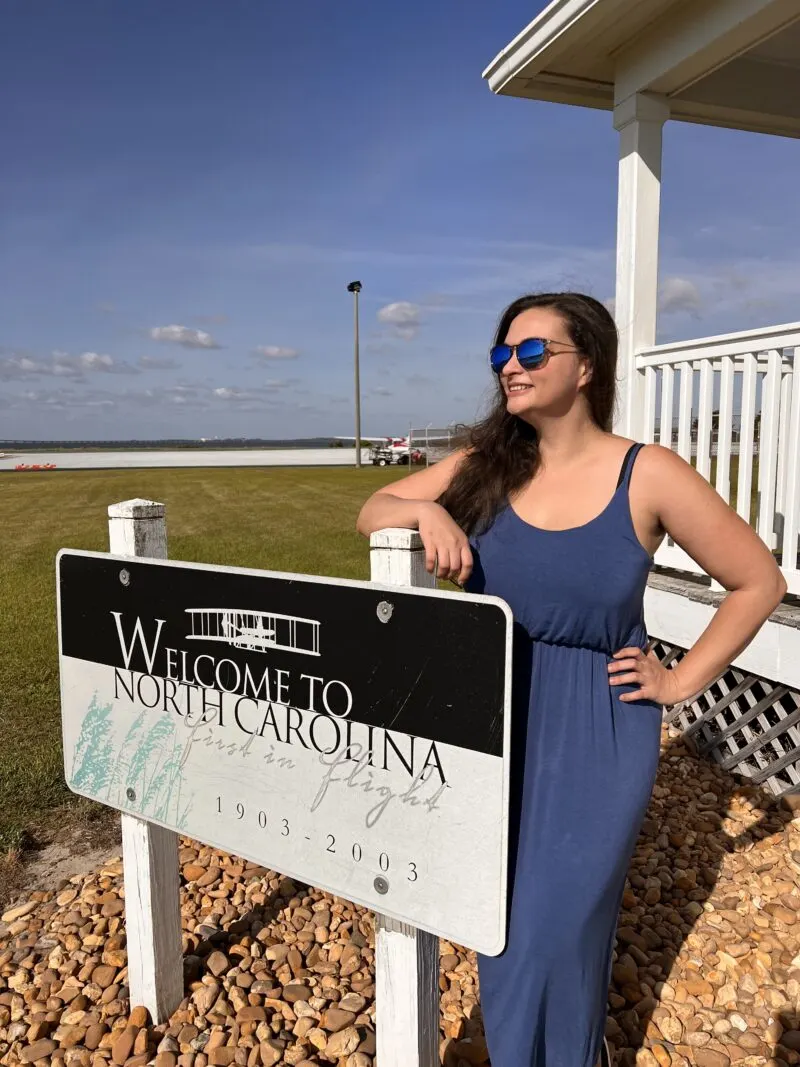 OBX Airplanes is a locally owned business in the Outer Banks, North Carolina.
Their office is located at the Dare County Regional Airport, found at 410 Airport Rd, Manteo, North Carolina.
It took me about 10-15 minutes to drive here from downtown Manteo. I had a rental car and there was free parking upon arrival.
It is a small regional airport so there are other private planes operating out of there.
There are offices on site for multiple businesses. There are vending machines and restrooms on the premises.
What is a biplane?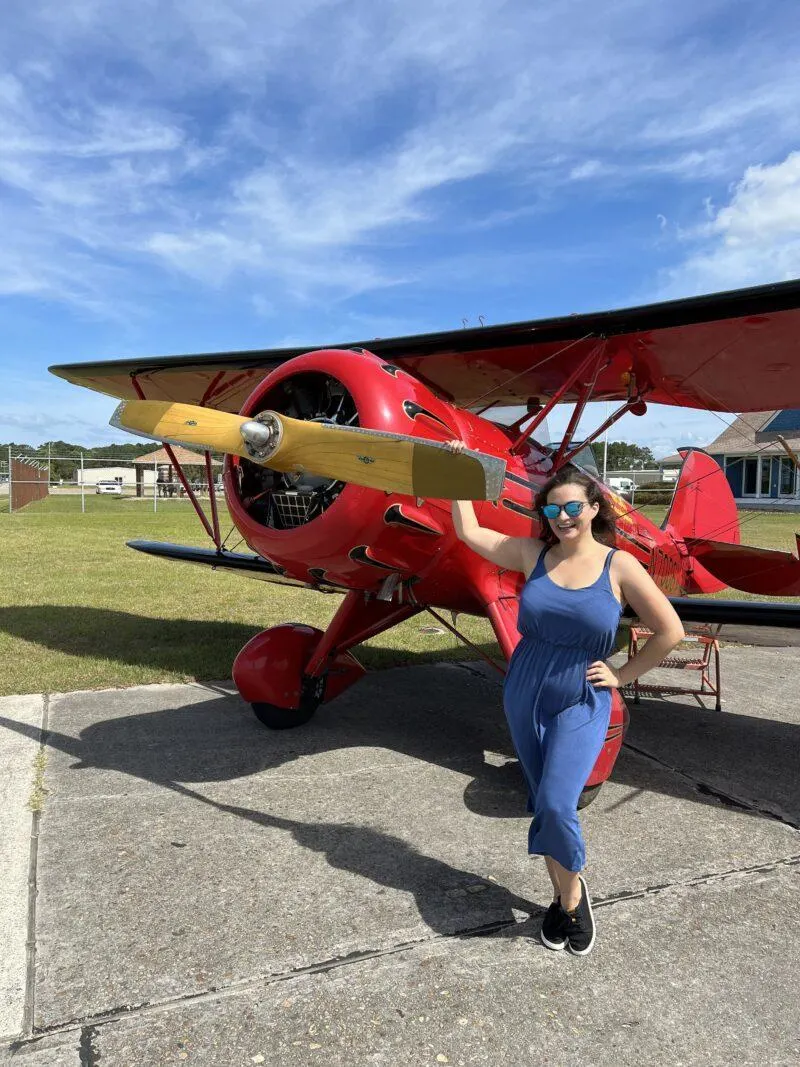 A biplane is a vintage plane design that has two sets of wings, one directly over the other.
They were used in the 1930's for military and commercial operation. Today, they are used primarily for crop dusting and leisurely flying.
OBX Airplanes has a specially made biplane that has the front peels disabled so riders can sit in the cockpit while the pilot navigates from behind.
Only two people fit in the cockpit of the biplane and the combined weight limit is 430 pounds.
There is another plane, the Cessna 172, that can accommodate up to 3 guests. The Cessna is an enclosed plane.
There is no age limit or requirement.
The biplane is especially photogenic so don't forget to take a picture with it as soon as you land!
RELATED POST: A REVIEW OF THE SANDERLING RESORT
How much does a biplane ride cost?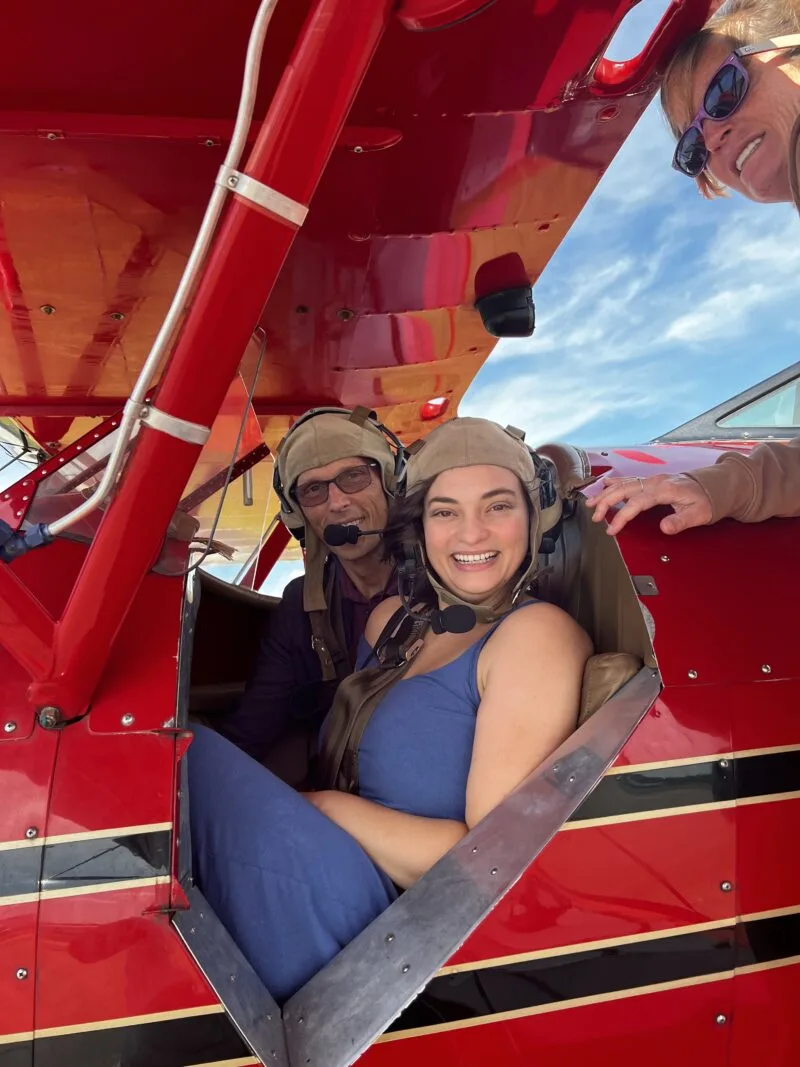 Biplane rides start at $199 for 2 people. The duration of your flight can range from 5 minutes to an hour.
We took the hour-long flight first thing in the morning, around 9am.
There are also special sunrise and sunset flights that last 40-50 minutes and cost $699 for two passengers.
If you're a professional photographer, the Cessna has a photography flight that goes slowly over the surrounding landscapes for an hour and costs $399.
OBX Airplanes runs ads about $35 rides all day — those are available in the Cessna and are priced for 3 people. Click here to learn more.
What should you know before your flight?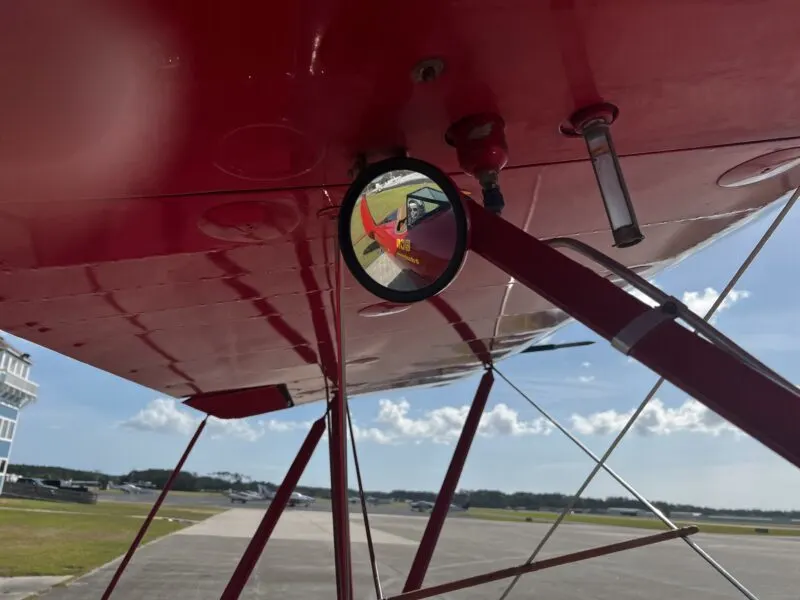 There isn't much space in the plane, but there is a small cubby where you can keep your belongings for safekeeping.
I put my purse in there, and everything was perfectly fine, but in retrospect I would have left my purse in the car and just brought a phone, keys and cash in my pocket.
Since it's an open-air cockpit, you will be exposed to the elements and your hair will fly around like crazy. When you board, you're given a helmet of sorts and headset so you can communicate with the pilot and other passenger.
Dress for the weather. We went in June so it was warm, even with the wind. If you're flying during the fall or winter, dress accordingly.
Be careful to keep your arms inside at all times — I made a dumb move and slightly stuck out my hand in an effort to get a picture and it quickly snapped back with the velocity. I was fine, but it was scary.
I had my partner take pictures and video after that! The views are incredible, so you'll definitely want to document it.
The biplane is specially altered to have clear view windows to enable pictures.
Weather can affect your departure but likely a delay instead of an outright cancellation since rain usually clears up.
Keep you phone handy 2 hours before your flight to be notified of any last-minute changes.
RELATED POST: VISITING THE WRIGHT MEMORIAL IN THE OUTER BANKS
Till next time, safe travels!